Kitchen Reno – TOP OF THE TOPS
Welcome to Part Three of our Kitchen Reno.
There were two great moments of transformation during this project. The first was having an empty space where the old kitchen used to be, with all the plaster fixed up and a blank slate before us ready to begin from scratch. The second was the day our benchtops went in. In the space of an hour the weeks of work was suddenly transformed from "this will be so good when it's finished" into "I can't believe it looks this amazing".
The benchtops was the only part of the project we couldn't do ourselves, and was the budget item that we knew we wouldn't be cutting corners on. They are the most visible part of the design and the element that must endure the most wear. That surface will be confronted with everything in the years to come, everything from bacon slices to bread flour to soy sauce to beetroot spills to lychee iced tea to tinned tomatoes to prawn tails to balsamic vinegar to the sandwich press to my greasy wok.
One of the reasons we chose to do the work ourselves was to save a little money for a quality finish. And that's exactly what we found in Stone Ambassador's porcelain selection.
SHOPPING
Choosing a material for a benchtop is painfully difficult. Many kitchen specialists or stonemasons will invite you to come and look at swatches they have on file from a variety of benchtop suppliers. You can't assess what you're looking at by holding a matchbox sized piece of quartz. Even bigger swatches are only the size of your mobile phone. You need to see large slabs of it, slabs the size of your island bench. You need to see the variety in the pattern, the homogeneity versus texture, and see how a large space filled with that colour will sit with your aesthetics. Scale changes everything.
Our plan was to visit as many benchtop suppliers as possible. Here in Melbourne that means a trip out to the outer south-eastern suburbs, or a journey to the north-west. We did two days of research and covered as many showrooms as possible. Some were incredibly disappointing with bad lighting and even worse customer service. Many only had swatches and weren't properly setup as showrooms at all. Two of them were on the mark however, with big slabs ready to view and helpful staff. Of our top picks for customer experience, one had several finishes that we really loved, and they had it in stock. Stone Ambassador.
We adored their premium engineered quartz called "Valour", which had a strong concrete vibe but much moire variation compared to other quartz we'd seen in our research. We'd have been very happy to go with that option, until we saw the porcelain! The full range was offered in large scale on the showroom floor, and we narrowed down our preference for colour and pattern. Really wanted three or four, it was a shame to only pick one. The staff then walked us out the back to the warehouse and got a full size slab craned in front of us so we could get the complete picture. We were sold.
PRICING
When you visit the showrooms for benchtop suppliers you're flying blind on price. They have different materials and "premium" ranges, which add variance to the cost. But the main problem is that suppliers don't install benchtops; they sell slabs to stonemasons who measure, cut and install. Some of the cheaper "engineered quartz" will be quoted around $500 a slab. That price can double with the premium options or with the porcelain option. The material is not the expensive part of a benchtop though, it's the skill and labour required to fit out.
We picked one quartz option to price up for our kitchen and several stonemasons quoted us under $5,000 for the lot. The same quotes in porcelain were roughly $2,000 more. Porcelain is a far more demanding material for the stonemasons to work with, and demands much more precision using some very expensive equipment. They cut it with a computer controlled water jet instead of a blade, to create millimetre perfect edging. Next we expanded the scope by adding the porcelain to the splashback. One of the great advantages of this material is its fire resistance qualities, plus brilliant ease of cleaning. It's exactly what you want behind the cooktop to keep everything looking gorgeous for the next 20 years. Design wise, the seamless transition from bench to splash back really elevated the entire space. It looks a million dollars but in a minimalist Scandic kind of way.
This decision increased our coverage by another 30%, so the costs go up even higher.
PORCELAIN
What is porcelain anyway, and why choose it? These are literally just very very big tiles. The same porcelain that you use for wall tiles or floor tiles can be made at a bigger size. In places like Italy they have very large ovens that can fire porcelain slabs around 3.2m long. All the benefits you can imagine from a regular porcelain tile is exactly what you get but delivered as a kitchen benchtop. It's incredibly resistant to stains and heat, it's easy to clean and won't scratch when you drag a knife across the surface. These modern "large format" porcelain tiles are given a templated design on the surface, which is consistent and allows you to plan how the pattern will present in your kitchen. Some of the designs are very strong, so the ability to work with a template opens new possibilities for interior design.
In our case we chose a very subtle design, one that leans into concrete with just a hint of terracotta. Vasari Haze is the name of our pick. We started our benchtop research with concrete in mind, and we ended up with exactly the look we wanted but with the practical benefits of a non-porous surface.
As we explained to the staff at Stone Ambassador when picking out our porcelain; we're not living in the penthouse, we're on level 5. We didn't want to go too glamorous, we wanted to keep the space relaxed. My husband and I never spoke about it at the time, but in reality we wanted something very contemporary but meeting in the middle between Japanese minimalism and Scandinavian cosiness. That's exactly the kitchen we ended up with.
ORDERING
It took us a little over 3 weeks to tear out the old kitchen and finish installing the new one. It took much longer to get the benchtops ordered however! Whenever we sit down to watch Grand Designs and they're just digging earth for the foundations, we jokingly shout back at the television "You better order your benchtops this week".
Just getting a quote from a stonemason was hard enough. Most just emailed back one line with a number on it, absent of any detail or even confirmation of the scope. The one that did the best job of presenting a written quote actually got the numbers totally wrong. While the stonemason we selected came highly recommended, they managed to find new and more frustrating ways to delay the project. I've never heard soooooo many excuses for not returning a phone call. And not once did they simply fess up and say "sorry we kinda let you down, let's see if we can get this back on track".
It's very hard to shop for a stonemason. You have no real way of comparing the quality of their work, and most seem to have very little motivation to win your business.
Our project was not a standard process for the stonemasons. Usually the owner of a home hires a builder to put the kitchen together, then the builder deals with the stonemason to arrange installation. It's assumed that the builder knows how to prepare the cabinets for a particular kind of benchtop. As we were doing the build ourselves, we needed to talk to the stonemason to understand more clearly what we needed to do. That was a conversation they didn't want to waste time on. To make things more complex, porcelain is not the same to install as quartz or stone, it requires some specialist tools and skills.
INSTALLING
It took a few weeks but eventually a very nice man came to measure up the kitchen. He had a 3D templating machine that creates a digital rendering of the kitchen, and sends the specifications off to the factory. We started getting excited at this stage, and for the first time we had some idea of whether we'd made any major mistakes in preparing the kitchen for installation. The only issue he flagged was the under-mount kitchen sink. We expected the stonemasons would put the cutout for the sink in precisely the right place, but his suggestion was to make sure there's a little bit of give just in case the porcelain is out by a few millimetres.
On the day of the install a small truck parked outside in the loading zone on Collins St, with all our porcelain pieces cut and edged. They were dusty from the factory, and a long drive across town. They were quiet spoken blokes and the first thing they needed after dealing with CBD traffic was a hot coffee. Getting the pieces up the elevator was no drama, and within minutes they had dropped the porcelain in place for a dry-fit. We looked over a few details, then they got down to business. There's a lot of silicon involved in fixing down a benchtop, very generous amounts of it. The hard part are the joins though, and the fellas had more skilled gear for that. One special device clamps onto the surface and pulls the slabs together, after lining the slabs with a colour matched adhesive. The island bench had a join, as did the back splash.
We were properly thrilled to see it all happening. It had been a difficult journey dealing with the stonemasons and the delays, but these two chaps were doing their best to make our day better. They warned us to leave the benches alone for 24 hours while the silicon sets, and suddenly our kitchen journey was over. It was done.
TRANSFORMING
Your choice of benchtop is so important. It's the thing that you see everyday. All of it. Nothing captures the style of your kitchen more than the benchtop. All the mistakes, the imperfections, and compromises of a month-long renovation project are now hidden away beneath the porcelain. Only the perfect finish remains.
We spent weeks living with the incomplete version of this kitchen, and then in the space of an hour the benchtops are installed and nothing is the same. Extending the porcelain through to the splashback was a stellar idea. I watched in minutes how the gyprock disappeared and exhaled out a long steady breath knowing that we just dodged another few days of hell with wall-tiles.
Our motto for the project has been "It's not perfect, but it's pretty bloody good."
I think we even surprised ourselves, and I'm so glad we didn't chose something cheaper. We had joked a few times that the MDF substrate was probably good enough for us. It was shocking just how much impact the final installation of benchtops made, how solid and sorted the kitchen suddenly became. The transformation was remarkable, and very very welcome. It was like watching your awkward teenager suddenly grow up into a mature and functional adult, but in the space of an hour.
LIVING
For the first few days it was difficult to relax and just enjoy it. It felt too precious, too special. Anytime you get something new you're dreading taking it out into the real world. But that was the entire point of opting for the porcelain, so we could relax about crushing oranges or chopping up beetroots. It just takes at least a week for your natural reactions to switch off and realise that you're living with a seriously durable surface.
Meanwhile we had other work to get started on, and the kitchen is where I do most of my magic. We didn't have anymore time to be precious about the benchtops, they were about to get messy!
In recent days the kitchen has been subjected to a good deal of chaos, with sauces splashed about the wok, lemons crushed into dishes and coffee drips revealing the trail of my husband's morning ritual. Chaos is the natural state of a kitchen though. I see those photos of pristine kitchens without a hint of appliances or ingredients, and I cannot relate. So many "contemporary" kitchens look like nobody even lives in that home. Kitchen really are chaotic and that's what makes them joyful. All the ingredients and work that go into making a great recipe. Kitchens are messy. Kitchens should be messy. (Our kitchen will not remain as pristine as the photos in this post!)
The great joy of a porcelain benchtop is that all that mess can be cleaned up without a fuss. It's non-porous and tough as nails. Even our favourite black-bean chilli mix is no match for the fine Italian tile makers who designed our porcelain slabs. When it comes time to tidy up, the mess just wipes away and we don't give it a second thought. Even with our background level of chaos, the kitchen quickly feels brand new again. So I'm ready to make a whole new mess the next day!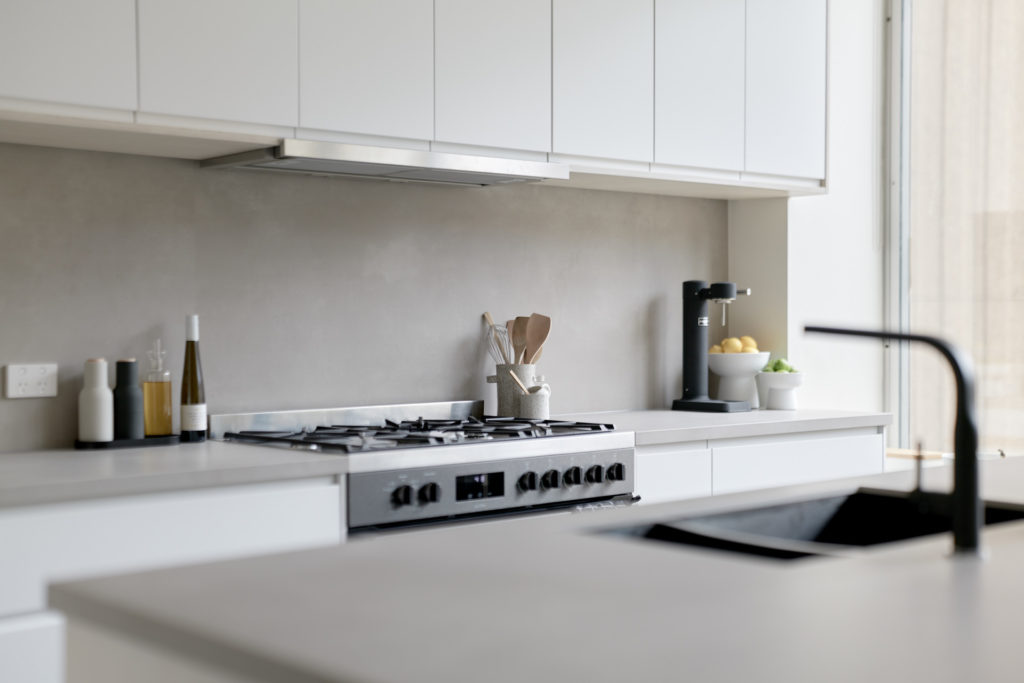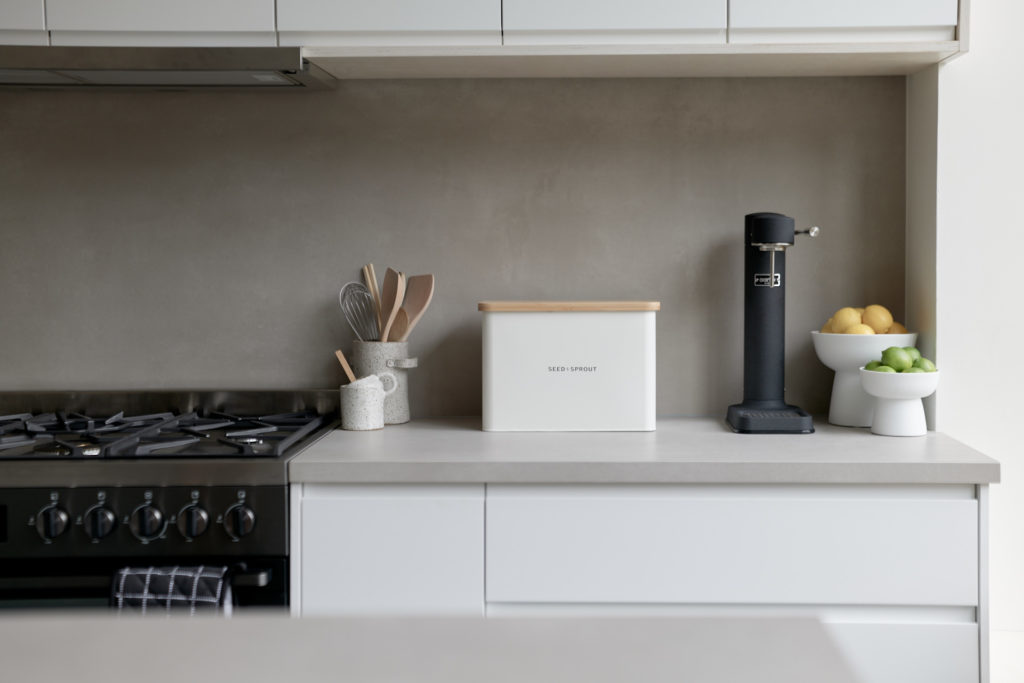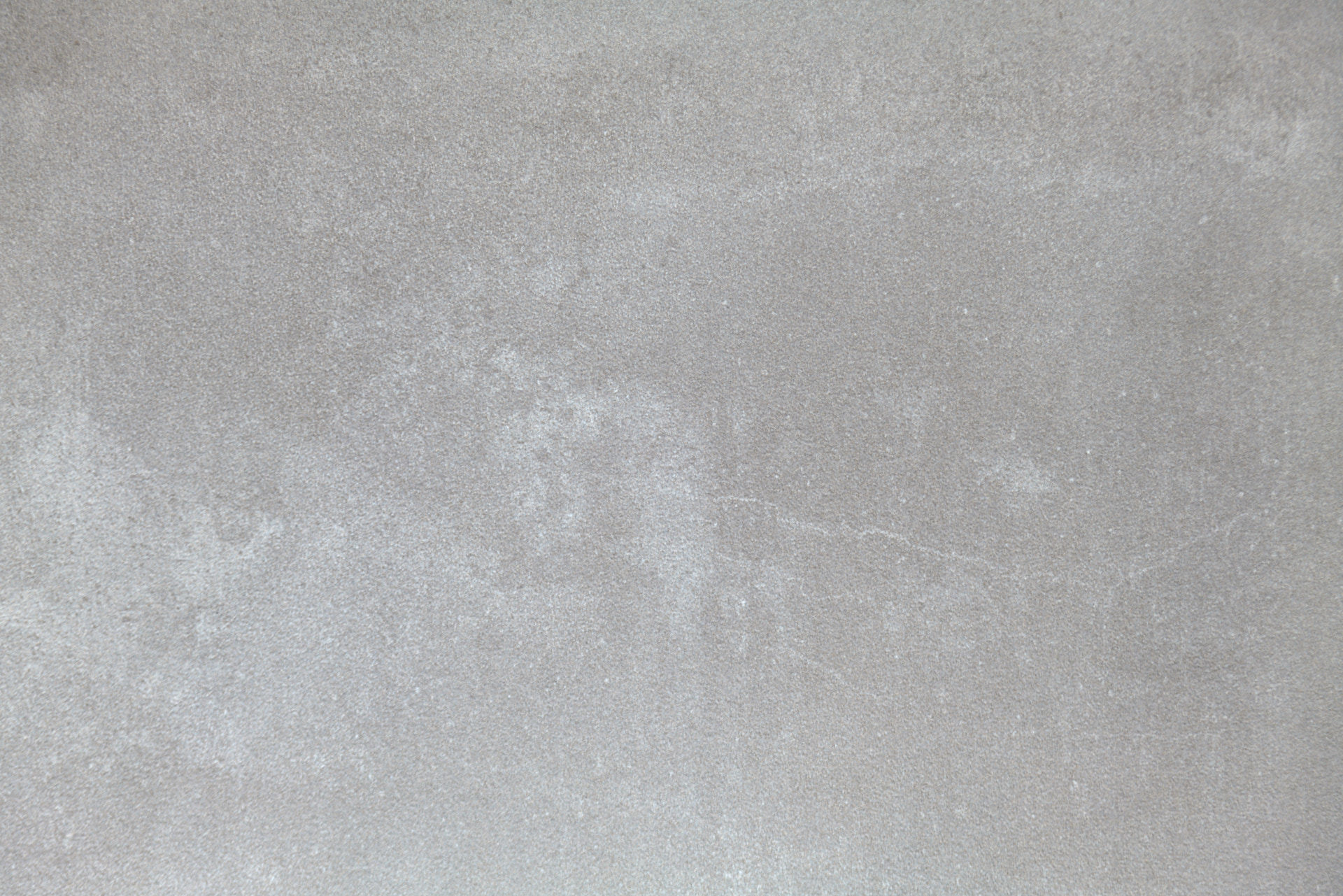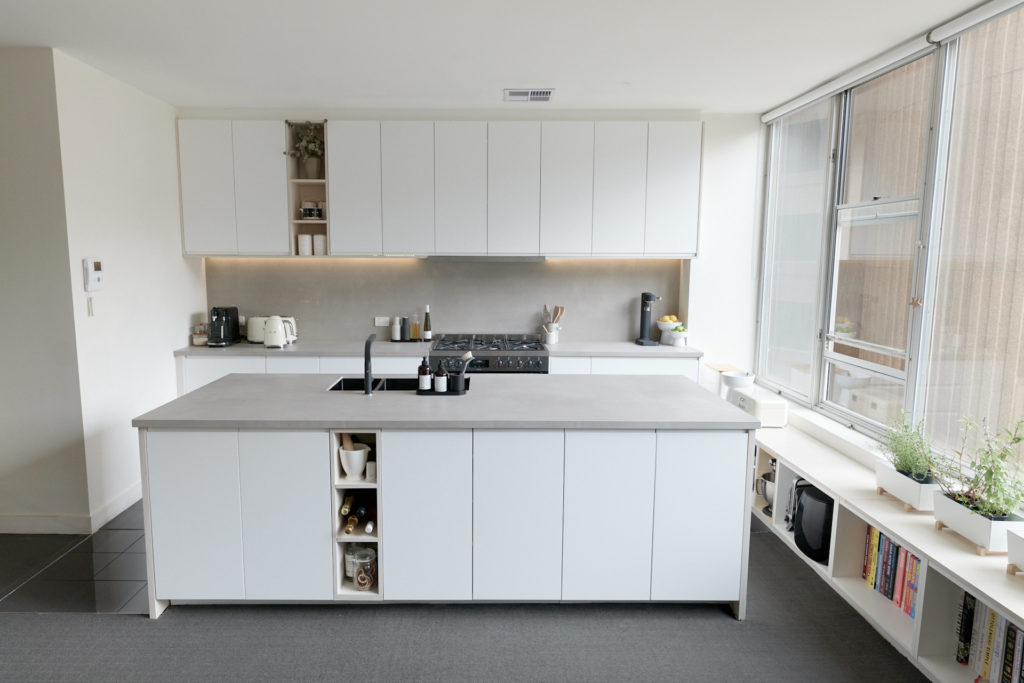 You can read about the kitchen renovation journey here:
Kitchen Details
Cabinets – Ikea
Doors – Ikea Voxtorp Matte White
Benchtops and Splashback – Stone Ambassador Vasari Haze
Open Shelving and Cover Panels – birch plywood, white washed and varnished by us
Sink – Oliveri Sprectra 1 & 1/2 Bowl Sink – Gunmetal
Tap – Franke TA6300B Sinos Swivel Mixer Tap
Freestanding Cooker – Westinghouse WFEP917DSD – 90cm Dual Fuel Pyrolitic Freestanding Cooker
Rangehood – Bosch DFS097A50A 90cm Serie 4 Slideout Rangehood
Items on Display
Coffee Machine – Breville Nespresso Creatista Uno Capsule Coffee Machine
Kettle and Toaster – Smeg in the colour Cream
Salt and Pepper Grinders – Menu
Tea Canisters – Love Tea
Teapot – Marimekko
Vase – Sophie Jane Moran
Oil Bottle – Avanti
Black Tray – Country Road Kye Tray Black
Utensil Holder – Comfort & Calm
Salt Pig – Maria Lacey (purchased from Funkis)
Aarke Carbonator III Sparkling Water Maker (Matte Black)
Fruit Bowls – Country Road Clive Vases
Bread Bin (Tall) – Seed & Sprout
Bread Bin (Small) – Myer
Handwash and Dishwashing Liquid – Lilla Bruket
Dish Brush Holder – Country Road Kye Holder Black
Herb Garden Planters – Ikea Bittergurka
Spice Jars – Little Label Co
Pantry Labels – Customised by Morning Blush Co