Roast Half Duck Noodle Salad
Introducing your new summer staple: Quick and delightful noodle salad! I've teamed up with Luv-a-Duck and their latest half roast duck. I've crafted this easy recipe that's ready in no time. Just heat the duck, whip up a gingery garlic soy dressing, cook some udon noodles, add pops of lychee, and voilà! ⁠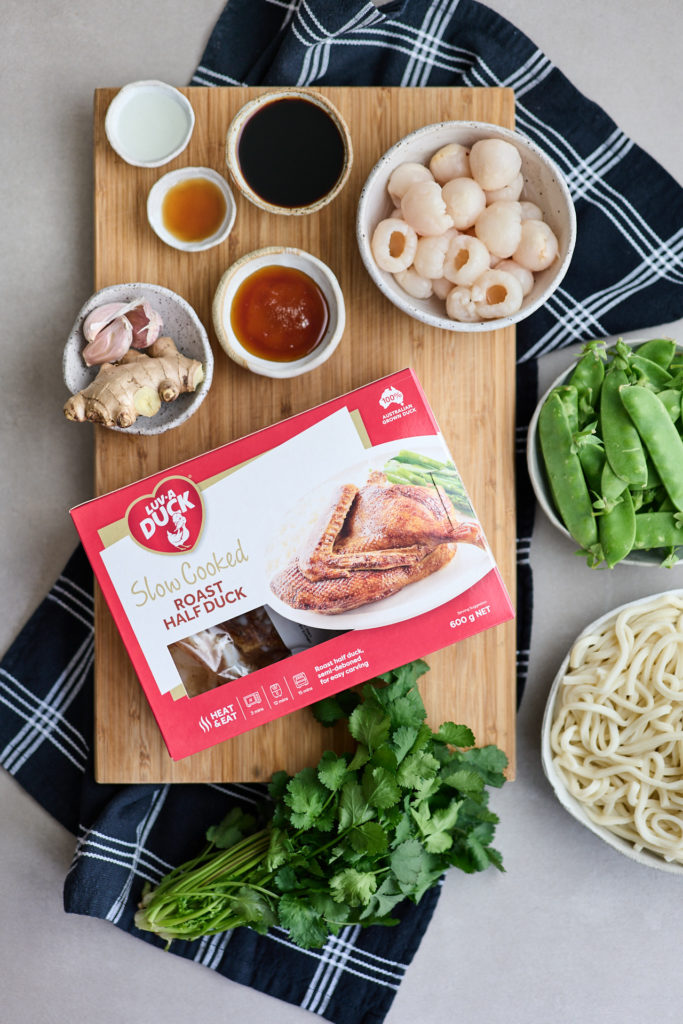 Roast Half Duck Noodle Salad
Print Recipe
Ingredients
1 Roast Half Duck
250g udon noodles, cooked
80g snow peas, sliced lengthways
1/4 bunch coriander, leaves picked
100g tinned lychees in syrup
1 small red chilli, sliced
Dressing
5cm ginger, finely grated
1 garlic clove, minced
4 tbsp soy sauce
1 tbsp lychee syrup
2 tbsp honey
2 tsp sesame oil
Instructions
Preheat the oven to 190°C fan-forced (200°C conventional). Remove the duck from the packaging and place it onto a lightly oiled baking tray. Place it in the oven and cook for 15 minutes. Remove it from the oven and let it rest for 5 minutes before slicing.

Meanwhile, prepare the dressing. Place all the ingredients into a small jar and shake well to combine.

Place the noodles and snow peas into a large bowl. Reserve 1 tablespoon of the dressing and pour the remaining dressing over the noodles. Toss to combine.