Passionfruit Yo-Yos
Yo-yos are one of my favourite biscuits, and home made are ALWAYS better than shop bought! I finally found my old yo-yo recipe I used to make in the early years of this blog. Prahran Market sent me out some passionfruit as part of the July mystery box, so I decided to pimp up the old recipe by adding passionfruit curd. Delish!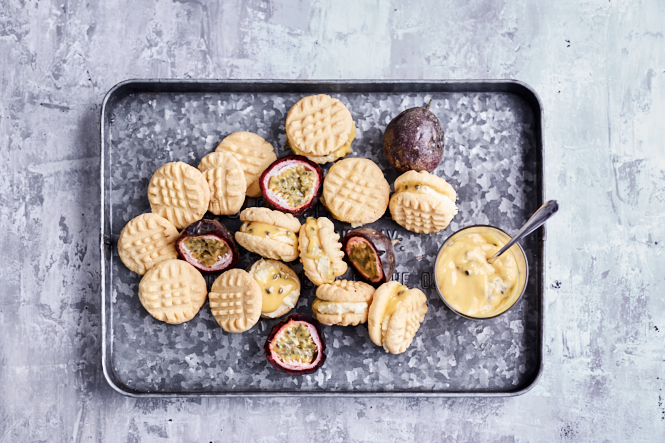 Passionfruit Yoyos
Biscuit
185g unsalted butter, softened
60g icing sugar
60g custard powder
185g plain flour
Filling
4 tbs unsalted butter, softened
8 tbs icing sugar, sifted
½ tsp vanilla extract
Passionfruit Curd
4 egg yolks
100g caster sugar
80ml passionfruit pulp (about 4 passionfruit)
50g butter, chopped
2 tsp lime juice
Make the passionfruit curd. Whisk the yolks in a heatproof bowl to combine. Combine the sugar, passionfruit pulp and butter in a saucepan over low heat and stir until butter melts and sugar dissolves. Whisking continuously, add a third of the passionfruit mixture to yolks, then add to pan and stir continuously until thickened (do not boil). Add lime juice, remove from heat, cover and chill for around 1 hour.
Preheat oven to 160C (140C fan-forced).
To make the biscuits, cream butter and icing sugar until light in colour and consistency.
Sift the custard powder and flour times. Stir into cream mixture.
With floured hands, roll teaspoons of mixture into balls and place onto a cookie tray lined with baking paper. Dip fork into plain flour and press the biscuits slightly down to leave an indent.
Bake in oven for 15-18 minutes or until pale golden colour (the bottoms should be golden brown). Cool on tray for about 5 minutes before moving to wire rack to cool completely.
To make the filling, mix butter, icing sugar and vanilla extract together until combined.
Sandwich biscuits together using 1 teaspoon filling and ½ teaspoon passionfruit curd. Chill for 30 minutes.