Kitchen Reno – LOOKING TO THE FUTURE
My kitchen is the biggest part of my life. It's where my blog was born, and hence my entire career. Since starting this website in 2008 I have cooked up a storm in a variety of kitchen spaces. It started in my parents kitchen when I still lived at home, then progressed to a crappy rental where the oven was older than I was. As my blog grew in size so did my kitchens, eventually leading to some that were genuinely wonderful when baking cakes and shooting for clients.
I now have a new place to call home with lots of space, great light and an abundance of potential. The kitchen is straight out of the 90s however and my next major career challenge is to turn that fabulous potential into a reality.
I have high expectations for my new kitchen, even if I haven't figured out the budget to match. My list of recipes to explore and refine is growing by the day, so I need a space that works for me and helps me be creative. I want to fill my blog with hundreds of new posts, so I need a kitchen that will nurture my cooking, baking and photography.
Aside from having lived with a wide variety of kitchens over the past decade, we've been on a constant diet of renovation TV recently and are choc full of inspirations. So much so it will be a serious challenge to make a decision. What kind of cooktop do we need, can we build in a wall oven, will it be a problem to put the fridge opposite the island bench, can we make a walk-in pantry by sacrificing space in the spare bathroom?
I say Island bench, but really I think we should be aiming for a whole continent. Island benches also create wonderful storage solutions if you make them generous enough. Designing precise locations for power outlets is a major priority too, given how many appliances may be required in the course of a few recipes. It's these fine details that are really important. A kitchen to love is more than just cabinets and self-closing drawers.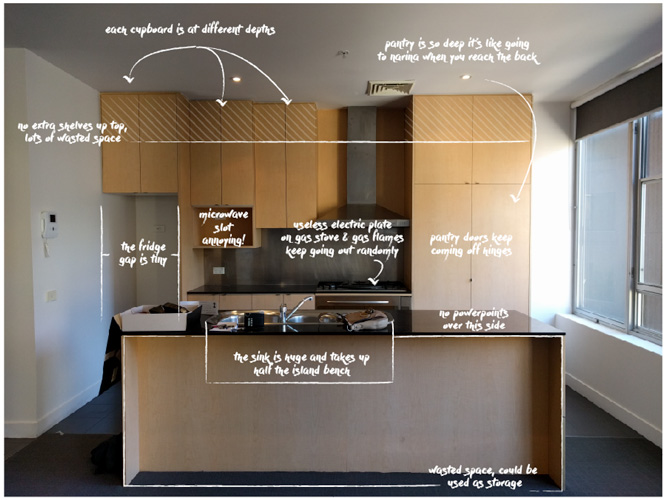 We recently had a kitchen designer come and offer an estimate and input some design ideas. He offered zero attention to the details that mattered most to us, no solutions beyond the constraints of their catalogue, and their quotation was just for hardware with absolutely no responsibility taken for installation or trades. It was a genuine set back, and time that we could have spent more productively.
Shopping for a kitchen is not easy, but it's even harder when some companies are cagey about taking responsibility for the results. That particular kitchen supplier spent a lot of time talking about the "quality" of their manufactured panels and zero time talking about how it was going to be installed. Another factor we've become aware of is the depth of hardware solutions that exist on the market today. There are some really clever features you can build into a kitchen for storage, but you wont see them if your suppliers product range is limited to a single manufacturer.
It's not like getting a room painted or laying a rug on the floor. You can't expect to buy everything you want off the shelf. Time spent shopping around is what will make the difference between "like vs love" for your new kitchen. And we're looking for love.
Our kitchen project came to a halt for a few months since moving into the new place. We still haven't unpacked *all* our boxes, and between Christmas and our work schedule we have had to put our plans to one side. As we step into Autumn we want to step into a new phase of kitchen planning. We wont rush this project, as it's too important for our happiness. The kitchen truly is the heart of our home.
It's also the heart of my business, my Instagram feed and about half of everything I post online. The kitchen we build will be featured on a weekly basis for years to come. So it has to look as good as it works. It will essentially be an extension of the studio, designed with a photographers eye so the camera can move through the space and find something wonderful every time. It will become my most Instagrammed possession. It will be the best styling prop I've ever worked with.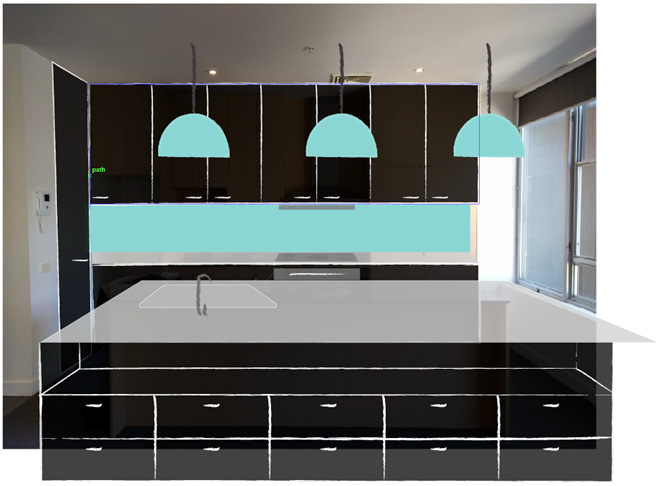 After many discussions, and episodes of Grand Designs, we feel that we finally know what we want. We have explored the option to partially knock down a wall to create an appliance hub. We know the colour scheme we want. We even have a handle on what tiles might be picked for the splash back. We just need to find someone to help us do it!
We still need to explore appliance options, cabinet makers, bench top suppliers, etc. In the weeks and months ahead I'll be documenting the process; the tears, the joy and the finished product.
We'd love a little help along the way. Share your advice with us in the comments. Tell us what made your kitchen update special. Tell us what caused you grief. Tell us what you regret not having stretched the budget to include. Tell us who helped turn your dream into a reality. Share the love.