Porchetta with Roasted Grapes
You know those dishes that you would love to make but are just too scared to try? I was always afraid of making roasts; what if they were overdone and dry? Or underdone and you only find out when you are serving your guests? Tragedy!
Well, if you are as apprehensive as I was, it's time to invest in a meat thermometer. I have one that you can probe into the meat when you put it into the oven, and it attaches to a device that alerts you when your meat reaches the temperature you have set. There are also fancy Bluetooth options on the market that will link to your phone.
I've made this porchetta a few times now, and it's always been a crowd-pleaser. The roasted grapes act like applesauce to go with the pork, and they also look great! Will you give it a go?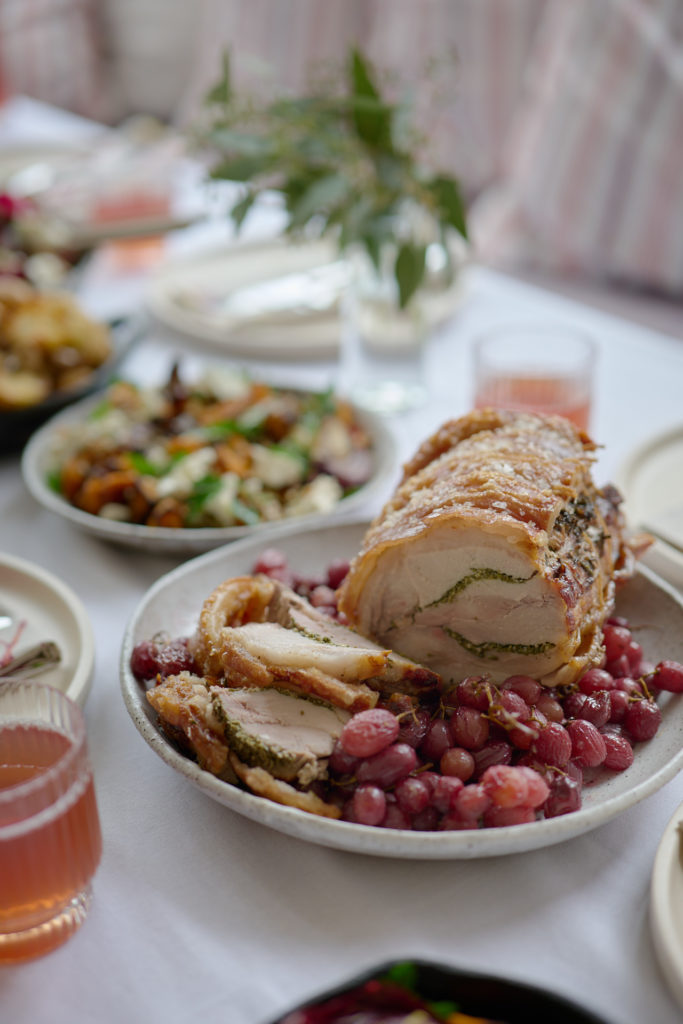 Porchetta with Roasted Grapes
Print Recipe
Ingredients
2kg boneless pork belly, skin on
½ cup sage leaves
½ cup rosemary leaves
⅓ cup thyme leaves
Finely grated zest of 1 lemon
2 garlic cloves
80ml extra virgin olive oil
500g red grapes
Instructions
Score the skin of the pork belly at 5mm intervals. 

Pat pork completely dry with paper towel. Place pork skin side down onto a chopping board. Cut vertically into the thickest park of the pork along the long side, three-quarters of the way through, to form a flap. Season well.

Place the sage, rosemary, thyme, lemon zest, garlic, and oil into a blender and blitz until a paste consistency. Press this mixture into the centre of the pork, roll up firmly from the long side. Tie tightly at 4cm intervals with kitchen string. Gently press any loose stuffing back into the ends. 

Transfer to a large plate. Refrigerate overnight, uncovered for the skin to dry out. 

Preheat oven to 240° C/220°C fan-forced. Transfer pork to a wire rack on a baking tray. Bring to room temperature. 

Roast pork for 30-35 minutes until the skin is golden and crispy. Reduce heat to 180°C/160°C fan-forced and roast for 1-1.5 hours. Add the grapes to the tray around the pork for the last 30 minutes. The pork is ready when the internal temperature reaches 60°C, or until the juices run clean when tested with a skewer in the centre. Loosely cover with foil and rest for 15 minutes. 

Carve the porchetta and serve with roasted grapes.