Chicken Tonkatsu
When I started this website it was mainly aiming for those easy to make meals you can come home and whip up after your brain has been fried from being at the office and sitting in traffic. However, even though I don't have to commute to a from an office and I'm generally luckily don't have to deal with too many people that make me want to bang my head into the wall, I still love a quick and easy recipe to whip up.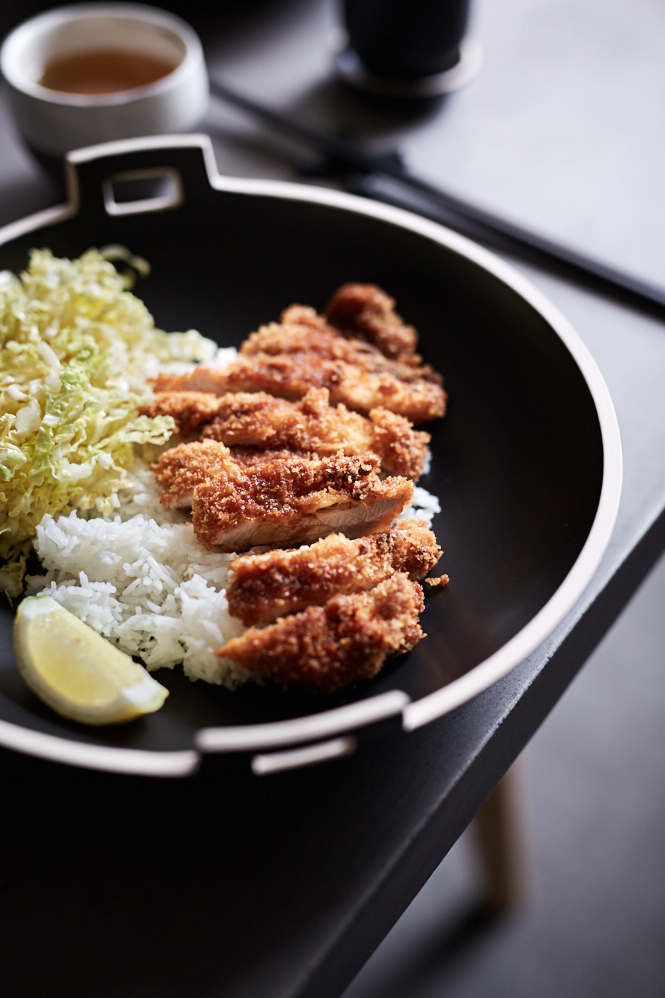 This recipe is not one of those recipes. It can certainly be if you spend a bit of time on the weekend making the sauces and keeping them in the fridge till you are ready. The recipe for the tonkatsu sauce (a Japanese-style barbecue sauce), can cover at least 2-3 meals, and the same with the dressing for the cabbage salad. In fact I have both sitting in my fridge ready for me to whip up some Japanese schnitzels on a whim.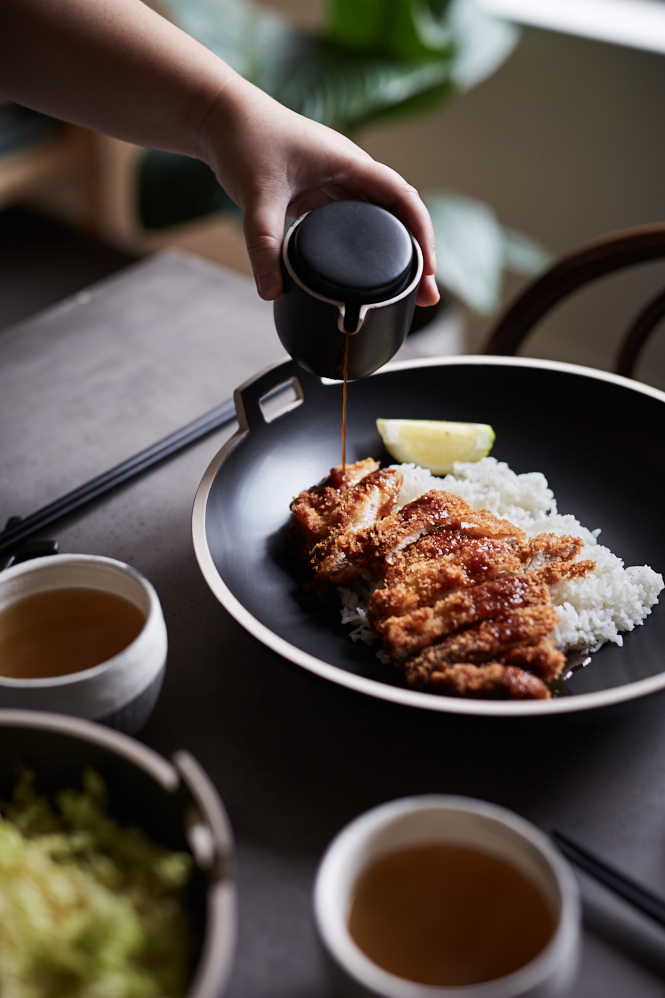 The layer of miso brushed on the meat before you start the flour, egg and breadcrumb coating makes all the difference. Don't believe me? Well I'll guess you'll have to make it then and try for yourself! It adds this extra dimension of flavour. 
The tonkatsu sauce is perfectly umami, tangy and sweet all at the same time, bringing the tonkatsu to another level. I find the tang from the yuzu that covers the cabbage salad an all important part to this meal, helping to break through the richness of the tonkatsu sauce and fried chicken, providing a fresh and refreshing hit.  
A staple in our in room dining menu at our place, and I hope it will soon be at yours too!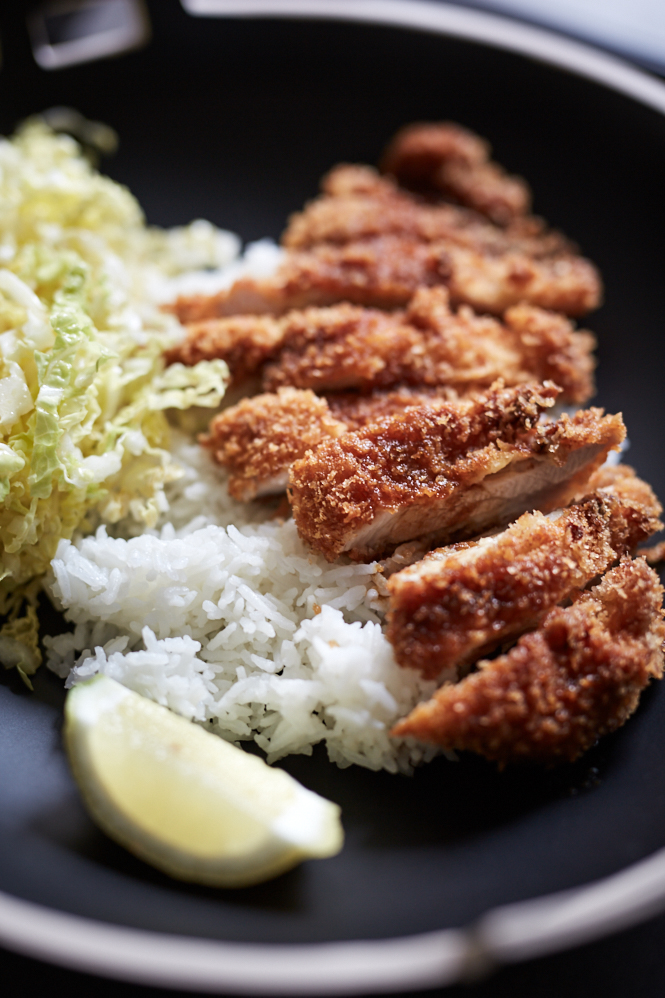 Chicken Tonkatsu
Print Recipe
Ingredients
Tonkatsu Sauce
½ each onion, carrot, celery stalk and peeled, cored apple, finely chopped
70ml tomato sauce (ketchup)
¼ cup (60ml) Worchestershire sauce
¼ cup (60ml) rice vinegar, plus 1 tsp extra
¼ tsp ground allspice
Pinch each ground cinnamon and cloves
2½ tbs kurozato (Japanese black sugar) or dark brown sugar
1 tsp finely grated ginger
1 small garlic clove bruised
½ tsp karashi (Japanese mustard) or hot English mustard
2 tbs mirin, plus
1 tsp extra
2 tbs sake, plus 1 tsp extra
2½ tbs soy sauce, plus 1½ tsp extra
Kyabetsu To Yuzu-Ae (Cabbage salad with Yuzu Dressing)
¼ cup (60ml) fresh or bottled yuzu juice or lemon juice
1½ tbs soy sauce
1 tbs mirin
2 tsp rice vinegar
1 tbs sesame oil
1 tsp caster sugar
300g Chinese cabbage (wombok)
Tonkatsu (Crumbed Pork Cutlets)
4 x 200g pork loin cutlets (deboned)
1 tbs saikyo miso (Kyoto-sweet style white miso) or white miso
¼ cup (35g) plain flour, seasoned with sea salt flakes and freshly ground black pepper
2 eggs, lightly beaten
1½ cups (75g) panko breadcrumbs
Sunflower oil, to deep-fry
Karashi or hot English mustard (optional)
toasted sesame seeds, to serve
steamed rice, to serve
tonkatsu sauce, to serve
cabbage salad, to serve
Instructions
Tonkatsu Sauce
Combine all ingredients (expect the extra vinegar, mirin, sake and soy sauce) with ¹⁄₃ cup (80ml) water in a saucepan over medium head and bring to the boil, stirring occasionally. Reduce heat to medium-low and cook for 50 minutes or until vegetables are tender.Remove from heat and discard garlic. Blend with a stick blender until smooth. Stir in extra vinegar, mirin, sake and soy sauce, then strain sauce into a jug, pressing down o the solids with the back of spoon, before serving. 
Kyabetsu To Yuzu-Ae (Cabbage salad with Yuzu Dressing)
Place the juice, soy, mirin, vinegar, sesame oil and sugar in a small bowl or jug, then stir until sugar is dissolved. Using a mandolin or very sharp knife, thinly shave the cabbage. To serve, place the cabbage in a light, airy mount on a serving platter and drizzle with the dressing. 
Tonkatsu (Crumbed Pork Cutlets)
For pork: make small incisions around the edge of the pork, at 1.5cm intervals, so the meat doesn't curl up when cooking.For chicken: you don't need to this, move to next step.

Place the meat between two sheets of plastic wrap. Using a meat mallet or rolling pin, beat the meal until 1.5cm thick. Brush miso evenly over the meat.

Place the flour, egg and breadcrumbs in three separate dishes. Dust the meat first with flour, then dip in the egg, allowing the excess to drip back into the dish, then coat with the breadcrumbs. Chill for 30 minutes to set.

Fill a deep-fryer or large deep saucepan with oil and heat over medium-high heat until 170°C (a cube of bread will turn golden in 60 seconds). Working in batches, gently lower the crumbed meat into the oil and cook for 5 minutes or until the crumbs are golden and the meat is cooked through. Drain on paper towel and keep warm. 

Using a sharp knife, slice each tonkatsu into 1.5cm strips, then transfer the strips to a plate.Serve with the mustard if using, sesame seeds, rice, tonkatsu sauce for dipping (although I like to pour some over the chicken to serve) and cabbage salad.