Bilberry & Lemon Tart
This recipe is an extract from Cabin Fever Cookbook. It's part of a menu plan for when you have a big group coming to dinner and only a small kitchen to work in! One of our favourites was in the Swedish town of Mårdsel, where we first made the Bilberry & Lemon tart.
See more about the book here: Cabin Fever Cookbook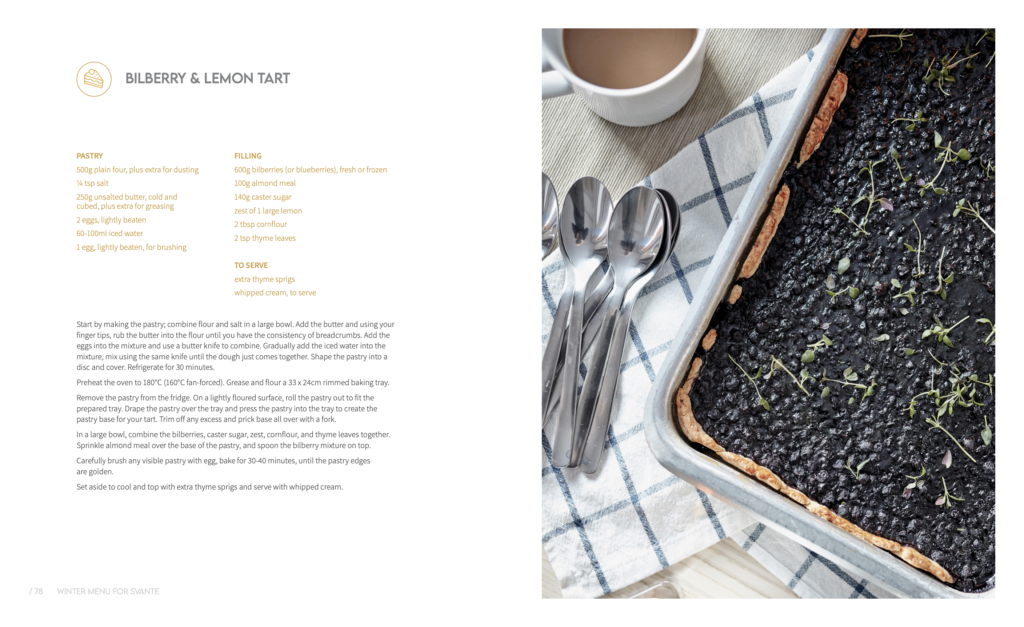 I used to think making your own pastry was hard, but it really takes less make time than thawing out a store bought frozen pastry. The lovely summery combination of lemon and bilberries / blueberries is a classic for a reason, but brought to another level with a fresh thyme leaves. You can use savoury thyme or lemon thyme, both bring an excellent aroma to the tart.

Perfect for your Christmas lunch or even next picnic. It transports well and will be a hit with the crowd!
Bilberry & Lemon Tart
Pastry
500g plain four, plus extra for dusting
1⁄4 tsp salt
250g unsalted butter, cold and cubed, plus extra for greasing
2 eggs, lightly beaten
60-100ml iced water
1 egg, lightly beaten, for brushing
Filling
600g bilberries (or blueberries), fresh or frozen
100g almond meal
140g caster sugar
zest of 1 large lemon
2 tbsp cornflour
2 tsp thyme leaves
To Serve
extra thyme sprigs whipped cream, to serve
Start by making the pastry; combine flour and salt in a large bowl. Add the butter and using your finger tips, rub the butter into the flour until you have the consistency of breadcrumbs. Add the eggs into the mixture and use a butter knife to combine. Gradually add the iced water into the mixture, mix using the same knife until the dough just comes together. Shape the pastry into a disc and cover. Refrigerate for 30 minutes.
Preheat the oven to 180°C (160°C fan-forced). Grease and flour a 33 x 24cm rimmed baking tray.
Remove the pastry from the fridge. On a lightly floured surface, roll the pastry out to fit the prepared tray. Drape the pastry over the tray and press the pastry into the tray to create the pastry base for your tart. Trim off any excess and prick base all over with a fork.
In a large bowl, combine the bilberries, caster sugar, zest, cornflour, and thyme leaves together. Sprinkle almond meal over the base of the pastry, and spoon the bilberry mixture on top.
Carefully brush any visible pastry with egg, bake for 30-40 minutes, until the pastry edges are golden.
Set aside to cool and top with extra thyme sprigs and serve with whipped cream.