Khao Soi
Last year, back when we took travel for granted; Ewen found a hotel in Bangkok near an amazing khao soi place. I wasn't with him on that particular trip, but he has raved about it since. Earlier this year we were in Bangkok on our way to Norway before Covid 19 really spread its wings, but unfortunately were staying on the wrong side of town to pop by for a bowl.
Upon returning back to Australia and having to enter self isolation for 2 weeks, I spent the first week basically going through every single cookbook I own. I made a spreadsheet of recipes I wanted to try, what book they were in and page number. It also helped me to plan for what was in the freezer and what I would need to order in from Woolies. I thought I'd surprise Ewen with this dish, and luckily for me he was pleasantly surprised and really enjoyed it! He did say I put too many noodles in the bowl, as it's more of a soup with a small amount of noodles, but hey, I love noodles so the more the merrier for me!
I couldn't get my hands on all the noodle condiments listed in the recipe, but this dish would be nothing without that fresh squeeze of lime just before serving! It is a little bit like a laksa but a great dish in its own right. Thinking a big bowl of this would go really well on such a cold day like today!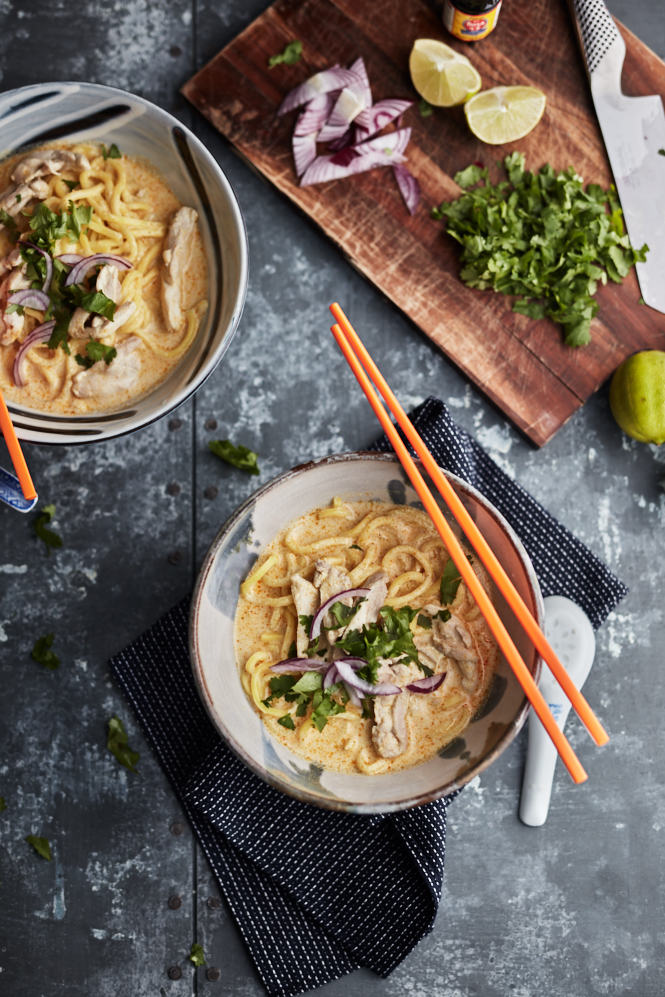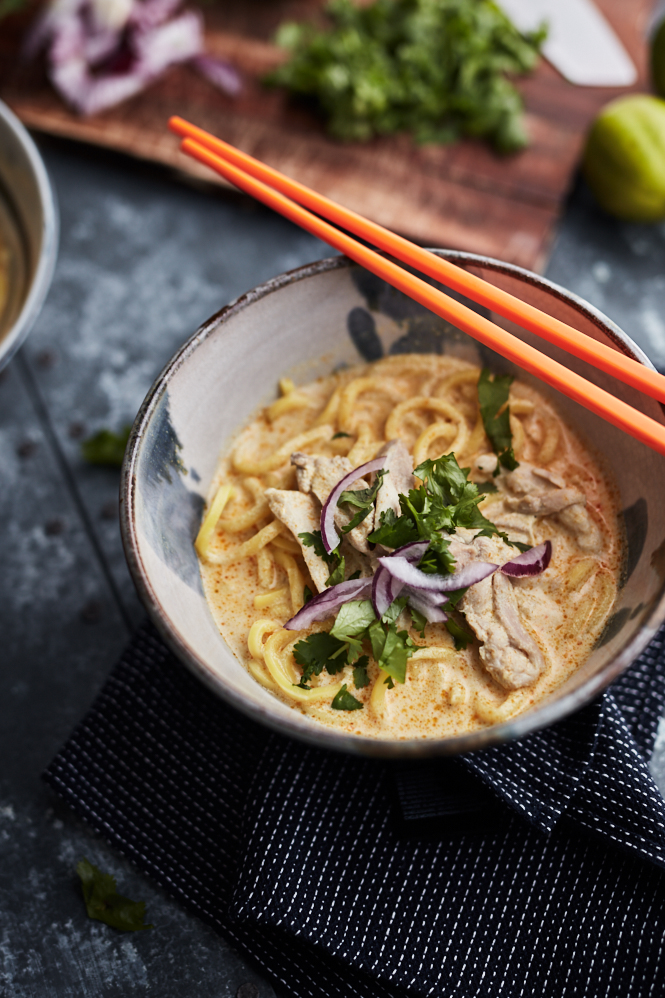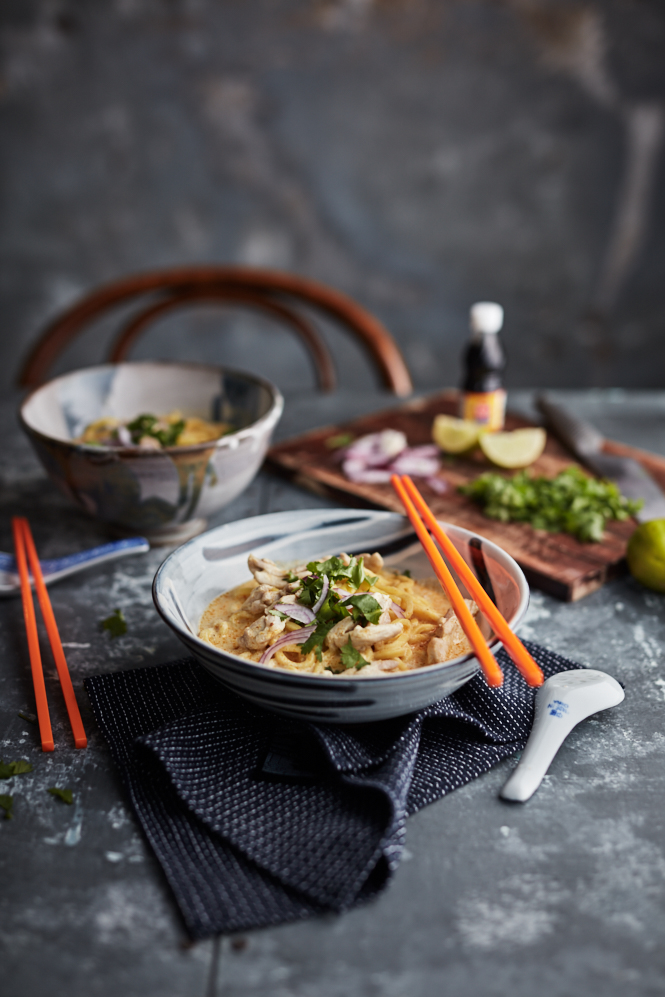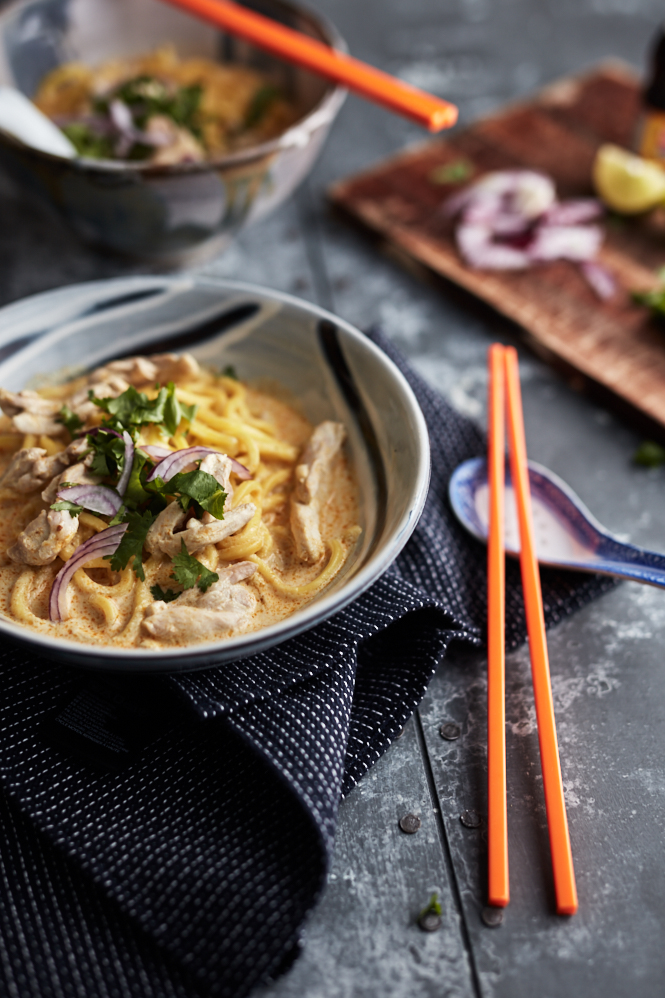 Khao Soi
Print Recipe
Ingredients
200 g fresh thin egg noodles
2 tbs vegetable oil
3 tbs Thai red curry paste
¼ tsp ground tumeric
½ tsp ground cardamon
4 cups coconut milk
2 tbsp fish sauce
1 tsp white sugar
300 g chicken thigh fillets, thinly sliced
Noodle Condiments
150 g deep-fried egg noodles, gently broken into large chunks
3 red shallots, thinly sliced
100 g pickled mustard green, drained, rinsed and thinly sliced
1 cup oughly chopped coriander leaves
1 lime, cut into wedges
Instructions
Cook the fresh noodles in boiling water for 2-3 minutes, or until just cooked, Drain, refresh under cold running water. Drain again well and set aside.

Heat the vegetable oil in a heavy-based saucepan over medium heat. Add the curry paste, turmeric and cardamon and cook for about 1 minute or until fragrant and steaming. Add 1 cup of the coconut milk and summer for 2 minutes to let the flavours infuse. Add the remaining coconut milk, the fish sauce, sugar and 2 cups of water. Toss in the chicken and simmer for about 5 minutes, or until cooked through. 

Arrange small handfuls of the cooked fresh noodles in serving bowls and ladle over the soup. Place a chunk of the deep-fried egg noodles on top. Scatter over a couple of slices of shallots, a pinch of sliced mustard greens and a small handful of coriander leaves. Finish with a squeeze of lime. 
Notes
Recipe by Marion Grasby