Street Eats Bangkok
Bangkok. The land of small business. Even David Thompson says it's full of entrepreneurs. Everywhere you go, the streets are lined with food stalls, almost masking the shops they are set up in front of. In fact you can go without even noticing the retail shops and be fascinated with what the next food cart was selling. It's the kind of place that makes you sad that you can only eat three meals a day.
It's a big post to cover a week on the streets of Bangkok, so we have a short version for you as well in the form of a 180 second video…
After a few days in Bangkok, you may start to wonder how anyone makes a dollar in this town. It becomes clear very quickly how the poor stay poor and the rich get richer. How do you make money when everyone within a few metres is selling the exact same thing as you. What really made me think about this was standing on the other side of the road at Yaowarat. There were four food carts right next to each other, selling the exact same fruit, for the exact same price. How do those people make a living? Why wouldn't you set up where there was no competition. How do consumers choose which fruit lady they buy their apples from, and are these fruit ladies friend or rivals?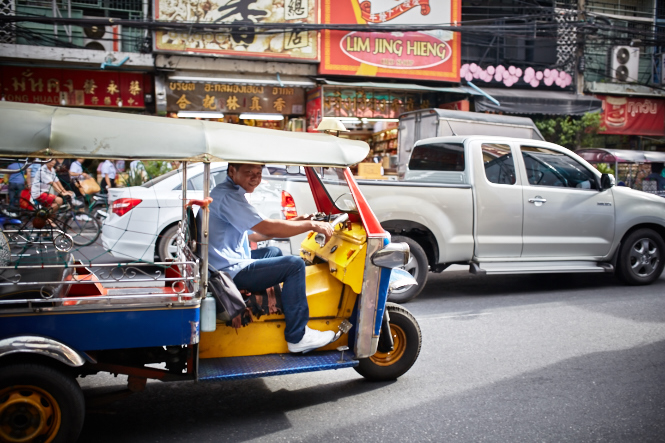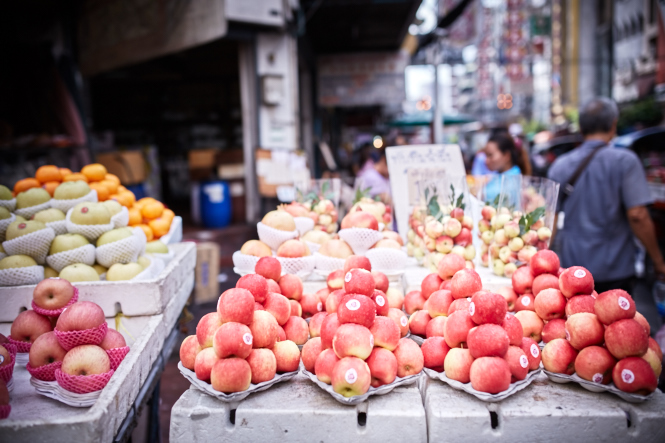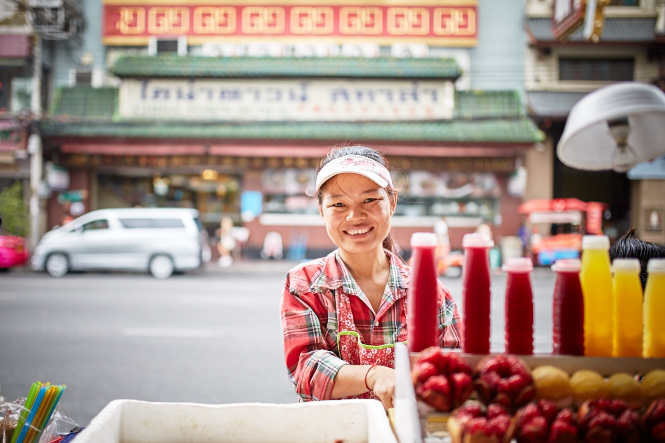 It's a place where I am baffled with how it functions, but I love it. The traffic is batshit cray cray, yet there are barely any accidents, everyone just tends to go with the flow. The one bus I got on was hilarious. The bus stopped just enough for people to jump off or on, then off it goes. The windows are all open, the bus driver looked like a three year old that stole a bus. The steering wheel was about ten times larger than it had to be, the gear stick was bigger than a pimp cane, and was about as tall as the driver; seeing him manoeuvre it was hilarious. He drove like he stole it, and didn't want to make all the stops. Even Kramer made all the stops.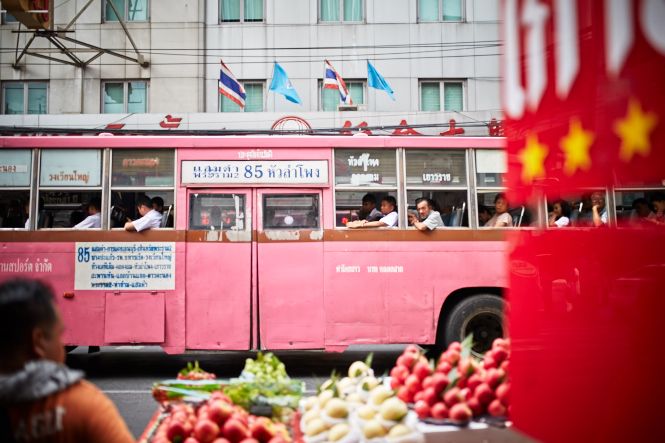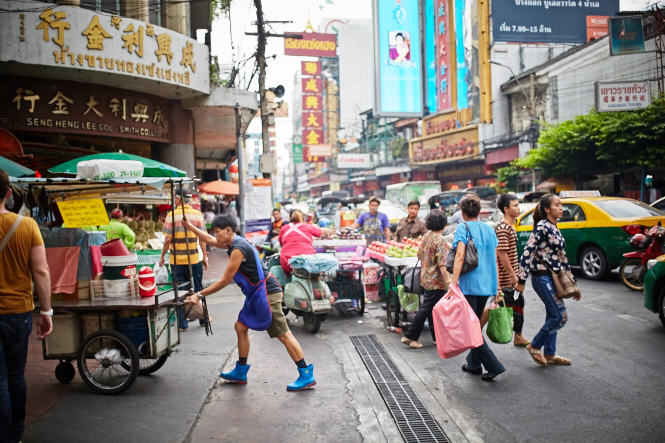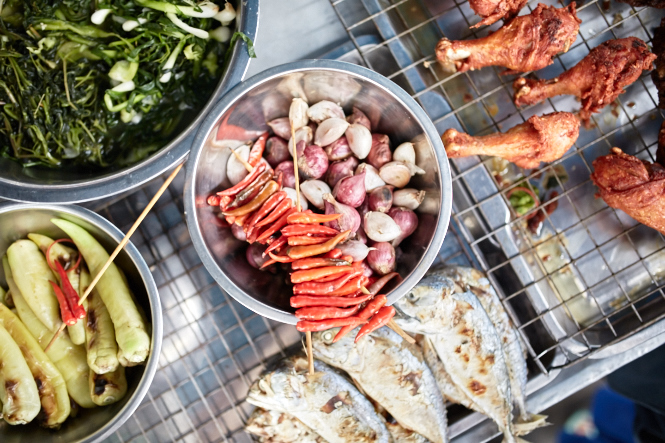 Street food is the heart and soul of Bangkok. It's everywhere you look, the smells waft down the street, enticing you to slow down, and take a bite. The street vendors follow the clock through the day, changing over the mix of offerings from breakfast to lunch to dinner. Our favourite grilled pork lady has a charcoal grill outside a 7-11 on Silom Soi Sam, but she's only there after breakfast and before dinner. Skewers of fatty pork strips are marinated then grilled to be sold at 10baht (40c AUD) a piece. It's a dynamite little snack, served with a mini pouch of fragrant sticky rice. Thin slices of meat are coated in a sweet, sticky marinade that caramelises over the coals and soaks up a little smokiness. The little bits of burnt ends are an extra treat.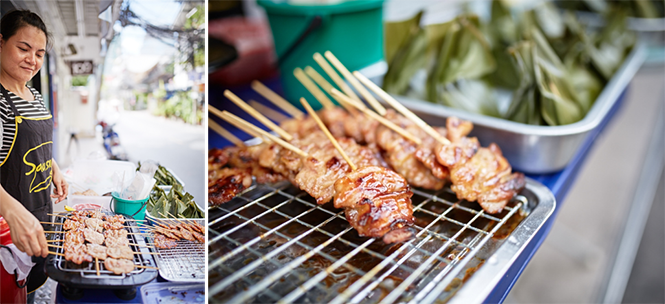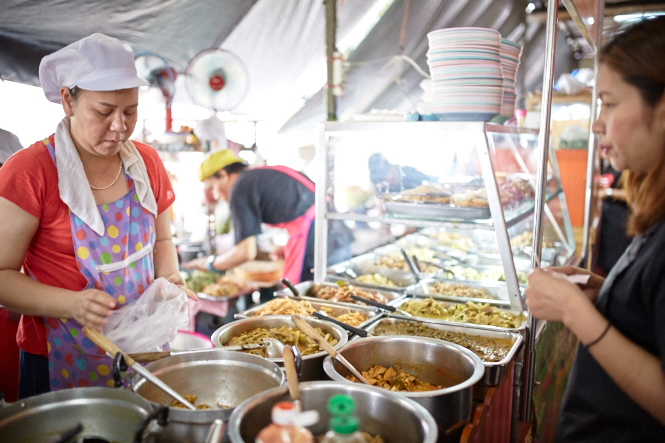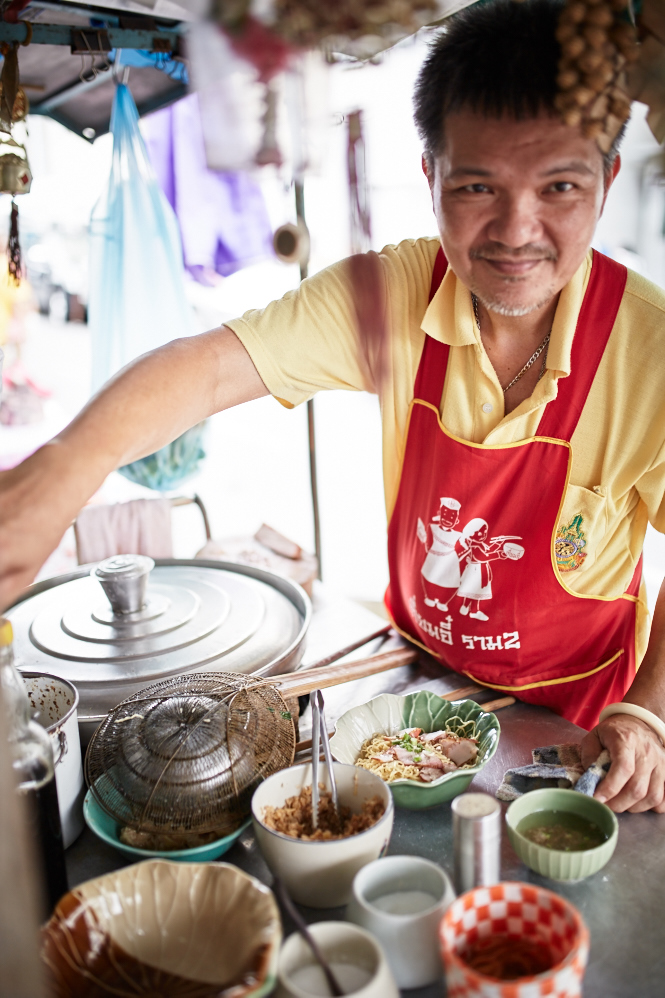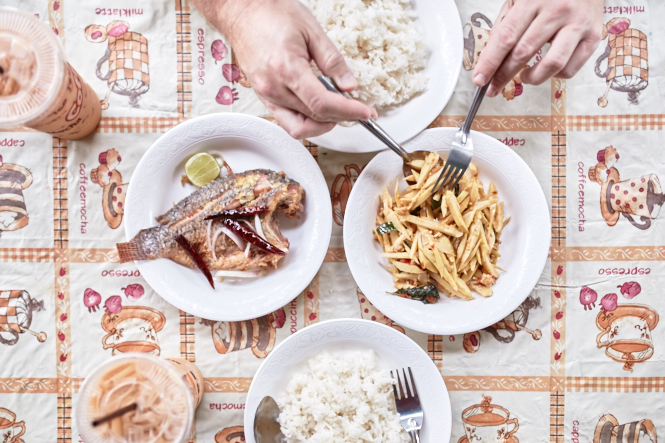 One of the best things about street food in Bangkok is that you can order a dish at one stall, and sit down while sipping on a drink or dessert from another. None of this "no outside food" nonsense. Nobody gets upset about sharing the footpath with another vendor. There's limited space and maximum sharing.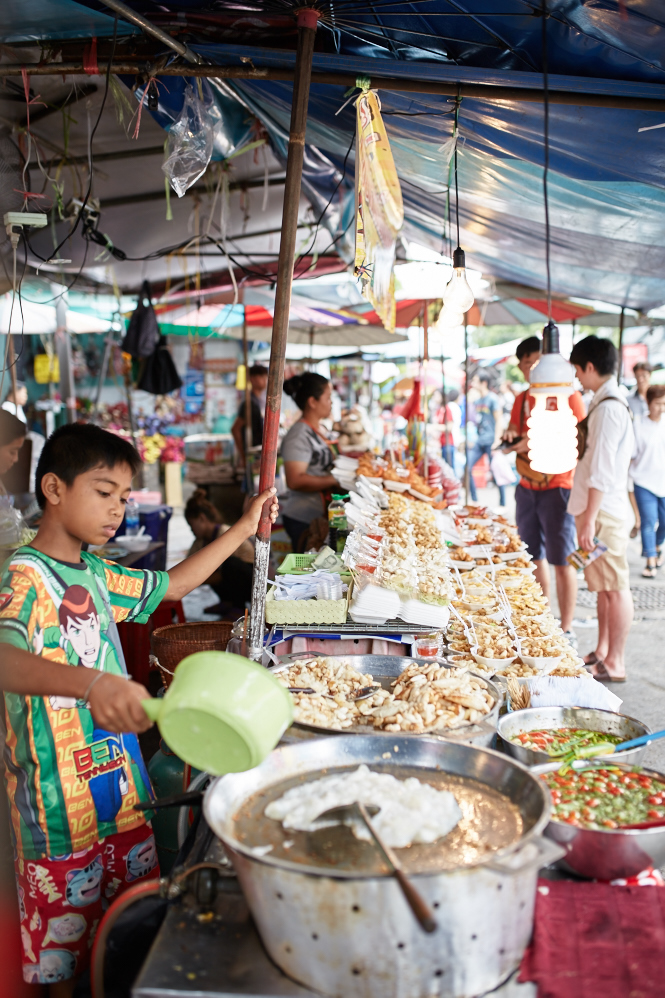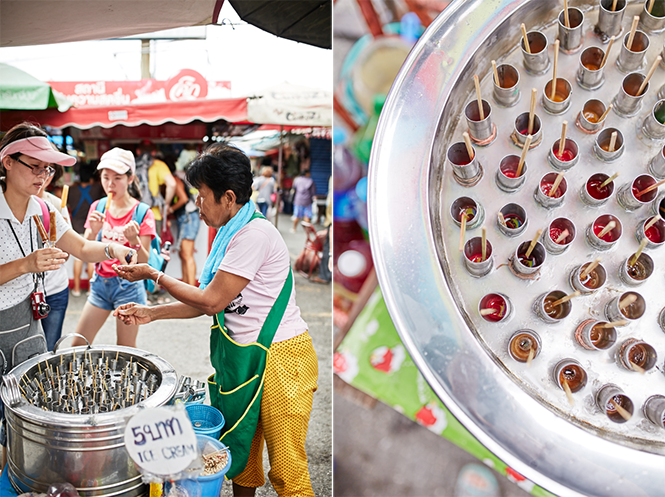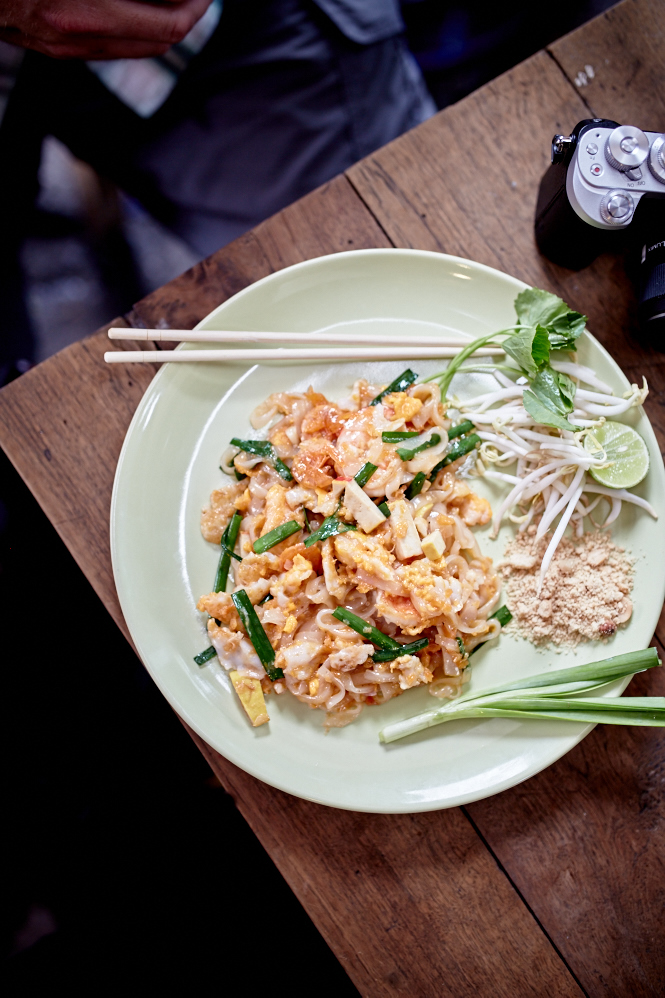 Pad Thai, one of the more famous dishes to come out of Thailand, can be found anywhere. Everyone seems to have their favourite, but on this trip, ours was at the buzzing Chatuchak Market. A market so big, it makes Ikea look like a corner store. This Pad Thai didn't look like the ones I'm used to seeing, it was wetter than what I'm used to. However, it was the best Pad Thai I've ever had in my life. Perfectly balanced flavours, just the right amount of sourness from the tamarind, and extra squeeze of lime. If I can recreate this at home, I will be one happy soul.
A lesser known night market can be found near Lebua State Tower, a strip beneath the freeway called Walking Street. It has a slightly upmarket feel with permanent stalls, a dedicated Pad Thai guy and lots of great street stalls on the fringe. It's a nice low key place for night dining, in comparison to the frenzy and chaos of Soi 38 in Sukhumvit, which we found to be over priced and not worth the cab ride over.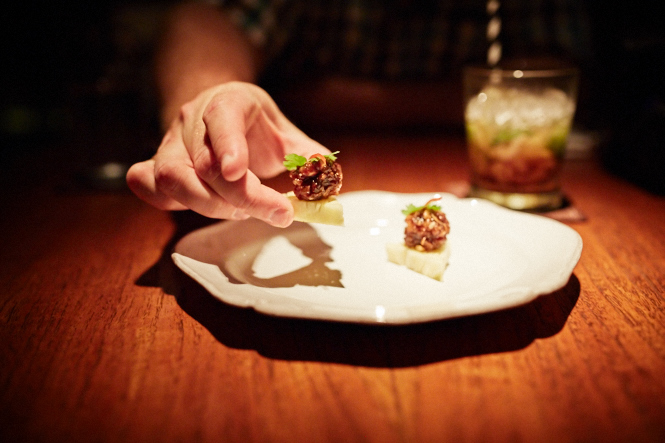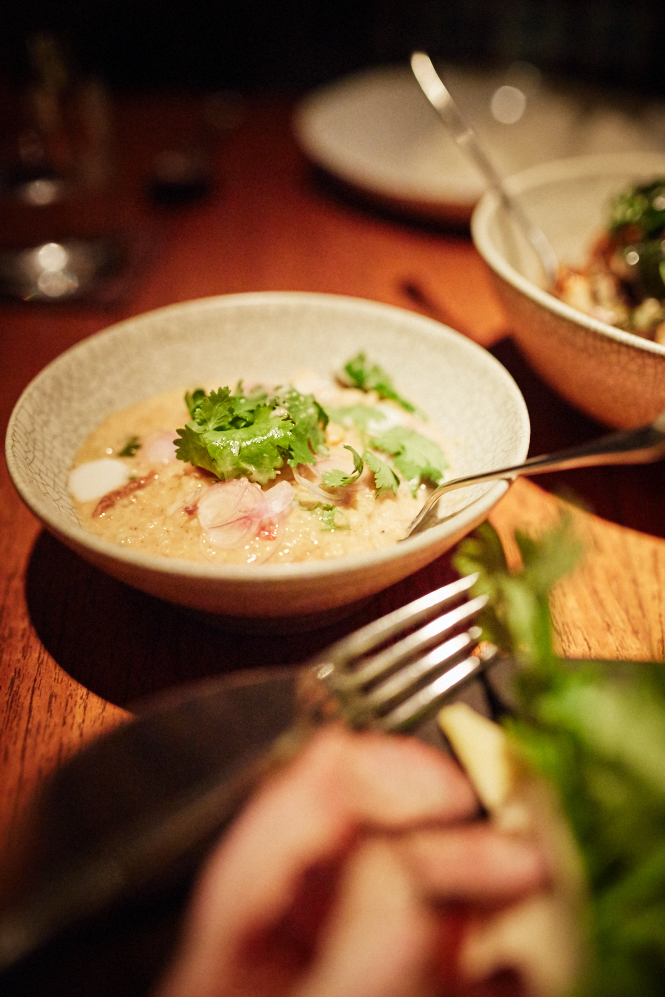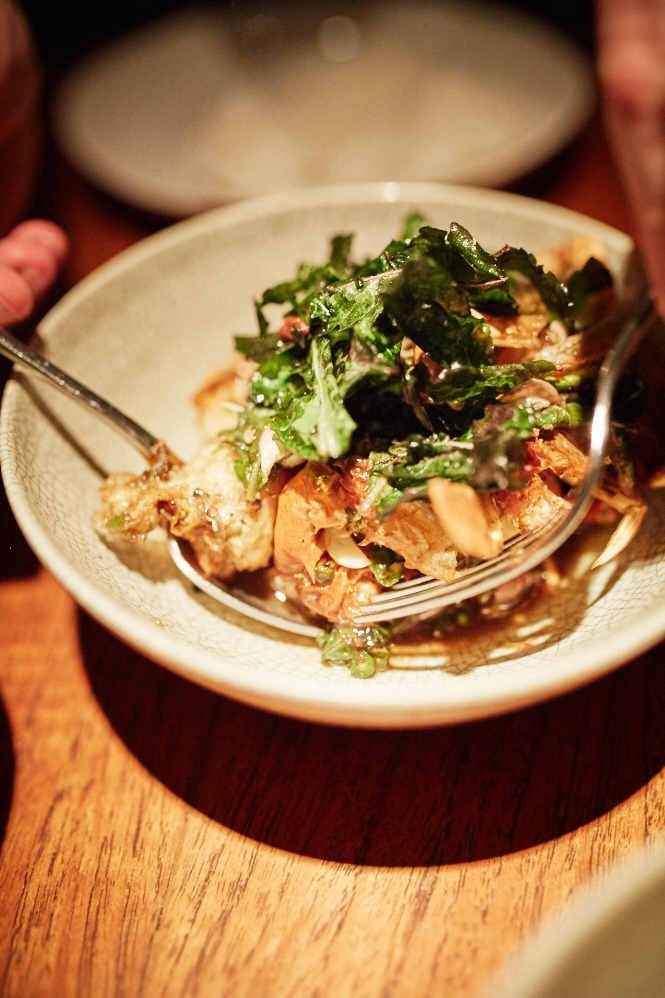 When in Bangkok, a visit to Nahm is on the cards for true food lovers. The food baby of Australian chef, restauranteur and expert on Thai cuisine, David Thompson, encapsulates the essence of Thai cooking, balance. It's packed with deadly elements but delivered in harmony with each other. His influence comes from traditional royal cuisine, where the salads are steeped in chilli. Before we could dig into one his "relish" dishes we were warned twice by two separate waiters to watch out for the very fine green chilli within. In essence they were saying, "here's the live grenade, try not to touch it."
Anyone who has seen David Thompson's TV series will appreciate his love of Thai street food. Nahm itself is not a street dining experience but it does draw from the same inspiration. Dinner at Nahm is, without question, one of Bangkok's great culinary experiences.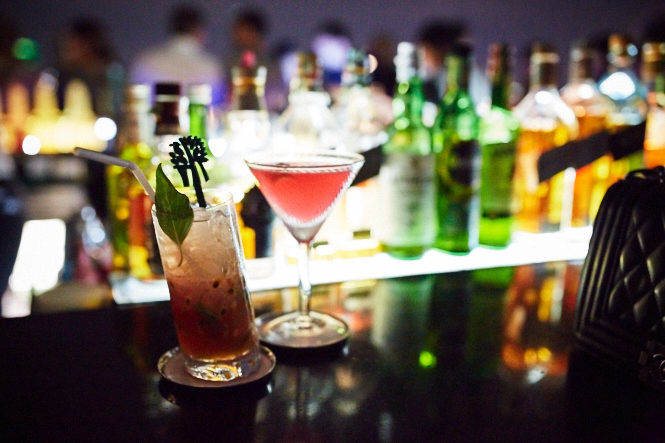 A cocktail at the Moon Bar, a rooftop bar on top of the Banyan Tree hotel, just down the road was the perfect way to end the night. It's a little bit glamorous and indulgent, but if you are going to have a night on the town why not do it in style and enjoy a scenic view of the entire town, from the 61st floor.
Bangkok's Chinatown at night is the complete opposite of quiet, as crowds pour out of tuk tuks and descend on the seafood stalls. In the midst of the utter chaos is a gorgeous little hotel called the Shanghai Mansion, a peaceful oasis of style and comfort. It's not five star, there is no pool to cool down in and the rooms are small. But they are classy and full of character, and you are literally metres from several of the best street eats in Bangkok.
T&K Seafood is our pick for chilli crab and sitting down on the footpath for a bang up feast. They can be easily spotted by their green uniforms. We had this tip from a few local residents who have been coming here for years, delivering consistently every time and with speed.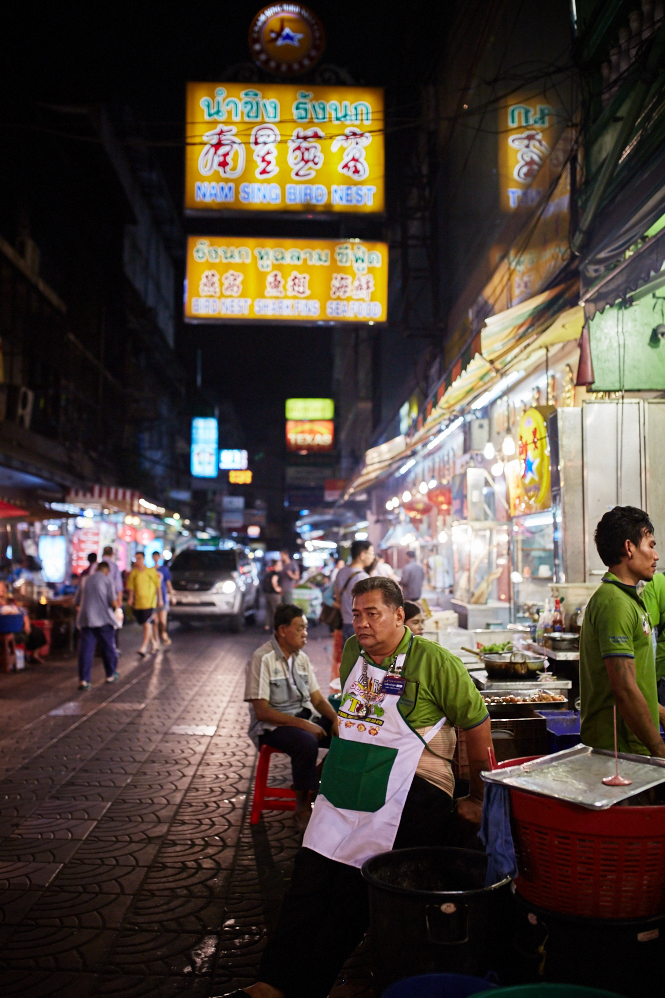 On this trip to Thailand we picked up by chance a superb local guide book to Chinatown, and from those pages discovered a new level of street food love. The book was written by a former traffic cop who retired and wrote up his 100 favourite foodie secrets.
Our two favourite picks stand on opposite sides of the same road, one is a crab and noodle shop called "Odean" while the other is a tiny stall selling hand made flat noodles with hand made fish balls. It sounds a bit dull and I rarely go for the soup option; fried food usually wins when my tummy argues with my brain. These noodles were incredible, with a layered clear broth, feather-light noodles and freshly spiced fish dumplings dropped into the mix. The old man has been selling his Kuay Tiew Luk Chin Pla for sixty years now. He wakes up at five in the morning to make sure he is ready to start serving his regular customers at ten.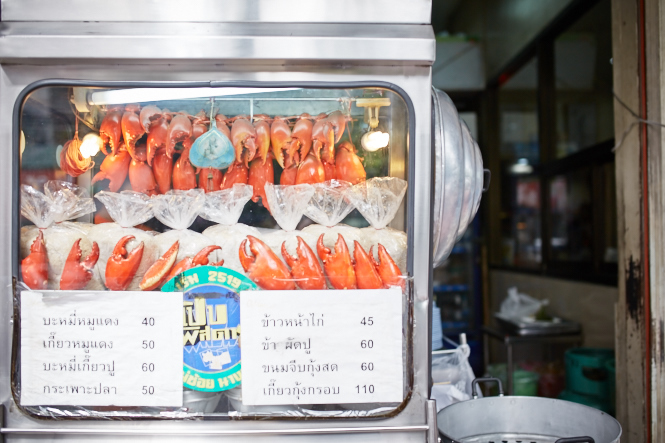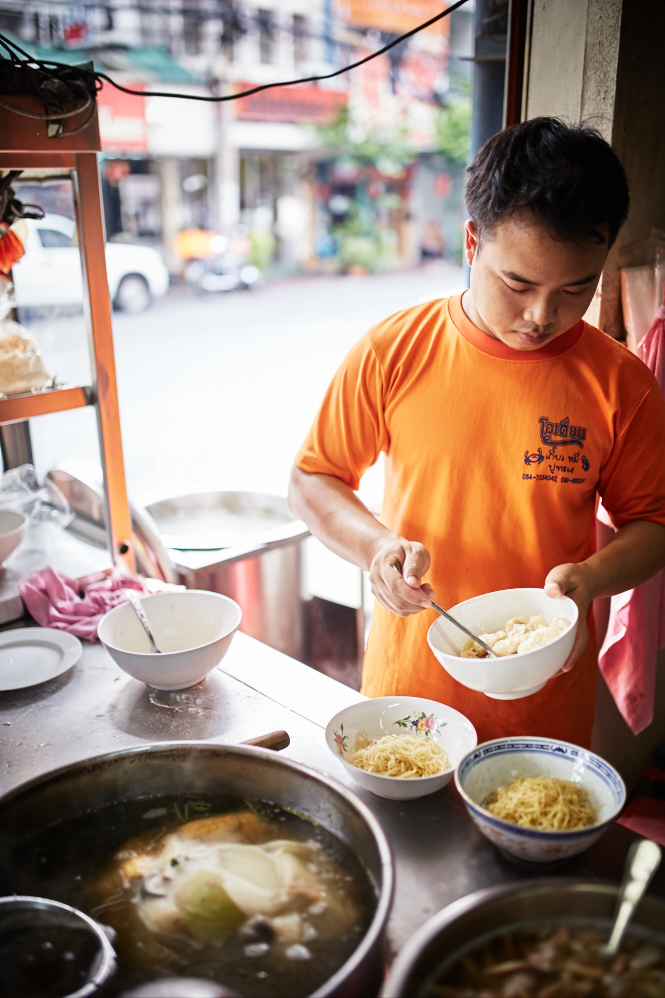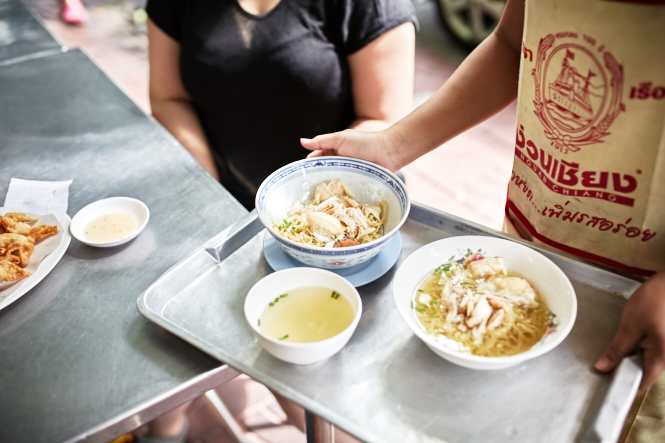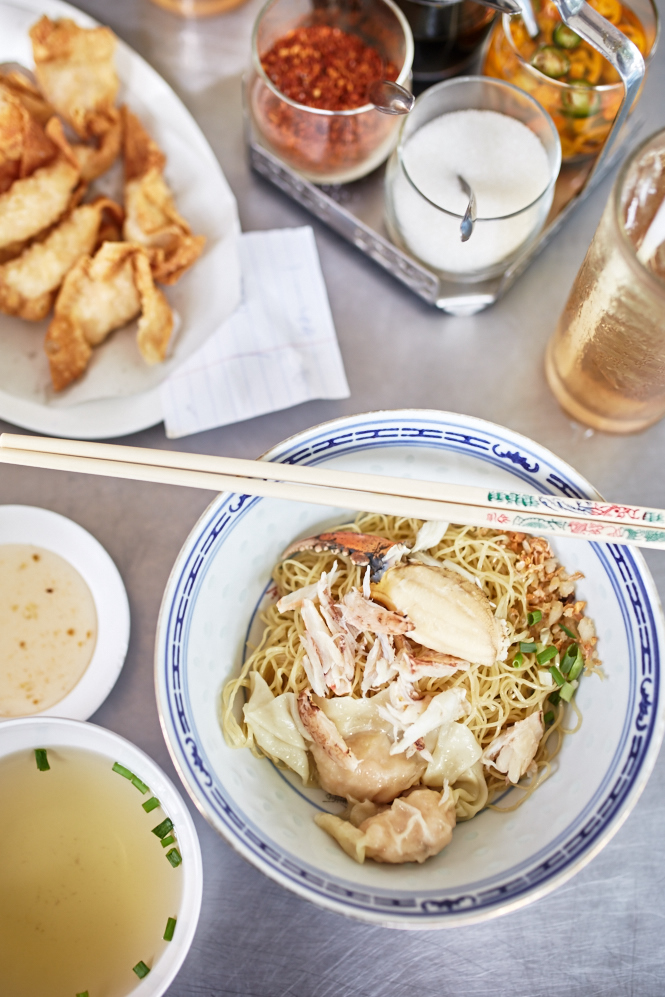 Odean is however the show stopper. Instead of flat wide rice noodles they make their own thin eggs noodles. A young lad stands outside the kitchen flaking crab meat by hand, the same flakes that will be sprinkled over your noodles. Choose between wontons or pork to accompany your noodles, and have your broth in the bowl or on the side. If you are feeling like royalty add a crab claw as well choosing from the small, medium or large claw. These guys nail it for fresh, flavour and value.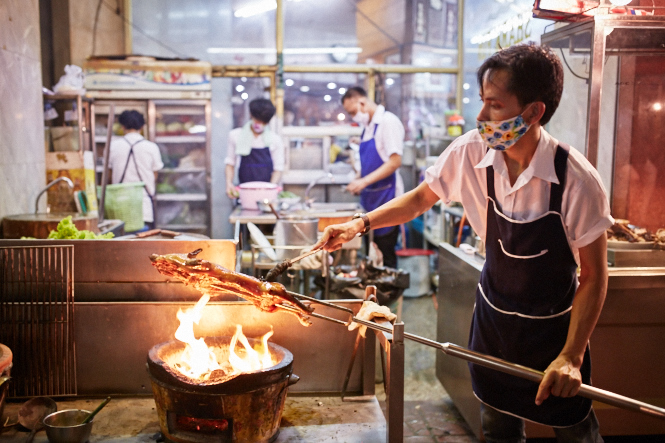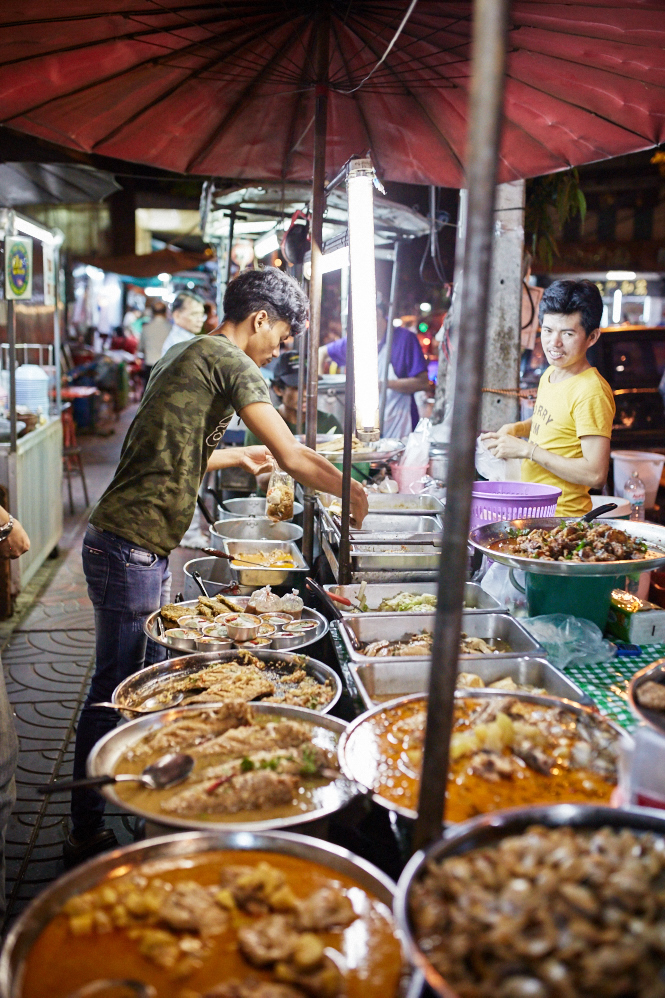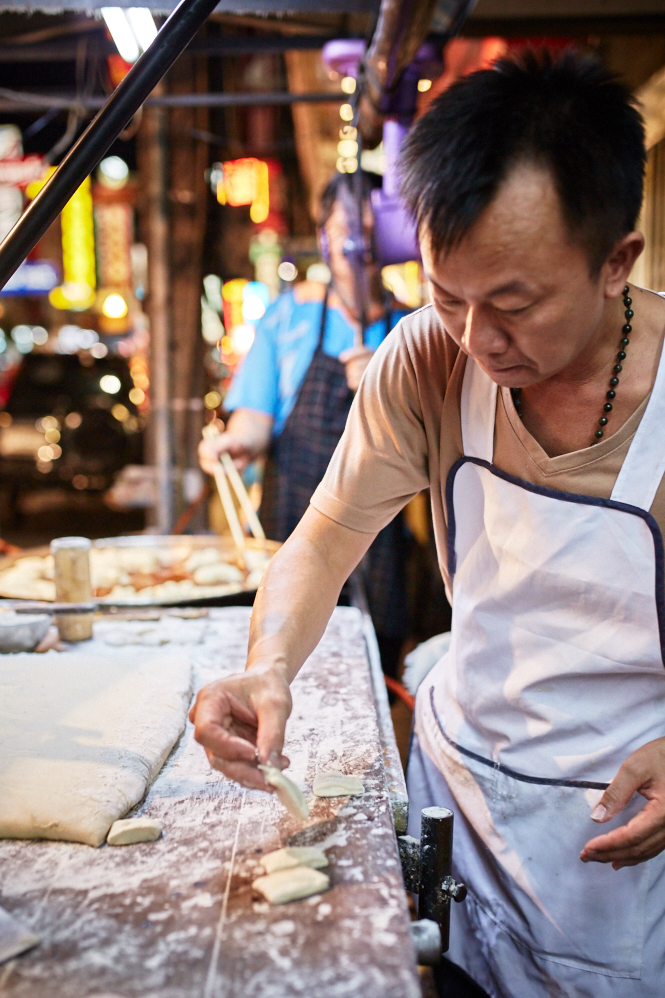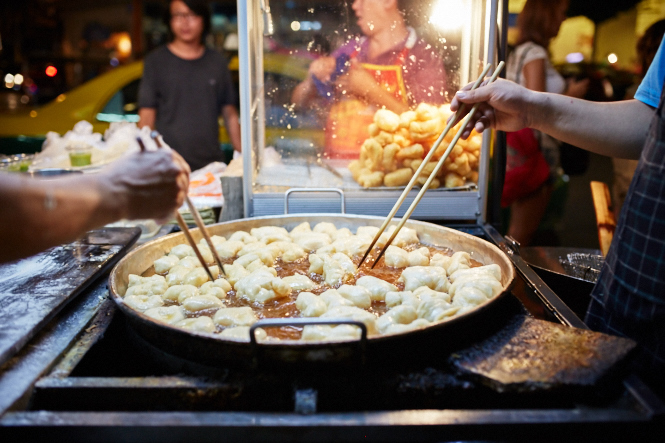 Most of the menus around Chinatown offer Thai styles with a few nods to a distant Cantonese heritage. There are big fancy Chinese restaurants along the main street of Yaowarat if you want some bling (or air conditioning), but keep walking until you hit the market for some extra street reality. At night there are two more treats worthy of attention, the stalls selling mango sticky rice, everybody's favourite Thai dessert, and the Chinese answer to custard donuts. Deep fried dough is chopped up into bite size pieces and smothered with pandanus custard.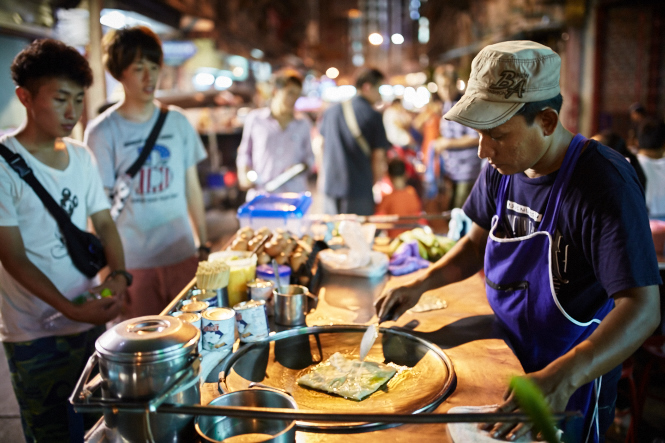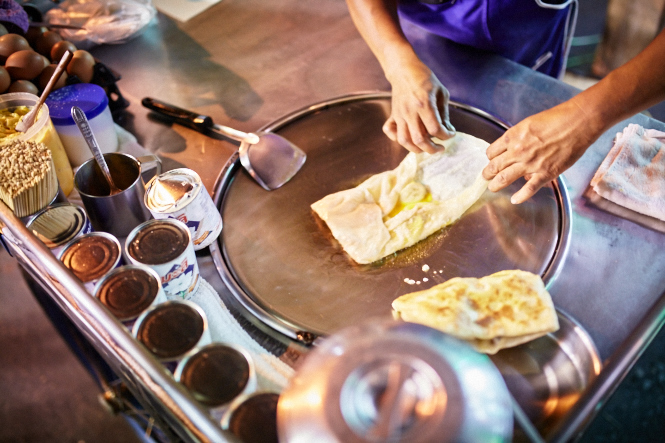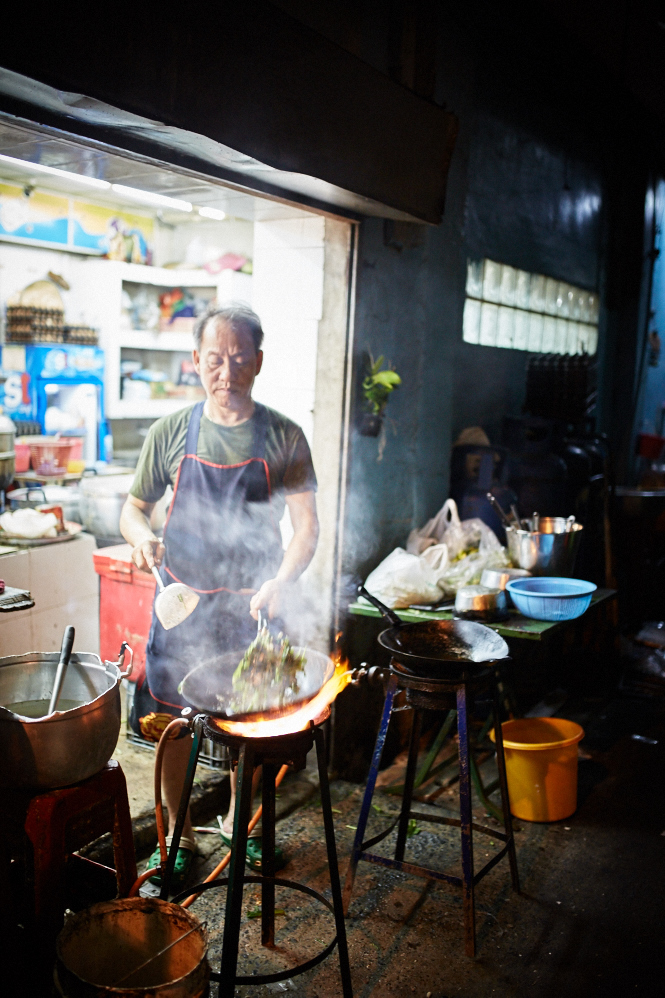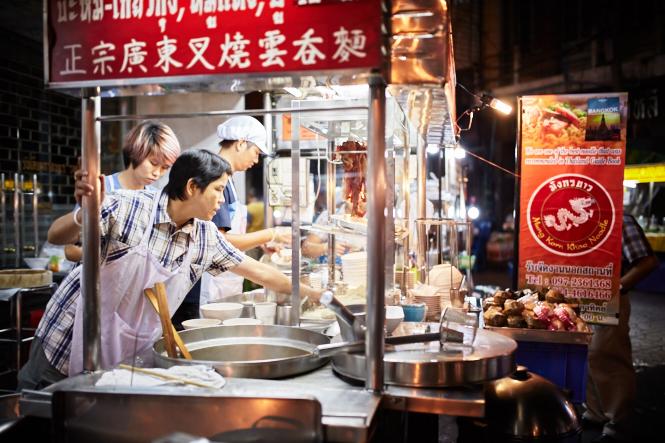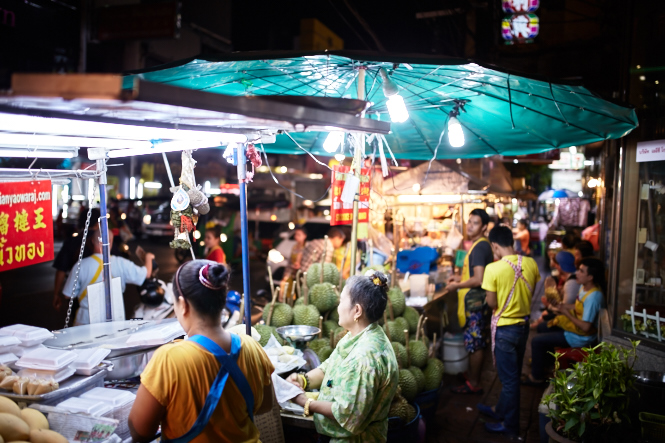 As compelling as Yaowarat Road is for foodies there is one little restaurant down by the river that wins the crown for our single favourite place to eat. It's very small, very popular and follows the theme at Odean by adding wontons and noodles to an otherwise Thai menu. They go one better by featuring Chinese style roast duck and making the staff wear pink uniforms. Prachak is located a short walk from Sathorn Pier, so it's easy to reach by river boat or the BTS.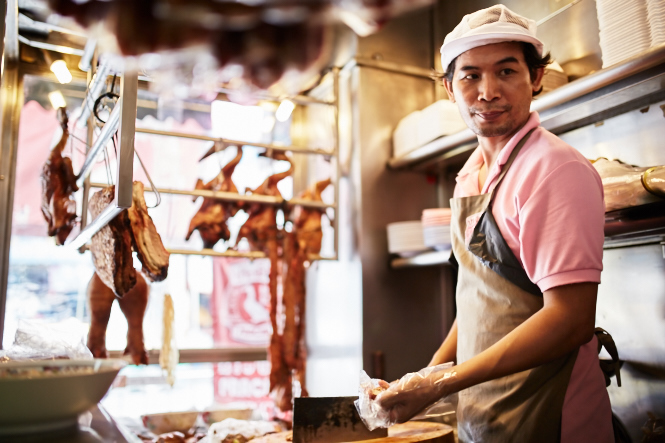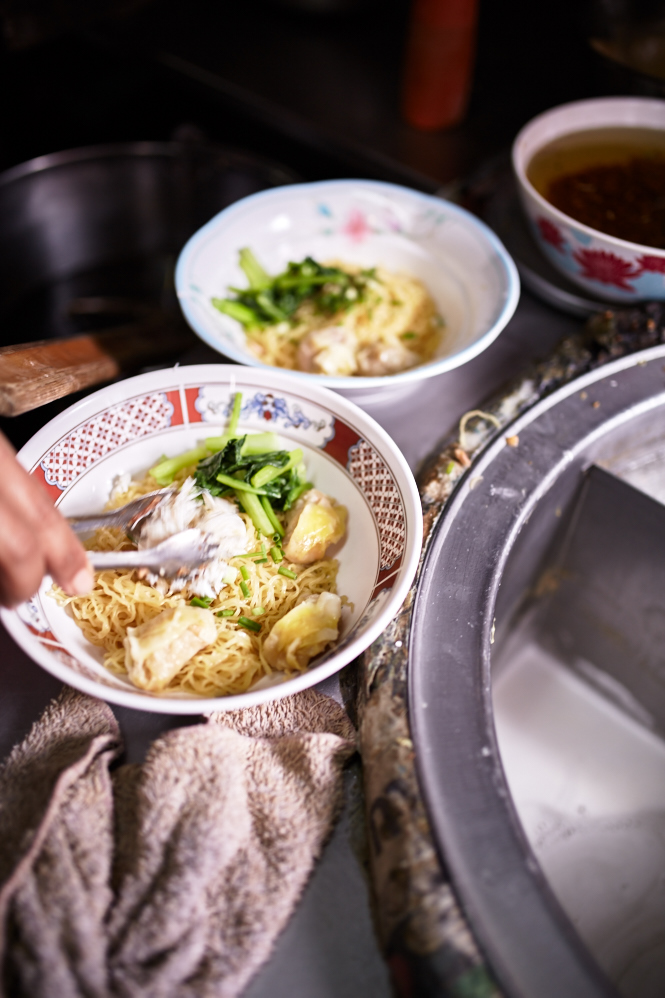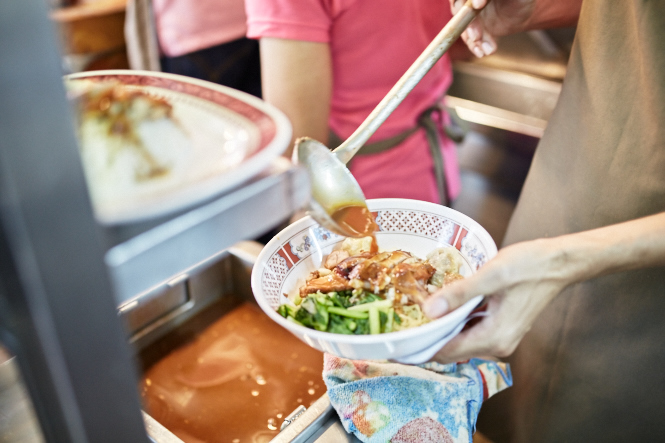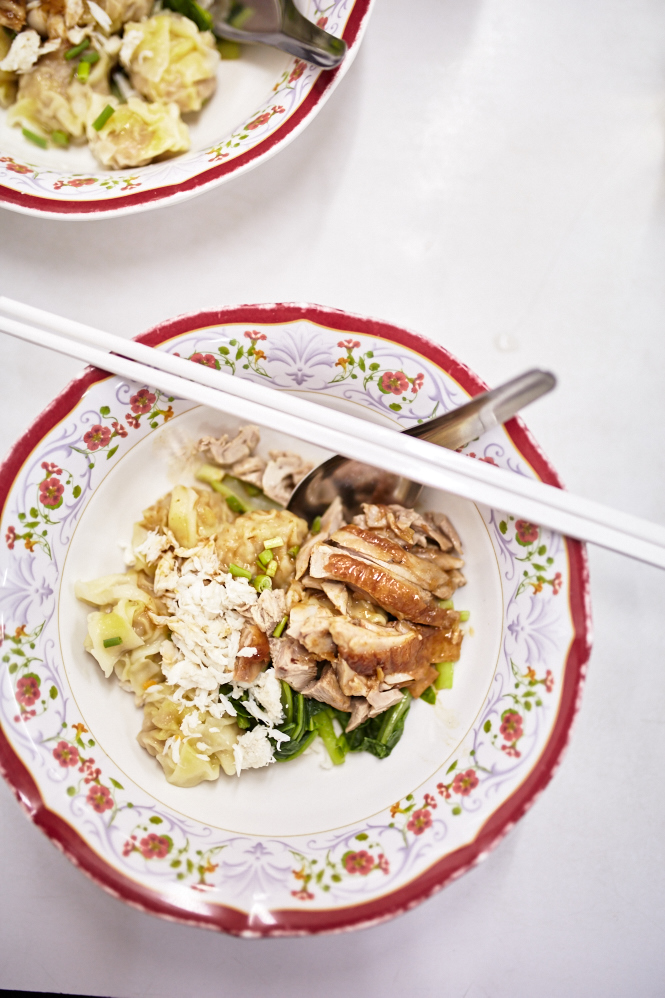 The crab meat is shell free, the wontons are light as pillows and the duck meat is cut off the bone so all you get is the juicy bits with all the flavour. They use small ducks, Thai style, and there's a hint of lemongrass hiding amongst the mix to add a high note above the classic char siu base.
If I could only ever eat in one Thai restaurant again in my life, it would be Prachak.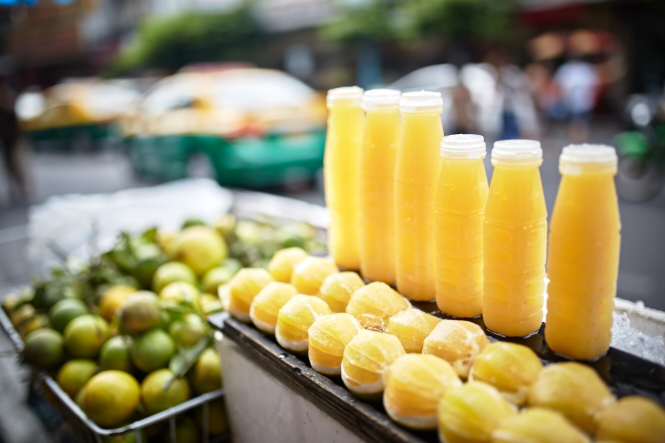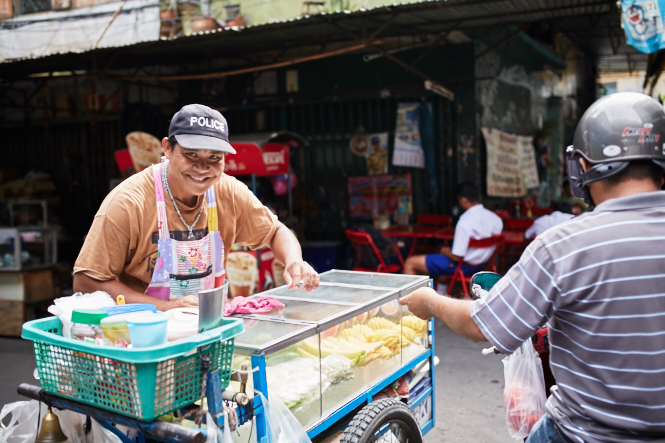 Fresh fruit is available everywhere. It's not hard to crave something cold and sweet in the hot weather. The bonus is that it's already peeled and pre-cut for your convenience. Sometimes it's freshly squeezed into a nice little bottle of juice too. I wished the bottles were bigger, as they were so moreish!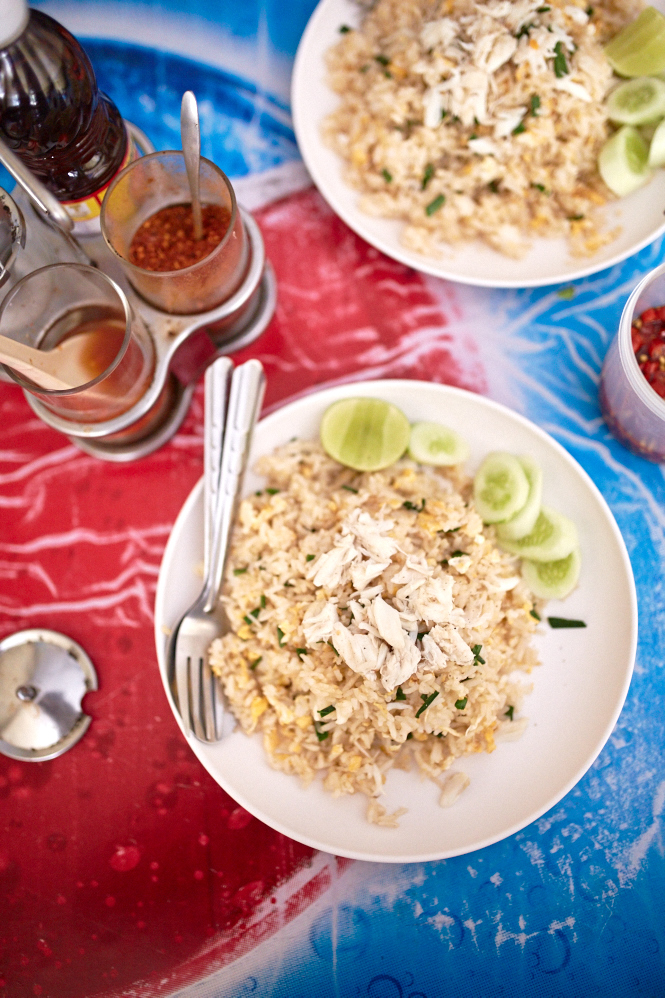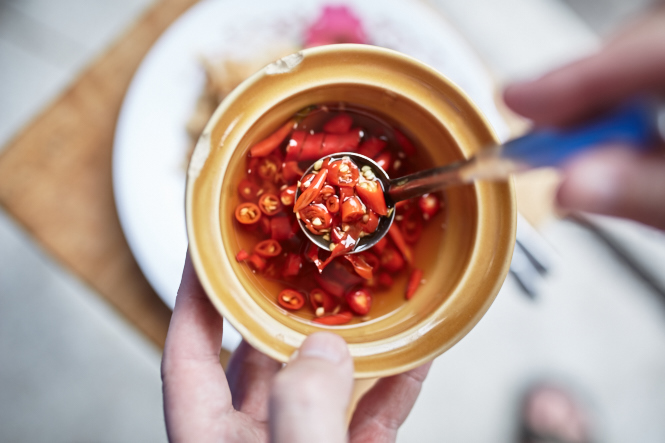 * Khao Pad Poo – Crab Fried Rice
One of my our favourite Thai dishes. Found pretty much anywhere, this dish is great for breakfast, lunch or dinner. Drizzled with Nam Pla Prik (chillies in fish sauce), I could seriously live off this dish alone.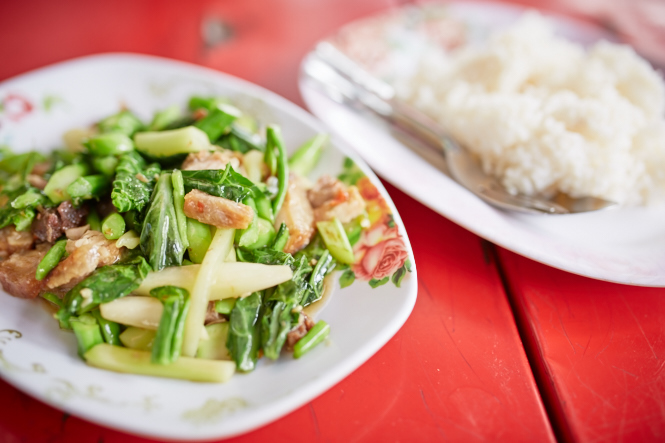 * Pad Kha Na Moo Krob
One of the most reliable street dishes all over Bangkok, crispy roast pork is roused through with kale stalks, soy beans and a good dose of hot chili. Nam Pla Prik always his the table with this dish to add a little more spice and sourness. You get a hint of smokieness from the wok and a layer of oyster sauce to smooth out the flavours. You can get a great version of this dish at Middle Fish in Melbourne bit it will cost more than the 50baht street price offered in Bangkok.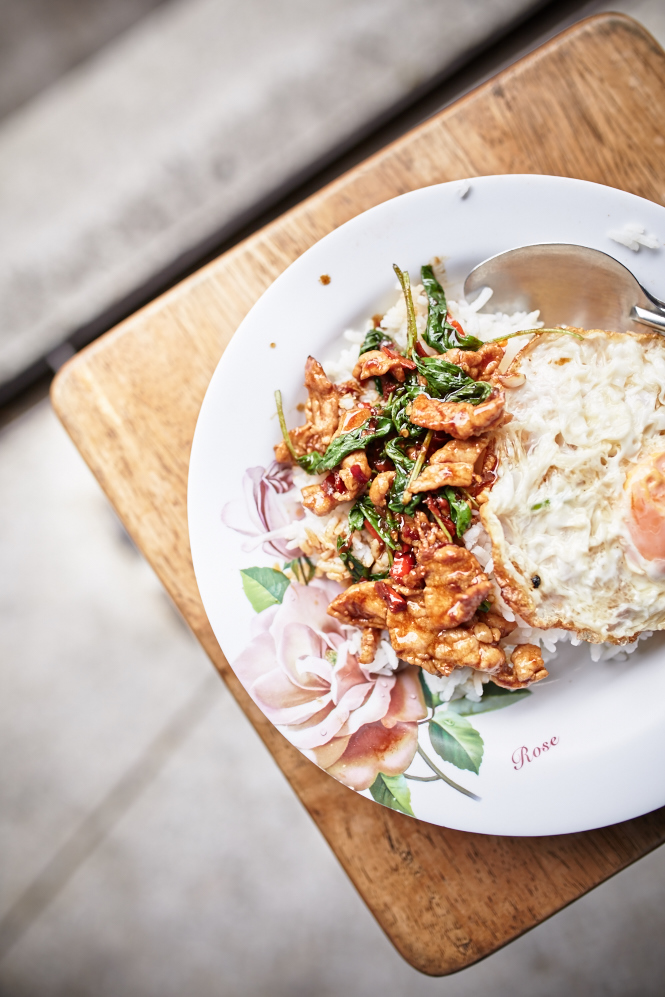 * Kra Pow Moo
Slices of pork with Thai basil stir fried in a hot wok. It's spicy, it's salty, it's sensational!
Accommodation
Silom Serene
7 Soi Pipat Silom Road, Bangkok 10500, Thailand
Great location, a stone's throw in any direction from great street eats. It's not five star, it's a bit dated, but the location is the best. A short walk to the BTS and MRT. A lovely pool for floating in between meals.
Shanghai Mansion
481 Yaowarat Rd, Samphanthawong, Bangkok 10100, Thailand
It's not five star either, but the best is comfy, and you'll be amongst some of the best street food the moment you walk out the door. A very short walk to Odean, and that delicious fish ball soup. There is a tuk tuk shuttle as well for guests.
Hansar
3/250 Soi Mahadlekluang 2 Rajdamri Road, Bangkok, Thailand
It's a fabulous alternative to the usual five star chains. It's luxury. The bed and pillows won't make it easy in the morning to go and hunt down food. You may just want to stay there forever. The bathroom is pure luxury as well. Cocktails by the pool is a great way to spend the afternoon between meals as well. Also in a great location, right near the BTS.
Food Highlights
Prachak Roasted Duck
1415, Charoen Krung Road | Silom, Bangrak, Bangkok, Thailand
T & K Seafood
49-51 Soi Phadung Dao | Chinatown, Bangkok, Thailand
Odean Crab Noodle Soup
Charoen Krung Road | just near Wat Traimit and the big Chinatown red gate, Bangkok, Thailand
Nahm
Hotel Metropolitan; 27 S Sathorn Rd, Thung Maha Mek, Sathon, Bangkok 10120, Thailand