Ginger Pork Meatball Rice Vermicelli Bowls
Dearest Friends of Iron Chef Shellie,
I'm sorry it's been over six months since I last blogged! Last year was a busy one with more travel than I could have ever imagined. It involved Laos, Arctic Norway, Denmark, Milan, Kenya, a trip to Iceland and Sweden to start something very exciting I look forward to sharing with you soon, and a short trip to Japan for what was more of a honeymoon. I always wanted to travel the world and fill my passport with stamps and my soul with experiences. I never thought it was possible and I thought would be stuck working an 9-5 job for the rest of my life. I don't take any day for granted and know how I am lucky to be able to pursue what I love for a living.
I also got over a bit over the social media world last year for various reasons. I didn't post as much food on my own feed and started posting more travel content like the Masai Warriors in Kenya, shots from the drone in Iceland and racks of cod heads drying in Lofoten. My audience changed, my client work opened up and the opportunity to go to Milan with S.Pellegrino is still a dream, and I can't believe that ACTUALLY happened.
I'm currently in Arctic Sweden and Norway for an extended period of time working on that something exciting and about to take a break from that to help Ewen & Ian run their Swedish Lapland Photography Tour. It will start with me being private chef for a few days in some beautiful cabins near the Swedish & Norwegian border, with a two week drive down south to Luleå where we will enjoy time on snowmobiles, husky rides, Auroras and time in a tented camp in the snow.
I've finally caught up on all the client work I squeezed in before coming on this epic adventure and now it's time to actually enjoy living in the moment. It's currently snowing outside so I thought it might be a good time to get back onto the blog and share a recipe I created for Prahran Market last year. A take on the Vietnamese Bún Chả, and can be enjoyed warm or cold. You can pre-make the make the meatballs and dressing for easy assembly later down the track.
You can use store-bought spring rolls, or if you have your own tasty recipe, you can also create your own.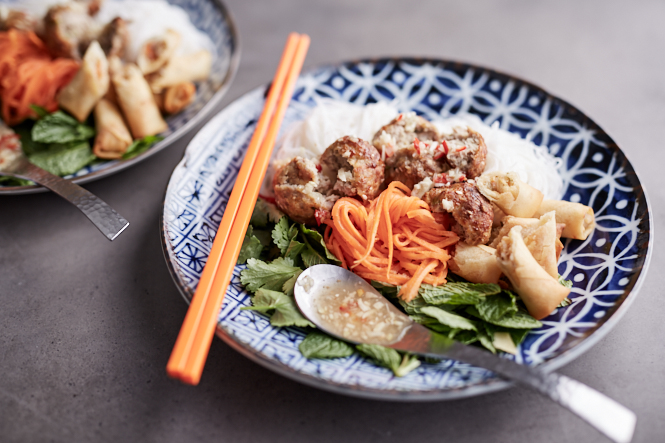 Ginger Pork Meatball Rice Vermicelli Bowls
Print Recipe
Ingredients
2 medium sized carrots
1 cup rice vinegar
1/2 cup caster sugar
400g cooked vermicelli noodles
200g store bought frozen spring rolls
1 bunch coriander, leaves picked
1 bunch mint, leaves picked
Ginger Pork Meatballs
400g pork mince
1/4 cup panko breadcrumbs
1 clove garlic, minced
1 tbsp ginger, minced
1 tsp sesame seeds
1 tsp sesame oil
1 spring onion, finely chopped
1 egg, lightly beaten
sea salt
cracked black pepper
1 tbs vegetable oil
Ginger Nuoc Mam Dressing
100ml lime or lemon juice
1 tbsp fish sauce, or to taste
2 tbsp caster sugar
1 cloves garlic, finely chopped
1 tsp ginger, minced
1 small red chilli, finely chopped
Instructions
Heat the rice vinegar and sugar in a small pan over medium heat, stirring until the sugar has dissolved, then cool completely.

Shave carrot lengthways into ribbons with a vegetable peeler, then cut into fine matchsticks. Add carrot, to the vinegar mixture and chill for at least 2 hours or overnight.

Preheat oven to 220°C (200°C fan-forced). Place all meatball ingredients in a large bowl and mix well to combine. Using a small amount of vegetable oil to grease your hands, roll tablespoons of the pork mixture into balls and place in a large ovenproof dish.

Drizzle the remaining oil over the top of the meatballs and cook for around 15 minutes, or until cooked through. Also, place the spring rolls in at the same time and cook according to packet instructions.

To make the dressing, combine all the ingredients in a clean glass jar and shake until the sugar is mostly dissolved.

To serve, divide all the ingredients into 4 bowls or plates. Mix each serve well, before enjoying your delicious ginger pork meatball rice vermicelli bowls.