Siu Mai
What a time to be alive! I'm sure most of you reading this might be in some kind of lockdown in your city due to the Covid 19 Corona virus outbreak. Here in Melbourne, things have gotten a lot more serious with schools starting their holidays early, and all nonessential services to close down. As a freelancer, yes my prospect of income has just completely and utterly tanked. I feel for my fellow creatives, hospitality peeps and anyone else affected by the new rules. It's been hard looking at some of my favourite local businesses have to shut up shop and wait for this thing to blow over. We are ALL in this together, we will get through it and we will return to a new normal after this. 
If you have been following me on social media, you'll know I have recently been in Norway, helping Ewen & Ian run their annual Arctic photography tour. I was essentially catering for 11 people day in day out which was a lot of fun, and only a little bit stressful. I flew back into Australia before the mandatory self isolation for overseas travellers came into effect. I did my best to social distance as I knew I had been on a plane and could have been exposed to the virus; so only ventured out to collect groceries or support local businesses. Unfortunately Ewen came into the country when the two week self isolating rule came into effect, and because I don't want to lock him in one room of the apartment for two weeks, we will be isolating together. I find that when I am isolating I feel less anxious about it all. We have a well stocked fridge full of fresh food from the Queen Victoria Market, and back up options in the freezer and pantry. Supermarkets will remain open, and because we are isolating we have qualified for home delivery from the supermarket. 
Before Ewen arrived home, I planned out the first few meals we would have, however the rest is up to whatever I feel like doing at the time. With more time on my hands, it's time to go back to the good old days where I could photograph what I'm making and post it on the blog to share with you all! Maybe it's time to FINALLY get that KitchenAid pasta attachment out I bought 10 years ago and finally make pasta at home for the first time!
So, let's get into it! What's your favourite dumpling when you go for yum cha? I do enjoy quite a few, but for as long as I can remember Siu Mai has been my favourite. I would happily eat a basket of them by myself and happily avoid the chicken feet (which I don't mind but can take or leave). Since we can't go out for yum cha at the moment, the next best thing was to make it at home. This recipe is by Adam Liaw, from his book Asian After Work. It's a fairy easy recipe, the most time consuming part is stuffing the wonton wrappers with filling. Once you do a few you get the hang of it pretty quickly. We enjoyed our with a little soy sauce, chilli sauce and a pot of jasmine tea.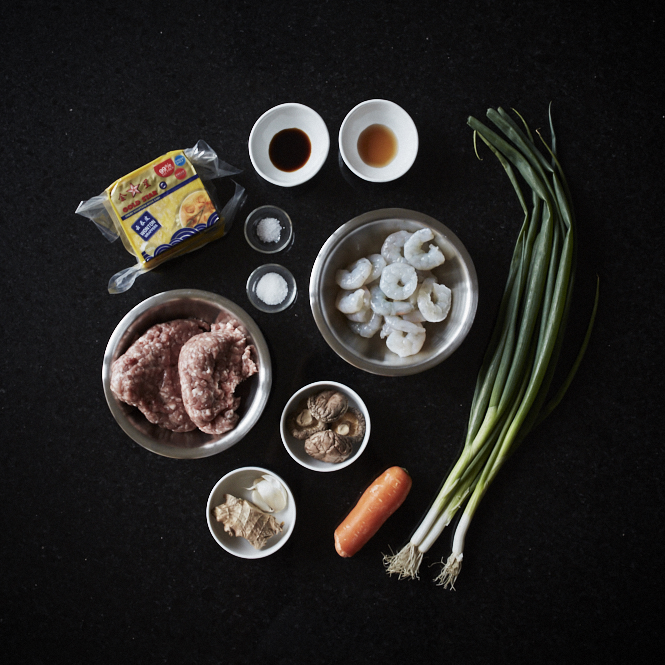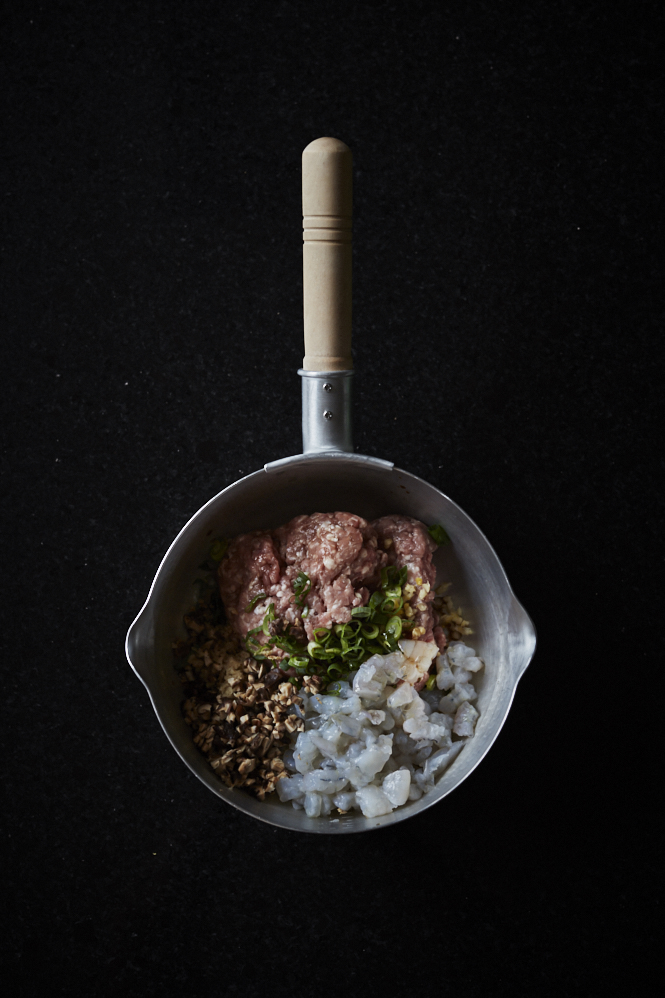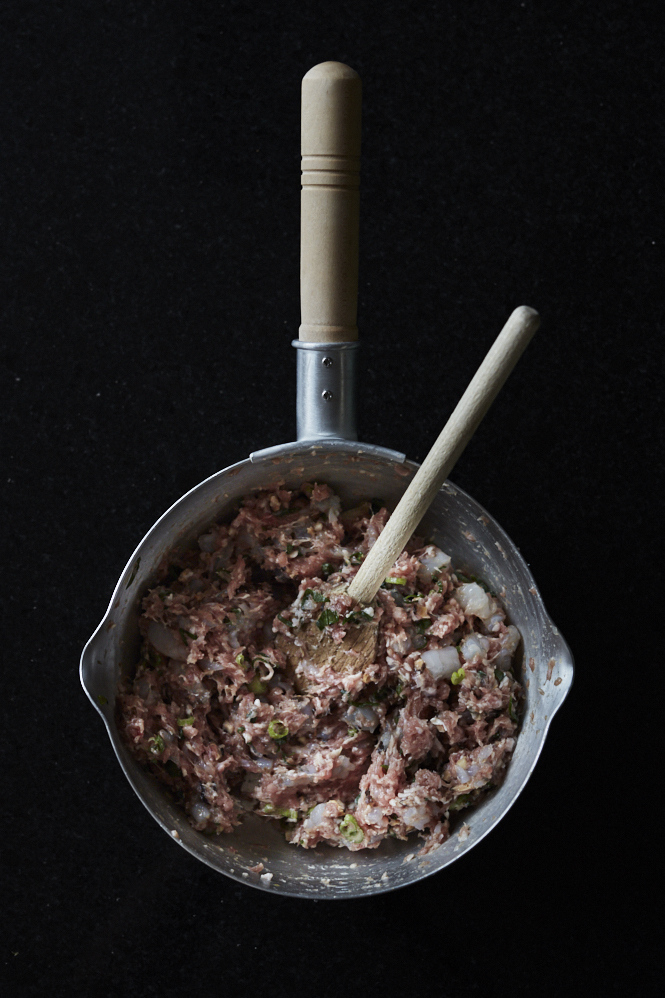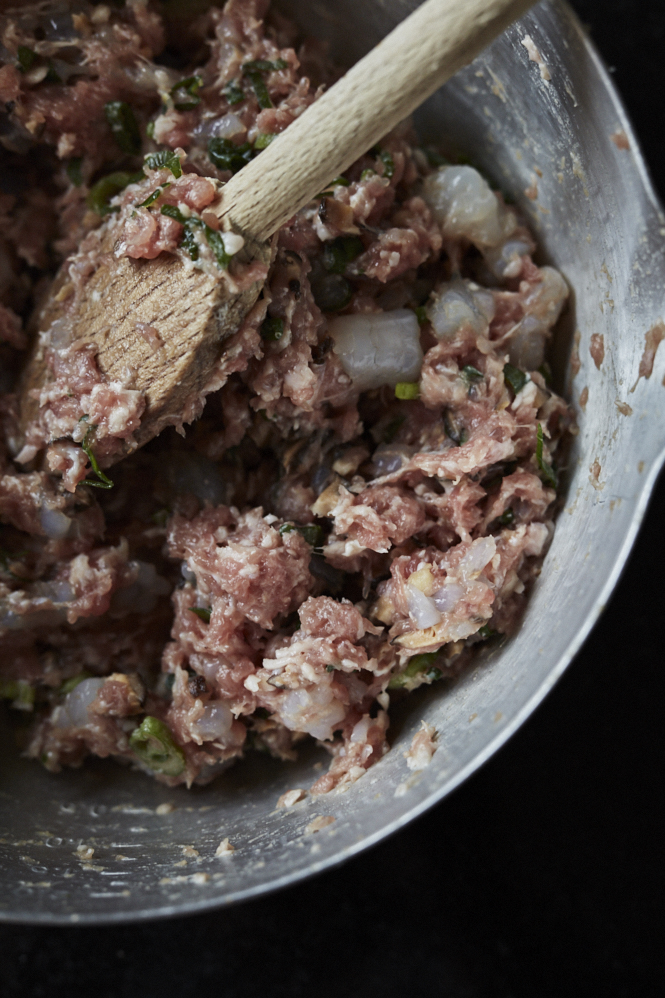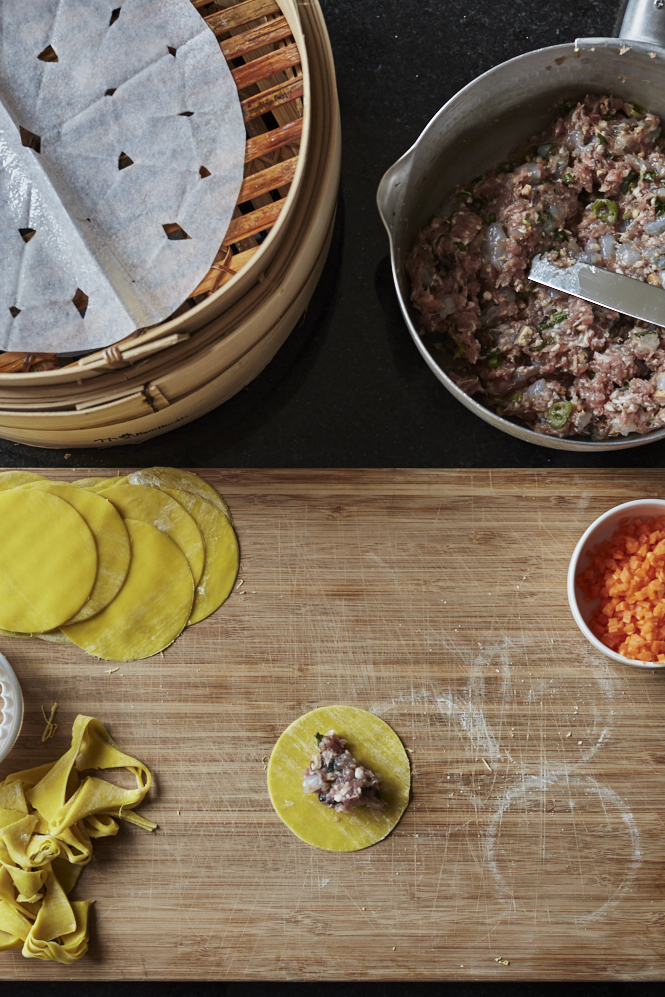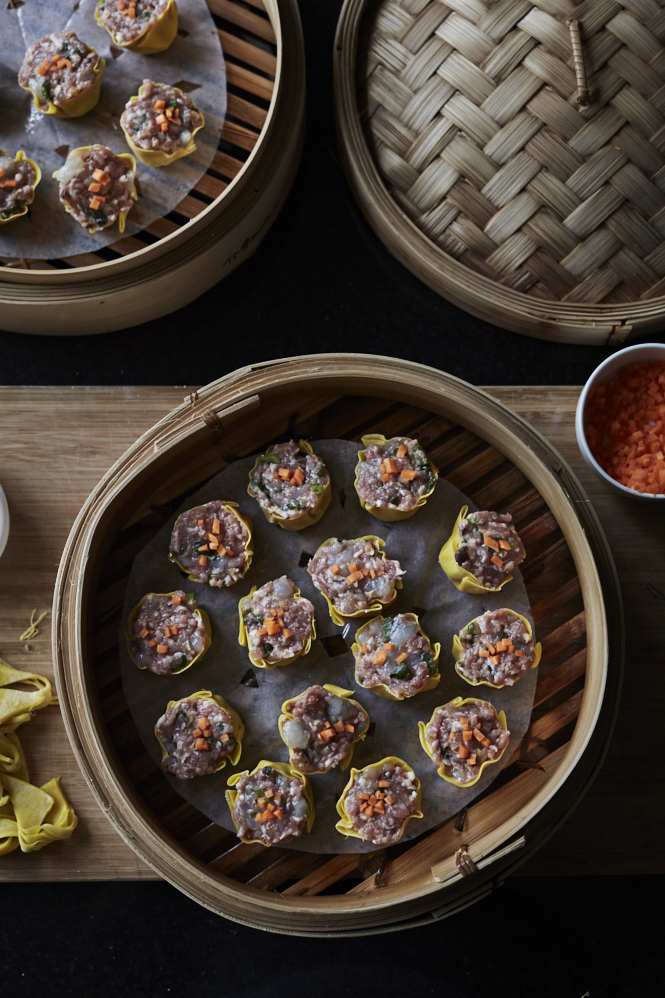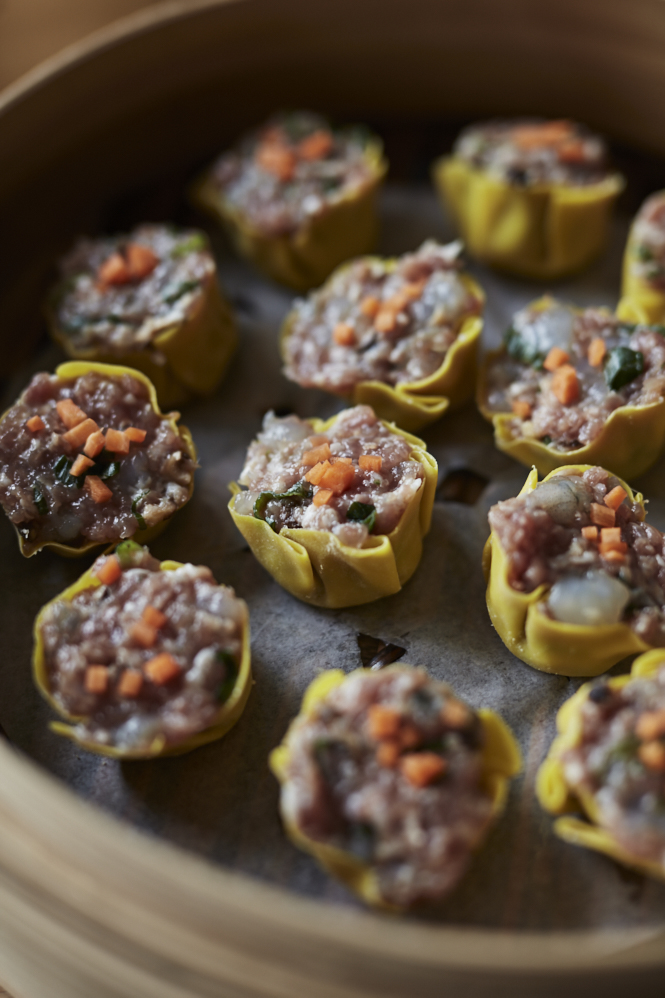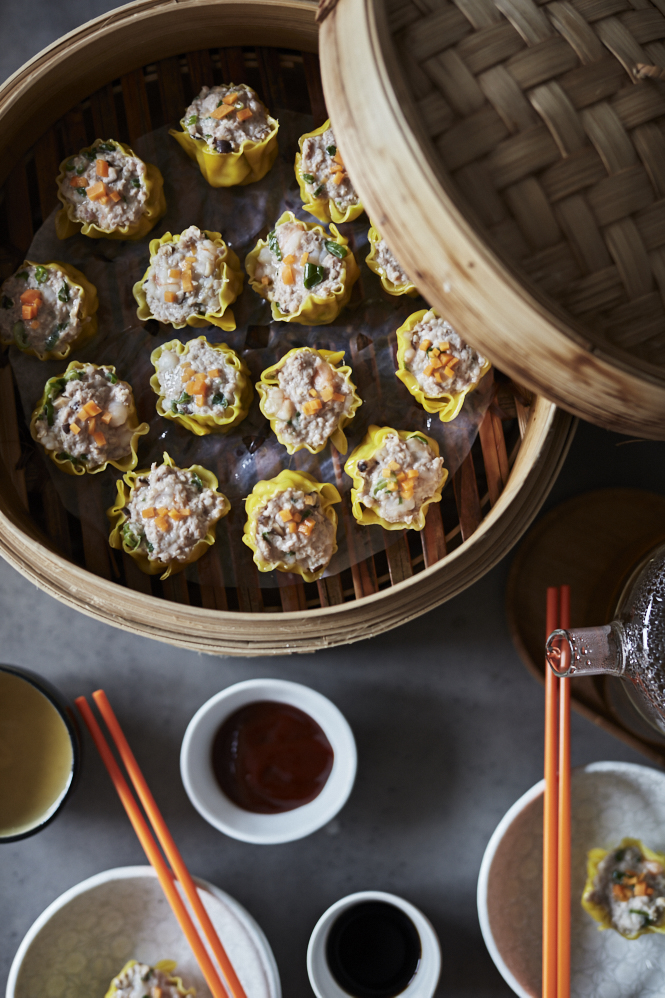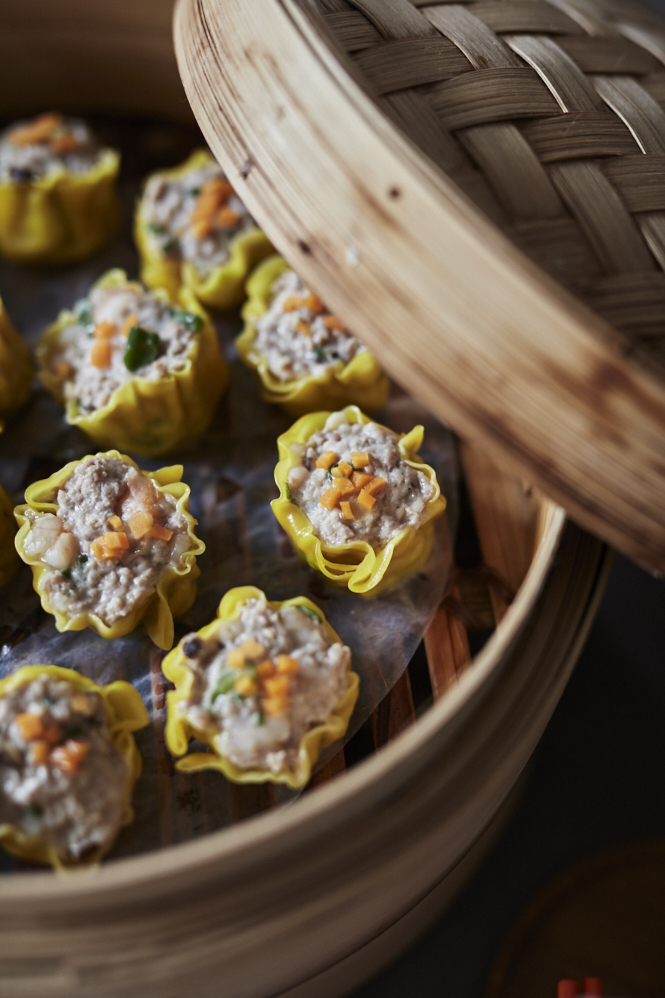 Sui Mai
Print Recipe
Ingredients
50 square wonton wrappers
4 dried shiitake mushrooms
500 g fatty pork mince (or 500g roughly chopped pork belly)
200 g raw prawn meat, roughly chopped
3 large spring onions, white and light green parts, trimmed and finely chopped
1 tbsp minced ginger
2 cloves garlic, peeled and finely chopped
¼ tsp salt
1 tsp light soy sauce
1 tsp Shaoxing wine
½ tsp caster sugar
½ carrot, peeled and finely diced
Instructions
Soak the dried mushrooms in hot water for 30 minutes, drain and finely dice.

Using a wooden spoon or spatula, mix together the filling ingredients vigorously for about 5 minutes, stirring in one direction only. Set aside to rest in the fridge for 30 minutes. 

Using a circular pastry cutter, cut a circle from the square wonton wrapper. Take the round wonton wrapper and with a butter knife place a small amount of filling in the centre. Gather the pastry around the filling and continue adding more, pushing the filling down tightly to ensure there are no air bubbles. Once the wrapper is gathered into a filled cylinder shape, push a few pieces of diced carrot into the centre. Repeat until all the filling is used. Place the dumplings on a tray lined with paper paper and place in the fridge for at least 30 minutes before cooking (I skipped this step as I was too hungry and didn't have room in the fridge!). The dumplings can also be frozen on the tray and then transferred to a large freezer bag. 

Sit a steamer over boiling water and steam the Siu Mai for 8 minutes (12 if from frozen). Serve with your choice of sauces.