Ham, Sausage & Marinated Artichoke Pizza
Possibly my new favourite pizza flavour made easy with MUTTI pizza sauce. Either make your own pizza dough or pick up a pre-made dough, a generous spread of rich home-style MUTTI Pizza Sauce Aramatica made with 100% Italian tomatoes, a little smoked ham, Italian sausages turned into meatballs, a jar of marinated artichoke hearts, fresh mozzarella and the finishing touch, MUTTI Cherry Tomatoes, straight from the can. You can't buy a pizza better than that!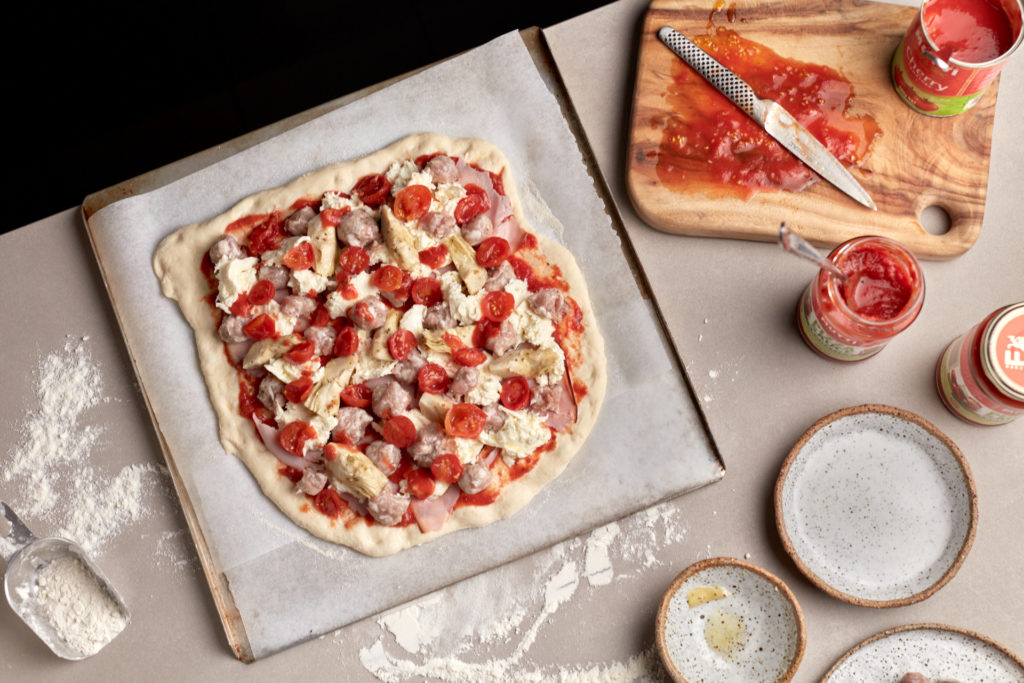 Ham, Sausage & Marinated Artichoke Pizza
Print Recipe
Ingredients
Pizza Dough
300g bread flour
200g plain flour, plus extra for dusting
10g salt
2 tsp dried yeast
10g sugar
1 tbsp extra virgin olive oil
350ml warm water
Pizza Topping
200g Mutti Parma Pizza Sauce Aramatica
x1 400g tin Mutti Cherry Tomatoes, tomatoes removed and halved
200g sliced ham, roughly torn
500g pork and fennel sausages
400g marinated artichoke hearts 
500g fresh mozzarella
semolina, for dusting
Instructions
In a small bowl, add 150ml of warm water, dried yeast and sugar and stir to combine. Set aside for 10 minutes or until the yeast is frothy. 

In a large bowl add the bread flour, plain flour and salt. Stir to combine and make a well in the middle. Add the remaining 200ml of water, olive oil and yeast mixture into the well and stir to combine with the handle of a wooden spoon. Knead on a lightly floured surface for 3-5 minutes or until the dough is smooth, add a little extra flour if needed but the dough is meant to be a little sticky. Place the dough into a lightly oiled bowl, cover and rest for 1 hour or until doubled in size. 

Preheat oven to 220ºC. Dust two baking trays with semolina. 

Divide the dough in half and using your fingers, stretch the dough into a 20cm circle on each baking tray. 

Divide the Mutti Parma Pizza Sauce Aramatica between the two pizza bases. Top with ham, followed by squeezing balls of sausage meat out of the sausage skins. Roughly tear the mozzerlla and scatter over the pizzas, followed by artichoke hearts and cherry tomato halves. 

Bake for 20 minutes, rotating trays half way through, or until golden. 

Makes 2.