Singapore Chilli Crab
A lot of recipes for Singapore Chilli Crab use tomato sauce / ketchup. Whilst it is a quick and easy trick, it isn't the only way to make it. This recipe uses my favourite tinned tomatoes, Polpa, as well as their double concentrate tomato paste. The results speak for themselves and I think it tastes better than a ketchup version. Once you have all your ingredients prepared, this dish takes next to no time to cook and you'll be enjoying it in no time.
Mud crabs are traditionally used in this dish, however the waters are too cold for fishing them right now. I opted for blue swimmer crab but you can use whatever crab you can get your hands on. A good substitute is also prawns – the bigger the better.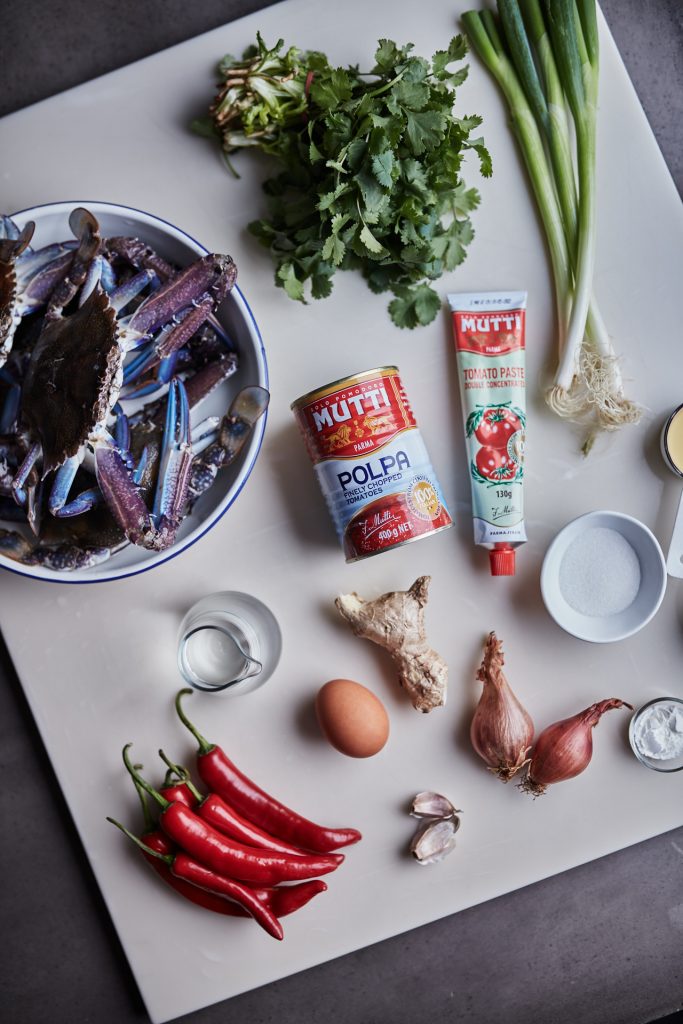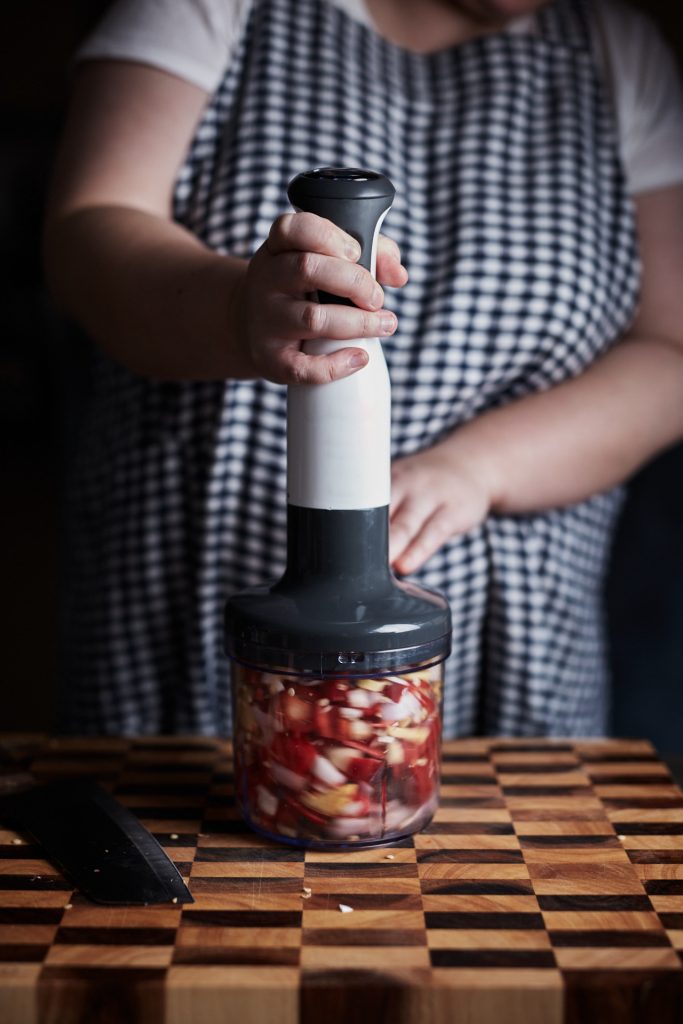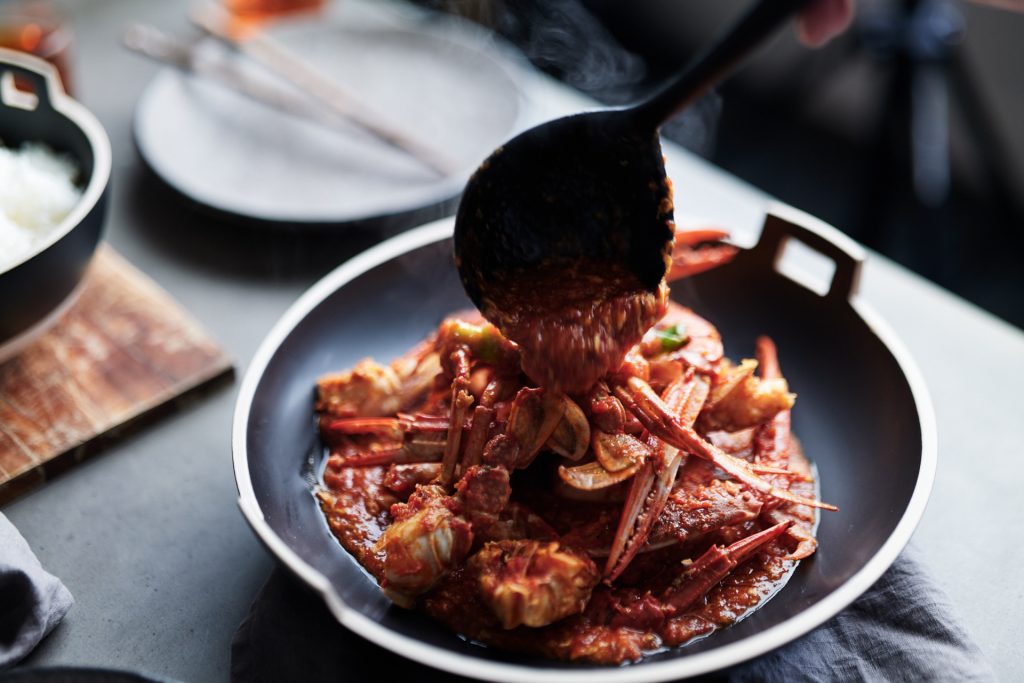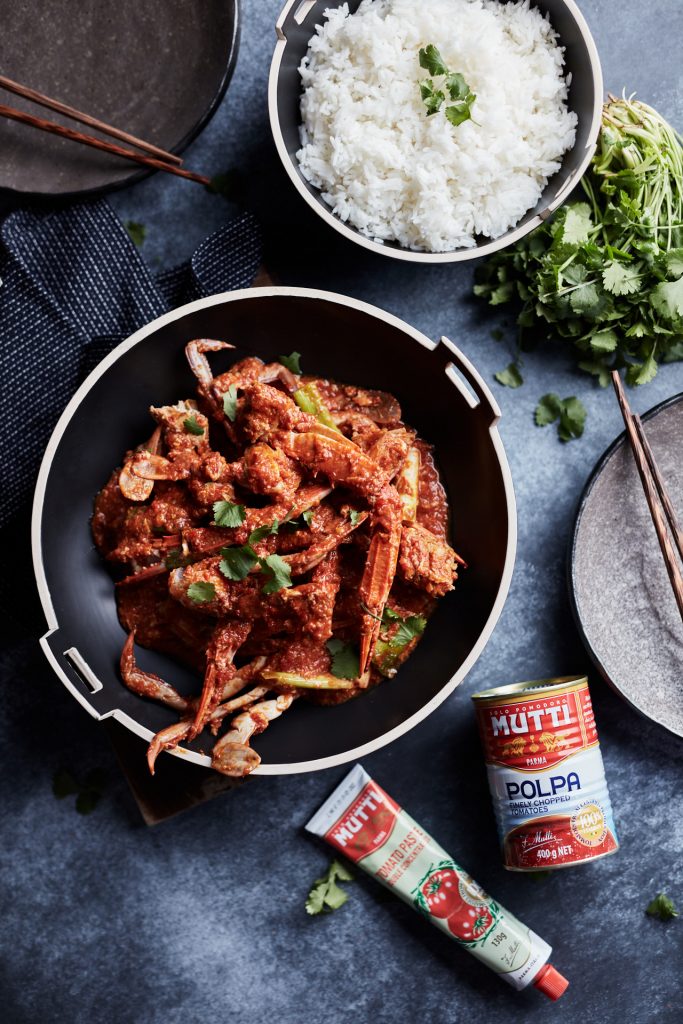 Singapore Chilli Crab
Print Recipe
Ingredients
1kg crab, cleaned (ideally mud but whatever you can get your hands on)
250g Mutti Polpa Finely Chopped Tomatoes
1 tbs Mutti Double Concentrate Tomato Paste
1 tbs white vinegar
250ml water
1 tbsp sugar
1 tbsp soy
1 tsp cornflour mixed with 2 tsp water
1 egg
3 spring onions, cut into 5cm lengths
Coriander leaves, to serve
1 large red chilli, sliced lengthways, to serve
1 spring onion, sliced lengthways, to serve
Steamed rice, to serve
Base Paste
1/4 cup vegetable oil
1 onion
2 garlic cloves
3cm piece ginger
5 large red chillies
Instructions
To prepare the crab, pull the top shell away from the body, and remove gills. If using blue swimmer crabs, cut into quarters, if using mud crab, twist off the claws and divide the body into quarters. 

Pulse the ingredients for the base paste in a food processor or blender until you have a paste consistency. 

Heat a wok over medium heat and add the oil. Fry base paste for about five minutes, until fragrant. The oil will start to separate from the solids. 

Add the crab and shell into the wok and toss to coat the crab. Add Mutti Polpa, Tomato Paste, vinegar, water, sugar and soy and toss to coat. Cover the wok and simmer for 5-10 minutes, depending on the size of your crab pieces. 

Add the spring onions and toss through. Remove the crab and spring onion pieces and set aside. Add the cornflour mixture and stir until thickened. Slowly drizzle in the egg mixture while stirring.

Place half the sauce on the bottom of a large serving dish, top with crab and finally pour remaining sauce on top. Scatter with coriander and sliced chilli to serve.