Easy Flatbreads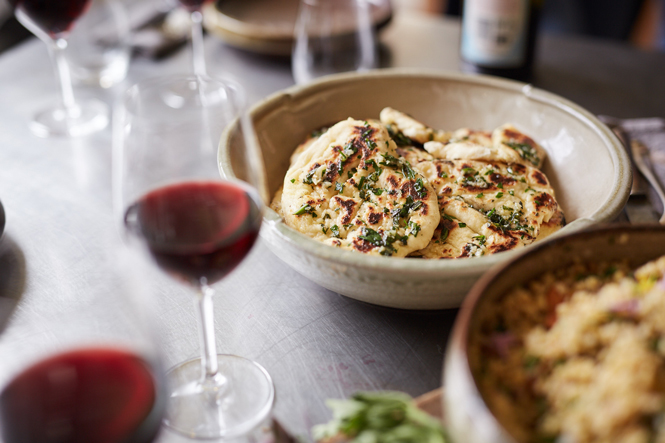 This is one of Jamie Oliver's recipes that I made for our first Hobart Food Photography Workshop to go with the most amazing slow cooked lamb (recipe to come). They were so easy to make, and so delicious that they have become a staple recipe at not just the Hobart workshop, but workshops around the world! I have made them over an open fire in Arctic Sweden served with seared salmon and kale, and butter chicken night on a cold wintery weekend. You could even make them to serve as souvlaki, pizzas, or whatever your heart desires.
It's a fabulously simple recipe I think everyone should try at least once!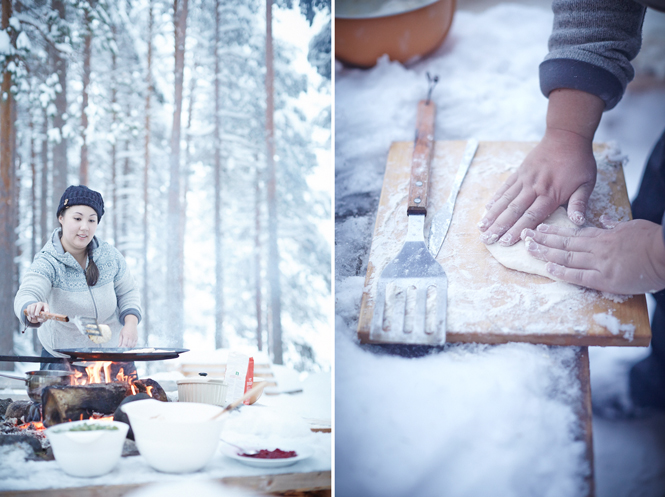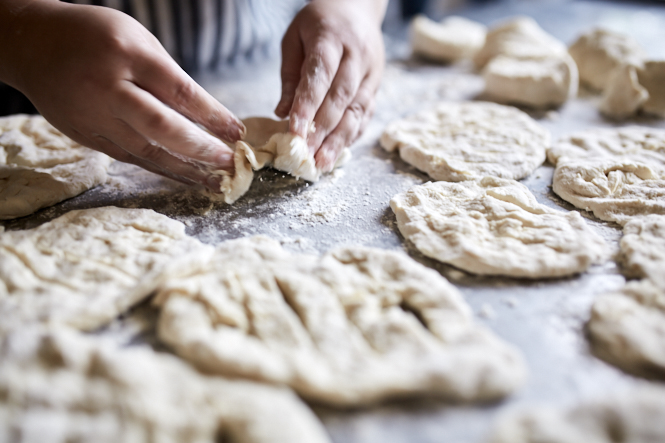 Easy Flatbreads
Jamie Oliver
For the flatbreads:
350g self-raising flour, plus extra for dusting
sea salt
1 teaspoon baking powder
350g natural yoghurt
For the garlic and herb butter:
2 cloves of garlic
a bunch of fresh soft herbs, such as flat-leaf parsley, tarragon, basil, dill
40g unsalted butter
Add all the flatbread ingredients to a mixing bowl and mix together with a spoon, then use clean hands to pat and bring everything together. Dust a clean work surface with flour, then tip out the dough. Knead for a minute or so to bring it all together (this isn't a traditional bread recipe, so you don't need to knead it for long – just enough time to bring everything together). Put the dough into a floured-dusted bowl and cover with a plate, then leave aside.
For the garlic butter: peel the garlic cloves and crush them with a garlic crusher. Pick the herb leaves onto a chopping board and finely chop them, discarding the stalks. Melt the butter in a small pan over a medium heat, then stir through the garlic and chopped herbs, then set aside.
Dust a clean work surface and rolling pin with flour, then divide the dough in half, then divide each half into 6 equal-sized pieces (roughly the size of a golf ball). With your hands, pat and flatten the dough, then use a rolling pin to roll each piece into 12cm rounds, roughly 2mm to 3mm thick. Use a knife to cut 6 lines into the centre of each round, leaving about 3cm at each end.
Place the griddle pan on a high heat, then once hot, cook each one for 1 to 2 minutes on each side, or until bar-marked and puffed up, turning with tongs. Brush the flatbreads all over with herby garlic butter as they come off the griddle, then pile onto a serving board so everyone can dig in and help themselves.
Makes 12.