My Memorable Moment – Queenstown, NZ
There are a number of reasons you could wake up at 3:30am for, but catching a plane to Queenstown, New Zealand has got to be one worth the early morning struggle. As it's classed as an overseas flight, despite it being a stone's throw away, we were up at sparrow fart to get to the airport early for our 6:15am flight. Considering NZ is two hours ahead, we arrive just in time for lunch, but the adventure began before we even touched down.
The decent into Queenstown is like no other. You are scraping the tops of the snow capped mountains, as far as the eye can see. It's just breath taking. From the moment my feet hit the tarmac, I wanted to run around and photograph EVERYTHING. After a short ride to our destination, the photography began in full swing!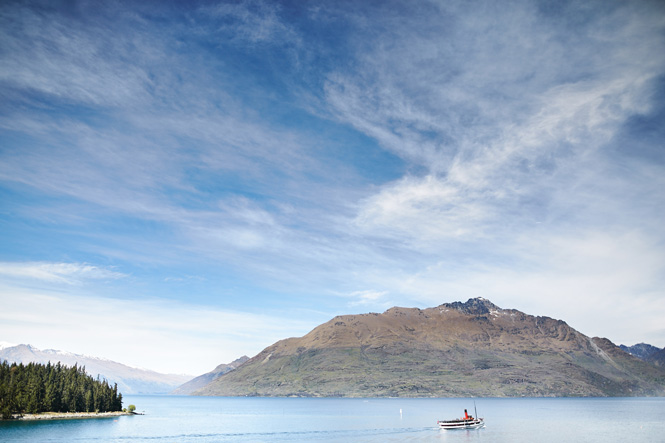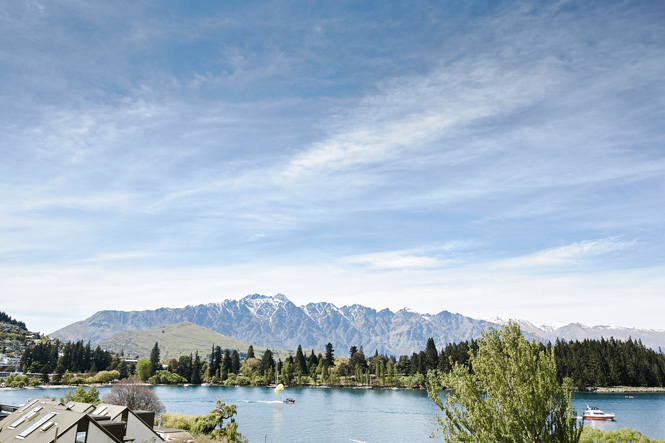 Our home away from home was Hotel St Moritz Queenstown, MGallery by Sofitel. MGallery by Sofitel is comprised of a collection of captivating boutique hotels that exude luxury, charisma and a profoundly local character. In addition to offering impeccable service, five-star facilities and captivating designs, each hotel offers guests the opportunity to experience a 'Memorable Moment' curated by the staff themselves. These Memorable Moments take many forms at MGallery by Sofitel, however remain deeply rooted in the local landscape, culture and hotel character.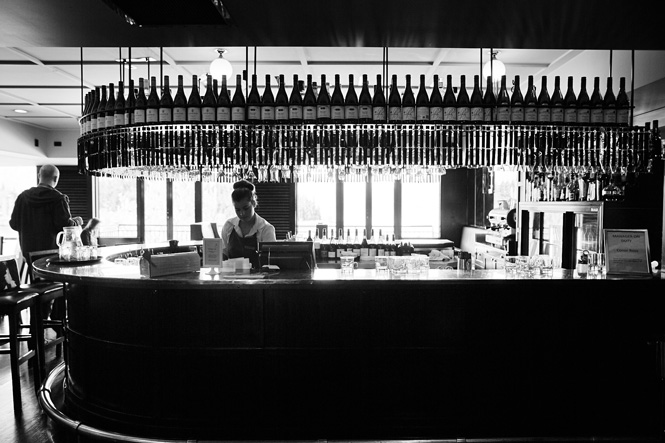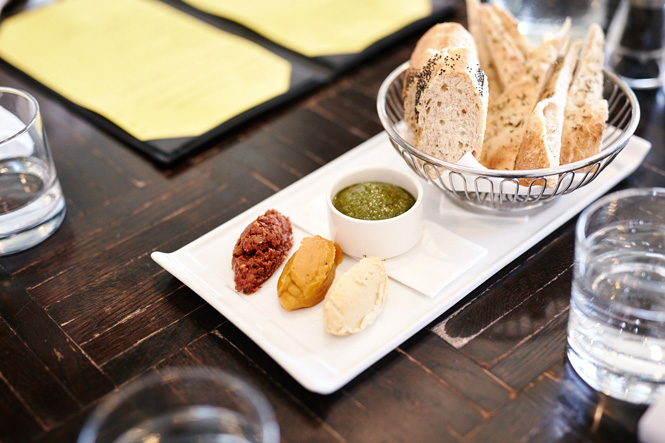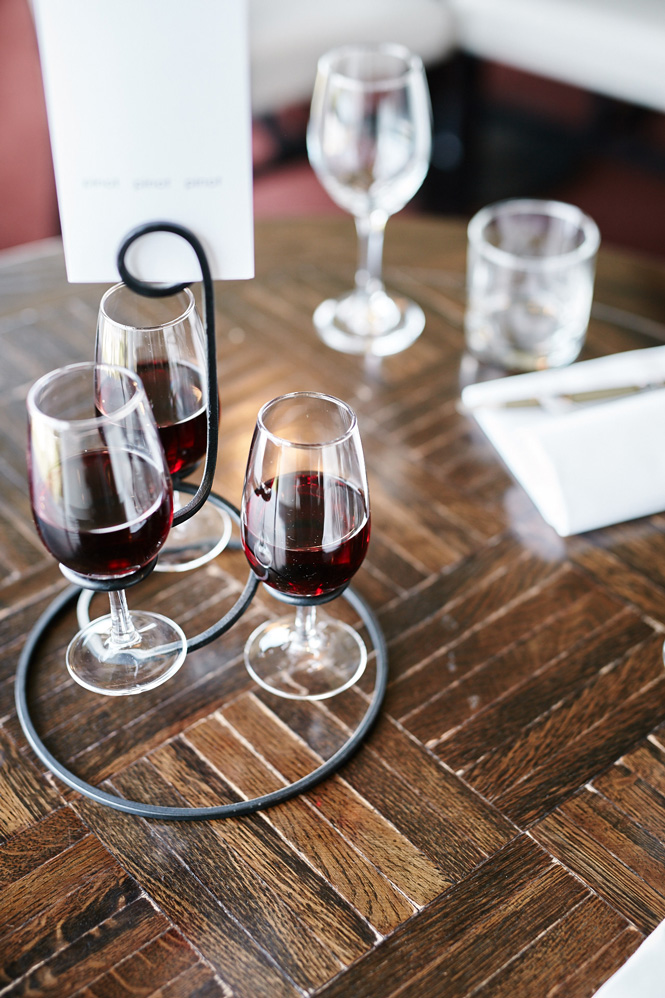 To say we experienced only one Memorable Moment would have been a lie, we had waaay too many to count, and I'm still buzzing from this trip over a month later. I truly can't wait to get back and spend a bit more time here, enjoying the landscape, culture and hotel facilities.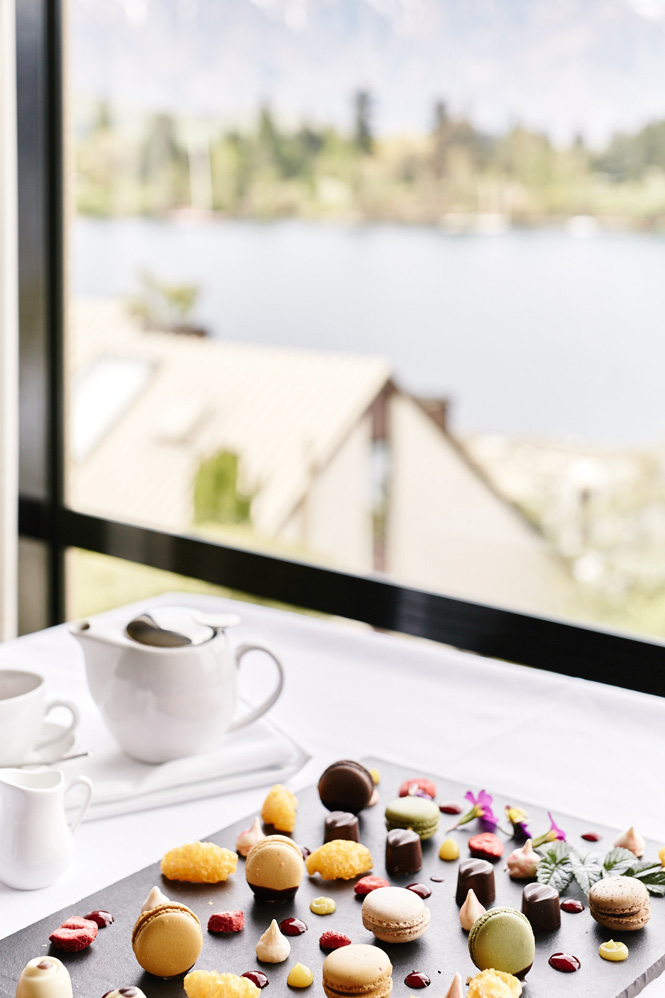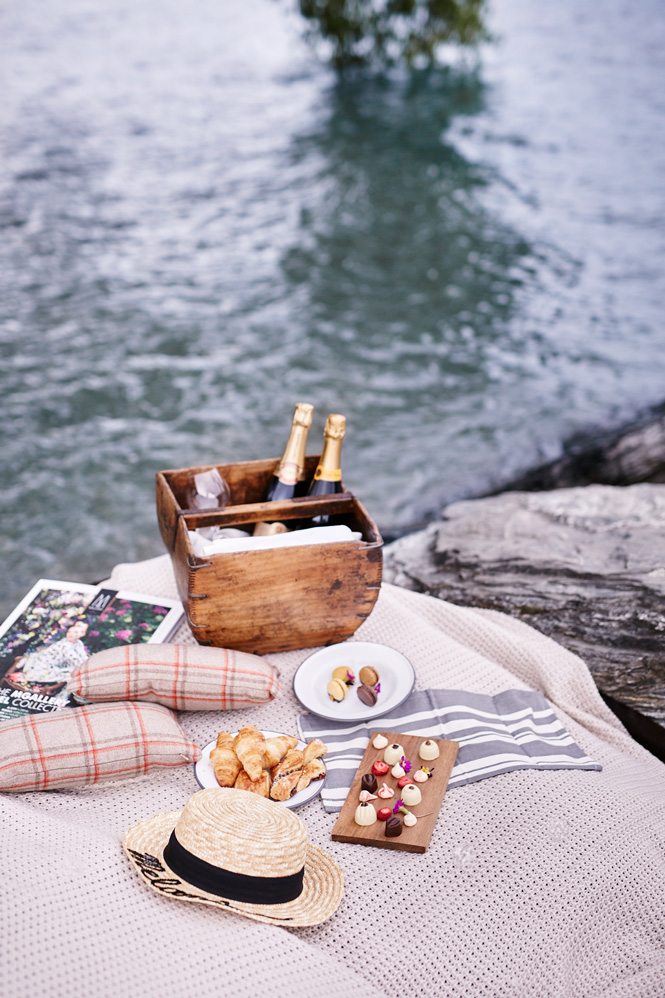 A few of us enjoyed lunch at Lombardi Restaurant. May I recommend the wood fired lasagne! It's been on the menu for years, and it's the ultimate comfort food as you enjoy the view with a glass, or three of pinot! Topped off with a gorgeous dessert platter, Mel from The Tia Fox, her husband, Maddy and myself took our dessert down the road to Lake Wakatipu for a picnic.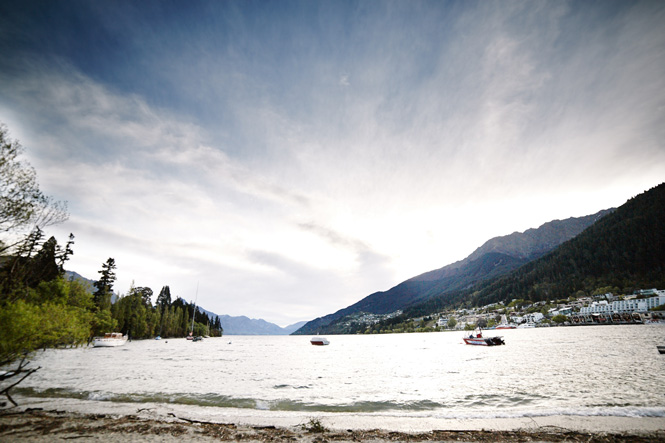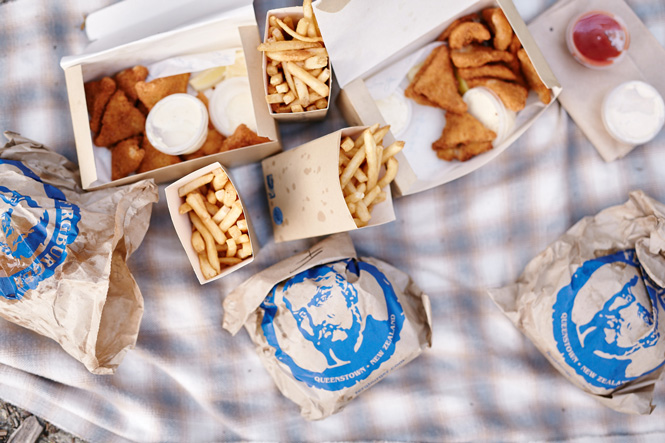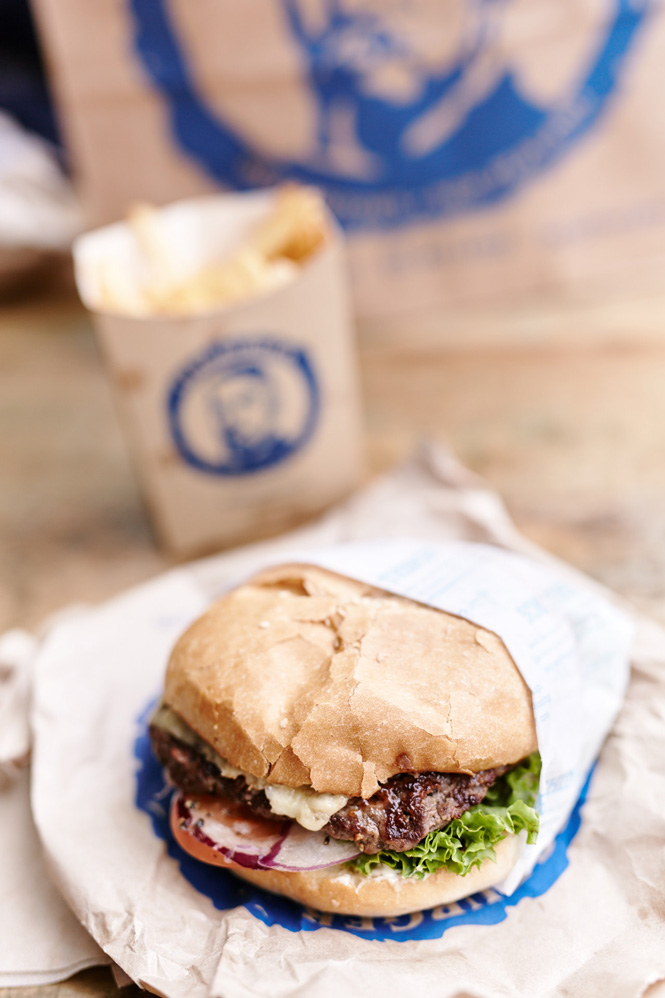 After a much needed nap, we joined the rest of the group that had flown in for one of Queenstown's most famous institutions, Fergburger. Starting out as a random hole in the wall burger joint where inebriated locals could get there late night hunger fix, they've now moved into one of the main streets of Queenstown. We picked up our burgers and took a short walk to find a lovely picnic spot on the beach for our dinner. I can definitely vouch that Fergburger is one of the best burger joints out there. We even managed to squeeze in another trip before flew home! The crumbed calamari is also worth ordering too!
After dinner, we happened to be in town when the Queenstown Jazz Festival was on, and managed to enjoy a groovy show, bringing me back to my clarinet and saxophone playing days!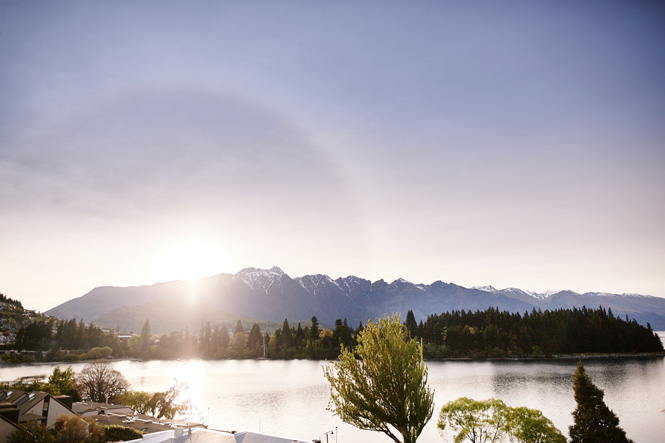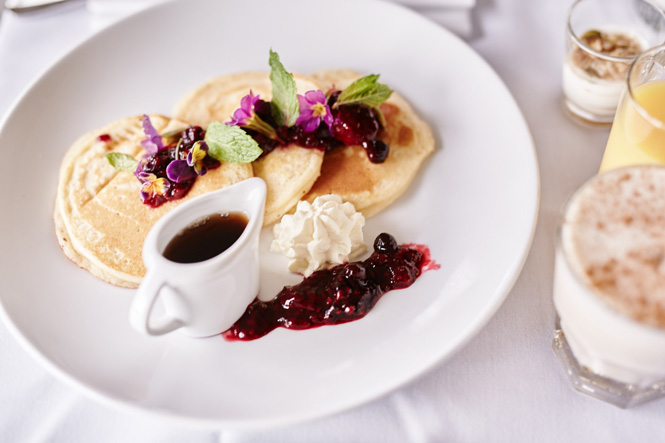 A long hot bath and a restful night sleep were in order before tackling the epic breakfast buffet downstairs. The perfect way to prepare for our 15 km bike ride ahead. With cured salmon being a highlight for everyone, we also ordered from deliciousness from the a la carte menu as well.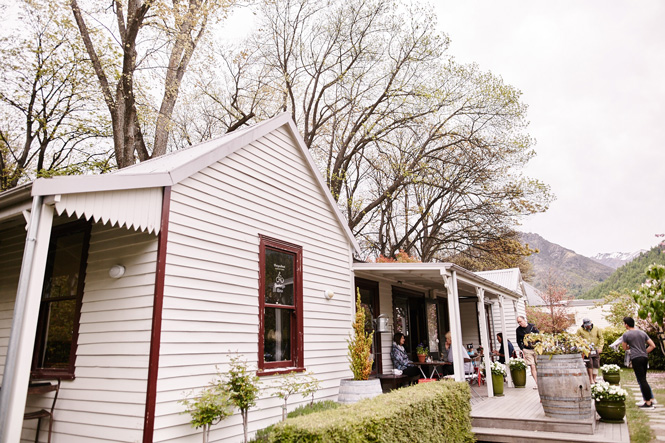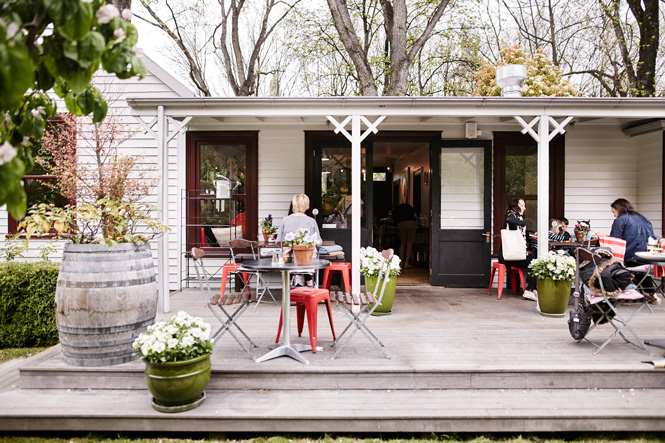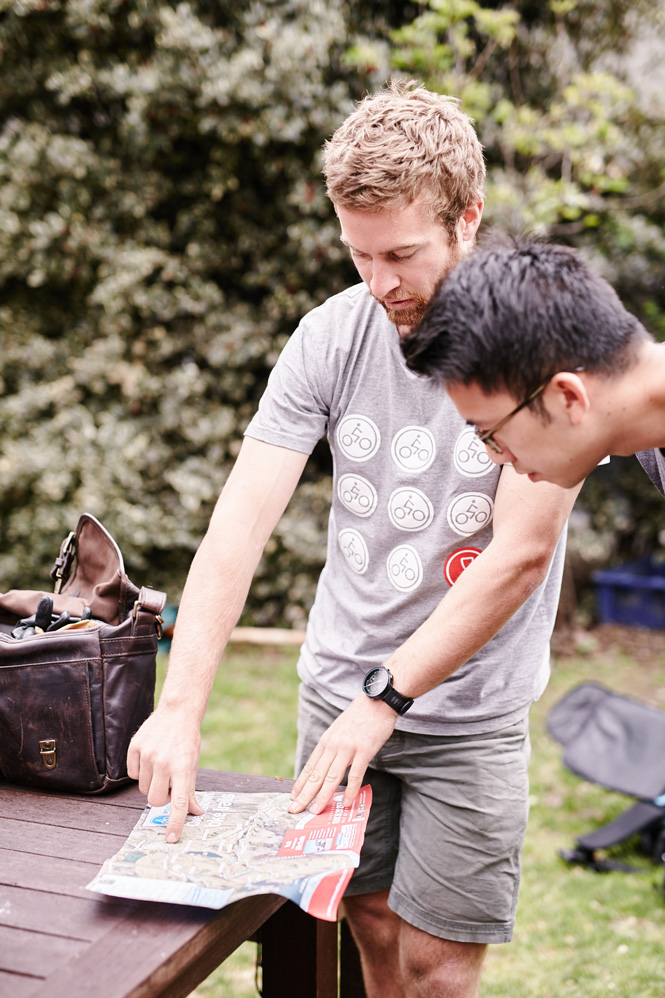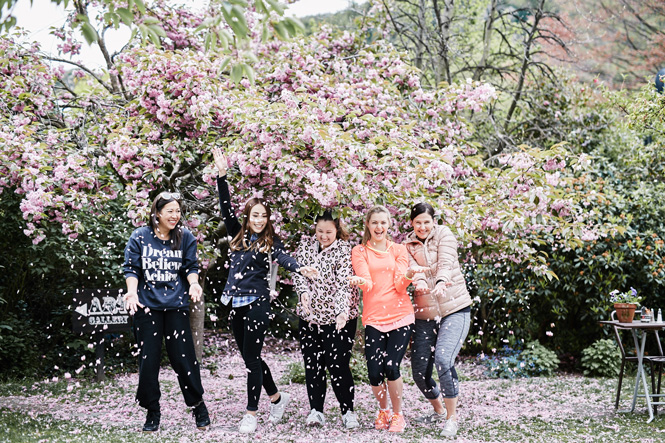 Clarice – Brigadeiro Choc, Mel – The Tia Fox, Shellie – Iron Chef Shellie, Maddy – Accor Hotels, Jo – Hotel St Moritz.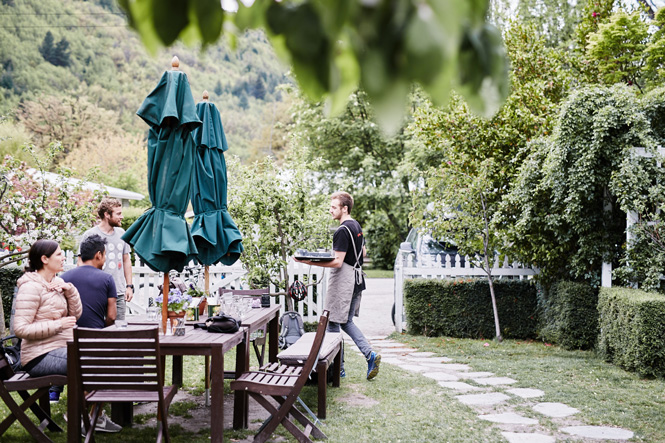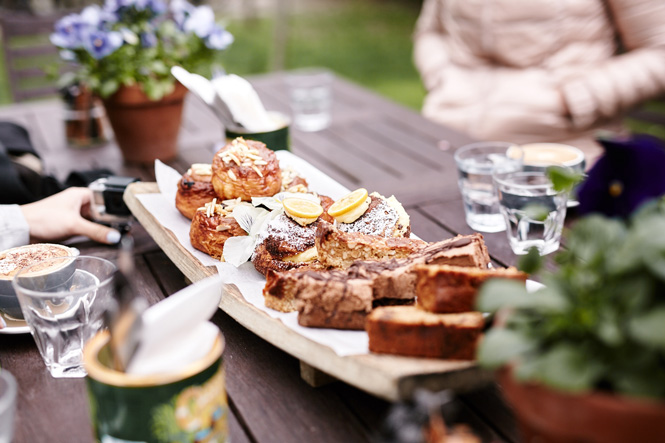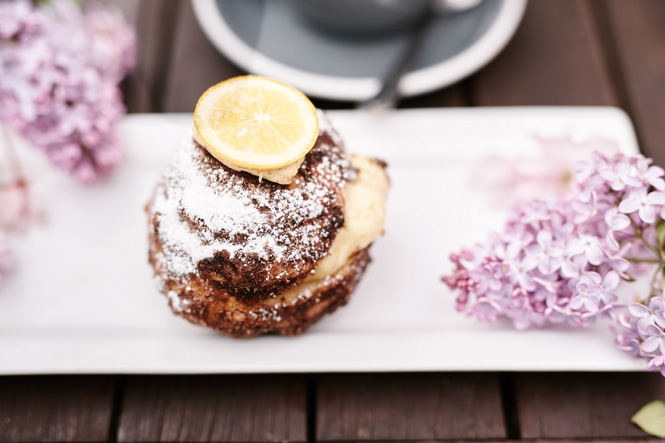 We donned on the active wear and met with Hamish our tour leader from Around The Basin Bike Tours. Around The Basin are the local experts specialising in mountain biking adventures on the Queenstown, Arrowtown and Gibbston River Trails. Offering half day, full day and custom mountain bike tours in the Queenstown area. We also provide a shuttle service on the trails and have the latest model bikes available for hire with free delivery service. What better way to start a bike tour than carb loading at Provisions, Arrowtown. With their famous sticky buns, amongst other damn fine treats, we were caffeined and sugared up, and ready to pedal!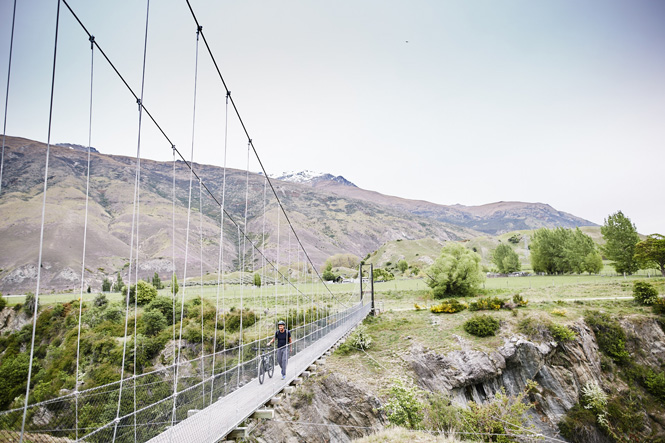 A truly magical way to explore NZ, cycling lets you go at a nice pace, whilst taking in the fresh air and breathtaking views. Riding over a few suspension bridges (possibility my favourte part), we finished our bike ride at the historic Kawarau Bridge, also home to AJ Hackett's Bungy site, the world's first bungy operation.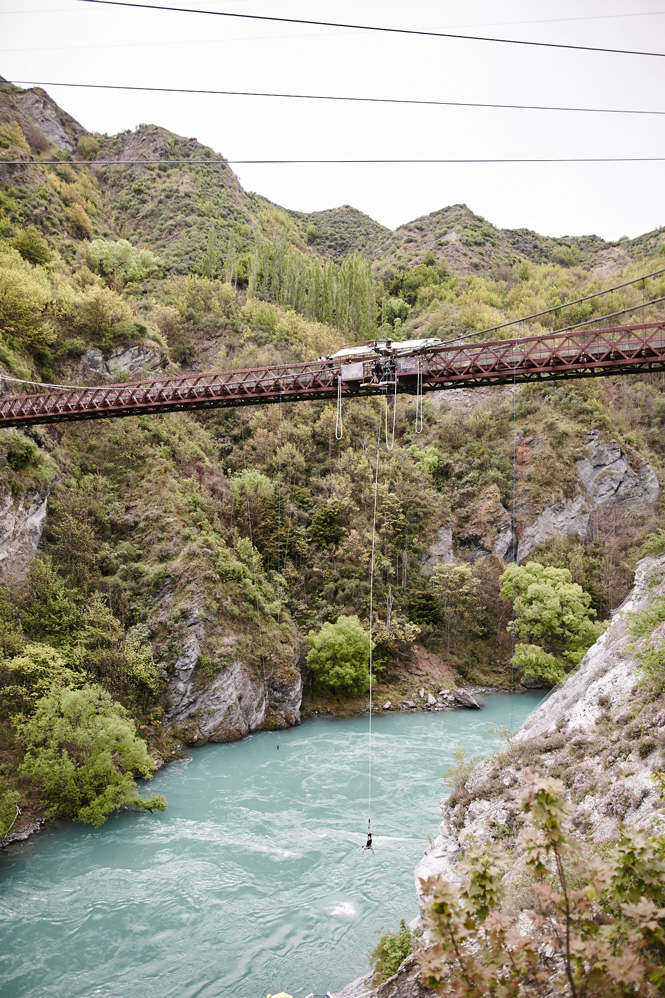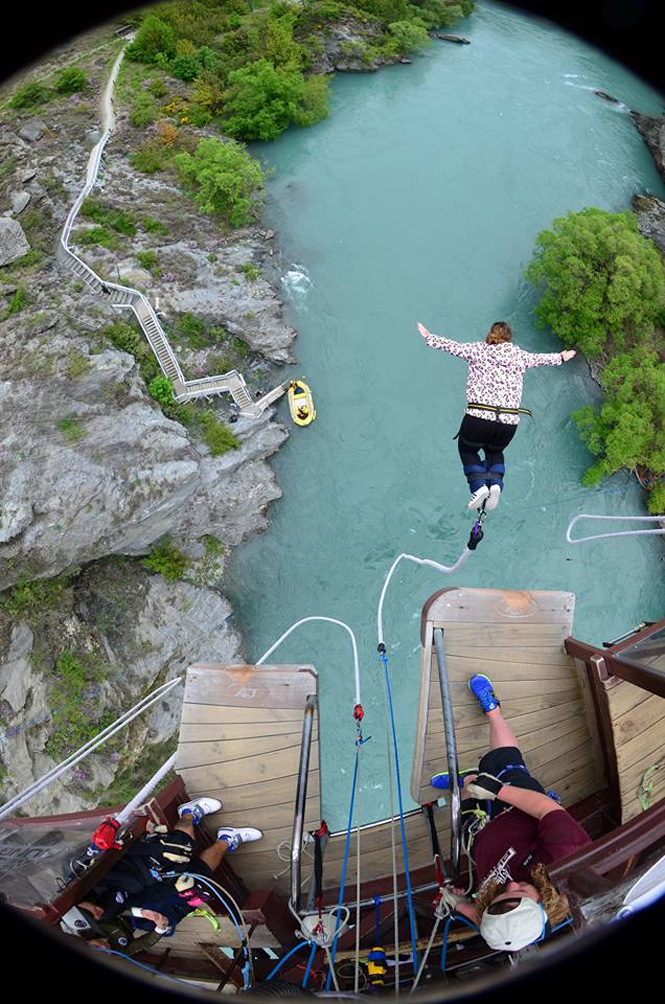 There we were, happy as Larry to check out the people hurling themselves off the bridge, taking in the stunning view, when Maddy asks, "So! Who wants to jump!!??". I've always said from a young age I would do it. But as I got older, I guess I became more cautious. After about 10 minutes, I just said "I want to jump!!". It must have been the endorphins from the bike ride, but I was ready. It's still something I don't believe I did, but there are photos and videos there to prove it! It was one thrilling things I've done, and I'm so glad I did it!! There is also ziplining if bungy isn't your thing!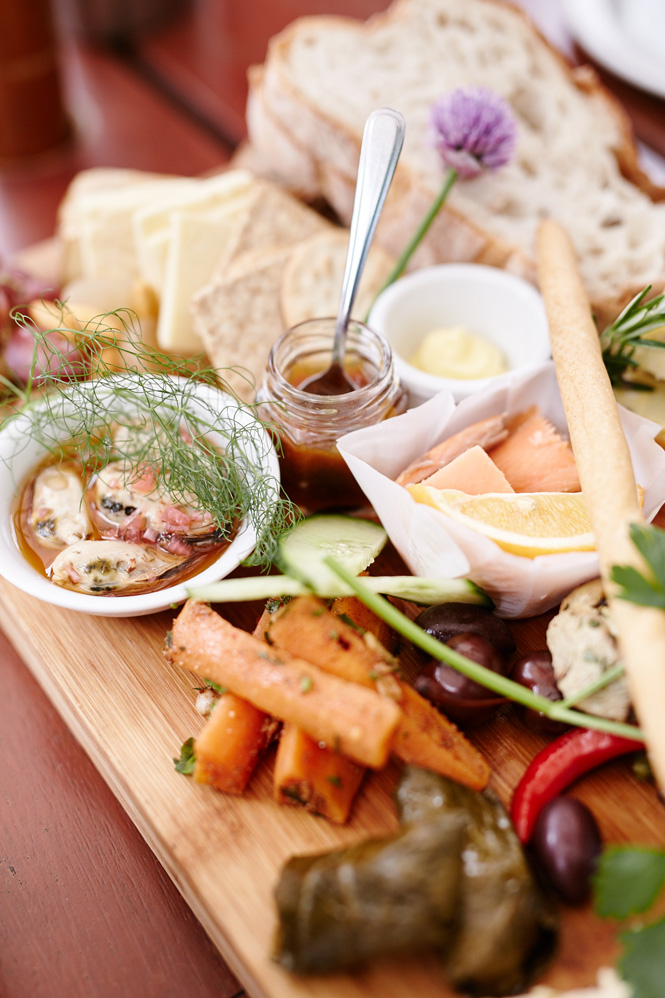 After one of the best mornings ever, it was time to celebrate with a gorgeous lunch at Gibbston Valley Winery. With some great wines and delicious sharing platters, we were all ready for another nap I think!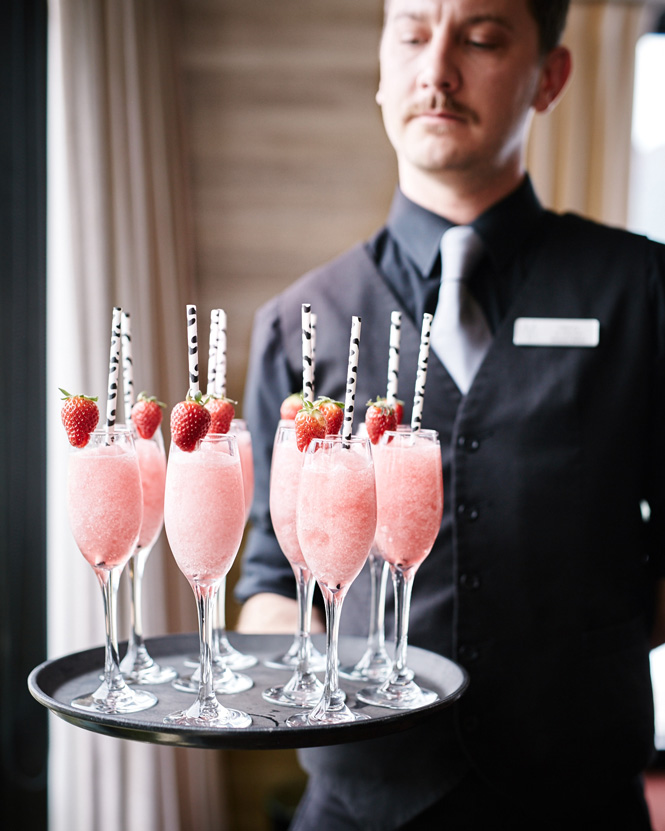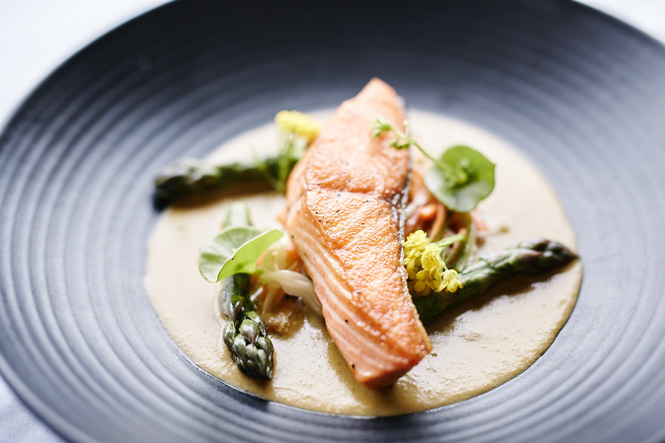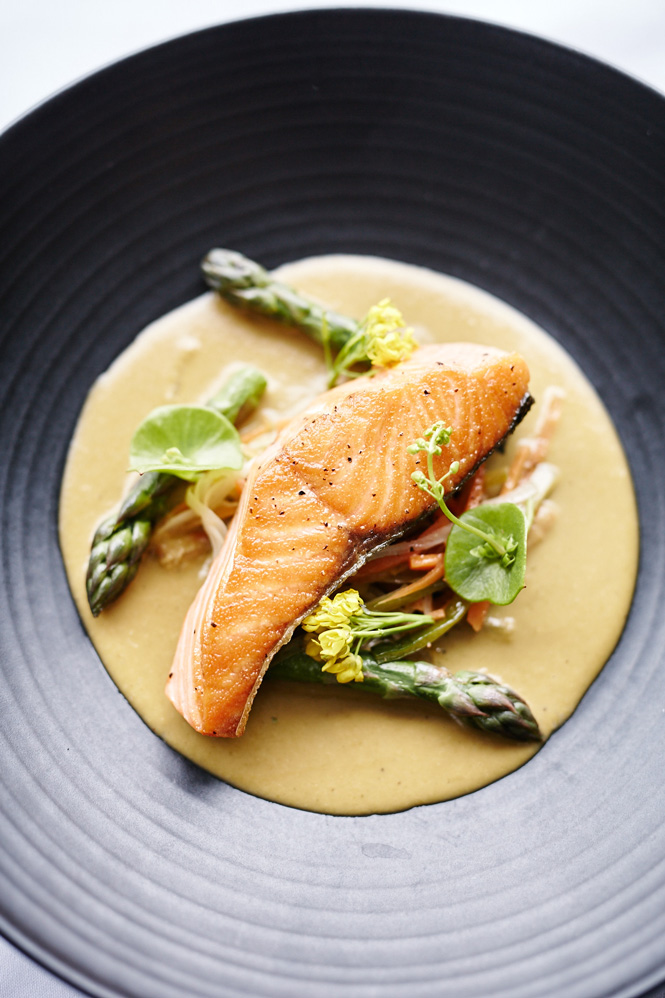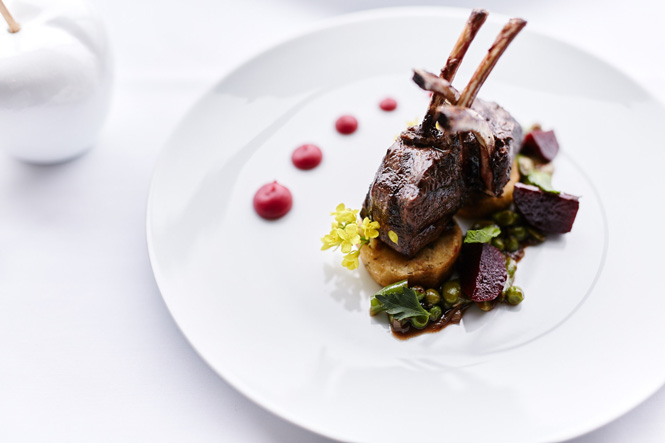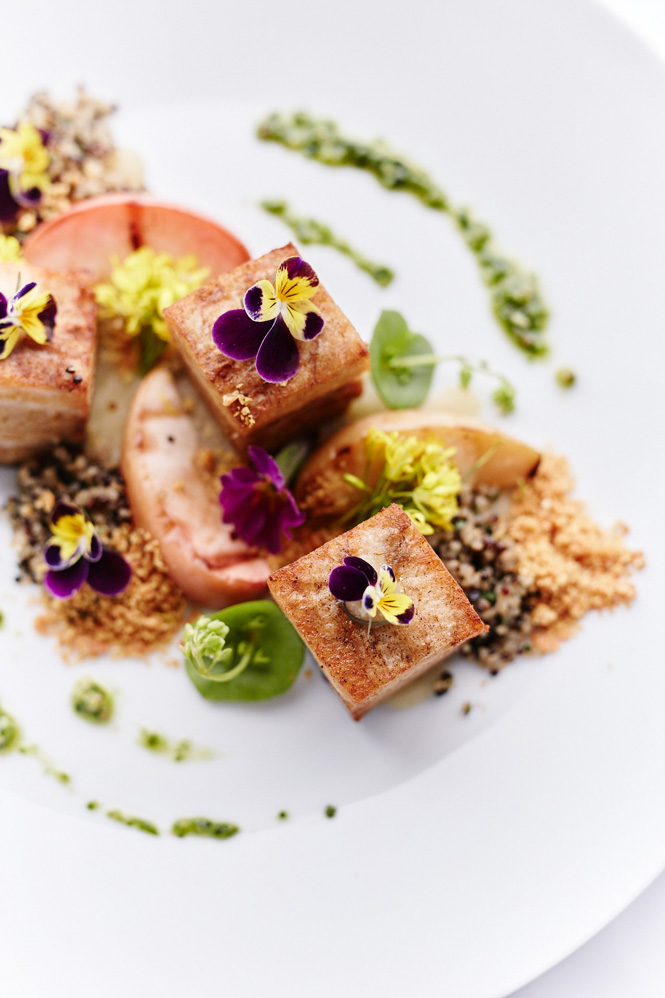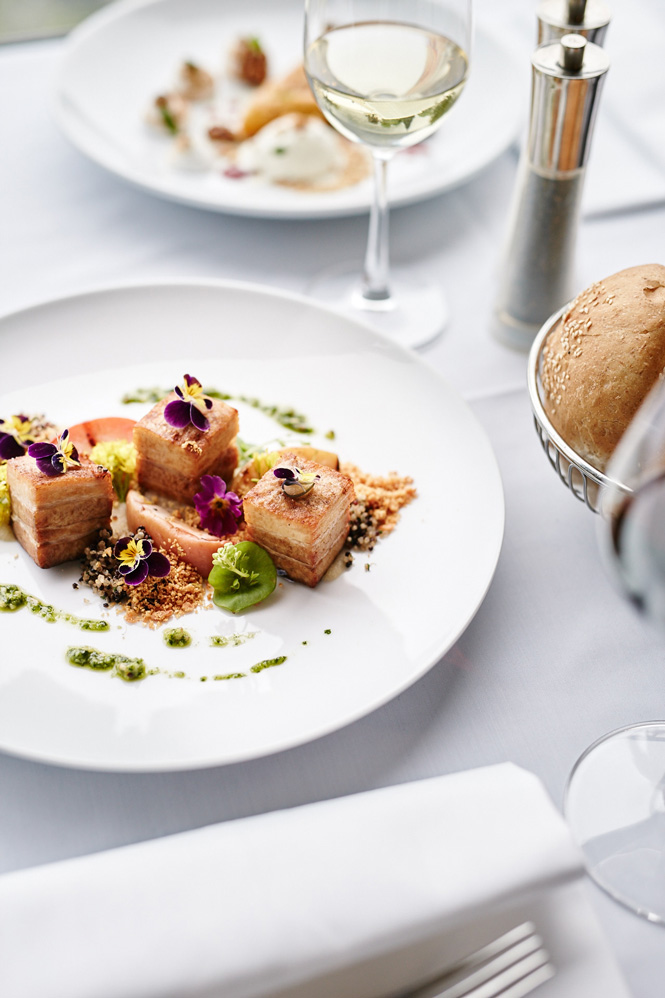 Regrouping for pre-dinner drinks, including these gorgeous Frosés, we recapped the day whilst overlooking the snow capped mountains and Lake Wakatipu. We then wound up the day and experienced Pinot Pinot Pinot – a wine matched dinner showcasing some of the region's famous pinot vintages. Sensational food, I really wish I had an extra belly to fit it all in!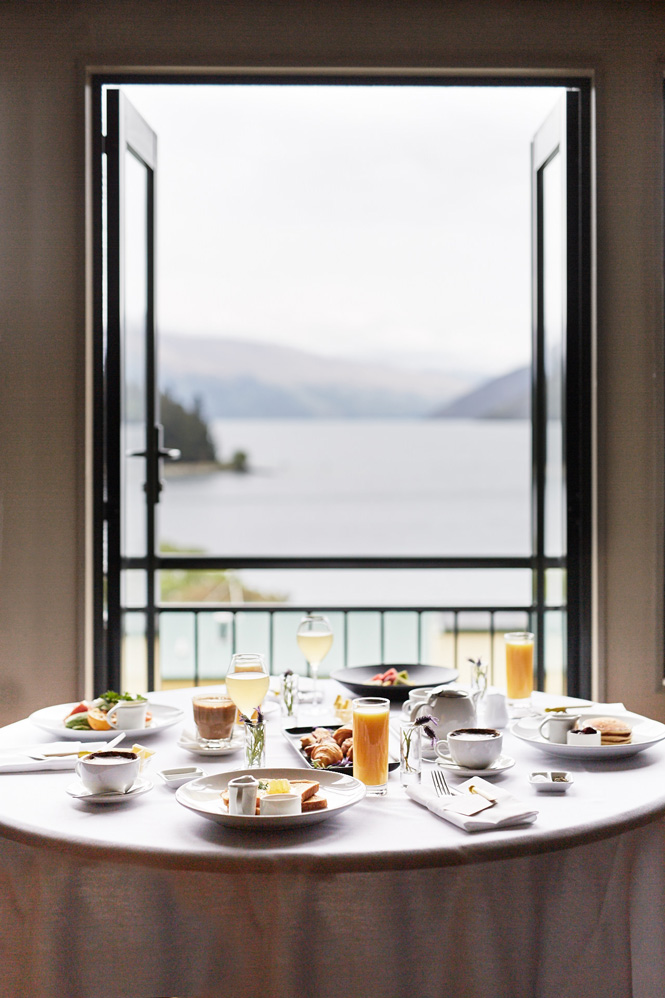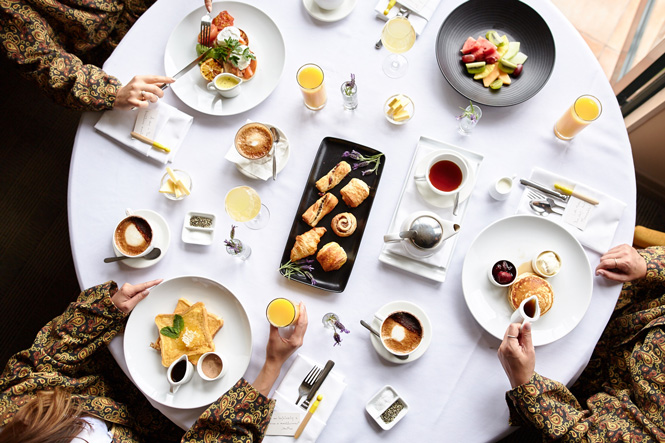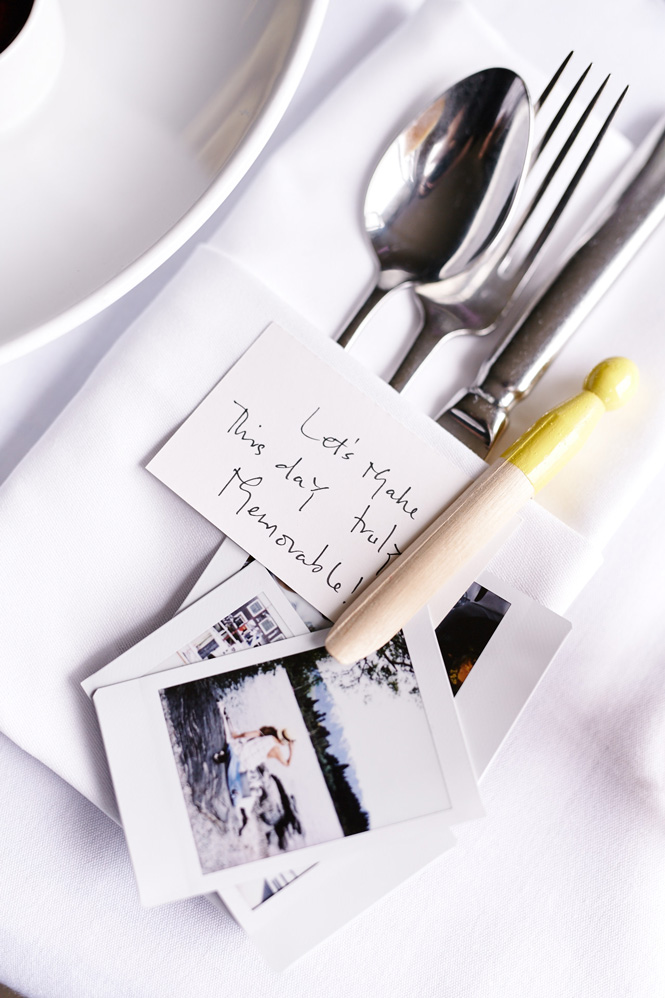 The next morning, no rest for the wicked, we were up bright and early for lake-edge yoga with Soul Journeys. Then some inroom dining with the girls, and soaking in the view for the last time.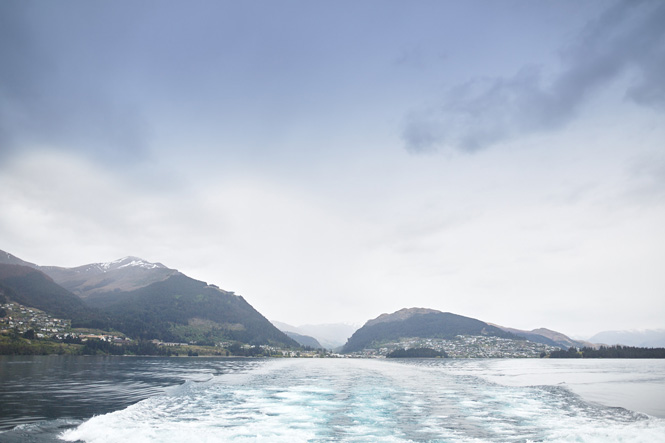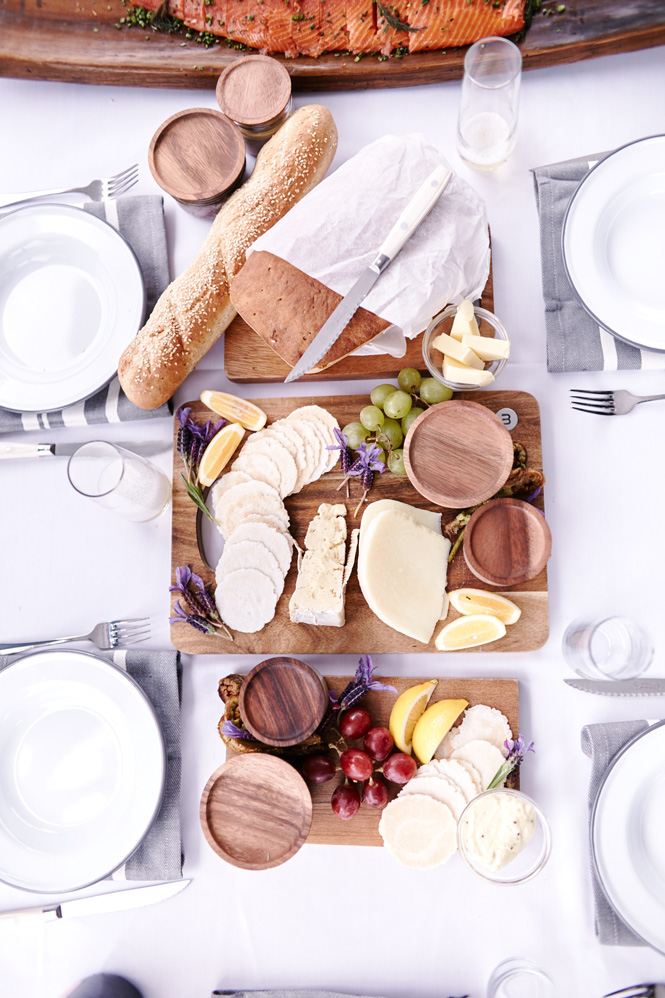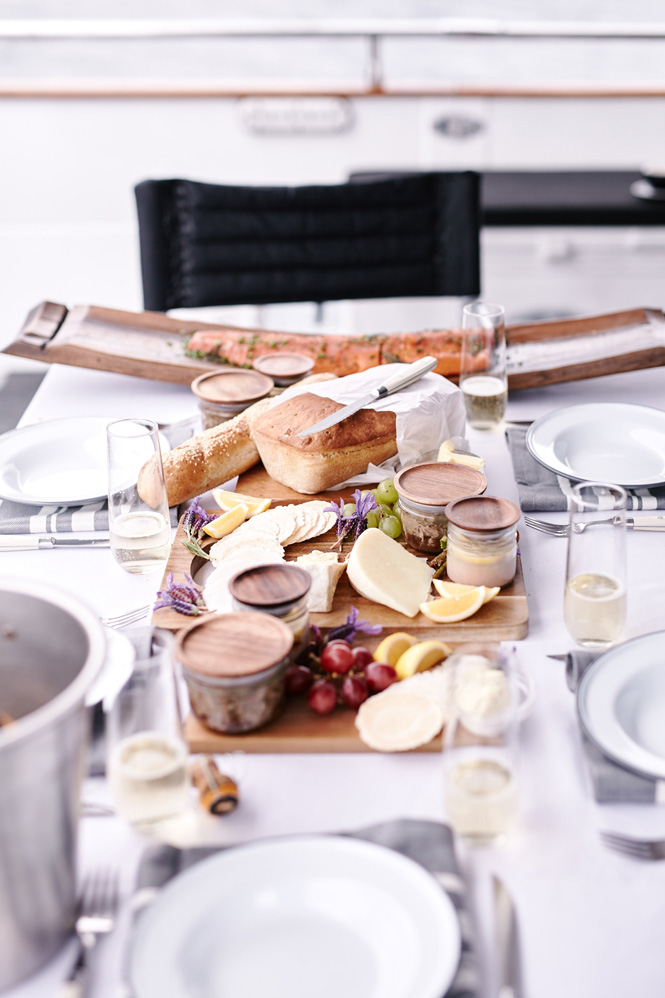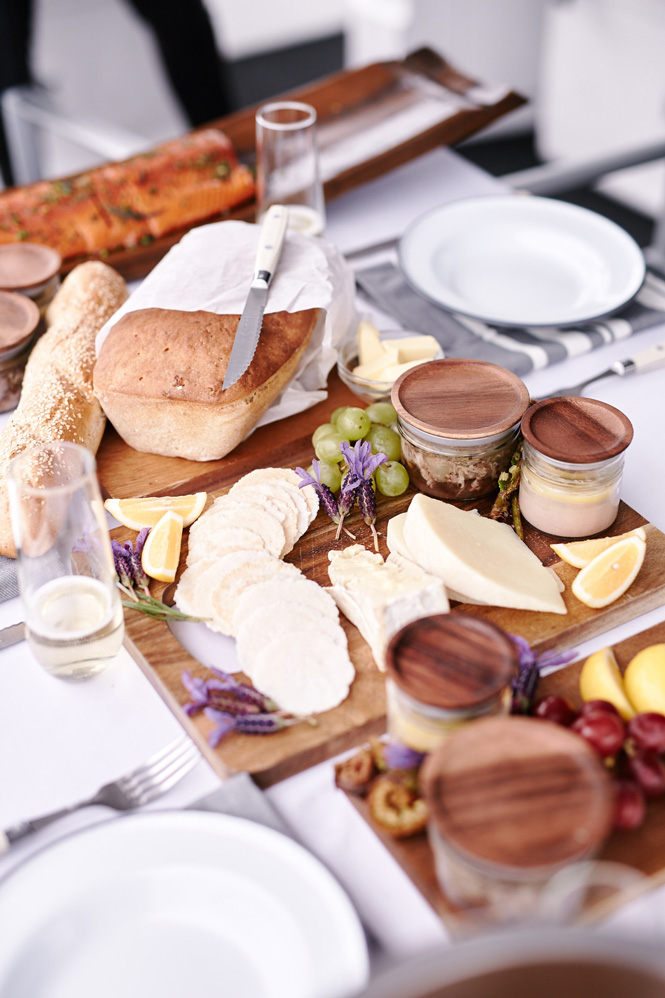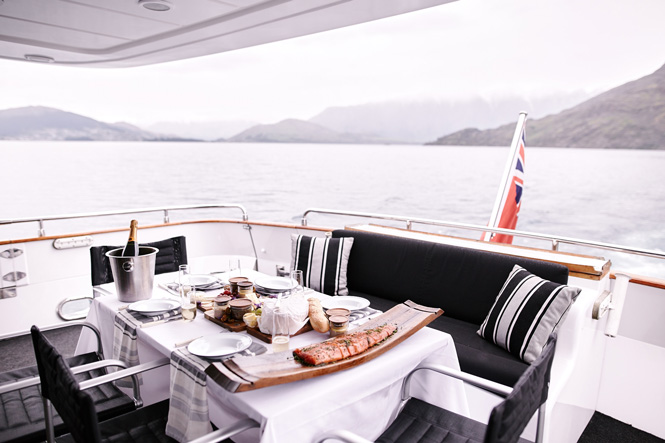 The next day before a late afternoon flight home, it was time to discover the Hotel St Moritz's 'Memorable Moment', a scenic helicopter flight across Lake Wakatipu to "The Ledge" on nearby Cecil Peak. Welcome to a half hour of absolute serenity, engines off, and mountains as far as the eye can see. Enjoy a specially prepared Lombardi champagne picnic. This is a real treat for the eyes, ears, taste buds and soul. Due to weather, we were unable to board the helicopter, but our amazing host Jo, sent out the bat signal, and we were on a luxury chartered yacht, Pacific Jemm in no time. With our gorgeous picnic in tow, this was seriously THE BEST salmon I've EVER had in my life. Another reason to return, and to experience the helicopter ride!!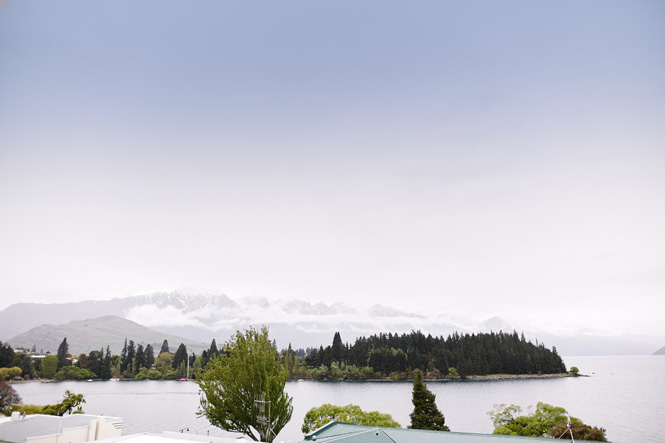 With hot tubs, a fabulous restaurant and bar, impeccable service, located just a short walk to town (and Fergburger!), breath taking views and so much more, I can't recommend a trip to Queenstown to stay at Hotel St Moritz more. You'll feel right at home, and it provides the perfect base camp for all your Queenstown adventures.
Many thanks to Maddy and the team at Accor for organising this, and a HUGE thank you to Jo, the hotel's general manager for your company and phenomenal hosting!
Hotel St Moritz, MGallery by Sofitel
10/18 Brunswick St, Queenstown, 9300, New Zealand
Telephone: +64 3 442 4990
Website: http://www.stmoritz.co.nz
Instagram: @hotelstmoritz