Apple & Blueberry Loaf
Happy New Year friends!
Some of you might have already noticed, Iron Chef Shellie has had an extreme makeover. She is part of the new me; Shellie 2.15. I'm now doing what I love, 100% of the time, not just jammed in around other commitments. From now on; you my friends, are getting 100% #shellieness.
So if you, or someone you know needs a photographer, food stylist or some graphic design work; I'm your gal! You can drop me a line over at shellie@ironchefshellie.com for my rates, or a chat.
I've been doing some whacky things lately in the kitchen studio, and I can't wait to share them with you. The only clue I have to share with you is, I'VE MADE A LOT OF MESS! I've had to put my OCD aside for the sake of my art. Thank goodness for vacuum cleaners, mops, and dishwashers, that's all I'm saying!
It's going to be an amazing year. I'm turning the big three-ohhhhhh and I've got a trip to Japan planned with some of my favourite people. I haven't been overseas on 7 years, so I cannot begin to tell you how excited I am!
So, let's start the year with one helluva delicious apple and blueberry loaf. ♥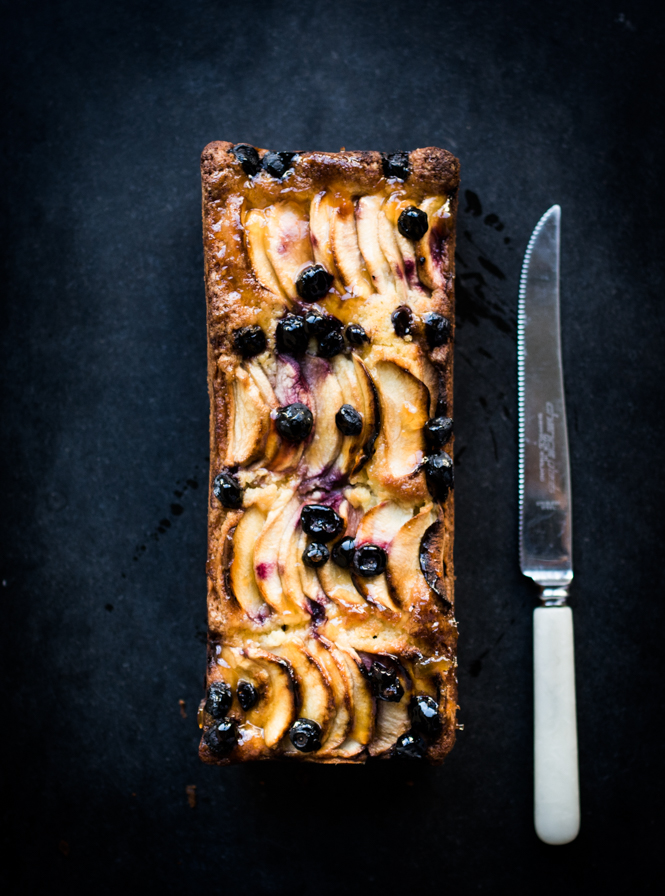 I've never been to Primrose Bakery, London, or in fact the United Kingdom, but I knew I liked the look of the Primrose Bakery cookbook. You can judge a book by it's cover, it's very,very pretty cover. I ended up with a copy after doing some design work for my friend Rachel. She offered to pay me in cookbooks, an offer I could not refuse.
I have made a few things from this book, including the Nutella cupcakes, which were very moreish. Anyone who knows me knows I love anything with apple. I knew I had to try this recipe and then proceed to plant my face into this loaf.
Not only did the photo in the book look fantastic, it looks spectacular on their website too:
"This loaf has layers of apples and blueberries baked through, making each slice look as good as it tastes. We top it off with an apricot glaze to add an extra bit of sweetness. Delicious!"
I'm happy to say, this loaf lived up to all my dreams and expectations. It looked dead gorgeous, and with the copious amount of apples and berries, every mouthful was filled with fruit, cake and happiness.

Primrose Bakery Apple & Blueberry Loaf
Print Recipe
Ingredients
125 g chilled butter diced, plus extra for greasing
225 g self-raising flour
175 g caster sugar
2 large eggs lightly beaten
2-3 tbsp milk
2 large eating apples peeled, cored and thinly sliced
125 g blueberries
2 tbsp apricot jam
Instructions
Preheat the oven to 190°C / 170°C fan forced /gas 5.

Grease a 900g loaf tin and line with baking paper or a paper loaf tin liner.

Sieve the flour into a food processor with a pinch of salt and add the butter. Whizz until it resembles breadcrumbs. Add the sugar, eggs and milk and whiz again to make a smooth mixture.

Pour half the cake mixture into the loaf tin, then scatter with half the apples and half the blueberries. Pour over the remaining cake mixture, then scatter with the remaining fruit. Bake for 1 hour, or until risen and firm. To test it, insert a skewer into the centre- it should come out clean.

Put the apricot jam into a small bowl and microwave the jam on high for 20 seconds to melt. Brush the glaze over the cake as soon as it comes out of the oven. Cool for 10 minutes in the tin, then turn out onto a wire rack to cool completely.