Vanilla Granola with Vanilla Yoghurt and Fruit
I am an over achiever. 
There. 
I said it.
When I invite people over for a meal, I don't just give them one option; I give them as many as I possibly can. I don't want one person to be stuck with something they don't like, and I don't want anyone going home hungry. 
In fact, most people will leave my house with a take home pack, even if they are just coming for dinner. 
I had my BFFs from high school come over shite and briney one Saturday morning to Skype our other BFF who is currently living in NYC. Naturally, I had dreams of a lavish breakfast spread, possibly pancakes, eggs, the works. I eventually came back down to Earth, and planned some more realistic options. As it was close to Easter, I made the hot cross muffins I recently blogged, ham and cheese croissants, as well as this incredibly addictive granola. 
This granola was a UUUUUGE hit with everyone. My friend Alana even took a photo of the recipe and proceeded to go home and make a double batch of the stuff. My other friend Sian just recently asked if I blogged it yet, as she wanted to make a batch too. It is THAT good people! THAT GOOD!
I served mine with a selection of Summer fruits; mango, raspberries, blueberries and the very cute kiwi berries. This sparked a bit of interest on Instagram. They taste just like kiwi fruit, sweet and kiwifruitish, only tiny. My friend Tristan said they tasted a bit like feijoa, and I would have to agree with him, they did.
Served with Greek yoghurt that had vanilla bean paste mixed through it, it was the perfect breakfast. I suggest you also make a double batch of the granola, as this single batch won't be enough! 
Oh and if you are a huge breakfast fan, may I suggest you check out fellow blogger, and all around awesome girl, Heidi's blog and join her #WednesdayBreakfastClub .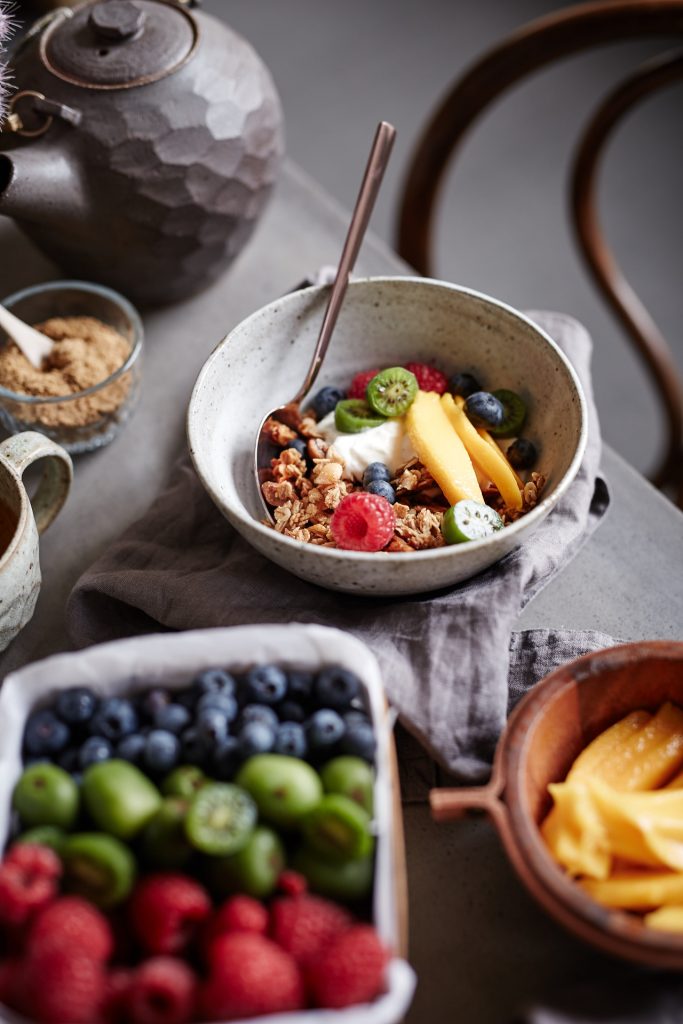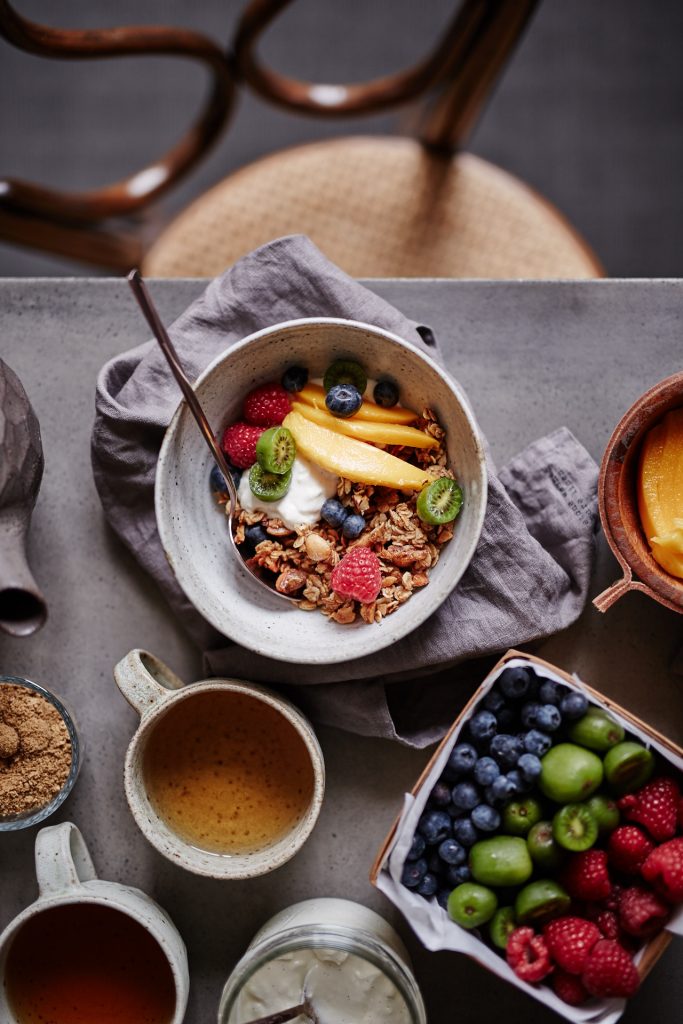 Vanilla Granola with Vanilla Yoghurt and Fruit
Print Recipe
Ingredients
1/4 cup 55g caster sugar
1 vanilla bean split, seeds scraped (or 1 teaspoon vanilla bean paste)
1 cup 90g rolled oats
1/4 tsp ground cinnamon
1 tbs sunflower oil
1 tbs brown sugar
1/2 cup 75g macadamias, chopped
1/4 cup 40g almonds, roughly chopped
Sliced mango berries, or whatever fruits are in season
Vanilla Yoghurt
1 teaspoon vanilla bean paste
400 g thick Greek-style yoghurt
Instructions
Preheat oven to 160°C. Line a baking tray with foil and lightly grease.

Place caster sugar, vanilla pod and seeds (or vanilla paste), and 1/2 cup (125ml) water in a small pan. Bring to a simmer over medium heat, then reduce heat to medium-low and simmer for 5-6 minutes until syrupy. Cool slightly, then remove vanilla pod – if using.

Combine oats, cinnamon, oil, brown sugar and nuts in a bowl. Add vanilla syrup and toss to combine. Spread granola in a single layer on the lined tray and bake for 30-35 mins, stirring twice in the final 20 minutes, until dry and golden. Cool.

Meanwhile, for the vanilla yoghurt, place the vanilla paste in a bowl with the yoghurt and stir to combine.

Serve the granola with yoghurt and fruit.
Notes
Adapted from Shane Bailey