No Churn Honey Caramel Ice Cream
I'm sure most of you have taken the opportunity to dive into the far depths of the pantry, discovering things you had well and truly forgotten about. For me, I found two jars of dulce de leche (a thick and glossy, rich and sweet, spreadable golden caramel, usually made from slowly simmering tinned condensed milk) that were well past their best before date, but at the end of the day, it's essentially just sugar so I deemed it fine. I also had 600ml of cream in the fridge that was one day passed it's used by date. We sniffed it, we tasted it and it was still fine. After a quick google search, I had an answer of what to do to use up both, a really easy no churn ice cream! Mixed with a little honey, and topped with a Violet Crumble bar, it couldn't have been any easier to make, and it lasts for 1 month in the freezer.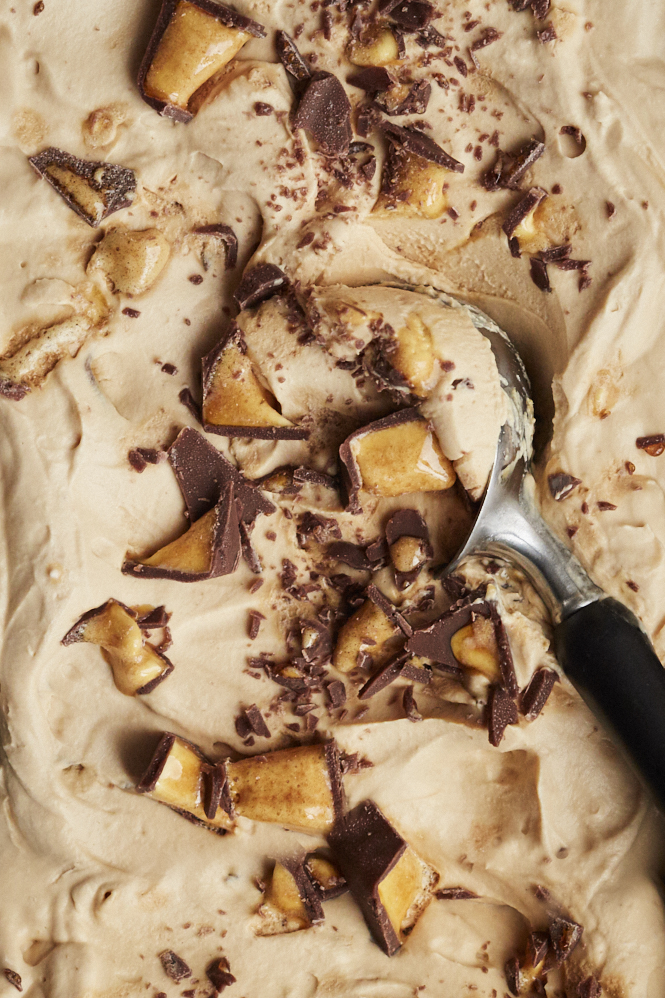 No Churn Honey Caramel Ice Cream
Print Recipe
Ingredients
600 ml thickened cream
400 g dulce de leche
100 g honey
100 g Violet Crumble, roughly chopped
Instructions
Line a loaf pan with cling-film and set aside.

Using an electric mixer with whisk attachment, whisk together the cream, dulce de leche, and honey on medium-high speed until still peaks form. 

Using a spatula, fold through 50g of the chopped up Violet Crumble and pour into the loaf tin. Top with the extra 50g of Violet Crumble. Cover with cling-film and freeze over night. 

To serve, remove ice cream from the freezer about 30 minutes before serving to soften slightly. Will last in the freezer for 1 month, unless you eat it before then!