Chocolate Truffle Cake with Chestnut Cream and Ganache
In recent times, I've been commissioned to do some fairly big jobs that involve doing the shopping, prepping, developing, cooking, styling, shooting and processing for quite a number of recipes. The week that I made this cake, I had completed about thirty one recipes, spread between two different clients. Despite the craziness, I wanted to bake a cake for fun. I wanted to bake this particular cake as well, as I had frozen chestnuts in my freezer. It had also been on my "to bake list" for what seems a small eternity.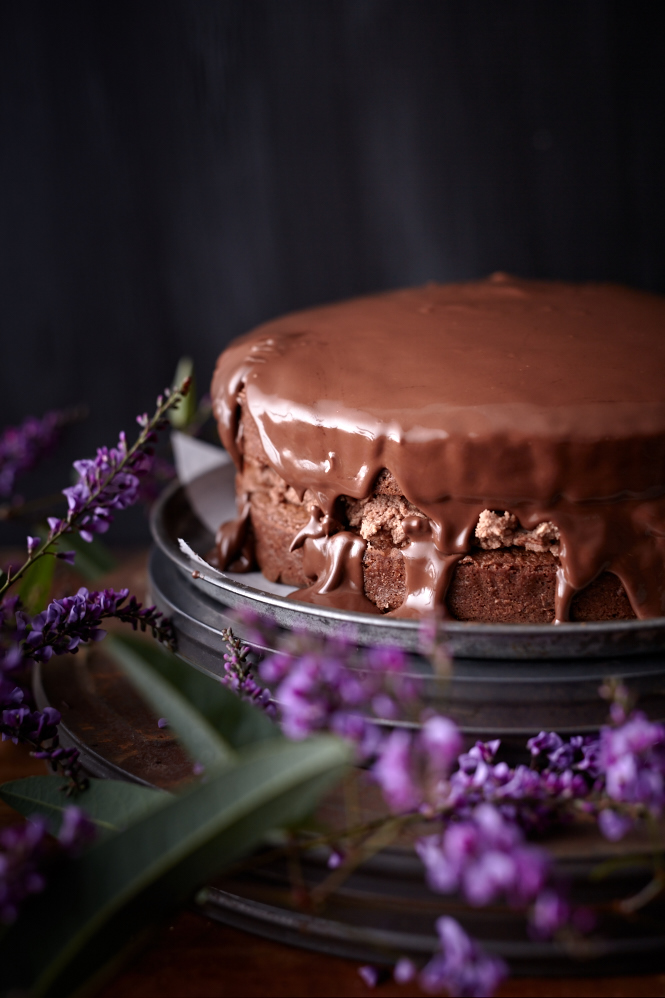 The recipe is by one of my food styling and photography idols, Katie Quinn Davies, and with the promise of oozey chocolate combined with one of my favourite nuts, making this cake on the tail end of a crazy week, truly was one of the craziest things I've done lately.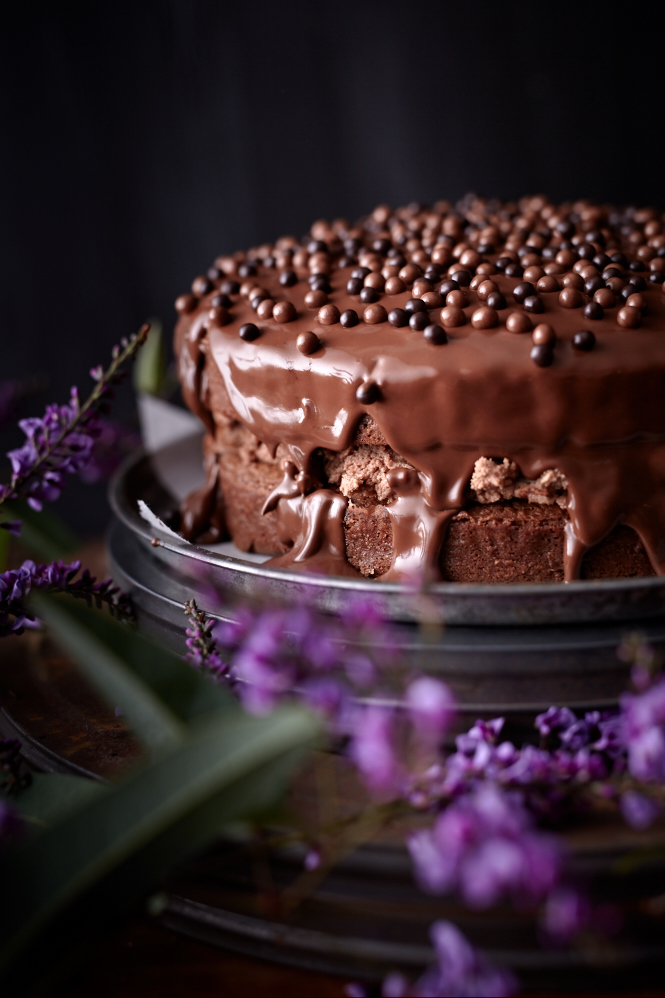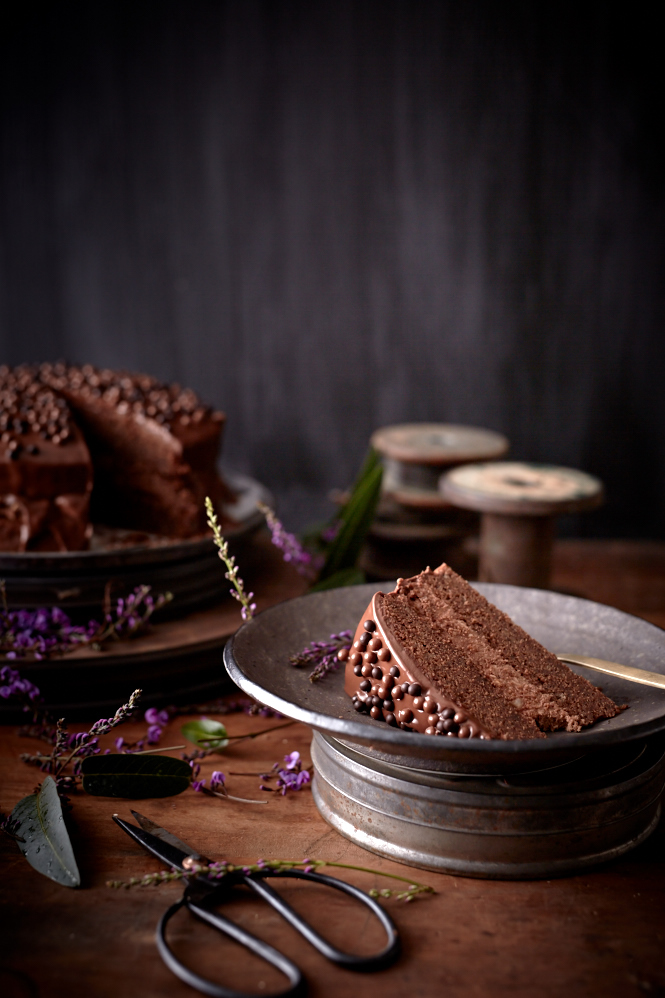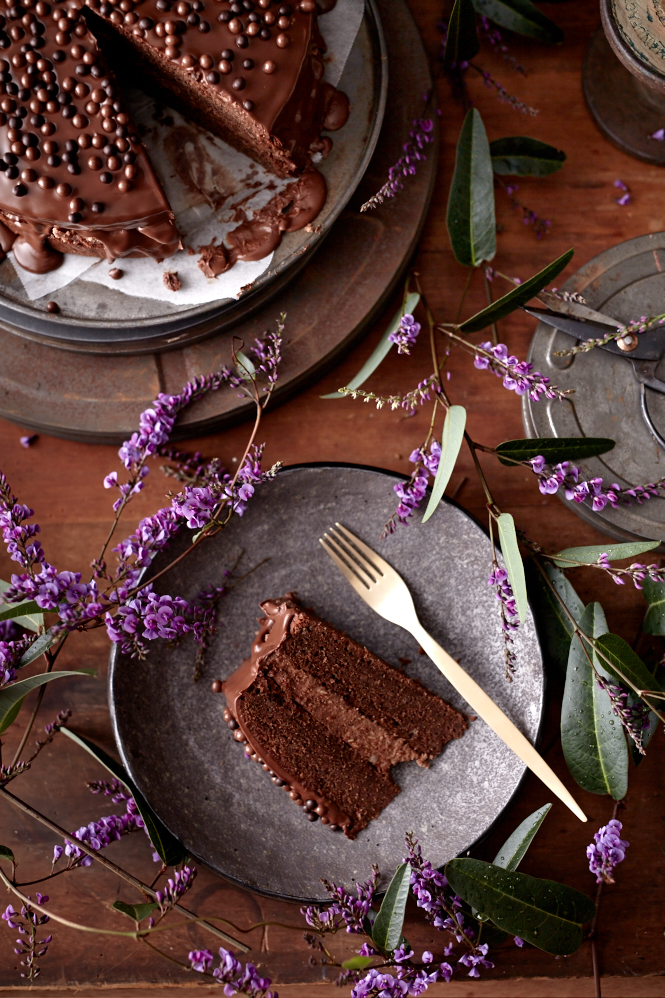 I had baked the cake the night before, after a day of about eight recipes. The following day after another seven recipes, it was pitch black and raining outside. I had seen the purple flowers I used in the shots creeping through the fence from the neighbour's next door, so I ventured down the driveway, with my scissors in hand, trying to get my night vision tuned. I snipped a few branched and hurried back to the house to create the magic.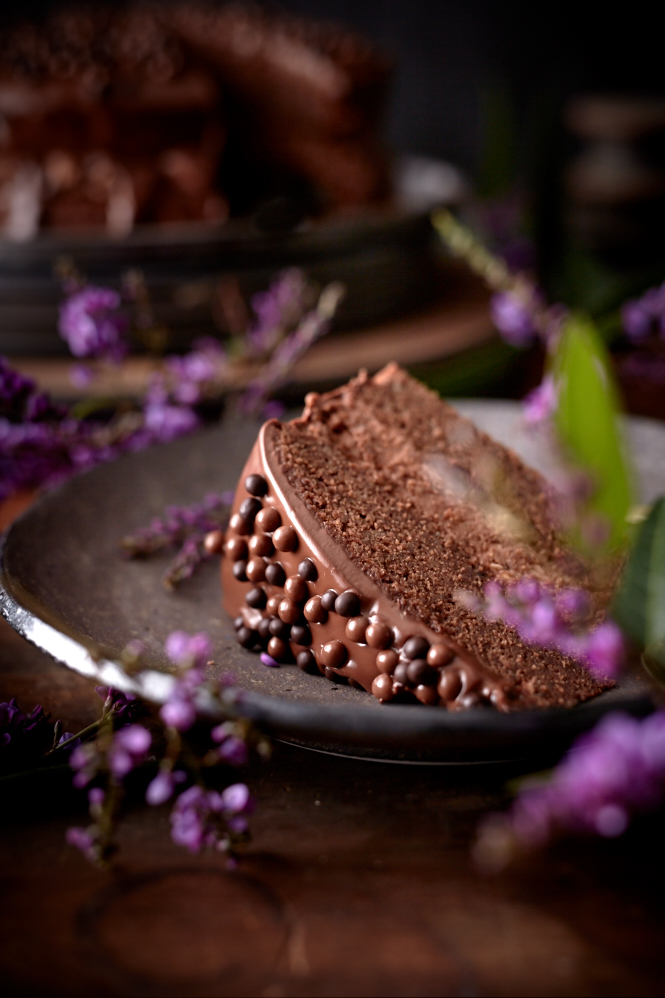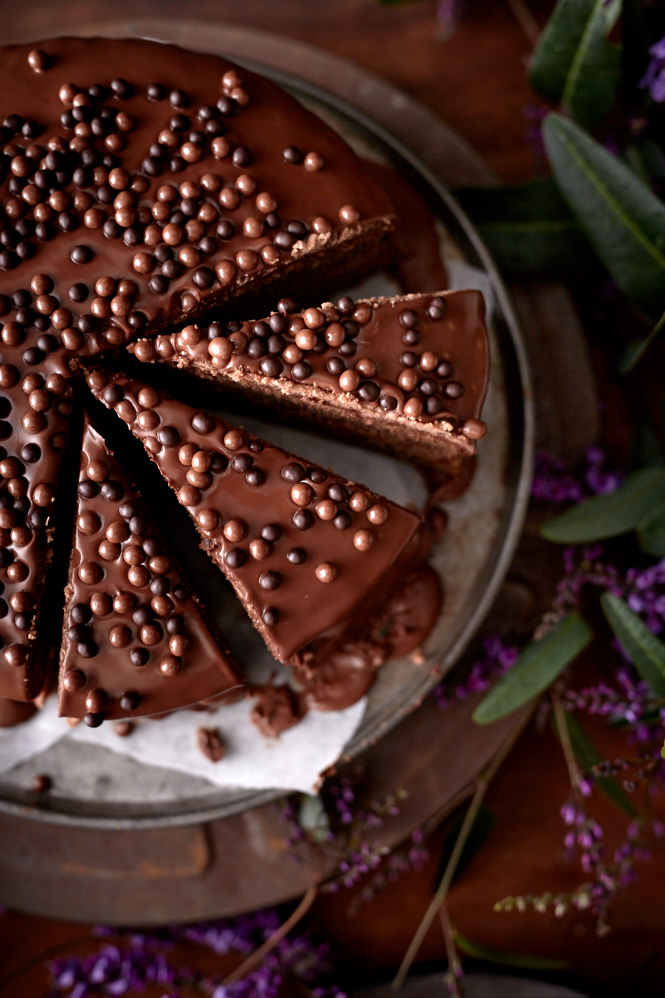 It's a true winner of a cake. I ended up giving most of this one to a friend's workplace since I don't have a workplace anymore now that I'm freelancing. They loved it and gobbled it up, saying it was rich and decadent and they couldn't stop eating it!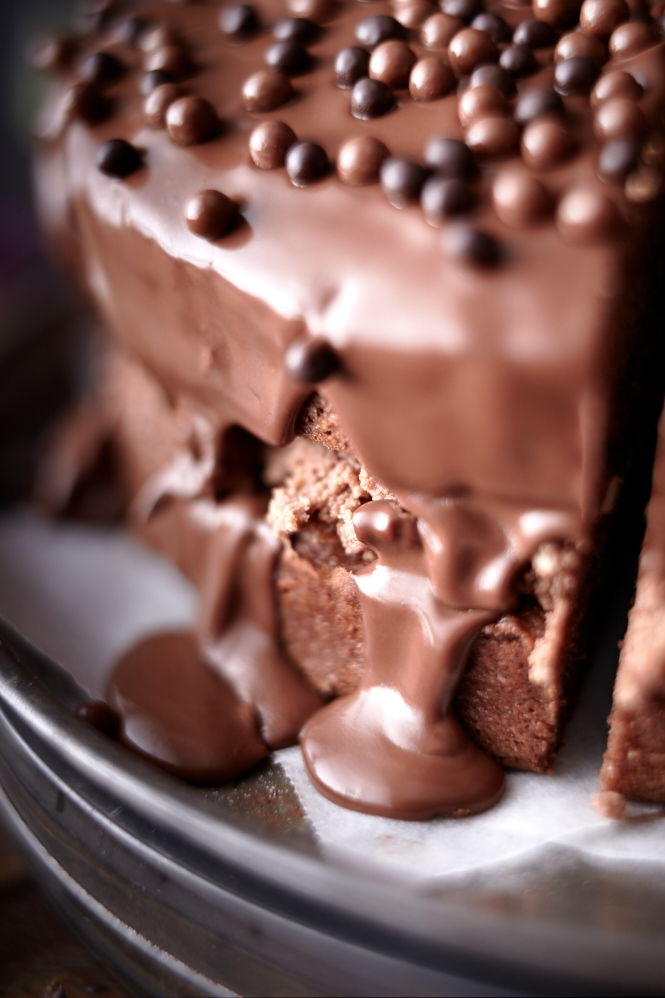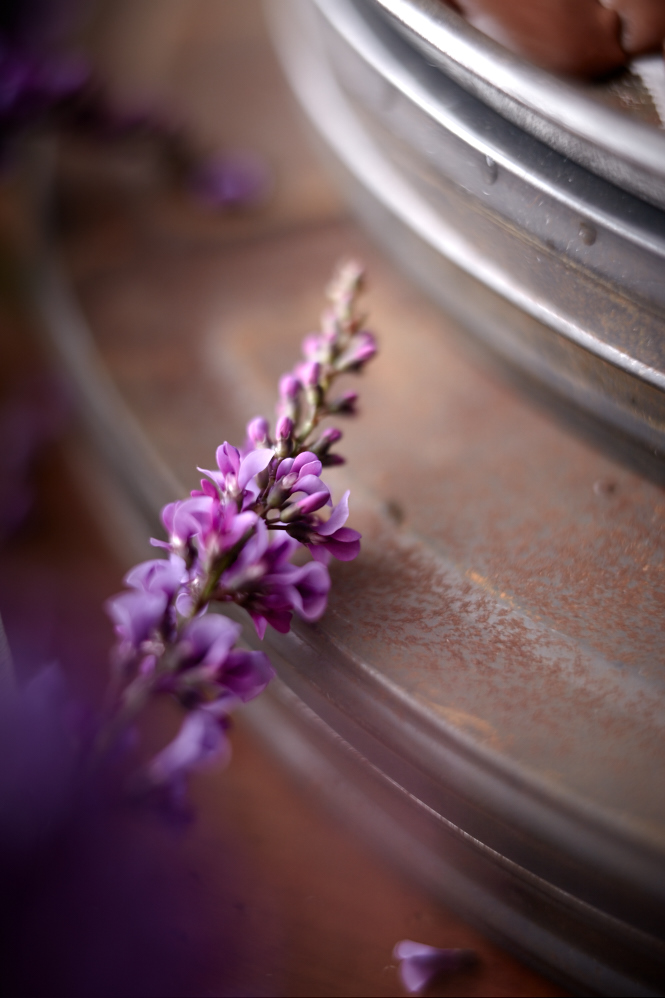 Chocolate Truffle Cake with Chestnut Cream and Ganache
Recipe by Katie Quinn Davies
500ml milk
250g unsalted butter, chopped
300g dark chocolate, roughly chopped
300ml thickened cream
3 eggs
1 vanilla bean, split, seeds scraped
385g caster sugar
410g plain flour
1 tablespoon cocoa powder
1 teaspoon baking powder
Chestnut Cream
50g dark chocolate, roughly chopped
300g unsweetened chestnut puree
75g softened unsalted butter, chopped
200g pure icing sugar, sifted
1. Preheat oven to 160°C. Grease and line two 22cm round springform cake pans.
2. Place milk, 225g butter, 200g chocolate and 1/2 cup (125ml) cream in a saucepan over medium-low heat and cook, stirring, for 6-7 minutes until melted and combined. Set aside for 20 minutes or until cool.
3. Meanwhile, place eggs, vanilla seeds and sugar in a large bowl and beat with electric beaters until thick and pale. Beat in the cooled chocolate mixture, then sift over the flour, cocoa, baking powder and a pinch of salt, then beat to combine.
4. Divide batter between cake pans, tap gently on bench top to remove air bubbles, then bake for 45 minutes or until a skewer inserted into the centre comes out clean. Cool in pans for 15 minutes, then turn out onto a wire rack to cool completely.
5. For the chestnut cream, place 50g chocolate in a heatproof bowl set over a pan of gently simmering water (don't let bowl touch water) and stir until melted. Remove from heat and cool slightly. Beat the chestnut puree with electric beaters for 4-5 minutes until creamy, then add the butter and icing sugar, and beat for a further 3-4 minutes until light and fluffy. Beat in the melted chocolate. Set aside.
6. To make the ganache, place remaining 100g chocolate in a heatproof bowl. Place the remaining 175ml cream in a small saucepan over medium-low heat and bring to just below boiling point, then pour over the chocolate. Stand for 4 minutes or until chocolate is melted, then add the remaining 25g butter and stir until smooth and glossy. Cool for 5 minutes or until slightly thickened.
7. Line a work surface with foil (this makes it easier to clean up), then top with a wire wrack. Spread the chestnut cream over the top of one cake, leaving a 2cm border, then place the second cake on top, pressing down lightly. Place the cake on the wire rack, then pour over the ganache, allowing it to drizzle down the sides. If desired, spread ganache around sides with a spatula to cover completely. Allow ganache to set slightly, then serve.