S.Pellegrino Young Chef 2018, Milan Italy
I was thrilled to be invited to Milan in Italy by Sanpellegrino to be apart of their third edition of the Young Chef competition. In what was a whirlwind 4 day trip, I was there cheering on John Rivera who was selected from the Pacific (Australia / New Zealand) region to represent us against all the winning chefs from around the world. From more than 3000 young chefs who entered from around the globe, just 21 young chefs, one from each region, battled it out for the title of Young Chef 2018.
To qualify for the competition each chef had to be under 30 years of age and have been working as a chef, sous-chef or chef de partie for at least a year. John Rivera of Amaru and Restaurant Lume, along with his mentor chef Scott Pickett, had been finalising the dish up until the last moments before they flew to Milan. I was lucky enough to sample the dish that won John the title of the Pacific Region winner. More on that dish later!
As we all arrived into Milan from our different parts of the world, we came together at one spectacular venue, Garage Italia for the official Welcome Dinner. "A Taste of Italy" by chef Carlo Cracco included dishes such as Carne Cruda 16V (raw Piemontese beef hachè with mustard rice crips), Tacos Turbo (beetroot tacos, pecorino cheese, pepper and raspberries) and a creamy buttery risotto with cherries!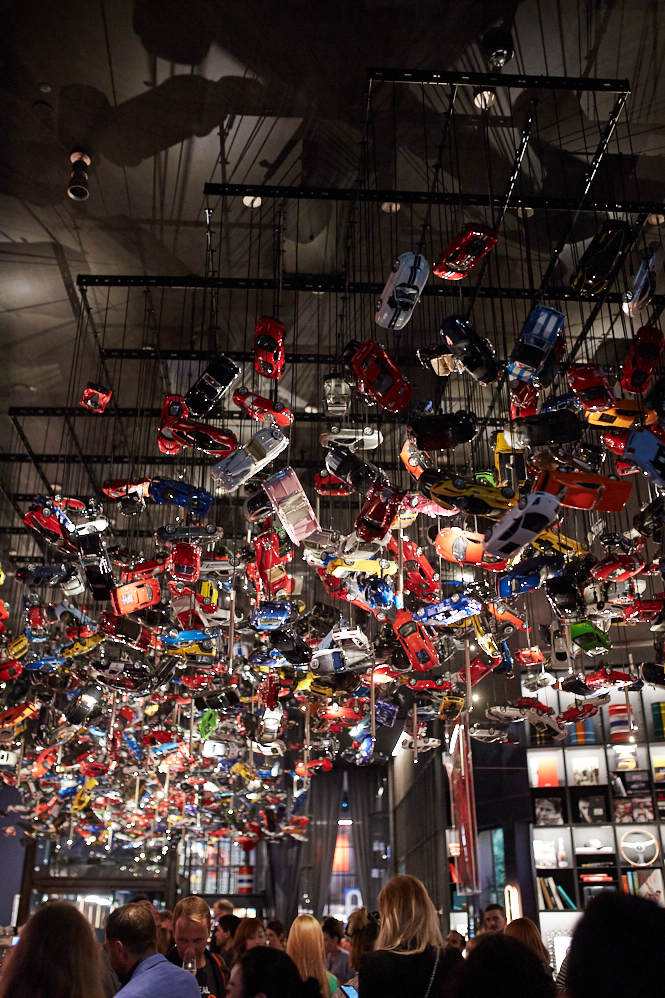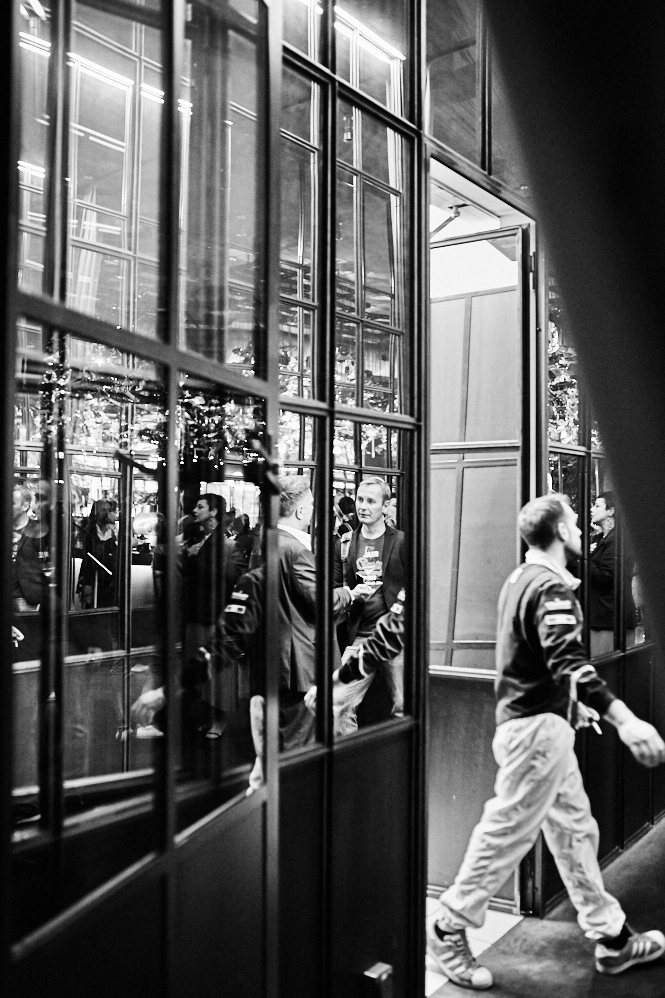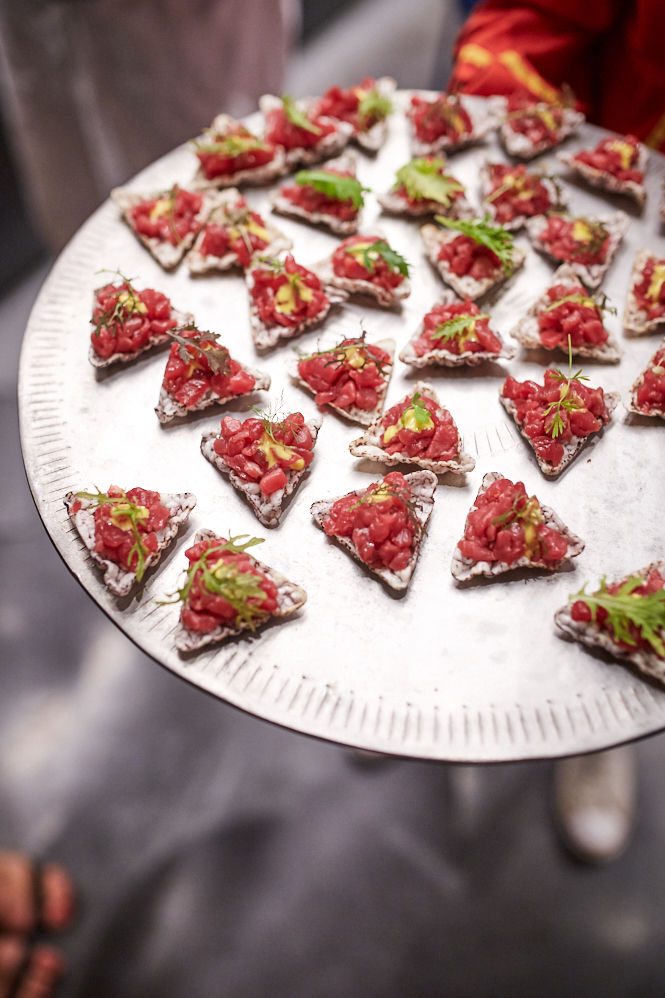 Day one of the competition was underway bright and early. With three rounds of cooking, the 21 chefs were split into 3 groups of 7. The competition was held at Superstudio, an event space turned into a kitchen stadium. Upon entrance I walked through the hall of fame, filled with young chefs and their mentors from previous competitions. The hall of fame lead to a big room where the open kitchen stations were lined up. Each young chef was at their station, accompanied by their mentor chef to keep them on track and an assigned sous chef to help execute the dish. The room was buzzing with excitement.
It was fascinating to watch the chefs at work as each intricate detail came together on a dish they had been perfecting over the last few months. During this round I also watched Jake Kellie, the 27-year-old rising star from Australia who re-located to Singapore to take up the reins as head chef at Burnt Ends restaurant. With his mentor chef Richard Ekkebus the pressure was on to execute Jake's signature dish of Aged Pigeon. Jake describes the dish as…
"Australian pigeon aged in strawberry gum, native pepper berries and hay for 8 days served with 2 elements on the plate being a paste of riberries, blackberries and finger limes and a red beetroot cooked in a wattle-seed salt crust finished with red oxalis. A consommé made from all the pigeon bones seasoned with an 8-year-old fortified wine."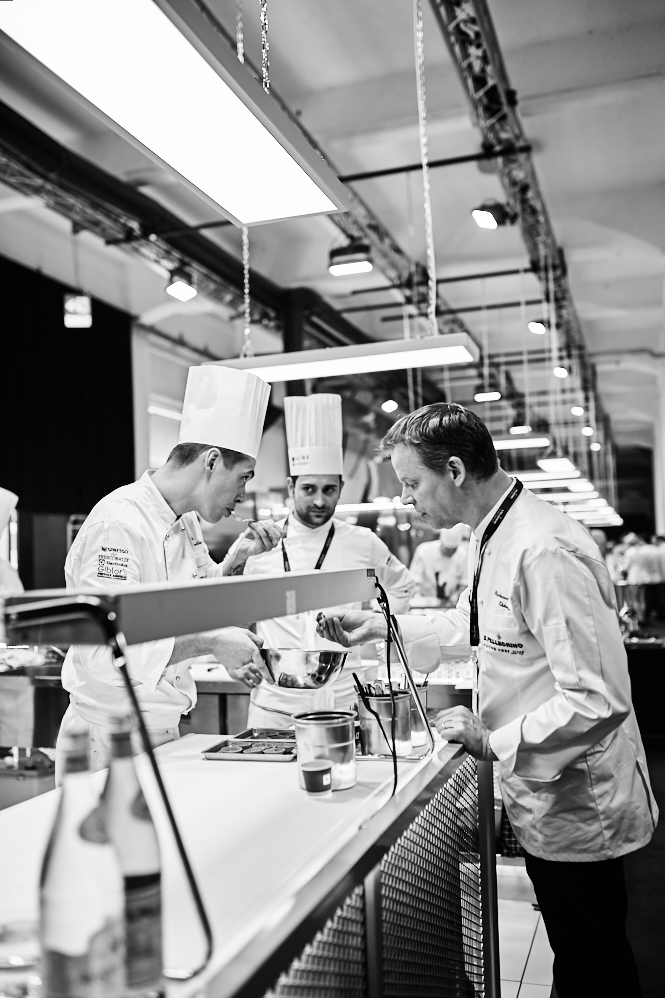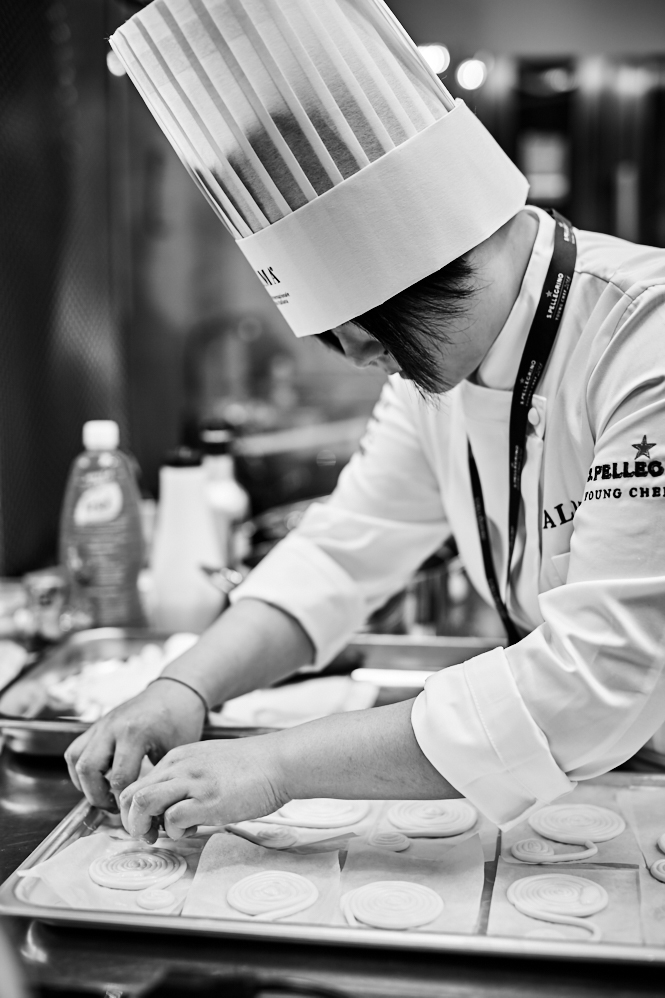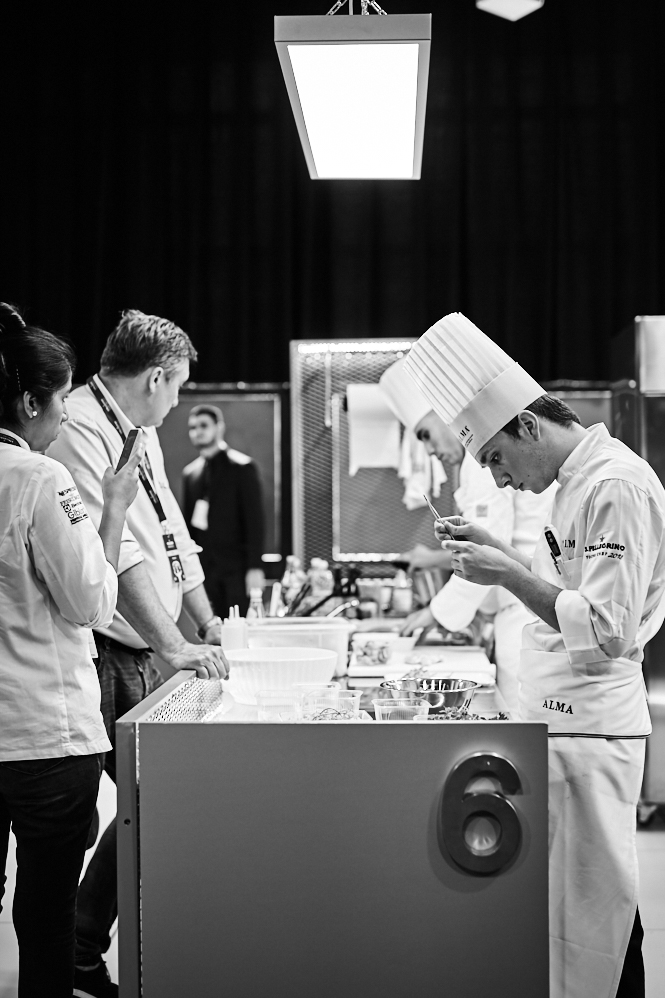 The judging was live streamed on the Fine Dining Lovers and the Sanpellegrino websites. The Grand Jury, also known as 'The Seven Sages', represent some of the world's top stars in gastronomy: Dominique Crenn, Margarita Forés, Virgilio Martinez, Ana Roš, Annie Féolde, Brett Graham and Paul Pairet.
Judging was spaced at 10 minutes apart so each young chef could serve their signature dish hot (or cold) and present the story behind the dish. The judges were careful not to give too much away when tasting. They did ask some interesting questions, and I was curious to learn what ingredients some chefs managed to smuggle in their luggage. Jake Kellie packed 20kg of Jarrah wood to get his signature smokey flavour onto the plate.
After the first round of judging the second round of chefs were underway, including team Pacific. I wished John and Scott luck as we were ushered into a beautiful big space to enjoy lunch cooked by two starred chefs Davide Oldani and Chicco Cerea.
The menu started with 'tuna fish spaghetti with bagnacauda and a crumble of pistachios'. We were all excited at the thought of dining on pasta in Milan, but much to our surprise we were presented with finely sliced tuna, in the style of spaghetti. A very clever twist on words. Luckily the dish itself was so scrumptious we weren't upset about the lack of pasta!
The highlight for all was a cute as a button dessert by Davide Oldani; his apricot, chocolate and basil biscuit.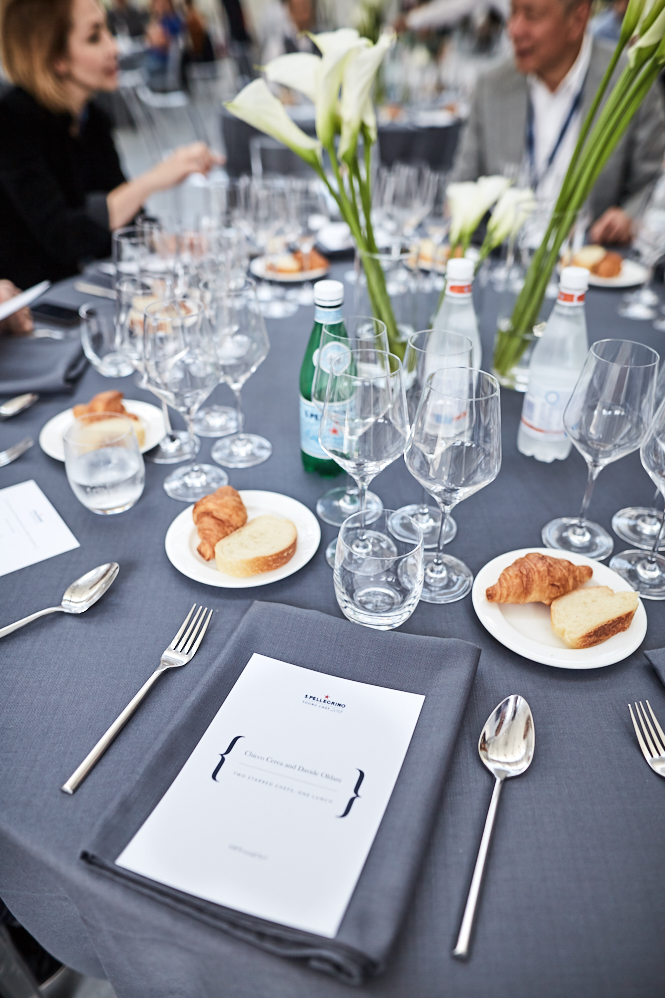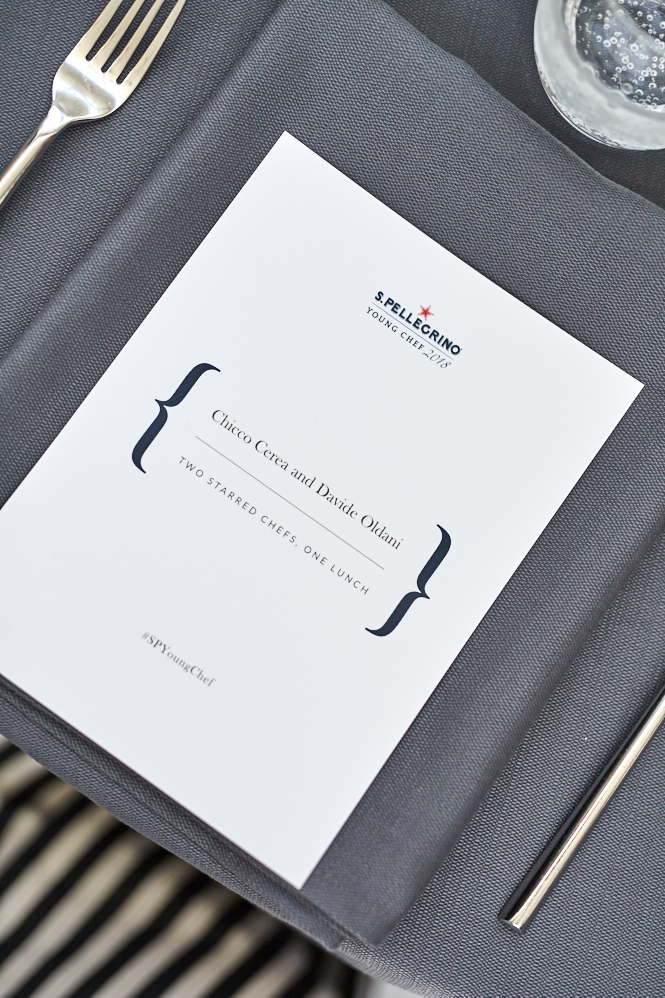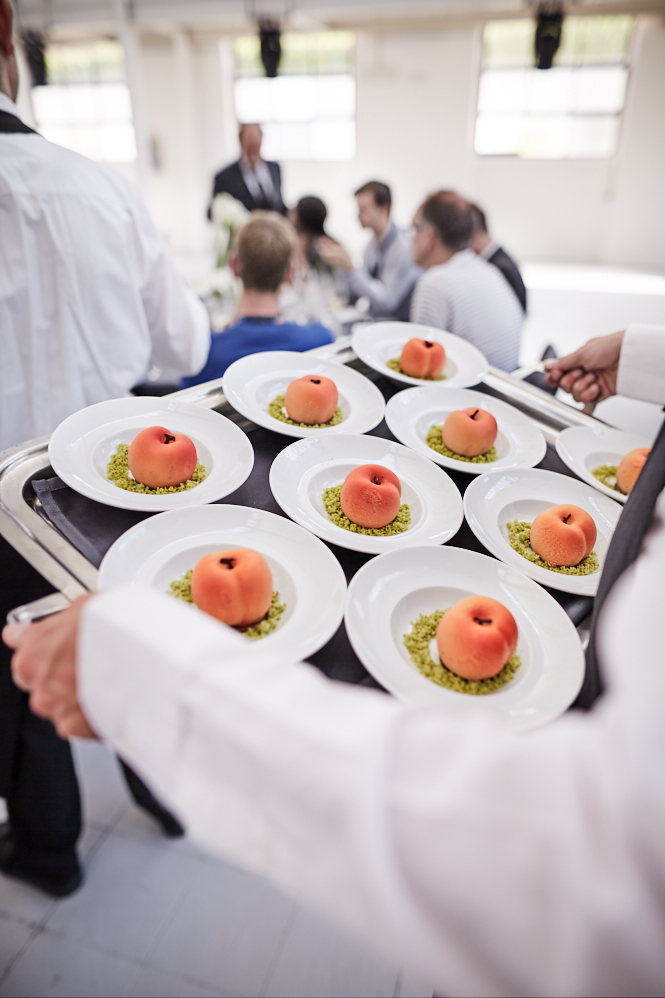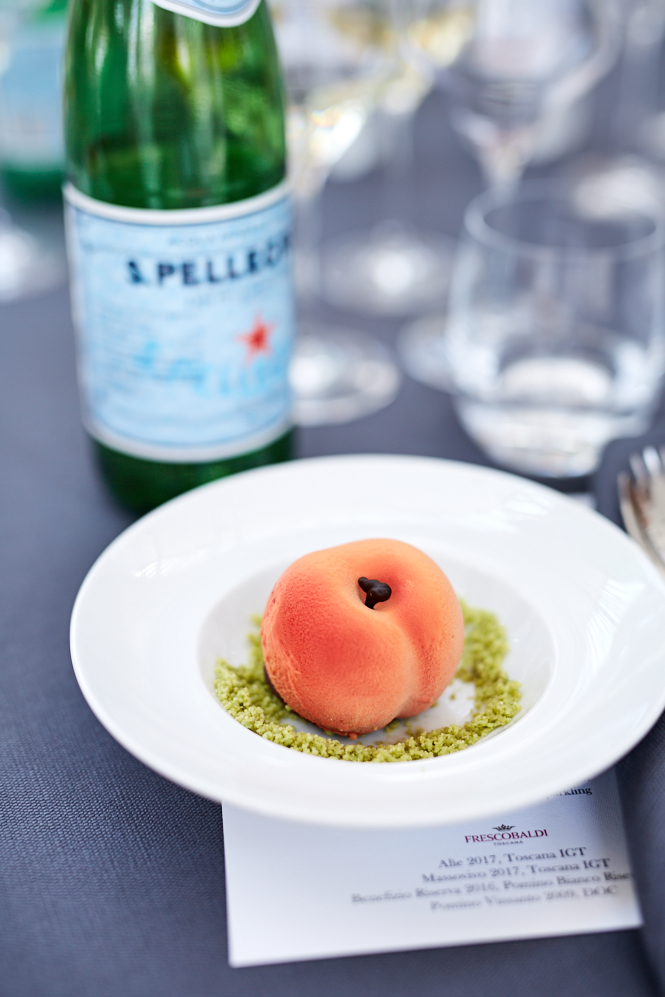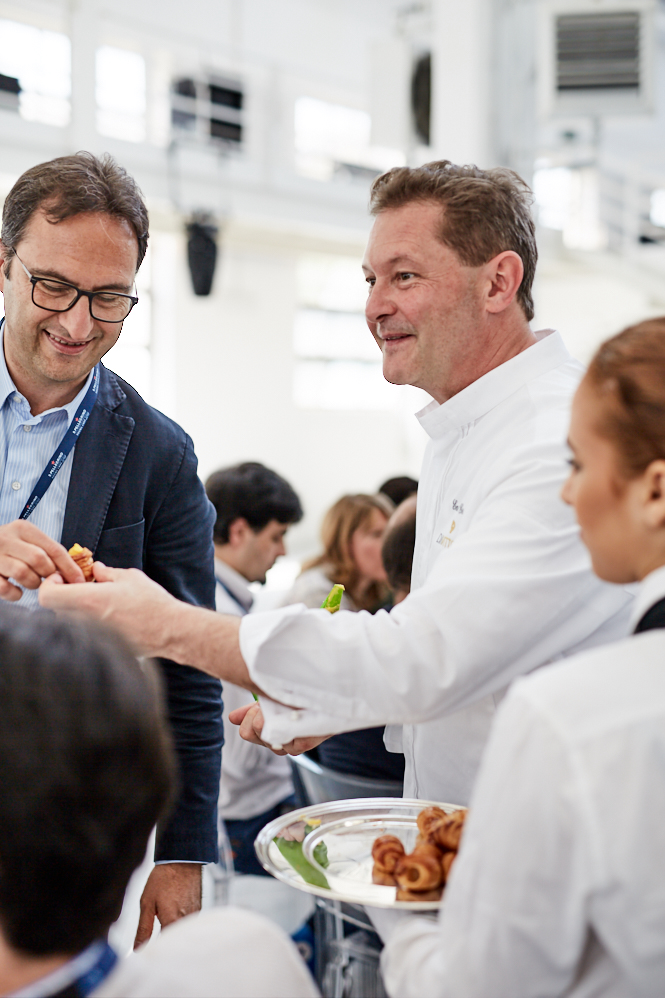 With full bellies, we headed back in to see how John was doing. Cooking in a new kitchen with ingredients from the other side of the world and an assistant chef he hadn't worked with before, there were a few obstacles to over come by all. Scott was doing a great job to make sure John was coping under the pressure, making sure he was ready for plating up and serving to the judges. As he was first to serve in the second round of judging, the pressure was on.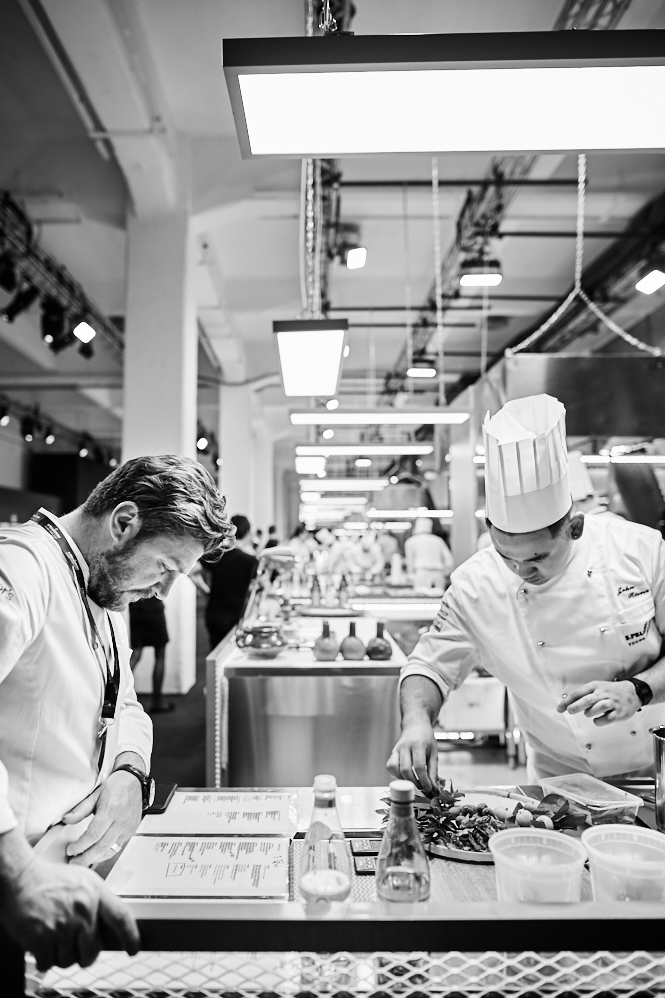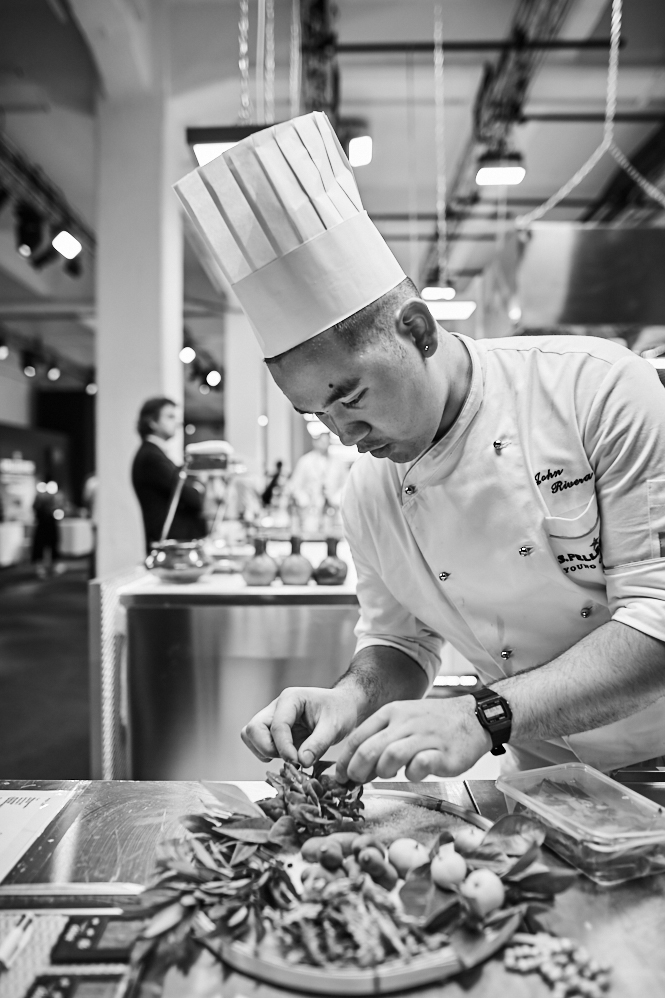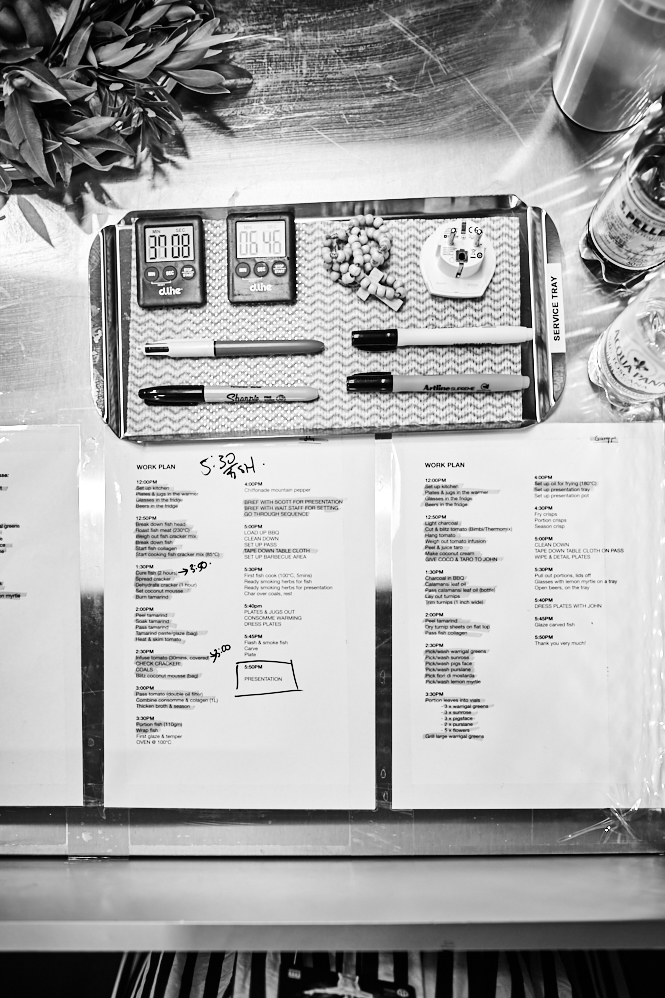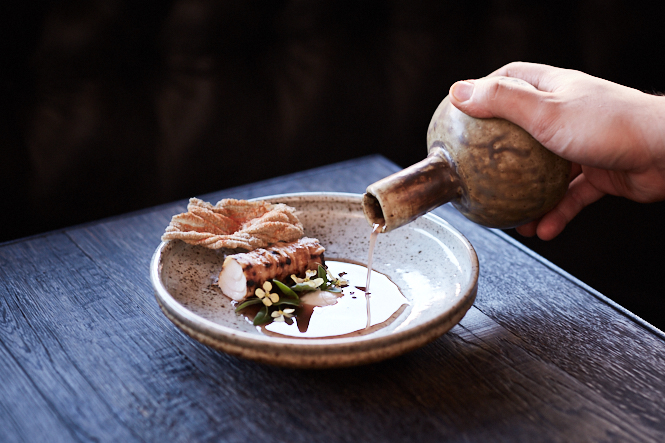 Before too long it was time for John to present his signature dish to the judges, Sinigang: cod, tomato, calamansi, taro, coconut, and native mountain pepper. John describes the dish as…
"A culmination of experiences and memories, 'Sinigang' tells the story of a journey. From humble beginnings in the Philippines, reimagined and composed in Australia for the grand stage in Milan. A reinterpretation of the traditional hot and sour Filipino soup, with a flavour profile complemented with smoked tamarind and created with incredible Australian produce. The Hapuka was steamed and served with taro that had been cooked in coconut cream and turned into a silky puree. The calamansi (lime leaf) oil brought the dish to life."
Once the presentation was over there was a huge sigh of relief in the cheer squad for John. He did an excellent job with his presentation, and it seemed to be well received by the judges.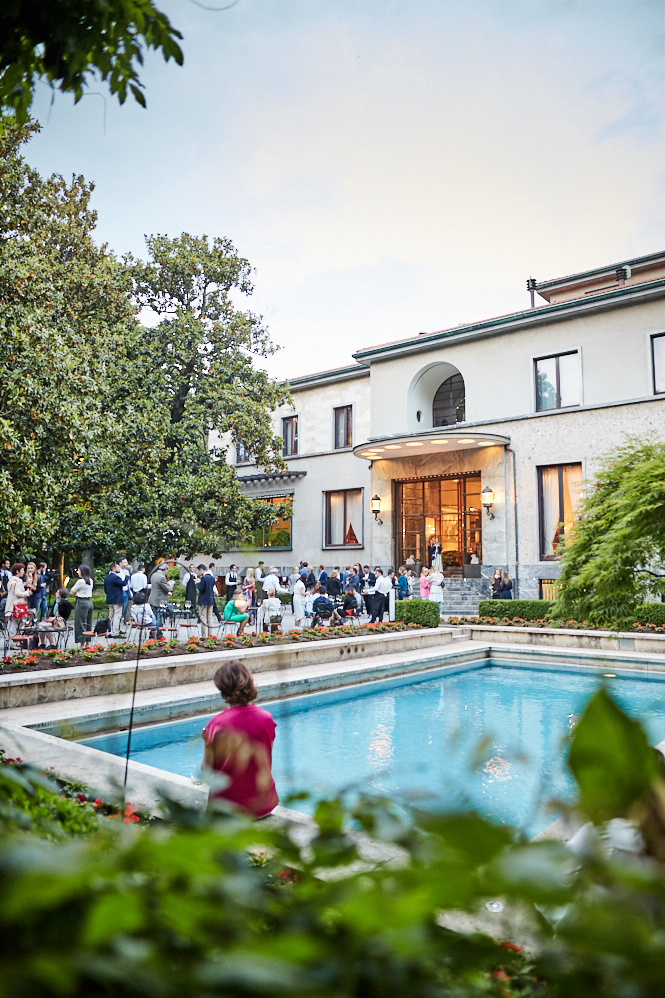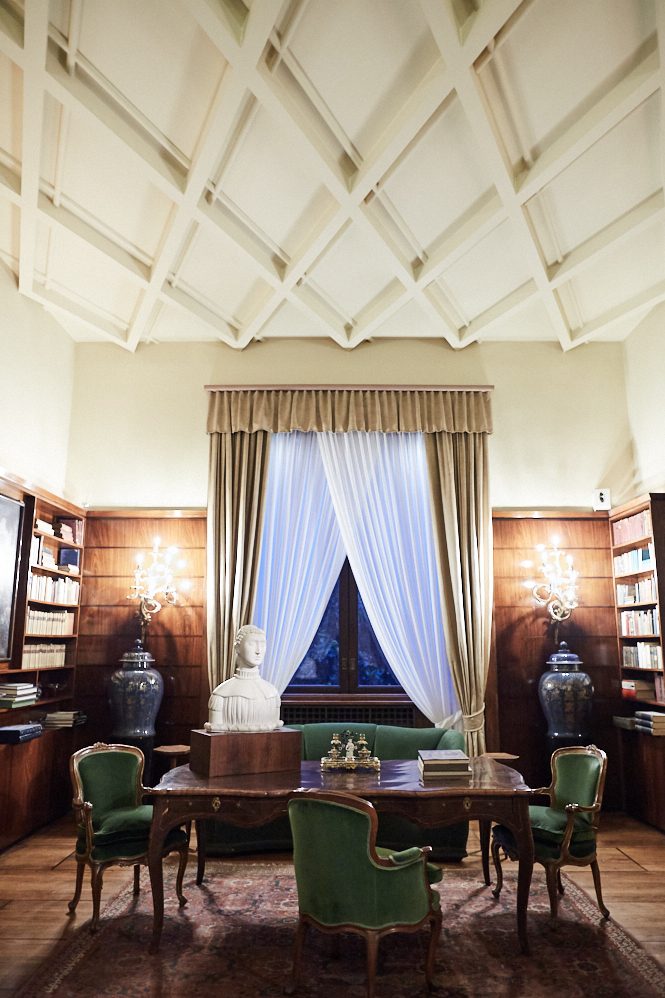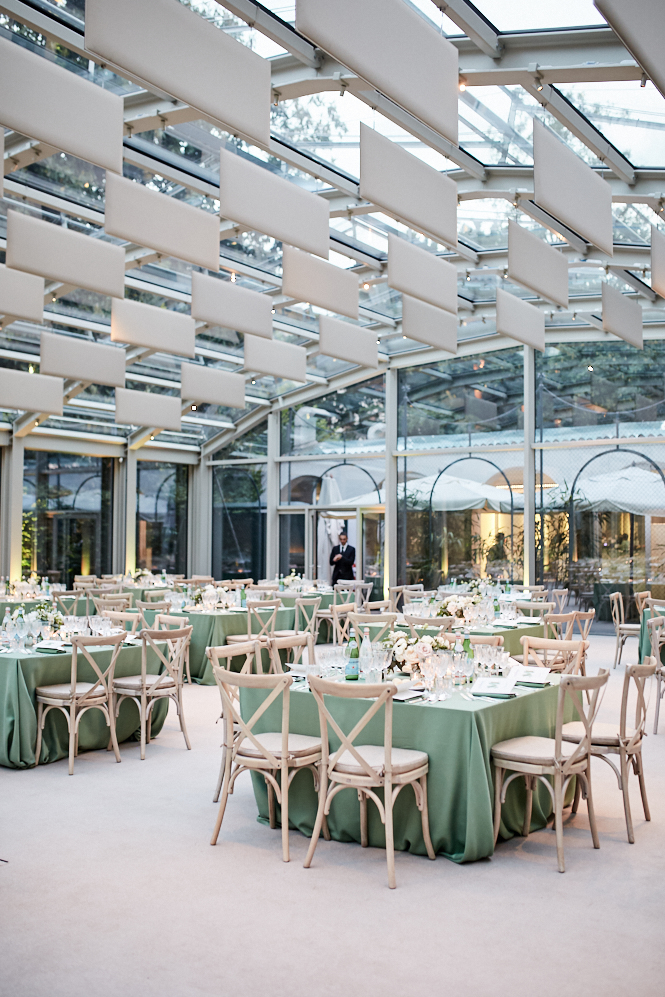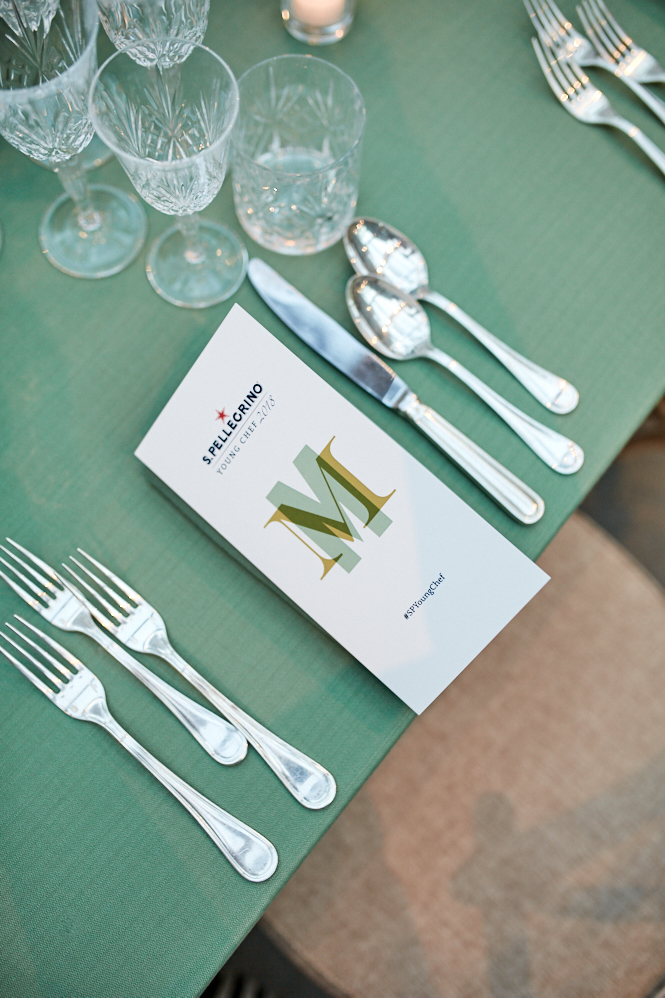 Dinner that night was at the most luxurious Italian house, Villa Necchi Campiglio. Now a museum, this independent single-family house was designed by Piero Portaluppi, one of the greatest Italian architects of that period, and is surrounded by a large garden with tennis court and swimming pool. We enjoyed pre-dinner drinks around the pool and a tour of the vast villa before heading to dinner cooked by the previous winners of S.Pellegrino Young Chef, Mark Moriarty & Mitch Lienhard.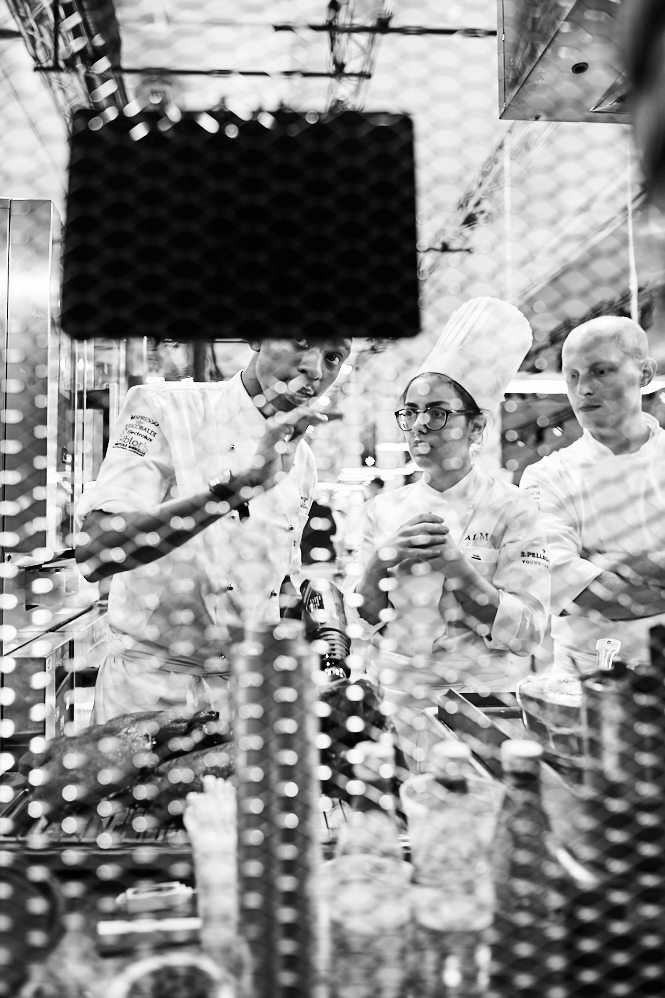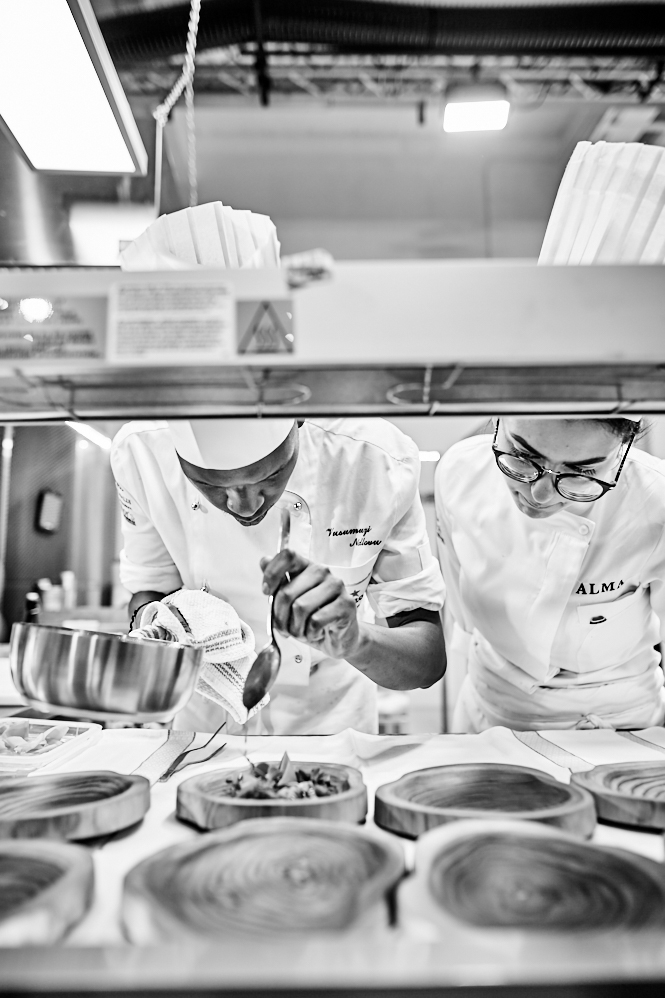 Day two of the competition started early again with the last round of chefs cooking. I had made friends with some of the gals supporting South African chef Vusumuzi Ndlovu. Poor Vusi had had some dramas getting to Milan, being told he had a fake passport, but he didn't let all the drama phase him when it came time to cook. With his mentor chef Marthinus Ferreira, it was so interesting to watch his signature dish come together. It was based on a childhood game he played, which involved trapping birds and then grilling them. He created the dish around this theme, resulting in an aged duck, grains, and some cool variations of pumpkin.
With the final round of judging over, it was time for The Seven Sages to deliberate who had won the title of S.Pellegrino Young Chef 2018. While they deliberated, I was treated to the most unforgettable pizza lunch.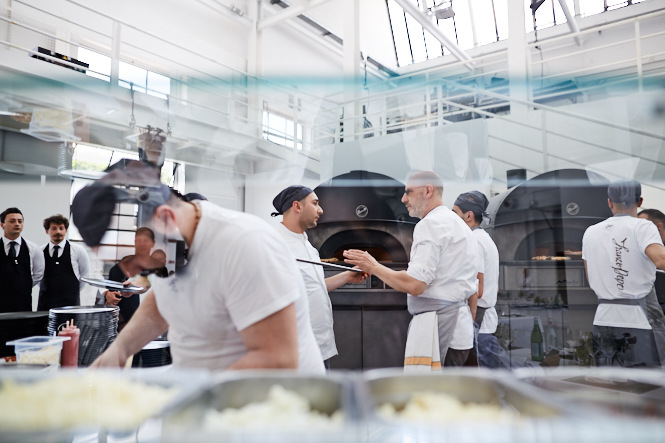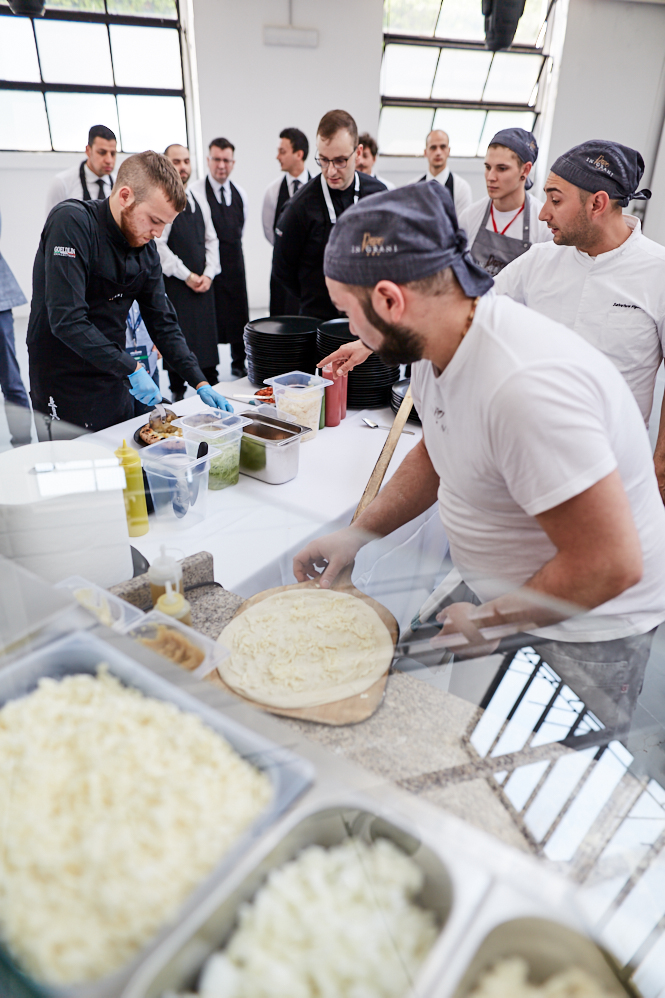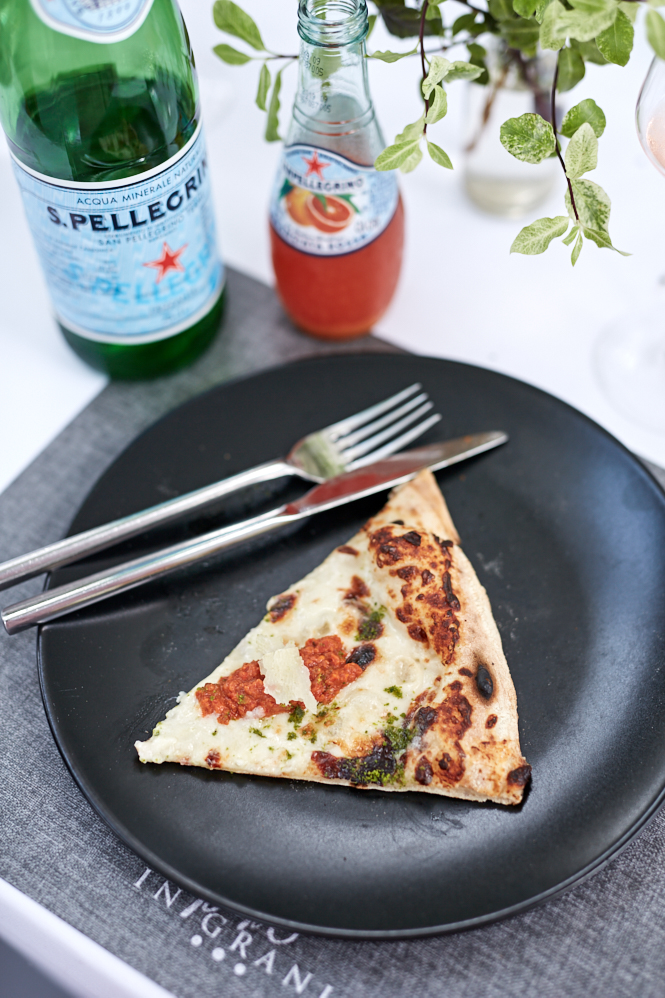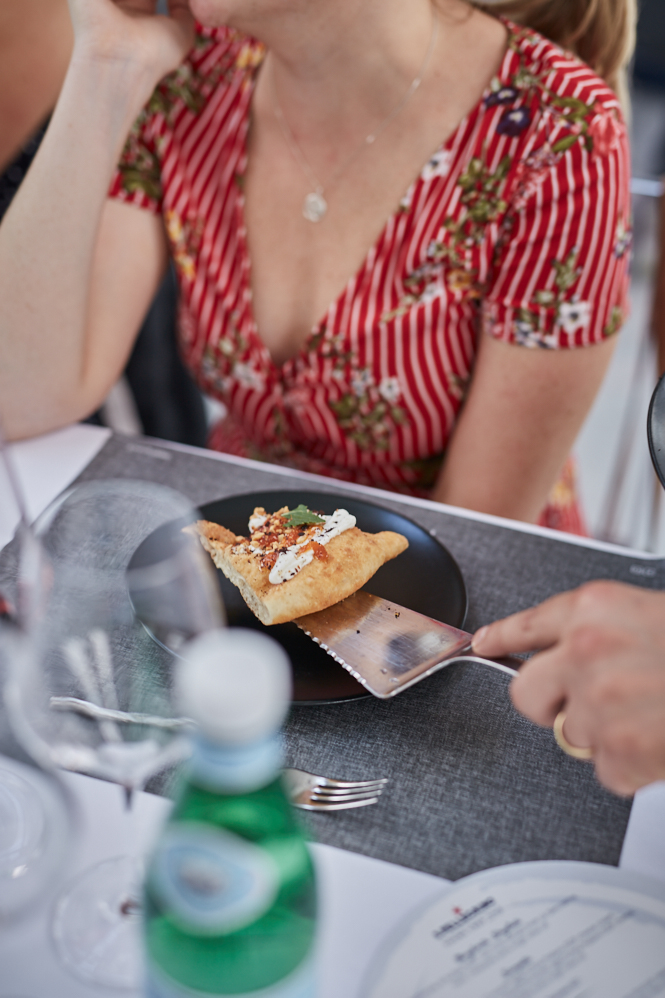 Lunch by one of Italy's most famous pizzaioli, Franco Pepe was one I won't forget in a hurry and featured his infamously famous Margherita Sbagliata (Margherita Made Wrong). If you've watched David Chang's Ugly Delicious on Netflix, you may recognise this pizza. Instead of starting with a tomato base and adding the basil and mozzarella, Franco Pepe starts with a cheese base and then finishes the pizza by topping it with tomato and basil. It's pizza perfection!
My favourite was the slice of Scarpetta (mozzarella di bufla, 12 month aged Grando Padano DOP cheese cream, tomato compote, basil flowers, shaved 24-month aged Grana Padano DOP cheese and Caiazzana quality extra virgin olive oil.) We finished with a slice of deep fried pizza with ricotta di bufla cheese, apricot jam, dehydrated olives, toasted hazelnuts and mint.
I seriously had to pinch myself that I was in Milan, eating some of the best pizza I'll ever have, and sipping on Rosé!
The Grand Finale rolled around in a blink of an eye. We returned to the Superstudio to find it completely transformed. We entered large mood light space to enjoy drinks whilst everyone arrived. When then moved into the next chapter of the evening, a stage that took my breath away. With a wrap around screen, lots of lights, cameras and excitement in the air, we weren't sure if we were on set for a game show or to find out the winner!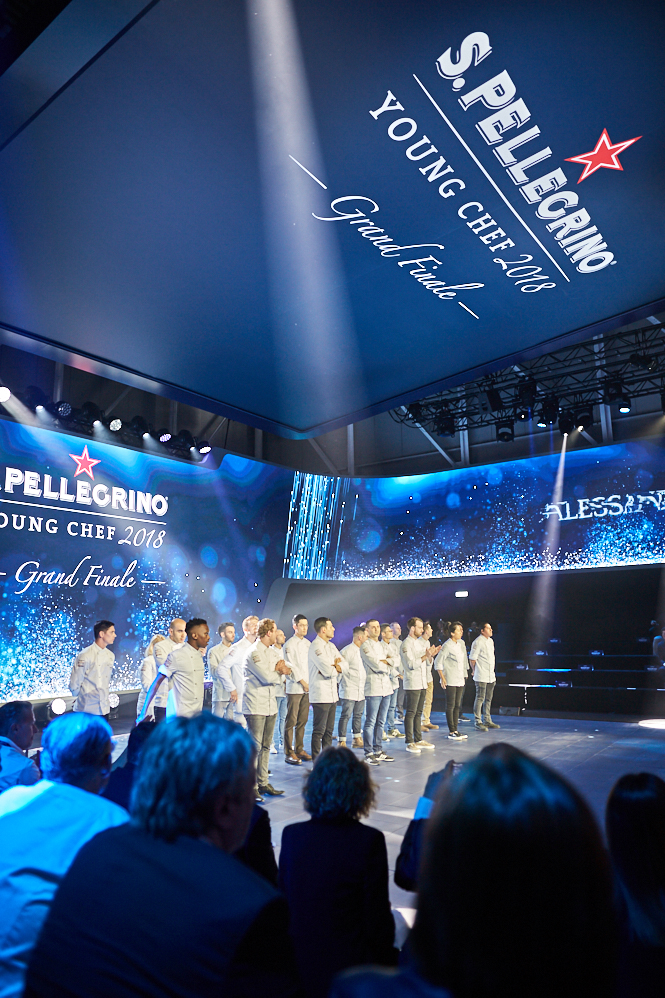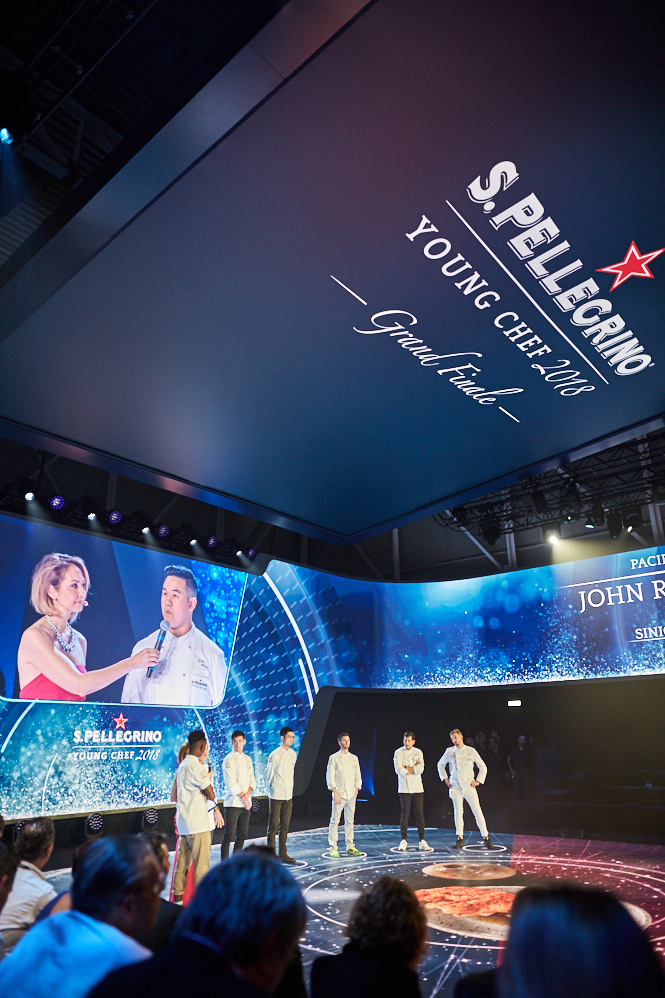 Starting with a great video of the 21 young chefs singing a rendition of Frank Sinatra's well known classic 'My Way', and some incredible cinematography mixed in, the night was off to an exciting start. Fine Dining Lovers People's Choice Award was announced with winner Elizabeth Puquio Landeo (South America) taking out the title.
The 21 chefs were soon narrowed down to the top 7. John made it through and we were all biting our nails, he was in with a red hot chance. Jake and Vusi also made it through, we were all cheering with excitement. As with all good finales, finding out the winner wasn't going to happen easily, we would have to wait. We were treated to a performance by English singer Tom Walker, before we were told who the top 3 were. Sadly John didn't make top 3, but the final young chefs came down to Jake Kellie (South East Asia), Yasuhiro Fujio (Japan) and Marcin Popielarz (East Europe).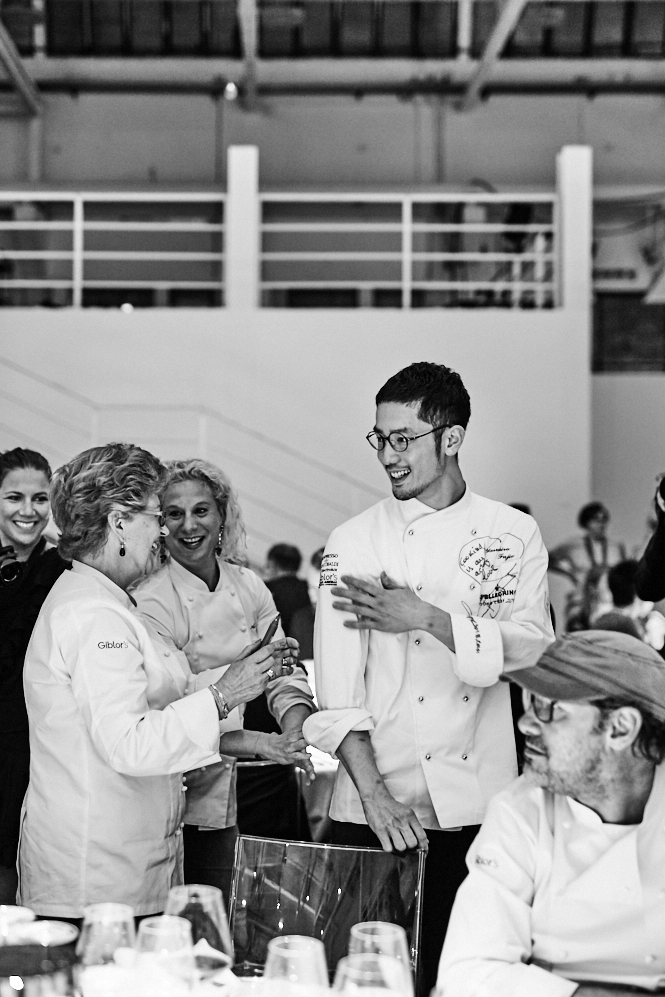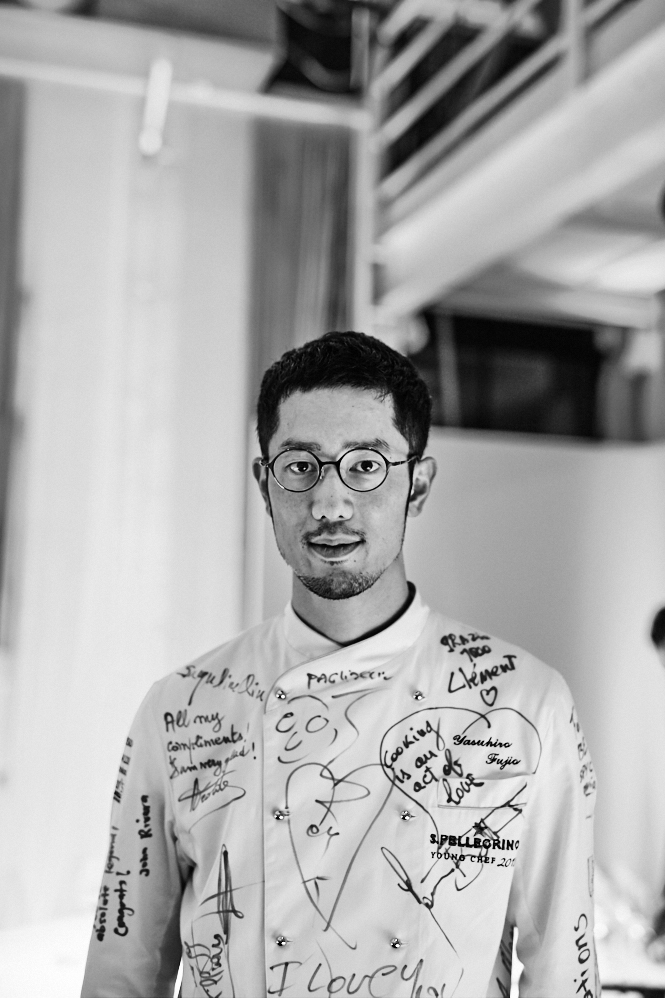 Yasuhiro Fujio had already taken out the honour of the Acqua Panna – Taste of Authenticity Award, as chosen by the 21 mentors.
With mentor Luca Fantin by his side Yasuhiro Fujio's signature dish, celebrating his Japanese heritage, was announced the overall competition winner. Fujio had won the 2018 S.Pelligrino Young Chef Competition.
This young talented chef highlighted the ayu fish, a sweet river fish found in Japan that is available for just a short period in the year during the summer. He attempted to recreate his memories of the smells and tastes of the river nearby his home where the ayu lives, incorporating 'green flavours' in all components of his signature dish. He even brought the fish with him all the way from Japan.
The energy was electric knowing who won, and Yasuhiro was so overcome with emotion he was almost speechless. He remained humble and composed as we all cheered in his honour.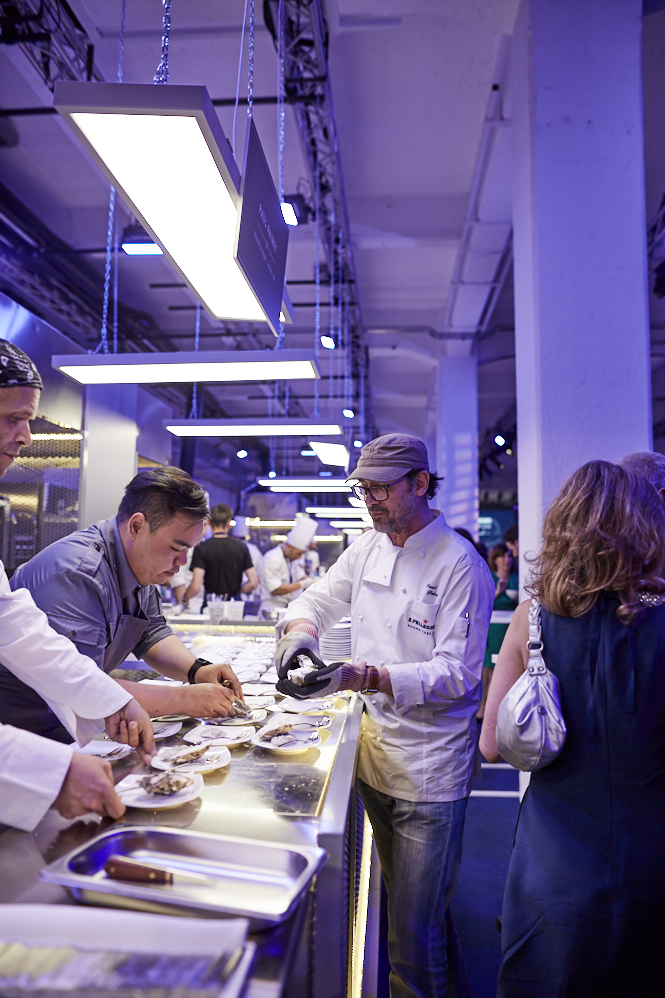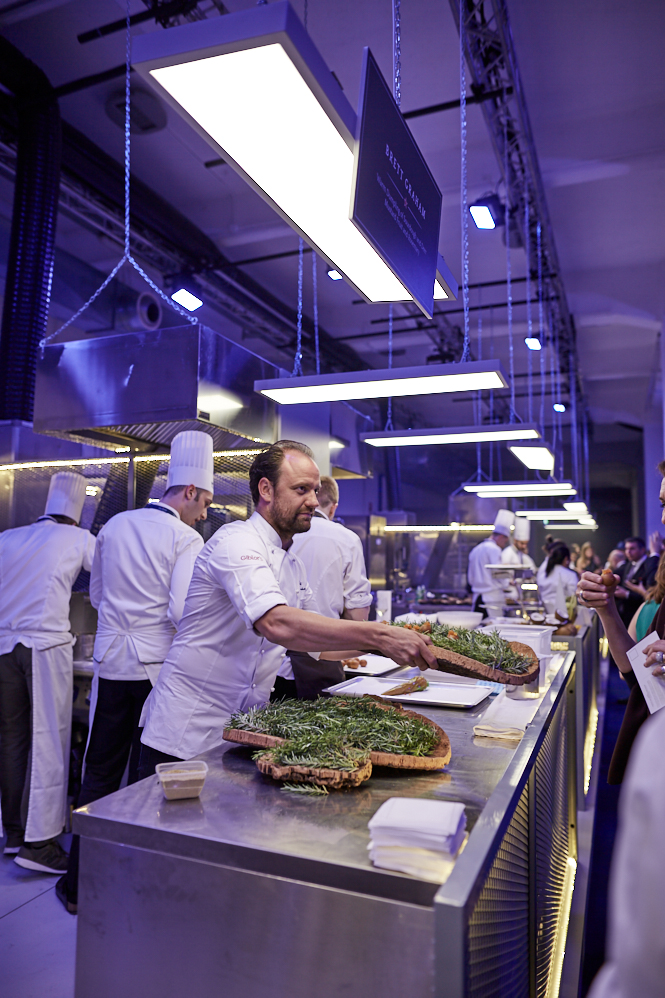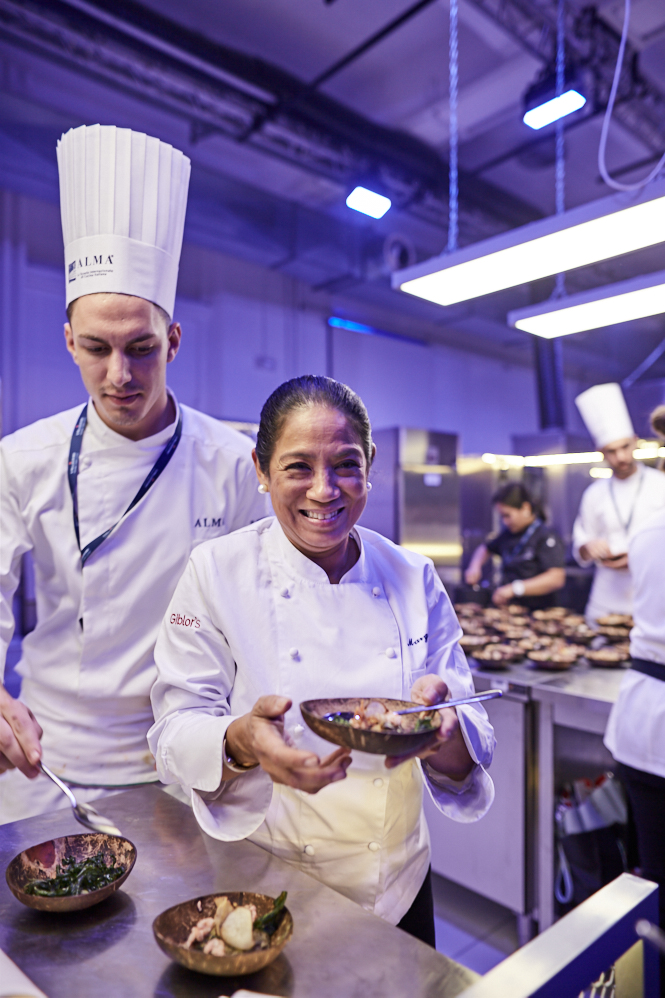 It was on to dinner to celebrate the night away, and who better than our Seven Sages, plus the honourable Massimo Bottura, to cook us dinner. As if this trip couldn't get better!
We left the studio set and walked through to the next chapter of the night. The kitchen stations where all the action had been taking place were now occupied by judges as they served up entrees.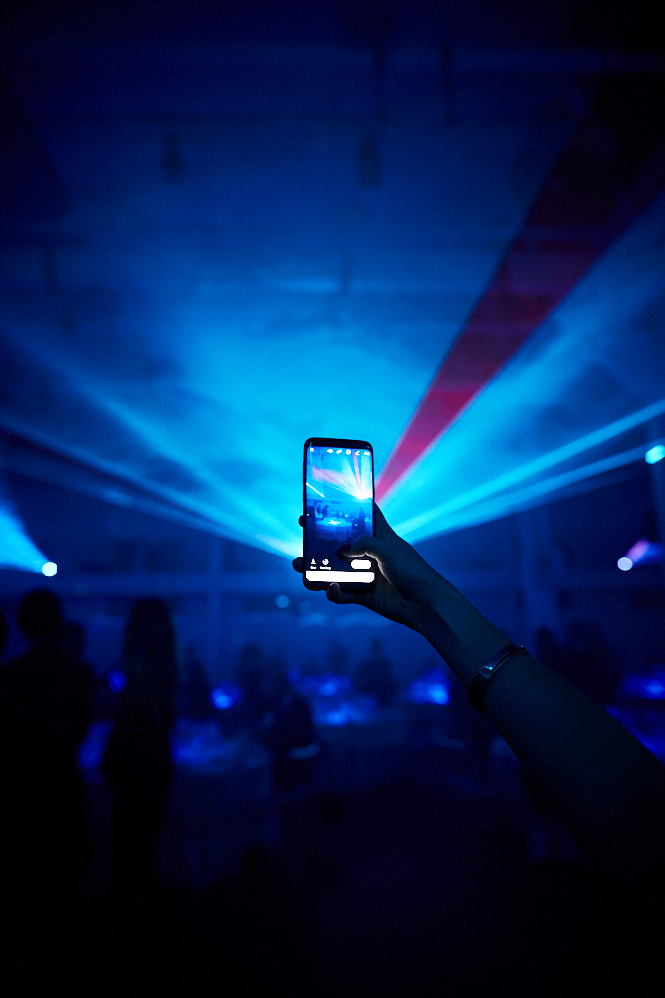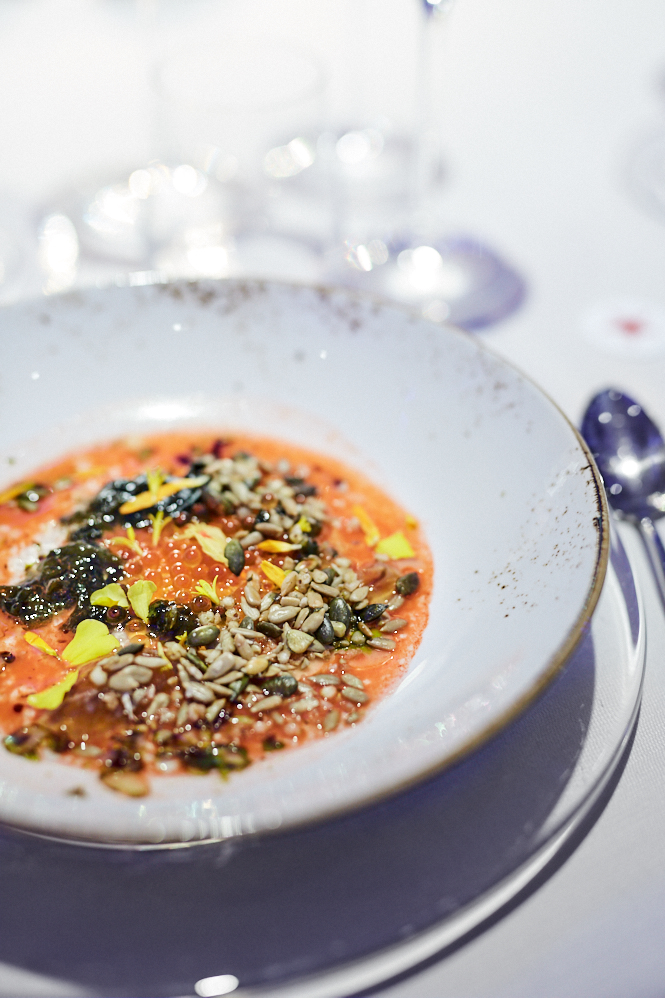 Grains & Seeds 2.0 fermented gels, toasted seeds, herbs & flowers – Dominique Crenn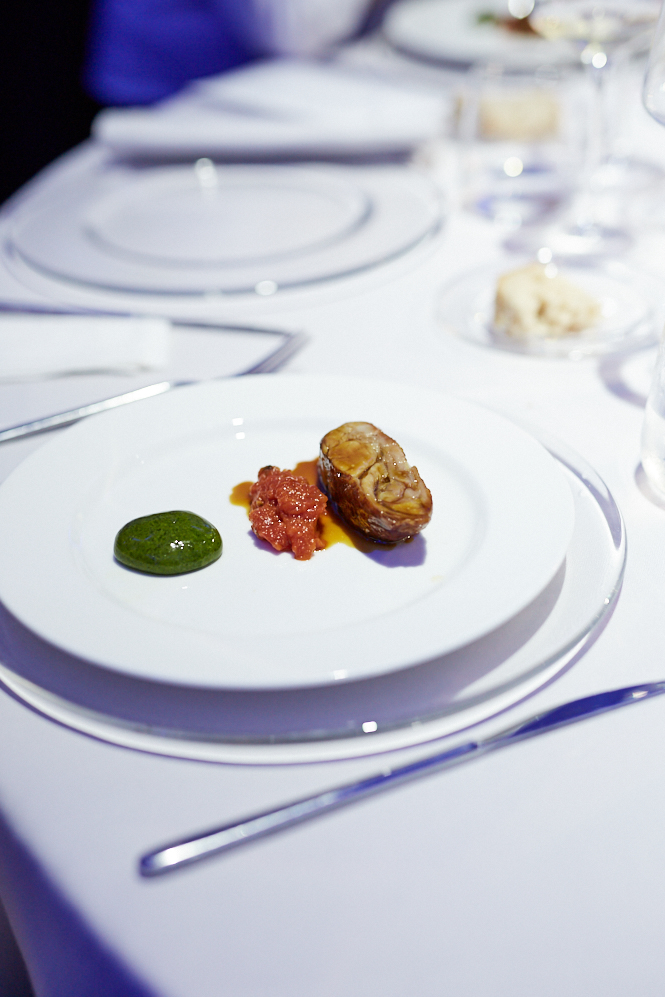 Casentino lamb shoulder and "7 tomatoes" compote with Tuscan pesto – Annie Féolde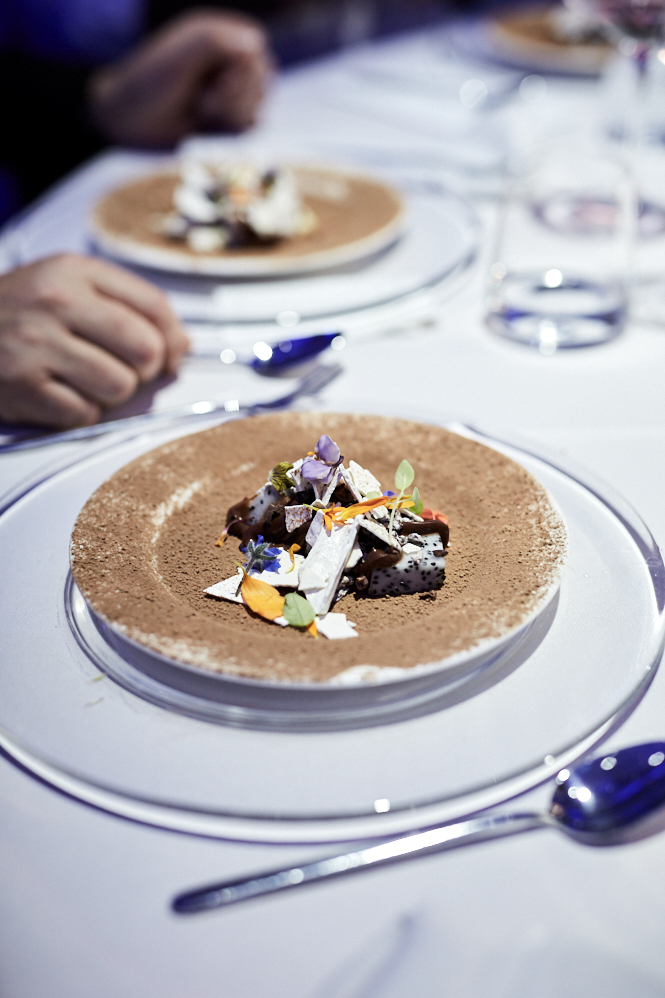 Cacao Amazónico – Virgilio Martínez
For our main course and dessert it was time for the final room reveal of the evening. We entered a dimly lit room that became transformed by disco lights as we took our seats. Team Pacific came together to celebrate John's top 7 placement in the competition.
It was a whirlwind trip and I can't thank Sanpellegrino enough for the opportunity. I made some great friends from around the world, ate some of the best Italian food I ever will experience, and had a once in a lifetime adventure. I still can't believe it happened.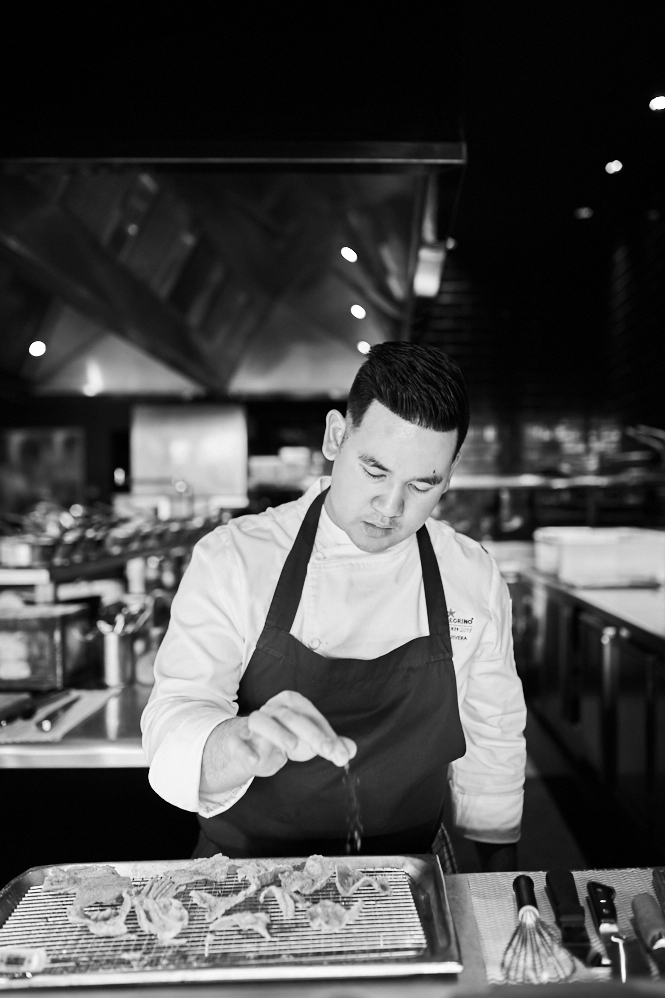 Finally, congratulations again to John Rivera on all the work you put into getting to the Top 7 of SPYC 2018. You are an inspiration to chefs everywhere. Congratulations also on your engagement to your beautiful gelato loving girlfriend Sharyn!