Grounded Pleasures Chai Poached Pear Loaf
Two years ago I met a gorgeous soul by the name of Sophie.
Sophie joined us on one of our Hobart food photography workshops and is one of the proud co-owners of Grounded Pleasures. Together with her husband Craig, they have an amazing range of products that I use in my kitchen and on our workshops, including their organic vanilla beans and organic vanilla extract, chai, panella sugar and delectable range of drinking chocolate (insert drool face here!).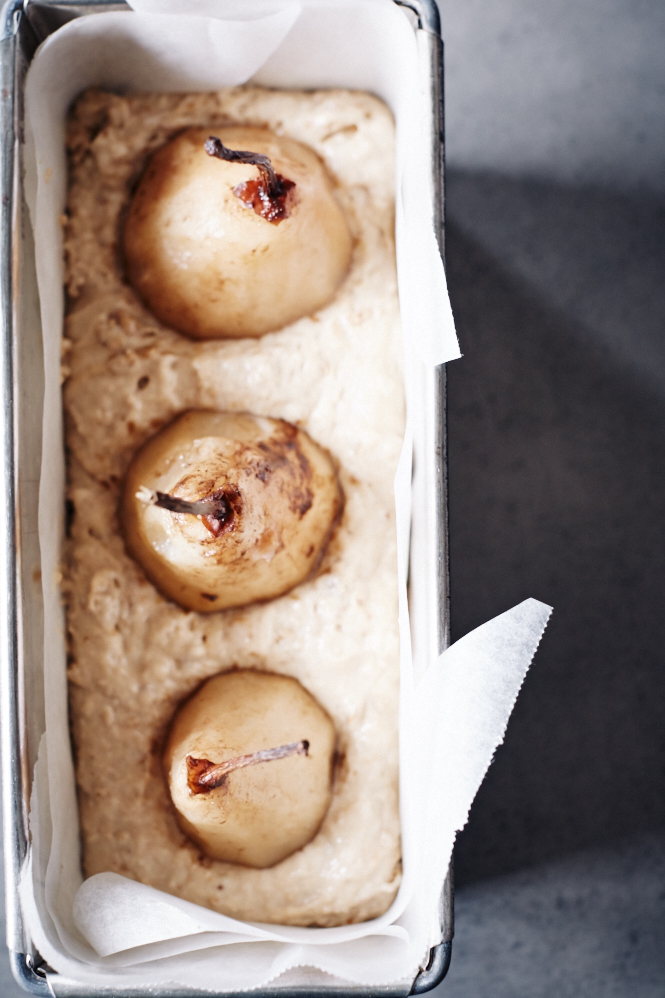 Another Craig I used to work in prepress/graphic design with in my past life (3 years ago now), has moved up to Ballarat where Sophie and her Craig are (confused yet?), in fact they live quite close to each other, what are the odds, seriously!? My Craig is now working in his dream job as a brewer at Athletic Brewery, and has teamed up with Craig from Grounded Pleasures to create a chocolate beer! I love when worlds collide and amazing things happen.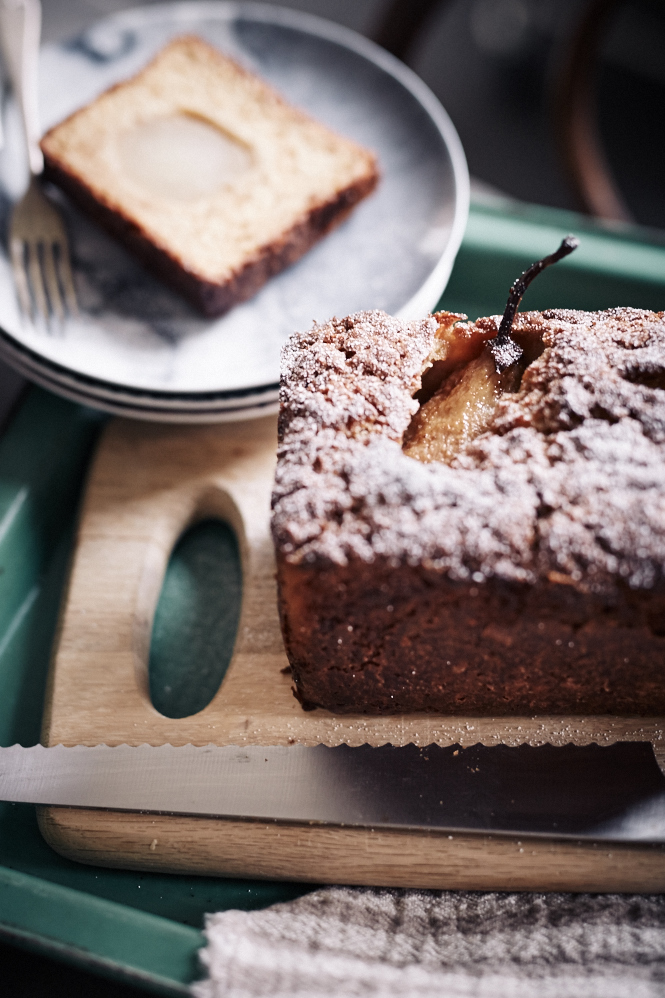 When it came to using the three sad looking pears left in the fruit bowl, I thought it was time to create something combining the pears and chai from Grounded Pleasures. It involves poaching the pears in a chai liquid, and also incorporating the chai, vanilla and panella sugar in the loaf mixture. The results, a gorgeously soft, fragrant pear that melts in your mouth, and a spiced loaf to incase it all. Serve it with double cream to add more decadence.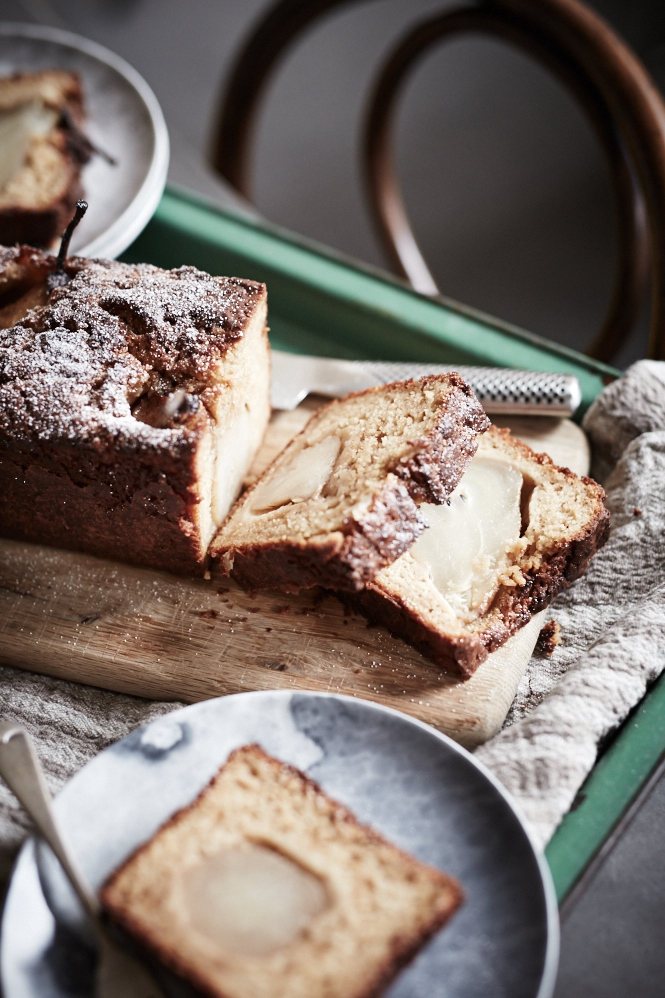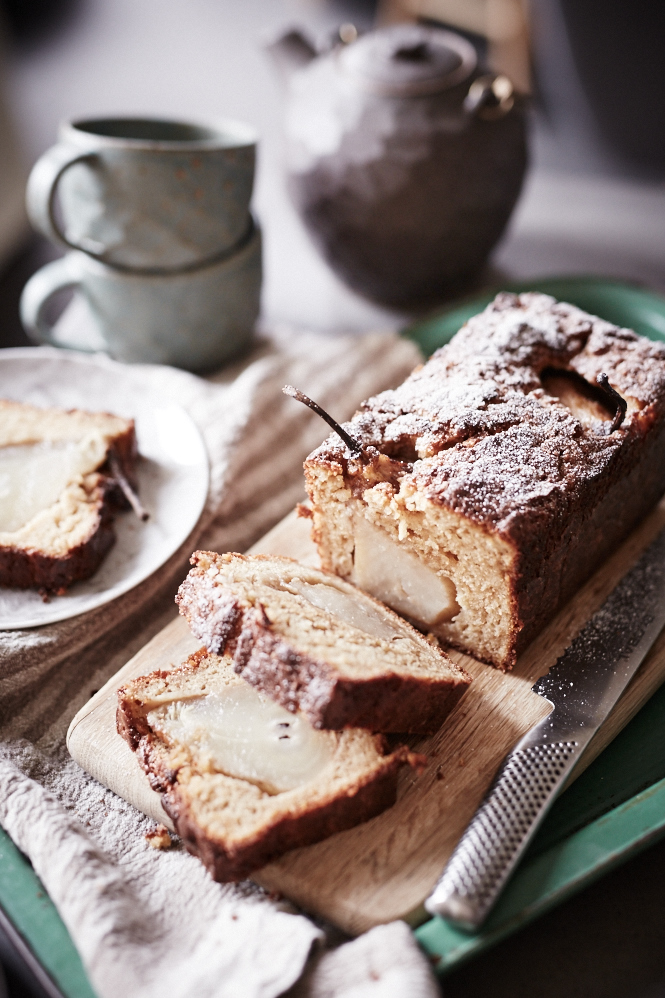 Grounded Pleasures Chai Poached Pear Loaf
Print Recipe
Ingredients
Chai Poached Pears
1 litre water
330g caster sugar
3 tsp Grounded Pleasures Chai
3 medium beurre bosc pears, peeled
Chai Spiced Loaf
170g unsalted butter, room temperature
½ cup Grounded Pleasures Panella sugar
½ cup brown sugar
3 large eggs, room temperature
1 tbsp Grounded Pleasures vanilla extract
2 tablespoons fresh ginger, finely grated
2½ cups all purpose flour
2 teaspoons baking powder
½ teaspoon baking soda
1 tbsp Grounded Pleasures Chai
a pinch salt
1 cup Greek yoghurt
double cream or ice-cream, to serve
Instructions
Place the water, sugar, chai in a medium saucepan over high heat and bring to the boil. Add the pears and cover with a piece of non-stick baking paper and top with a small plate or lid to weigh down the pears.

Reduce the heat to medium and simmer for 35–40 minutes or until the pears are soft. Carefully remove the pears from the syrup and set aside.

Preheat oven to 180C / 160C fan-forced. Grease and line a large loaf pan. Set aside.

Using an electric mixer beat the butter, panella, and brown sugar together until light and fluffy. Add in the eggs and vanilla extract, beating for an additional 3 minutes. Slowly beat in fresh grated ginger.

In a separate bowl, combine the flour, baking powder, baking soda, chai, and salt, whisking to combine. Slowly alternate folding in the flour mixture and the yoghurt into the wet ingredients until everything is combined.

Pour the batter into the loaf pan, then place the pears bottom side down in the batter so they are nearly enveloped. Bake for 1 hour, then allow to sit for 20 minutes on a cooling rack before removing from pan.

Serve with double cream or ice-cream.