Cotton Soft Japanese Cheesecake
New year, new challenges await! I've decided this year is the year I'm going to tackle my never ending "to make, to bake, to eat" list. Of course there will be things added during the year, but I've made myself a list, and I have a year to make it happen.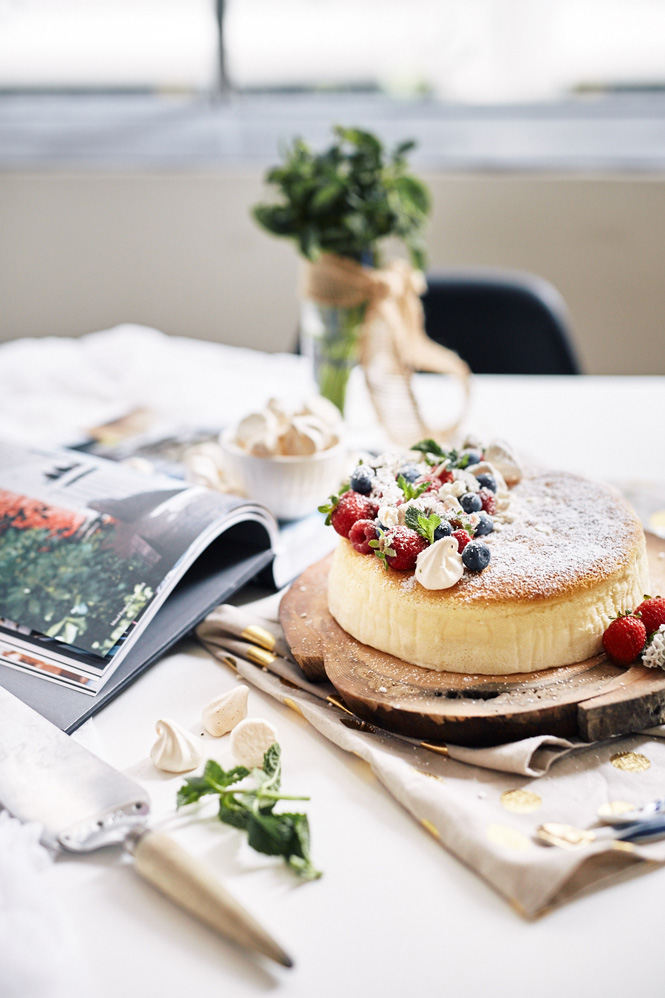 Japanese cheesecake is the first dish off the list. My cousin made this for the family about 5 years ago, and I knew I had to make it. Unfortunately the recipe she used I didn't have with me at the time, so I'll have to try that recipe next time. This time around I used the recipe from Rasa Malaysia's blog.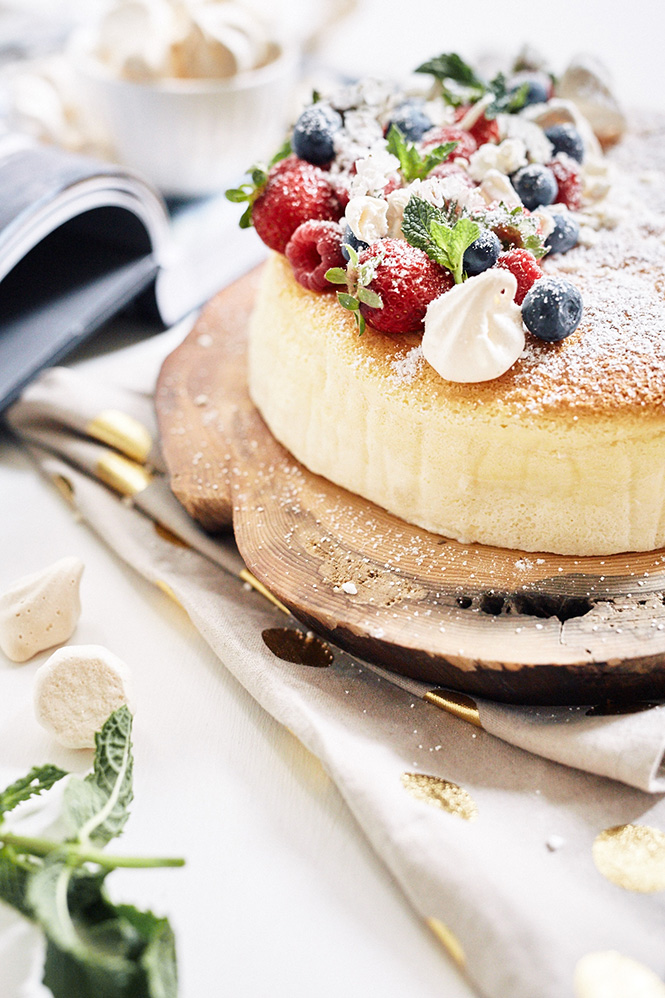 My tips are to make sure you melt the cream cheese until there are 100% no lumps. I was a bit impatient and had a few little lumps left, and they were lumpy in the end cheesecake result. Not a complete tragedy though! Double line springform tins with aluminium foil, else the water might get in.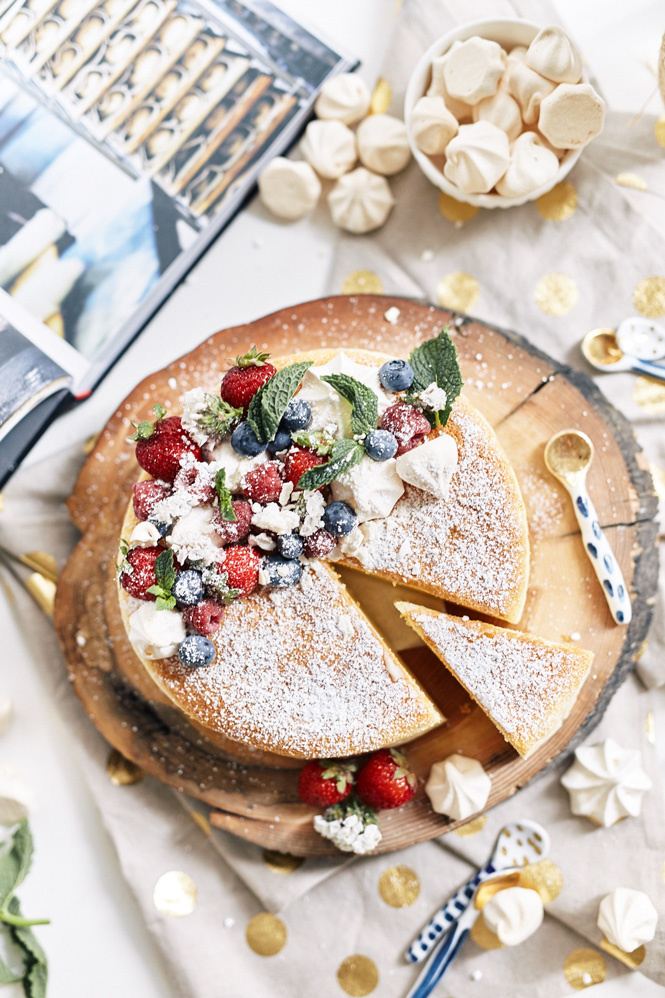 The cake isn't too sweet, it's light and fluffy and a little bit tangy. I suggest serving with some fresh fruit; not only does it look good, but it matches perfectly.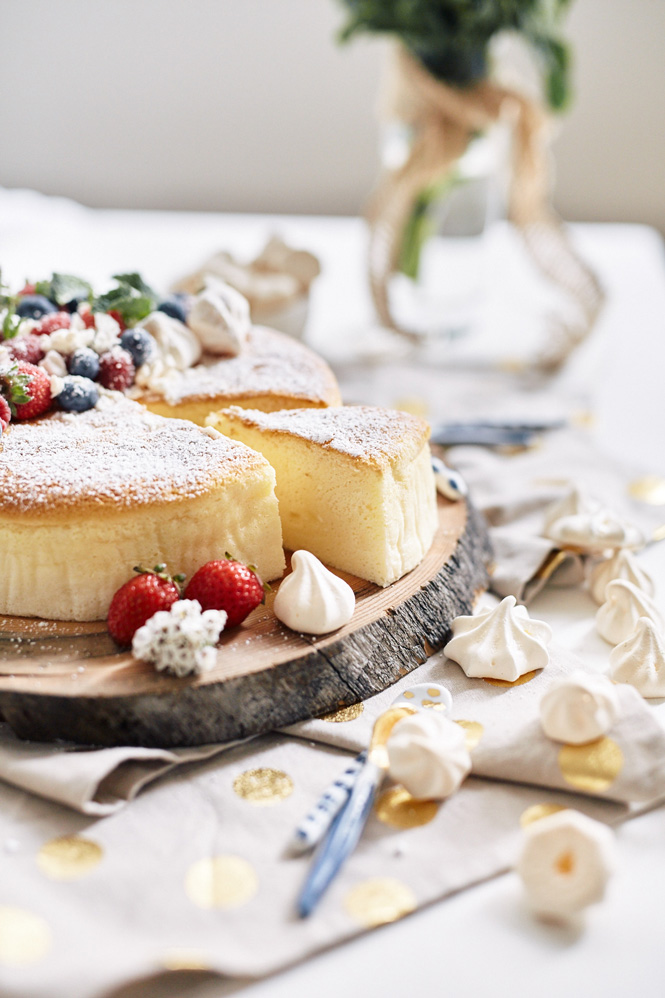 Cotton Soft Japanese Cheesecake Recipe
Print Recipe
Ingredients
140 g/5 oz. fine granulated sugar
6 egg whites
6 egg yolks
1/4 teaspoon cream of tartar
50 g/2 oz. unsalted butter
250 g/9 oz. cream cheese
100 ml/3 fluid oz. fresh milk
1 tablespoon lemon juice
60 g/2 oz. cake flour /superfine flour
20 g/1 oz. cornflour cornstarch
1/4 teaspoon salt
Instructions
Melt cream cheese, butter and milk over a double boiler. Cool the mixture. Fold in the flour, the cornflour, salt, egg yolks, lemon juice and mix well.

Make the meringue by whisking egg whites with cream of tartar until foamy. You can beat with a stand mixer or handheld mixer. Add in the sugar and whisk until soft peaks form. (Click on the link to see image of how the meringue should look.)

Take 1/3 meringue and fold into the cheese mixture, then fold in another 1/3 of meringue. After incorporated, pour the batter back to the remaining 1/3 meringue and fold. FOLD GENTLY. Pour the mixture into a 20cm round cake pan (lightly grease and line the bottom and sides of the pan with grease-proof baking paper or parchment paper).

Bake cheesecake in a water bath on the lowest shelf for 1 hours 10 minutes or until set and golden brown at 160 degrees C (325 degrees F).

Allow cake to cool in the oven for 1 hour, then move to fridge for 4 hours or overnight.
Notes
If springform pan or loose base cake tin is used, wrap the base of your cake tin with 2 layers aluminium foil, to prevent seepage.
I baked the cake on the lowest shelf in the oven (to prevent cracks on top and over browning).
The purpose of using double boiler is to melt the cheese, butter, and milk mixture. I heated and simmered the water in the double boiler ON the stove. For the water bath, I used hot water.
Allow the cake to cool down in the oven with the oven door open, about an hour. This is to prevent sudden change of temperature that may cause the cake to shrink drastically. It's normal that the cake will shrink about ½ inch to 1 inch after cooling, it's normal. If the cake shrinks a lot, the main reason is over mixing the egg white mixture with the cheese mixture. Beat the egg whites until soft peaks form, FOLD VERY GENTLY, do not stir or blend.