What's Tasty on Norfolk Island
It's not easy finding a place to eat on Norfolk Island if you arrive on the wrong day. Getting to know when the shops are open, and which shops are open on that day, is really just the beginning. It's a small island. A very very small island. They can't produce everything locally and struggle sometimes to get supplies in by ship or air. When you find a treat on Norfolk you enjoy just that little bit more.
The island is part of Australia, depending on who you ask, and it hangs out in the Pacific Ocean 1,600 km north-east of Sydney and 1,100 km north-west of Auckland. Norfolk is 8km by 5km, which doesn't seem like much, but you'll still want to hire a car whilst you are there. Most accommodation packages come with a rental car, plus a "mandatory" $50 per day insurance fee. Qantas offers direct flights from both Sydney and Brisbane from the international terminals. Whilst travelling to the island having an Australian passport is preferred but not necessary, as long as you have a driver's licence.
Whilst the traditional food is based on Tahitian flavours, you'll be hard pressed to find them unless you join a local tour. The Fish Fry serves up a few traditional dishes, but unless you are there on Bounty Day, you can expect to eat more western flavours.
The one thing about Norfolk Island is that different places open on different days, and only for certain hours of the day. Wednesday and Saturday afternoons are dead quiet, and Sunday is tricky too. But never fret, you'll nearly always be able to find somewhere open serving food on any given day – just don't turn up too late! Sometimes a place might be closed due to supply issues. I missed out on trying a cafe I was really keen to try because their freight shipping was late and they closed for the day. So be prepared to be flexible.

The Homestead
I'm going to start with the best and our vote for "most contemporary". Away from the main town, set amongst the fig trees and beautiful gardens, this restored homestead has lots of space yet feels cosy. The menu offers a range of flavours, but we stuck mostly to the Thai flavours; Soft shell crab bao buns with a herbaceous nahm jim sauce, the crispy Thai pork belly served with lots of fresh herbs, and a beef massaman curry. What I really enjoyed about the massaman was the dried pineapple pieces and charred onion to cut through the richness of the curry.

The fresh sourdough with local goat cheese and pickles also went down a treat. Serving sizes were generous. You could easily share a entree, main and dessert between two people depending on how hungry you are. A great range of cocktails and a very refreshing mocktail too. The kitchen was very happy to adapt anything from the menu for a gluten free guest, even offering gluten free crackers so that our friend could enjoy the cheese and pickles that came with the sourdough. Definitely make an advance booking with this one in if you are planning on coming to the island, and don't wait until you arrive because you might miss out.
Latitude 29
The best way to start your day on the island is with a coffee and a muffin from Sarah. With a rotating menu of muffins, scones, pastries and flakey sausage rolls and pies you can't go wrong here. Open Monday to Friday, it's always a treat to rock up and see what's on offer for the day. On select days you can enjoy coriander chicken with rice noodles, this makes an excellent breakfast, lunch or takeaway to heat up for dinner. 

We apparently went there too much that on our last day Sarah gave us a little takeaway pack, stuffed with cake to take on the plane! I definitely miss getting up and going to sit in the sunshine enjoy my morning tea and treat.

Warning for coffee drinkers that double-shots are the default here, or even a triple shot for bigger cups. Also be warned that Sarah starts very early in the morning and wraps it up between 12noon and 1pm. Get in early.
If you're looking for Latitude 29 on Google Map it may still appear under "See World of Cars" which was the former business of Sarah and Wayne. We voted this place "Most likely to make you smile"!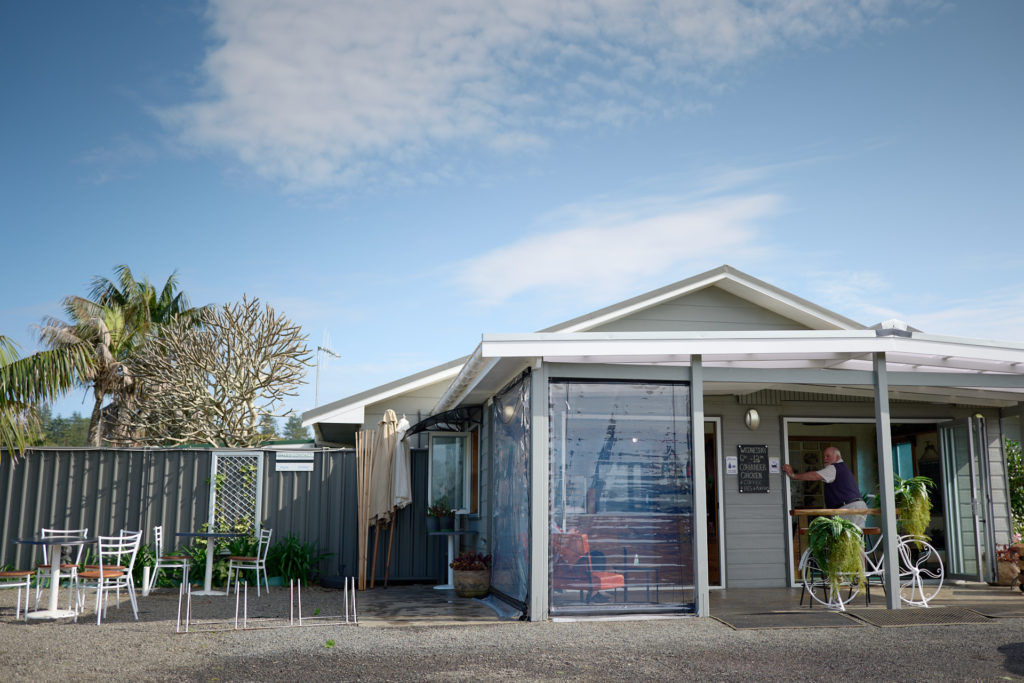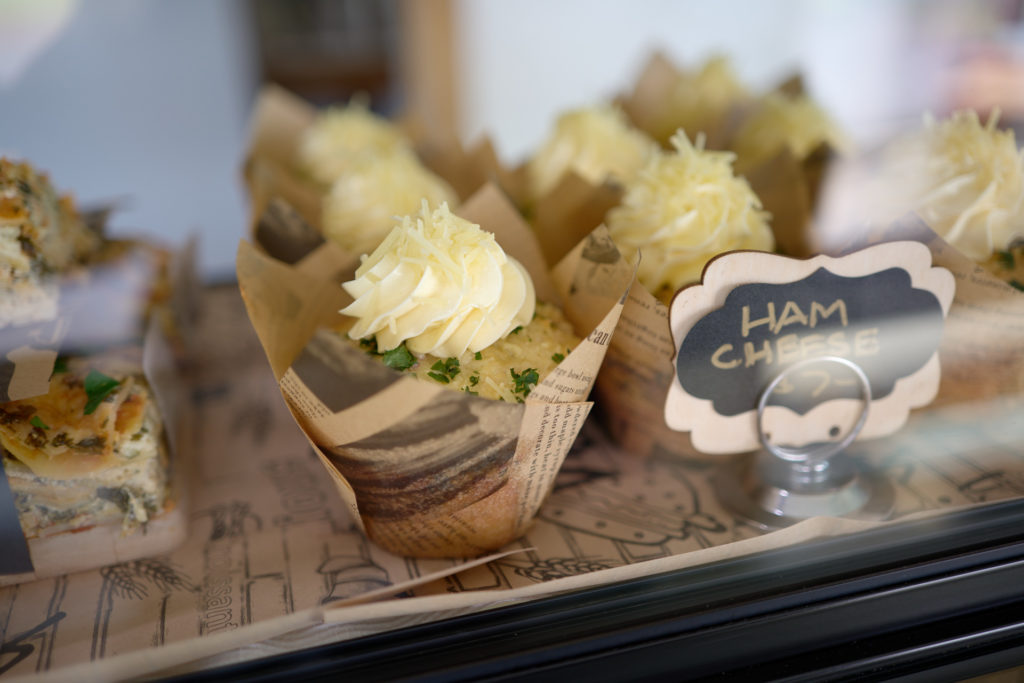 Wildcraft
With Byron Bay vibes, this cafe also showcases local artists in its little space. A small selection of cakes, and savoury goodies to get you through the morning. With plenty of outdoor seating, this place is also opposite the airport, perfect for grabbing a bite to eat and relaxing at whilst you wait for your flight. We voted these lovely people "most likely to sprinkle flowers on your chai".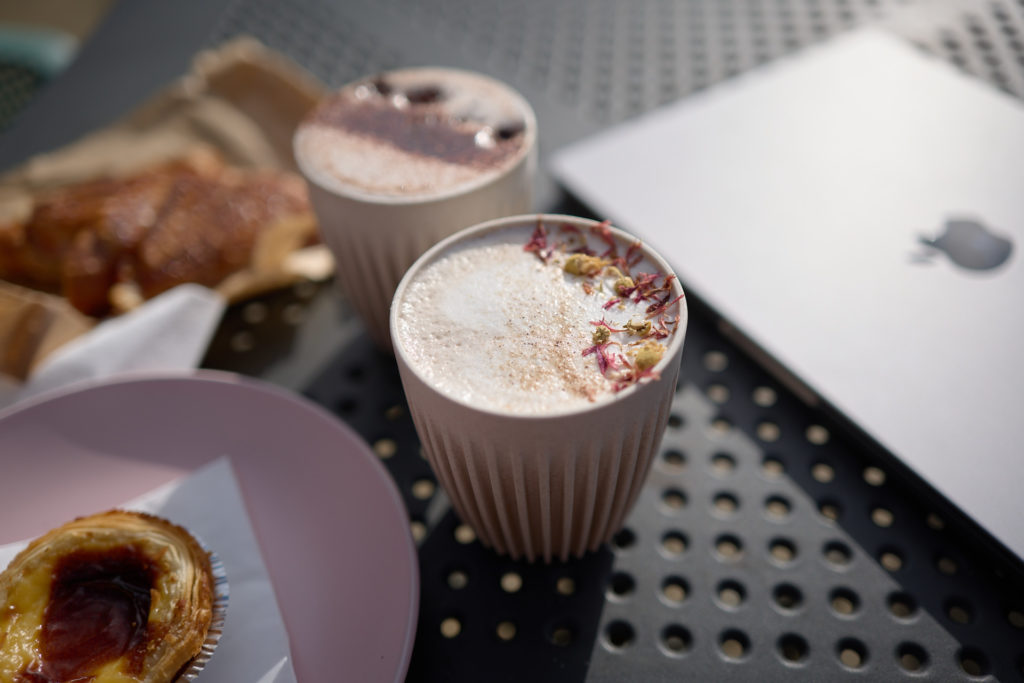 The Golden Orb
Follow the pathway off the main road to find this little oasis. Formerly a bookshop and cafe run by a Dutch lady, it's now a cafe serving great breakfast and lunch options. As lettuce can be hard to come by in the local supermarket, I thoroughly enjoyed a big bowl of chicken Caesar salad. A well balanced dressing with all the trimmings. My dining partners enjoyed the seafood crepe which was light and creamy. Some of our friends spent more time at the Golden Orb than anywhere else, so we voted it "most likely to run into a buddy".
The Olive
Fresh off the plane that arrived around 12:30pm I was taken to The Olive as it was one of the few places open at the time. Indeed, we voted The Olive "most likely to be open" because so often during our stay it was the only option left in town. Yes, coming from the city I expected a lot of places would be open on a Tuesday afternoon, but some close at 12pm! I scoffed down a burger and felt human again. 

It is also one of the few places that opens on a Sunday, with plenty of indoor and outdoor seating, it's a great place for a simple breakfast. They have a huge range of T2 teas, and as someone who loves an Earl Grey tea, this is one of the places I could enjoy one. Ewen also recommends the muffins and the steak sandwich too.
Enitaim
Pronounced 'anytime', but it's definitely not open every time. Perhaps "Hardly Any Time" would have been better! A nice bright cafe, serving good coffee and delicious toasties, including smoked chicken. On Friday and Saturday nights they do wood-fired pizzas. Check their instagram for menu updates, they are always introducing new, fresh items. We voted this one "most likely to be open when you're somewhere else".
Castaway
A great lunch spot next to the microbrewery, plenty of outdoor seating to enjoy the breeze, or sit inside by the fire if you are chilly. More of a bistro style menu, generous portions and lots of fresh salads. On Friday night they also do wood-fired pizzas, but otherwise it's purely a lunch destination on the edge of town.
Finding the Castaway can be confusing at first, hidden down a long driveway next door to the South Pacific Resort. We voted this one "most likely to get lost trying to find".
Juddway
The island's answer to Subway, hence the name. You won't have to endure the smell of capsicum-farts being pumped out the air vents like you do at Subway, instead you can pick up a prawn and crab roll for just $10. The pork and gravy roll uses the pork raised on the owner's property, so the food miles are very low! A good range of sandwiches, plus the option to customise to your own taste. It has something for everyone, with a few chairs out the front to dine-in or takeaway on a scenic walk around the island. We voted this one "Most likely to top with Siracha".
The Reef
You can get an excellent fish and chips at The Reef, large chunks of flake battered and deep fried make for a nice change that getting one giant piece. Unfortunately all those extras like dim sims and crab stick are subject to availability. A good selection of burgers and wraps, as well as a small selection of drinks. A few tables available inside if you choose to eat in. Unlike some of our dining experiences around town, the service was zippy and we were back at the hotel room finishing off the fish in no time. We voted this place "most likely to serve you quickly".
Bowls Club
Serving up a lot of your typical bistro fare, the bowls club is open 7 days a week and popular amongst the locals. The crumbed prawns are a generous serving, and the chicken parma didn't let me down. With plenty of seating on offer, it's a reliable choice in the middle of town on the island. The locals hit this place hard from 5pm and Friday nights are jam packed. Things chill out after 6:30pm though if you're something of a night owl. We voted the Bowls Club "most likely to run out of prawns one day" because they put so many on your plate.
Prinkie Eco Store
The island's no waste bulk store / health food store. Perfect for if you are wanting small amounts of pantry staples when self catering. They have a freezer of gluten free goods, fresh fruit and veg and eco products. There is also a cafe which our friends went to every morning for a coffee. They also have food like bagels and quiches to help get you through the day.
Slick & Sons
Part butcher and part providore, this is THE gourmet food store on the island. A great place for purchasing local beef and, if you are lucky, some dry aged T-bone. Lots of fresh meat including sausages, chicken, and also deli meats, cheese and antipasto if you are looking to put together a nibble platter. A good range of boutique hot sauces, condiments, local fruit and vegetables, frozen seafood and a good range of MUTTI tomato products. Fresh bread and fancy tonic waters also available, it really is a one stop shop!
It was the butchers here who tipped us off about the free BBQs on Norfolk Island. We voted this place "most likely to make you wanna cook".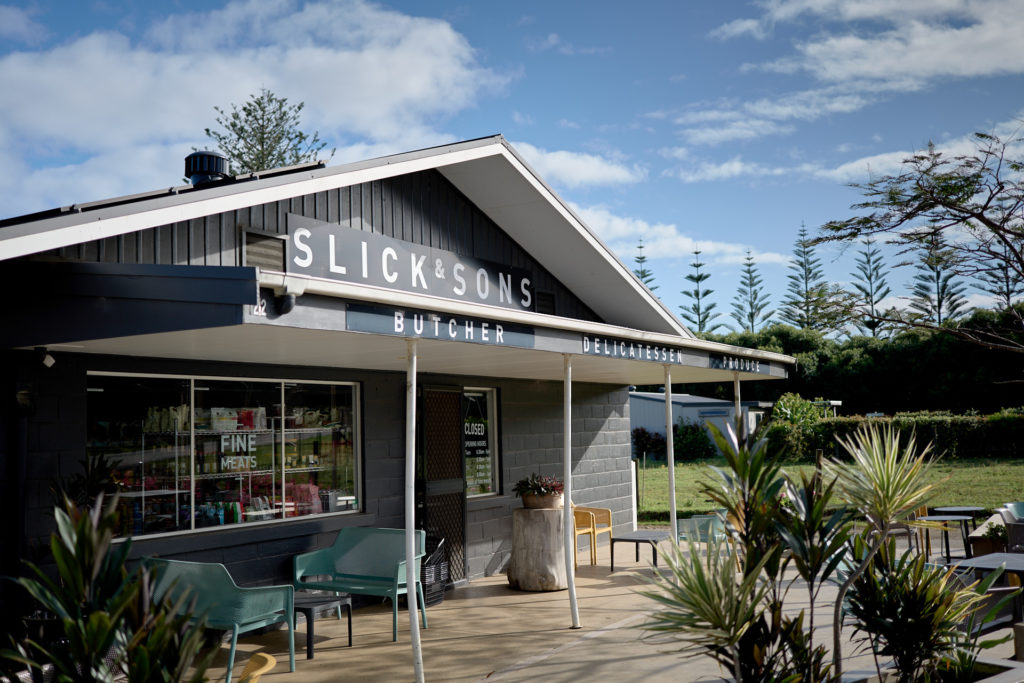 Free BBQs on the Island
Recently they have installed free BBQs all over the island. There is a map that will show you where they all are. Some are a great lookout points, whilst others at the start of national park walking trails. Nothing like picking up some steaks and sausages from Slick & Sons, getting a few extra bits like avocado, coleslaw and lettuce (if you are lucky) from the supermarket and you've got all you need for a great lunch on the island. 
Saturday Morning Farmers Market
From 7am – 9:30am situated on the main street there's a small market where you can purchase fresh vegetables, fruit and herbs that are in season from the back of the farmer's trucks. The market is very small, fair warning, and sometimes the same vendors here are the ones running an honesty box by the roadside when you drive past the farm.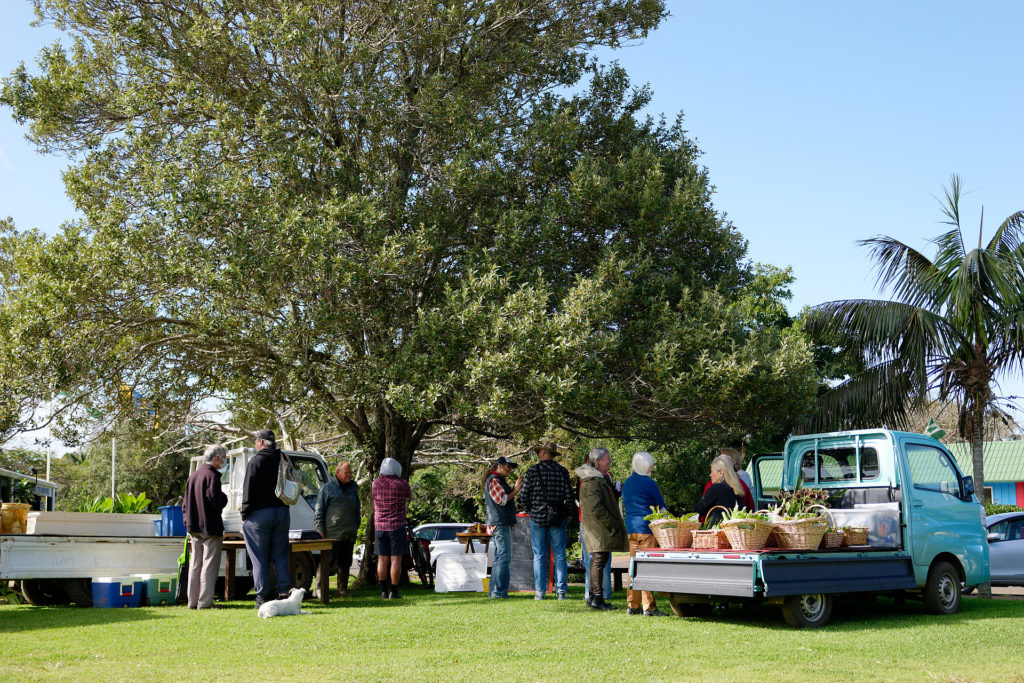 For more information on Norfolk Island, head to: norfolkisland.com.au