Matcha Cupcakes
Ever since my trip to Japan earlier in the year, where there is matcha everything around every corner; it's not hard to understand that I've since become a little #MatchaObsessed.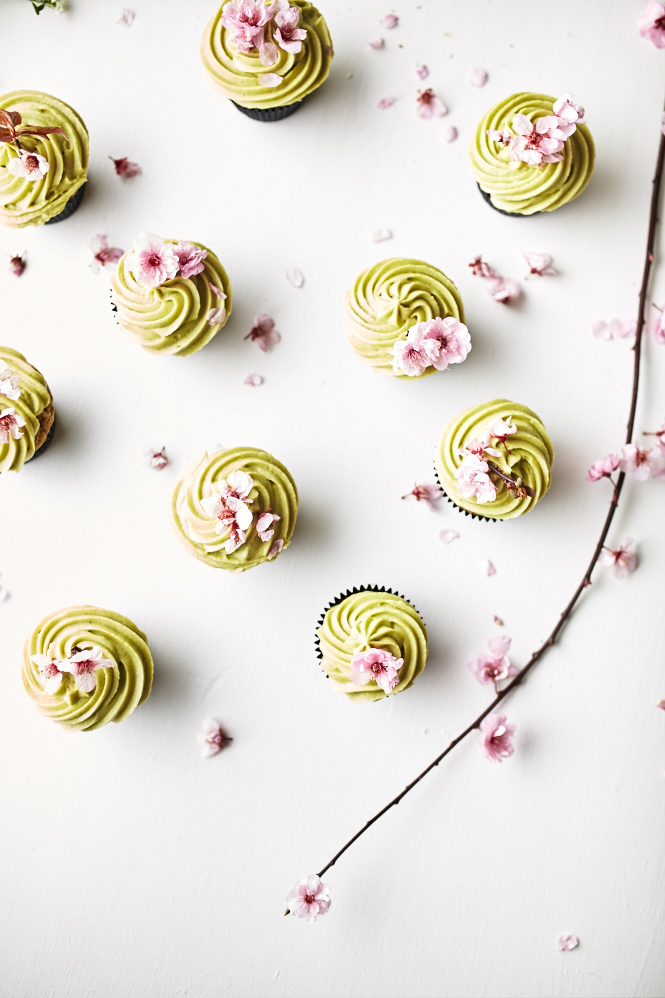 What seems like a small eternity ago, the team at Matcha Maiden brought joy to my mailbox by sending me a few samples of their matcha powder. We learnt about how matcha is harvested, and produced when doing a Japanese Tea Ceremony in Kyoto. This included us preparing the matcha to serve to your guests. If you don't know what matcha is, it's time to tell you a bit about it, as no doubt you will see it popping up everywhere.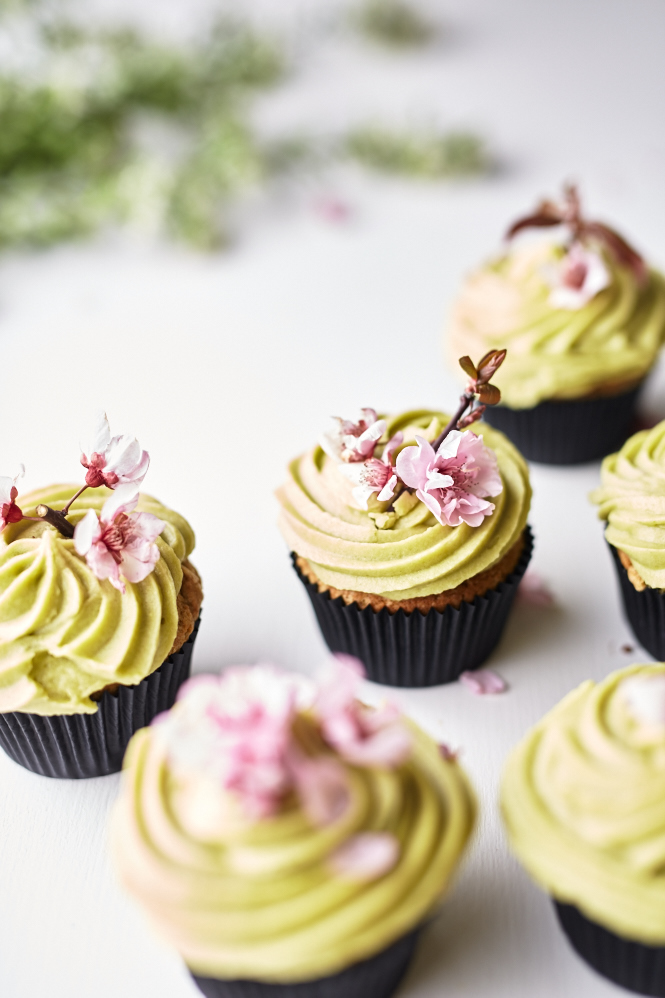 From wikipedia:
Matcha is made from shade-grown tea leaves also used to make gyokuro. The preparation of matcha starts several weeks before harvest and can last up to 20 days, when the tea bushes are covered to prevent direct sunlight. This slows down growth, stimulates an increase in chlorophyll levels, turns the leaves a darker shade of green, and causes the production of amino acids, in particular theanine. Only the finest tea buds are hand-picked. After harvesting, if the leaves are rolled out before drying as usual, the result will be gyokuro (jade dew) tea. However, if the leaves are laid out flat to dry, they will crumble somewhat and become known as tencha (碾茶). Tencha can then be de-veined, de-stemmed, and stone-ground to the fine, bright green, talc-like powder known as matcha.

It can take up to one hour to grind 30 grams of matcha.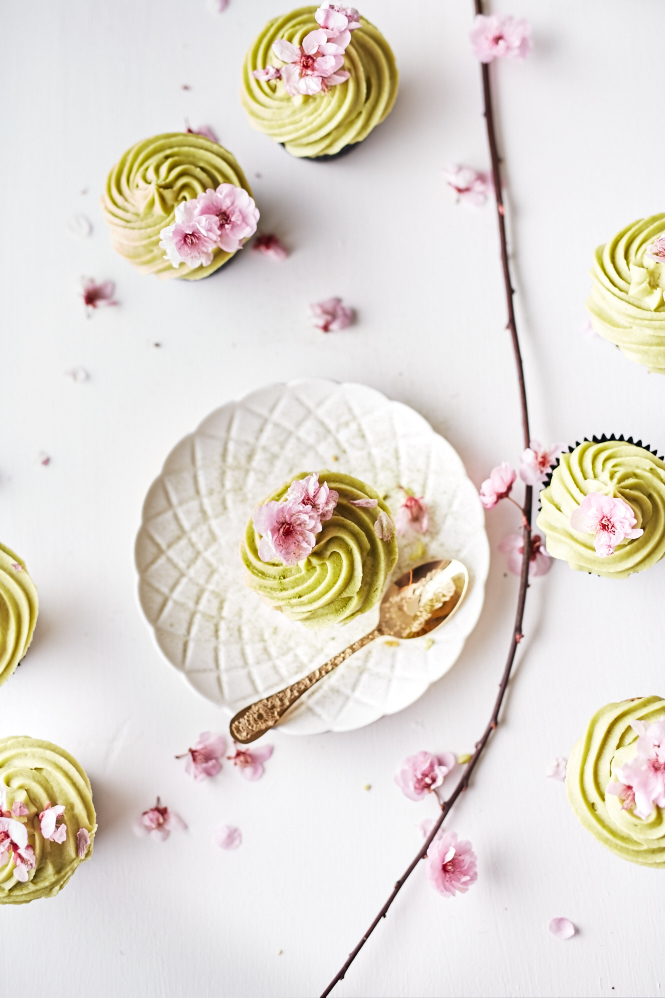 I was flicking through the Primrose Bakery cookbook the other day, and the picture of these cupcakes got my attention. I ran straight to the tea cupboard and dug out the matcha powder. Even though it's not officially Spring yet, I decided these would be a great start to celebrate the start of things getting a bit warmer here in Melbourne.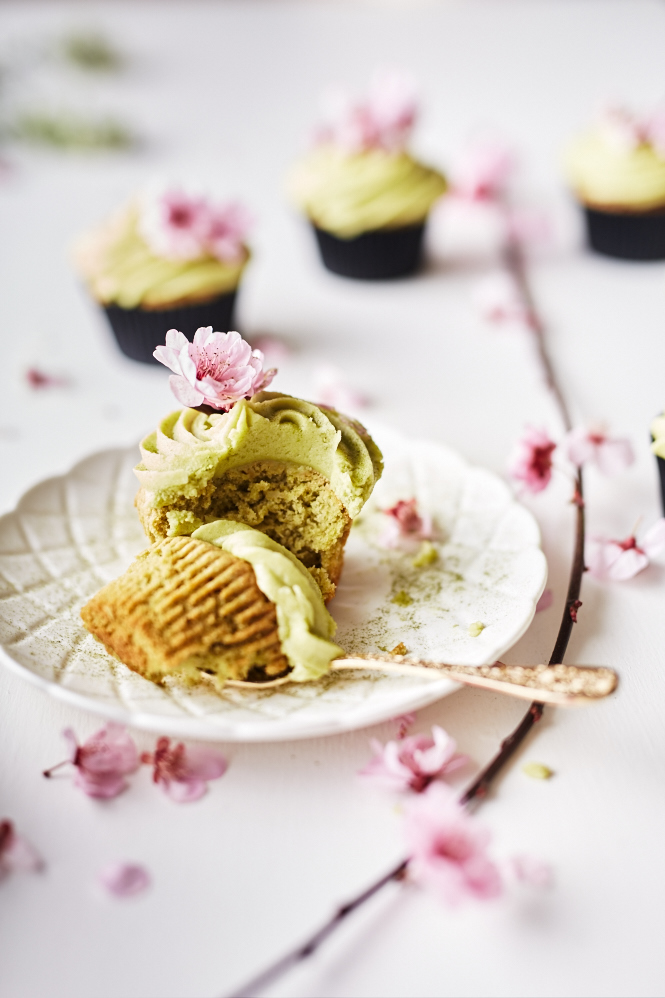 These cupcakes have a lovely green tea flavour, in fact I was eating the batter from the bowl, not something I usually do. I love the aroma of matcha, and usually enjoy it in a matcha latte. These cupcakes would be the perfect accompaniment to a warm, creamy cup of matcha. Ewen compares the frosting to crack, and says I could put it on anything, I should try to make it work with a contrasting flavour. That is a job for another day though.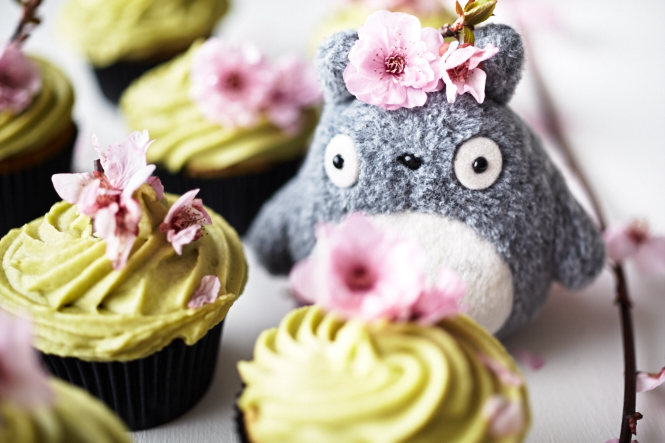 Matcha (Green Tea) Cupcakes
Print Recipe
Ingredients
Matcha Cupcakes
150 ml milk
4 green tea teabags
2½ tsp matcha green tea powder
110 g unsalted butter at room temperature
225 g granulated sugar
2 large eggs free-range or organic
125 g self-raising flour
120 g plain flour
Matcha Buttercream Icing
115 g unsalted butter at room temperature
60 ml milk
1 tsp good-quality vanilla extract
500 g icing sugar sifted
1 tsp matcha green tea powder
Instructions
Heat the milk in a saucepan over a medium heat until it just begins to boil. Remove from the heat and add the teabags. Cover with clingfilm and let the mixture steep for at least 30 minutes, or longer if possible. You could even leave this overnight in the fridge.

When you are ready to make the cupcakes, preheat the oven to 180C/160C fan/gas mark 4. Line a 12-hole muffin tray with muffin cases. Remove the teabags from the milk and squeeze out any excess milk into the pan. Add the green tea powder, and stir.

In a bowl cream the butter and sugar with an electric hand mixer until the mixture is pale and smooth. Add the eggs, one at a time, mixing briefly after each addition. Sift the flours into a separate bowl and stir well. Add one-third of the flour mix to the creamed butter and sugar and beat well. Pour in one-third of the milk/tea mixture and beat again. Repeat these steps until all the fl our and milk has been added.

Carefully spoon the mixture evenly into the muffin cases, to about two-thirds full. Bake in the oven for about 25 minutes, until raised and golden brown. The cakes will have a greenish tinge to them.

Leave the cupcakes in their tin for 10 minutes or so before turning out onto a wire rack. When completely cool, ice with the green tea buttercream icing and sprinkle with a little green tea powder.
To Make The Icing
Beat the butter, milk, vanilla extract and half the icing sugar until smooth. This will usually take a few minutes. Gradually add the remainder of the icing sugar and the green tea powder to produce a buttercream with a creamy and smooth consistency. The green tea powder should be sufficient to achieve the desired green shade of icing so you won't need to add any food colouring.

The buttercream can be stored in an airtight container for up to 3 days at room temperature. Beat well again before reusing.