#FridgeShelfie – Stuffed Capsicums with Egg Yolk Porn
[Disclaimer: Sponsored post brought to you by Nuffnang and Philadelphia Australia]
"Do Your Thing" with a #FridgeShelfie for you chance to win a trip to Melbourne for a $1,000 shopping spree at Salt and Pepper Home.
Philadelphia cream cheese is a product we are all aware of. Whether you make cheesecakes, or simply smear a truckload onto a freshly toasted bagel, or even use it as the base for a tasty homemade dip; chances are you've had a Philadephia product in your fridge at some point. I always seem to have a couple of blocks on standby.. you know "just in case".
The #FridgeShelfie campaign is designed to get Aussies out of their food rut and get ahead in the kitchen, with new and exciting recipes. Why stick to what you know; why not try something new and exciting!
It's as easy as asking your mum what's for dinner. You just need to snap a photo of the inside of your fridge. You don't need to snap the whole thing if you are embarrassed, just a shelf is fine 😉 Just make sure you have all the ingredients you want to use visible, or you can name the items you want to use when you post your #FridgeShelfie photo to the Philadelphia Facebook page. The little wizards behind the scenes that look after the Philadelphia page, will either direct you to a recipe on the Philly website, which has a huge amount of great recipe ideas on www.philly.com.au OR, they will come back to you with a customised recipe, based on what you have in your fridge. As a bonus, the recipe will be named after you and shared with the rest of PHILLY's social communities, so there'll be plenty of inspiration to go around.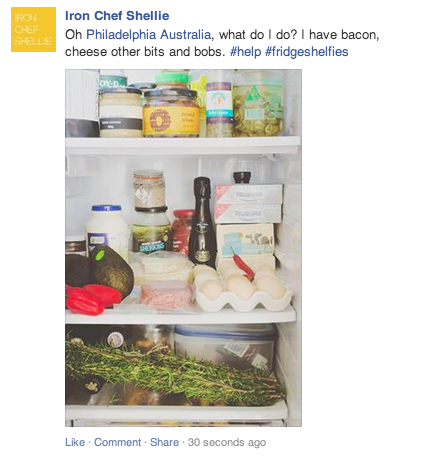 I submitted a #FridgeShelfie to the Philly Facebook page, and got a response within a few hours. They said they would get back to me with an extra special recipe! A few days later they sent me a link to my own custom recipe!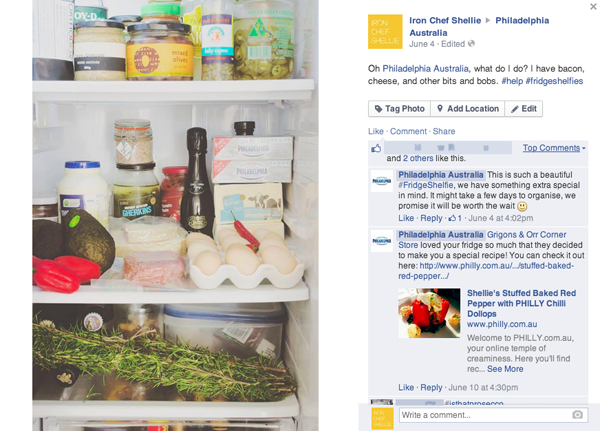 Not only was there a recipe for me to try, but it was from a local cafe in Melbourne; Grigons & Orr Corner Store. I can't say that I've been there before, but it was nice to get a bit of local flavour to inspire me.
I've never made stuffed capsicums or even stuffed tomatoes at home before. It was a lot easier than I thought it would be too.
I did take a cheat or two with the recipe though. It called for cooked arborio rice, but I was SUPER lazy and got one of those microwave brown rice packets from the supermarket, and didn't even microwave it! It worked out fine 🙂
I also didn't make the chilli drops to the tee, as I forgot to add the avocado, and I didn't chill them. I just served it as a side condiment, which worked out just as well, I think!
To get the recipe for my Philly #FridgeShelfie, head to: www.philly.com.au/recipe/stuffed-baked-red-pepper-with-philly-chilli-dollops
And don't forget, you have one week left to enter your #FridgeShelfie for your chance to win the $1000 shopping spree! Head to the Philadephia Facebook page for more info: