Baja Prawn Tacos
Elevate your Taco Tuesday with a delightful seafood twist. These Baja prawn tacos require a bit more attention than your typical store-bought yellow box tacos, but the extra effort is undoubtedly rewarded. Crafted with fresh pico de gallo, tangy pickled red onions, and a luscious homemade creamy sauce, every bite will whisk you away to the sun-kissed shores of Baja California, Mexico.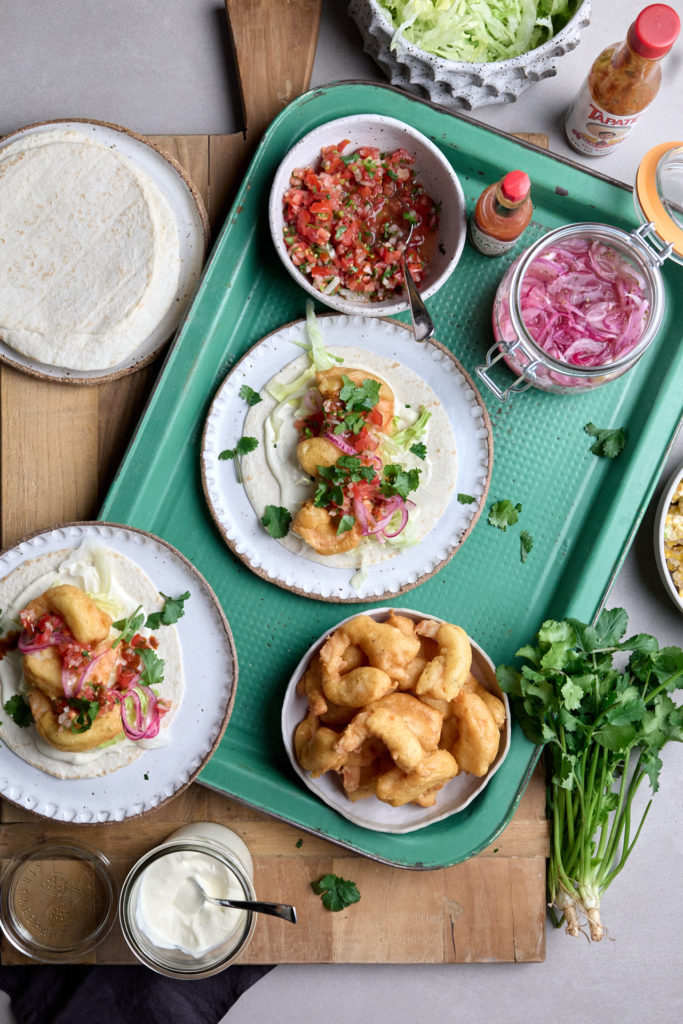 ---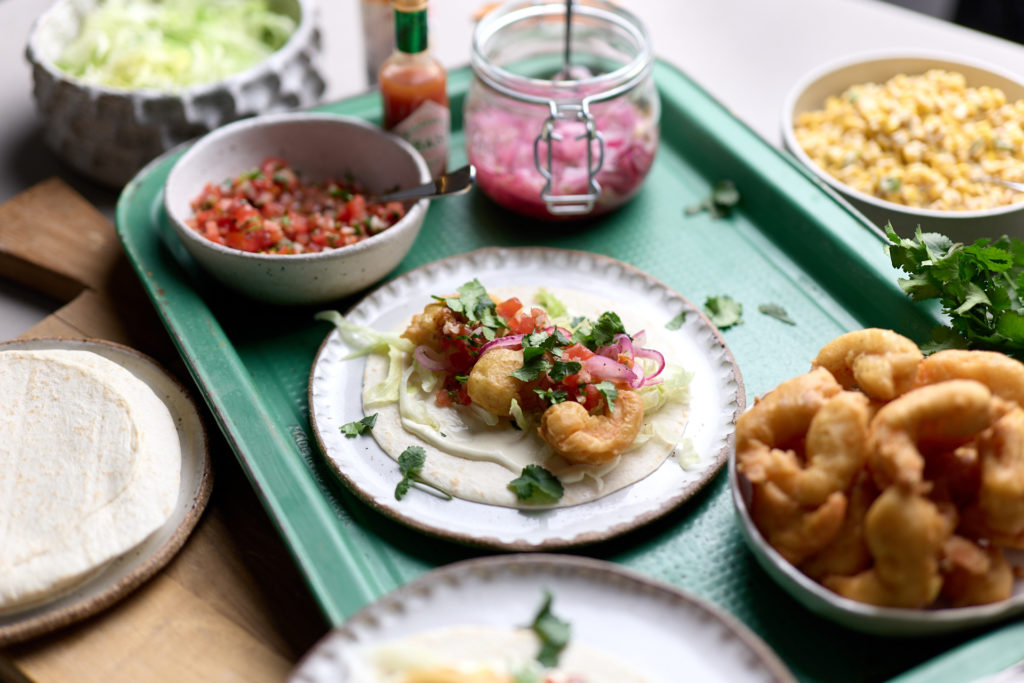 Baja Prawn Tacos
Print Recipe
Ingredients
Pico de Gallo
3 small tomatoes, finely diced
½ medium white onion, finely chopped
10g fresh coriander, finely chopped
½ tsp salt
½ lime
Pickled Red Onion
1 large red onion, peeled and thinly sliced (about 150g)
1 tsp table salt
Juice of 3 limes
¼ tsp dried oregano
Baja Prawn Tacos
170g self-raising flour
1 ½ tsp salt
½ tsp dried Mexican oregano
1 tbsp American mustard
200ml lager
50g plain flour, for coating
Salt and ground black pepper
36 extra-large raw king prawns, cleaned and deveined
For the Mayonnaise
120g soured cream
60g mayonnaise
1 tsp milk
To Serve
400ml sunflower oil
12 corn tortillas
120g iceberg lettuce, shredded
Pico de gallo
Pickled red onion
2 limes, cut into wedges
Your favourite spicy salsa (optional)
Instructions
Pico de Gallo
Put the tomatoes, onion and coriander in a medium bowl and mix well. Add the salt and lime juice, mix again, then set aside for five minutes. Eat as a snack with tortilla chips or use as a topping for tacos.
Pickled Red Onion
Put the onion in a bowl, add the salt, mix to combine, then set aside to steep for 10 minutes (the salt will take away some of the moisture in the onion). Rinse the onion to get rid of the excess salt, then add the lime juice and dried oregano, and mix well. Set aside for 10 minutes, mixing from time to time – the onion will turn bright pink. Use as a topping for tacos or salads.
Baja Prawn Tacos
First make the mayonnaise: in a medium bowl, mix the soured cream, mayonnaise, milk and a pinch each of salt and pepper, or to taste, then set aside.

To make the batter, put the self-raising flour in a wide bowl, add the salt, oregano, mustard and beer, and whisk until there are no lumps.

Put the plain flour on a plate, season and mix. Pat dry the prawns with a kitchen towel, dust each prawn in the seasoned flour, shake off the excess, then drop into the batter.

Put the oil in a medium frying pan on a medium heat. Once it's hot, fry the prawns in batches for a minute or so on each side, until golden brown, then transfer to a plate lined with kitchen paper to drain.

Heat the tortillas in a hot, dry frying pan, then transfer to a warmed plate and cover with a tea towel to keep them warm.

To serve, take one warm tortilla, spread it with some mayo and lay three battered prawns on top. Add some shredded lettuce, pico de gallo, pickled onions, a squeeze of lime and, if you want some heat, spicy salsa, and tuck in.