Malloreddus (Gnochetti Sardi)
This recipe is based on a beautiful dish I enjoyed at Agrarian Kitchen Eatery last year. Ewen was down in Tasmania shooting for National Geographic and I joined him on the tail end of his journey, just in time for a little snow and some sensational cuisine. Ewen had already shot this gnochetti dish earlier in the trip, but he made a special detour before heading west so we could share a serve together.
Agrarian Kitchen Eatery is a gem, tucked away on the edges of New Norfolk, and something of a destination dining option for the people of Hobart. Rodney and Severine are the owners, and have worked with us in years past to create marvellous Food Photography Workshops. When I first saw Ewen's photos of the gnochetti I knew I had to try this dish. Severine also recommended the house made potato cakes and I did not take much convincing. They were divine.
Gnochetti pasta is prepared from a simple recipe of semolina and saffron water; very typical of Sardinia. The little grooves are very relaxing to make, maybe even "therapeutic", and perform the vital function of helping to catch the sauce.
Whilst I don't have the recipe Rodney invented, this is my interpretation. Rodney uses his own house-made 'nduja, a rather spicy spreadable pork similar to sobrassada. A little bit goes a long way, depending on how much you love chilli and how much heat the 'nudja is made with. I have also added pork and fennel sausages for a meaty, ragu type element. I sourced both meats from Meatsmith, and can highly recommend their delivery service.
Rodney also used sprouting broccoli, but broccolini works just as well in this case. And also, there is no such thing as too much parmesan cheese!
If you haven't made your own gnochetti before I have one piece of advice for you. Regular gnocchi is made lighter with potato, but gnochetti is more dense. In my testing I have found that spending a little effort to knead the dough is critical to achieve a smooth texture, and that you want to make them very very small indeed. Long and thin is better than short and chubby, otherwise the pasta can turn rubbery when boiled.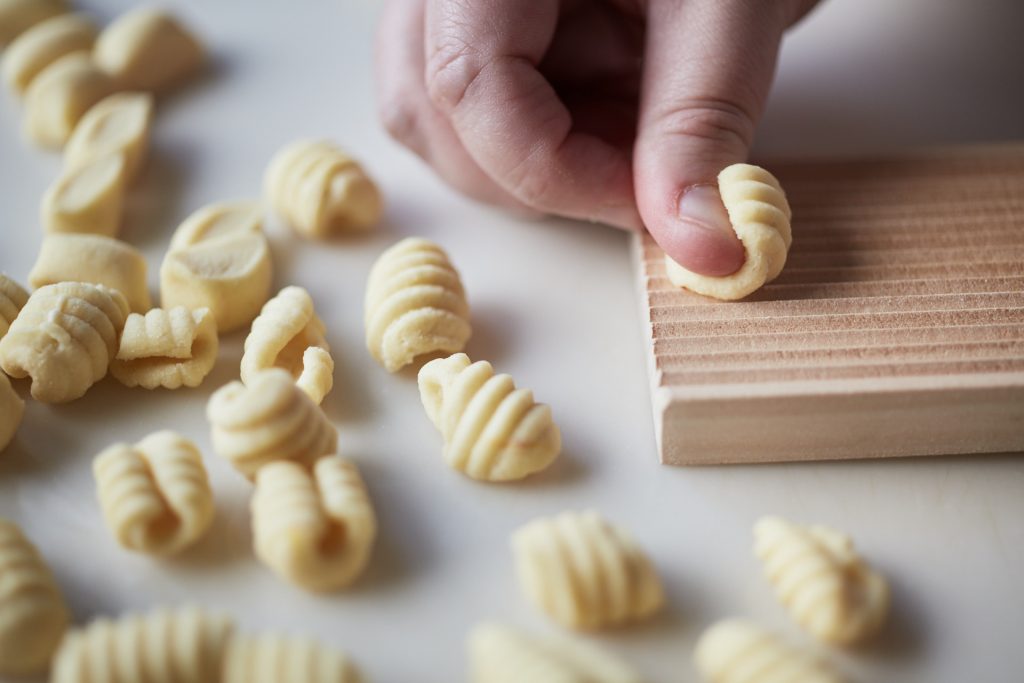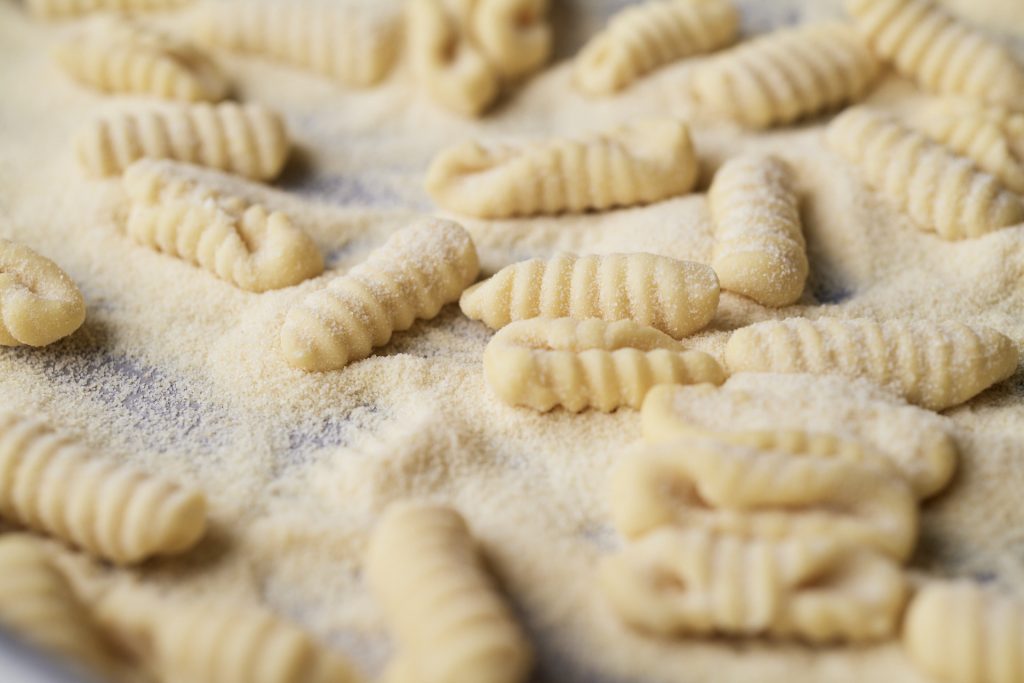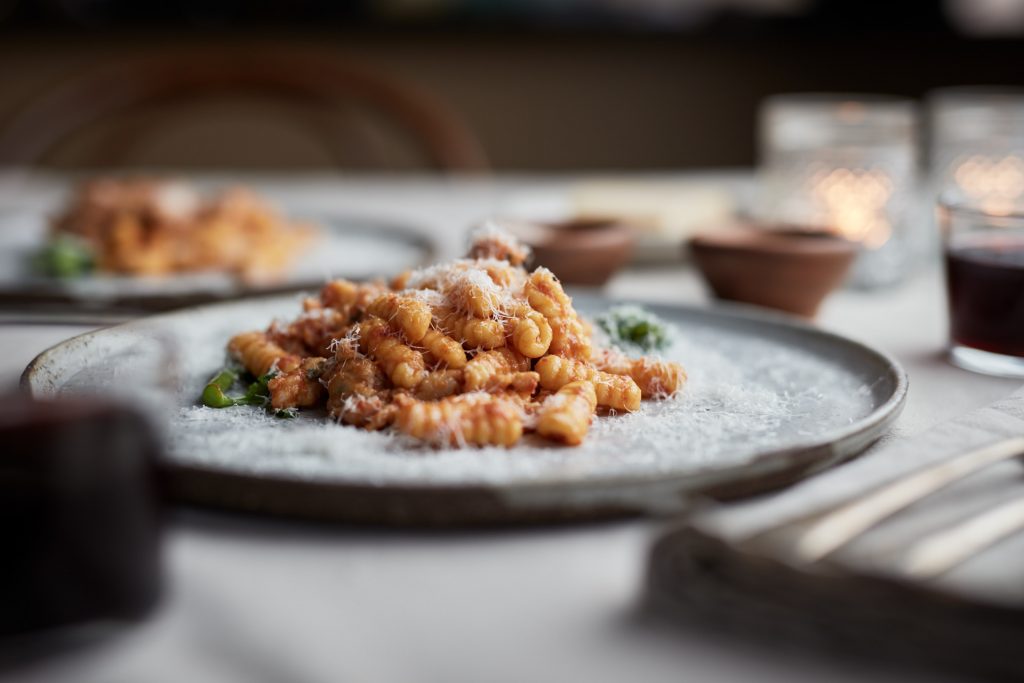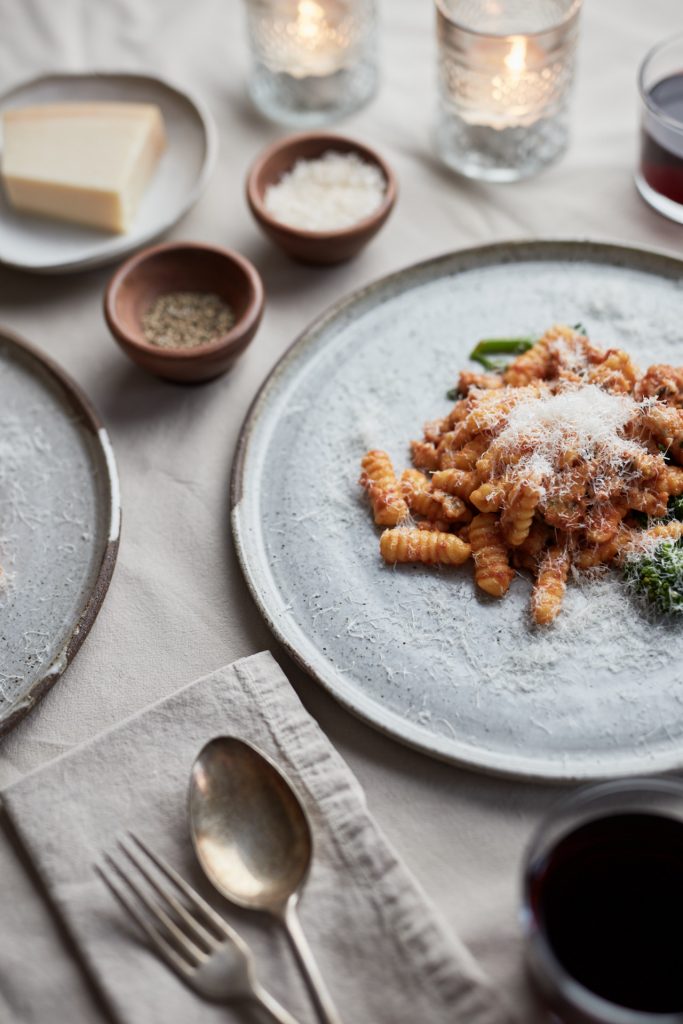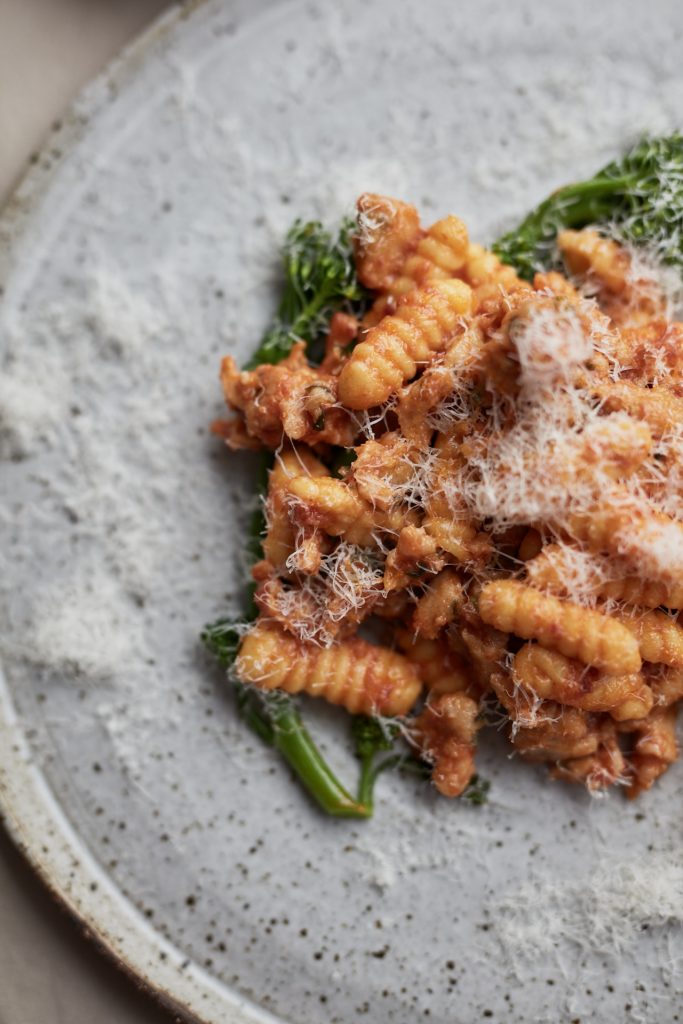 Malloreddus Gnochetti Sardi
Print Recipe
Ingredients
1 tbsp olive oil
4 pork and fennel sausages, removed from casings
40 g 'nduja (use less, or omit if you can't handle the heat)
100 g passata
1 bunch sprouting broccoli or broccolini
parmesan cheese
sea salt
cracked black pepper
Malloreddus Gnochetti Sardi
½  tsp saffron threads
a pinch sea salt
300 g semolina
150 g warm water
Instructions
Start by making the pasta. Pound saffron with a pinch of salt by using a mortar and pestle, add to warm water and let it bloom for 5-10 minutes.

Place the semolina in a large bowl, pour in the water and knead the dough for 10 minutes until smooth and elastic. Add a little more semolina if the dough is too sticky. Cover and rest dough for 1 hour.

Cut the dough into 4 equal pieces, keep pieces you aren't using covered until you need them. Roll out a piece into a thin snake, cut into 1cm lengths. Using your thumb, roll each bit off a gnocchi board or the prongs of a fork. Place gnochetti on a baking sheet dusted with more semolina. Repeat with the rest of the dough, arrange the gnochetti in a single layer.

While the pasta is drying, make the sauce. Heat a deep large frying pan over medium-high heat. Add oil and pork and fennel sausage meat, use a wooden spoon to break up the meat and fry until browned all over and just cooked through. Add the 'ndjua, using a wooden spoon to break up and coat the sausage meat. Stir through passata on a low heat while you bring a large pot of salted water to the boil.

Cook the gnochetti for around 5 minutes until al dente. They will float to the top and should be a little chewy but not chalky.

Bring the sauce back up to medium-high heat. Using a slotted spoon, remove the gnochetti from the water and place into the sauce along with ¼ cup pasta water and a good grating of parmesan cheese, stir until well coated. Simmer for a few minutes until the sauce and pasta water has emulsified. Add more pasta water if required.

Meanwhile blanch the sprouting broccoli in the remaining pasta water for 2 minutes, drain and set aside.

To serve, divide the sprouting broccoli between 4 plates, top with gnochetti and finish with generous shaving of parmesan cheese.