Cannoli Cake
Cannoli are a tube shaped fried pastry shells, filled with a sweet ricotta filling or chocolate custard filling. This recipe is from an old issue of Jamie (Oliver) Magazine. It takes the traditional Italian sweet and turns it into a cake, filled with delicious sweet ricotta filling flecked with candied orange peel and chocolate chips.
As many of you know, I take a cake to my Grandma's house most weeks, and this one got her tick of approval!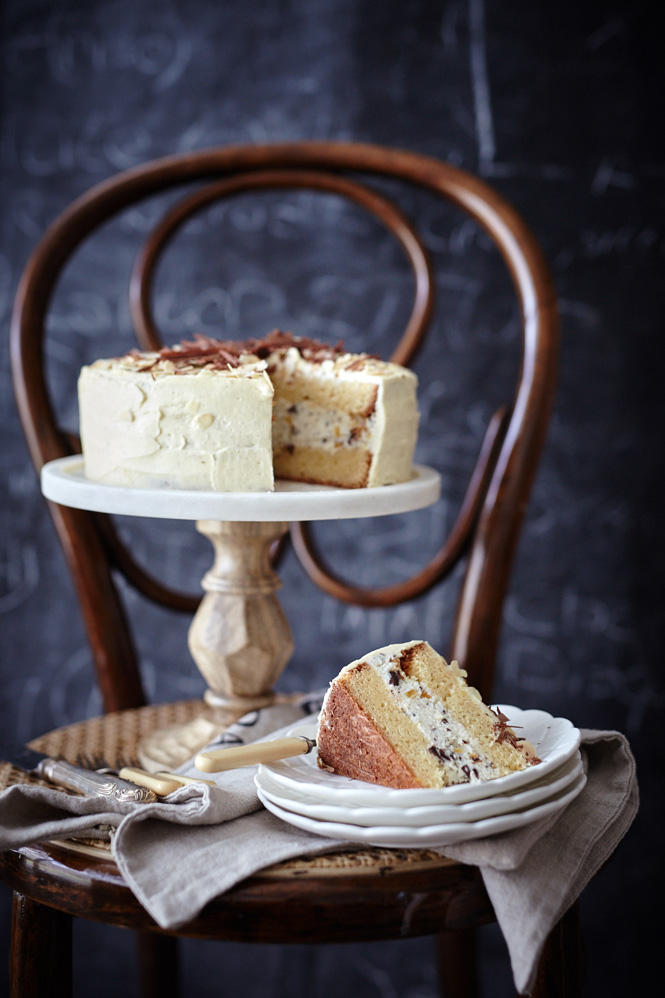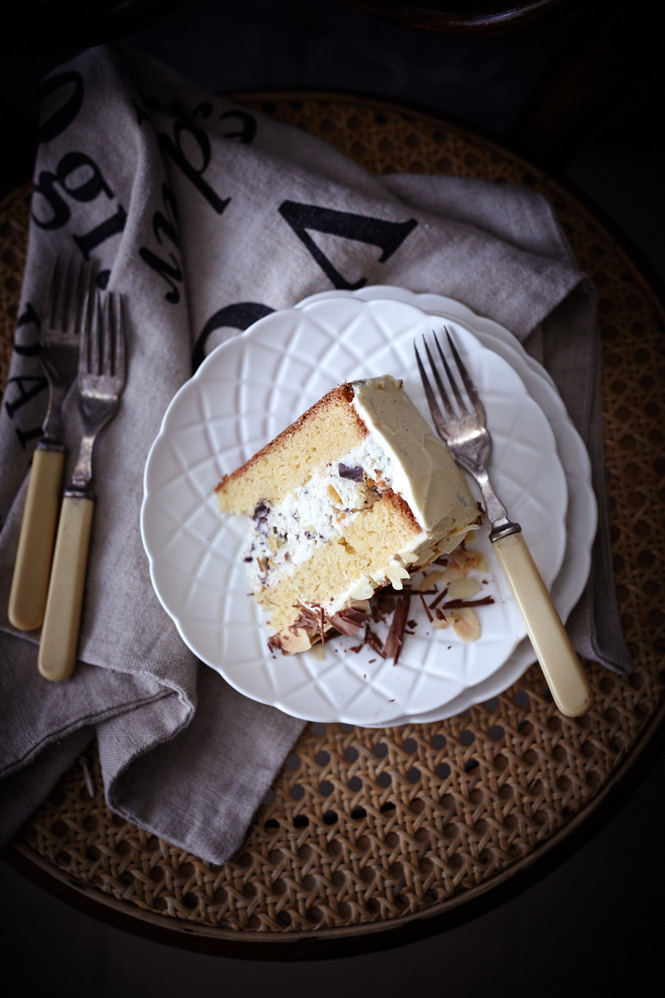 Cannoli Cake
Serves 16
250g unsalted butter
250g caster sugar
4 eggs
1 vanilla bean, split, seeds scraped
250g self raising flour, sifted
Juice of 2 oranges
1½ tbs orange liqueur (such as Grand Marnier)
Toasted flaked almonds and shaved dark chocolate, to serve
Ricotta filling:
430g ricotta
125g cream cheese
110g icing sugar, sifted
1 vanilla bean, split, seeds scraped
100g candied orange peel, chopped
50g dark chocolate chips or finely chopped dark chocolate
Mascarpone icing:
250g mascarpone
100g icing sugar, sifted
1 vanilla bean, split, seeds scraped
1 tbs milk
1. Preheat oven to 180°C. Line a 20cm springform cake pan with baking paper. Beat butter and sugar with electric beaters, then slowly add eggs, 1 at a time, beating well after each addition. Add vanilla seeds and flour and mix until just combined (don't over mix or your sponge will be too firm). Pour batter into the cake pan and bake for 50 minutes or until a skewer inserted into the centre comes out clean. Leave to cool, then cut in half horizontally.
2. Combine orange juice and liqueur in a small bowl and brush over the cut halves of the cooled sponge cake.
3. For the filling, beat the ricotta, cream cheese, icing sugar and vanilla seeds with electric beaters until smooth. Fold through the peel and chocolate.
4. Place the base half of the sponge on a plate and generously spread the filling over it, making sure it's level. Top with the remaining sponge cake and smooth off filling that comes out the sides. Loosely cover cake with plastic wrap and place in the fridge to set for at least 1 hour.
5. For the icing, beat mascarpone, icing sugar and vanilla seeds until smooth. Gradually add milk, beat, until mixture is thin enough to spread over the cake. Spread icing over the top and sides of cake and leave to set for at least 1 hour. Sprinkle with almonds and chocolate, then serve.