Mildura & Swan Hill
The most common question asked when you mention the town of Mildura is, "Where's that?". Similar questions follow when you mention Robinvale or Swan Hill in a conversation. It is most likely followed up with someone asking, "Is that in Victoria?".
Situated on the Murray River, on the border between Victoria and New South Whales, Mildura is known for a lot of things including it's abundant stone fruit, table grapes, vineyards, lifestyle and salt. Naturally pink and mild Murray River Salt is fast becoming a household name.
With around 7 direct flights to Mildura from Melbourne every day, it is very easy to hop on a plane and have yourself a nice little weekend getaway. Save yourself the 6 hours of driving time (from Melbourne); sit back in relax the 1 hour and 15 minute flight. You'll be up and down in no time. You can also easily get to Mildura from Adelaide and Sydney direct, or via Melbourne or Broken Hill. At the Swan Hill end you can get on a train in downtown Melbourne and alight in Swan Hill after 4.5 hours of comfort.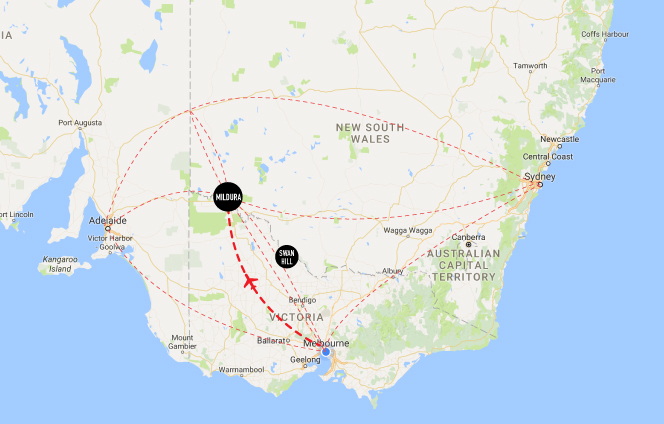 Home Grown Mildura
Mildura is a major horticultural centre and supplies 80% of Victoria's grapes. The region is also a major source of export wines, olive groves and fields aplenty of oranges. Sunraysia is a brand that most people would be familiar with when shopping in the supermarket, named after the region itself, and a lot of dried fruits and nuts come from this region. When flying in you can see the patchwork of crops and paddocks below, all supplied with irrigated water from the Murray River.
Stats grabbed from the Visit Mildura website show that the Mildura region grows the following percentages of Australia's fresh produce:
Almost 100% of Australia's dried vine fruit (98%)
75% table grapes
69% almonds
48% pistachios
24% citrus
20% of wine grape crush
13% carrots
9% asparagus
The majority of wineries in the region do not have a cellar door, so the best place to taste them all is Sunraysia Cellar Door. Representing the 22 wineries and 1 distillery, Greg Christians is a wealth of knowledge when it comes to the wines produced in the Murray Darling region. Since most of the local vineyards will export their wine all over the world, there isn't a demand for them to have a cellar door for people to visit. Over 250 wines are stocked at the Sunraysia Cellar Door, along with a provedore of treats in case you want to build yourself a hamper to take your tipple on the road.
You can come in for a tasting any day of the week, or book in for Friday night when it turns into a wine bar. Greg has a great wine tasting program that he relates to the 7 nights of the week. You discover 7 reds and 7 whites at different price points. With 85% of Australia's wine purchased between $12-18, there is no shortage of excellent wine at an excellent price.

Gin For The Win
If gin is more your thing – as it is with me – Fossey's Ginporium is where you need to be. It's open on Sundays and Thursdays, the latter during distilling. If you're lucky you'll see Master Inventor, Steve Timmis working his magic on the stills and have a chat about what goes into the production of the different gins. Sampling takes place in a comfortable lounge, or with the benefit of fresh air in the courtyard. You can choose between a gin tasting paddle, original G&T, build your own G&T or a great range of gin based cocktails.
If gin is more your thing – as it is with me – Fossey's Ginporium is where you need to be. It's open on Sundays and Thursdays, the latter during distilling. If you're lucky you'll see Master Inventor, Steve Timmis working his magic on the stills and have a chat about what goes into the production of the different gins. Sampling takes place in a comfortable lounge, or with the benefit of fresh air in the courtyard. You can choose between a gin tasting paddle, original G&T, build your own G&T or a great range of gin based cocktails.
There is a small range of wines on offer, should you go with company that are not so gin inclined. The Fossey's cheese platter is a must. Don't pass on the olives, they are made with the leftover botanicals from the distilling process.
The secret to the Fossey's Original G&T is start with a big block of ice, give it a squeeze of lime, pour over the gin, add a splash of tonic water, spank the mint before adding to the glass and finish with a grape kebab. Viola!
Most gins are made from a wheat based spirit, but Fossey's Gin harnesses the local grapes for the spirit before it's distilled. I enjoyed the cleaner taste of this gin immensely, and to me the grape spirit really made the botanicals sing. The "Christmas Pudding" label is made using Steve's Great Grandmothers recipe. The gins are designed from local ingredients, including 4 types of citrus in my favourite gin, the Navel Strength. If you do find Steve lurking about, be sure to ask him to tell you the story of Navel Strength Gin.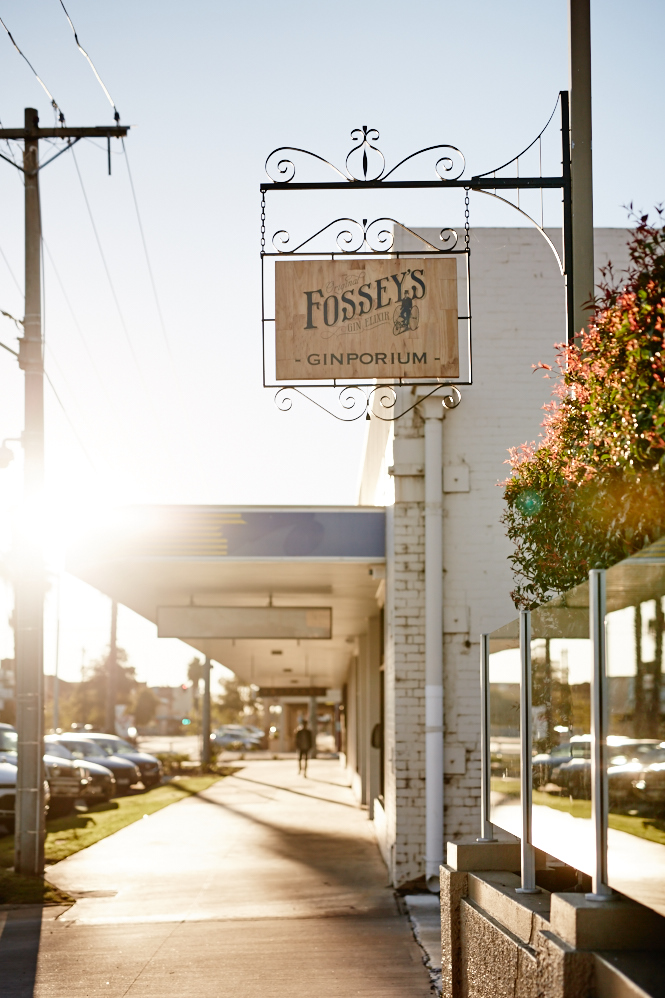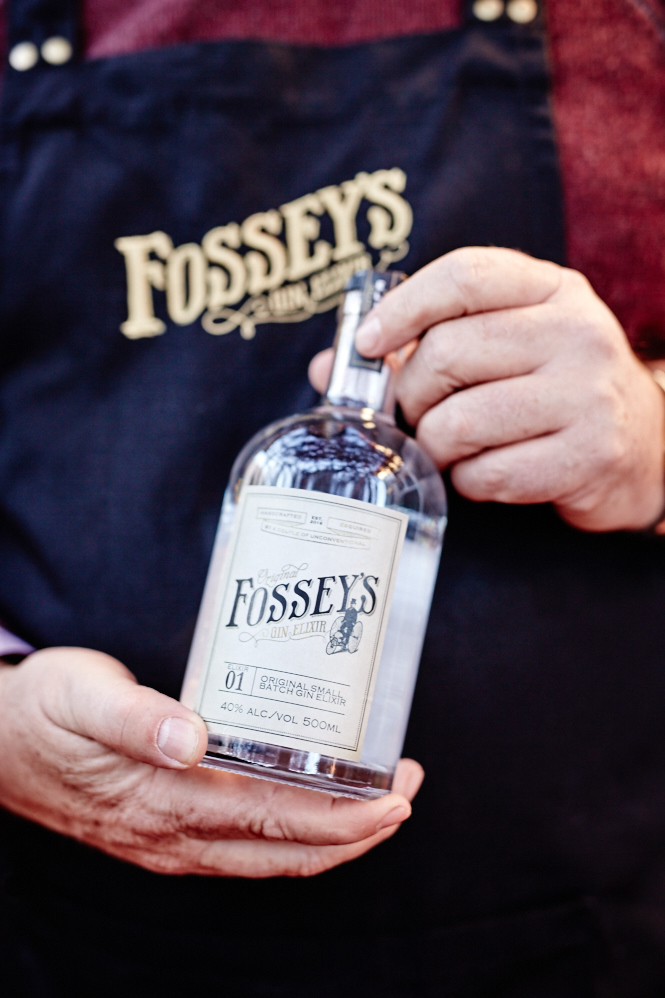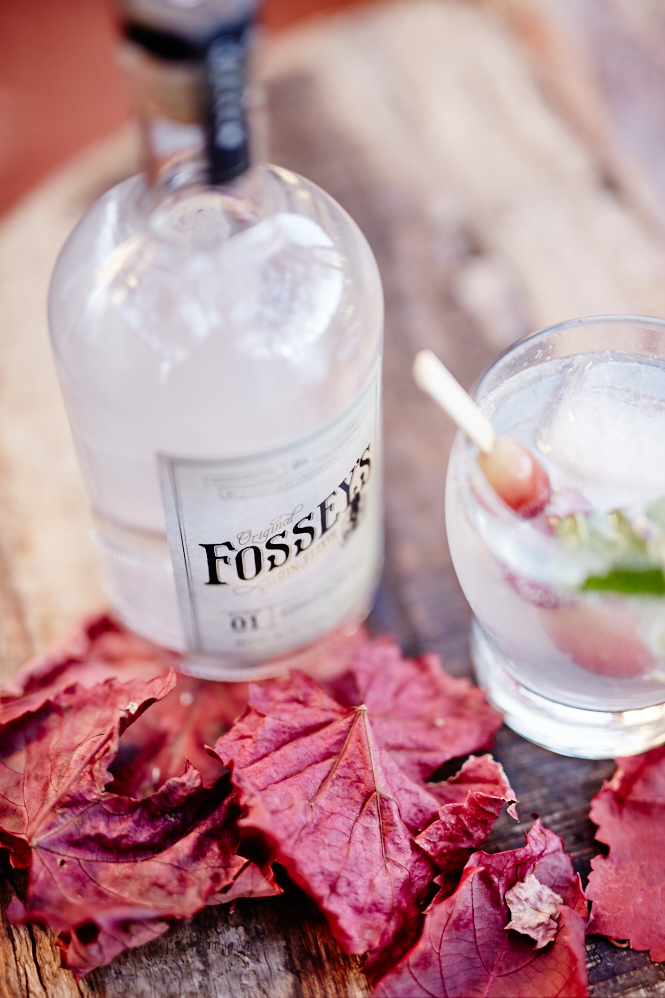 Mildura After Dark

Whilst there are lots of good eats in Mildura there is one place people travel from all over to go to. Stefano's. Well known for the rustic Italian food, you head underground to what I can only describe as a cosy and romantic bunker. The style of dining with a set price per person and an element of surprise has become synonymous with eating at Stefano's. I was lucky enough to join Stefano himself for an intimate dinner in the private dining room with along with my food stars Ricky (@forksake), Lauren (@foodiemelbourne) and Delphine & John (@gastrology.co). We heard stories throughout the night from The King of Mildura as we unofficially named him, from when he first arrived in Australia and thought he could get a beer at a good old fashioned Milk Bar, to his court case when he was caught driving after having a glass of wine whilst on his P-plates at age 46. His knowledge of Mildura is like no other.
The sparkling water served in the restaurant has a story all of its own. AquaBotanical is an Australian award-winning and globally patented innovation, helping fresh produce growers minimise food and water wastage. Find out the full story check out their website.
Stefano chose the dishes as the night progressed. Starting with oxtail and pickles, as well as gorgeous hand made pasta with a mushroom ragu. My highlight dish probably dessert, a panna cotta made without gelatine. It was almost like a 100% pure ricotta cheesecake in texture. It was seriously like nothing I've ever had before, in the best way possible.
With no shortage of excellent wines to choose from, including some that Stefano has helped craft.
If rustic Italian food isn't up your ally, perhaps a little fusion is more your thing. Normally if a restaurant told me their "cuisine is mainly focused on, but not limited to, Australian, American, Asian hawker style, Middle eastern and Korean BBQ influences" I'd say that's more confusion than fusion, but husband and wife duo Adam & Kristy Pritchard have struck a winner at Brass Monkey. With a Melbourne inner city vibe, Brass Monkey's food delivers sensational flavour after flavour after flavour. From the croquettes that was so moreish I just wanted to order another plate just for myself, to the unexpected wontons with toasted sesame oil, sichuan oil and black vinegar, or the pork belly with chilli caramel. Save room for dessert.
The Black Stump is set in one of Mildura's oldest and most iconic venues, The Settlers Club. Owners, Liam Wood and Jim McDougall became friends at Irymple South Primary School more than 20 years ago. After finishing school, they both moved to Melbourne to pursue careers in the hospitality industry — Liam in bars and Jim in restaurants. Some years later they returned to the region and combined their talents to open The Black Stump. Their aim was to create a new dining culture in Mildura by redefining the idea of an Australian country pub. Using local ingredients, foraging for a lot including salt bush, The Black Stump bistro has a great vibe as you enjoy dinner by the fire.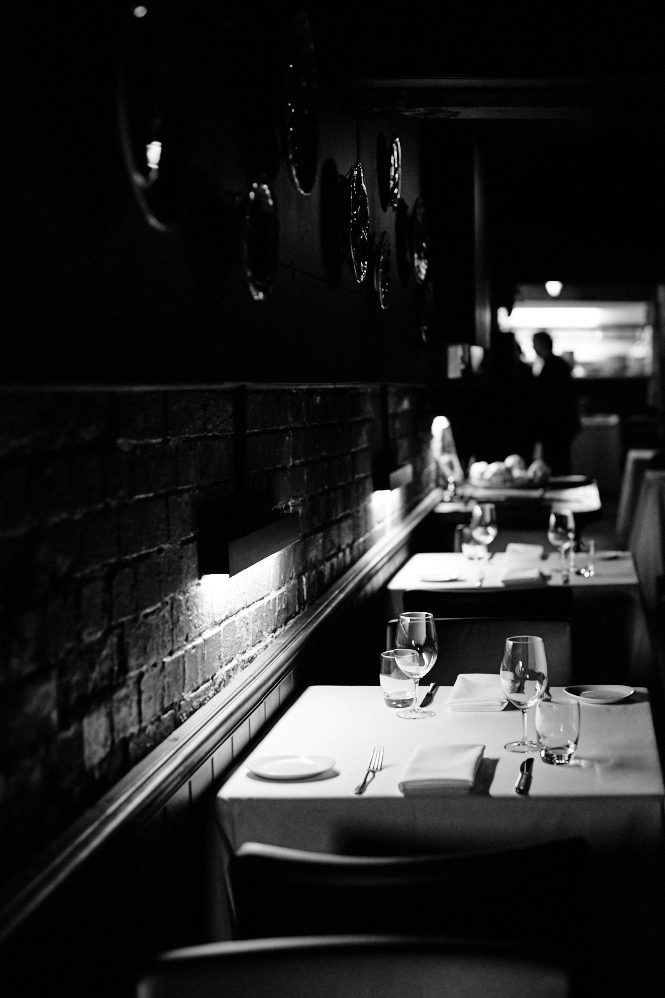 Dining room at Stefano's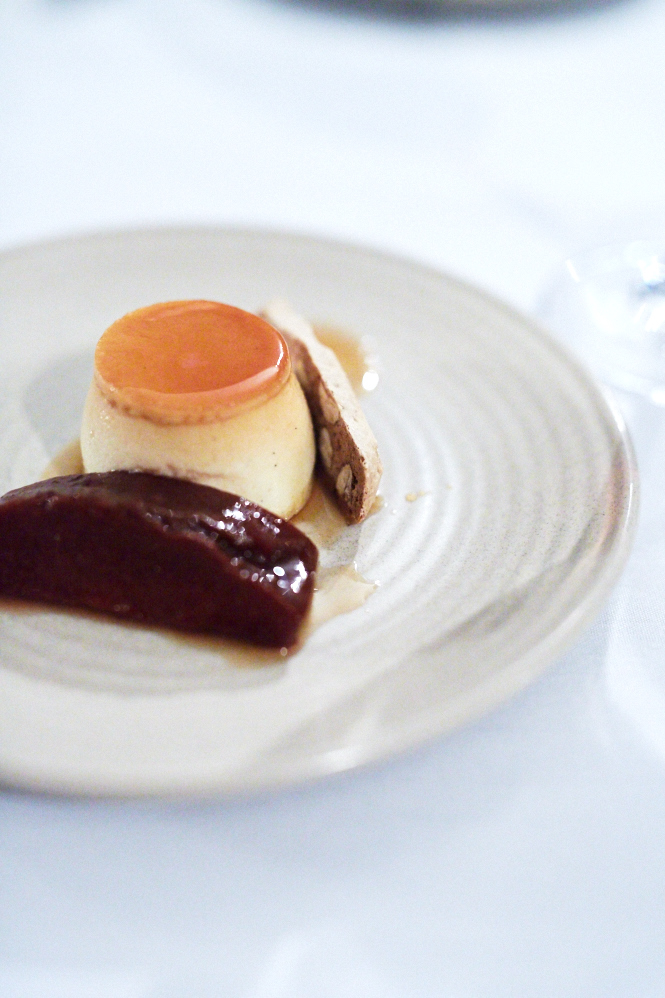 Panna Cotta at Stefano's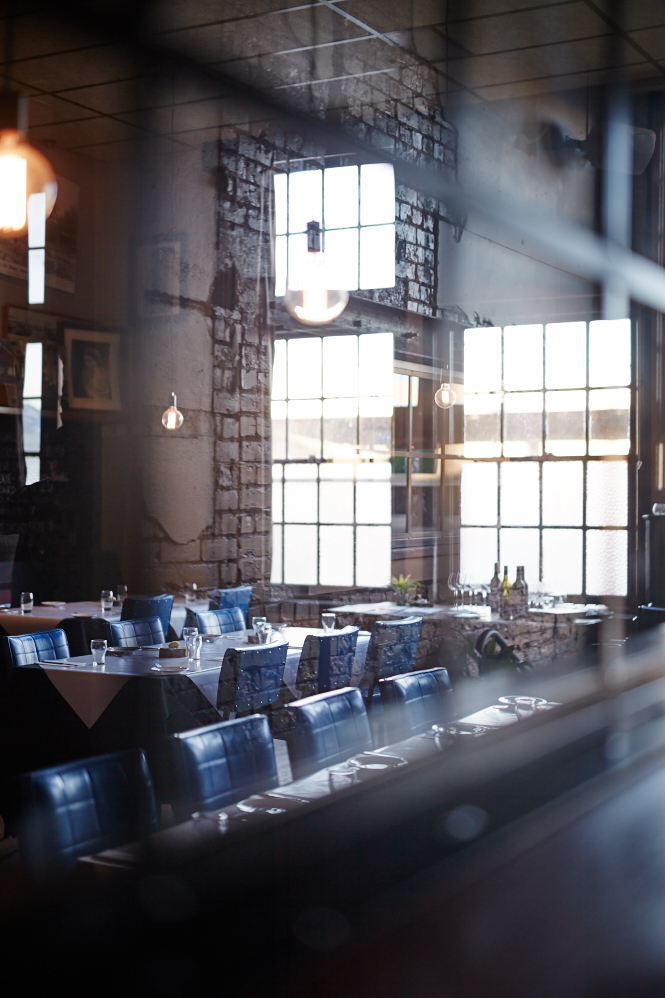 Dining Room at Black Stump Bistro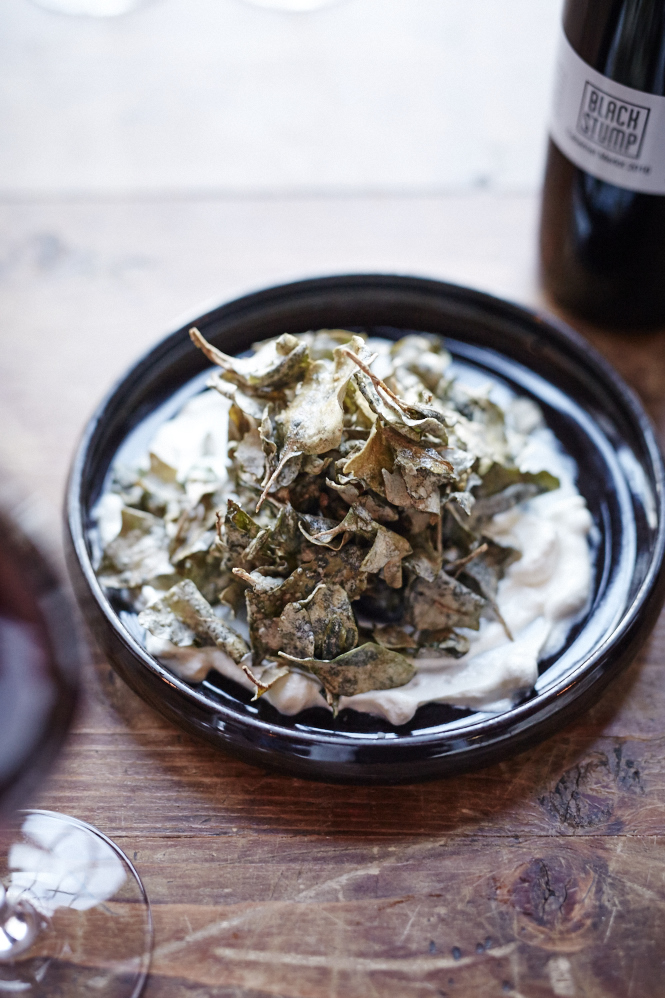 Saltbush with sour cream at Black Stump Bistro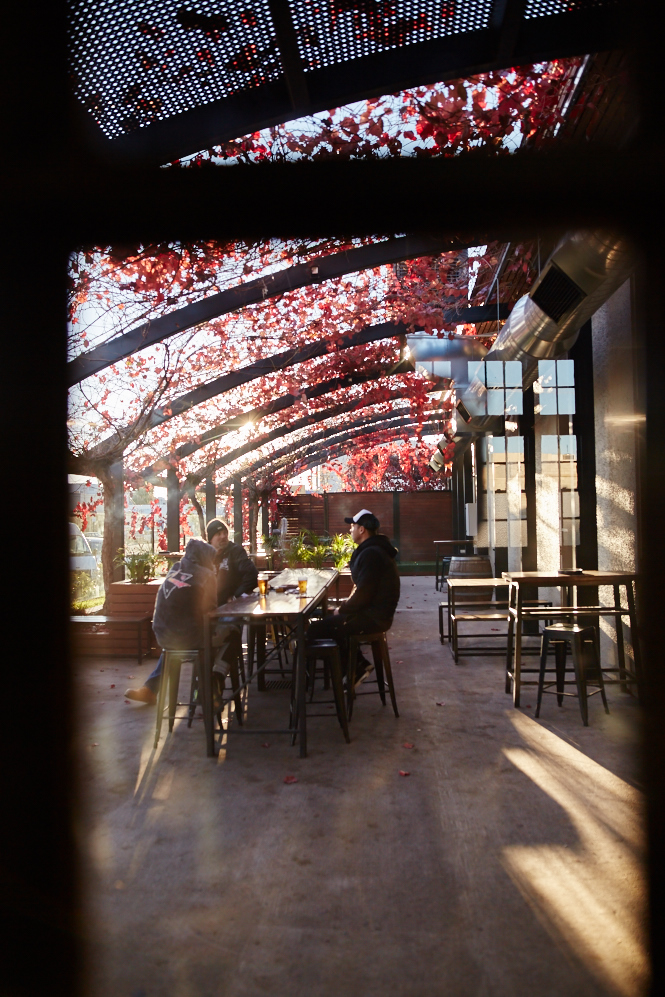 Black Stump outdoor area
Sunraysia Saturdays
If you are in town on the first or third Saturday of the month, be sure to check out the Sunraysia Farmers Market. An easy walk from the centre of town the market showcases vibrant, fresh produce from the regions' producers with a great community vibe.
We headed down nice and early to join the market along the Murray River. I spent my hour running between stalls stuffing my face with pizza rolls, minestrone soup by a lovely Italian lady, to scones and cakes from the talented Sarah's Petite Treats. A great market for fresh produce if you have an accommodation with a kitchen, or just swing down for a graze in the sunshine.
Another breakfast or lunch spot you can add to your Mildura radar is Blk Mlk Speciality Coffee. Mildura's first speciality coffee shop working exclusively with 5 Senses Coffee Roasters, there are also fine options for the non coffee drinker including Prana Chai and Mörk Hot Chocolate. Milk alternatives include full cream skim, almond, coconut, lactose free and soy. If they can't accommodate your coffee order, I'd be very surprised! Breakfast is available all day and lunch options are available at breakfast time; which I was very happy about as I inhaled my fried chicken burger. If it's a big bowl of vegetables you are craving, you can't go past the Caveman Salad.
Day tours with Discover Mildura are offered by husband and wife Phill and Alison Stone. Phill does the driving and Alison fills you in on everything you need to know. Locals through and through, Alison also bakes a special fruit cake to welcome her guests. In addition to food and wine tours around Mildura they also do day tours to Mungo National Park. This was a great way to get of out town to see Trentham Estate Winery, Murray River Salt and Varapodio Estate.

Sunraysia Farmers Market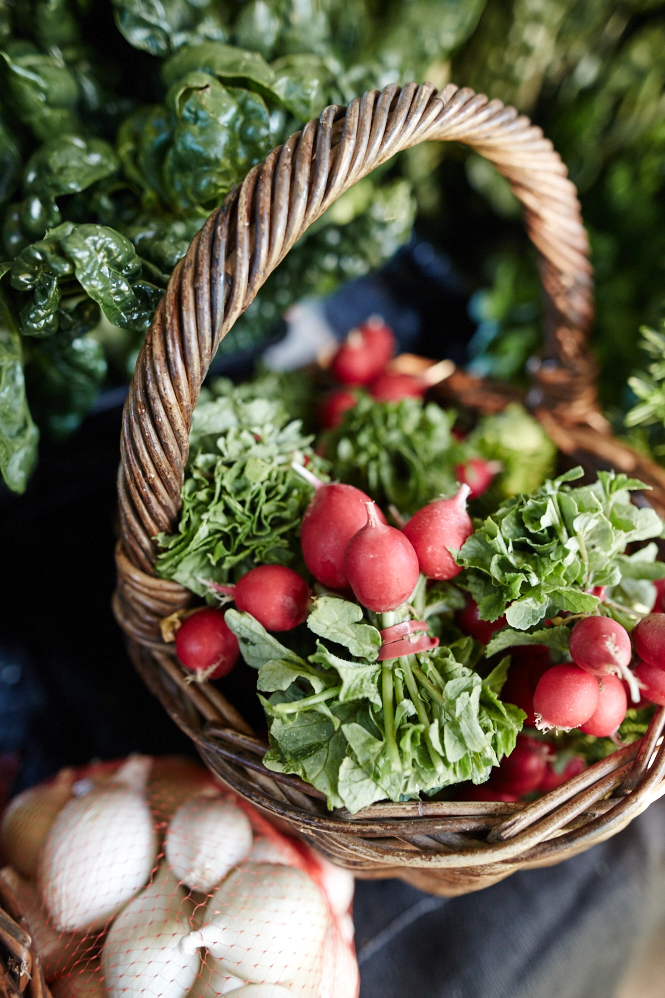 Sunraysia Farmers Market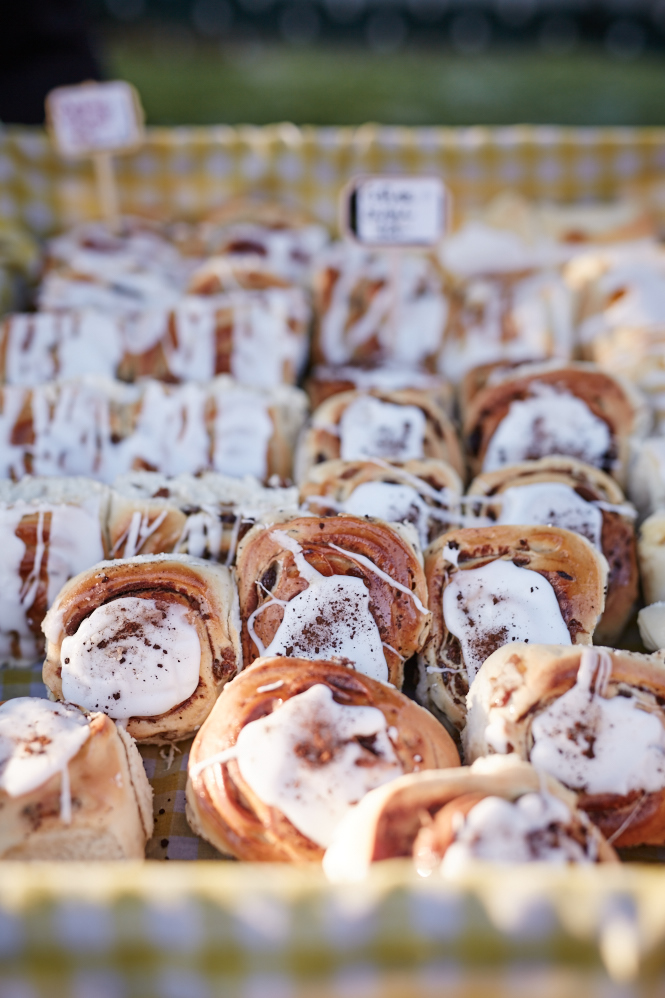 Sunraysia Farmers Market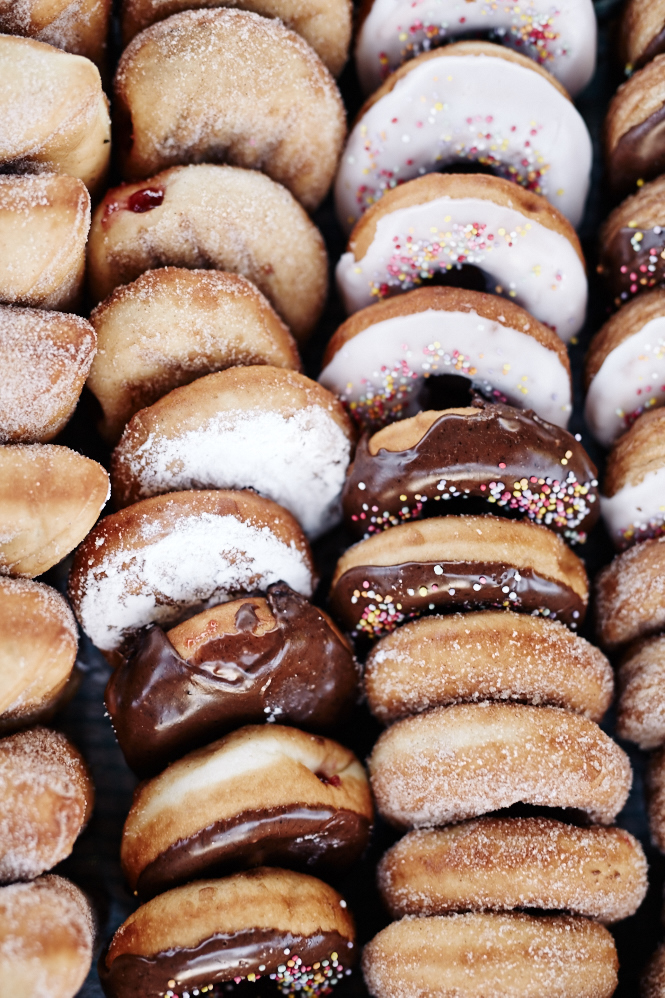 Sunraysia Farmers Market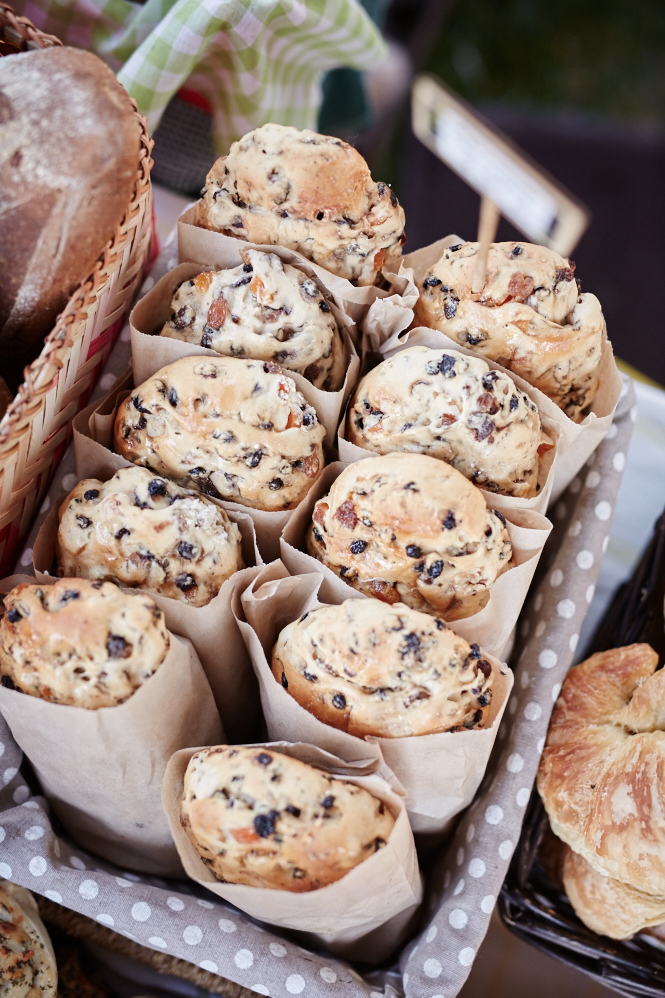 Sunraysia Farmers Market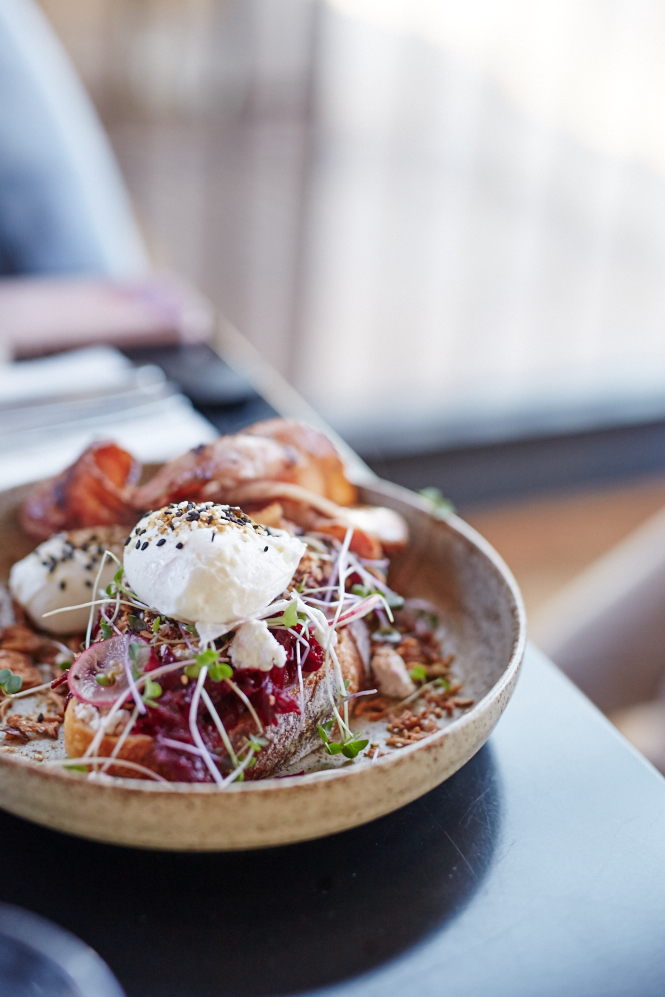 Breakfast at Blk Mlk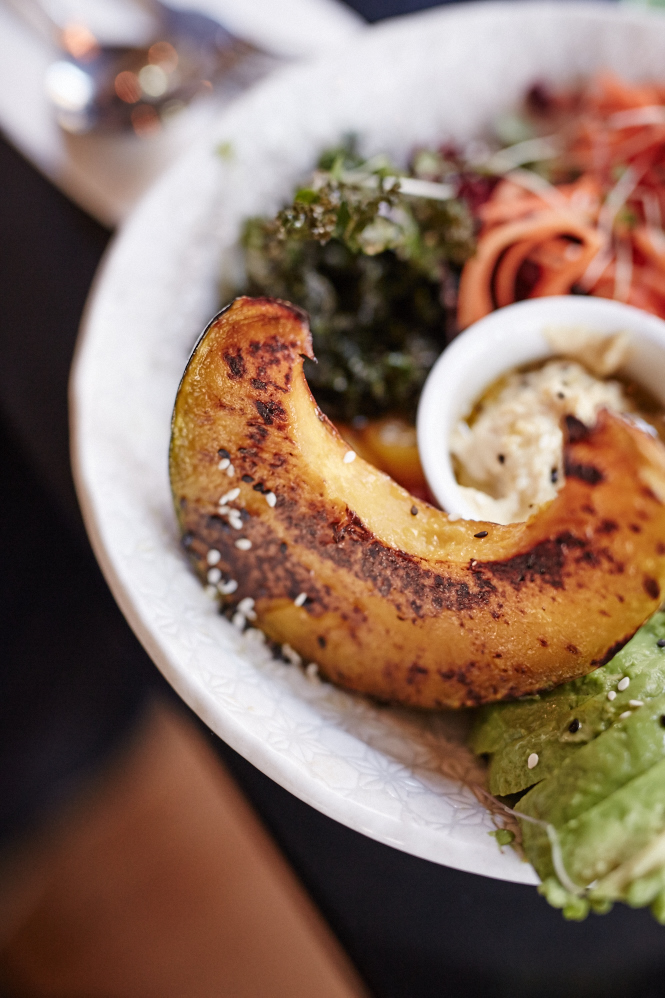 Blk Mlk – Caveman Bowl
Salty Goodness
Murray River Salt is well known for it's natural pink colour, and very palatable taste. Duncan has been mining salt for longer than I can remember, and in more recent time has been mining it within the Mourquong Mitigation Basin. They describe the provenance of their salt like this:
"This pristine saline water source has been trapped underground for many years and has not been exposed to the elements until it is pumped up for salt production. The pure mineralised brine travels through several canals before entering a crystallizer pond. The brine is then harvested and transported to Mildura where the salt flakes are packaged in a food grade environment."
Murray River Salt also houses the Mildura Chocolate Company within it's factory. The chocolate company was struggling to stand alone, so Murray River Salt built them a chocolate room within the factory. Mildura Chocolate Company is a branch of the Christie Centre, a not for profit Disability Support Organisation. They employ workers who have a disability, and the chocolate is exception. Do get your hands on the salted chocolate, a collaboration between the two companies.
We were treated to a visit around the lakes where the salt is mined, not something you'd be able to get to yourself I'm afraid. It's a unique and amazing scene, and the mountains of salt take me back to my time in Arctic Scandinavia in the Winter time. There are many health benefits to being around such large quantities of salt, and our lungs felt so clean after our brief visit. Murray River Salt is a product I proudly use at home, so it was very humbling to be at the site where it comes from.
Varapodio Estate is a family owned and operated olive grove. Joe is one passionate man about olive oil, he even invented one with an array of herbs just so it was an easy salad dressing to drizzle. His wife Donna sure can talk fast, as she explains the that there is 3500 trees and 7 varieties of olives on the property. She explains how they trim the trees each year and walks you through the olive oil making process. There is an extensive range of olive oils, olives and salad dressings to try inside, or sit back with a cuppa in the cafe.
Trentham Estate is another key destination for most people when travelling to the region. A family owned winery on the banks of the Murray River, Trentham Estate offers picturesque views for lovely alfresco dining. There is also a dining room located inside for those colder days when you just want to enjoy a comforting hot meal with a big glass of Shiraz. Tasting platters are a great way to have a light lunch with friends, whilst enjoying the wines and the view. The baked goat's cheese tart is not to be missed, as well as the house made focaccia with dukkah.
You can easily have a nice break in Mildura without a hire car. You can just get a taxi from the airport into town, and everything is within walking distance. If you are staying out of town, a car might be necessary, and if you wish to venture to Robinvale and Swan Hill, you'll definitely need a car, or hire a limo! We were transported around after leaving Mildura by Mildura Limousines. Husband and Wife duo Miranda and Vince are lovely souls and made our journey enjoyable and comfortable.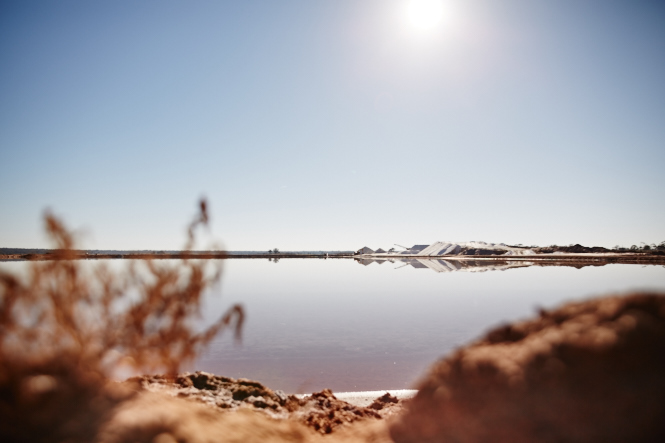 One of the salt lakes where they mine for Murray River Salt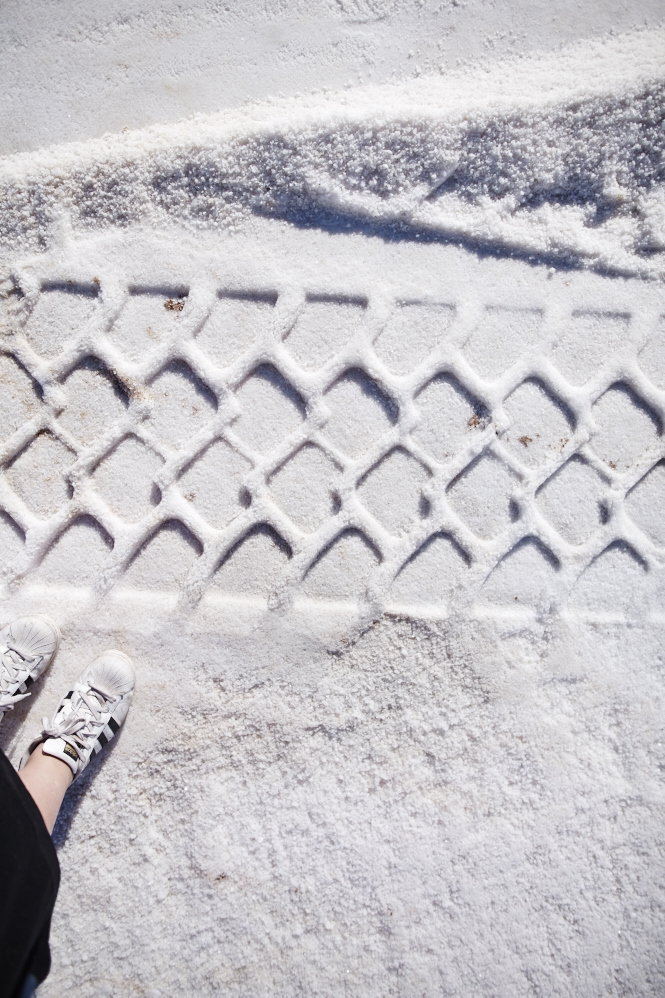 Murray River Salt Site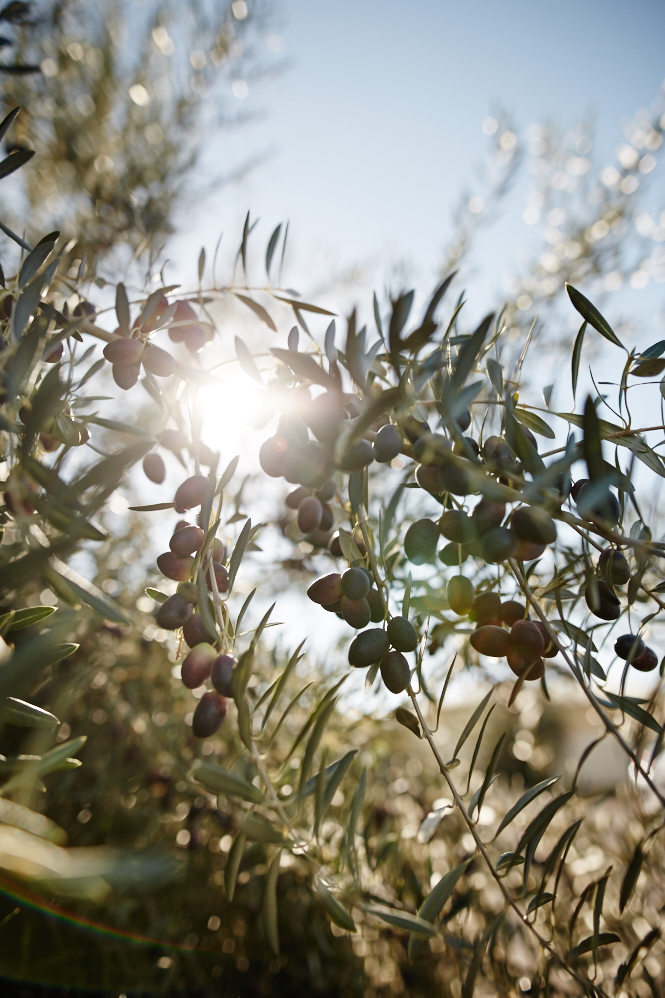 Varapodio Estate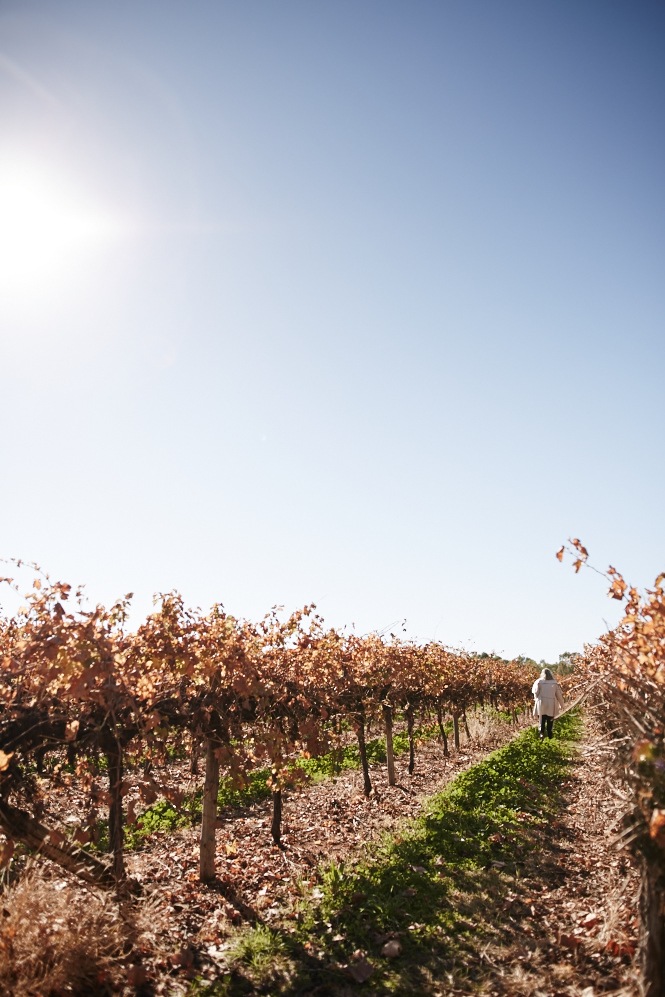 Trentham Estate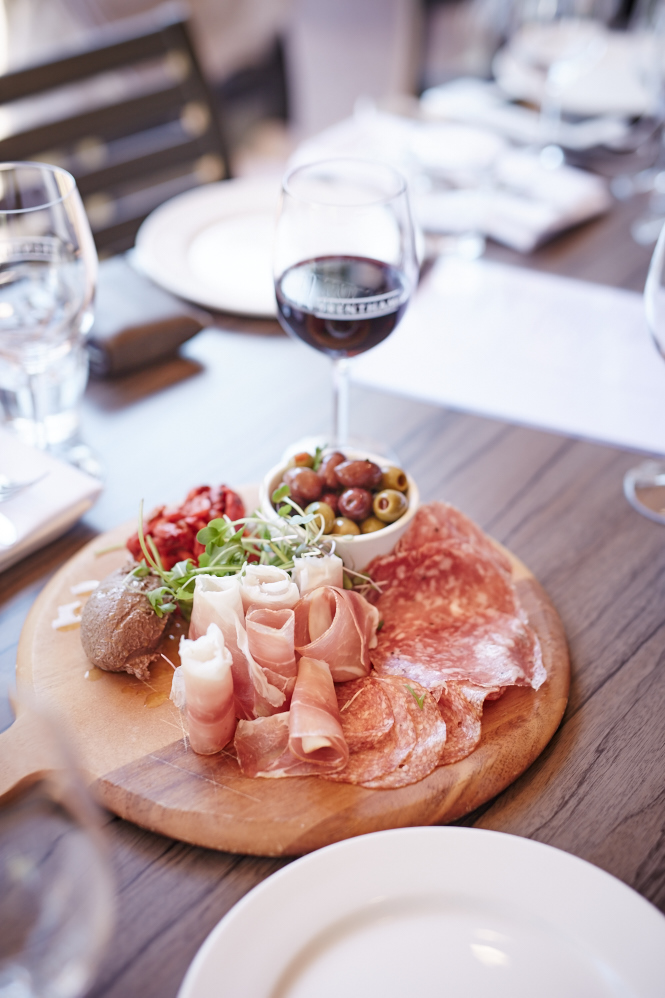 Trentham Estate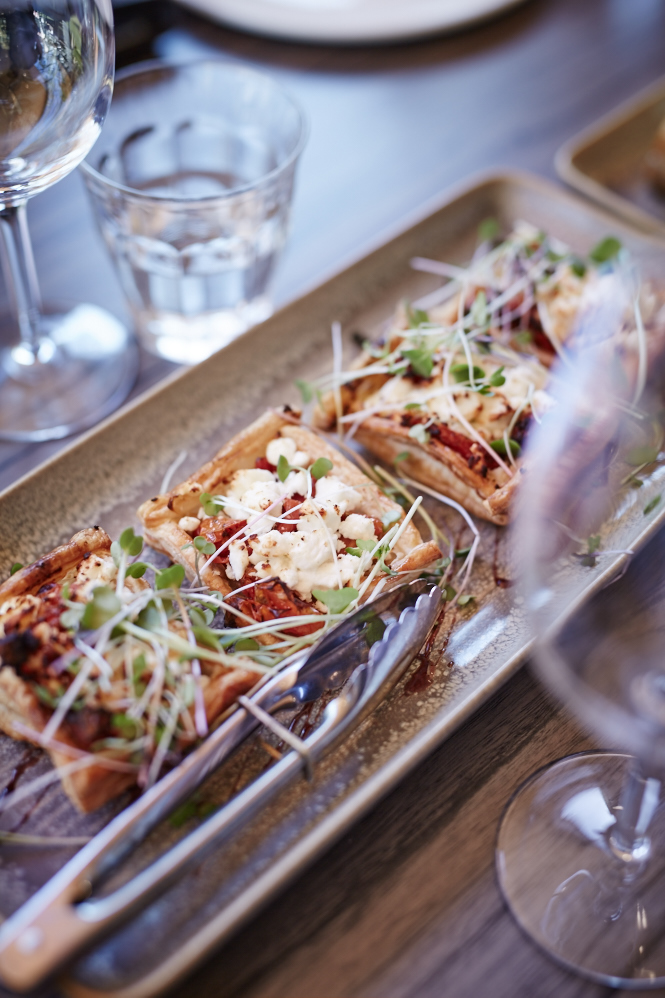 Trentham Estate
Rolling Into Robinvale
The drive from Mildura to Swan Hill is roughly 2.5 hours. If you stop halfway at town called Robinvale, you'll be able to have a bite to eat and try a few wines too!
Loft 13 is a great spot to fill your rumbling tummy. Their food philosophy is, "Respect your food and it will respect you. Think about it. If you respect food, treat it well, with fresh complimentary flavours and prepare it well, then it will respect you and nourish your body the way our food is supposed to."
They cater to dietary choices such as vegan, raw, gluten free, and sugar free. The menu consists of a great range of burgers, sandwiches and wraps, salads and an impressive selection of desserts. Dirty Bird Burger is my top pick!
Robinvale Wines is a short drive down the road from Loft 13, a family run and owned Certified Organic and Bio-Dynamic winery and vineyard. They were one of the first Australian wineries to be fully accredited with the Bio-Dynamic Research Institute of Australia. At Robinvale Wines you can enjoy a large range of wines, juices, dried fruits and non-alcoholic wines. Robinvale are highly awarded for their wines, including the 'Kerner' which was a favourite with us. Kerner's origins are a German crossing of Riesling and Trollinger grapes. This delightful wine is a lively, fresh and fruity dry white. It highlights citrus and tropical fruits, with notes of kiwifruit and confectionery lemon sherbet, finishing with a crisp clean acidity.
Their non alcoholic drinks are also worth trying especially if you are the designated driver. The family are lovely, full of smiles as they welcome you into their winery.
We were lucky enough to visit Robinvale Estate, a family owned and operated grove that occupies 220 acres of olives just south of Robinvale. The olive oil press is not open to the general public, but you can buy their award winning olive oils, caramelised balsamic vinegars and dressings online or in local provedores and at the local markets. One of the brains behind Robinvale Estate, Kim Natale, is also the name behind Granoats with Liv & Luv Gourmet Foods. You may well spot her goodies while travelling around the Murray River region.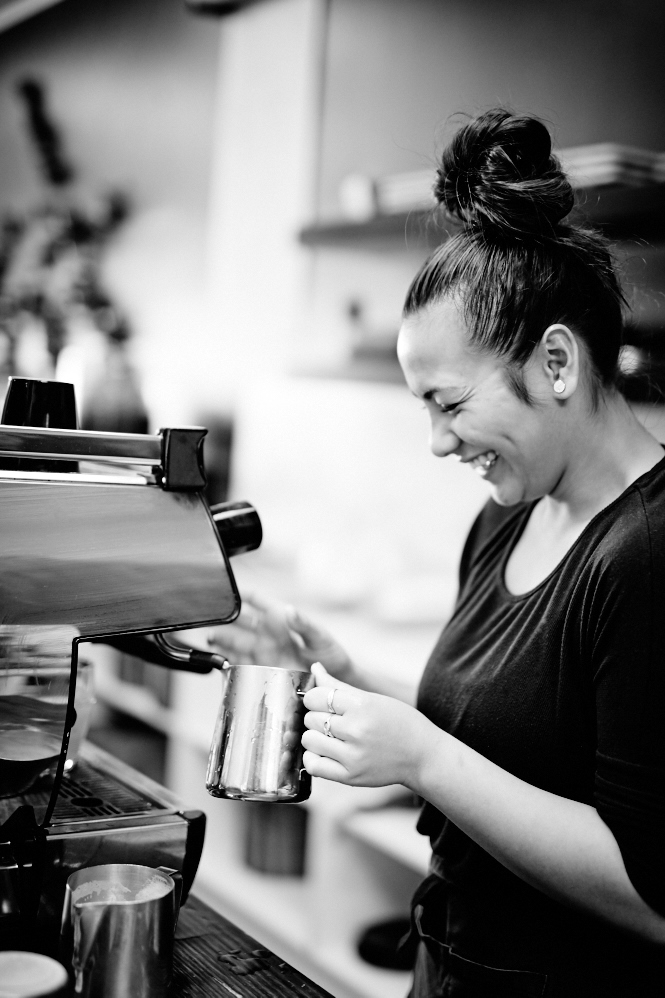 Loft 13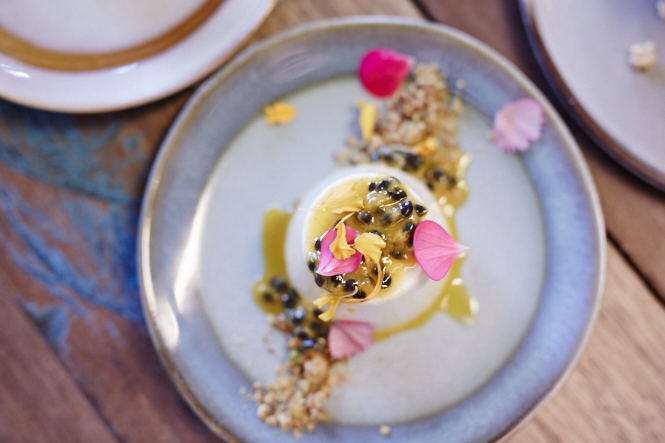 Dessert at Loft 13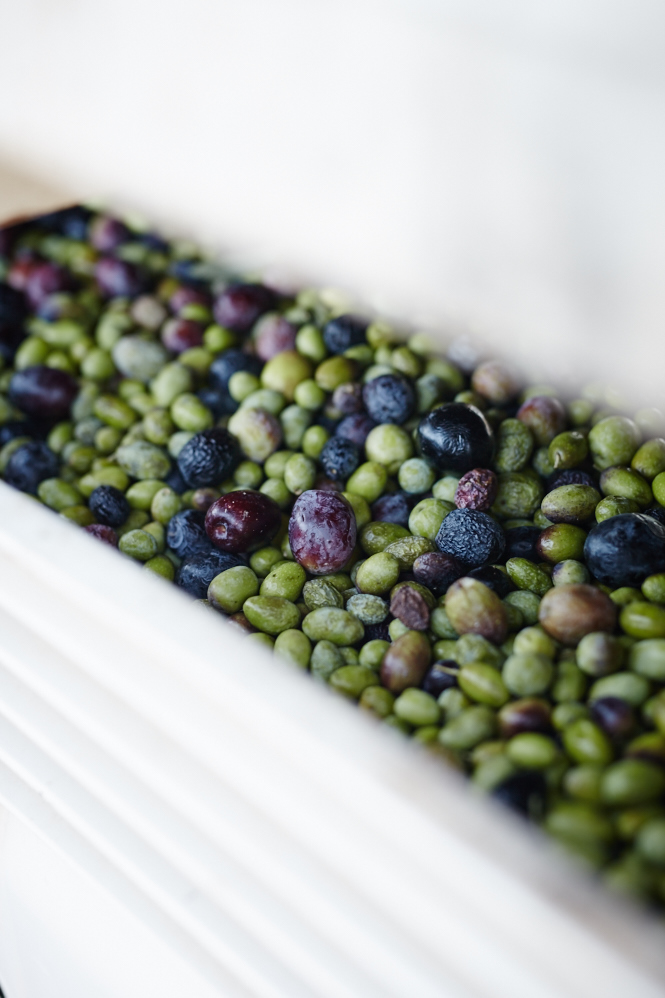 Olives ready for pressing at Robinvale Estate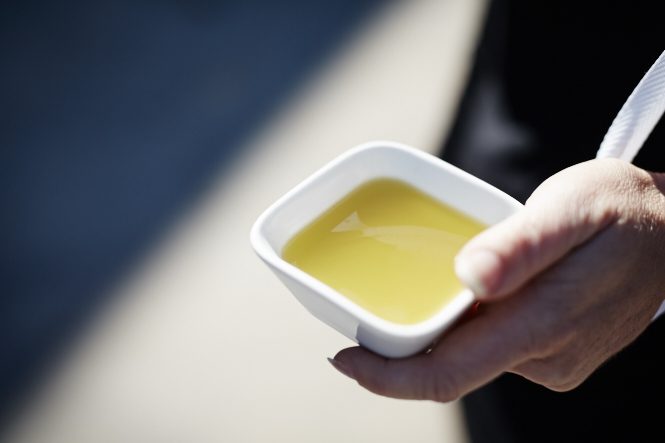 Freshly pressed olive oil at Robinvale Estate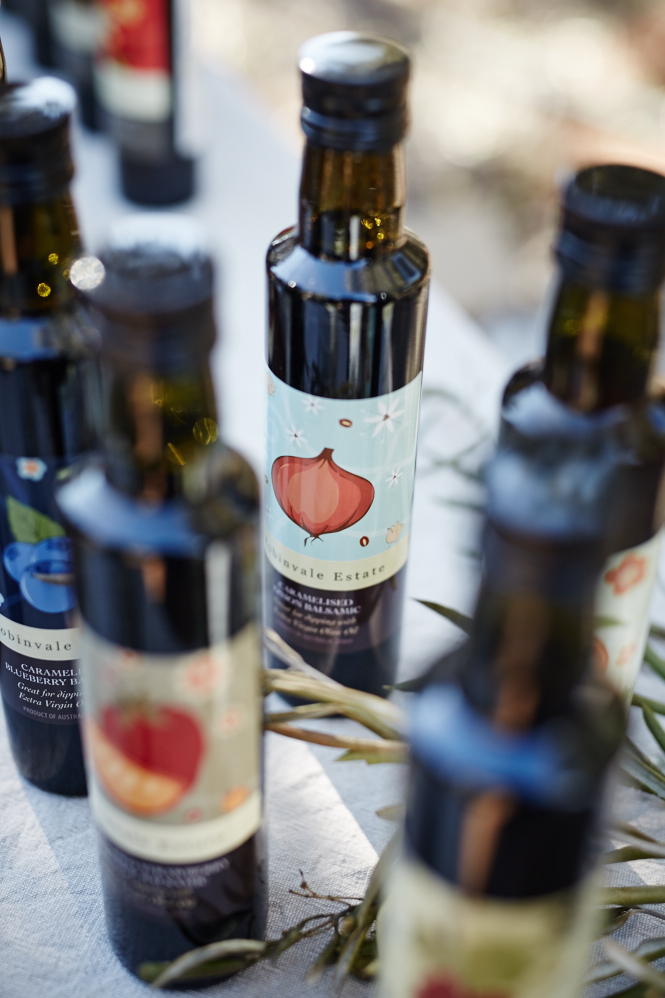 Award winning oils, vinegars and dressings at Robinvale Estate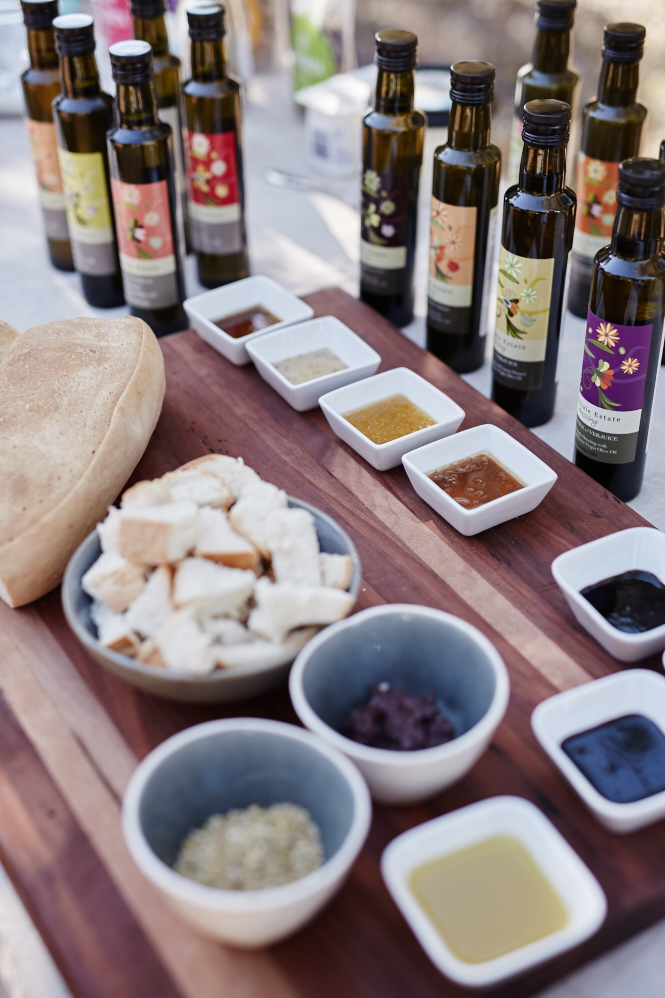 Award winning oils, vinegars and dressings at Robinvale Estate
Savouring Swan Hill
As you get closer to the town centre of Swan Hill you'll pass Andrew Peace Wines, a family run winery with a strong export market. This is the only vineyard left in the Swan Hill region that makes their own wine. Sagranentino is the flagship drop, a punchy and deeply tannic wine that only a handful of vineyards in Australia have explored in depth. Andrew Peace Wines also produce thousands of cases of Kosher wines each year, all properly supervised according to the kosher tradition. The one wine we all left surprised about was the coffee infused red wine Cafe de Cabernet. Infused with Columbian coffee, it works strangely well with the red wine. Well worth a trip to taste this one!
When you roll into Swan Hill, it will be time to relax even more. Enjoy a cruise aboard the PS Pyap as it winds its way along this mighty river. The hour-long cruise departs from the wharf at the Pioneer Settlement and travels up river past the historic Murray Downs Homestead. You'll be able to kick back and listen as the captain narrates the riverboat history, explains the influence this form of transport had on early settlement along the river and highlights features of the natural environment.
Take a walk back in time at the Pioneer Settlement. Take a horse and carriage ride around the town, or take a tour by vintage car. Pop in to see what dentists looked like back in the day, and check out the old fashioned lolly shop. I highly recommend coming back at night for the Heartbeat of the Murray light and laser show. A recent winner of the International Laser Design Association's prestigious award for multi-media shows, and set on the banks of the Little Murray River, the world-class Heartbeat of the Murray is a 360-degree multi-media spectacular unlike anything ever seen in Australia.
Using water, light, laser, sound and special effects to tell the story of the Murray, you are transported back 30 million years, before travelling forward through time to the Murray River as we know it today. This state-of-the-art show is the first of its kind in the world to use a natural river environment and setting as the background. The Heartbeat of the Murray laser light show has been made possible thanks to funding from the Federal and State governments, and Swan Hill Rural City Council.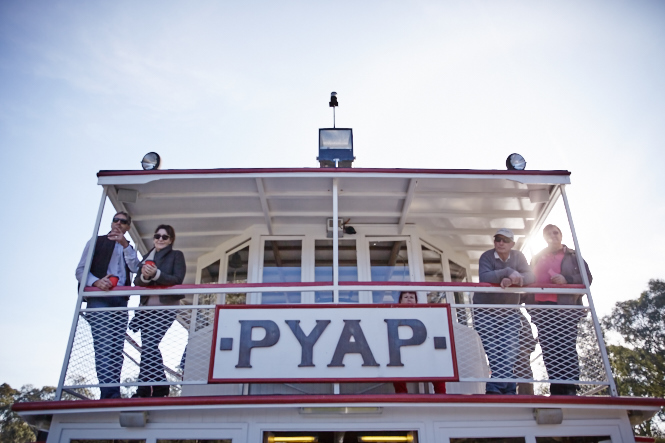 PS Pyap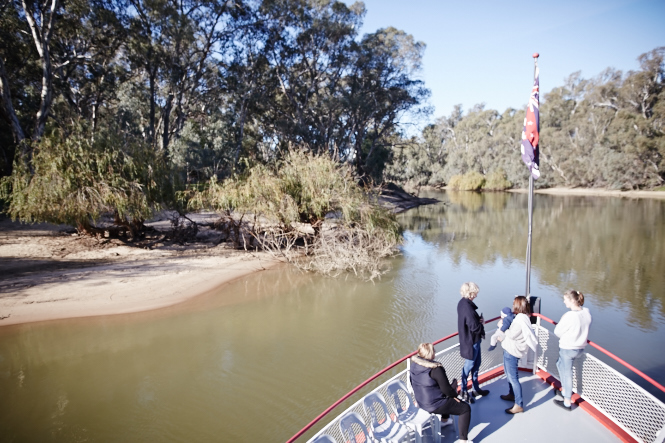 Onboard the PS Pyap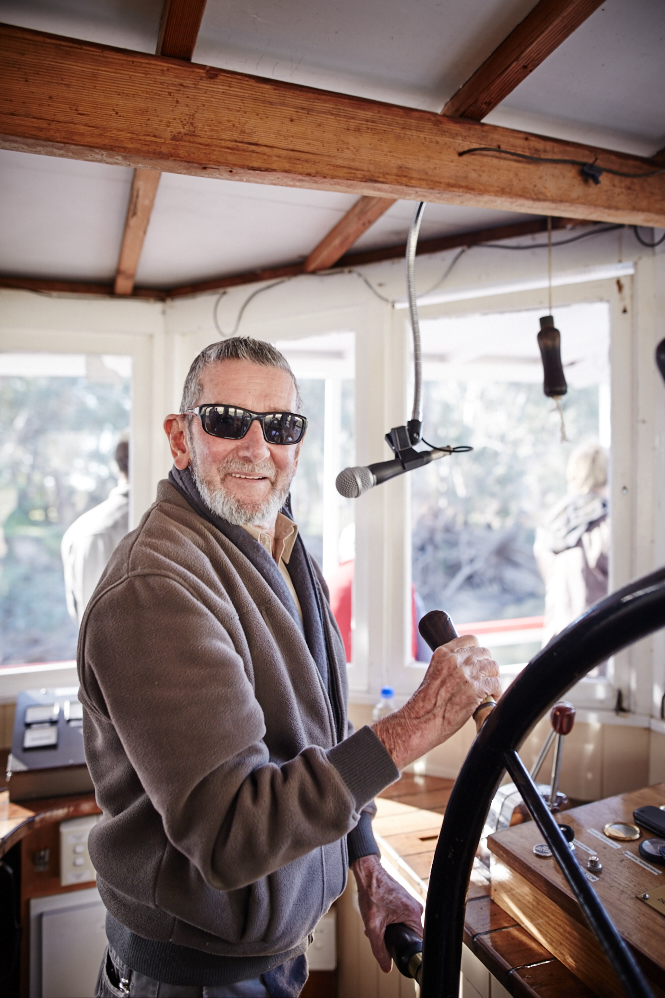 Onboard the PS Pyap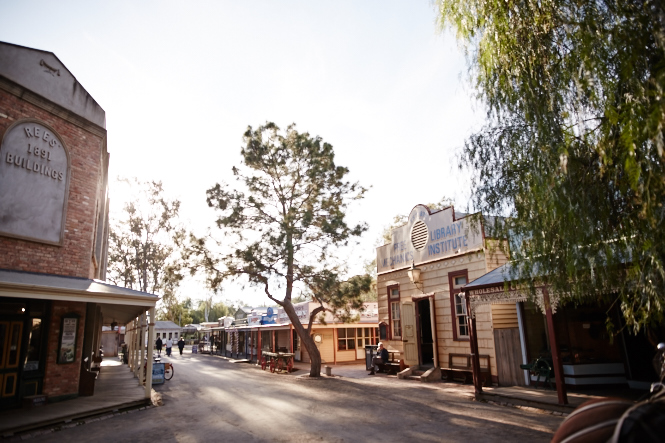 Pioneer Settlement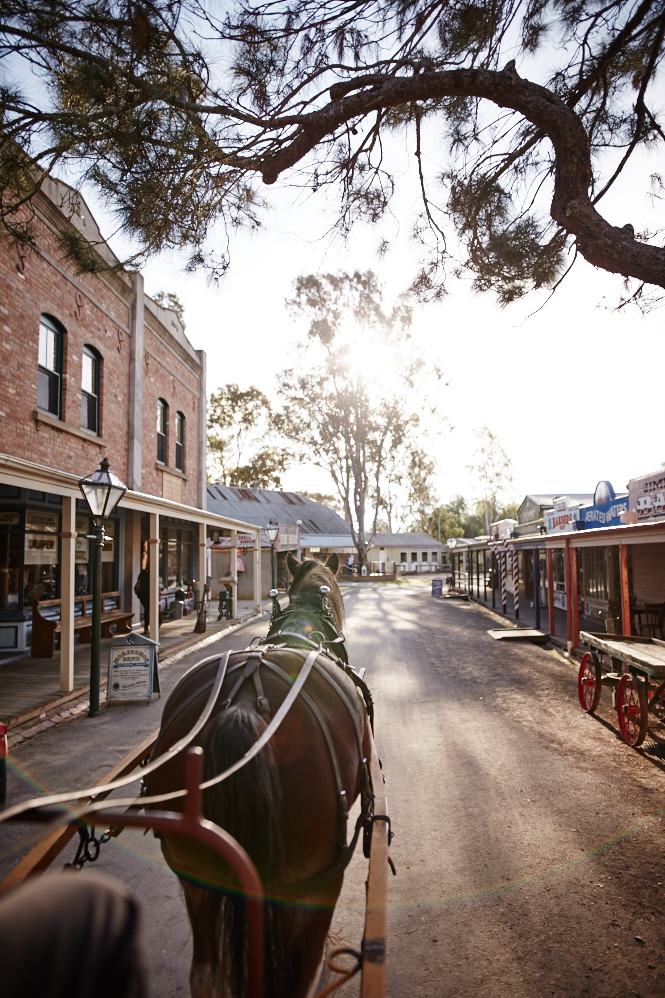 Horse and carriage ride through the Pioneer Settlement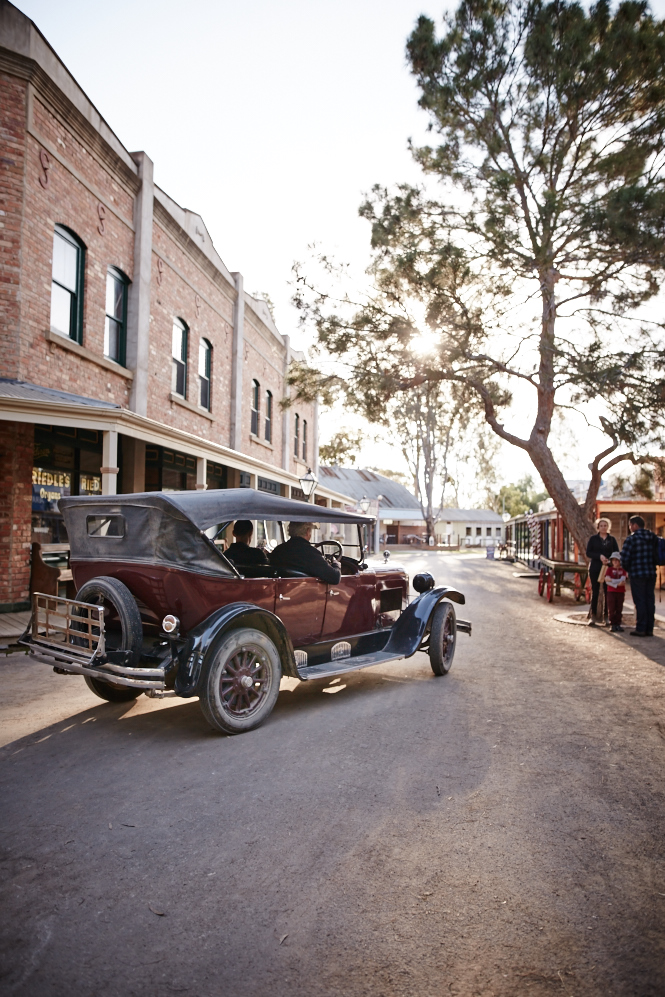 Vintage car ride through the Pioneer Settlement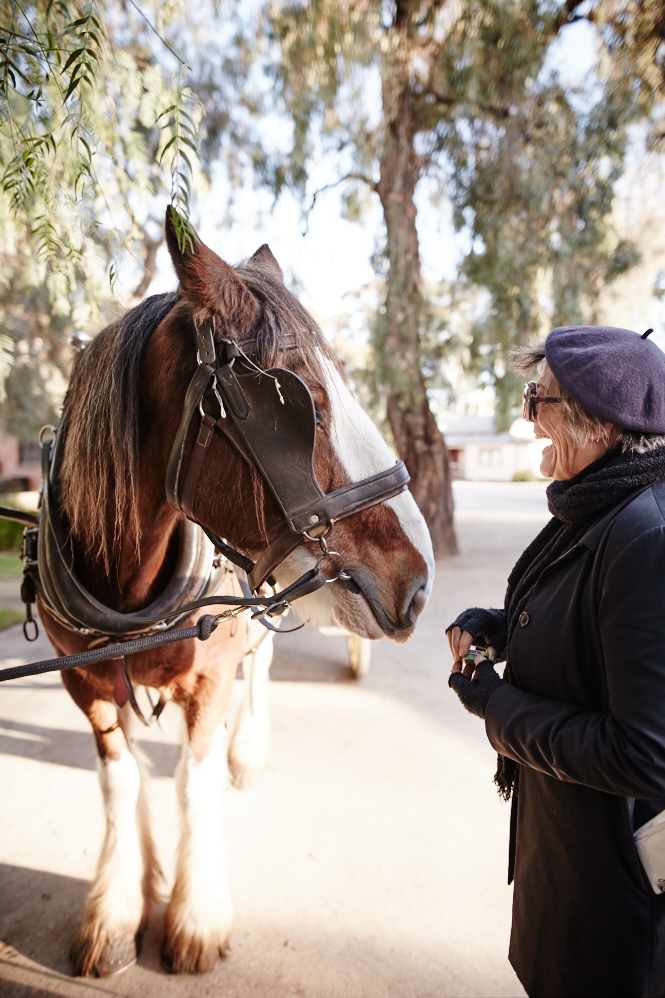 Pioneer Settlement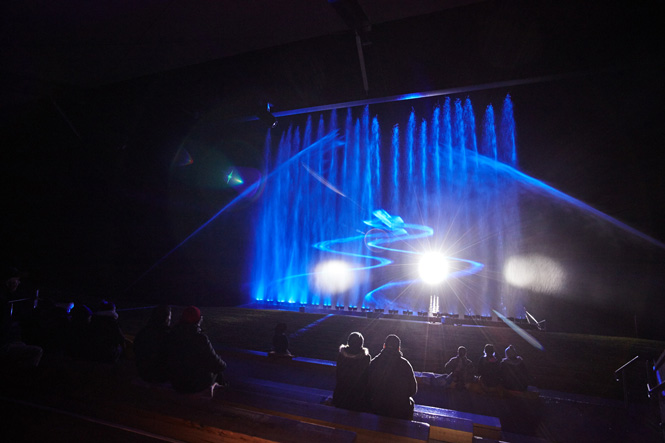 Heartbeat of The Murray Light Show (Photo by Ewen Bell)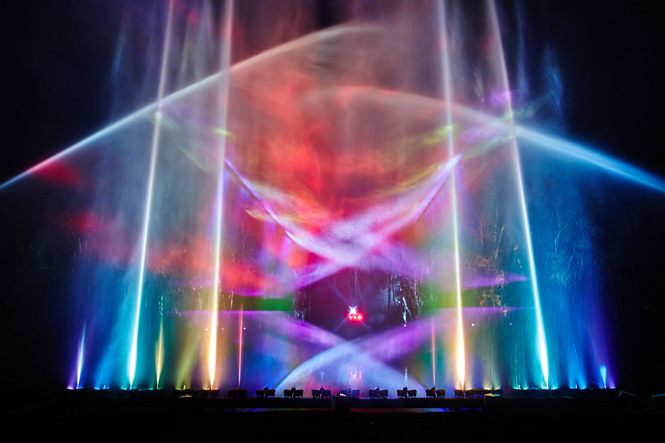 Heartbeat of The Murray Light Show (Photo by Ewen Bell)
Spice It Up
When in Swan Hill, you'll need to eat of course! Dinner at Java Spice exceeded my expectations. After sitting down with one of the owners Pete for nearly 3 hours, I left with my heart full and my belly full.
As soon as you enter the archway of Java Spice, you a transported to South East Asia. There are straw huts and an abundance of bamboo, palms and herbs. We listened to the journey of how Java Spice came to be, including the buildings that are the restaurant being dismantled in Indonesia to being reassembled in Swan Hill, with all the instructions in Indonesian. Pete, who is fluent in Indonesian, had to instruct the builder what parts went where.
Pete and Trish are all about looking after their staff. We share very similar philosophies; that look after your staff, and they will look after you. There a some staff members who have been with Java Spice since it first opened. Our chat with Pete made me really want to tell his story. You can just tell how happy the staff are when you dine at Java Spice. The kitchen team are happy, the floor staff are happy. They open the doors for lunch, even though they don't make a huge profit from the service, but it's a chance for the staff members who can't work evenings to get employment and support their families. The restaurant won't accept extra diners in the dining room if they don't have enough staff to make sure that table will be looked after to a certain standard.
The restaurant is closed on a Monday, so that the staff have a chance to hang out with each other if they so choose to, which has been great for them as a community. The kitchen staff are all to be treated on the same level, no hierarchy to cause unnecessary problems. All of this and more just made my heart happy, to know there are looking after the staff so well. I wanted to work there after hearing about it all!
The food at Java Spice was really surprising. Having driven all over a good portion of Australia with my parents growing up, we have had some shocking Asian food in country towns. Java Spice delivers the flavours and variety though. Don't be mislead by the steak, schnitzel or fish and chips on the menu. These items are on there just to keep the more traditional Australians happy when they come out to dinner, while the rest of the family can go hard on real Asian flavours. This may also explain why Java Spice are no longer in the Good Food Guide, but they are more interested keeping the locals happy than appearing in a publication. The stuffed chicken wings are a must and be sure to save room for dessert menu.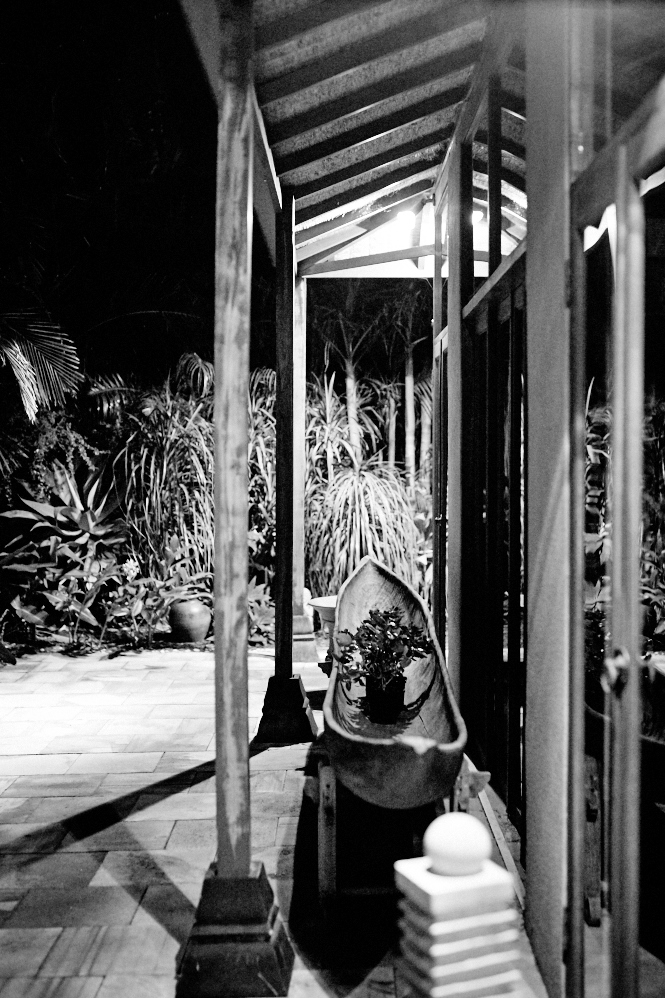 Extra Eats
Spoons Riverside is one of the most picturesque locations to enjoy a bite to eat in Swan Hill, especially in daylight hours. Positioned between the award winning Pioneer Settlement and the Swan Hill Regional Art Gallery, Spoons Riverside offers diners the opportunity to enjoy local, seasonal produce from the surrounding Murray-Mallee region, cooked and presented in a modern Australian style. Outdoor seating on the decking lets you dine under the River Red Gums and enjoy the sunshine and fresh air within sight of the PS Pyap. The lunch menu is casual while dinner time goes up a notch. The smoked lamb with deep-fried salt bush is the standout here.
Another gem is a cafe in the main part of town called Boo's Place, owned by local chef Rebecca Hart. Not just a cafe but also a provedore showing casing some of the region's finest produce. Pop in for breakfast, lunch or a sweet treat, all created using seasonal produce from the Mallee and Swan Hill region. There is a strong paddock to plate menu, and it is fresh and ever changing. Don't forget to check out the specials board where you might find some waffles!
The final tip for travellers heading to Swan Hill is the Sunday farmers market. It's very small but full of highlights. Fresh doughnuts made on site, freshly squeezed orange juice, egg & bacon rolls, an insanely popular bread van and an impressive range of seasonal veggies. A stall overflowing with vintage preserves is perhaps the pick of the crop, a wonderful example of how much amazing joy can be pulled from backyard trees in your neighbourhood. Sue makes everything from fig chutney to plum jam to spicy strawberry sauce.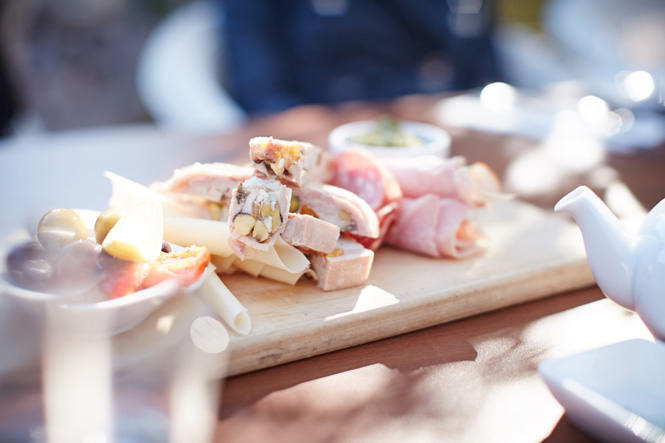 Spoons Riverside Restaurant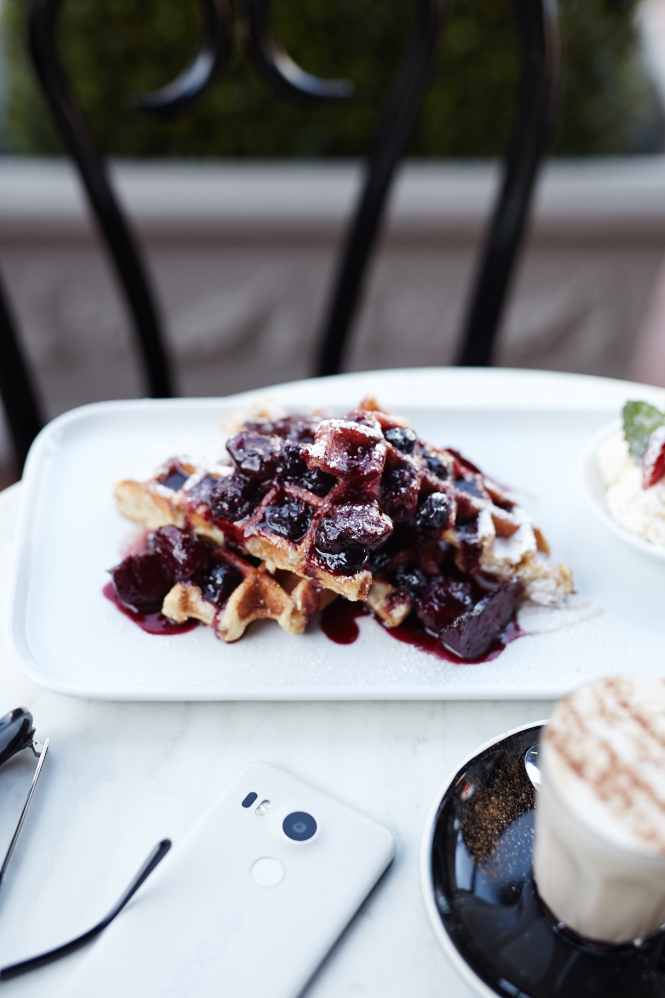 Waffles at Boo's Place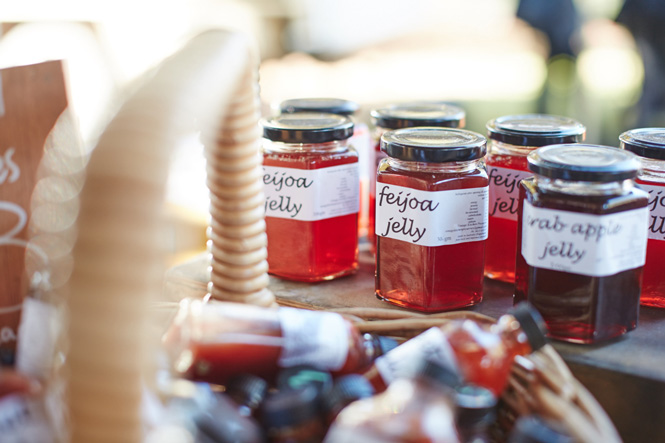 Swan Hill Farmers Market (Photo by Ewen Bell)
Iron Chef Shellie was hosted by Murray Regional Tourism.
Shellie stayed at Indulge Apartments on Langtree in Mildura and the Ibis Styles in Swan Hill as a guest.