Savoury Cheese Tartlets with Roasted Aussie Grapes
Let's talk about grapes.
What's your favourite colour of grape?
Do you prefer your grapes to be seedless, or do you curse every time you accidentally buy grapes with seeds.
Do you like them hot or cold?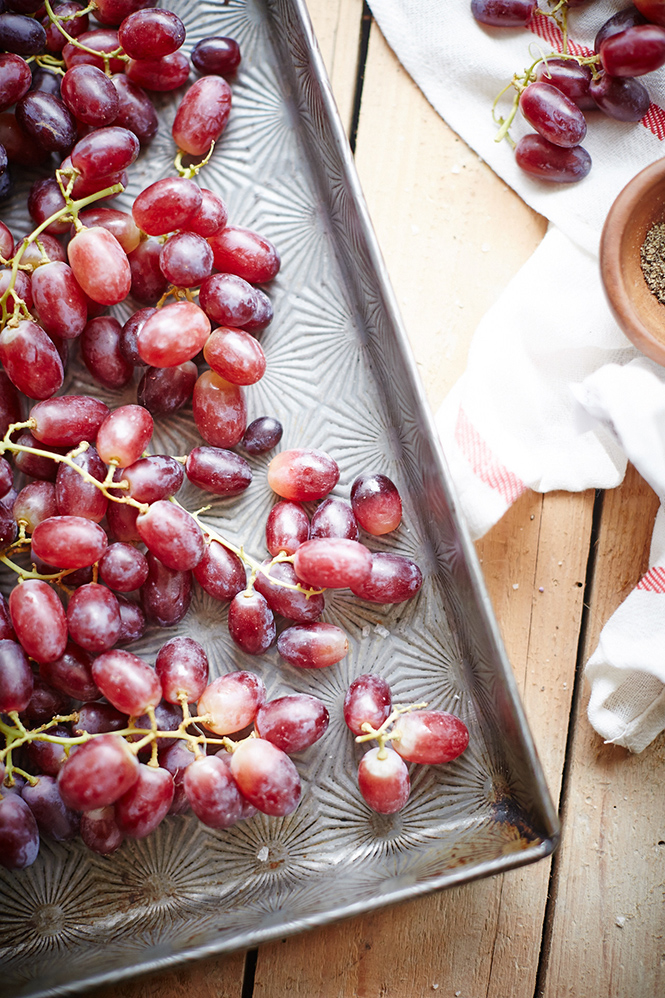 I've never really cooked with grapes, I've only ever enjoyed the fresh. I usually prefer my grapes cold, crunchy and straight out of the fridge. Some people enjoy the frozen, or just at room temperature; but for me cold, especially in the heat of Summer is where it's at.
Grapes are such a great snack to have lying around; perfect for lunch boxes, and a small natural sugar hit. I'd usually pack a small bunch for work to keep me going, instead of raiding the tempting cookie jar.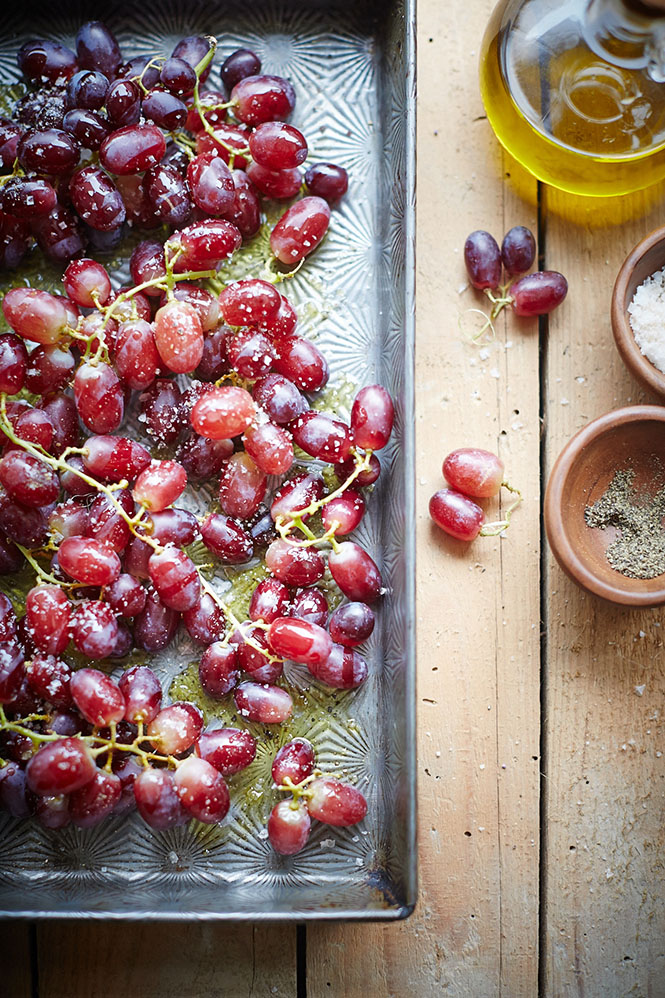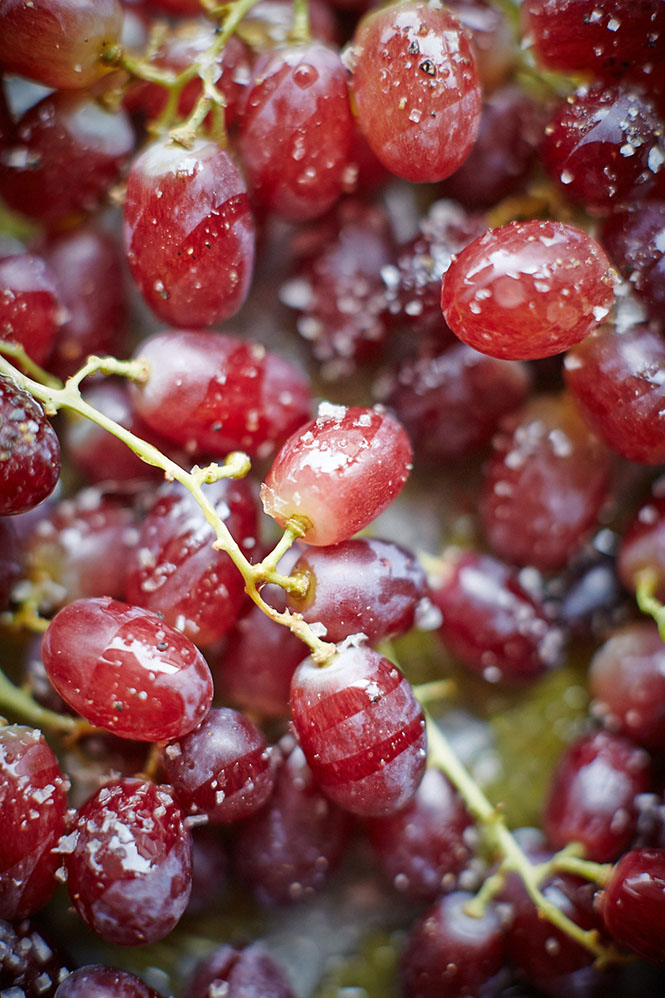 I wanted to make a tart with grapes, but I wasn't too sure if I would go down the sweet or savoury route. My head said sweet, but my heart said savoury.
I saw a recipe that used roasted grapes, which confirmed my choice of savoury tart. It seemed like a simple way to cook grapes, whilst maintaining how pretty they looked on their stalks. Roasted grapes would also be great in a cous cous salad, or to accompany your next Sunday roast. A little burst of sweetness is always welcome.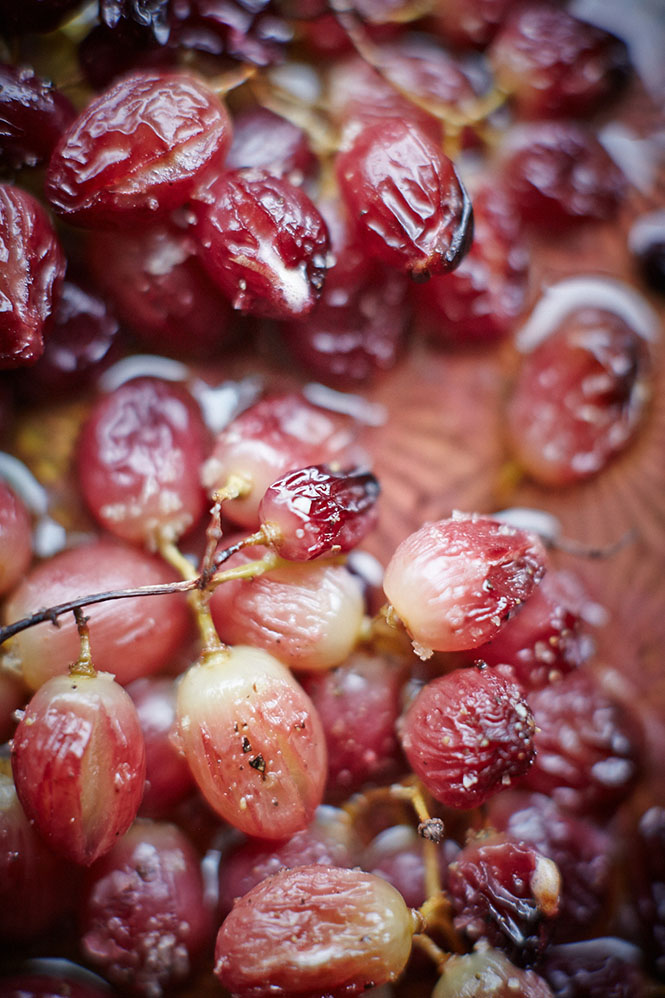 This recipe could also use goats cheese, but I know not everyone is a fan. I decided to go with my favourite, cream cheese. Paired with my favourite, and easy to make parmesan shortcrust pastry, the sweetness of the roasted grapes really makes this dish sing. The grapes are the hero. Not only do they look pretty, but without them, this dish would just be cheese on cheese action… not that there is anything wrong with that!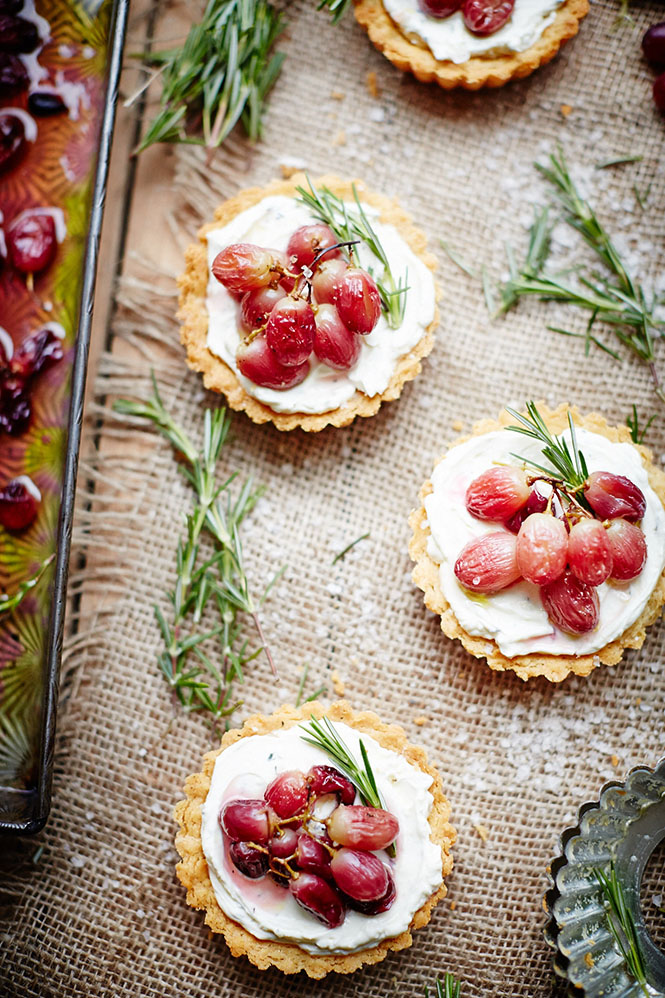 ♥
Help raise awareness about heart health and help support Heartkids Australia by snapping a #CaesarSelfie
Eight babies are born with a heart defect everyday in Australia. Australian Grapes are proudly supporting HeartKids Australia, a charity dedicated to providing support to those with childhood heart disease and their families by providing social and financial support. Raise your grapes and get involved by taking a #CAESARSELFIE to promote heart health and help raise funds for HeartKids Australia. Did you know that Table Grapes are one of nature's super foods and are great for your heart!

• Grapes are rich in phytonutrients, such as resveratrol, quercetin and cetechin. These antioxidants are conducive to positive heart health.

• Australian Table Grapes are rich in vitamin C and are a good source of B6, potassium, copper, iron, phosphorous and thiamine. The skins and seeds are also high in magnesium and dietary fibre. Get behind this great cause. Selfie angles and grapes at the ready!
How to take a #CaesarSelfie
SNAP a selfie with a bunch of Aussie Grapes. TAG #CAESARSELFIE #GRAPESFORHEARTS #HEARTKIDS and SHARE on your Facebook or Instagram.
SUMMON 3 of your friends to snap their own #CAESARSELFIE by tagging them in your photo. Visit our Everyday Hero page for all the information – everydayhero.com.au/event/caesarselfie2015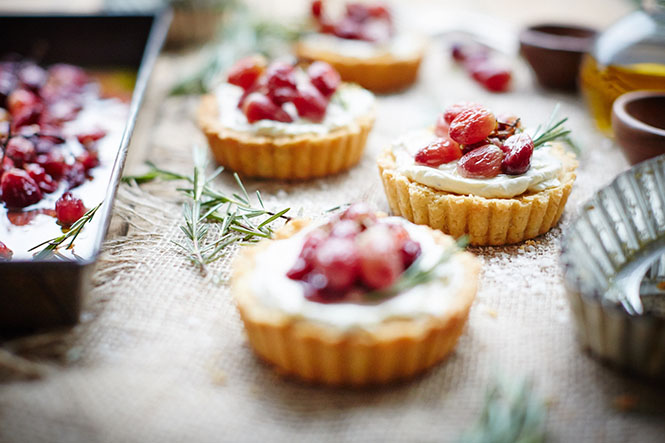 Savoury Cheese Tartlets with Roasted Grapes
Print Recipe
Ingredients
Parmesan Cheese Pastry
6 tbsp unsalted butter
1 tbsp vegetable oil
3 tbsp water
1/8 tsp salt
1 cup plain flour
1/4 cup parmesan cheese shredded
1/4 tsp black pepper
Cream Cheese Filling
1/2 clove garlic
1 tablespoon fresh rosemary
250 g cream cheese / goats cheese
1 tbsp olive oil
2 tsp fresh lemon juice
A few tbsp of water
Salt and pepper to taste
Roasted Grapes
500 g seedless red grapes
1 tablespoon olive oil
Salt and pepper
Instructions
Parmesan Cheese Pastry
Preheat the oven to 210ºC (190ºC fan-forced).

In a medium size oven-proof bowl or dish, add the butter, oil, water, and salt; place in the oven for 15 minutes.

Carefully remove the bowl from the oven with oven mitts. It will be sizzling and splattering, so be very careful! Place the bowl onto the kitchen bench with a tea towel or pot holder underneath.

In a separate bowl, mix the flour, parmesan cheese, and black pepper.

Slowly stir the flour mixture into the hot butter. It is important to still be cautious of the hot butter, it may still pop when you add the first bit of flour. Also, remember that the bowl is very hot, so wearing oven mitts while stirring is ideal. Stir the mixture until combined. Let it sit and cool for 5 minutes.

Once the dough is cool enough to handle, divide it evenly into mini tart moulds. With your fingers, press the dough flat and up the sides of the moulds. Prick the shell with a fork.

Place tart shells it into the freezer while you are making the next one, and then repeat. Place the last tart shell into the freezer and let cool for 5 minutes.

Place the tart shells onto a baking sheet and place in the oven on the middle rack. Bake for 15 minutes. Remove from the oven and place on a wire rack to cool before filling.
Cream Cheese Filling
While the tart shells are cooling make the filling. In a high speed blender or in your food processor, add the garlic and the rosemary. Pulse several times to chop/mince.

Add the cream cheese / goats cheese, olive oil and lemon juice. Blend until smooth and creamy, adding as much water as necessary to keep it moving and to make it creamy, but make sure not to add more than 1/4 cup.

Remove the tart shells from their pans and place on a serving platter or baking sheet, pour the goat cheese filling equally amongst the completely cooled tart shells. Smooth the surface with a spatula, if necessary. Place the tart shells in the fridge to firm up while you roast the grapes.
Roasted Grapes
Preheat the oven to 200°C (180°C)

Arrange the bunches of grapes in a single layer on baking sheet. Toss with the olive oil and sprinkle with a little salt and pepper.

Roast for 15-20 minutes, until the grapes begin to burst and the juice around them starts to thicken.

Once the grapes have cooled, and the cream cheese / goat cheese filling is firm, place the grapes on top of the tarts (remove from the stems to make eating easier), garnish with fresh rosemary and serve or chill until you are ready to serve.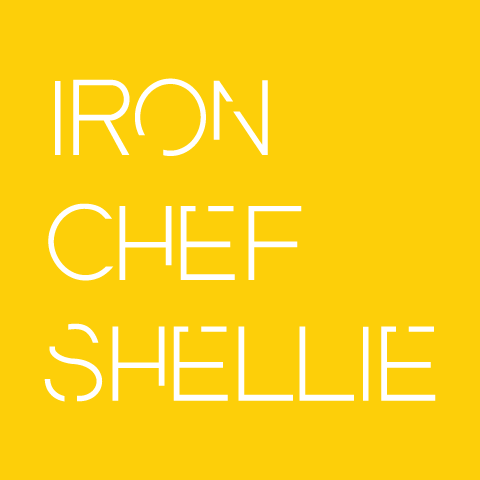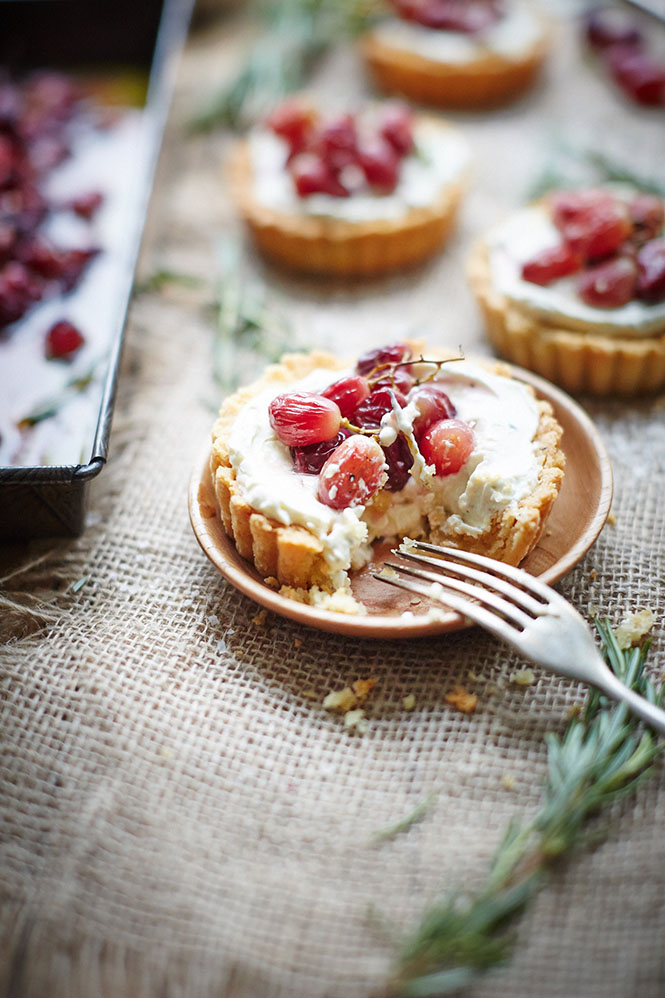 Sponsored post for Australian Grapes.