Bakers Delight & The Hot Cross Bombe
Craig has been baking for twenty two years, and eighteen of the have been with Bakers Delight. Craig wanted to be a painter, but due to having asthma, back then they wouldn't allow it; so Craig kinda just fell into baking.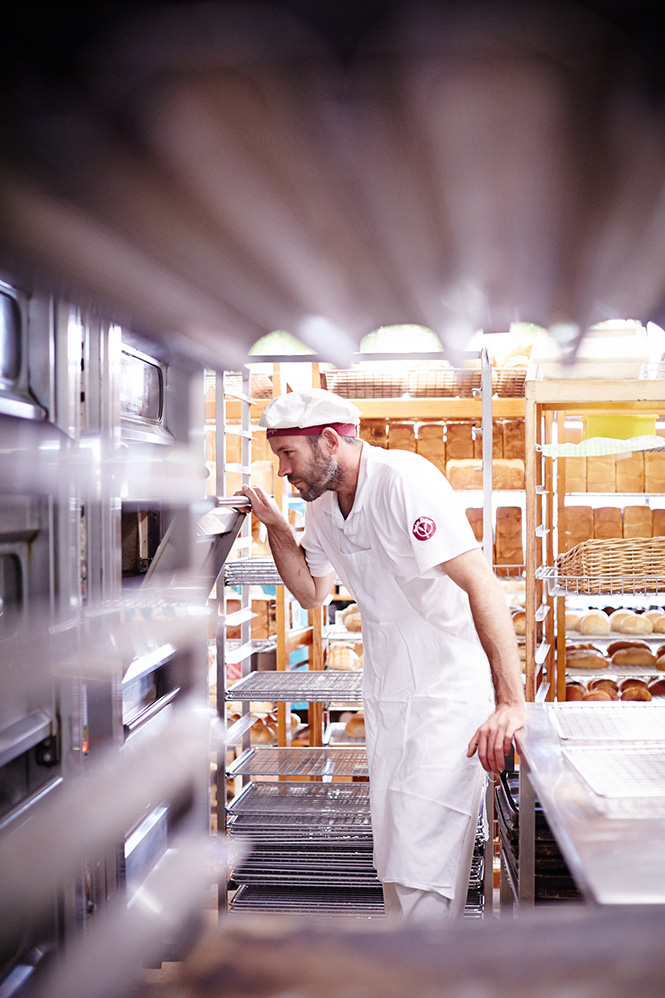 Craig wakes up at 2:20am everyday, and starts work at 3am. He says he's never had a day where he thinks "oh I really don't want to go to work today", he genuinely loves his job. How many of you can say that?
He says there is a real satisfaction to be able to go out the front and sell something to the customers that he has just made, and to see the happiness it brings to their face.
With hot cross bun season upon us, Craig says his store will make anywhere from 35,000-45,000 hot cross buns. Larger stores will make even more! I was invited behind the scenes at Bakers Delight to see what goes into making dem might fine buns we so long for.
Craig tells me, the thing that makes Bakers Delight's hot cross buns better than the rest is they are made from the best and freshest ingredients, preservative free. They are also made fresh in store everyday by trade professionals, and here's how: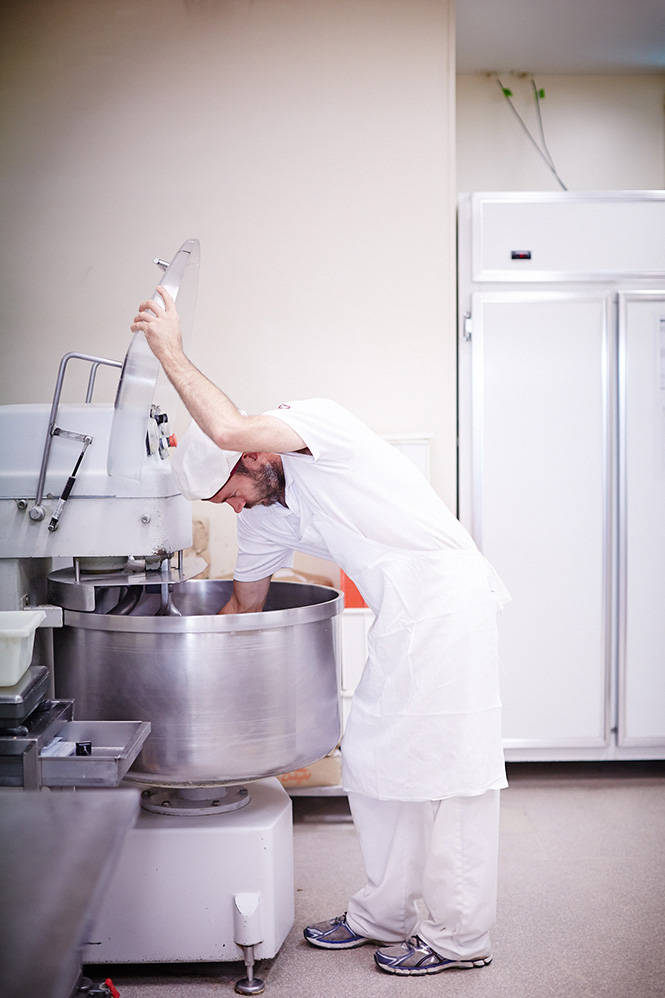 Step 1:
Before making the dough, they condition the fruit. They weigh the fruit, and add water to the fruit, and agitate it every now and then. This helps to plump the fruit up, and make each fruity morsel extra juicy.
Step 2:
Weigh the dry ingredients and mix them in the large mixer.
Step 3:
Crumble the fresh yeast in and add the water. Bakers Delight have a temperature controlled water dispenser, so that certainly helps!
Step 4:
Mixing the dough happens and add the spices.
To see if the dough is ready to move onto the next stage, Craig does the window test. Pulling the dough gently without breaking it, and being able to see through it.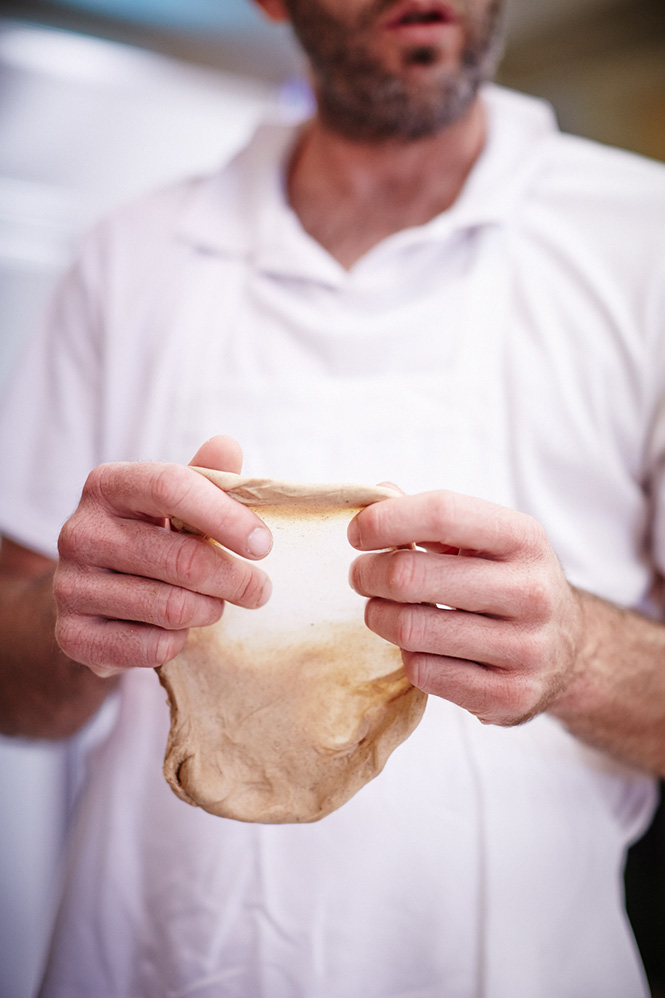 Step 5:
Mix in the fruit.
Step 6:
Weigh the dough into even balls. Knead into a ball and rest / prove the dough.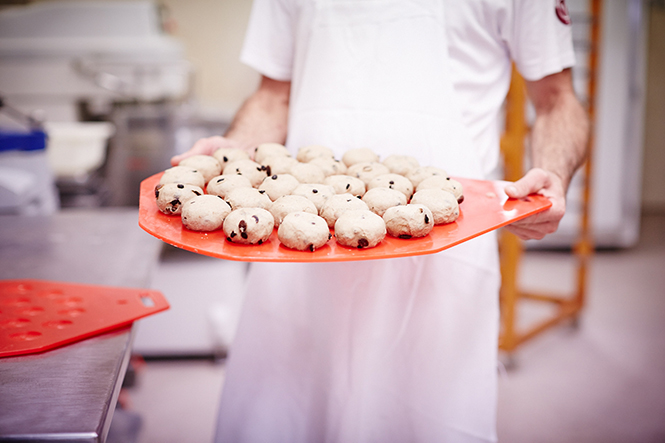 Step 7:
Roll into evenly sized buns. Bakers Delight have a special machine that rolls the buns quickly and perfectly, every time.
Rest / prove the dough again.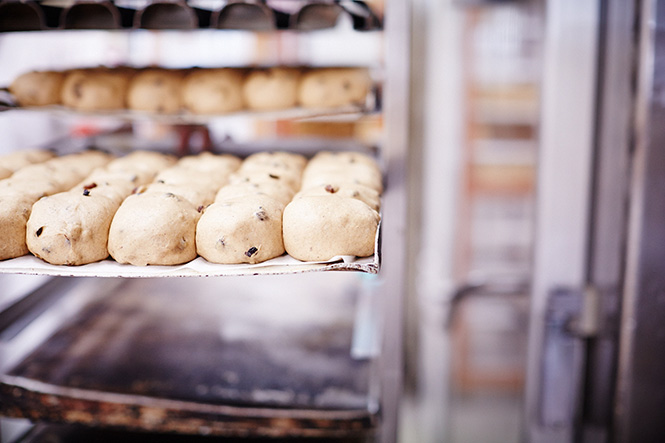 Step 8:
The cross mix. Craig explains they use a sauce bottle to do the crosses on their hot cross buns. It provides a great way to ensure consistency and keep things neat and tidy.
Pipe the cross mix and bake in a preheated oven.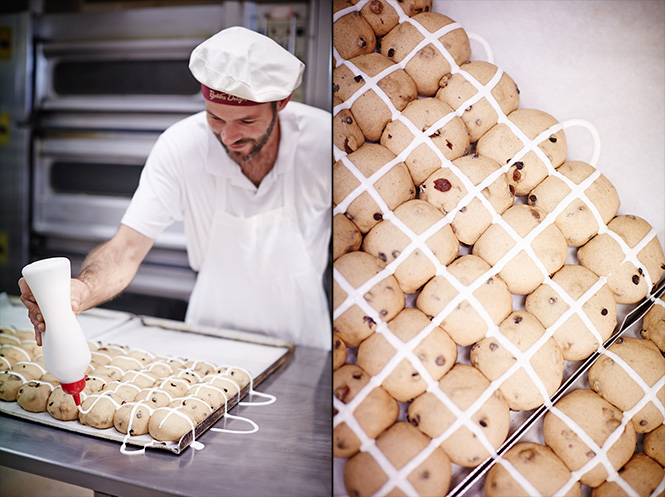 Step 9:
Immediately after removing the buns from the oven, glaze them.
His tips for home cooks when making your own hot cross buns is "stick to the recipe". I would have to agree, baking is a very precise and methodical process, and if you think "oh, maybe I'll try this instead", chances are it won't work. Stick to the recipe, don't skip steps, as that can also affect shelf life, or just go and pick up some from Bakers Delight!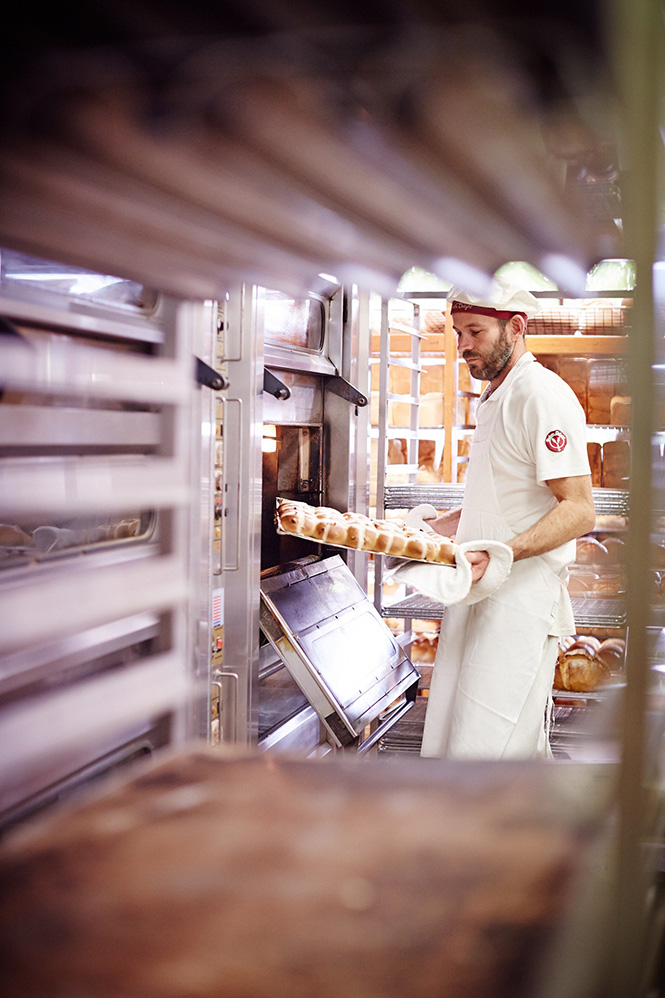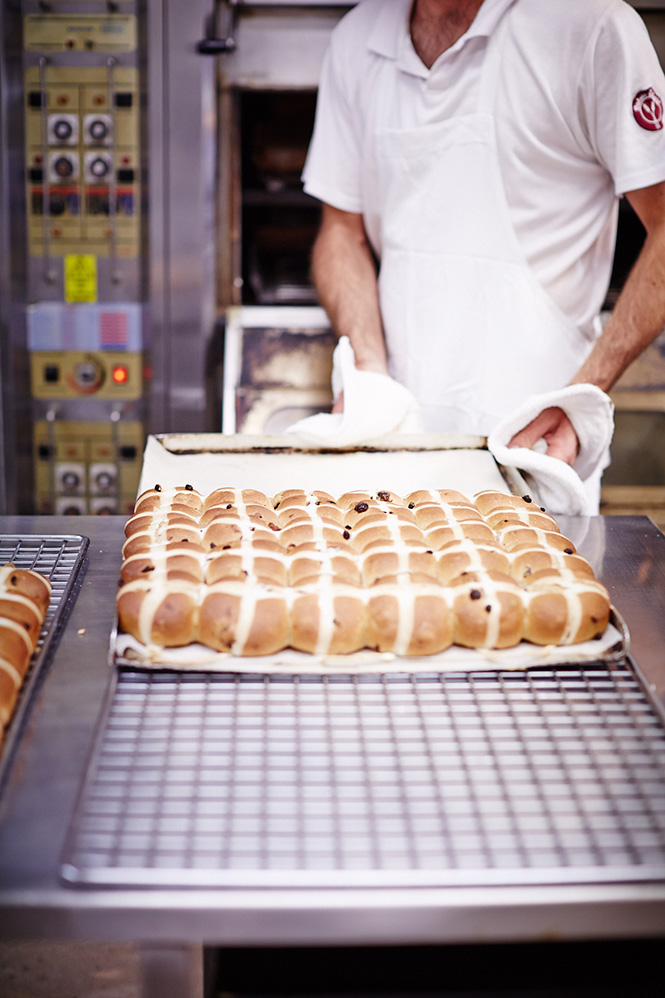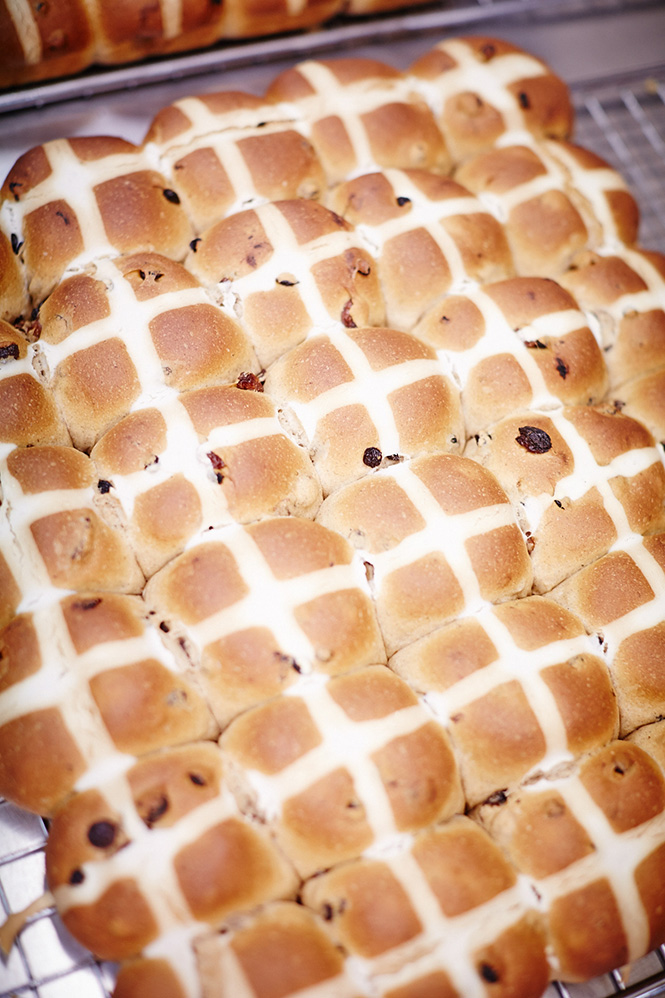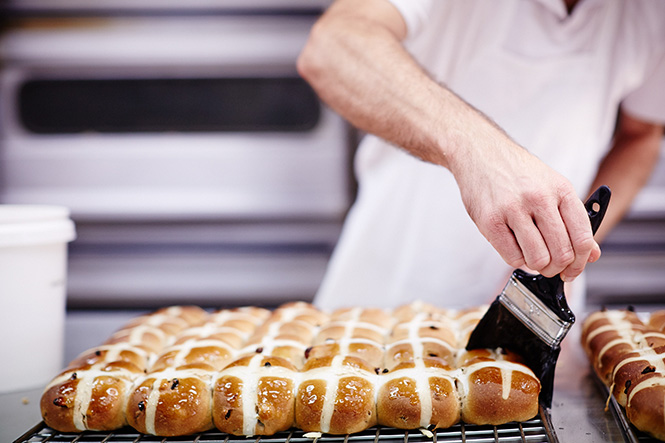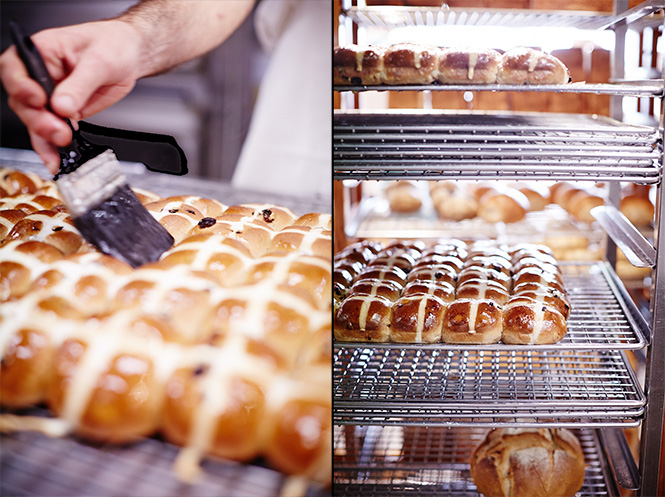 Whilst eating a hot cross bun on it's own with butter, jam, or whatever tickles your fancy, is all well and good; sometimes you need to jazz things up a little. I wracked my brains trying to think of something that would make the hot cross bun fun for everyone.
I give you, the Hot Cross Bombe!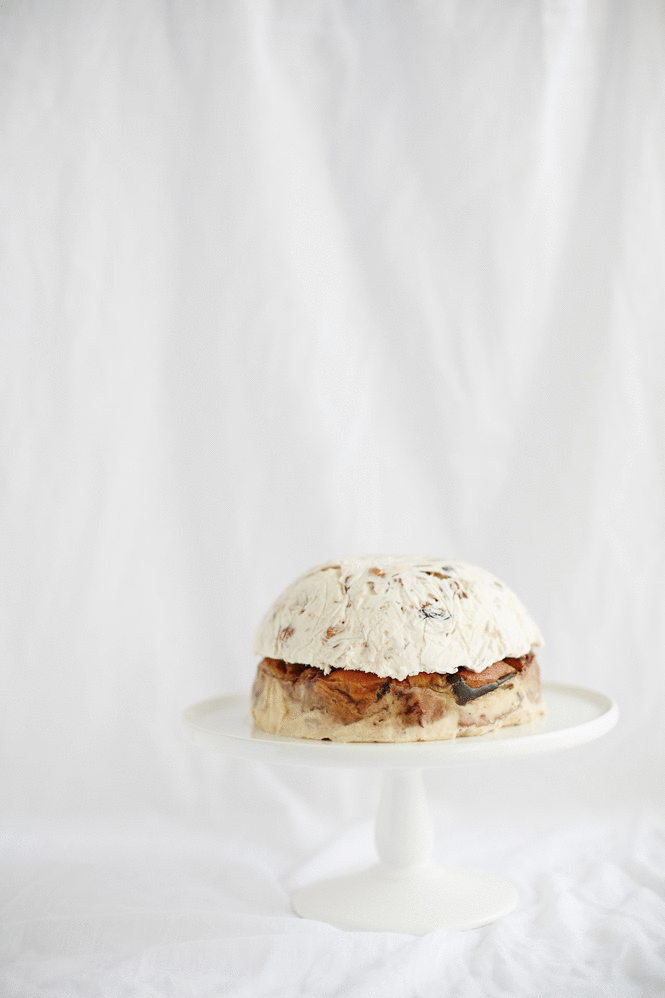 I've make the base into a hot cross bread and butter pudding, with a hot cross ice-cream dome, topped with blow torched meringue. It's a bit of fun, and would definitely impress at an Easter feast table.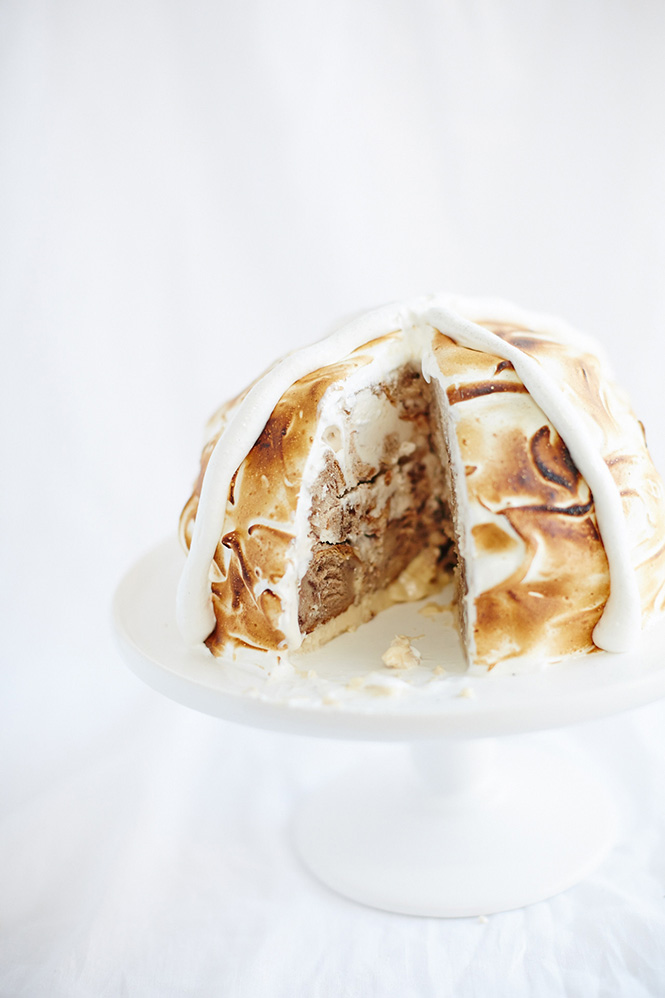 Hot Cross Bombe
Print Recipe
Ingredients
Hot Cross Bun Ice-Cream
1 litre vanilla ice-cream
2 Bakers Delight hot cross buns roughly chopped
Hot Cross Bun "Bread & Butter Pudding" Base
5 Bakers Delight hot cross buns cut into quarters
4 eggs
1 cup milk
1 cup thin cream
1/4 cup caster sugar
1/2 tsp vanilla extract
For The Meringue
3 free-range egg whites
pinch cream of tartar
200 g caster sugar
Instructions
Hot Cross Bun Ice Cream
For the ice-cream, line the pudding basin with two layers of cling film, leaving enough hanging over the edge to cover the sides of the basin.

Place the ice cream in the basin (you may need to allow it to soften for a few minutes) and stir through the roughly chopped hot cross buns. Press down to get a smooth surface , giving it a few gentle bangs to help remove any air holes. Cover the top with the cling film and return it to the freezer.
Hot Cross Bun "Bread & Butter Pudding" Base
Grease a 20cm cake tin and line with non-stick baking paper. Line base of tin with the hot cross bun quarters to fit snuggly.

Whisk milk, cream, eggs, sugar and vanilla together in a large jug. Pour the mixture over buns.

Preheat oven to 160°C or 140°C fan-forced.

Stand cake tin in a baking dish and pour in boiling water to come halfway up the side.

Bake for 1 hr until set and browned.

Remove tin from dish and cool completely. Run a knife around edge of pudding, turn onto a plate. Remove paper and invert pudding onto a wire rack to cool completely.
For The Meringue
In a large, spotlessly clean bowl, whisk the egg whites with cream of tartar until they form soft peaks when the whisk is removed.

Add half of the caster sugar and whisk until stiff peaks form when the whisk is removed and the meringue is satiny and glossy. Fold in the remaining sugar with a metal spoon or spatula.

Place 3/4 cup of the meringue in a piping bag fitted with a fat plain nozzle tip (Wilton 1A is preferable).
To Assemble
Place the hot cross bun pudding base on a cake stand or serving platter. If you don't have a kitchen blow torch, place it on a baking tray (with no lip, so it can be easily removed).

Take the ice cream out of the freezer. With the help of the cling film, remove the ice cream from the pudding bowl and place it upside down on the pudding base, remove all the cling film.

Quickly spoon over the meringue, spreading it thickly and in peaks over the ice cream and the sides of the cake right down to the baking tray. You can cook the baked Alaska immediately or you can return it to the freezer for up to an hour. I like to use a kitchen blow torch to brown the outside of the meringue. If you don't have access to a kitchen blow torch, place the Hot Cross Bomb Alaska on a baking tray in the centre of the hot oven for 3-4 minutes (or 6-9 minutes if frozen) or until the meringue is set on the outside and golden in colour.

Carefully transfer the baked Alaska to a serving plate, using a palette knife dipped in hot water to help you slide and push it onto the plate.

Using the piping bag filled with meringue, pip a cross over your dome, and serve immediately.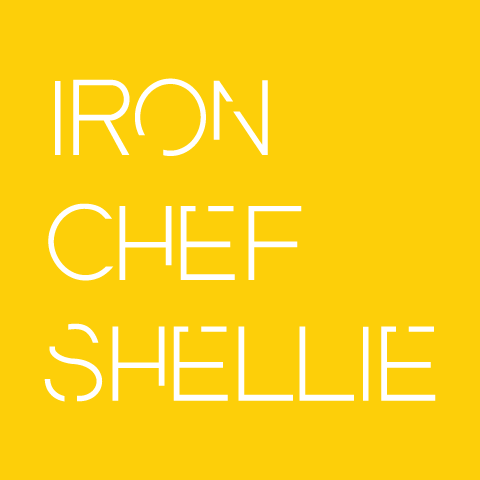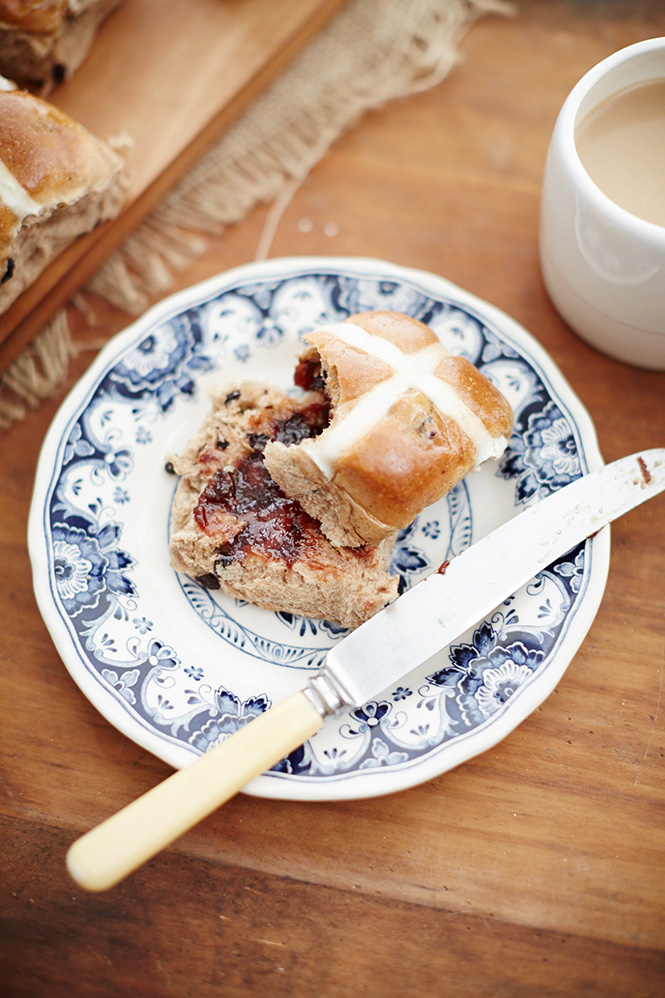 For your chance to win one of five $20 Bakers Delight vouchers; tell me below:
How do you like to enjoy your hot cross bun?
I like my fruit ones warmed or toasted with strawberry jam, and the chocolate ones with a smear of Nutella. It's a bit of an indulgence, and I only eat them around Easter.
Competition closes on midnight Sunday 29th March 2015. Only open to Australian residents with a valid postal address. Winners will be chosen at random by a random number generator and notified via email.