Donut Cake
Today, Iron Chef Shellie turns 7!
Like any good child, she has been through; the wonderful ones, the terrible twos, the terrifying threes, the fearsome fours, the fierce fives, the sour sixes, and now we arrive at the sneaky sevens.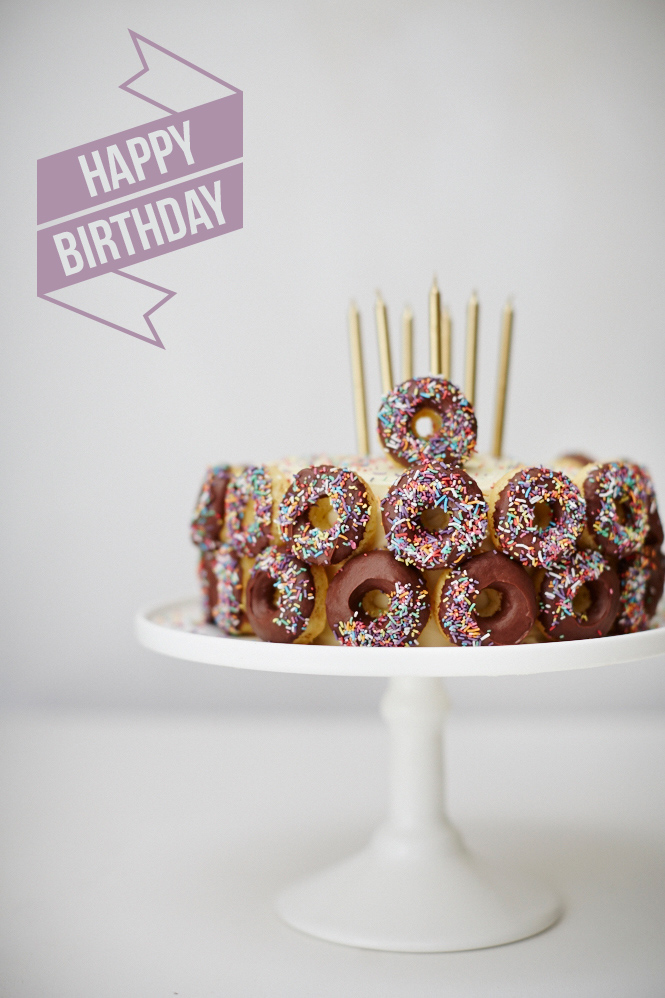 One parenting website describes this age as:
… the 'middle years', your child will be becoming more aware of the world outside his home. He'll be gaining confidence and starting to make real friends, but will still need you to step in and help him with his problems from time to time.
If you haven't been following me on social media, you'll be unaware that I am becoming more aware of the world outside home. I've finally broken the seven year overseas travel drought (with the exception of one very, quick trip to New Zealand), and I'm currently, freezing my ass off in Sweden somewhere! HURRAH!
I've been meeting some amazing creative people, and there is no doubt, I might need you guys to help wrangle me in if I get too crazy from time to time if my baking ideas get too out of control. Let's hope that doesn't happen too often, but I'd still love your support if it does 😉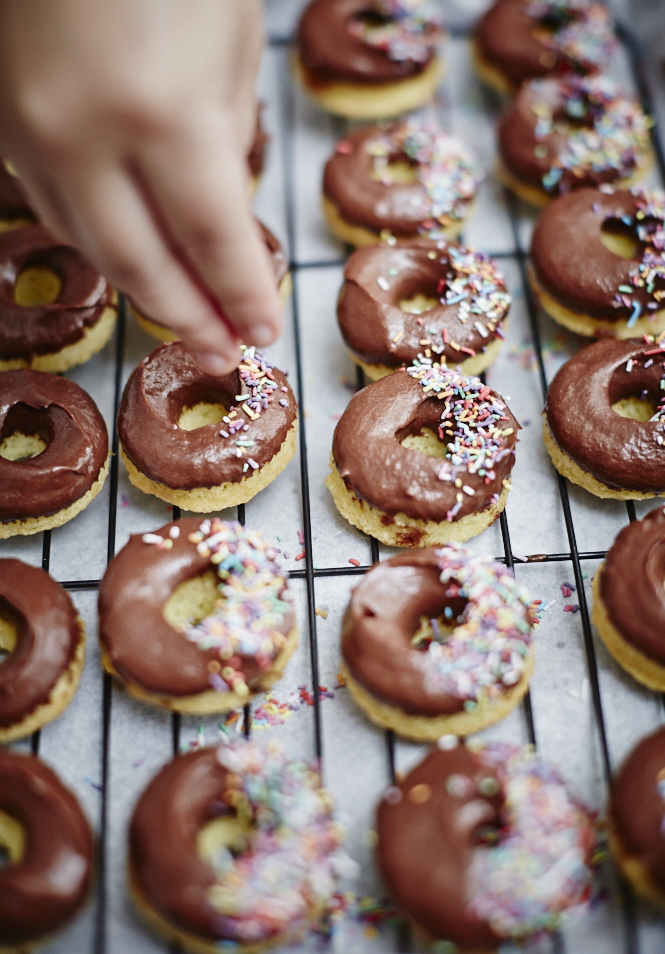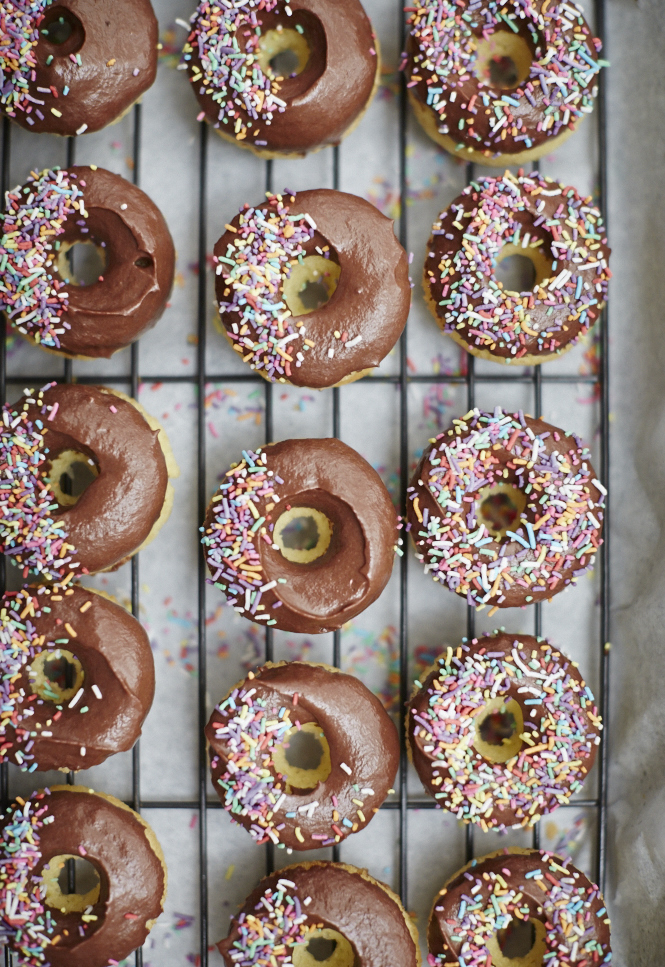 After seven years, I still absolutely adore baking. Sometimes however, the humble looking cake just isn't enough, and I have to take it up a notch. To celebrate seven years, no ordinary, run of the mill cake was going to do. That folks, is how the donut cake was born.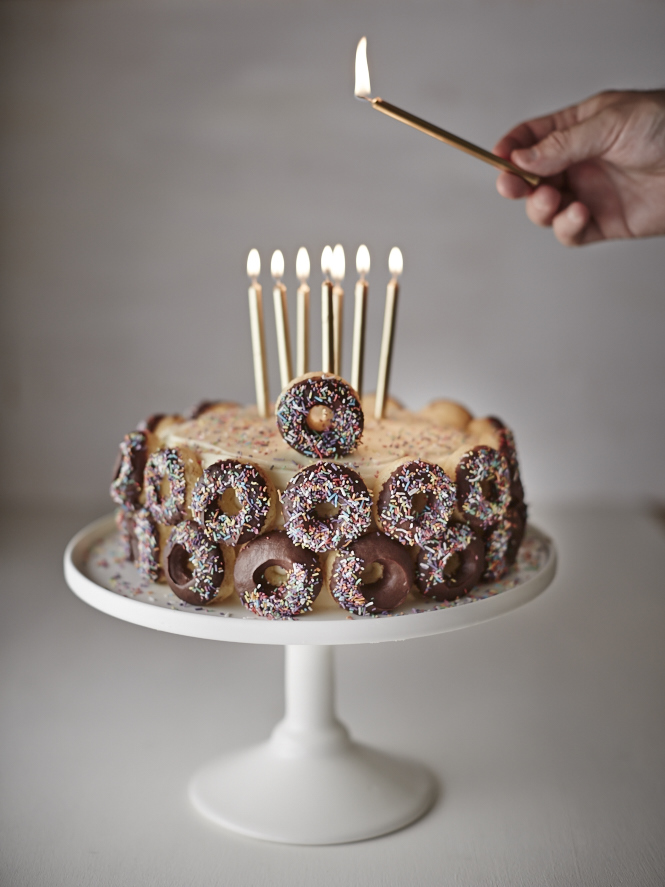 In a perfect world, this cake would be at least double the height, covered in twice or three times as many donuts, of different colours. Alas, there will be other opportunities to create even crazier donut cakes! This one just kept making me giggle as it looked so fun.
Thank you everyone for your on going support over the seven years. Especially those who read it in it's infancy, when the photos were rubbish and my ramblings probably made no sense… not that they do these days either!
Here's to you my friends, and here's to more years to come 🙂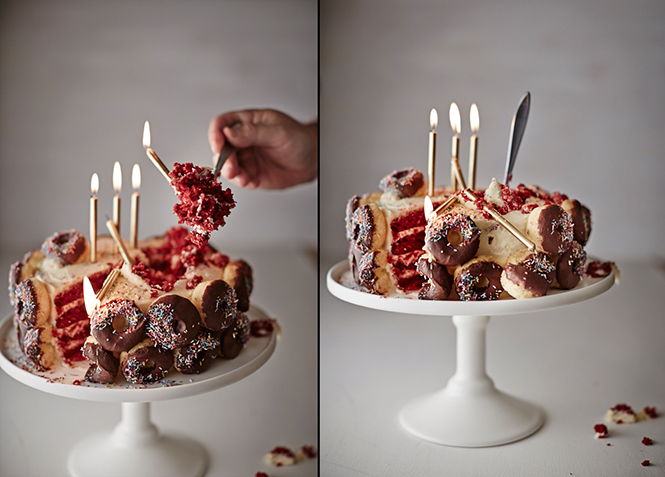 Donut Cake
Print Recipe
Ingredients
Red Velvet Cake
120 g unsalted butter at room temperature
300 g caster sugar
2 eggs
40 g cocoa powder
80 ml red food colouring
1 tsp vanilla extract
240 ml buttermilk
300 g plain flour
1 tsp bicarbonate of soda
3 tsp white vinegar
Cream Cheese Frosting
600 g icing sugar sifted
100 g unsalted butter at room temperature
250 g cream cheese cold
For the donuts
115 g plain all purpose flour
1/2 cup caster sugar
1 tsp baking powder
1/4 tsp salt
2 large eggs room temperature
3 tbs extra virgin olive oil
2 tbs full cream milk + 1/4 teaspoon fresh lemon juice
For the donut chocolate glaze
70 g dark chocolate very finely chopped
1/3 cup heavy cream
Instructions
For the red velvet cake
Preheat the oven to 170°C/325°F/gas mark 3. Grease and line four 18cm layer cake tins and set aside.

Put the butter and the sugar in a freestanding electric mixer with a paddle attachment (or use a handheld electric whisk) and beat on medium speed until light and fluffy and well mixed. Turn the mixer up to high speed, slowly add the egg and beat until everything is well incorporated.

In a separate bowl, mix together the cocoa powder, red food colouring and vanilla extract to make a very thick, dark paste. Add to the butter mixture and mix thoroughly until evenly combined and coloured (scrape any unmixed ingredients from the side of the bowl with a rubber spatula). Turn the mixer down to slow speed and slowly pour in half the buttermilk.

Beat until well mixed, then add half the flour and beat until everything is well incorporated. Repeat this process until all the buttermilk and flour have been added. Scrape down the side of the bowl again. Turn the mixer up to high speed and beat until you have a smooth, even mixture. Turn the mixer down to low speed and add the bicarbonate of soda and vinegar. Beat until well mixed, then turn up the speed again and beat for a couple more minutes.

Distribute the batter evenly amongst the four cake tins and bake in the preheated oven for 20-25 minutes, or until the sponge bounces back when touched. A skewer inserted in the centre should come out clean. Leave the cupcakes to cool slightly in the tray before turning out onto a wire cooling rack to cool completely.
For the cream cheese frosting
Beat the icing sugar the unsalted butter together in a freestanding electric mixer with a paddle attachment (or use a handheld electric whisk) on medium-slow speed until the mixture comes together and is well mixed.

Add the cream cheese in one go and beat it until it is completely incorporated. Turn the mixer up to medium-high speed. Continue beating until the frosting is light and fluffy, at least five minutes. Do not over beat, as it can quickly become runny.
For the donuts
Preheat oven to 190°C. Grease donut pan with olive oil and set aside.

Combine milk with lemon juice set aside for 5 minutes.

Place the flour, sugar, baking powder, and salt in a large bowl and whisk to combine.

In small separate bowl, combine olive oil, eggs, and milk/ lemon juice mixture. Whisk together until thoroughly combined.

Add the wet ingredients to the dry ingredient mixture, and whisk until smooth.

Use a piping bag to pipe the batter to evenly distribute batter into your donut pan.

Bake donuts for 10-12 minutes or until they lightly spring back when pressed.

Remove from pan immediately and allow to cool completely on a wire rack.

To make the dark chocolate glaze; place the finely chopped chocolate in small heatproof bowl. Scald cream (heat until just below boiling point), then over chocolate and allow to sit for a minute and a half.

Using a whisk, slowly begin to incorporate cream into chocolate—starting in centre of the bowl—until mixture comes together and is very shiny and smooth.

Dip tops of donuts into the ganache and set aside on wire rack to set.
To assemble the cake
Dab a blob of icing on a cake stand/platter, and place the first layer of cake on top of the blob.

Evenly spread about a quarter of the icing on top, and place the next layer of cake on top, pushing down gently. Repeat the cream cheese and cake routine until you have no cake layers left.

Spread a thin layer of the remaining cream cheese over the entire cake, and put in the side for about 30 minutes to set.

Spread the remaining cream cheese over the cake, and place the donuts around the cake as you desire, before the cream cheese sets.