Cha Bo with Banh Hoi
So my quest for all things with spice, zest and tang continues, as we venture into Vietnamese cuisine. They almost look like Vietnamese meatballs, I didn't notice until I actually made the recipe myself. And we all know how much I love meatballs!
The nouc cham dipping sauce definitely completes the dish. The patties themselves are bursting with flavour from the cumin, fish sauce and coconut cream; but the sauce makes it come alive. Go on, give it a a go; you'll love it! I'm not sure how authentic the recipe is, but if you have no idea what it meant to taste like, like I did, then you should find no problem with it at all 🙂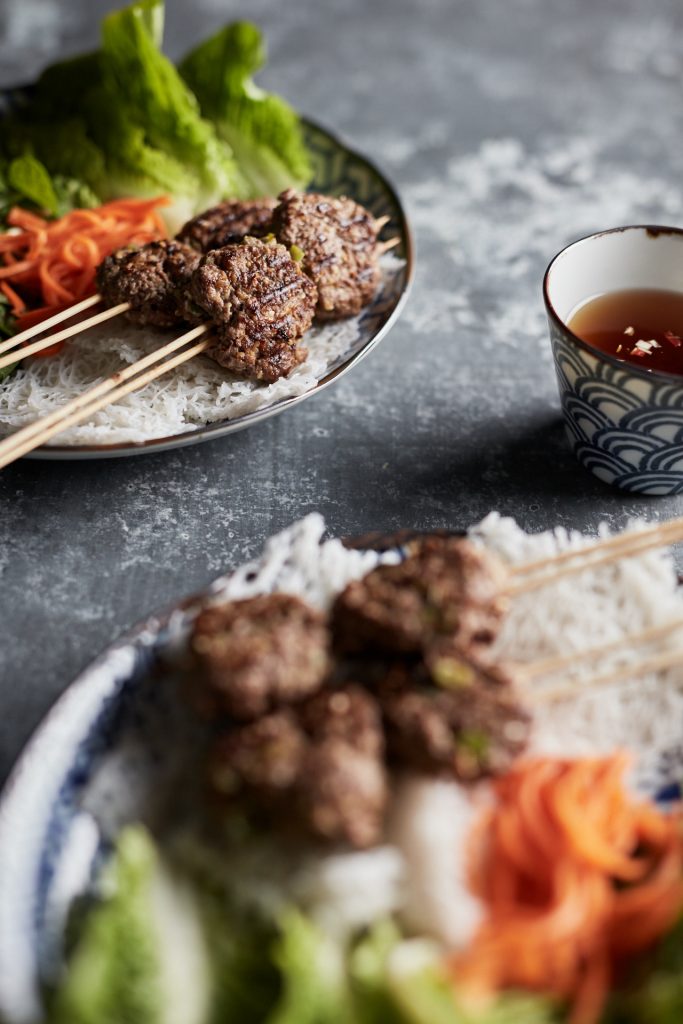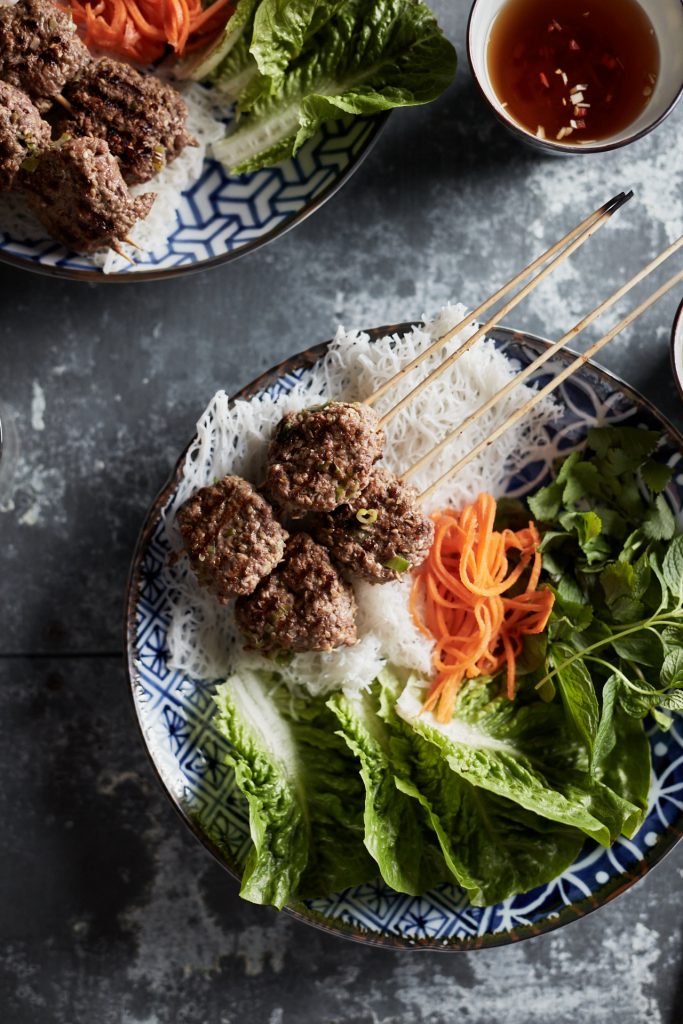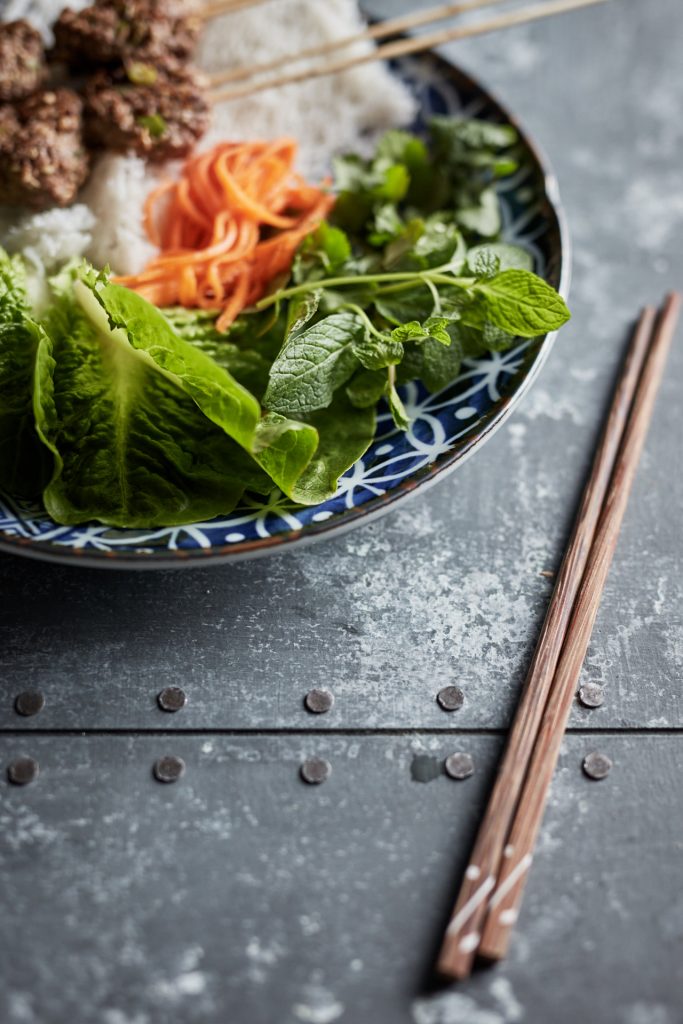 Cha Bo – Vietnamese Grilled Beef Patties
Print Recipe
Ingredients
3 tablespoons sesame seeds
1 teaspoon ground cumin
500g lean minced beef
1 garlic clove, finely chopped
4 spring onions, finely chopped, plus extra to serve
1 tablespoon fish sauce
2 tablespoons coconut cream
Nuoc cham dipping sauce
1 teaspoon rice vinegar
1 teaspoon caster sugar
1 garlic clove, finely chopped
1 small red chilli, seeds removed, finely chopped
1 teaspoon fish sauce
To Serve
Banh Hoi, vermicelli sheets
Coriander leaves
Mint leaves
Pickled carrot
Lettuce leaves
Instructions
Soak 16 bamboo skewers for 30 minutes.

Stir sesame in a dry pan over medium heat for 1 minute. Add cumin and stir for 1 minute until fragrant and toasted. Transfer to a bowl, then mix well with remaining ingredients and a pinch of salt.

Divide into 16 portions, then shape into 6cm patties. Cover and chill for 30 minutes.

Meanwhile for the dressing, combine vinegar, sugar and 3 tablespoons water in a small pan. Bring to the boil, then reduce to low and simmer for 1 minute, stirring until sugar dissolves. Remove from heat and allow to cool. Stir in remaining ingredients.

Heat a lightly oiled barbecue or chargrill pan on medium-high heat. Thread 2 patties onto 2 parallel skewers (to help them hold together). Repeat to make 8 skewers.

Cook for 3 minutes each side until lightly charred but still slightly pink in the centre.

Serve with banh hoi, herbs, lettuce, carrot and nuoc cham dipping sauce.
Notes
Recipe for beef patties by Tom Kime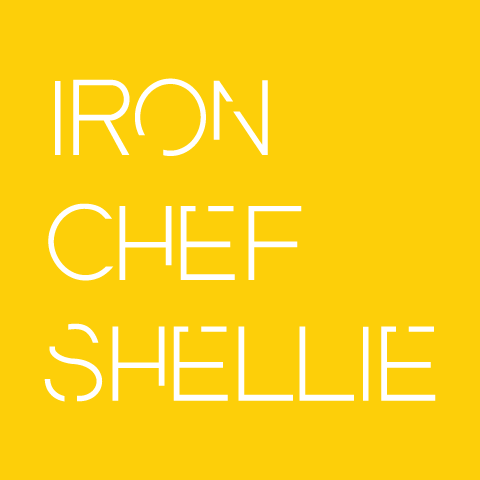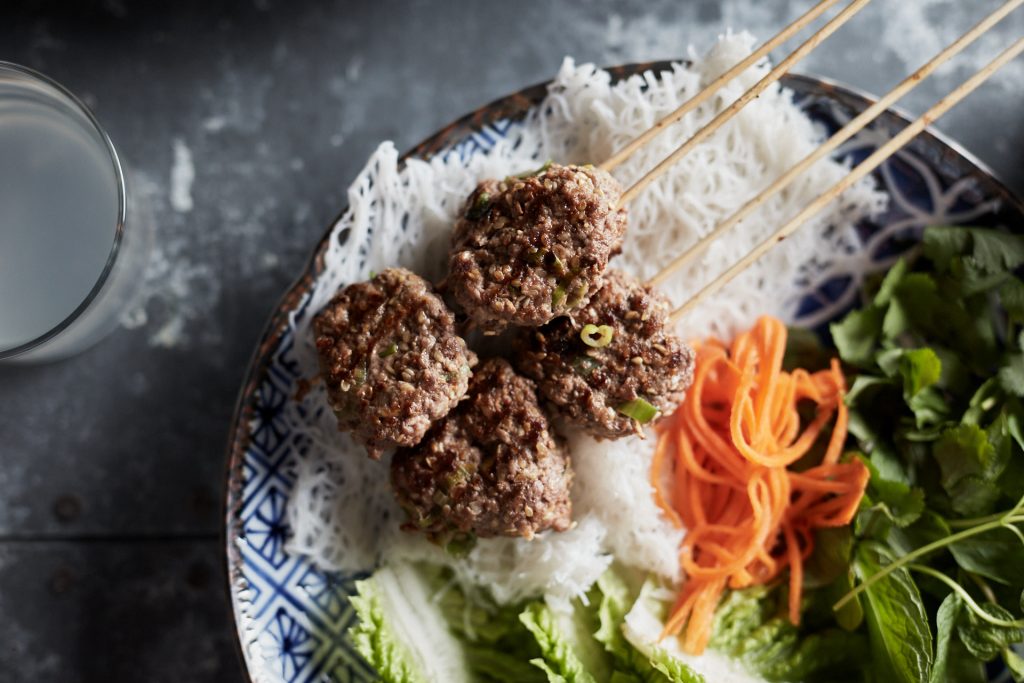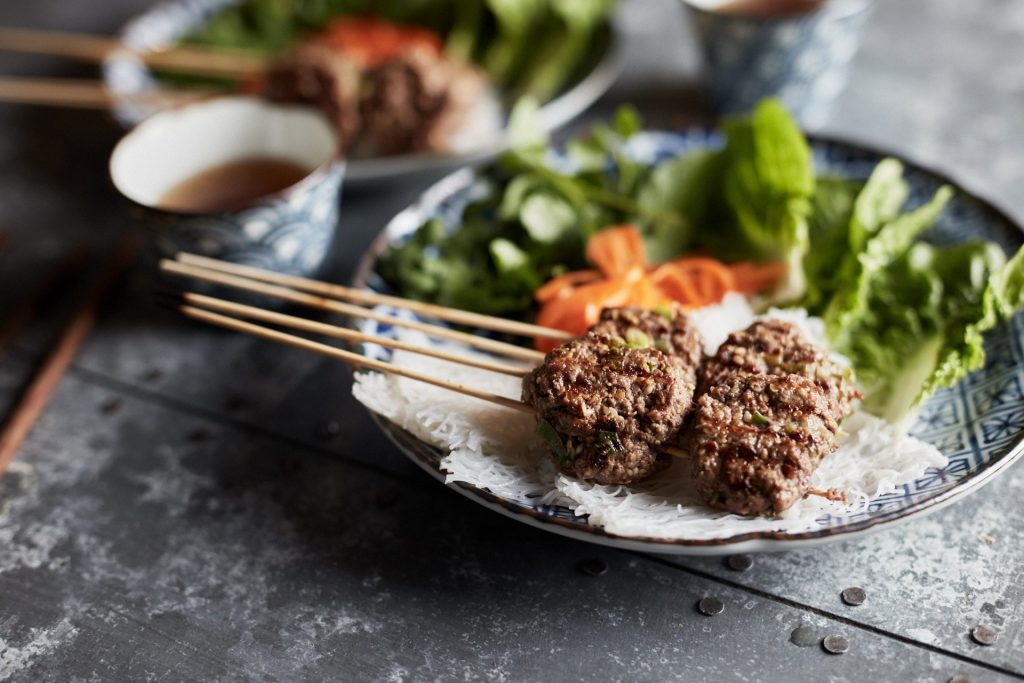 Post updated 12 July 2020.