Bangkok Street Food
Things are definitely changing on the streets of Bangkok. Gentrification of suburbs is leaving less room for one the things that's make Bangkok such a great destination for so many decades. But street food isn't finished in Bangkok yet. This week was my first trip back to Bangkok since the pandemic started, and it was delicious.
Street food is my food. I love the freshness, the variety and unexpected treasures you find when hitting the streets of Bangkok. You never know what's waiting for you. A street that was empty at 9am can be bursting with vendors at 1pm. The grandma pushing a fish cake cart might only come out for the evening rush, but the grilled pork fella outside of 7-11 might go home early once he's sold he's lot for the day.
Frequent travellers to Bangkok get choosy about their eating options. I don't like to miss out on a chance to get delicious. A major factor when booking a hotel room for me is whether there's going to be tasty treats on the street, close to the front door. Street Food should be enjoyed with minimum fuss and maximum choice. I want to step outside the hotel and have a range of options. I want it cheap and I want it now.
In quiet residential streets there's often one or two stalls serving noodles or rice. Limited menu, but guaranteed to be full of flavours. The expat community in Thailand is strong and often even tiny stalls will have a copy of their menu translated to English. Even more common is to discover the lady working a hot wok also speaks enough English to help you order anyway.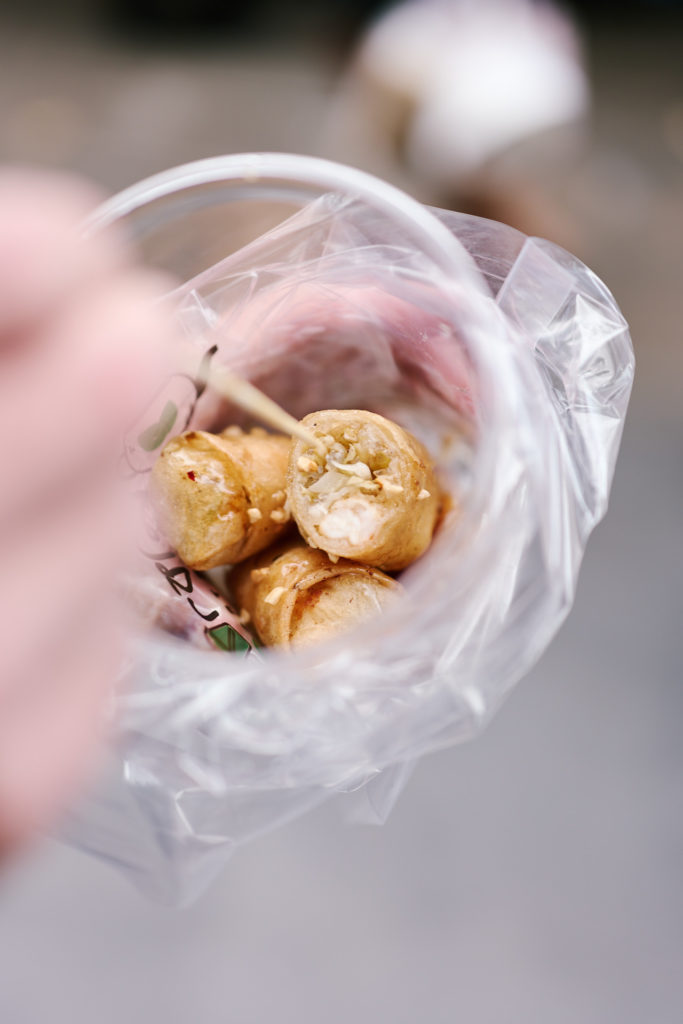 Often the biggest challenge to street dining is being overwhelmed by choice. We stepped outside of our Silom hotel and literally 10m from the door there was a small hawkers market in full swing with several dozen vendors. Picture an open air shed with a third of the space dedicated to food stalls and kitchens, a third for sit-down tables and a third selling cheap clothing. So many styles of fast food brought together under one roof, from snacks to feasts to desserts to drinks to noodles to rice to grilled to fried. It's exactly what we love about Bangkok, but it's also a lot to take in when you've just crawled out of bed.
One day this week it all proved too much. We couldn't decide what we wanted, so we walked past the local market to look for somewhere quieter. Wouldn't you know it though, the next place we found was four times the size. "The Pink Garden" in Silom is yet another Bangkok hawker market serving local office workers and residents. If you search Silom for "food court" on Google Maps this is just one of the options that pops up, along side the kind you find inside shopping malls. There's a big push these days to get dining off the streets of Bangkok and into air-conditioned malls. Some of these can be good eating still, but never as good as the real thing. Not as good as The Pink Garden, not even when it's 35°C out and threatening to drop a monsoon.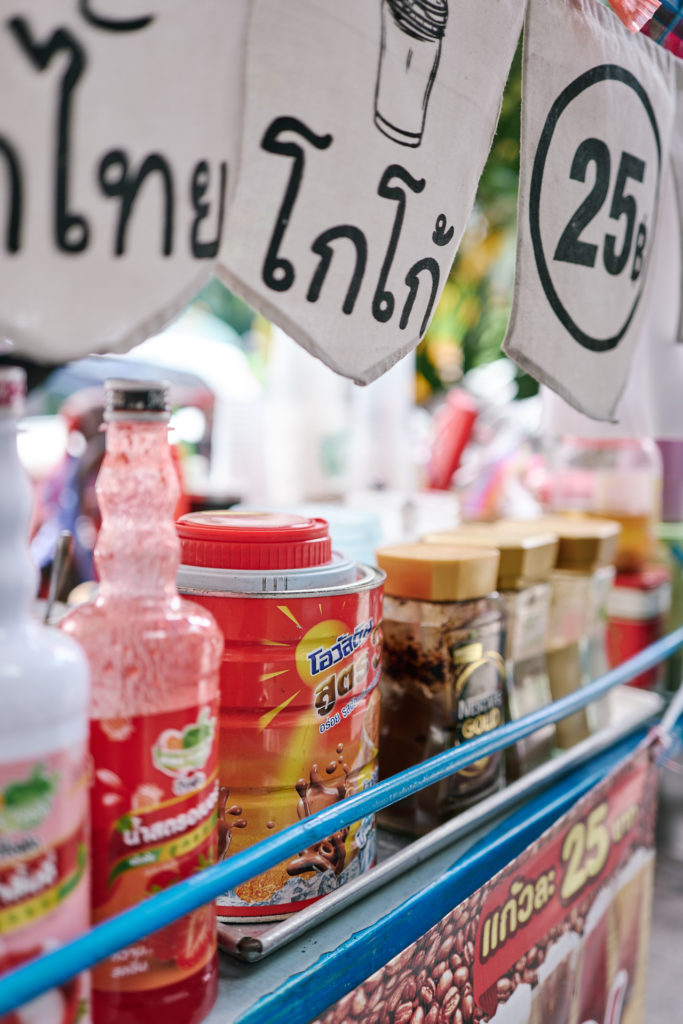 NOT JUST CHICKEN
Under cover seating at the market gets steamy when the sun comes out, and large fans push air around the tables to create the veneer of climate control. On the edge of the market smoke fills the air from charcoal grills, and bicycle vendors crowd the footpath. Queues start to form before midday at the hottest stalls. The "fried chicken salad" lady has a dozen customers lined up by the time we walk around the block to see what's on offer. Chicken pieces are freshly crumbed and fried each morning, then chopped and blended with hand made hot sauce and salad. She can dial back the heat of the chilli if you ask her nicely.
The key to street food is getting familiar with a few dishes, but being brave enough to step outside of them. A little effort yields scrummy rewards. My go to dishes are Pad Thai, Khao Pad Pu (crab fried rice), Krapow Mu (spicy pork with Thai basil) and Chicken Rice. There are others but these are ones I find often and can pronounce well enough to order like a local.
There are days you're ready for something totally off the wall, and days you just want a little comfort food. For me, when in Bangkok, anything from my short list plus an iced tea is my definition of comfort. This trip we discovered Khao Soi Gai (curry noodle soup from northern Thailand served with crunchy noodles on top and a chunky serve of chicken below) popping up on several Bangkok streets. The rich blend of spices in a creamy coconut milk curry fuels your body for a day walking the steamy streets.
The more local the hawker market the less English you'll see on the signs. That does introduce a bit of randomness at times, but once you start talking most vendors will respond in English as well. The real issue with language barriers is impeding access to nuance when it comes to ordering. Which noodle, which soup stock, which condiments? Attempting to repeat a winning dish the next day can sometimes end up on a whole new culinary frontier. One lady heard something very different when I tried ordering an iced tea, and the results were both lethally calorific and totally unsuitable for breakfast.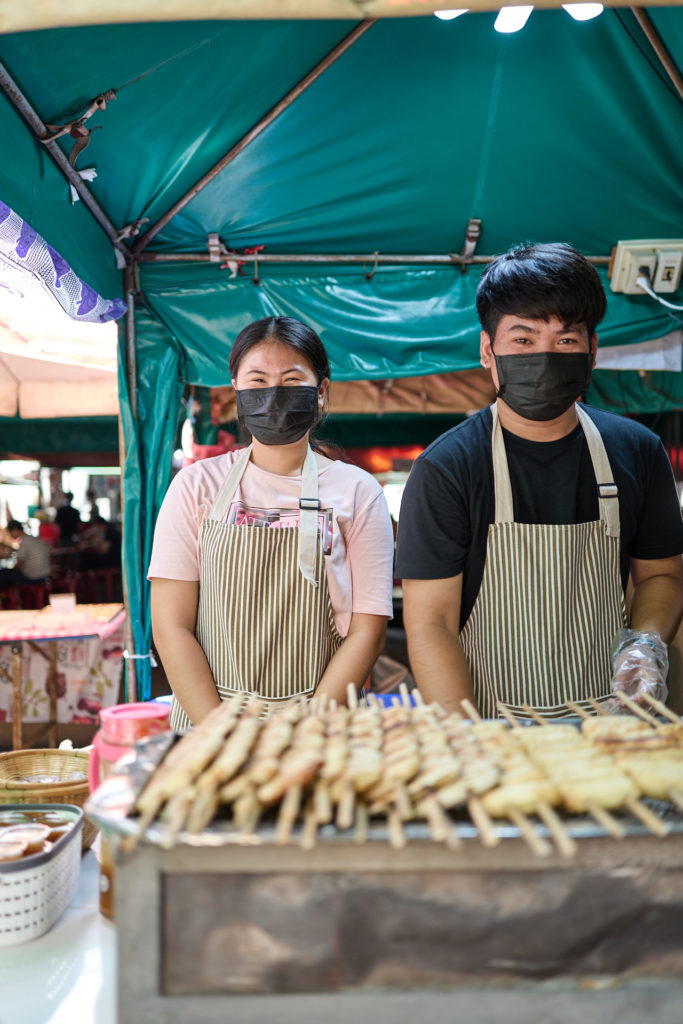 NOODLES AND SOUP
Two thirds of any hawker markets is some form of noodles and soup. That might sound a little monotonous at first, but step closer to the menus and the variety of Thailand cuisine begins to dazzle.
Wantons with pork with handmade super thin egg noodles, served dry or in broth. Pad See Ew rice noodles, cooked in a smokey wok with shrimp. Pad Thai any way you like it. Khao Soi Gai, a curry soup with chunks of chicken and crunchy fried noodles on top of the wet noodles. Hot and sour soup with with rice noodles and fish balls and fish cake. Boat noodle soup with offal and congealed blood. Two minute noodles pimped up with (herbaceous greens). Slow stewed duck with liver served on noodle soup. Tom yum based with any kind of noodle you like.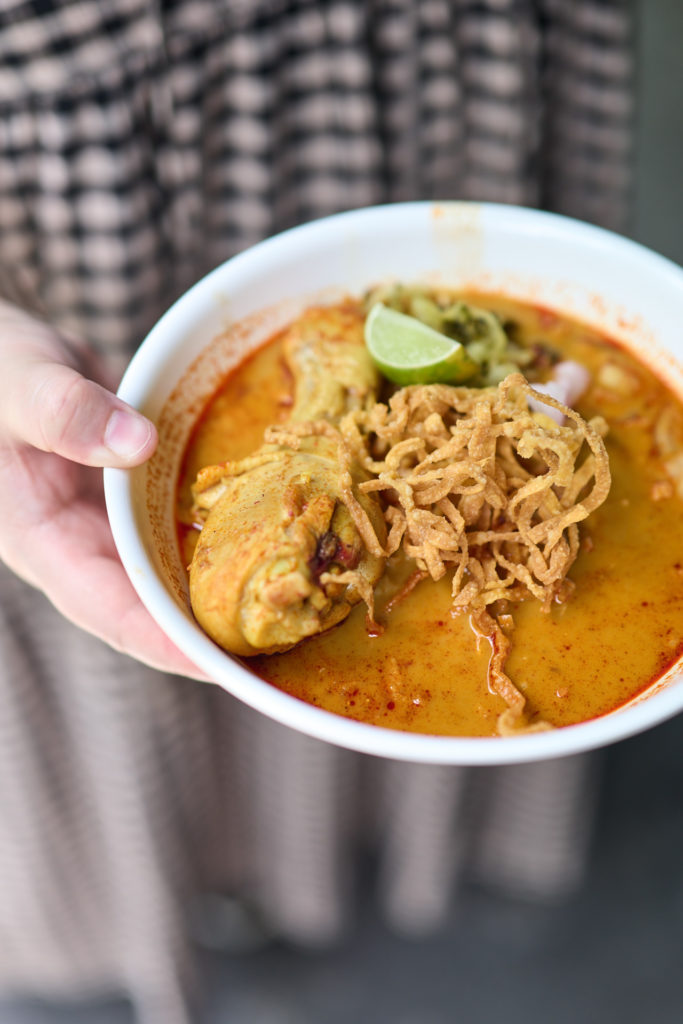 If rice is more your thing, then there's a few options for that too. Chicken rice (boiled or fried) with Thai green curry sauce. Roast duck on rice. BBQ pork on rice. Fried rice with crab, or chicken or prawn or Tom Yum flavours. Krapow – very spicy stir fry heavy on the Thai basil with pork or chicken. Ka Na – crispy skin roast pork stir fried with greens, garlic and oyster sauce. Omelette, loaded with delicious Thai flavours, on steamed rice.
On the edges of the market will be snacky options. Deep fried spicy fish cakes. Freshly steamed sui mai. Prawn spring rolls. Grilled sticky rice skewers. Grilled pork neck. Grilled bananas. Grilled sour sausage. Crispy fried chicken. Peeled and chopped bags of fruit, ready to eat and served with a chili salt dime-bag. Crunchy fried chicken skins, prawn crackers, banana chips and taro chips.
The problem with street eats in Bangkok is one of abundance. There's a lot to choose from, and even if you find something you absolutely have to go back for again… It may not be there the next day. It may not even be there the next hour! I've made that mistake too often, seeing something delicious and thinking "I'll grab one of those on the way back".
If you're not feeling brave consider hiring a local guide to take you into a few markets. Or head for places like Chatuchak where pockets of street food are tucked in between the regular market. If you chance across a laneway pumping with Thai flavours then stop and give it a go. Or do a quick search on Google Maps around your hotel for "food court" and see what outdoor eats turn up.
Bangkok is growing and changing and maybe one day street food will only be found inside shopping malls. Maybe. But that day isn't here yet and there's plenty of delicious waiting for you in the meantime.