Ten Years On with Chocolate Krantz Cake
Earlier this month, this wee little blog turned ten years old. TEN! When I started it, it was just a place to store recipes that I was trying out to learn how to cook for when I moved out of home. I thought it would last 6 months at most. The only people who would read it in the first year were my parents and close friends. Two of those friends Katie and Alana would also come over and we would try out recipes with our share of successes and hilarious disasters.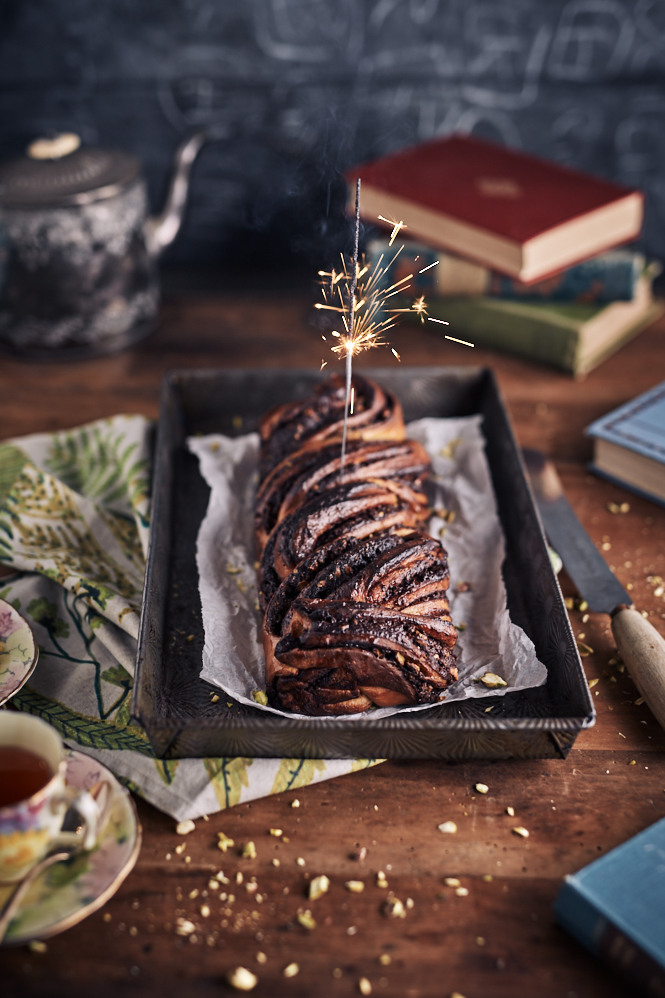 Over time I of course realised other people had similar websites to mine and their photos were much better than mine. So with a few camera upgrades, lots of online reading and lens advice from my boss at the time who was into photography, my photos got better. The styling also got better, the hoarding of props began and the more and more people starting to come visit my blog. To make me feel extra old, social media was just starting out at the same time too with Facebook and then few years later Instagram helped everything explode. I remember getting onto Instagram very early on, and without I'm not sure where I'd be today.
Between my day job that was paying the bills, I would spend all week planning what I'd make on the weekend to style and photograph. I'd have an extensive ingredients list and would hit the shops very early on Saturday morning and cook and photograph until the sun went down. No wonder my boss send I would roll into work on a Monday looking dead tired.
Ten years on, I look back and think "Wow! What a ride!". I've made some fantastic friendships, been to some amazing places and done some things I'd never thought I'd do. The blog, the brand Iron Chef Shellie has ultimately changed my life. When I met my now soon to be husband Ewen, I was dreaming of taking my photography full time but didn't have the confidence amongst other things to do so. With his help I was able to take the big risk of quitting my full time job, and relaunch myself as a food stylist and photographer, not just a blogger. (I never forget when I was still doubting if the world needed another photographer, I saw a one meter sign that said "If you are looking for a sign, this is it!"). We now run food photography workshops, I get to help him out on some of his landscape and cultural photography tours and I get to manage which twenty hours of the day I work for myself!
I've never been happier, doing what I love. It was seriously a dream I never thought I could achieve, but a lot hard work, a bit of luck and an incredible amount of support from people have made it possible. I thank you all as well for your support over the ten years. For your comments and likes. It's been a wild one, let's see what comes next!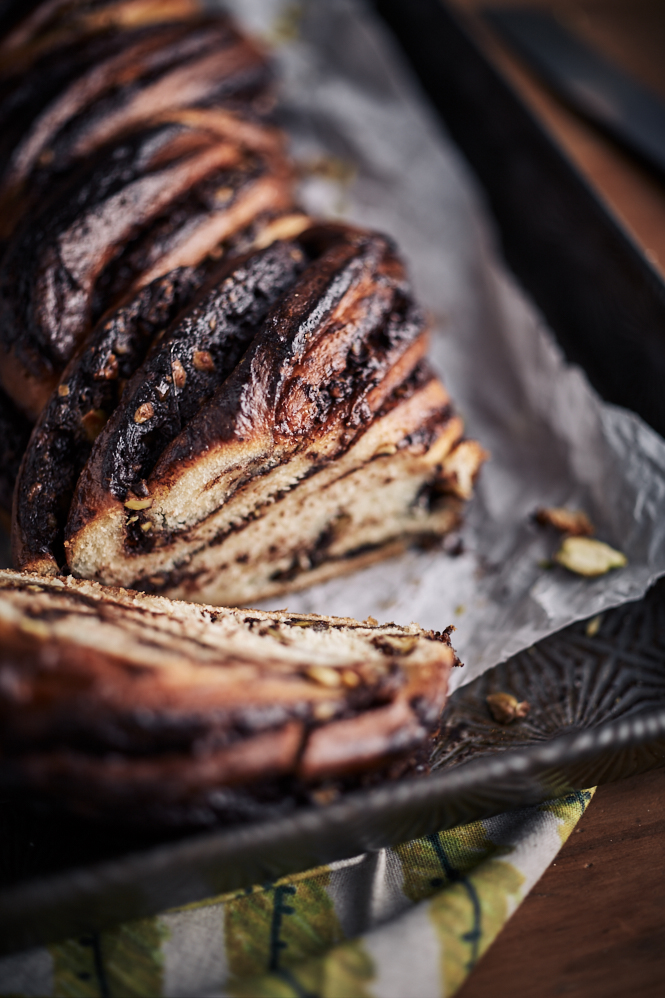 My fellow instagrammer and amazing lady who bakes the best looking cinnamon scrolls around, @selina.wee is based in Malaysia and was kind enough to send me this recipe by Ottolenghi 2 years ago. She had made these cakes and I kept drooling over my phone with her photos. So for my ten year celebration, I decided it was time to make it. Unfortunately I wasn't able to get my life together to post this on the actual birthday of Iron Chef Shellie, but here it is, in all it's glory. I regret I waited two years to make it as it was SO incredibly morish. A bit of work involved but well, well worth it!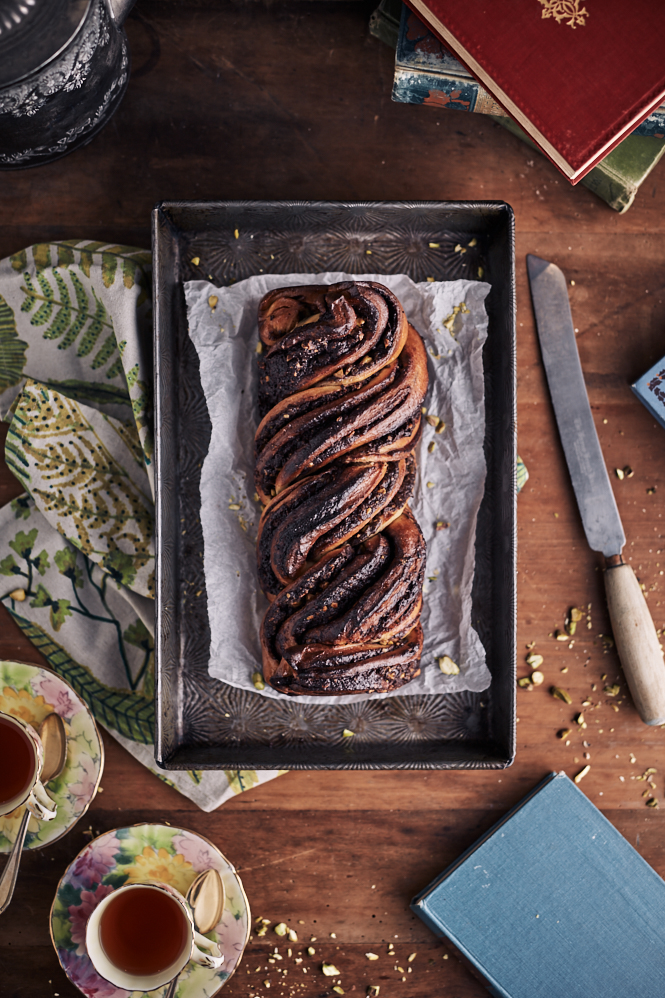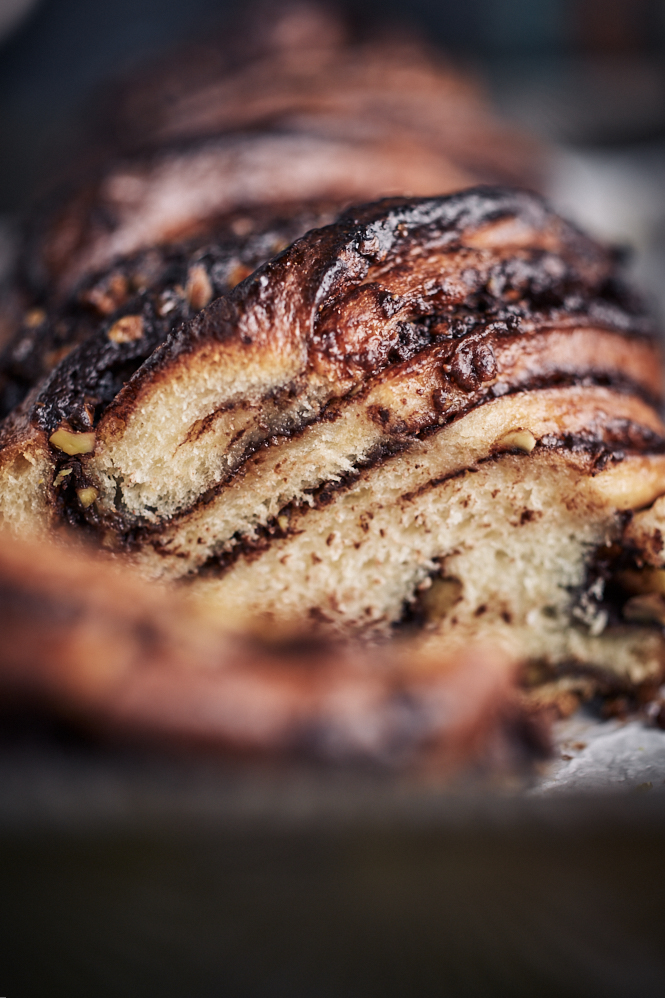 Chocolate Krantz Cake
Yotam Ottolenghi
For the bread:
530g plain flour
100g caster sugar
2 tsp dried yeast
zest of 1 lemon
3 free-range eggs
120ml water
1/3 tsp salt
150g unsalted butter, softened, cut into 2cm cubes
sunflower oil for greasing
For the chocolate filling:
50g icing sugar
30g best quality cocoa powder
130g good quality dark chocolate
120g butter, melted
100g pecans, roughly chopped (I used pistachios)
2 tbsp caster sugar
For sugar glaze (enough to cover both cakes):
260g caster sugar
160ml water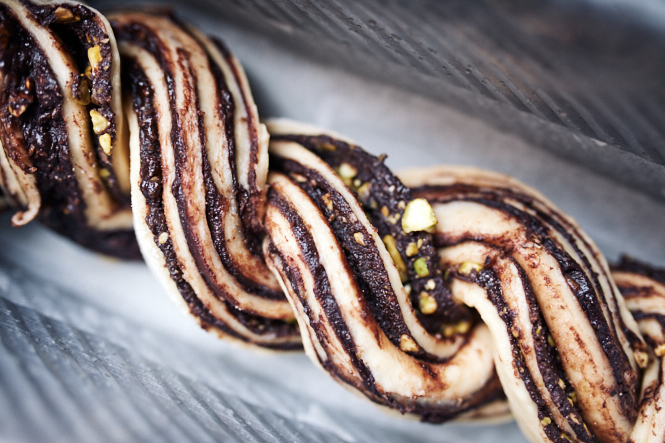 In a bowl, add the flour, sugar, yeast and zest and mix together using your hands or a food processor with the dough hook. Add the eggs and water and mix for a few minutes until the dough comes together. Add salt and start adding the butter, a cube at a time, letting it all melt into the dough. Mix for five-ten minutes, until you obtain an elastic, smooth and sticky dough.
Grease a large bowl with sunflower oil, place the ball of dough into it, cover with cling film and leave to rise overnight or for at least half a day.
The next day, start by preparing the chocolate filling. Mix the icing sugar, cocoa powder, melted dark chocolate and melted butter. Beat until you get a smooth, spreadable paste.
Grease two 1kg loaf tins and line the bottom with parchment baking paper.
Divide the dough into two parts, work one part on a floured surface, leave the other part covered in the fridge.
Using a rolling pin, roll out the dough onto the surface, then trim the edges with a knife to obtain a 38cm x 28cm rectangle. Spread half of the chocolate filling over the dough, leaving a 2 cm border all around. Sprinkle half of the pecans and one tablespoon of caster sugar.
Brush a little of water over the long edge of the dough on your left. Using both hands, roll up the rectangle like a roulade, starting from the long side on your right, rolling towards the left side. Roll the dough completely into a perfect, thick log, sitting on its seam.
With a knife, trim off 2cm of both ends. Gently, cut the roll into two, lengthways, from the top to the bottom. Position the cut sides facing up, gently press the ends together.
Lift the right half over the left half. Repeat with the left half over the right half and press the ends together to seal it. Carefully lift the loaf and place into the tin.
Repeat the process with the remaining dough. Then, cover the loaves with a wet tea towel and leave to rise in a warm place for 1/1.2 hours.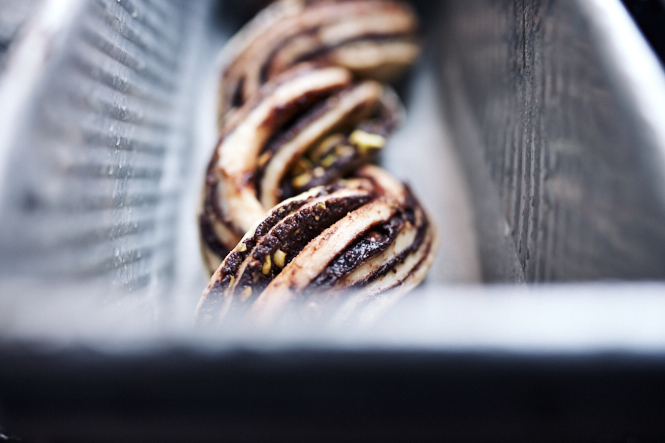 Preheat the oven to 170°C. After the cakes have risen, remove the tea towels and place them on the middle shelf for 30 minutes.
Make the syrup while the cakes are in the oven. Place the sugar and water into a saucepan over a medium heat. As soon as the sugar dissolves and the syrup starts to boil, remove the pan from the heat and leave to cool.
When the cakes are baked and are out of the oven, brush them with the syrup. You may find that there is too much syrup, but the recipe recommends to use it all up.
Remove the cakes from the tins when still just warm to cool down completely. Best enjoyed warm!