Lamb Shank Ragu with Salsa Verde
Pasta is one of my most favourite things on the planet. I usually have mine with a beef ragu, but I thought why not try it with lamb! A simple dish that you just leave on the stove for a couple of hours whilst you get on with your life. I find allowing it to cool completely and reheating it the next day before shredding the meat allows the flavours to develop. I love the wide flat sheets of broken lasagne sheets it serves with too, but what really brings it together is the salsa verde sauce on top. It's tangy herbaceousness lifts the rich ragu flavour.
A great dish to share over the Sunday lunch table with family, or a Saturday night of board games with your favourite people!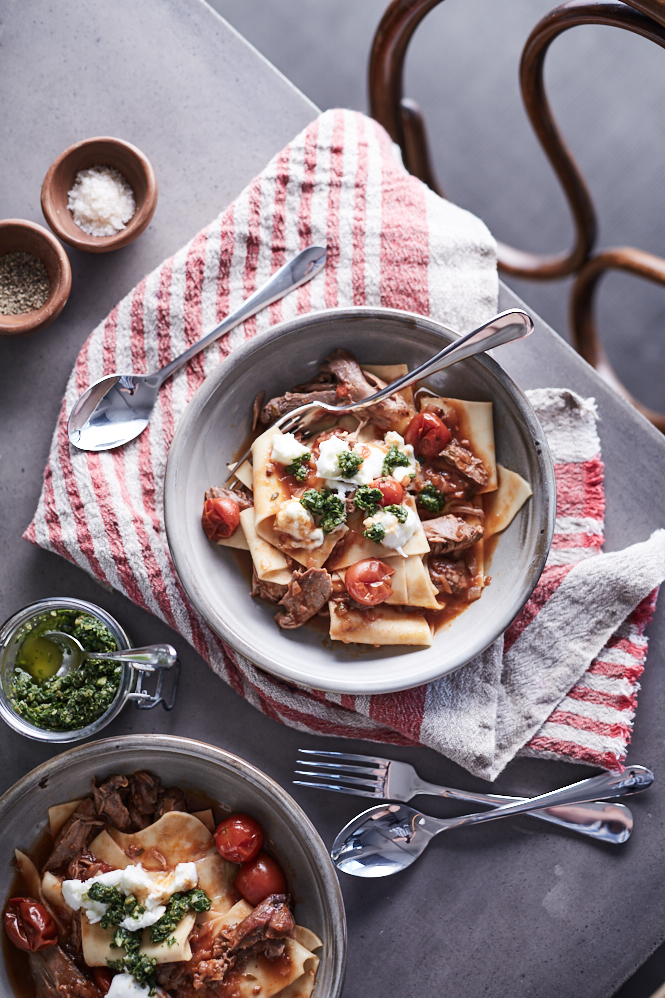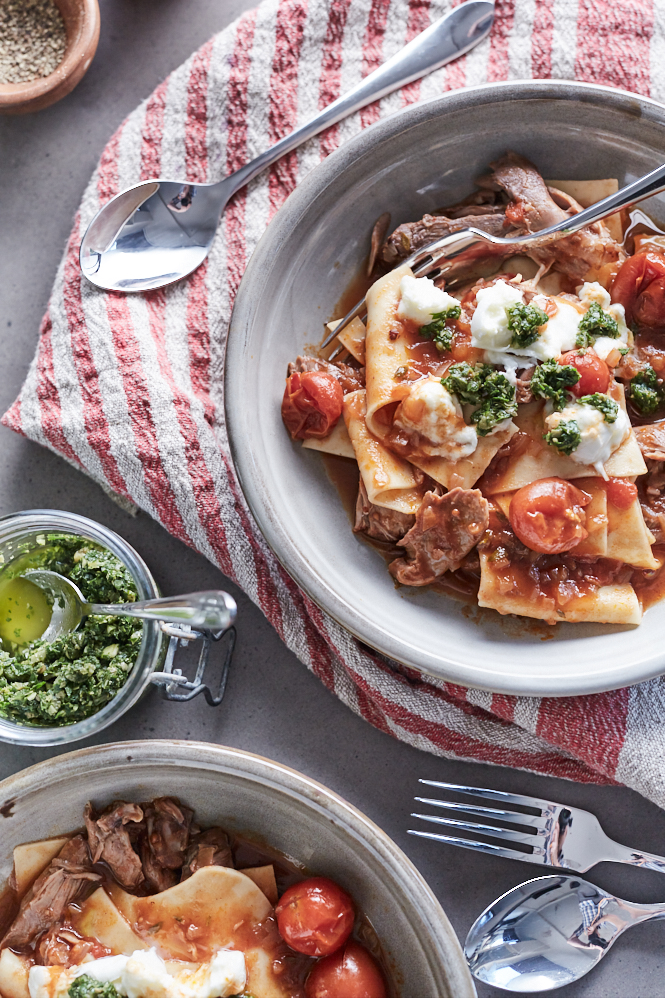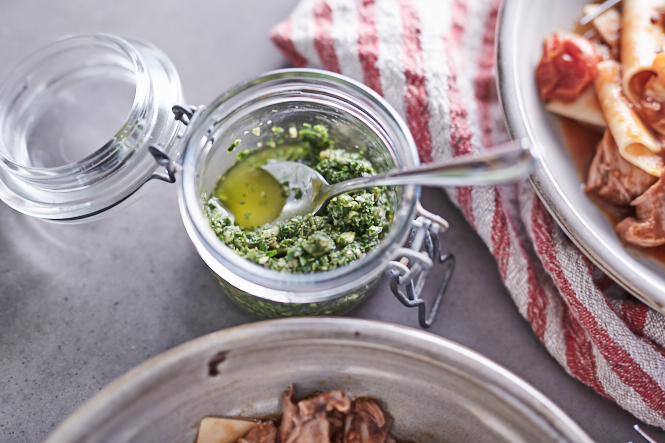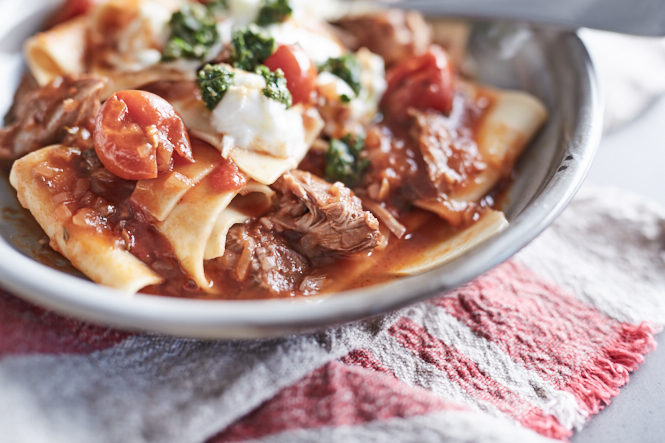 Lamb Shank Ragu
Print Recipe
Ingredients
2 tbs olive oil
1kg lamb shanks 
1 brown onion, chopped 
2 cloves garlic, crushed 
1 cup red wine 
2 x 400g cans cherry tomatoes 
5 sprigs thyme
1 cup water 
500g dried lasagne sheets 
125g buffalo mozzarella, torn 
sea salt
cracked black pepper
Salsa Verde
½ cup flat leaf parsley, leaves picked
½ cup mint, leaves picked
½ cup basil, leaves picked
1 clove garlic, peeled
1 tbs capers, drained
6 cornichons
3 tbs extra virgin olive oil
1 tbs red wine vinegar
sea salt
cracked black pepper
Instructions
Heat the oil in a large heavy-based saucepan over high heat. Add the lamb shanks and cook for 1–2 minutes each side or until well browned. Remove from the pan and set aside. 

Add the onion and garlic and cook for 1–2 minutes or until softened. Add the wine, tomato, thyme and water and stir to combine. 

Return the lamb back to the pan and bring to the boil. Reduce the heat to low, cover and simmer for 2 hours or until the lamb is tender and falling off the bone. If you can, allow to cool completely and then reheat to allow the flavours to develop. Remove the lamb from the pan and shred the meat from the bones with two forks, discard the bones. 

Meanwhile, to make the salsa verde, roughly chop the herbs in the centre of a large chopping board. Add the garlic, capers, and cornichons and continue chopping and mixing together until fine. Scrape everything into a bowl and add the olive oil, vinegar and season to taste. 

Bring a large pot of salted water to the boil. Break the lasagne sheets into rough pieces and cook for 8–10 minutes or until al dente. Drain and return to the pan. Add some of the sauce to the pan and toss to combine.

Divide the pasta between serving bowls, top with lamb meat, extra sauce, and top with buffalo mozzarella and salsa verde.