Lamb Pizza Two Ways
Lamb is the perfect crowd pleaser. In collaboration with We Love Our Lamb, I have created a series of three recipes made for sharing.
Whether it's a family night at home, or you are having a big party, these lamb pizzas are super simple to prepare and are bound to be a crowd favourite. You can either make the hummus based pizza, the tzatziki based pizza, or both! It's as simple as picking up one of those big Turkish bread loaves, a few other supplies and frying up some lamb mince in a few not so secret ingredients.
The spiced lamb mince is the star of the dish and goes perfectly with Turkish bread, which is less salty than pizza dough but also light and fluffy. The intense sourness of the pomegranate molasses really helps to lift the flavours too. You can choose to add it to both pizzas or perhaps substitute for caramelised balsamic. It won't be the same, but it will make it a little bit special. Give it a go and let me know what you think!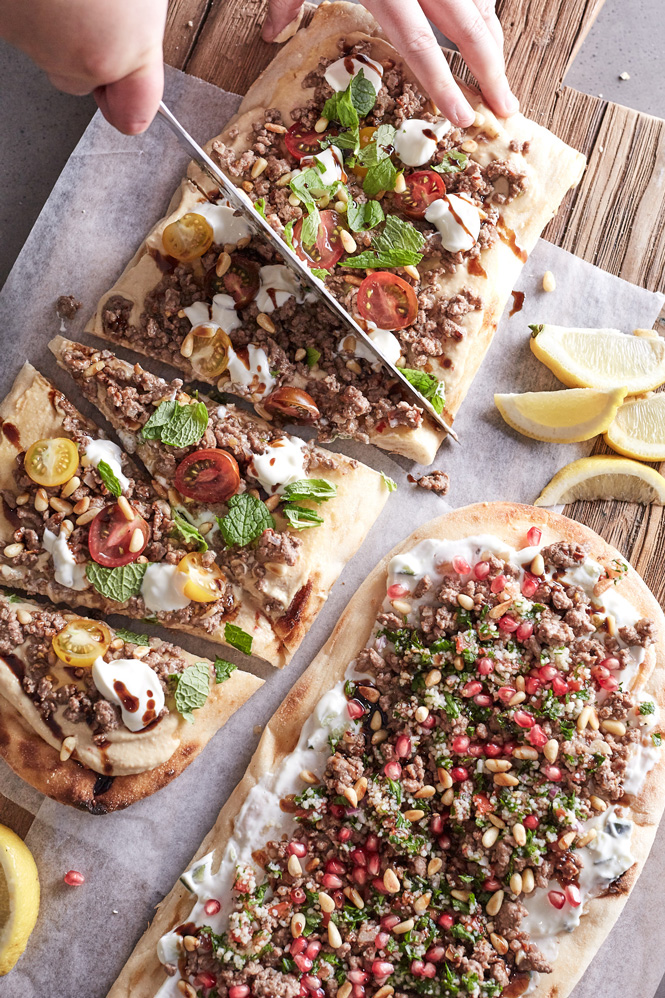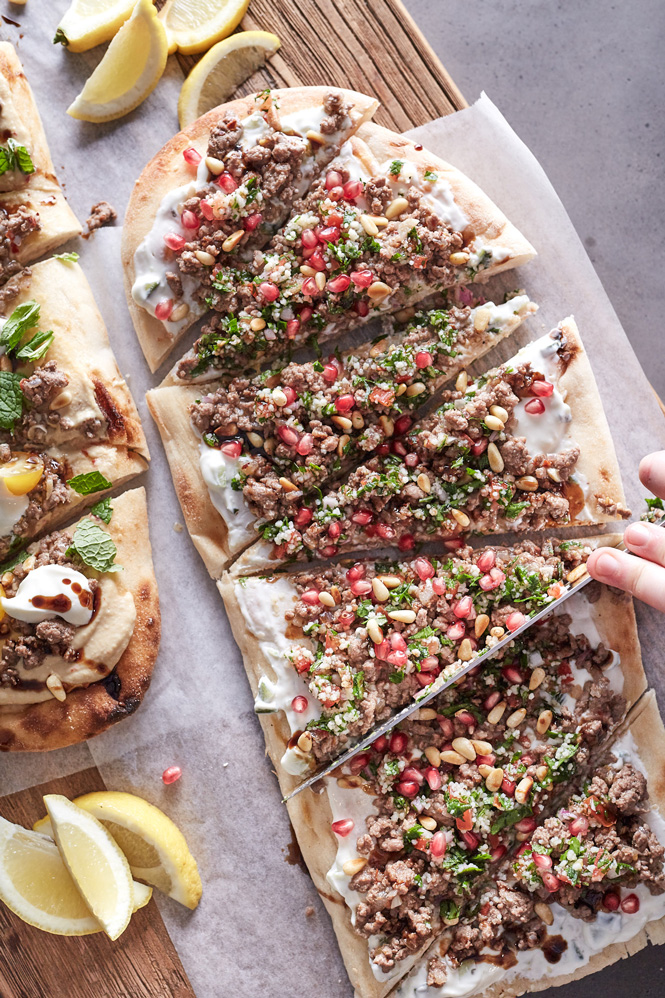 Lamb Pizza Two Ways
Serves 4-6
Lamb Mince Mixture
500g lamb mince
1/2 red onion, finely diced
2 garlic cloves, crushed
1 tsp ground cumin
1 tsp dried chilli flakes
1 tbsp olive oil
Sea salt and cracked black pepper
1 tbsp sugar
1/2 lemon, juiced
Hummus Based Pizza
1/2 large Turkish bread
1 cup hummus dip
6 cherry tomatoes
1/4 cup Greek yoghurt
1/4 cup pine nuts, toasted
1/4 cup mint leaves, roughly torn
Lemon wedges, to serve
Tzatziki Based Pizza
1/2 large Turkish bread
1 cup tzatziki dip
1/4 cup tabbouleh
1/4 cup pomegranate seeds
1/4 cup pine nuts, toasted
Pomegranate Molasses, to drizzle
Lemon wedges, to serve
1. Preheat oven to 220°C (200°C fan-forced), and line two baking trays with baking paper. Place one Turkish bread piece on each baking tray.
2. Place onion, garlic, lamb mince, cumin and chilli flakes in a large bowl and mix well to combine.
3. Heat the oil in a large non-stick frying pan over medium-high heat. Add the lamb mixture to the pan and cook, breaking up any lumps with a wooden spoon. Cook for 6-8 minutes or until golden and cooked through. Season with salt, pepper, sugar and lemon juice.
4. Toast the bread in the oven until golden. You may need to rotate the trays around.
5. To make the hummus based pizza, spread the hummus over the bread. Top with half the lamb mince mixture, tomatoes, yoghurt, pine nuts and mint leaves. Serve with extra lemon wedges.
6. To make the Tzatziki based pizza, spread the tzatziki over the bread. Top with remaining lamb mixture, tabbouleh, pomegranate seeds, pine nuts and a drizzle of pomegranate molasses. Serve with extra lemon wedges.