Chocolate Peanut Butter Cups
It's a classic combination loved by many, it's the nuttiness of peanut butter and the richness of chocolate. There's a reason Reece's Pieces have made billions of dollars off this match made in heaven, and why their peanut butter cups are a best seller.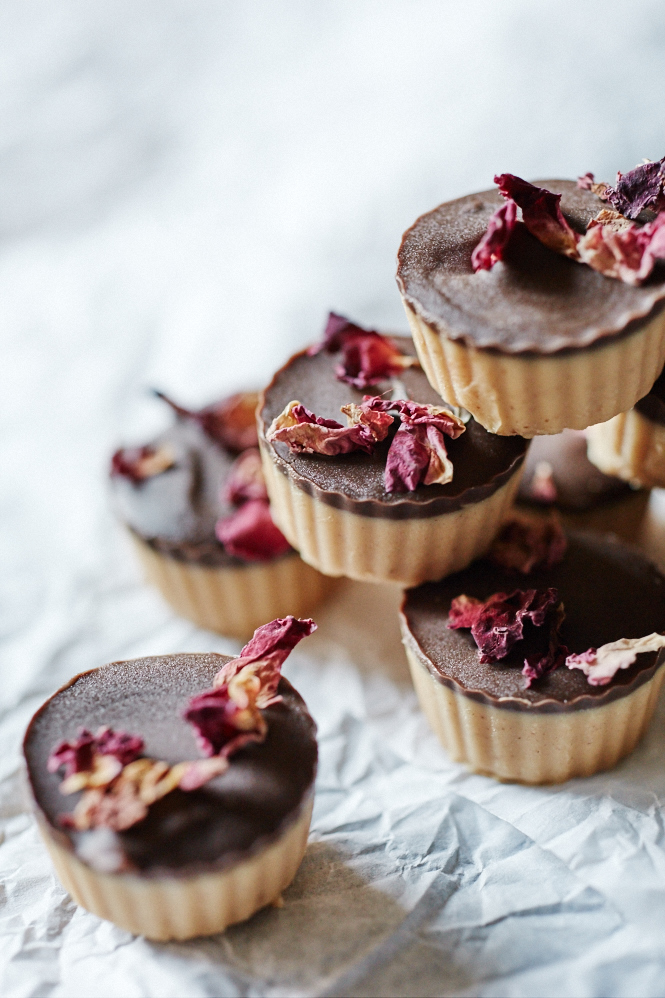 In another session of clearing out the pantry, I had just enough peanut butter in a jar, a gift from a friend in America. Andrew gave us a jar of his favourite peanut butter when we visited last year, and I brought it home to enjoy over endless slices of toast. Truth is I'm more of a crunchy peanut butter kinda gal, but this one was smooth and velvety. Armed with my peanut butter, some chocolate and coconut oil, I was ready to recreate this recipe from Donna Hay.
Very simple to make, and if you have any chocolate silicone moulds, use them! You don't need to oil before putting the mixture in, and they pop out easily too. If dried rose petals ain't your thing, then perhaps you can top yours with crushed peanuts, sea salt flakes, or…. the options are endless!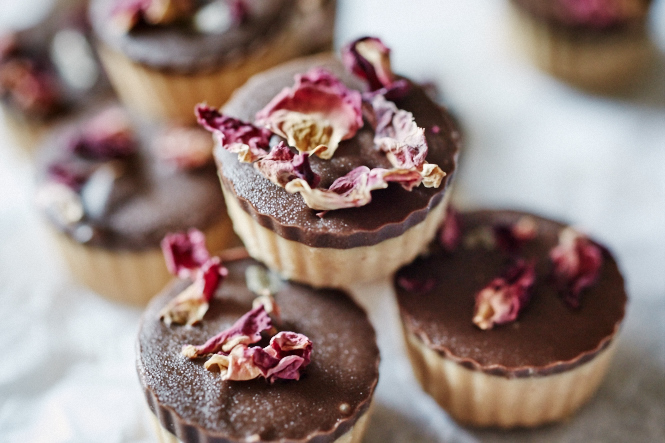 Chocolate Peanut Butter Cups
Print Recipe
Ingredients
1/2 cup 140g smooth peanut butter
1/2 cup 50g coconut oil
100 g dark chocolate melted
2 teaspoons coconut oil melted, extra
1 tablespoon dried rose petals to decorate (optional)
Instructions
Place the peanut butter and coconut oil in a small saucepan over low heat and stir until melted and smooth. Divide the mixture between the holes of a 12 x 1 tablespoon capacity mini muffin tin lined with paper cases. Freeze for 15-20 minutes or until firm.

While the cups are freezing, place the chocolate in a small bowl, add the extra melted coconut oil and mix until smooth.

Spoon the chocolate mixture over each peanut butter cup, and sprinkle with dried rose petals if using, and return to the freezer for 10-15 minutes or until firm. Remove from the tin and serve.
Notes
These are best stored in the fridge until ready to serve.