Love Potion Cocktail
I've teamed up with the guys and gals at Barkers of Geraldine to create the perfect cocktail to wow you lover this Valentines Day. Wow them even more by making these fun ice-spheres to pop in the glass. They are great for mixing the cocktail elements together just by rolling it around. All you need is some balloons, skewers, a couple of glasses and a freezer!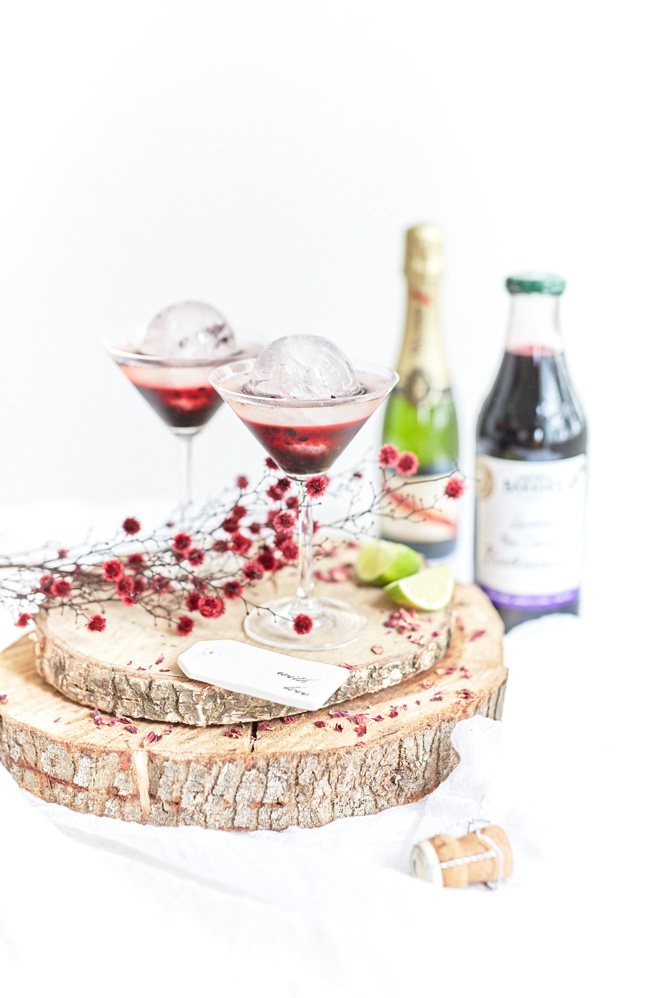 Using my favourite of Barker's of Geraldine's fruit syrups, the Squeezed NZ Blackcurrants Syrup, this cocktail is paired with some fresh blackberries, champagne (or prosecco) and a fresh, refreshing squeeze of lime.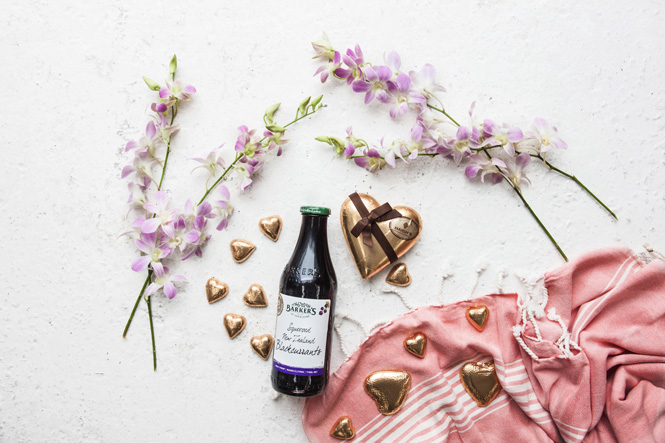 Barker's of Geraldine have also got a great giveaway going on. See my instagram for details.
Love Potion Prize which includes: Barker's of Geraldine NZ Squeezed Blackcurrant Syrup, 1 x Large Haighs Milk Chocolate Love Heart, 2 x Medium Haighs Milk Chocolate Love Heart and 10 x Mini Haighs Milk Chocolate Love Heart
Terms & Conditions of the competition: Entries close February 12th 2016 at midnight. Winners will be contacted and will be announced on my instagram on February 14th. Entrants must be Australian residents only.
Love Potion Cocktail
Print Recipe
Ingredients
2 x balloons water
50 g fresh blackberries or thawed from frozen
100 ml Barker's Squeezed NZ Blackcurrant fruit syrup
1 lime
Champagne or Prosecco
Instructions
To make Ice Spheres
Prepare two glasses that the water-filled balloons can be suspended in whilst in the freezer. Have at hand two sturdy skewers or chopsticks to tie the balloons to and to suspend over each glass. Take one balloon, open the neck and slide it over the kitchen tap. Slowly turn on the water flow and fill the balloon with enough water to make a small sphere (to fit into a martini glass or the glass you've chosen). Tie the balloon to the chopstick, suspend it over the glass, and repeat. Place the glasses with balloons in the freezer overnight.
To make Cocktail
Pulse the fresh blackberries and blackcurrant fruit syrup a few times, so there is still texture. Place one tablespoon of the blackcurrant mixture in the base of each martini glasses.

Take the frozen balloons out of the freezer. Run under a tap for a few seconds, then cut and peel away the balloon. Discard the balloon and place the ice-sphere in the martini glass on top of the blackcurrant mixture.

Top up glass with your choice of Champagne or Prosecco. Squeeze half a lime over each.

To mix, simply turn the ice-sphere around in the glass so the blackcurrant mixture mixes with the Champagne or Prosecco.
Notes
See more at: http://www.barkers.co.nz/recipes/fruit-syrups/love-potion-cocktail/#sthash.v26SoXiS.dpuf