Nature's Way: Raw Brownie & Spirulina Coconut Slice
There are many of us out there who are looking for an easier way to integrate more nutrients into our everyday diets. For me personally, I'm busier than ever, and barely home these days, so eating a balanced diet isn't always easy. Discovering new exciting products from Nature's Way Superfoods has definitely been a bonus. Something I thought I wouldn't normally try would be the Nature's Way Flavoured Spirulina, but I did recall having a smoothie with the green stuff in it and surprisingly enjoyed it. The best part is, I don't have to concoct an elaborate smoothie to enjoy it, I can easily enjoy it just by mixing a teaspoon into 250ml water.
When I mention the 's'-word, spirulina to others, it's like I've told them some gory news. Their faces screw up and they tilt their heads to the side and ask "isn't that the green algae stuff?". It's doesn't get the same reaction as if you say donuts!
Most spirulinas on the market probably do taste like pond scum, but Nature's Way have developed the "world's first flavoured spirulina", with their new tropical flavoured powder having notes of pineapple. So it's a great addition to smoothies, breakfasts or even my crazy baking creations.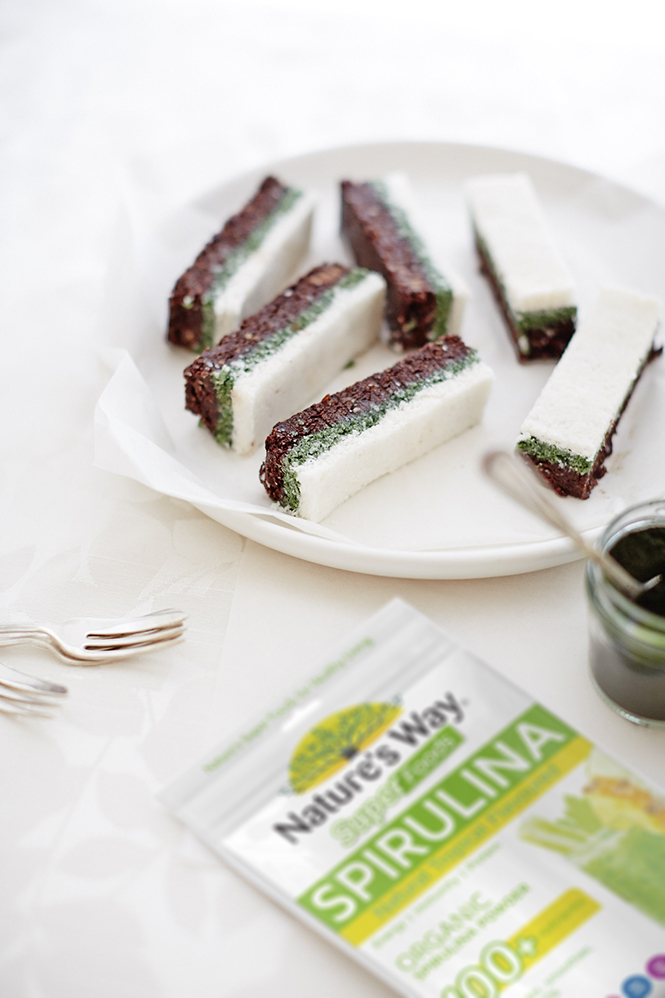 A bit of research tells me spirulina is actually blue algae found in the tropical shores of South Asia. Nature's Way Spirulina is organically grown in the Hainan province, to the south of China, in a secluded rural area, far from urban pollutants.
I love to cook, and find that sometimes I've got to consider vegetarian and vegan diets. So it's good to know that this particular spirulina is a source of non-animal protein. It's also low in fat and cholesterol, which is an added bonus.
As we are entering into cold and flu season, it's a great time to start boosting your immunity. While you are at it, Nature's Way Spirulina has over 100 nutrients which can help reduces tiredness and fatigue, which I know I'm guilty of at the moment, with lots of jobs on the go. And with the food I get to eat on the job, this spirulina can help with weight loss and digestion.
There is really so much more as well, for more information head to: www.naturesway.com.au/superfood/spirulina-natural-tropical-flavoured
Nature's Way Spirulina powder can be found at Woolworths & Health 365.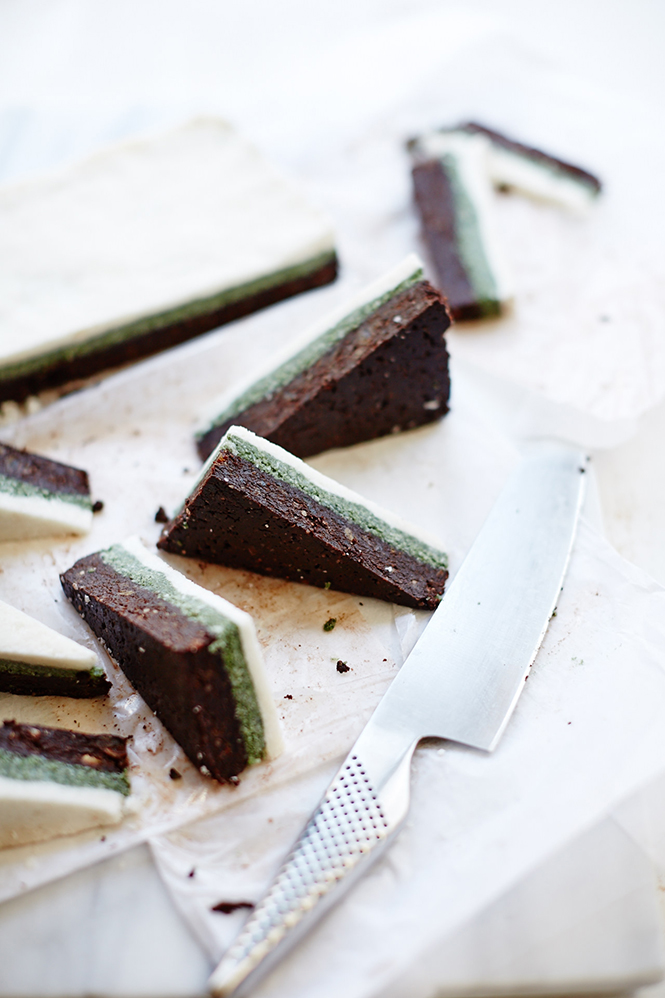 Having never cooked with spirulina before, I was rather stumped at what I could do. I do love my desserts, so I started to see what I could do. With Spirulina being a superfood, I couldn't really make something truly decadent, it just didn't seem right; so I decided to try my first raw recipe, with pleasant results!
The brownie base helps to bring the coconut layers together. With the middle layer including our hero, spirulina, it also adds a lovely burst of colour. A lovely slice recipe, much healthier than your average brownie!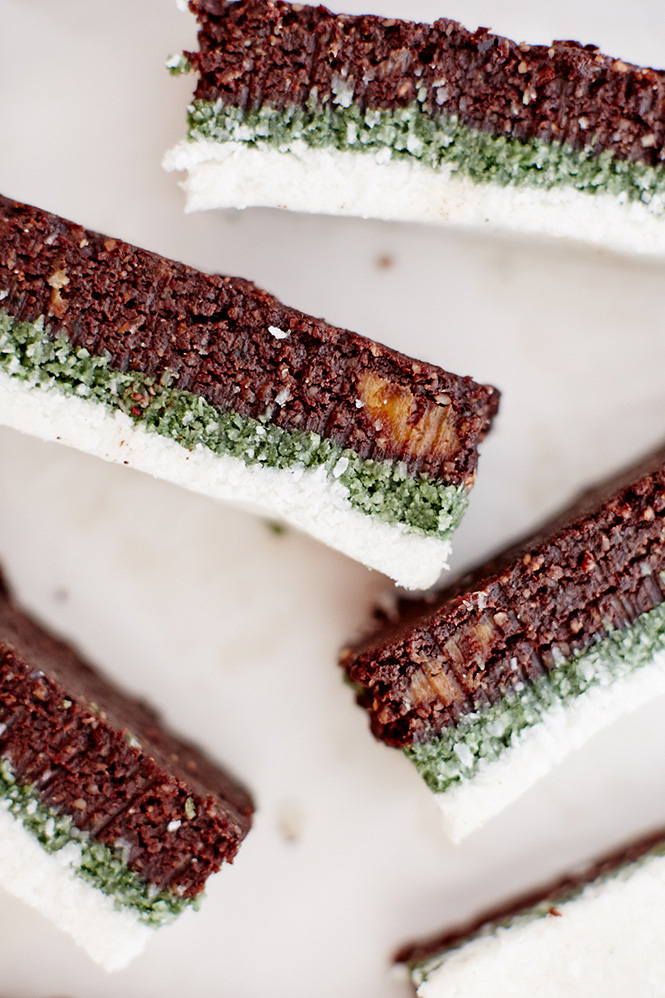 Raw Brownie & Spirulina Coconut Slice
Print Recipe
Ingredients
For The Brownie
100 g walnuts
100 g pecans
425 g dates pitted and quartered (if hard, soak in hot water for 10 minutes and drain)
60 g cocoa powder
a pinch of salt
For The Coconut Topping
2 tbsp coconut oil
2 tbsp rice malt syrup
280 g dessicated coconut
4 tbsp coconut milk
1 tsp Nature's Way Flavoured Spirulina
a couple of drops of green food colouring optional
Instructions
Place the walnuts and pecans in a food processor, and process until finely ground.

Add the cocoa powder and sea salt and pulse to combine. Transfer to a bowl and set aside.

Add the dates to the food processor and process until small bits remain. Remove and set aside.

Add nut and cocoa mixture back into food processor. Whilst processing, drop spoonfuls of the date mixture down the food processor spout and process until a dough consistency is achieved.

Add the brownie mixture to a 20x20cm brownie pan lined with baking paper. Use a spoon to press the mixture down evenly and all the way into the corners.

Top make the coconut topping, blend the coconut oil, rice malt syrup, dessicated coconut and coconut milk in a food processor.

Divide the mixture in half. Set half aside and keep the other half in the food processor. Add the Nature's Way Flavoured Spirulina and food colouring (if using) to the half in the processor and mix until combined.

Tip the spirulina mixture on top of the brownie mixture in the prepared pan, and press the mixture down firmly with a clean spoon.

Tip the plain coconut mixture on top of the spirulina mixture, and press down again with a clean spoon.

Place in the fridge overnight, then slice and serve.