Prosecco Scones – The Real Way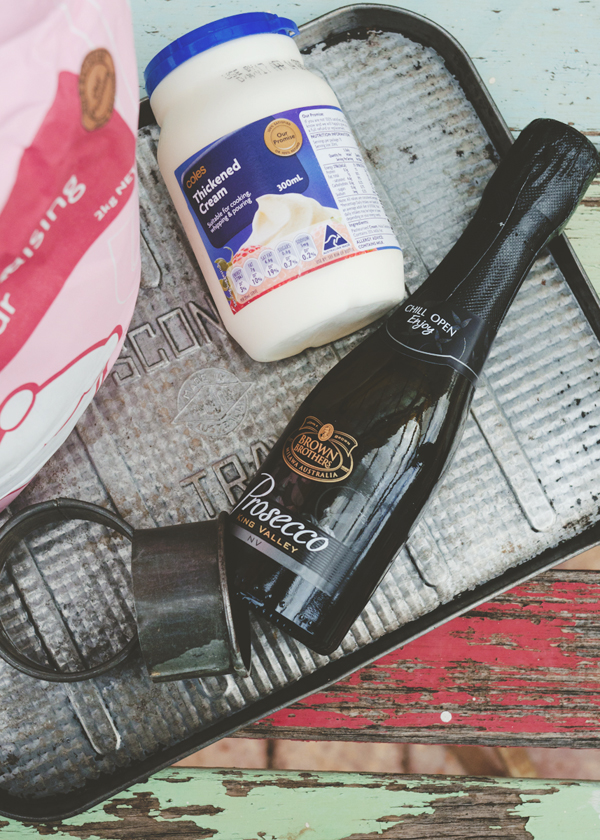 I'm glad I managed to fool a few of you on April Fool's Day with my iron cooked scones 😉 I'm not usually one to do any fooling on April Fool's but I know Billy is. At the Sunday market I #brainfarted we should do some unconventional food styling, and the idea evolved from there. We sourced random objects from around the farm house where we were staying, including bubble wrap, but I just didn't feel it worked well in photos. That's probably the only reason why Gourmet Traveller and Donna Hay don't style with bubble wrap 😉
We went back to the farmhouse after lunch to cook up afternoon tea, whilst the other awesome people of the photography masterclass (co-run by Ewen Bell) searched for hidden gems around Trentham. Billy hadn't heard of or made lemonade scones before, so we had a #sconeoff. He used the tradition rubbing together of butter and flour method, and I used lemonade, but also did a batch with Prosecco.
Let me say, the Prosecco version was a success, and you can actually taste the Prosecco in them. A definite treat 🙂
I love this photo Maureen took of me holding the scones <3 Make sure you check out her blog, she is bags of fun 🙂
And now, the REAL recipe, no irons involved!
Prosecco Scones
Print Recipe
Ingredients
4 cups self-raising flour sifted
300 ml cream
300 ml Prosecco
Instructions
Preheat oven to 200°C.

Sift flour into a large bowl, add cream and Prosecco.

Mix together with 2 knives, until combined.

Pat onto a well floured board, cut with floured scone cutter and place on baking tray.

Bake for 10-12 minutes.

Cool on trays, serve with jam and lashing of whipped cream, and a glass of Prosecco.