Boulcott Street Bistro
Our last night in Wellington, the rugby was on and the All Blacks were playing. This meant that Ed and I were one of the three tables that were silly enough to dine out on such an important sporting night. It's not like we planned it to happen, but we had a delicious time anyway.
Set in this gothic cottage nestled between corporate concrete buildings, this iconic landmark has been serving Wellingtonians with food for 20 years. Partner and chef Rex Morgan is also one of the featured chefs at the WLG pop up restaurant opening tomorrow in Melbourne.
Prawn & Chorizo Risotto
With lobster bisque and basil butter
Gremolata Crumbed Calamari
Sauce tartare and lemon (BSB classic)
Roasted Poisson Du Jour
Saffron and prawn ravioli and lemon butter
Steak Florentine
Grilled sirloin marinated in fresh herbs, garlic and lemon served with Lyonnaise potatoes and roasted tomato.
Roasted Beetroot with Fresh Thyme
Creme Brûlée
With poached seasonal fruit (a BSB classic)
Baked Apple Ginger Crumble
With Autumn rhubarb pudding
I thoroughly enjoyed all the food here. The risotto was cooked perfectly, with the delicious combination of prawns and chorizo. Whilst the signature dish is lamb shanks, I was feeling so full from eating our way around Wellington, I was glad the fish was a light, but still moorish substitute. And just looking at the picture of the creme brûlée reminds me of how smooth and perfect it was…. *drool*
Phone: +64 499 4199
Email: info@boulcottstbistro.co.nz
Website: http://www.boulcottstreetbistro.co.nz
Address: 99 Boulcott Street, Wellington
—————————————————————————————
Tickets now on sale – WLG Pop Up Restaurant
—————————————————————————————

This year's menu will include tapas-style shared plates created especially for WLG by some of the Wellington regions most sought-after chefs for only $35, including Rex Morgan, head chef at Boulcott Street Bistro and one of the select few chefs to have won all of New Zealand's culinary awards, ShaunClouston, head chef at Cuisine Magazine's Restaurant of the Year 2009 –Logan Brown, Tom Hutchinson, head chef and owner of Capitol, one of the Wellington's most successful restaurants and Terry Lowe, head chef at Black Barn Restaurant and Vineyard Hawke's Bay voted by Cuisine Magazine as New Zealand's best winery restaurant in 2011.
Tickets are now on sale and can be purchased via au.timeout.com/Melbourne, although there will be limited walk ins accepted.
Iron Chef Shellie visited Wellington as a guest of Positively Wellington Tourism.

—————————————————————————————
WLG Pop Up Restaurant GIVEAWAY WINNER
—————————————————————————————
The winner of the double pass giveaway for Friday 18th November 2011 at 8pm is: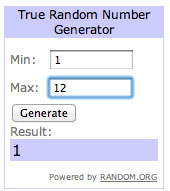 Congratulations! Will be in touch with how to redeem your prize 😀