Pine Mushroom Pasta with Bacon & Sage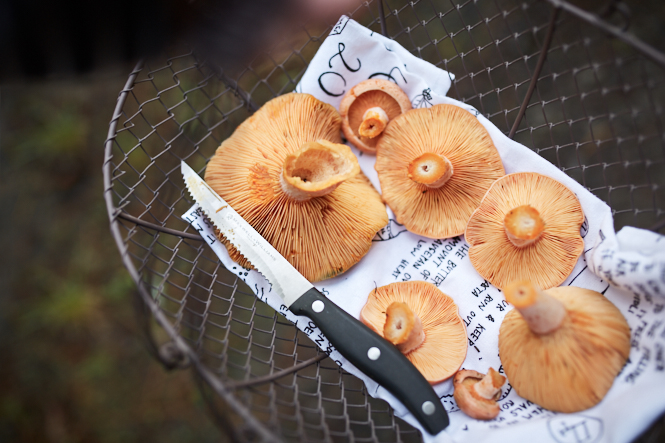 I've wanted to go mushroom foraging for years. I saw Heidi do it via instagram and loved the thought of walking into a foggy forest to harvest some of the prettiest mushrooms around. 
The group of women who attended the Daylesford Food Photography Workshop Ewen and I ran two years ago have stayed close and we catch up a couple of times a year. We theme our catch ups around food and the chance to photograph it.  Way back in January, one of those fabulous women, Jo (who now the best food photographer in Geelong), told us about a mushroom forage that would run in June. One of her favourite clients/cafe Little Green Corner was putting on the event, and it sold out the year before so we got in quick and bought our tickets for this year. 
After months of waiting, Sunday was the day of the forage! We drove out to Geelong and met the foraging group. We started with granola from Little Green Corner and headed off a few minutes down the road to where the mushrooms were hiding. I didn't take too many photos on this day, I was enjoying being out in nature, and well I couldn't carry my knife, basket and camera all at the same time! 
After an hour or so of hunting out the pine mushrooms (also known as saffron milk caps), we headed back to our meeting point where the Little Green Corner team had put on lunch for us! It was just what we needed, a beetroot and jerusalem artichoke salad, the most amazing mushroom risotto, baked potatoes, pumpkin and a killer garlic bread. It was one glorious day to enjoy with some of my favourite ladies.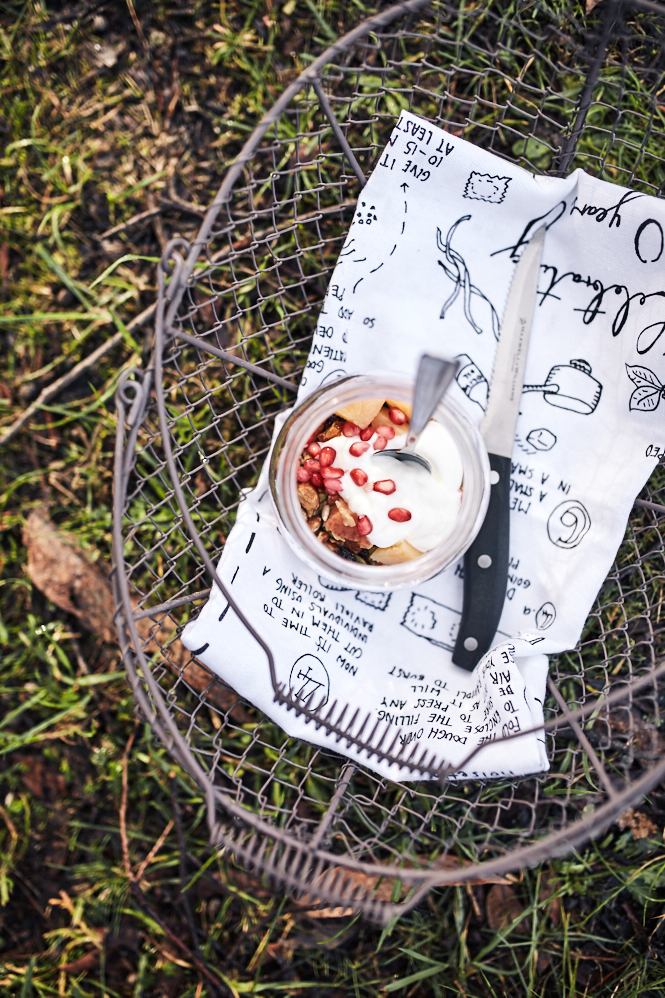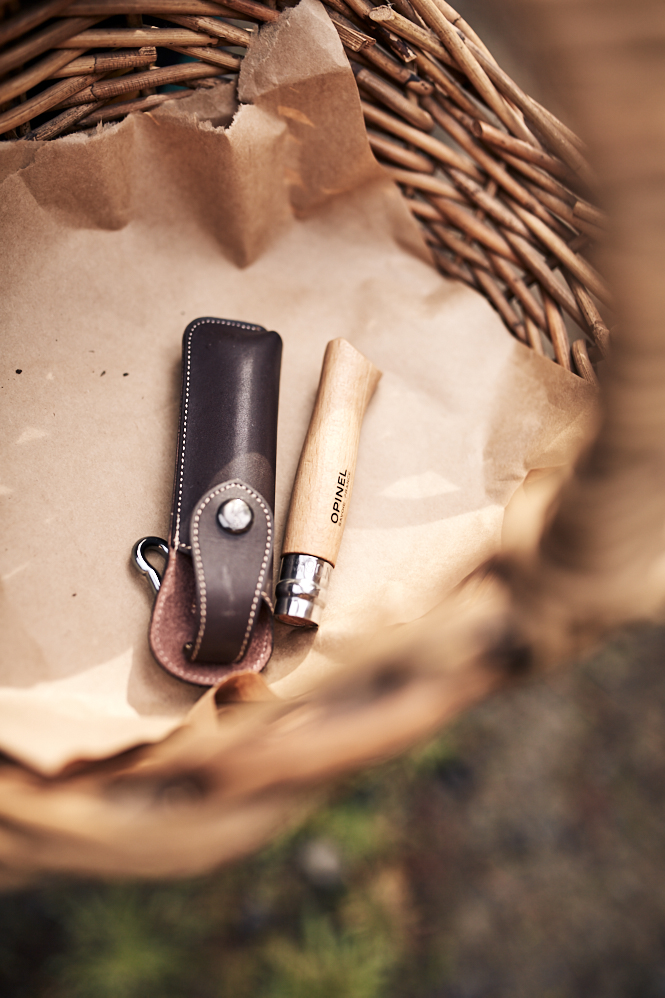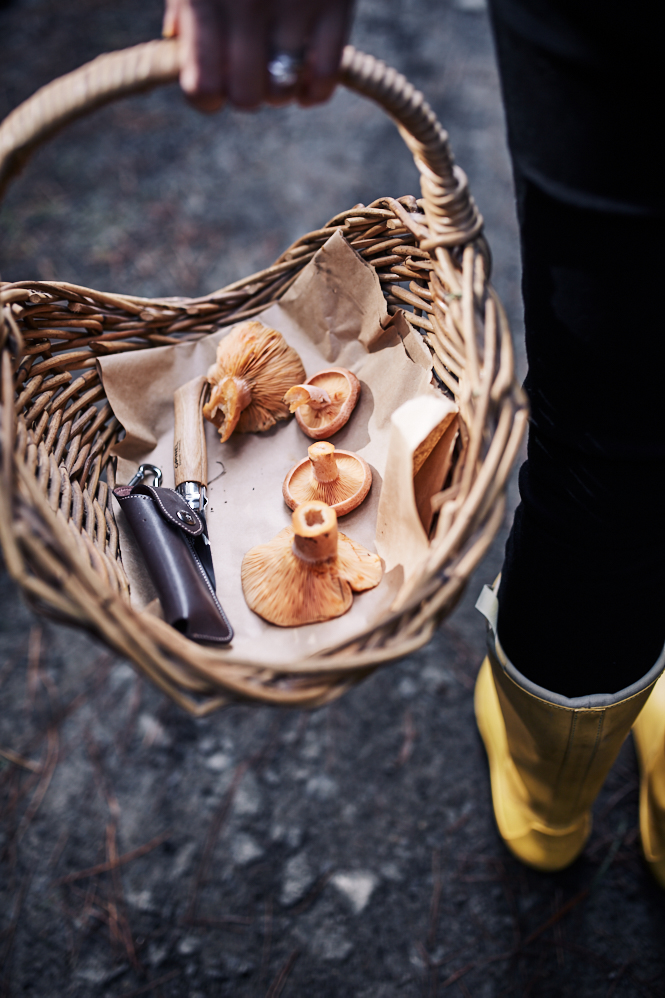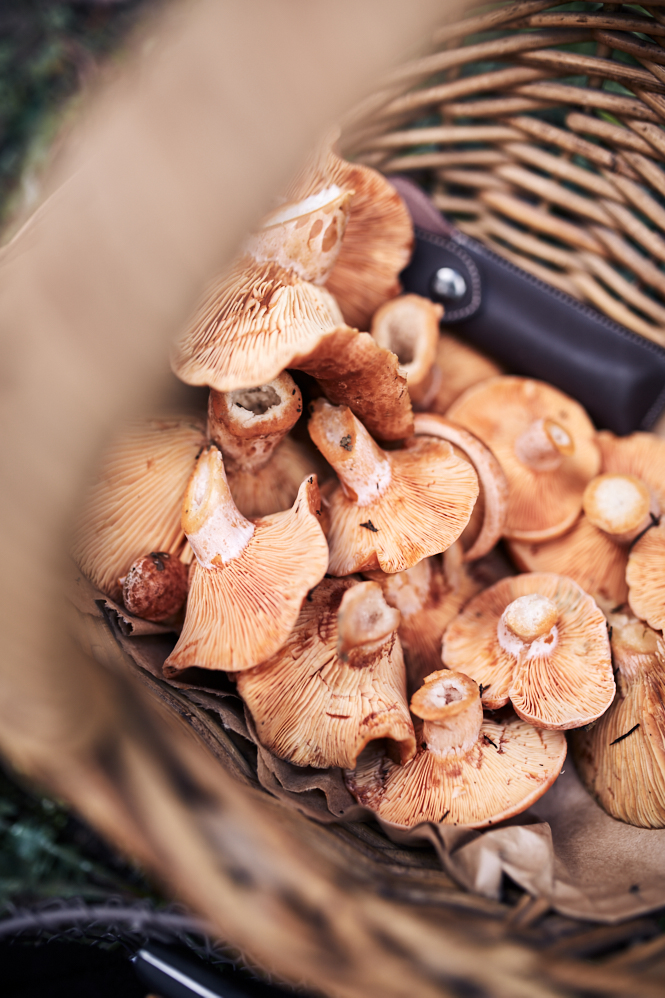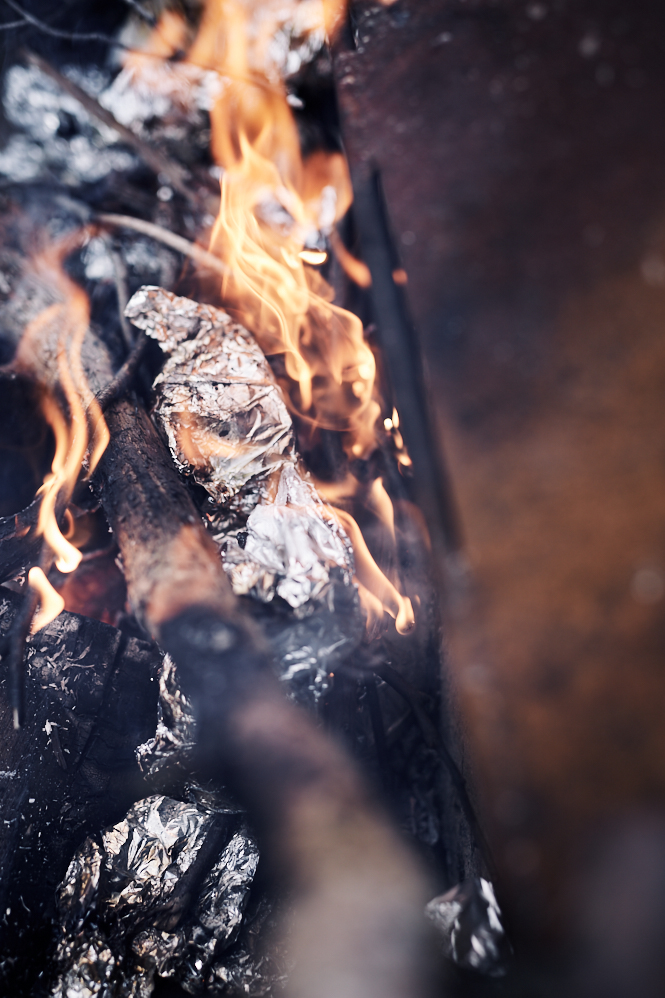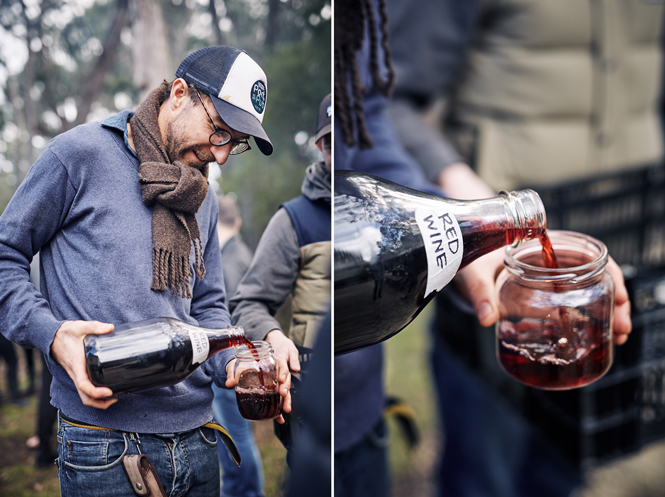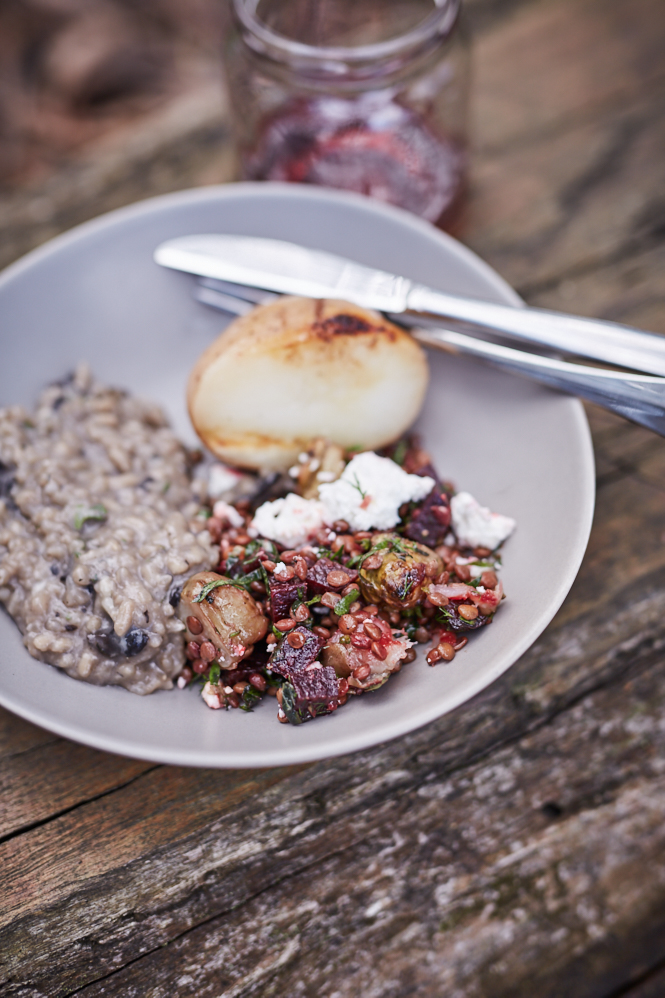 ---
Back home and in the kitchen I had this pasta dish in mind. I couldn't find a recipe that included all the things I wanted to include so I've had to wing it. I wanted to make my own pasta but I wasn't able to find the correct flour, so I'll do a home made pasta another day! I love all the flavours here, the creaminess of the ricotta, the crunchy nutty hazelnuts, the smokey bacon, the lovely texture and taste of the pine mushrooms with a little garlic.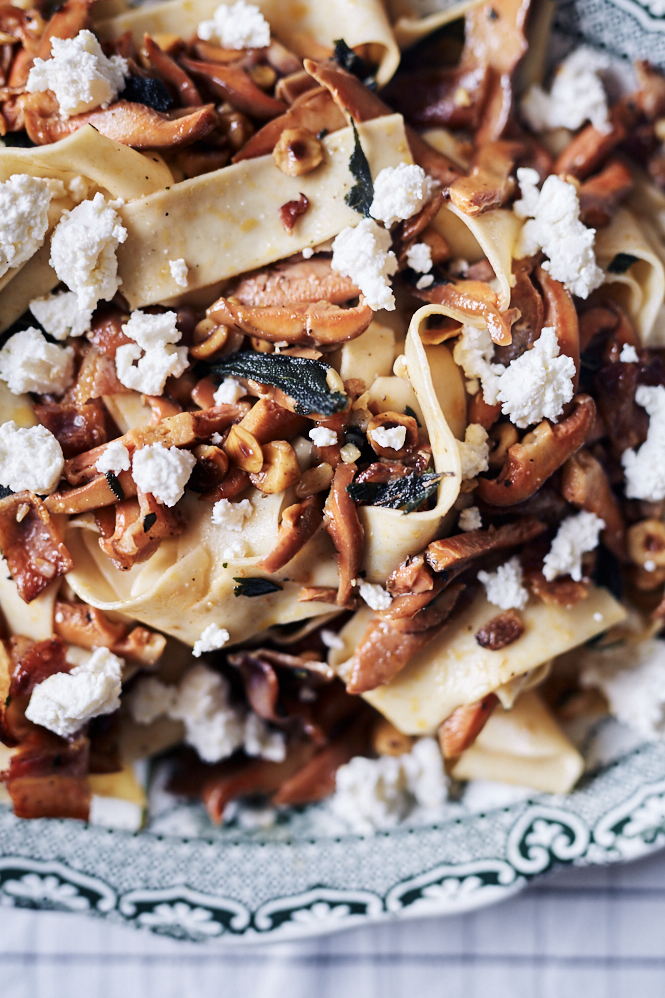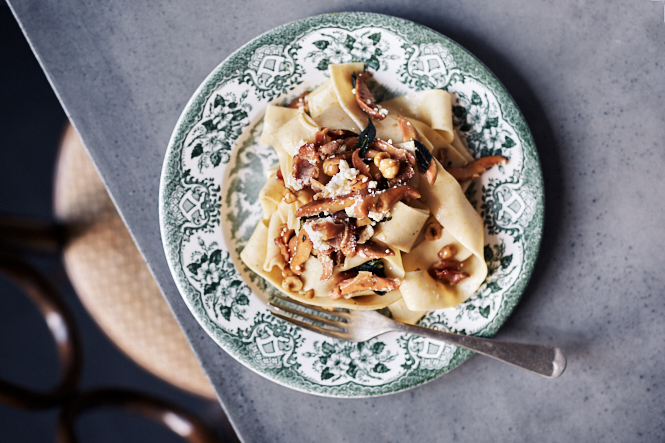 Pine Mushroom Pasta with Bacon & Sage
Print Recipe
Ingredients
400g fresh pappardelle
1⁄4 cup salted butter
3 garlic cloves, finely chopped
400g pine mushrooms, sliced
200g smoky streaky bacon
1 cup sage leaves
40g hazelnuts, roughly chopped
salt & pepper, for seasoning
100g ricotta
Instructions
Heat a frying pan over a medium-high heat. Cook the bacon in batches in a single layer until nice a crispy. Cut into chunky pieces with kitchen scissors and put aside on a plate for later.

Fry the sage leaves in the bacon fat for a few seconds, remove and place on paper towel to absorb excess oil. Toast the hazelnuts also in the bacon fat for a couple of minutes and set aside for later.

Bring a large pot of water to the boil and salt generously. Cook the pasta till al dente, drain well.

Meanwhile, heat butter in the same large frying pan over medium-high heat. Add the garlic and pine mushrooms to the frying pan and fry until mushrooms have softened. Add in the sage, bacon and hazelnuts and give a good stir. Season with salt and pepper. Finally add the cooked pasta to the pan and toss through well, coating the pasta with the mushroom mixture. Divide between four plates and crumble with ricotta cheese. Serve immediately.