BBQ Lamb Riblets with Sweet Glazed Carrots & Couscous
On a trip to the market, we were checking out the meat and working out what we would cook on our new BBQ. Ewen found lamb riblets and got quite excited at the thought of cooking them. They don't take much effort at all, you just need to season them well and grill them on the BBQ – a few simple side dishes and you've got yourself a meal!
I find lamb goes well with couscous, so I made one of my favourite couscous recipes. I also paired it with some sweet glazed carrots, accompanied by chickpeas and pomegranate. The yoghurt helps to add a dressing to it all and brings it together. This recipe is a collaboration with We Love Our Lamb and a great meal for sharing, as the crowd nibbles on a big pile of ribs and side dishes!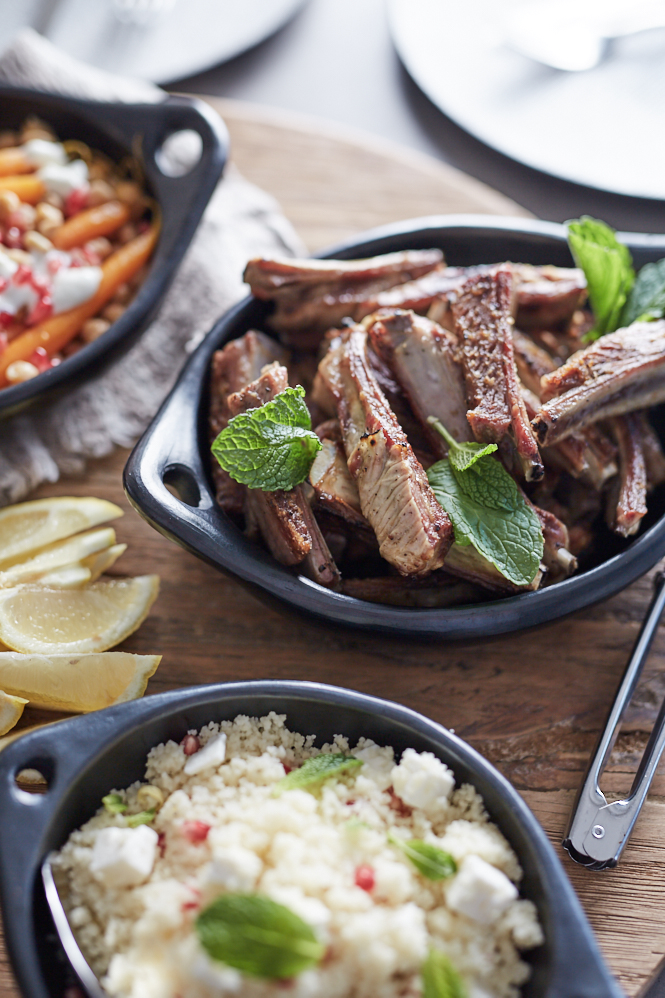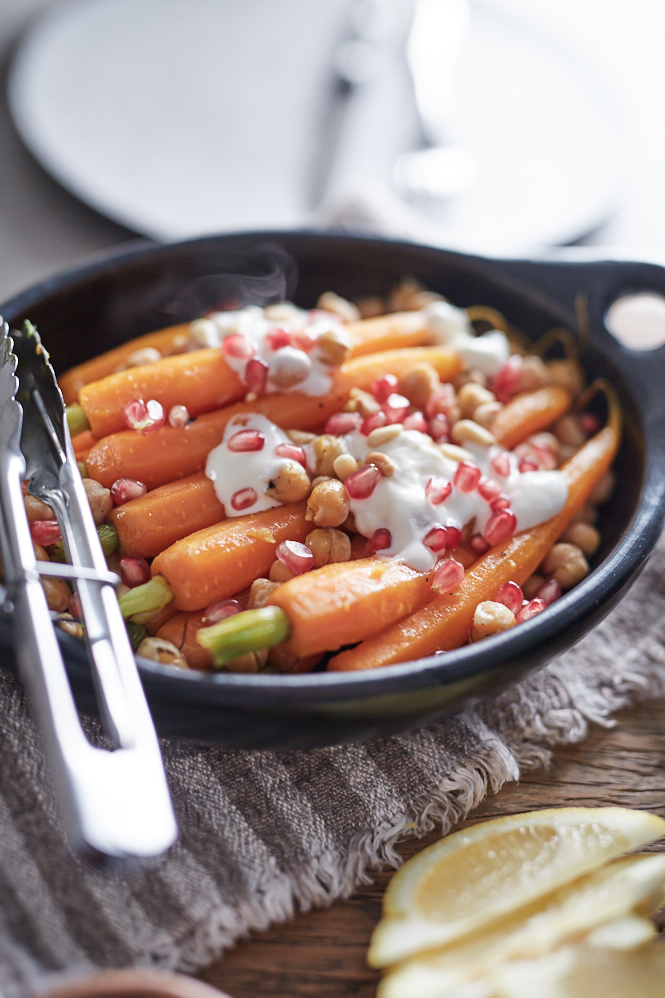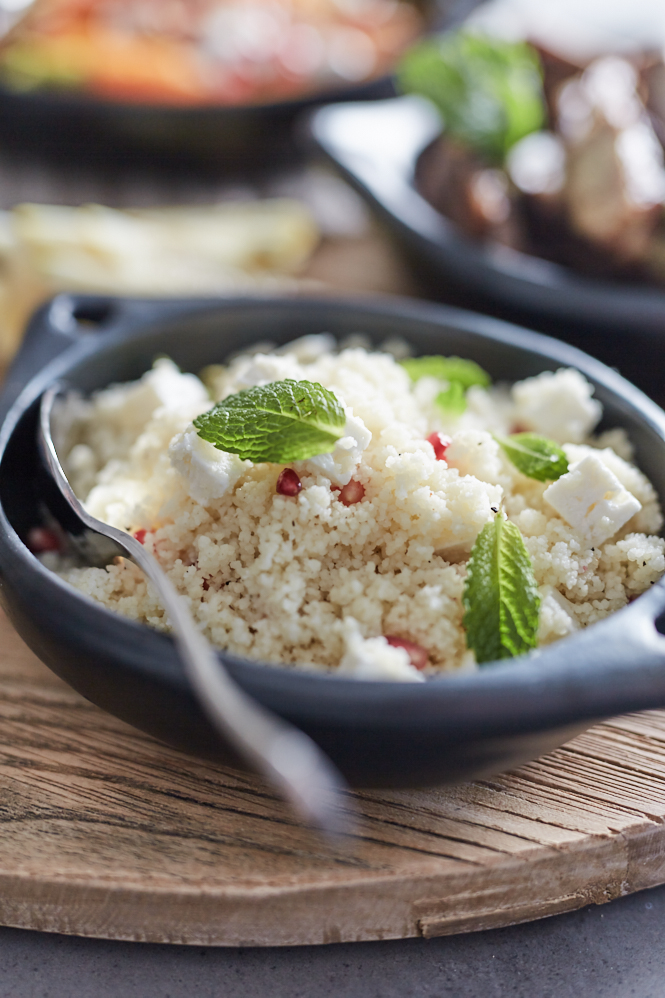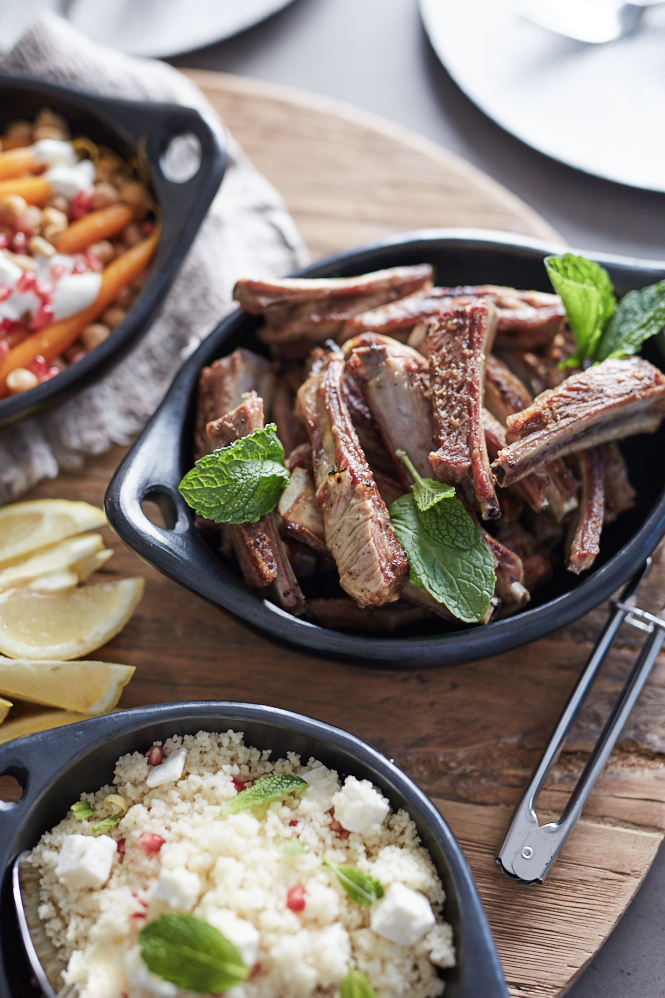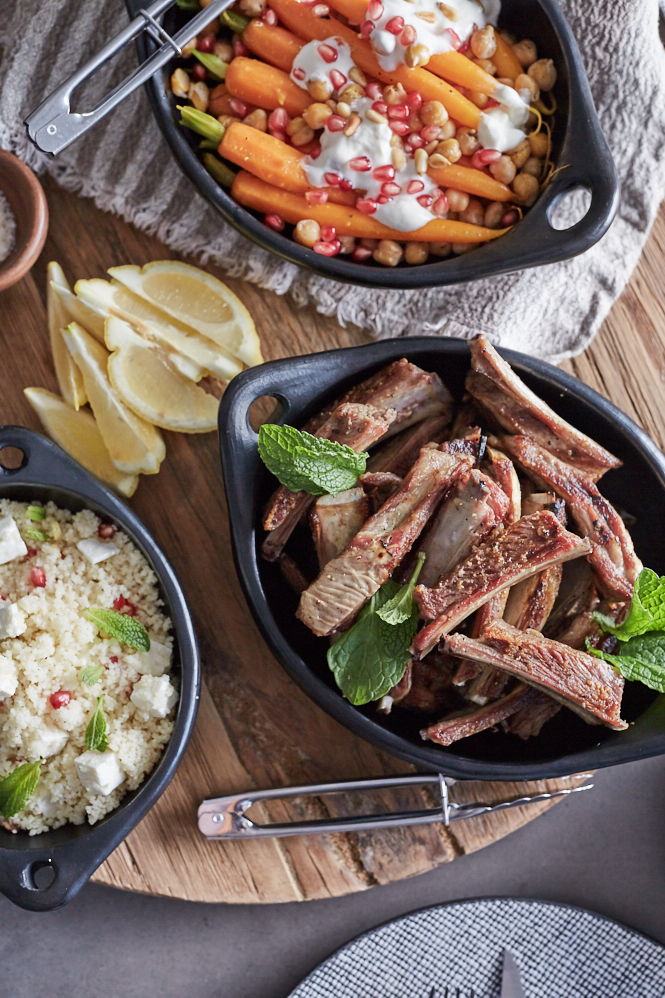 BBQ Lamb Riblets with Sweet Glazed Carrots & Couscous
Serves 6-8
1kg lamb riblets
sea salt and cracked black pepper
Cous Cous
1 cup couscous
1½ cups hot chicken stock
20g butter
½ cup mint leaves
¼ cup pomegranate seeds
1 tsp finely grated orange rind
sea salt and cracked black pepper
1/2 cup marinated feta
Sweet Glazed Carrots
400g can chickpeas, drained and rinsed
1 large bunch dutch carrots, green stalked removed
2 tbs olive oil
3 cloves of garlic, crushed with the back of a knife
1 large orange, juiced
sea salt and cracked black pepper
1/2 cup greek yoghurt
2 tbs pomegranate seeds
Preheat the BBQ to high heat. Season the lamb riblets well and grill until cooked to your liking.
To make the sweet glazed carrots, start by placing half the oil in a large non-stick frying pan over a medium-high heat. Add the chickpeas, season with salt and pepper and cook until for around 5 minutes. Remove from pan and set aside.
Add the remaining oil to the frying pan, along with garlic and orange juice. Add the carrots in a single layer, season, cover and reduce the heat to medium-low. Cook for 15 to 20 minutes, or until tender. Remove the lid, then cook for a further 5 minutes, or until the glaze has reduced, and the carrots are sticky and caramelised. Place in a serving dish, top with chickpeas, dollops of yoghurt and pomegranate seeds.
Place the couscous in a heatproof bowl and pour over the boiling stock. Cover with plastic wrap and set aside until the stock has absorbed.
Using a fork, fluff up the couscous. Stir through the butter, then stir through the, pomegranate seeds, orange rind, half the feta, salt and pepper. Place in serving bowl and top with remaining feta and mint leaves.
Serve lamb riblets with couscous and carrots.