Fresh Winter Food Ideas
Sponsored post for Vicinity Centres.
As the weather gets colder and the days get shorter, we gravitate towards warm hearty stews, crawl under the blankets and enjoy each other's company on the couch with bowls of delicious food.
With this in mind, I've teamed up with Vicinity Centres to come up with some simple, fresh winter food ideas you can pick up at your local Vicinity Centre.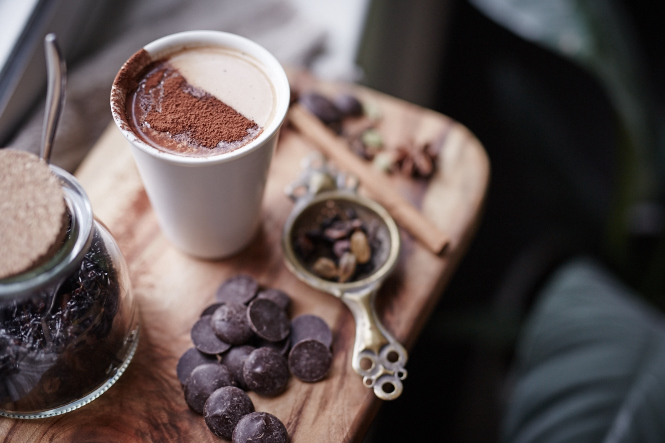 Having never really been a coffee drinker, the chai trend came along just as I was at the age when going out for a coffee with friends was a thing. Teaming chai and hot chocolate together is a special treat I reserve just for winter. You can even add some big fluffy marshmallows on top if that's your thing.
There are no rules when it comes to chocolate chai, you can use your favourite hot chocolate powder, or melt milk/dark chocolate. Instant chai or make up your own blend with tea leaves, honey and spices, it's totally up to you.
My favourite way to prepare this is to brew up a pot of my favourite chai, until just below boiling. Turn off the heat and add a handful of dark chocolate and stir to melt through. Enjoy with a little sweet treat for the perfect afternoon pick me up!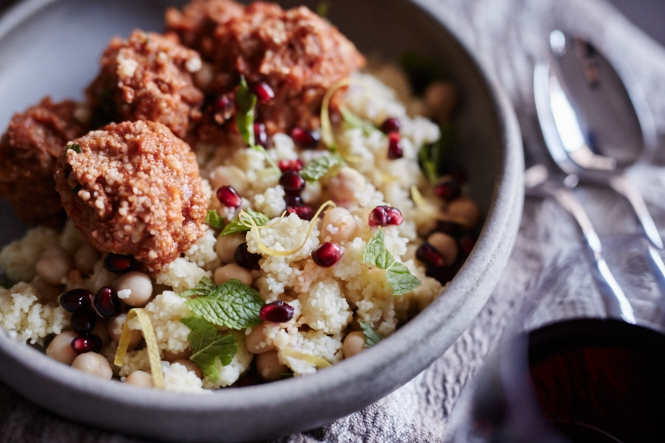 When it comes to a hearty winter stew, couscous is a great vessel to soak up all those delicious juices. Don't just have plain couscous though, make sure you add flavour and extra nutrition to it. Cooking it with hot chicken stock is a good start. Simple touches like opening a can of chickpeas and mixing it through, with added pomegranate and mint leaves make for a great accompaniment, especially to Moroccan dishes. Toasted almond flakes add a great crunch, or try crumbling some feta for that added creaminess!
Below is a simple recipe to make your couscous more exciting.
Moroccan Style Couscous
Serves 2 as a side dish
1 cup (200g) couscous
1½ cups (375ml) hot chicken stock
20g butter
½ cup mint leaves, roughly torn
1 cup canned chickpeas, rinsed well
¼ cup pomegranate seeds
1 teaspoon finely grated orange rind
sea salt and cracked black pepper
1. Place the couscous in a bowl and pour over the boiling stock. Cover with a plate and set aside until the stock has absorbed.
2. Stir through the butter with a fork to help fluff up the couscous. Stir through the mint, chickpeas, pomegranate, orange rind, salt and pepper.
3. Place couscous on serving plates and serve with your favourite stew. I've served mine with some delicious, saucy meatballs.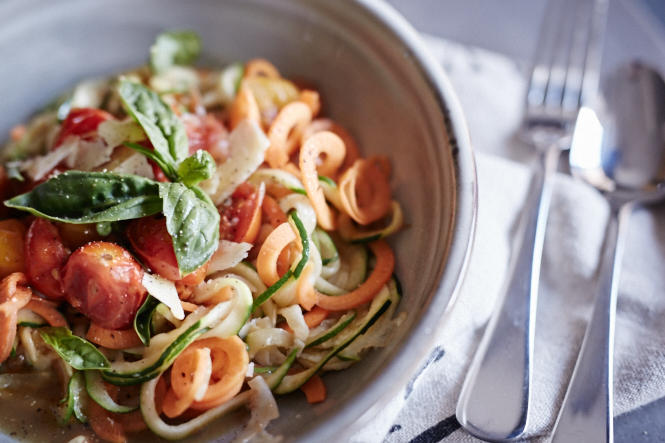 My favourite winter food is pasta! Well let's be honest, I'm a sucker for any white carbohydrate, they just soak up flavours so well. If you invest in a spiralizer, you'll be able to make your own healthier 'pasta'. Most spiralizers out there will have different thickness settings, so you can make thin or thick 'pasta' out of your chosen veggies. It doesn't just have to be zucchini noodles, it can be mixed with carrot, beetroot, sweet potato, the options are endless. I recommend just sautéing the spiralized veggies in a frying pan with a little oil just to soften them down. Serve it with your favourite sauce, from bolognaise to pesto, and you've got a great healthy, fresh winter alternative.
A simple recipe below for those times when you don't want to be slaving away in the kitchen for hours.
Zucchini & Carrot Noodles with Tomato Sauce
Serves 4
400g heirloom tomatoes
5 tbsp olive oil
1 garlic clove, minced
2 zucchinis, spiralised into noodles
2 carrots, spiralised into noodles
2 tbsp balsamic vinegar
salt and pepper, to taste
chilli flakes, to taste
1 cup fresh basil leaves
1 cup parmesan cheese
1. Preheat the oven to 200C / 180C fan-forced.
2. Toss the tomatoes in 3 tablespoons of olive oil and arrange in a single layer on a line baking tray. Roast for 20 minutes, or until tomatoes begin to burst. Remove from the oven and set aside.
3. Heat the remaining 2 tablespoons of olive oil in a large frying pan over medium heat. Cook minced garlic for 1 minute until fragrant. Add zucchini and carrot noodles and cook for 2-3 minutes, then add tomatoes and any leftover juices in the baking tray. Add balsamic vinegar, chilli flakes and salt and pepper to taste.
4. Toss to combine, and divide between 4 serving bowls. To serve topped with fresh basil and parmesan cheese. Serve immediately.
All these ingredients can be picked up at your local Vicinity Centre. For more information on your nearest centre head to: vicinity.com.au/centres/our-portfolio