Lobster Rolls Inspired By Peters Square
If you ask me what my favourite city in the world is, it's really a big toss up between Melbourne where I live, and Manhattan, New York. New York has everything you ever need, and it's easy to see how some people never leave Manhattan!
What is your favourite city, or do you like a few? Perhaps you would combine a few, like the funky lane ways of Melbourne, the modern design and culture of Copenhagen, the jazz bars and speakeasies of New York, the trendiness of Manhattan's Chelsea Market and Meatpacking district and the warmth and vibrancy of the outdoor areas of Barcelona. That's exactly the global inspiration for for Brisbane's upcoming development located in the West End area.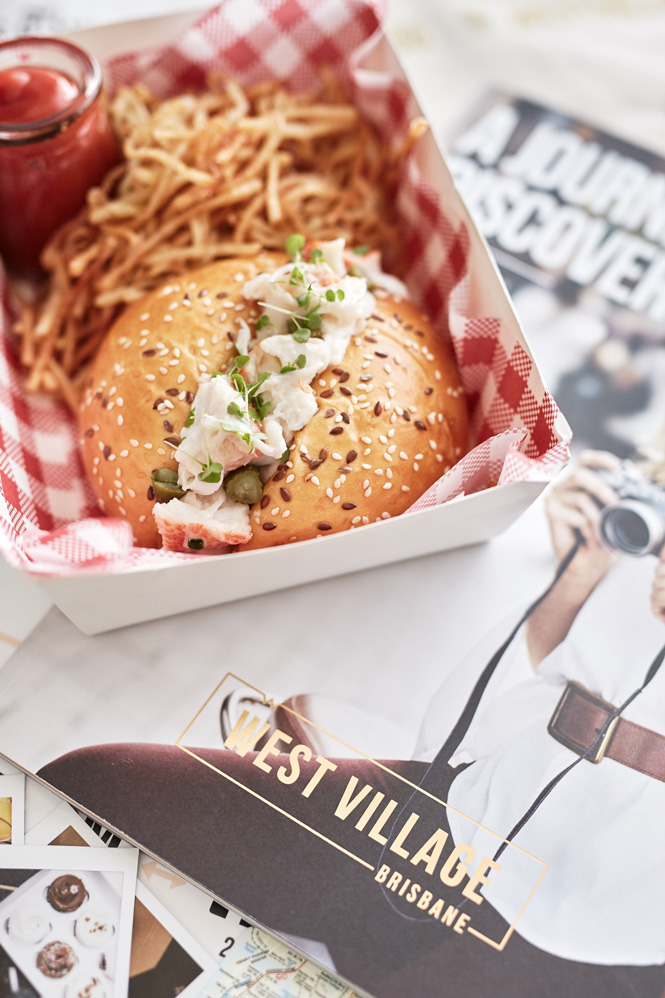 West Village's overall vision is to mix extraordinary contemporary homes and layering them almost art, historic buildings, alfresco dining and inspired retail. The hardest part will be choosing which of the eight areas that make up the development you will want to call home!
The Common, inspired by Barcelona in Spain is just like one of the famous squares of Barcelona, being outdoors with friends under bright blue skies, sipping sangria and coffee. A favourite meeting place that is friendly, warm, full of colour and vibrancy. Sit under the flowering trees, sipping away and watch the people come and go. The nostalgic Peters Ice Cream factory provides a stunning heritage backdrop to this shared green stage, where stairs become gathering places, lawns become cinemas, and the community comes together.
Inspired by my hometown of Melbourne, Peters Lane, distills the essence from around the globe into one defining laneway. Where your favourite cafe can double as your office, a great place to grab a bite to eat, catch up on work and immerse yourself in the village atmosphere. The aroma of freshly roasted coffee beans, spices, fragrant wines and artisan bread fills the air in this cosmopolitan, bustling laneway.
Perhaps you are a cool cat, that comes alive at night. Factory Lane, inspired by the West Side, New York City is your new place to be, where jazz clubs and speakeasies in century-old buildings beckon you inside, transporting you back to a golden age. This is a place where an amazing night out with friends just begins. Here alfresco restaurants and jazz bars are creatively carved into beautifully restored old factory buildings. With a spectacular microbrewery, and a bustling laneway, you can find an elevated escape on the lush garden rooftops above.
If the contrast between old world and new world and cobblestone lanes are more your thing, Wilson Lane inspired by Denmark's Copenhagen is the place to be. From the vibe of the CBD, it draws you into the rambling Copenhagen where modern design, fashion, culture and amazing cuisine sit shoulder to shoulder with heritage and history.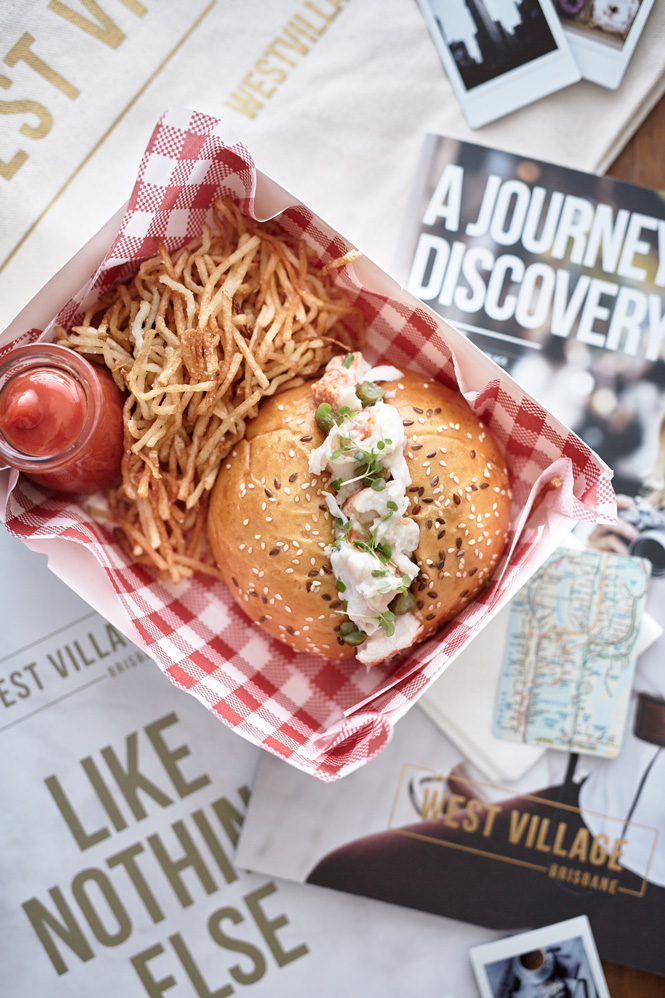 Finally, if you had a love affair with New York's Chelsea Market once, it will be hard to go past Peter's Square. Slow down on a weekend afternoon with a visit where stores are brimming with harvest fresh produce and artisan treats. Provedores, grocers, tasting rooms and eat-in dining, it will take you right back to the iconic market, or even remind you of Eataly. Shopping for food will become a new exciting experience, something to look forward to every week. With outdoor dining and relaxing seating forming a great space for socialising and watching the West Village life go by. Tucked away under cascading greenery, a luxury day spa offers peace and well-being.
With gorgeous, top end kitchen and bathroom designs, there are one, two and three bedroom residences ready for you to claim as your own. With 5200 SQM public green space, boutique retail, unique cafes and private podium level pools, why don't you check it out yourself po.st/xQnxiz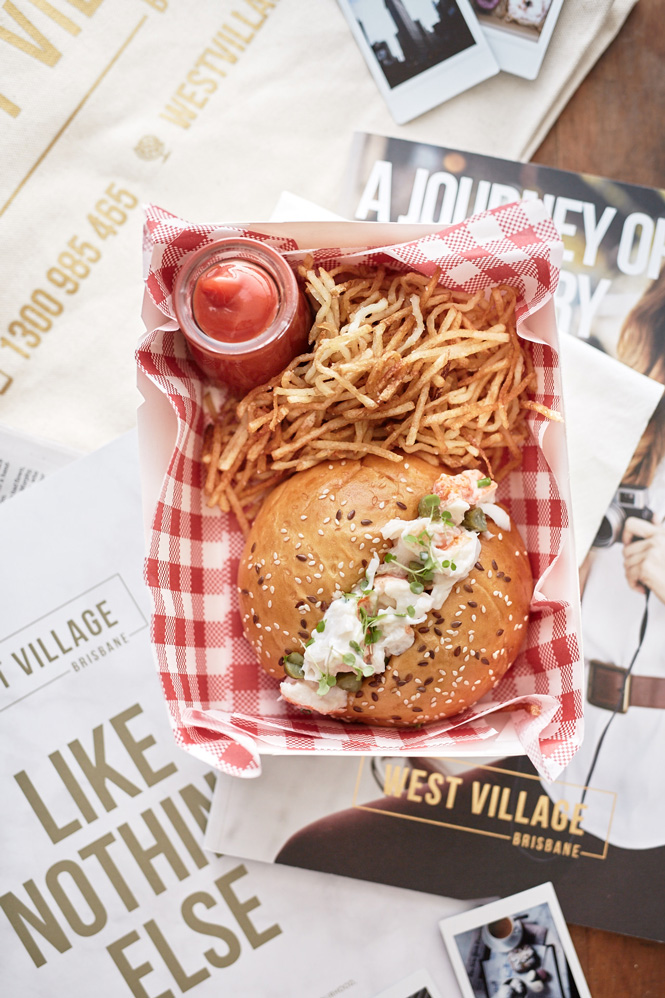 For me, take me back to Chelsea Market and the Meatpacking District of Manhattan! Where you can walk The High Line, enjoy a cocktail and enjoy a lobster roll in the sunshine. Lobster rolls were something we treated ourselves to a few times on our recent trip to New York, so I thought it was only right to recreate one at home and reminisce whilst flicking through the West Village brochures.
WIN a $100 prepaid VISA card:
For you chance to win, simply tell me what area you are most excited by and why in Brisbane's upcoming development, West Village po.st/xQnxiz
Terms and Conditions: Competition closes 30th November 2016. Only open to Australian residents. Winner will be contacted via email and announced on this blog post.
// Winner announcement – Congratulations to Katie! I'll be in touch to organise your prize 🙂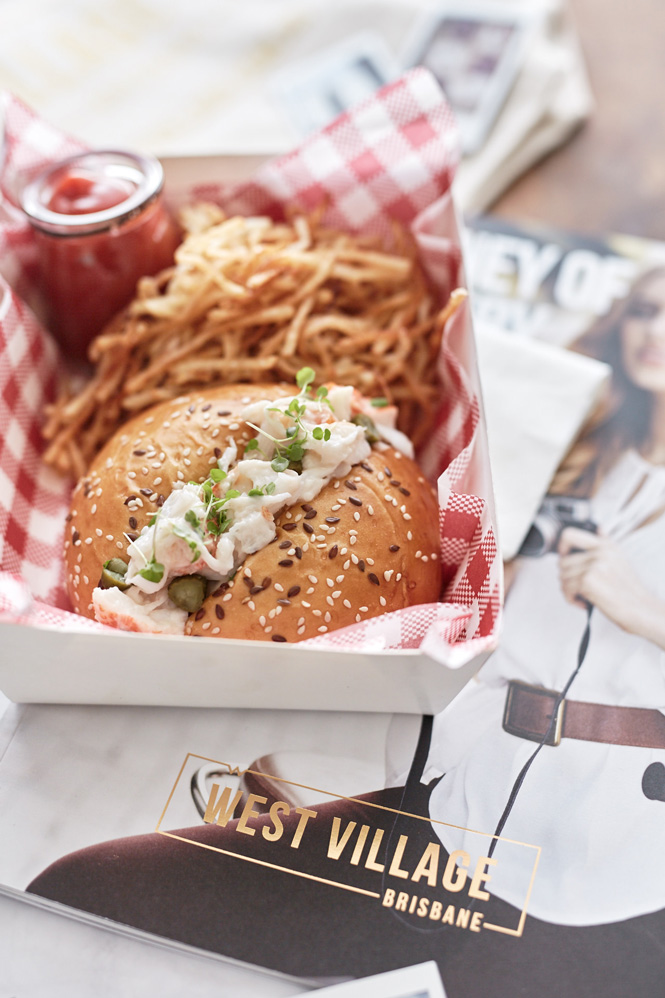 Peters Square inspired Lobster Rolls
Print Recipe
Ingredients
8 potatoes washed
Vegetable oil for deep frying
500 g cooked lobster meat cut into bite sized chunks
1/3 cup whole egg mayonnaise
1 lemon juiced
6 sprigs chives finely chopped
10 cornichons sliced
pinch of salt
4-6 brioche buns
2 tablespoons butter room temperature
micro herbs optional
Instructions
Cut the potatoes into chip sized batons with a knife or mandolin, transferring to a bowl of cold salted water as you work.

Place the cooked lobster meat in a large bowl. Meanwhile, in a separate bowl, combine the mayonnaise, lemon juice, cornichons, chives and salt. Taste, adjust the seasoning if required. Add to the cooked lobster meat and mix gently to combine.

Carefully slice your brioche buns almost in half, stopping about 5 cm from the edge of the roll. Spread the cut sides with butter and toast in a medium frypan over medium heat until nicely browned.

Divide the lobster mix between each roll and garnish with micro herbs, if using. Set aside whilst you make the chips.

Drain and rinse the potatoes until the water runs clear. Pat dry with towel.

Fill a deep fryer with oil and heat to 180C. Fry the potatoes in batches, until golden and crispy. Transfer to a tray lined with paper towel and season with salt.

Serve chips immediately with lobster roll.