Luxury Road Trip from Brisbane to Byron Bay
There are worse ways to spend your birthday, than spending it on a four day luxury road trip with some fabulous instagram personalities travelling from Brisbane to Byron Bay thanks to
Accor Hotels
and
Uber Australia
. When we arrived at the airport, one of our Uber drivers had a big silver "S" balloon waiting for me, and a bottle of bubbles to help celebrate my birthday. I took that balloon with us all the way to Byron Bay, because how often do you get to travel with a giant balloon?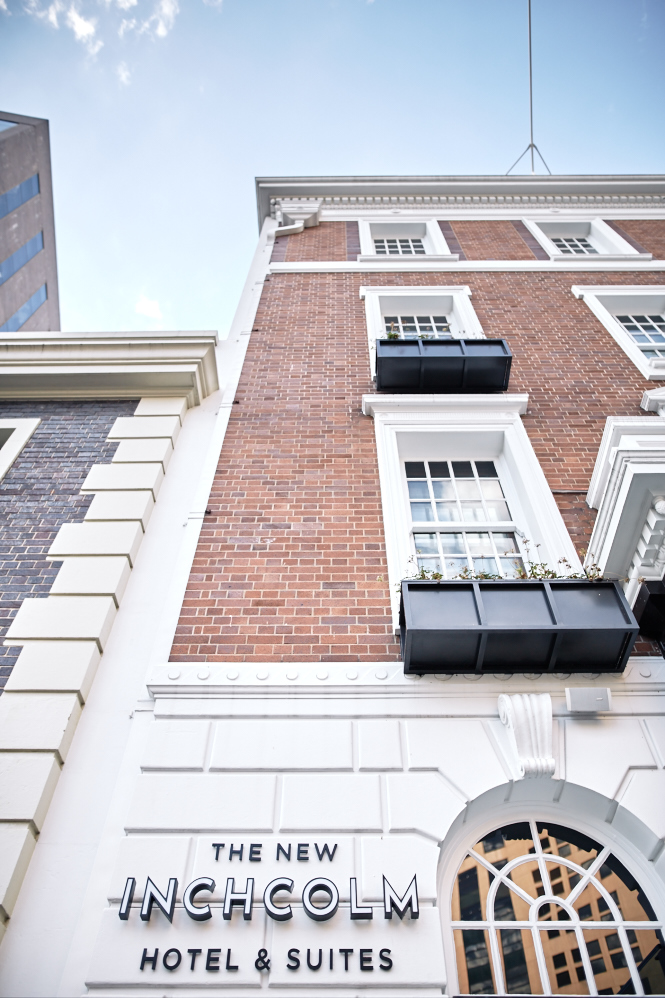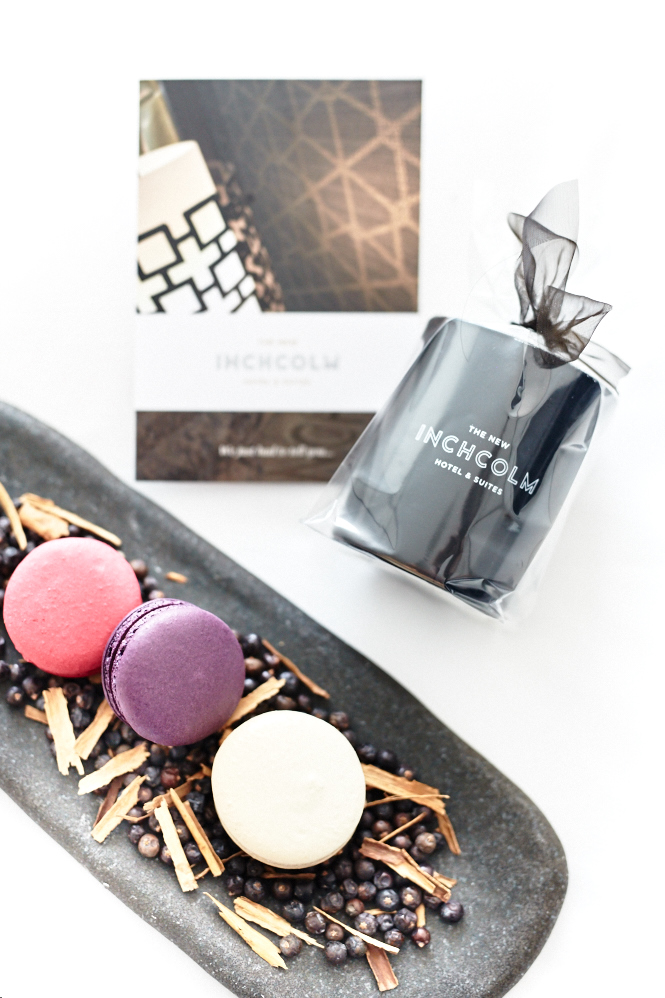 We start the journey by checking in to our luxury, boutique hotel,
The New Inchcolm Hotel & Suites
, MGallery by Sofitel. As you walk through the door you are enveloped with it's old school charm, it's no wonder this place is heritage listed. You shimmy your way past the 1920s bar to reception. This place is nothing but charming as you head up the up to date, vault like lift to your room.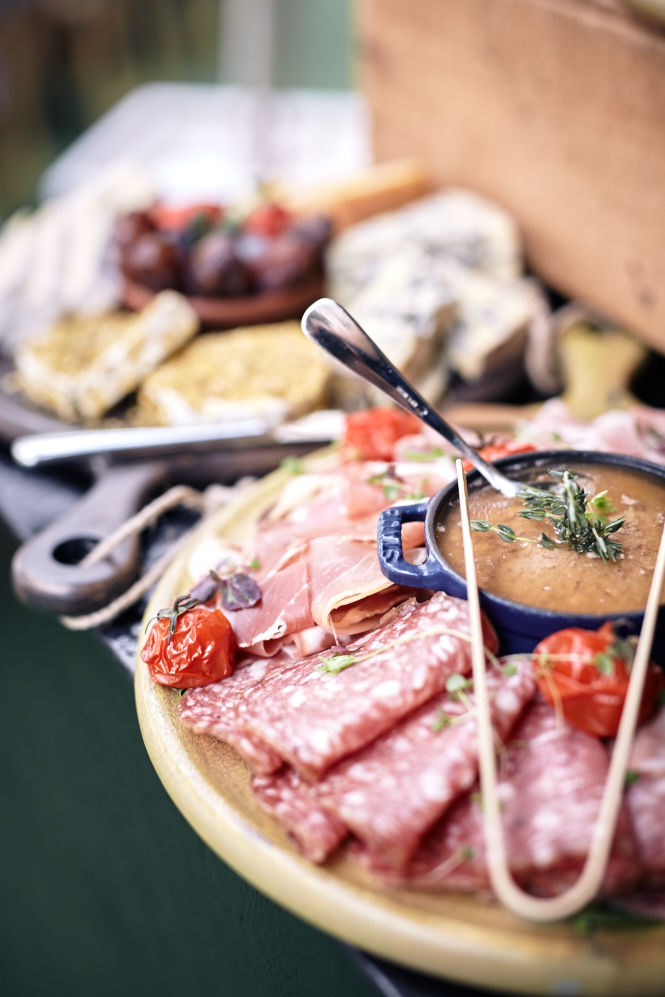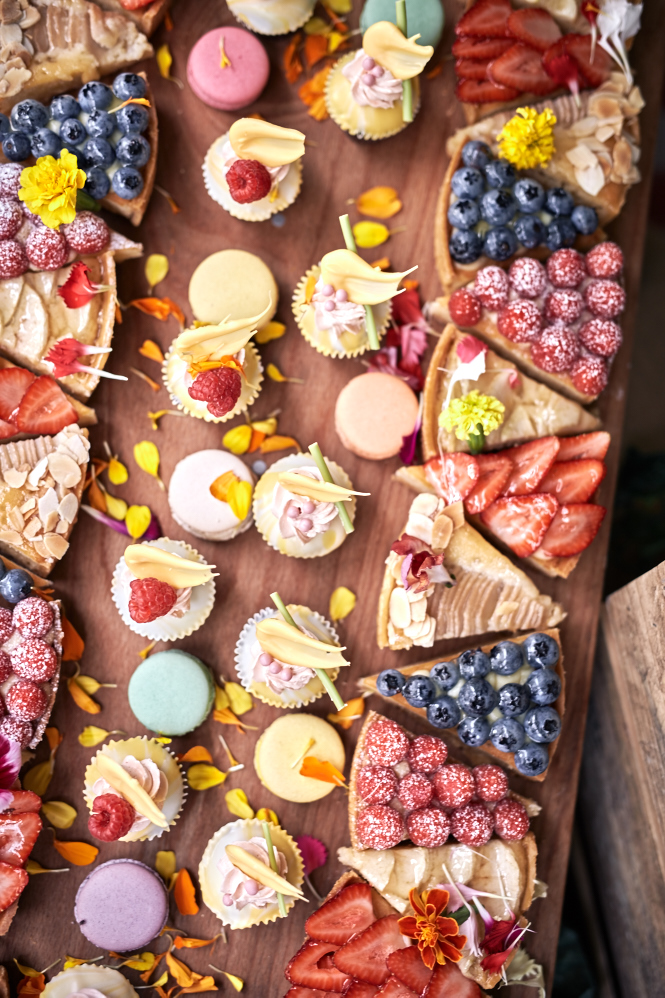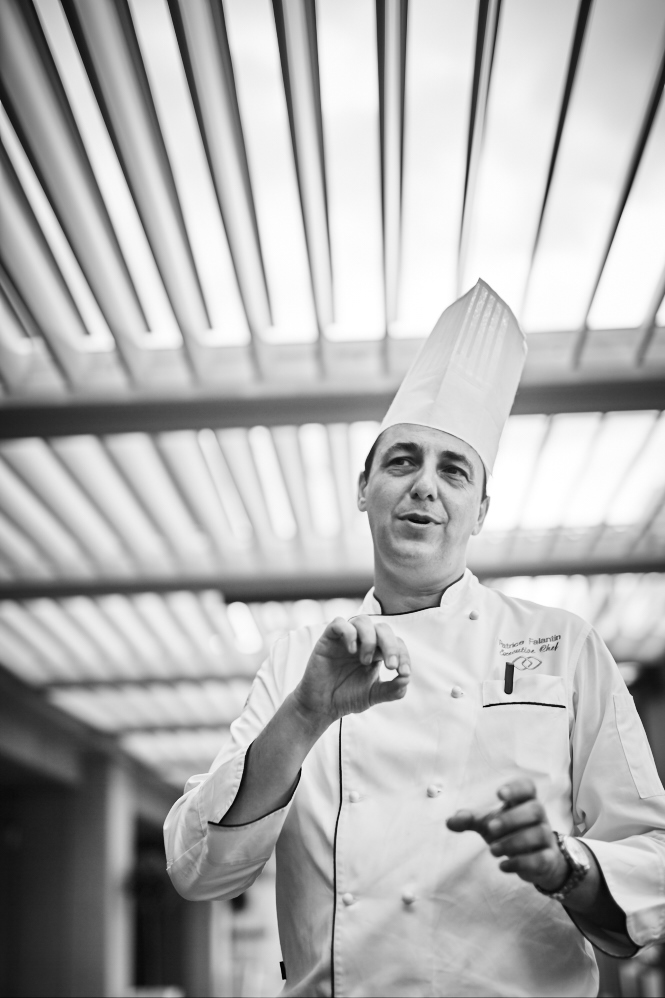 I've was lucky enough to be put up in a two storey suite for my night in Brisbane. With sitting room and wet bar downstairs, and bedroom and spacious bathroom upstairs. With a gap between floors by the window, it's complete floor to ceiling windows from the bottom floor to the top. We walk across the road to join our lunch group at the
Sofitel Brisbane Central
. It's a French picnic in the sky! We dine on the same level as the pool, with fantastic views and endless sweet treats. What a grand way to celebrate my birthday! We get a tour of the suite where the big name celebrities stay when they come to town. With a bathtub so huge, I could have happily just stayed in there for the afternoon to sleep off my food coma.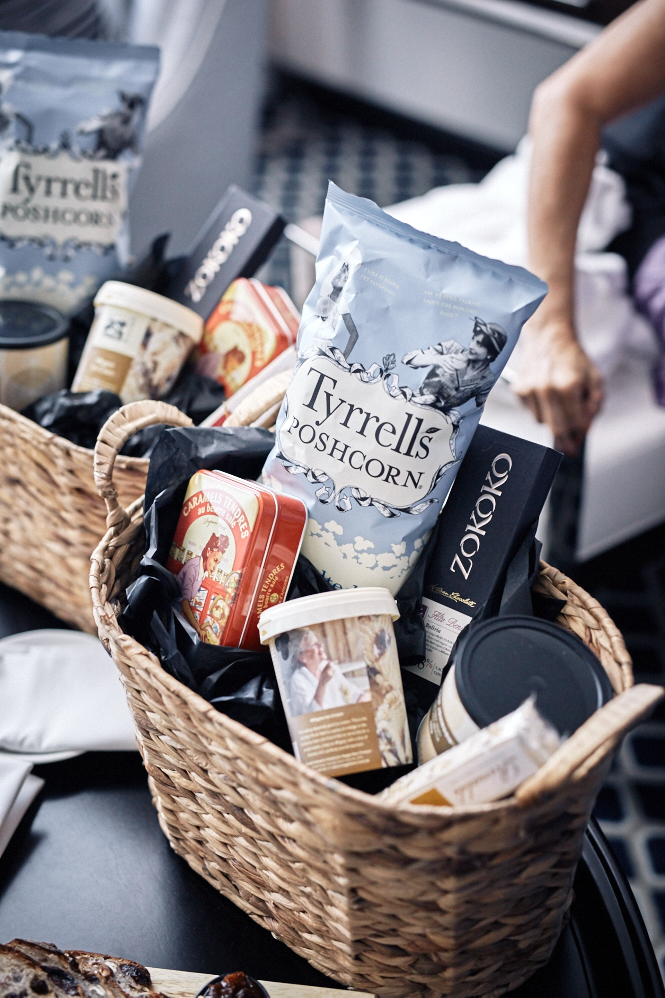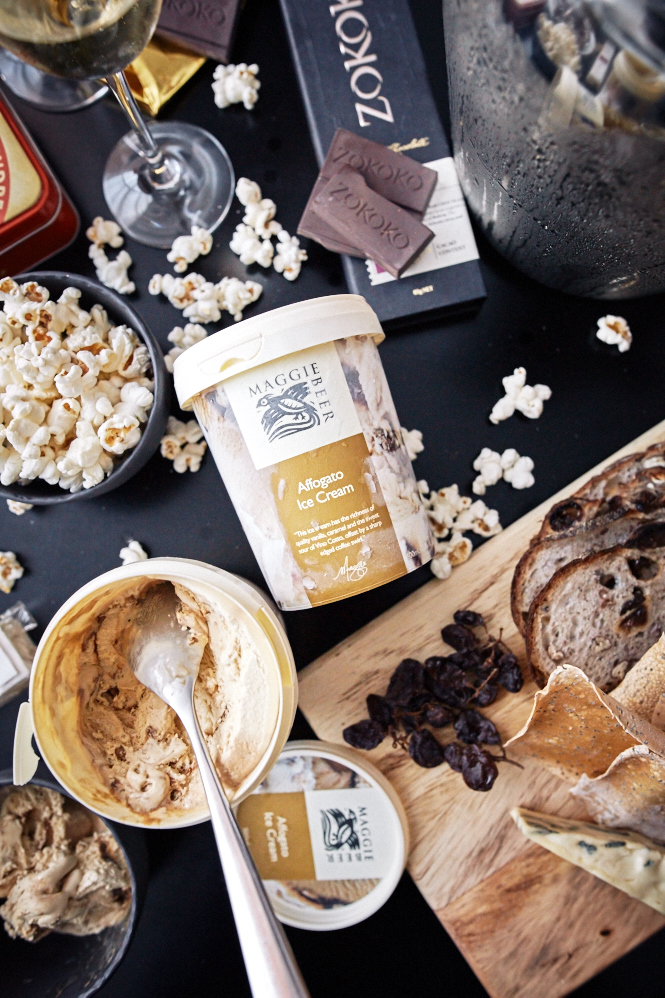 After waddling back to
The New Inchcolm
, the girls and I are treated to manicures and a Girls Night In hamper, part of a package the hotel offers. With moreish popcorn, chocolate, Maggie Beer ice-cream and more, we had a lovely afternoon hanging out with each other.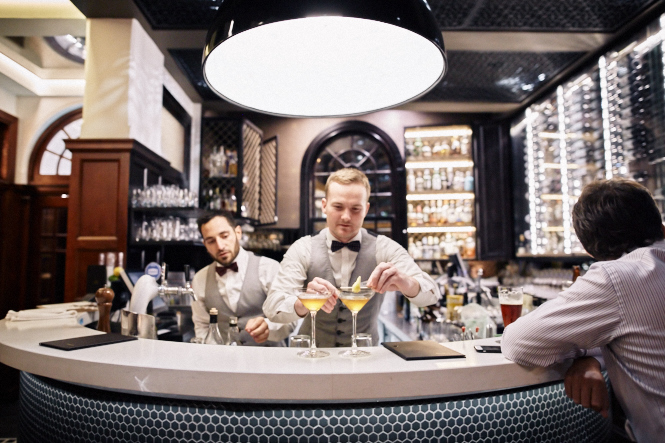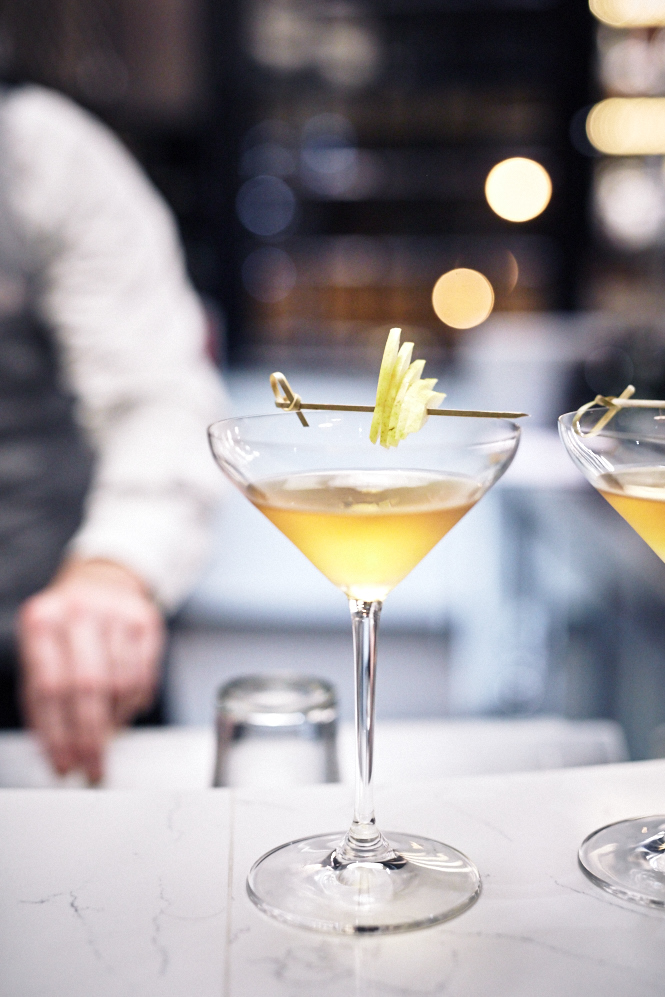 After enjoying a signature cocktail "The Socialite", spiced rum, pear and ginger liqueurs and fresh pear at the 1920s inspired
Socialites Bar
, we were treated to a five course dinner at
Thompson's Reserve Restaurant
. When I say five courses, that didn't seem to include the five courses we were given before the official degustation started! With some outstanding dishes including baby corn on the cob, and a smokey duck number with sweet kale, pickled pears and a parsnip cream that balanced it all out perfectly. My pants were well and truly tighter than they were at the start of the day, then they bring me out a birthday cake! The girls and I each took a slice up to our rooms for later (or breakfast), as we were about to burst!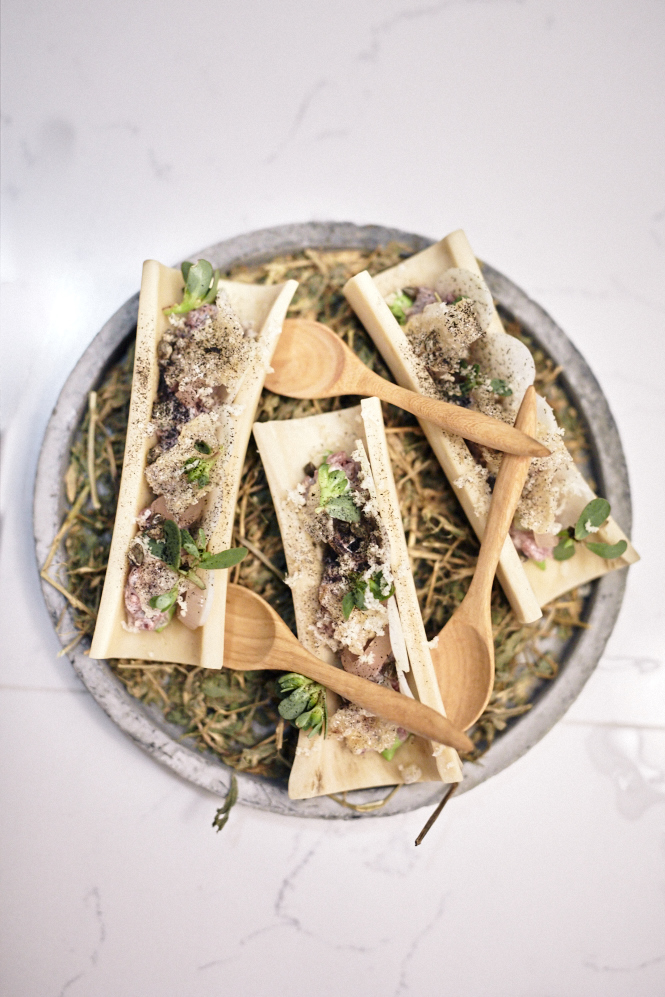 Back in the room, I ordered breakfast for the next morning as I didn't want to get dressed and head down to the buffet. I wanted to enjoy it in my pyjamas and in bed. With 24 hour room service, I ordered my breakfast via the in-room iPad, and tucked myself into the ever so cosy bed for the night.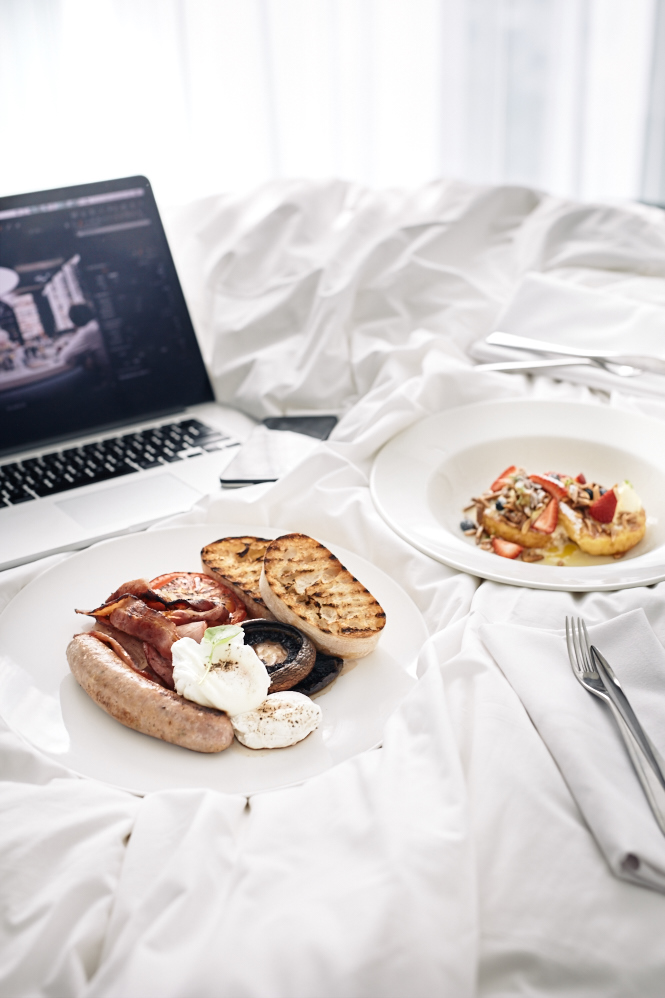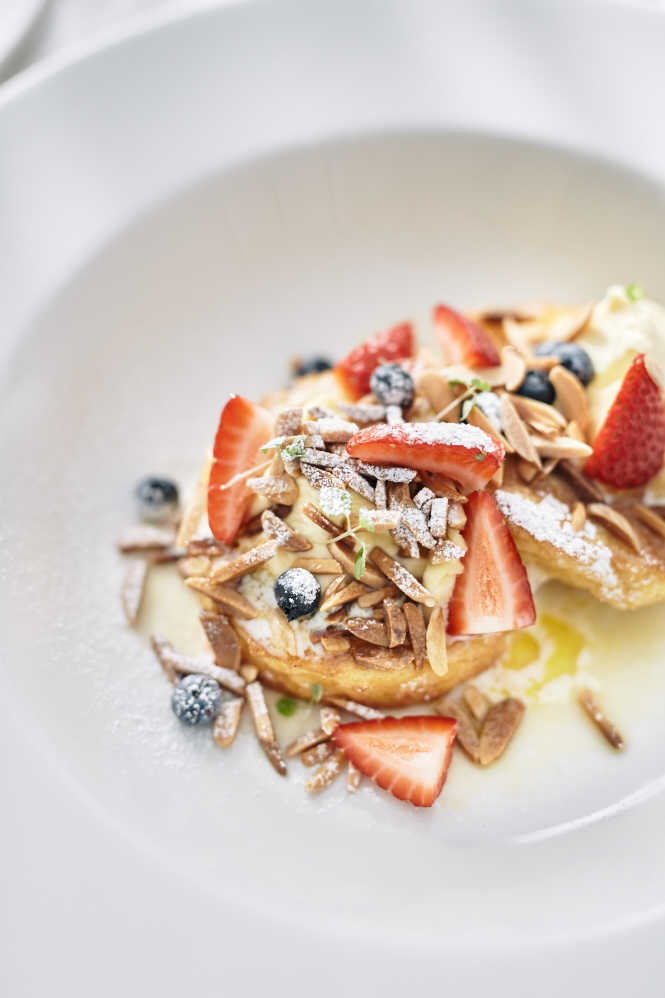 I can recommend The New Inchcolm Breakfast for in-room dining. It hit all the right spots, and a few nibbles of the french toast hit the sweet spots. Before too long, we were in our Uber cars again and on our way down the coast to Sofitel Broadbeach… giant S balloon in tow too of course!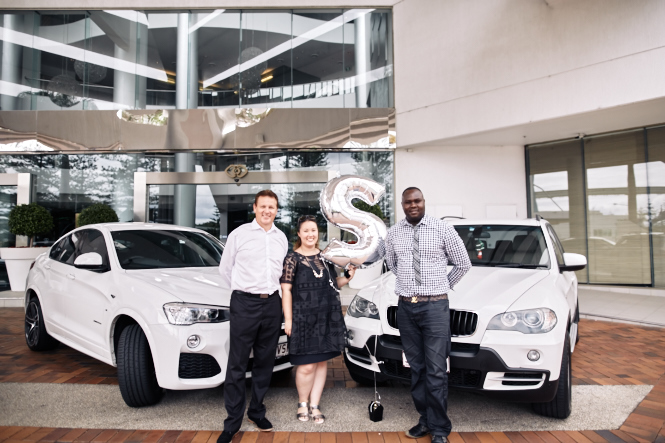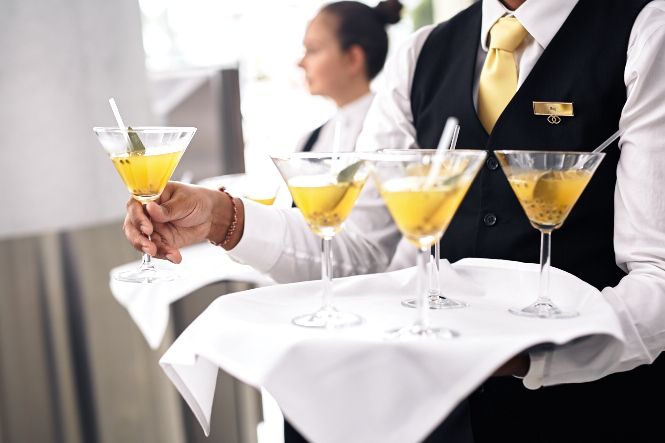 We were greeted by a special mocktail on arrival, before whisked up to the pool where
Executive Chef Sam Moore
was hosting an interactive lunch for us. We each helped to prepare a course for our pool side dining. A lunch not to forget in a hurry, with compressed watermelon with yellow fin tuna, marron with finger lime partnered with an espuma topped with jamon crumble.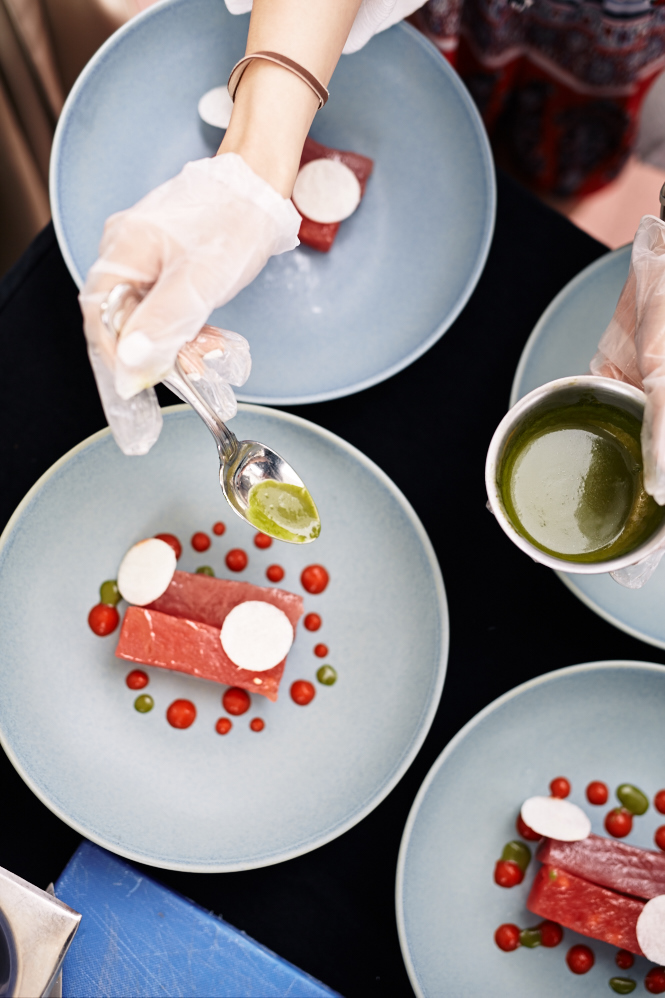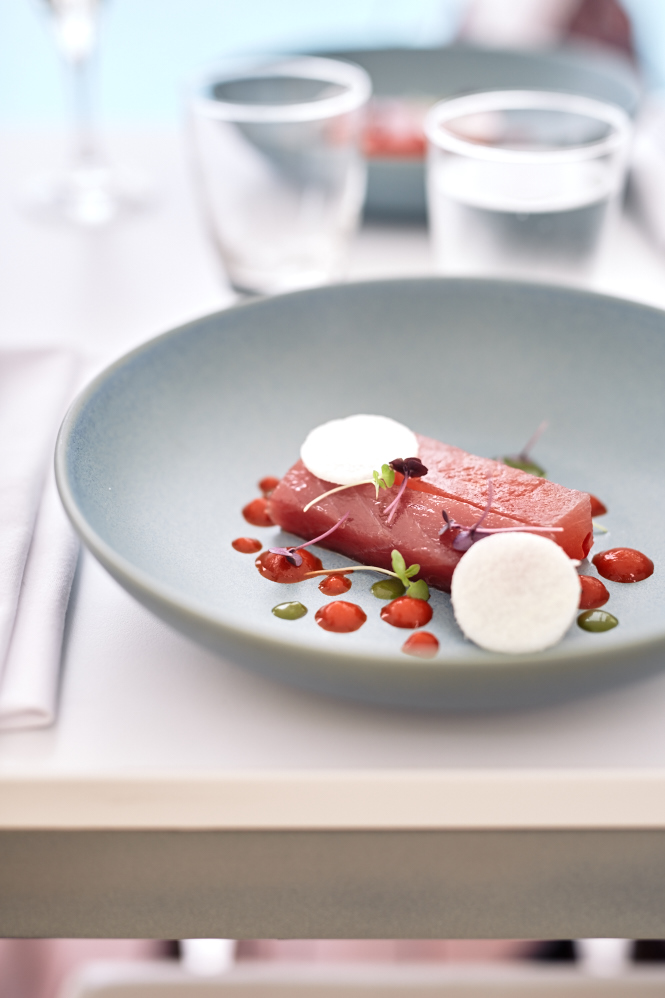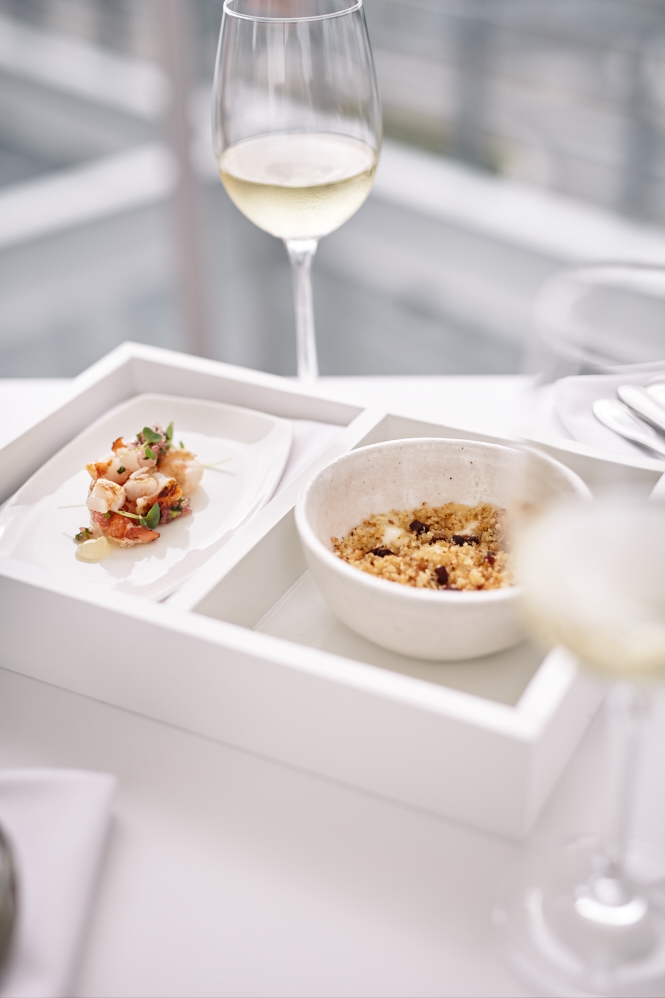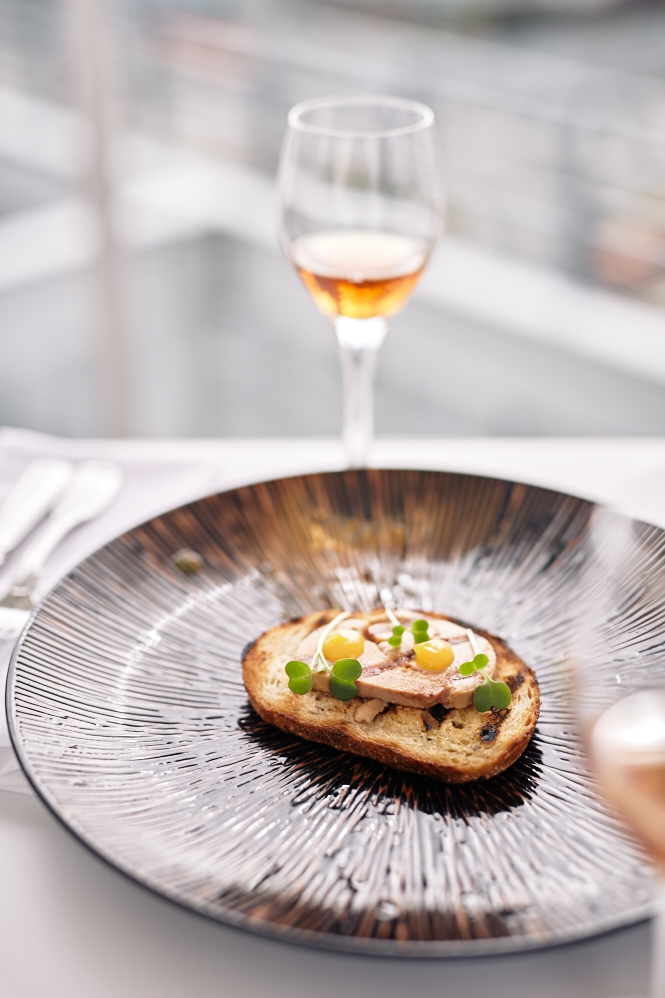 After lunch,
Natalie
,
Clarice
and myself took a short walk to Pacific Fair shopping centre, I forgot to pack active wear for our up coming yoga session. Then it was back to our rooms to eat the most addictive chocolate cake you ever did taste! You couldn't simply just stop at one bite…. or five! my only regret was not buying some take away containers when we went shopping so I could bring the leftovers with me!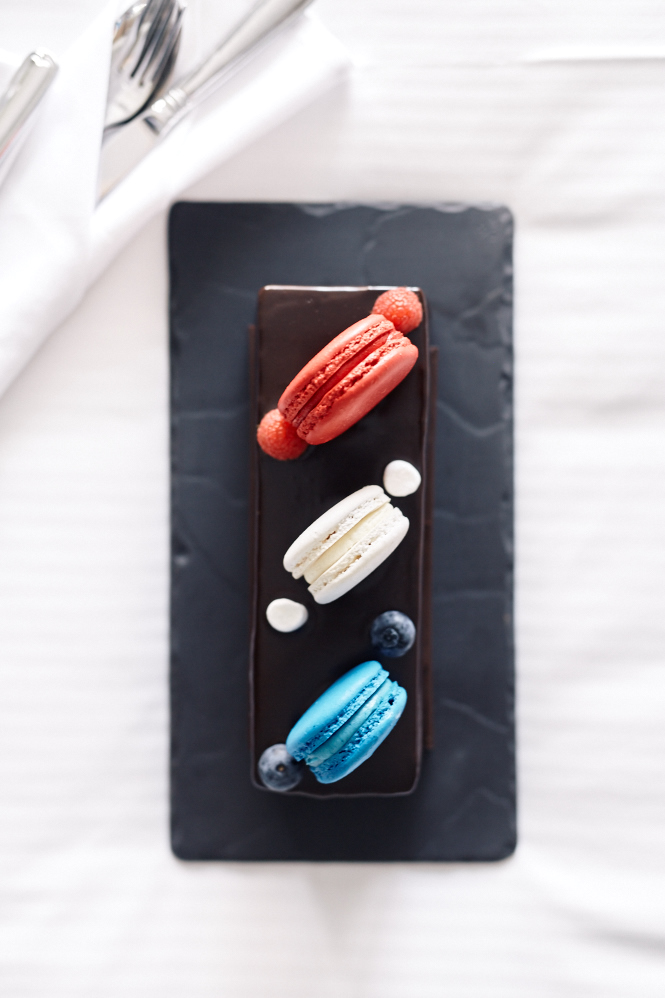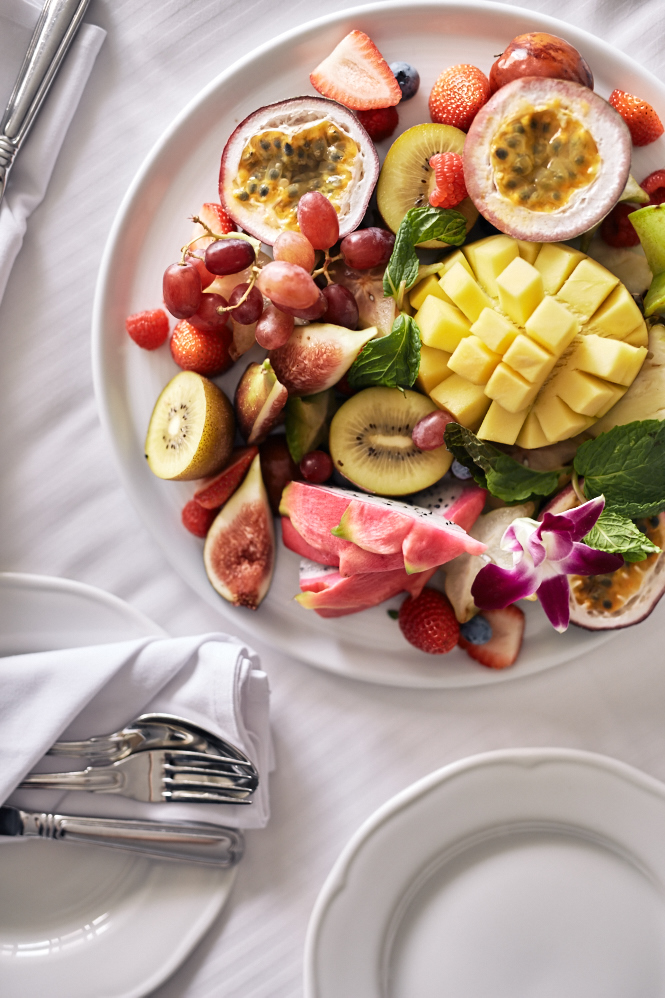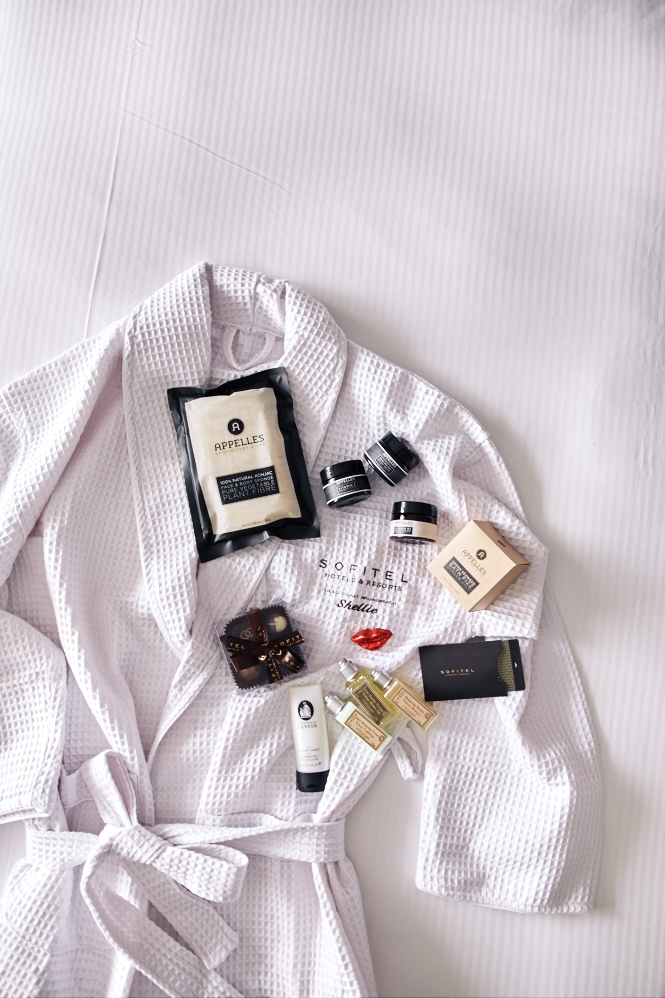 When it was time to eat again, we headed downstairs to
Room 81
, where
Executive Chef Sam Moore
was putting on a nine course degustation for us. Each course a work of art, including lamb bacon, paroo kangaroo prosciutto and a melt in your mouth pork jowl.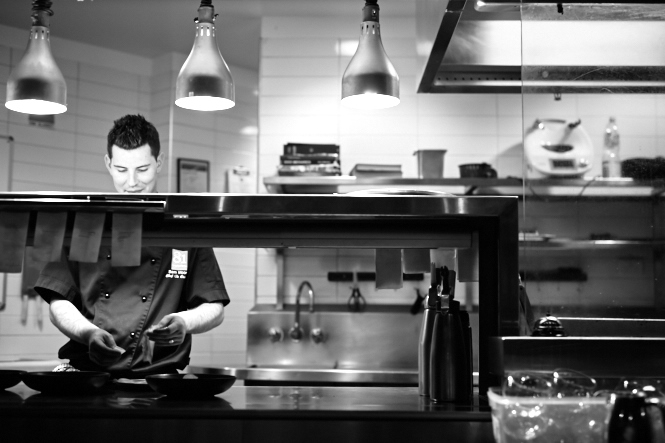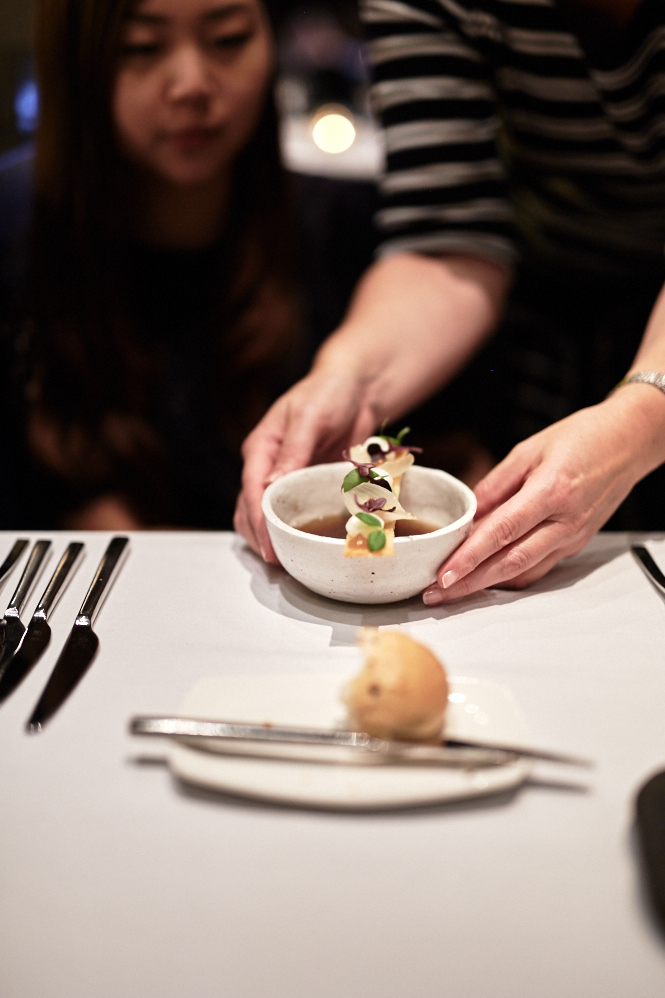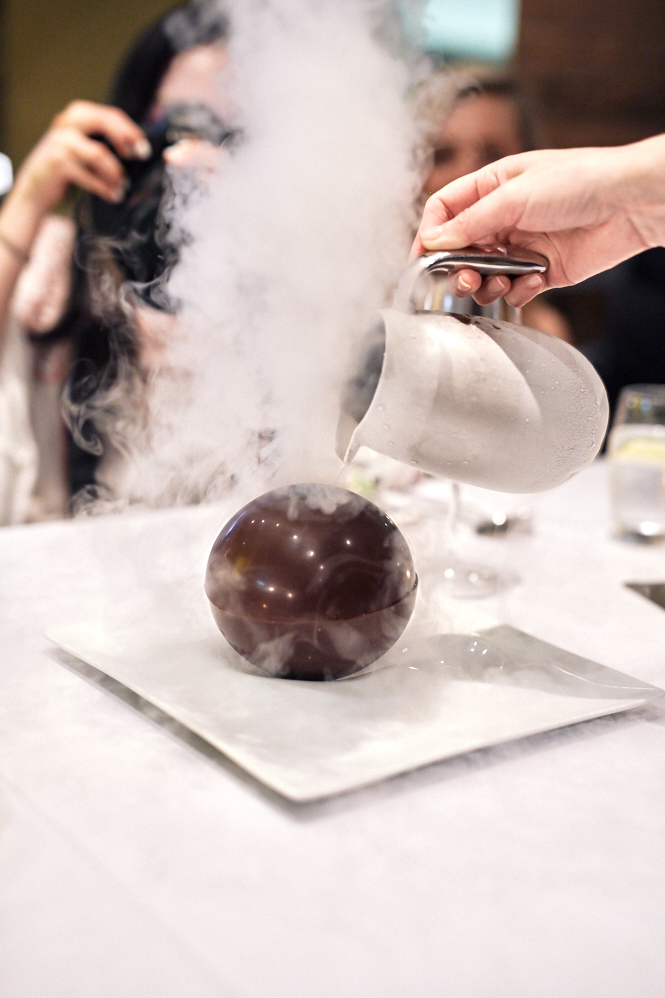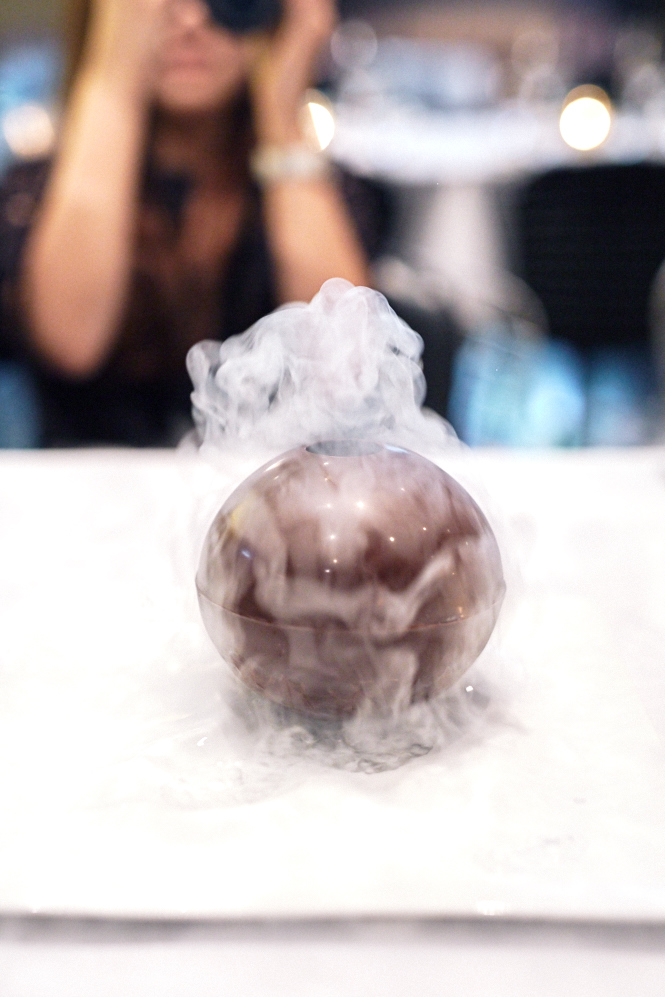 Dessert was the real show stopper; a Valrhona chocolate sphere filled with raspberry, hazelnut and salted caramel. It was brought to the table, where dry ice was then poured into the sphere. You then grab your spoon and smash the sphere to reveal it's contents and gobble away… if you can possibly fit in more food!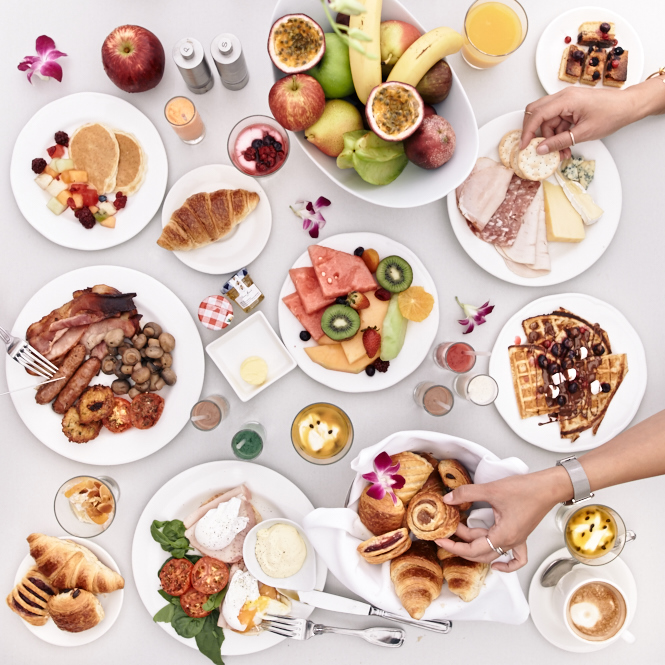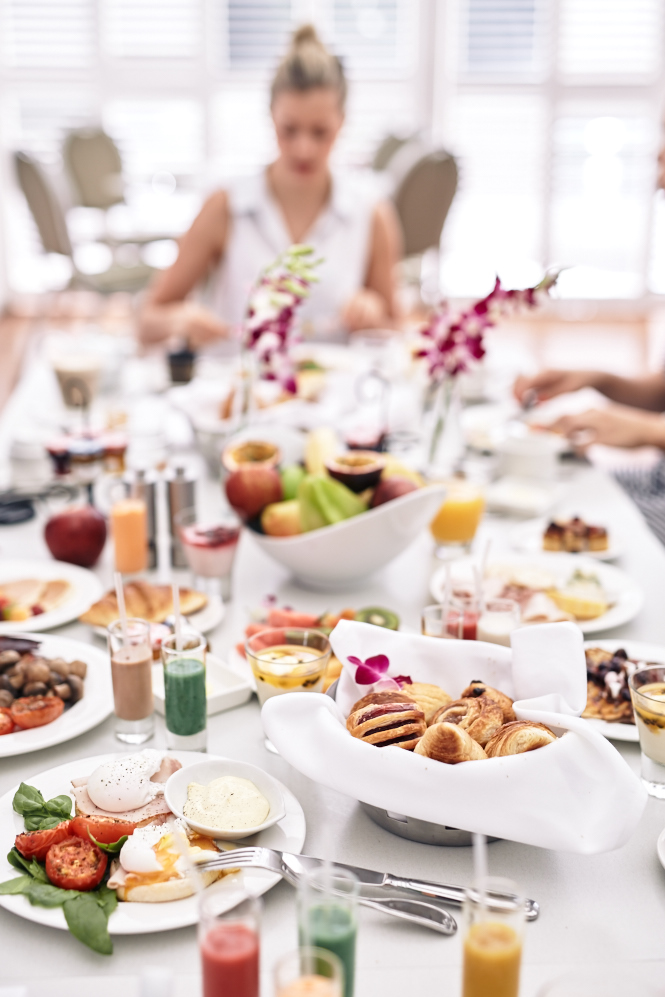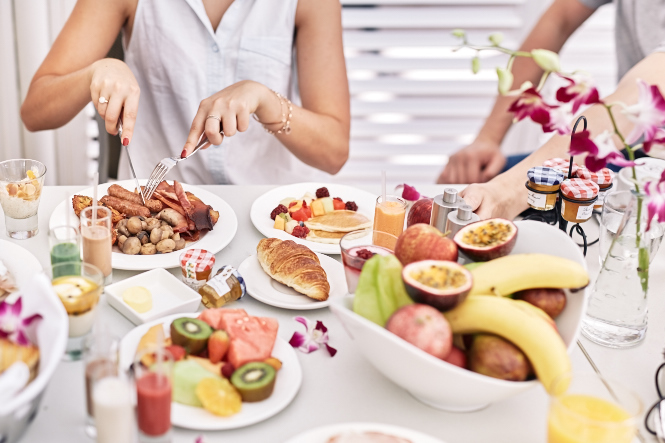 The next morning, we all joined each other at the breakfast buffet in a lovely sun room. Together we attacked each and every corner of the buffet to create a beautiful flatlay before digging in. Then before too long, it was time to meet our new Uber drivers and head down to blissful Byron Bay.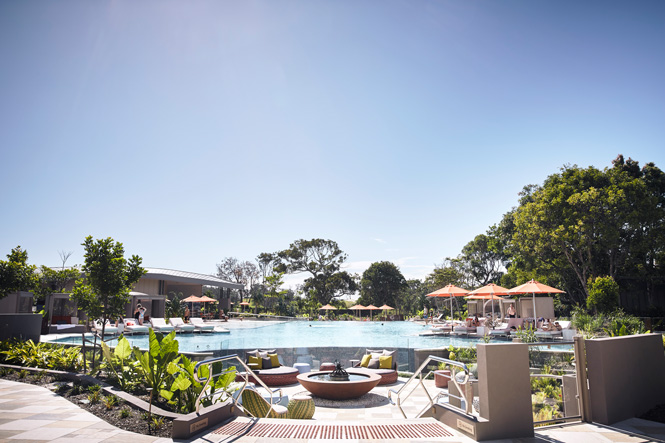 There's a certain something that attract people to Byron Bay. The moment you arrive, your shoulders drop, and the relaxation begins. In my case, my shoulders dropped and my heart sank the moment I stepped onto the property,
Elements of Byron
and saw that shimmering, inviting pool and realised, yup, I indeed forgot to pack my swimming costume.
Our bags are whisked away to our rooms, and we are given a map to see where our bungalows are located. Everything looks so far away on the map, but once you are in there, you realised, actually things really aren't as far away as the map makes them seem! Even the beach is just a stone's throw away. The bungalows are very spacious, including a large soak tub which I made sure I tried out before heading home.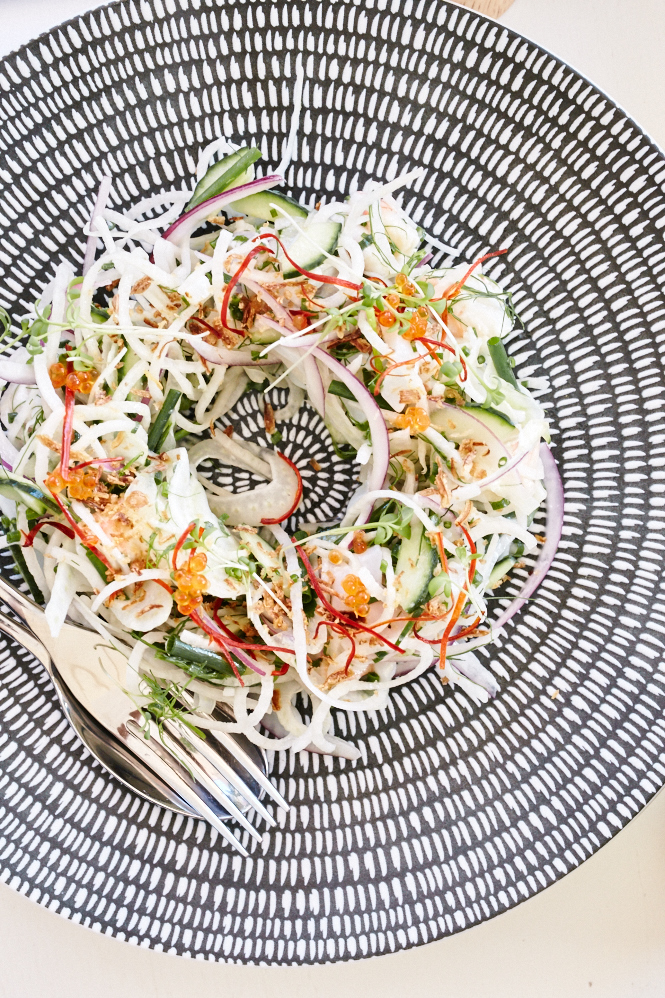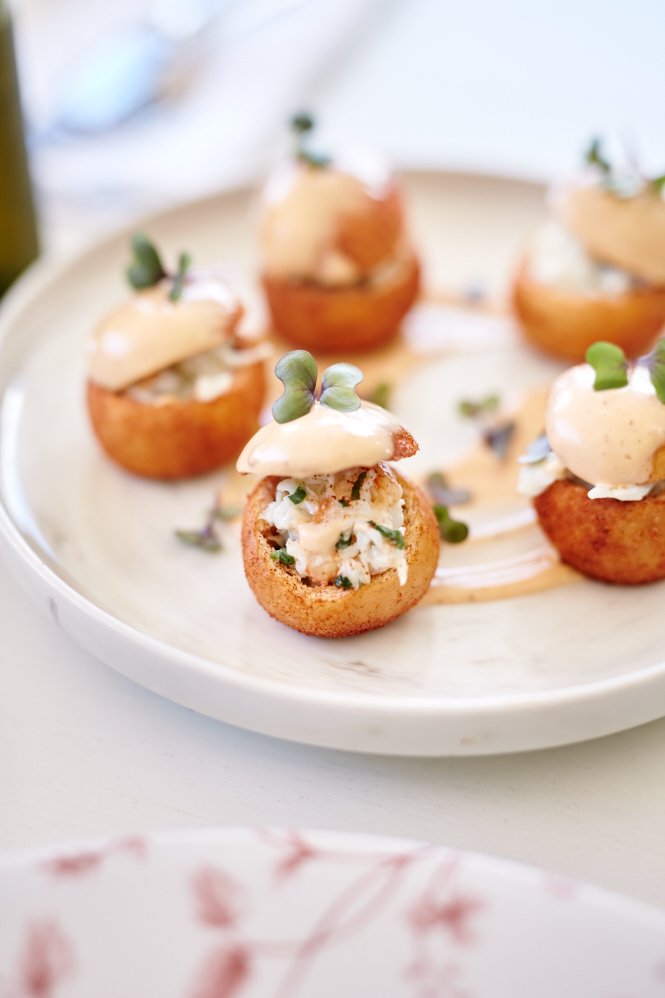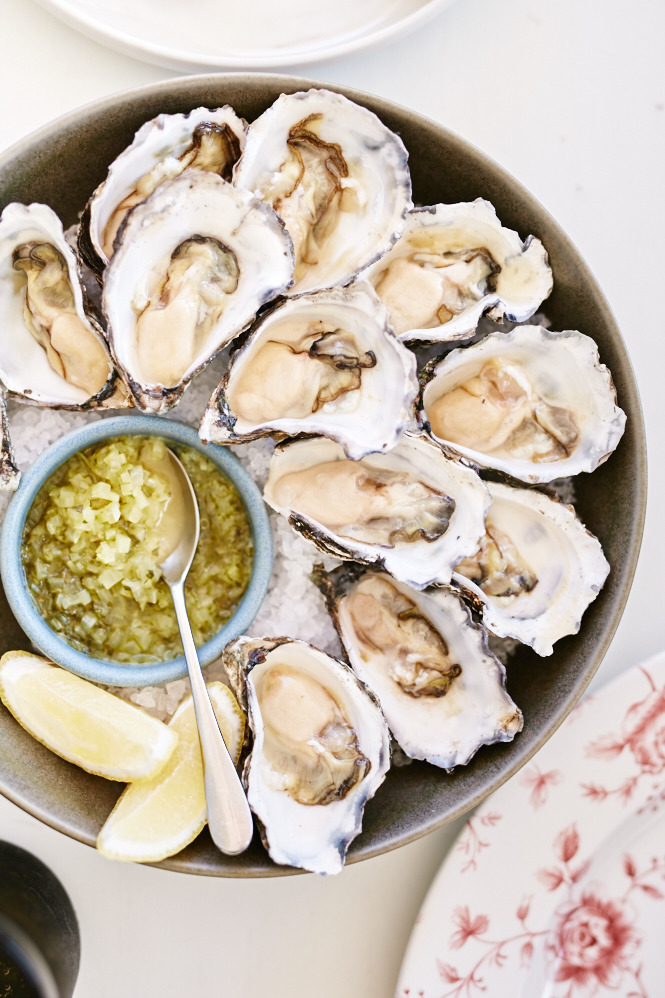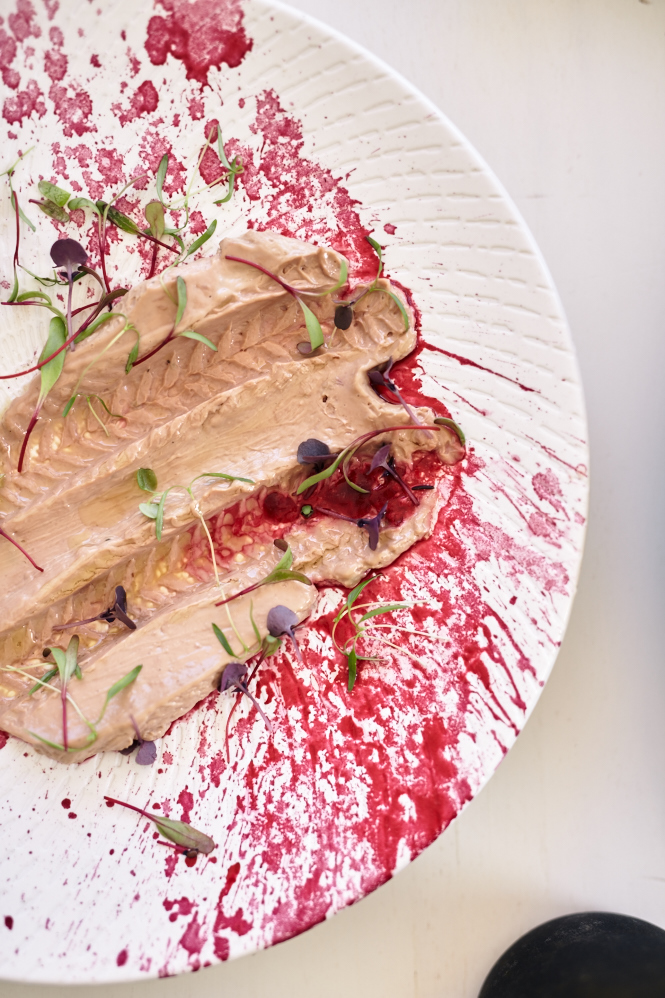 It was lunch by the pool again, with yet again some crazy good dishes, but the stand out had to be the crab stuffed doughnuts with red pepper and chipotle jam. ZOMG! Give me a plate of these, and leave me alone! There was also a chicken liver pate dish, on a plate that had splashed beetroot juice and tyre marks through pate, it was called Hinterland Road Kill. Justin the executive chef there has a good sense of humour! The smoked Ninbin burrata with tomato jam and sourdough was another dish I could have easily been left alone with and scoffed.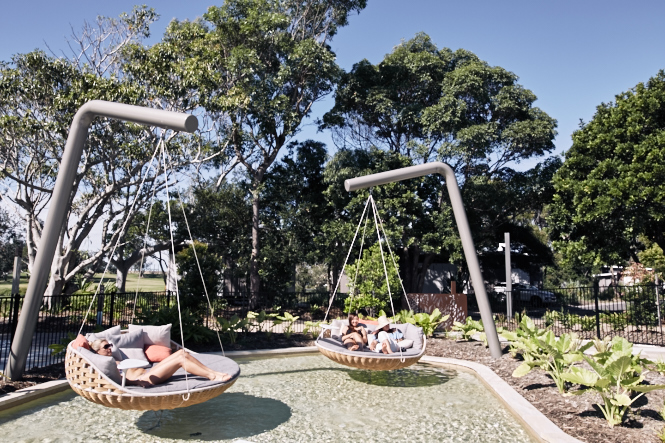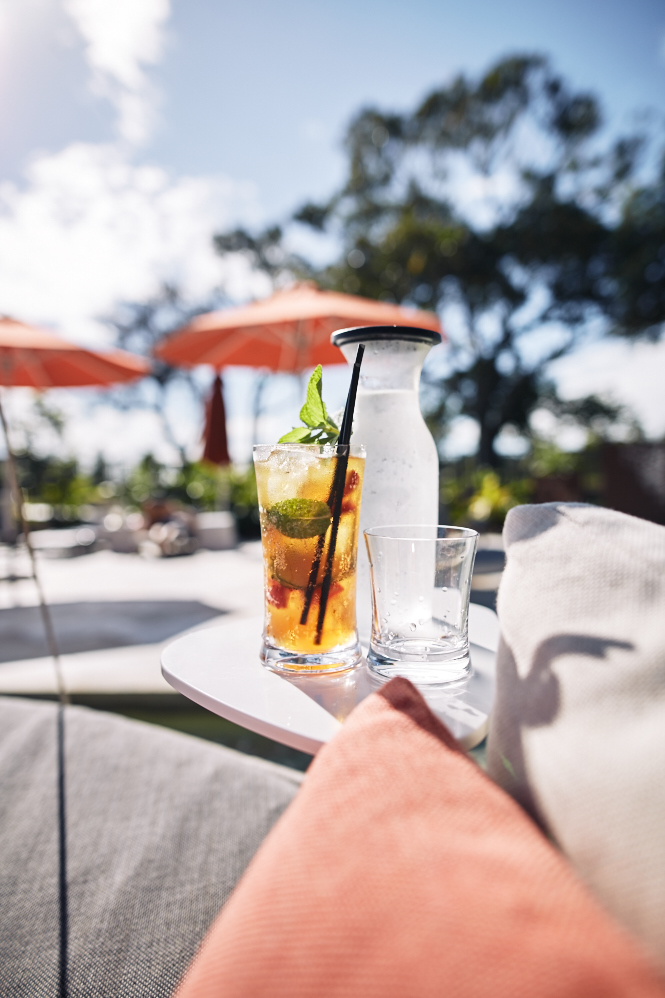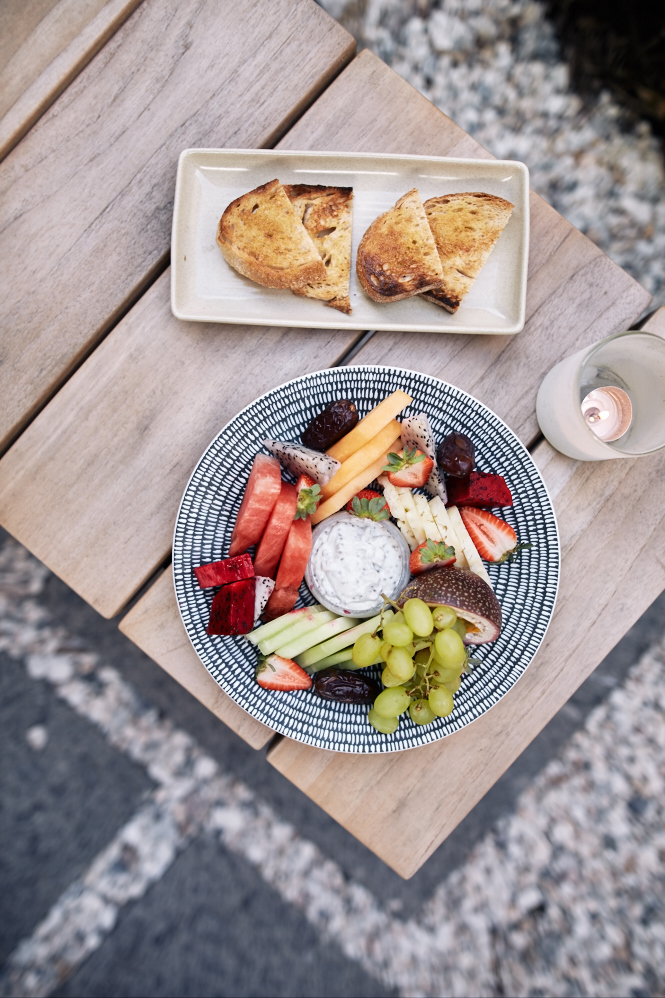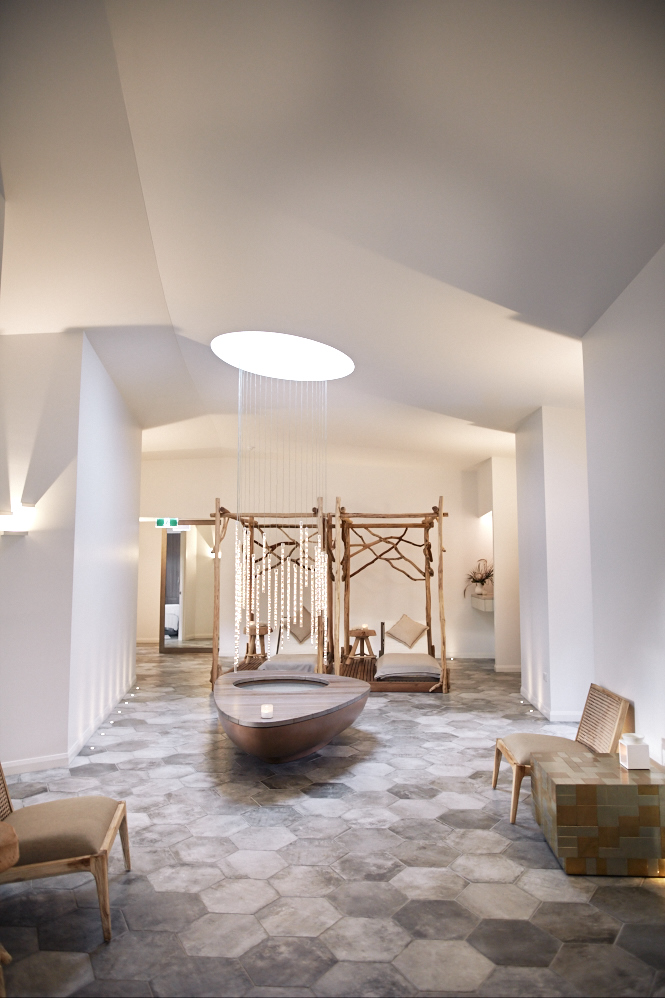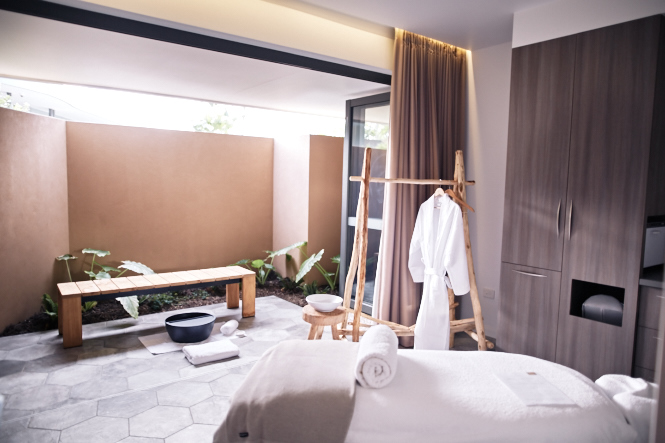 We then relaxed with cocktails by the pool, and on the suspended day beds above the pools, and then if that was a bit too much relaxation, we were treated to a ninety minute massage at
Osprey Spa
. Complete with lovely fruit platter before, and cheese platter after which
Clarice
and I managed to clean up easily! It was a blissful experience with a room that backed onto the pool and was open for plenty of fresh air. The ninety minutes just flew by, but I was so relaxed after, it was hard to pull myself out of a relaxing lie down to go to dinner.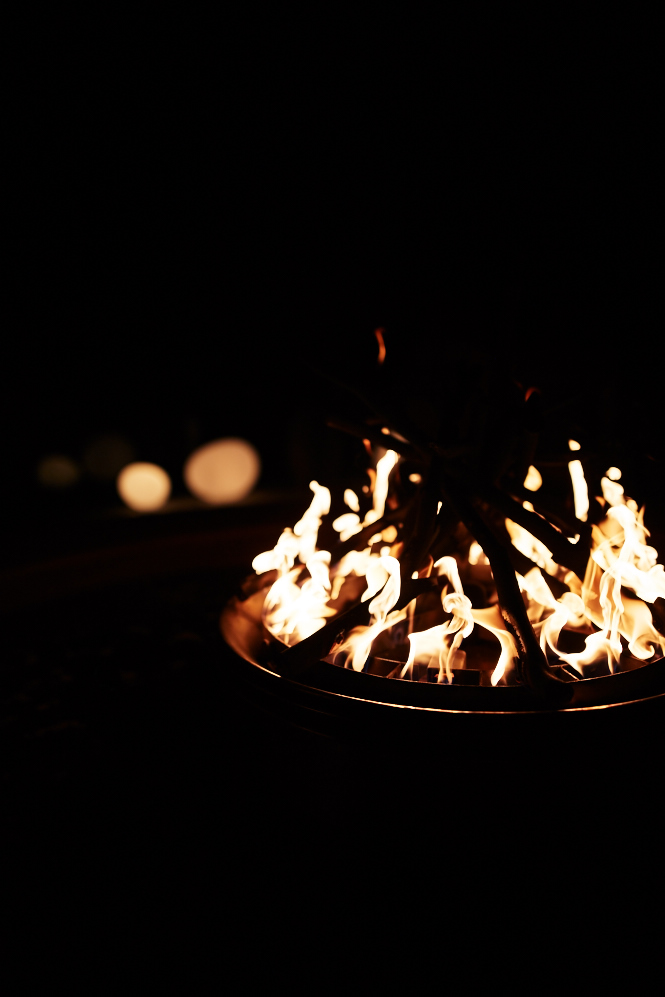 Pre-dinner drinks by the fire pit, the onto our last big feast at
Graze
where chef Justin put on a great spread, including kale and cavolo nero Casear, crispy chicken skin, slow cooked farm house egg, white anchovies and shaved manchego salad, and a crispy pig's head which was served with pancakes and condiments, almost like a peking duck. It was sensational!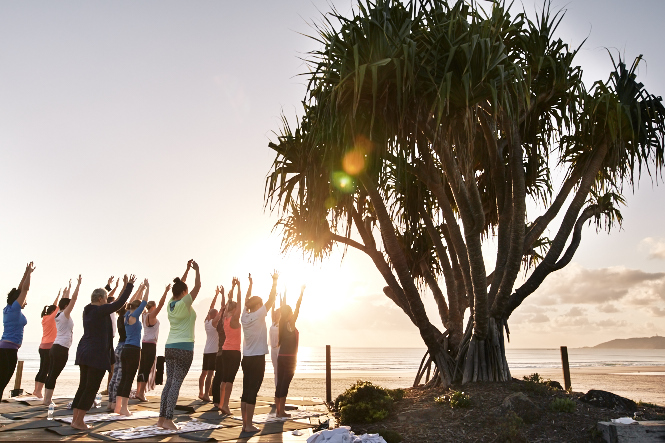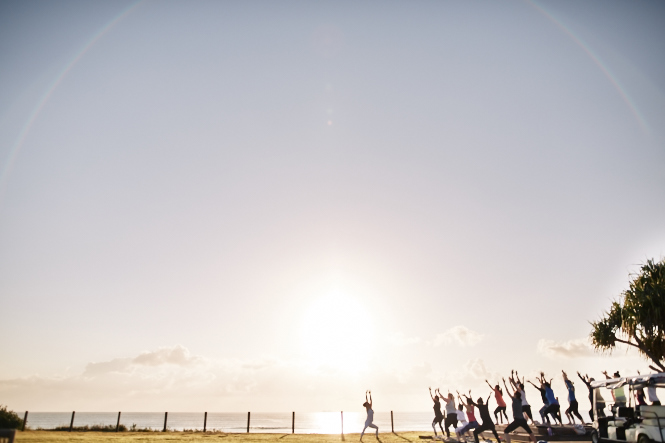 I was waving the white flag of defeat after dessert, and retreated to my room for a long, hot soak before crawling into bed. OMG the bed. This might have been the one, most singular reason why I didn't want to leave. It was the most cloud like bed I've been in for a long time. Getting up before dawn for the
First Light Yoga Club
was too hard. It was a popular morning, I suggest you get there early and grab a mat. What a great way to start the day though!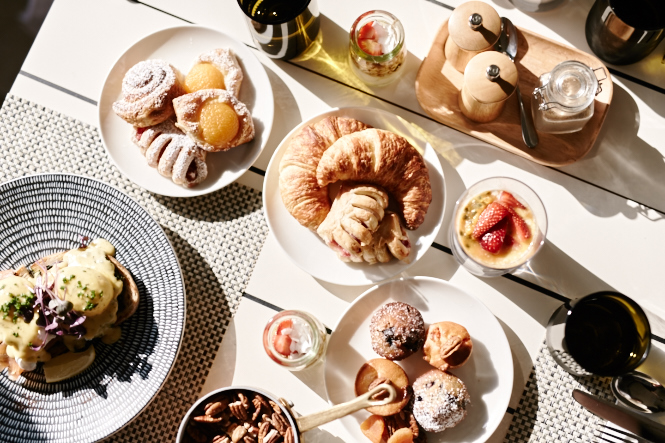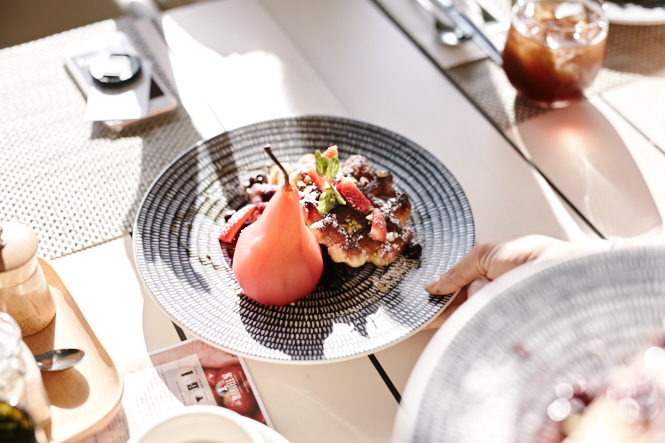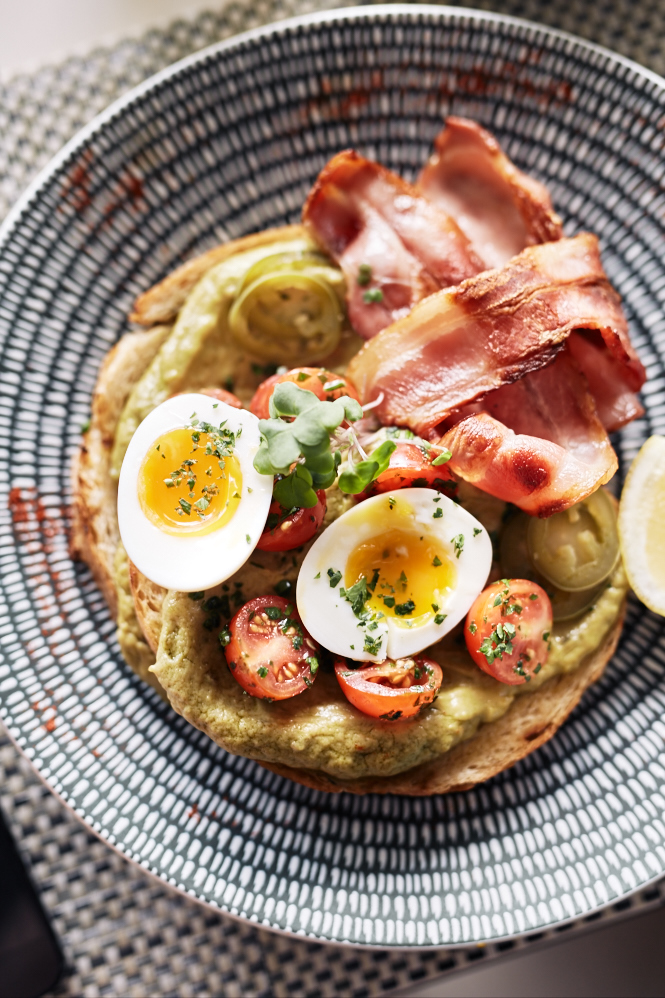 We then headed down for breakfast, in our active wear, were we enjoyed items from the buffet spread and items from the menu. Hands down, one of the best smashed avocado on toast dishes with bacon I've had in a long time. I pimped mine up with added bacon (of course), and I still dream about how good it was! There's something for everyone, including pancakes, and single origin coffee.
Sadly the trip was over soon after breakfast. It was a great few days with some awesome ladies. I learnt a lot from them, and it was fun making these picture perfect flatlays and standing on chairs with them to get the perfect shot. We had many laughs, and so many drinks and so much food together. What a great way to celebrate my birthday. Thanks again to
Accor Hotels
for hosting us and putting on a jolly good show! Thanks also to
Uber Select
for making the road trip possible, your drivers were fantastic and cars were very comfy!
For great deals on the full itineary, head to:
* Update (18/3/2019)
"The New Inchcolm Hotel and Suites" has changed it's name to "Ovolo Inchcolm" and the new website can be found
ovolohotels.com.au/ovoloinchcolm/