Haagen-Dazs House – Melbourne
Häagen-Dazs™ has landed in Australia. They are saying "Hello Australia" with their pop up Häagen-Dazs™ House for a limited time only. Currently in Melbourne's Federation sSuare until April 16th, before moving up to Sydney's Overseas Passenger Terminal at the Rocks. Get in quick for a scoop or two or a take home pint!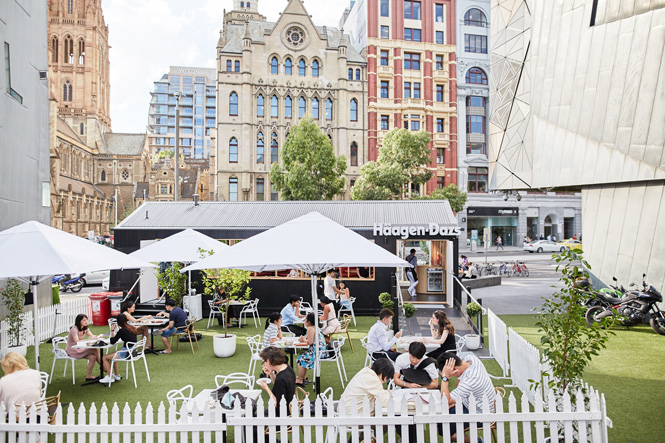 Set up at Melbourne's Federation Square in the CBD, Häagen-Dazs™ House is in town for five weeks from Friday 11th March – Saturday 16th April 2106. It is the only place in Australia where visitors can enjoy Häagen-Dazs™ ice cream before it hits stores later this year. You can walk in and dine in-house, choosing from a menu of 12 signature flavours (including my favourite Mango, & Raspberry, and Green Tea) and take away pints are also available in six flavours. Get in quick and get them whilst they last!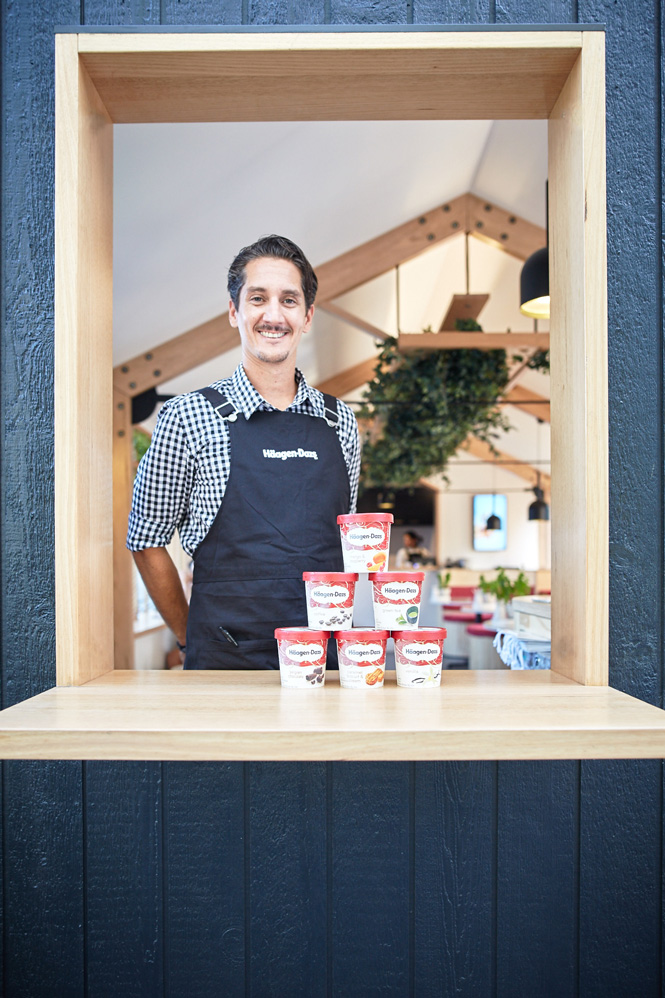 Unfortunately the limited number of spaces for The. Ultimäte. Tasting are already sold out for Melbourne. Sydney peeps, you still have a chance to book when the show moves north. This involves a 1 hour discovery experience that awakens your senses and allows you to get to know your palate better. Tasting technicians will guide guests through a series of interesting taste tests where patrons will learn about their personal palate to determine their ultimate ice cream flavours. Häagen-Dazs™ Technical and Flavour Expert Alison Gray, draws on her 16 years experience as Häagen-DazsTM head taster and comments the experience is a fascinating way for people to learn about their flavour biases.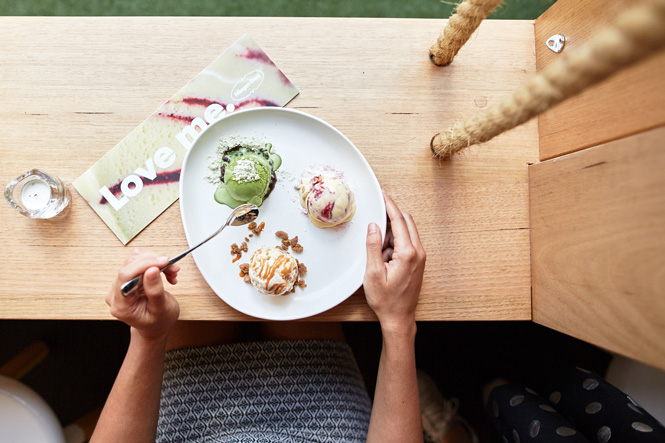 "Most people are drawn to a particular flavour group, whether they realise it or not – your palate has its own personality and can be a picky customer," she said.
"The. Ultimäte. Tasting. allows people to better understand their individual tastes and why they love what they love; it's an opportunity to discover why you might always reach for the chocolate and caramel flavours over the fruity ones, or why, no matter how hard you try and branch out, you always revert back to vanilla."
"Best of all, at the end of The. Ultimäte. Tasting., you'll be presented with your plated ice cream dish perfectly suited to your personal taste preferences – what could be better than that?"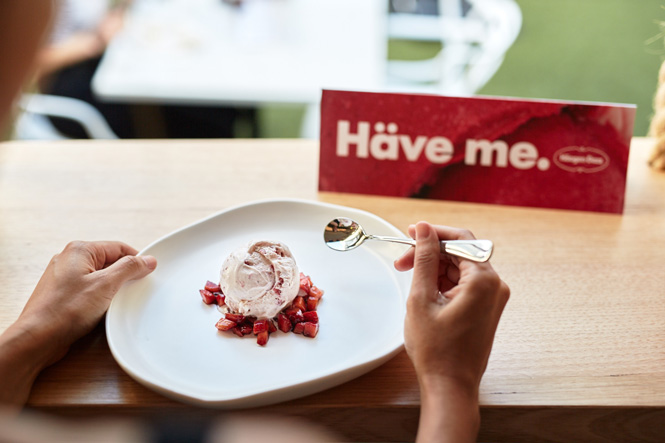 But what makes people line up every day for Häagen-Dazs™ ice cream? Since 1961, the world famous ice cream has started with four simple ingredients – fresh cream, milk, free-range eggs, and sugar – to create its signature creaminess. Made in France using locally produced milk and cream from nearby farms, only simple ingredients are added to create the flavours, sourced from the best producers around the globe. I've enjoyed Häagen-Dazs™ in Thailand and Malaysia, and now I can enjoy it back home too! The brand's commitment to quality is demonstrated in its continual quest to find the purest ingredients to deliver the best taste experience, no matter where they are in the world.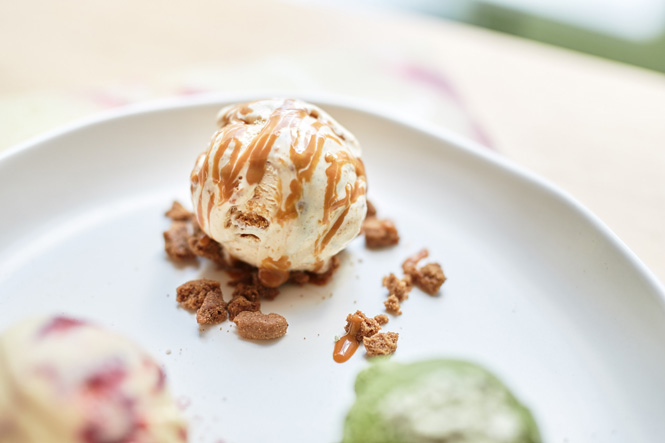 The three original flavours – vanilla, chocolate and coffee – have remained unchanged for more than 50 years. Six years were spent searching the globe for the ideal strawberry to deliver the perfect taste, aroma and colour for its Strawberries and Cream flavour, and Green Tea ice cream uses ceremonial grade Matcha green tea powder sourced from the hills of Kagoshima Prefecture in the South of Japan. Priding themselves on its ice cream and sorbets remaining their natural colour, using the pure flavour of hero ingredients to deliver the best taste experience.
After its visit to Melbourne, Häagen-Dazs™ House will move to Sydney's Overseas Passenger Terminal at The Rocks from Friday 22 April for four weeks. Häagen-Dazs™ ice cream will be available in supermarkets later this year.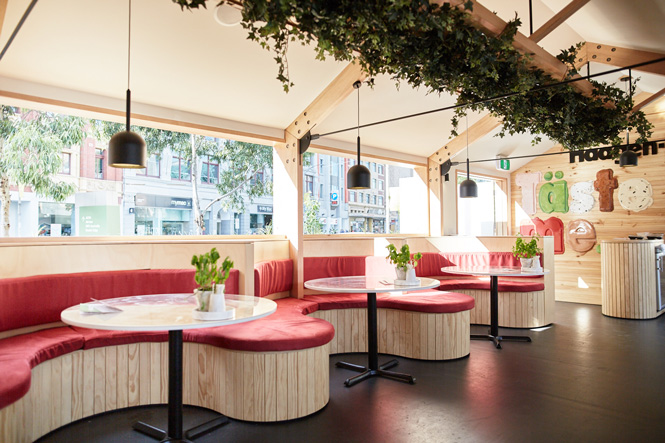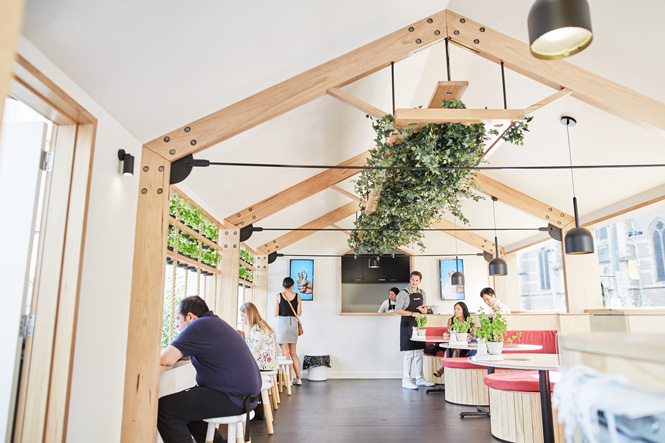 Häagen-Dazs™ House
Federation Square, Melbourne CBD
Dates: Opens Friday 11 March for five weeks
Opening hours: Open every night (except Monday)
Click here for more information and opening hours : www.haagen-dazs.com.au/house
Dine In: $6 for one scoop; $9 for two scoops; $12 for three scoops (walk-ins only)
Take home pint (473mL): $15 each; limited stock available daily
Instagram: @haagendazsau #helloaustralia #hellohaagendazs
Facebook: Haagen-Dazs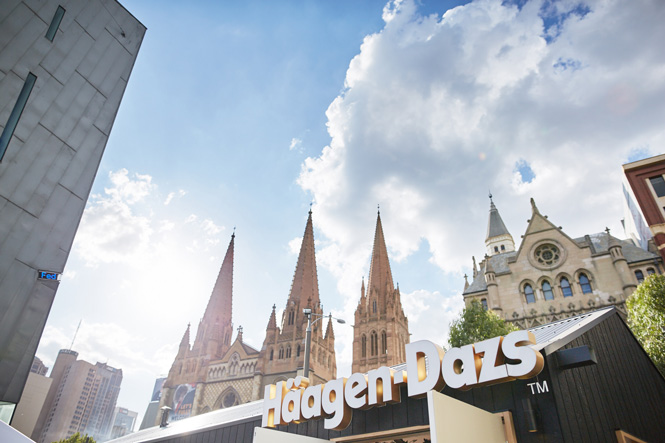 Sponsored Post.