Noma Australia
Noma. It should be Danish for "wow", but the name is a portmanteau of the two Danish words "nordisk" (Nordic) and "mad" (food). Noma is the well renowned two Michelin star restaurant run by René Redzepi in Copenhagen, Denmark. Been ranked the Best Restaurant in the World in 2010, 2011, 2012 and 2104, it was definitely going to be popular when they announced they would be relocating to Australia for ten weeks.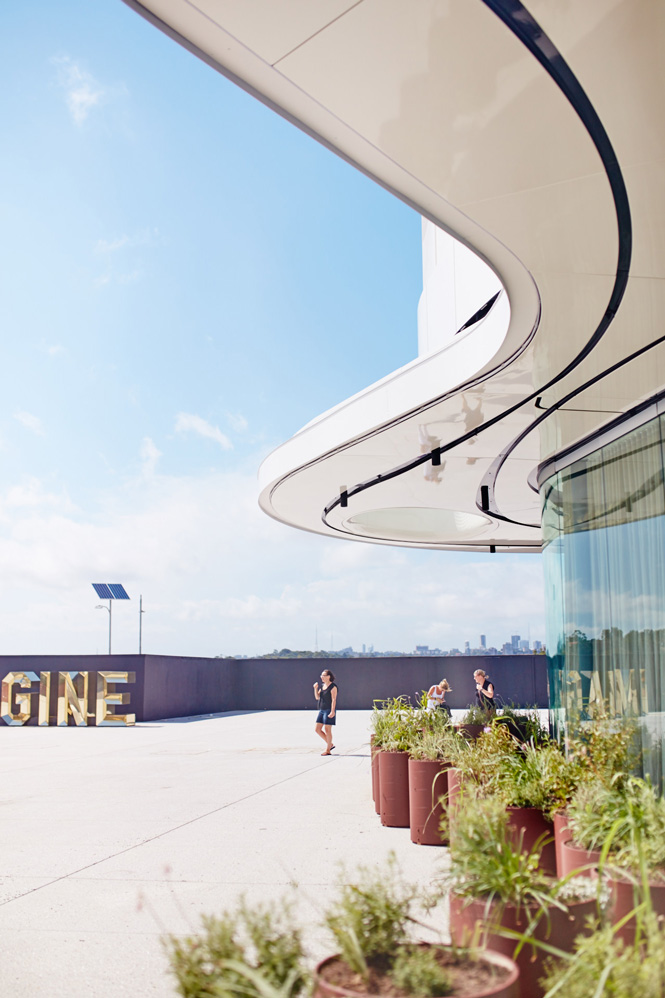 The bookings opened online and after four minutes Noma Australia's ten week stint in Barangaroo, Sydney, was fully booked. Whilst I couldn't managed to get a booking before they all sold out, Ms I-Hua and The Boy did and invited us along to join their table (for which I am forever grateful!).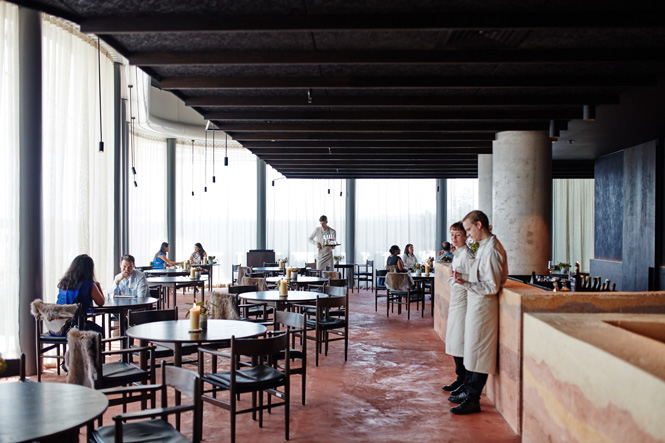 The whole experience at Noma is like no other. Everything just flows so fluidly, there is no stuffiness or pretentiousness about it. From the moment you are greeted at the entrance, as you walk through René and his staff stand to welcome you into the restaurant, right to the moment you leave; you are made to feel welcome, relaxed, special and one of the family.
Dining at a table of six, the manner in which the team of staff present the food on the table was something that was like being in the middle of a well orchestrated ballet. They came in gracefully as one unit, presented the dish, and just as gracefully they were gone before you knew it. Almost like seeing a flower open and close on hyperlapse; beautiful, majestic, flawless.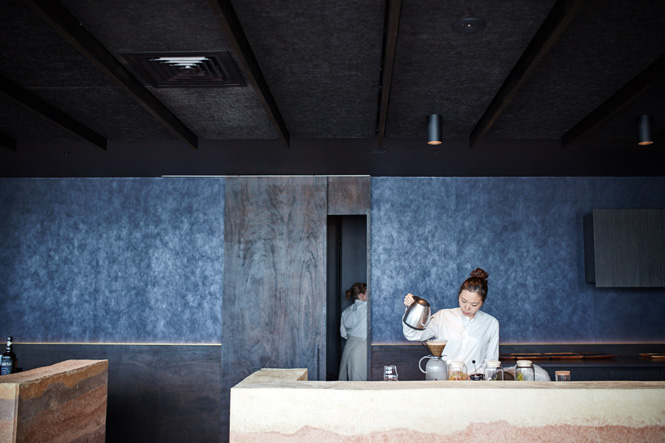 To say I loved every dish at Noma Australia would be lying. I definitely had my favourites, and I certainly had my courses I could have gone without. That says more about my taste buds than Rene's however. Noma is that little bit more brave than I am and that's part of the appeal.
To go with the twelve courses, there is the option of wine pairing, or juice pairing. I'm not that well educated when it comes to wine, let alone the extensive use of natural wines on offer this time. If I like it, I like it, if I don't, I don't. I decided to go with the juice pairing for something different. With my partner Ewen going for the wine, I was able to have the best of both worlds. I would highly recommend the juice pairing over the wine pairing, not because it will save you a hundred bucks, but purely because it complimented the food in a way I've never experienced before.
When presented with my first glass of kombucha I was mortified. I hadn't actually tried kombucha before, but heard lots of bad things about it. Luckily this was not your average kombucha, it was light, vibrant and highly refreshing. The savoury notes of other juices like the green tomato and smoked pepper juices couldn't have been a better match to the dishes they were paired with if they tried.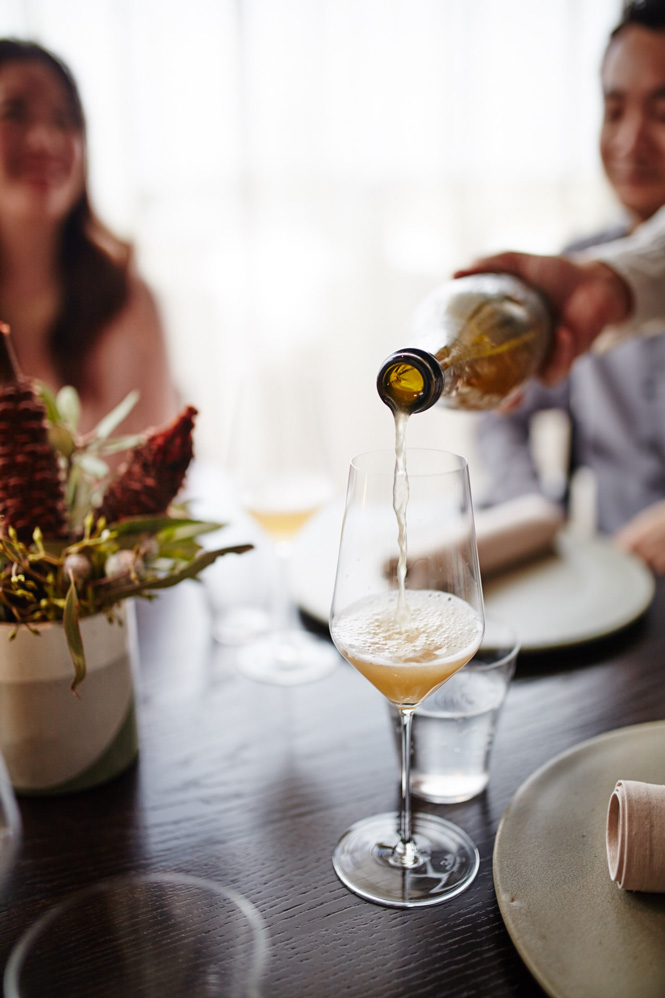 Aperitiff- Snakebite by Two-Metre Tall
Almost had a beer-like taste to it, a great way to start the lovely, long lunch.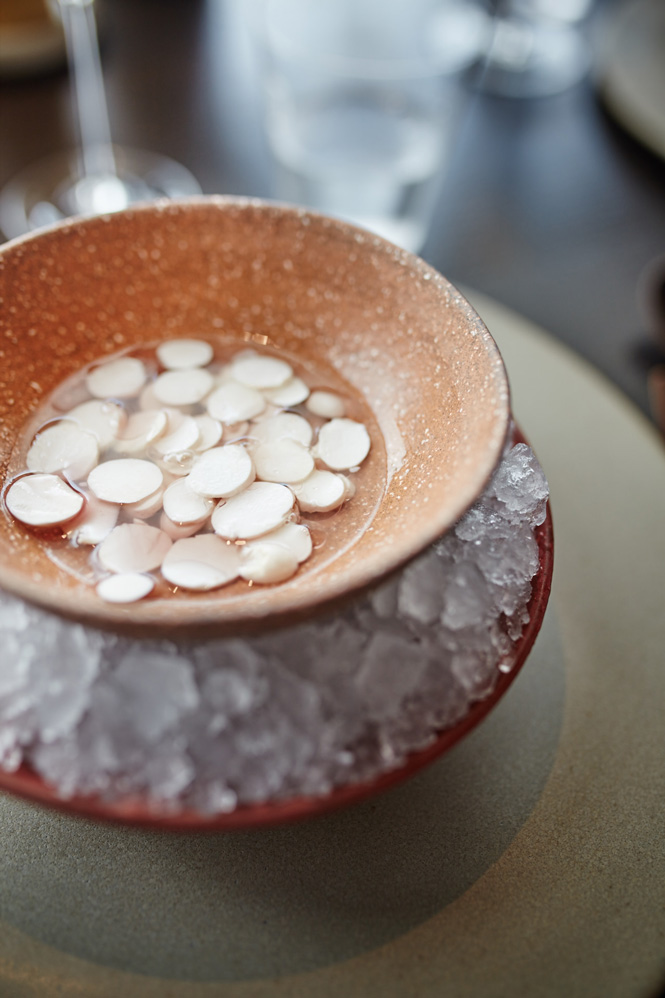 Unripe macadamia and spanner crab
A spanner crab broth, with shaved unripe macadamia, finished with rose oil. The rose wasn't overpowering, rather subtle, whilst the macadamia had a lovely crunch as you ate it.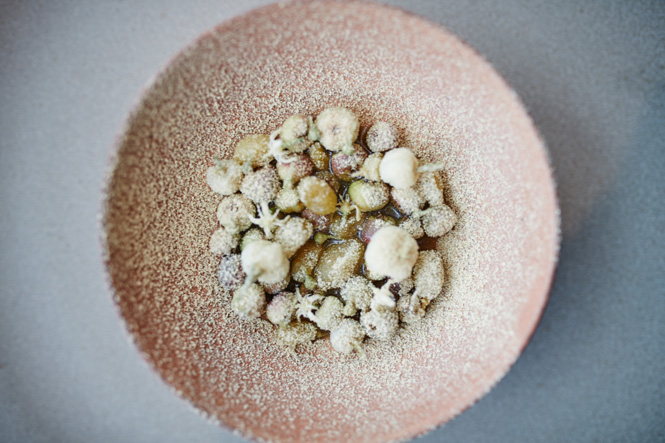 Wild seasonal berries flavoured with gubinge
Lots of tart flavours going on, a stand out flavour was the almost lemon myrtle flavour, depending on what combination of berries you had on your spoon, it was either good, or not as good. Finished with a dried Kakadu Plum that is shaved over the top for an almost white chocolate taste.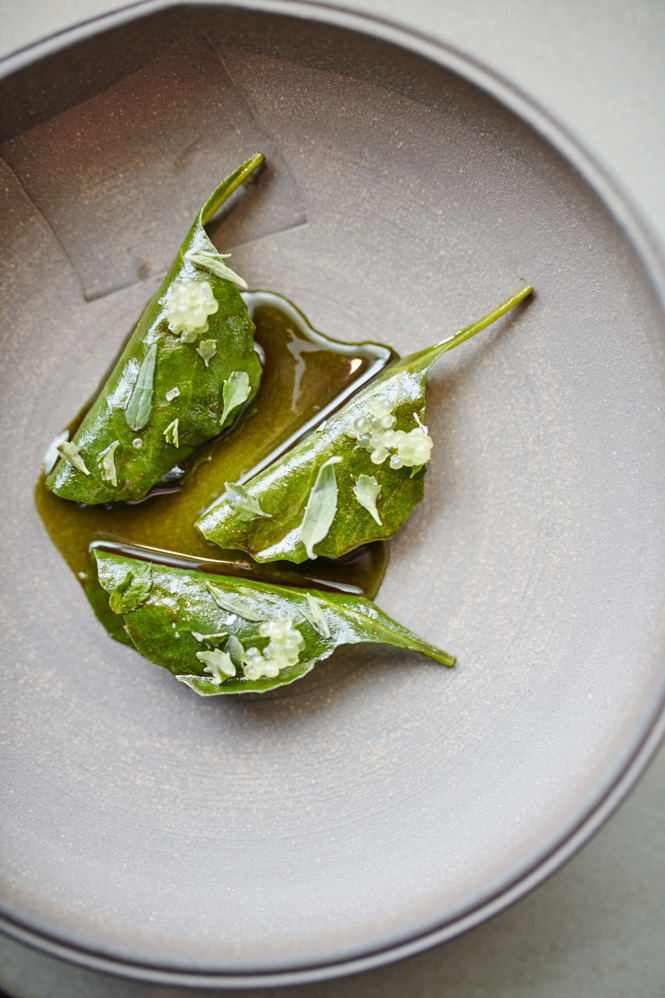 Porridge of golden & desert oak wattleseed with saltbush
juice match: bergamont kombucha / native mint
wine match: 2015 Robot! Travis Tausend, Basket Range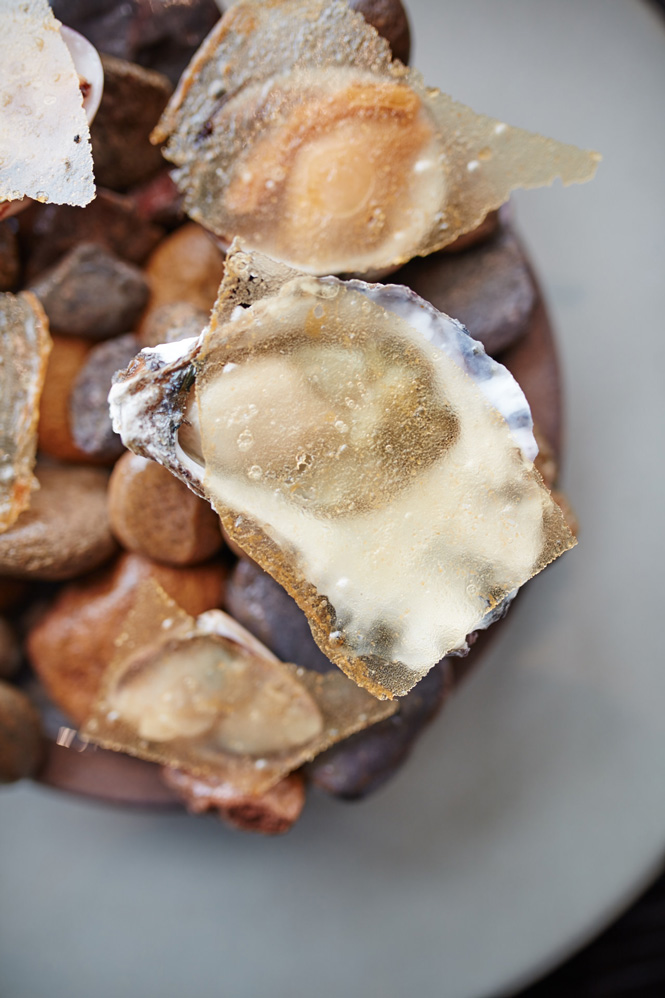 Seafood platter and crocodile fat
juice match: rose kombucha / spruce wood oil
wine match: 2015 Estate Chardonnay, Commune of Buttons, Adelaide Hills
Crocodile fat taken from the same crocodiles that are skinned for Louis Vuitton handbags. The taste was incredibly umami. I have textural issues with these kind of sea critters though, so my other diners helped me eat what I couldn't.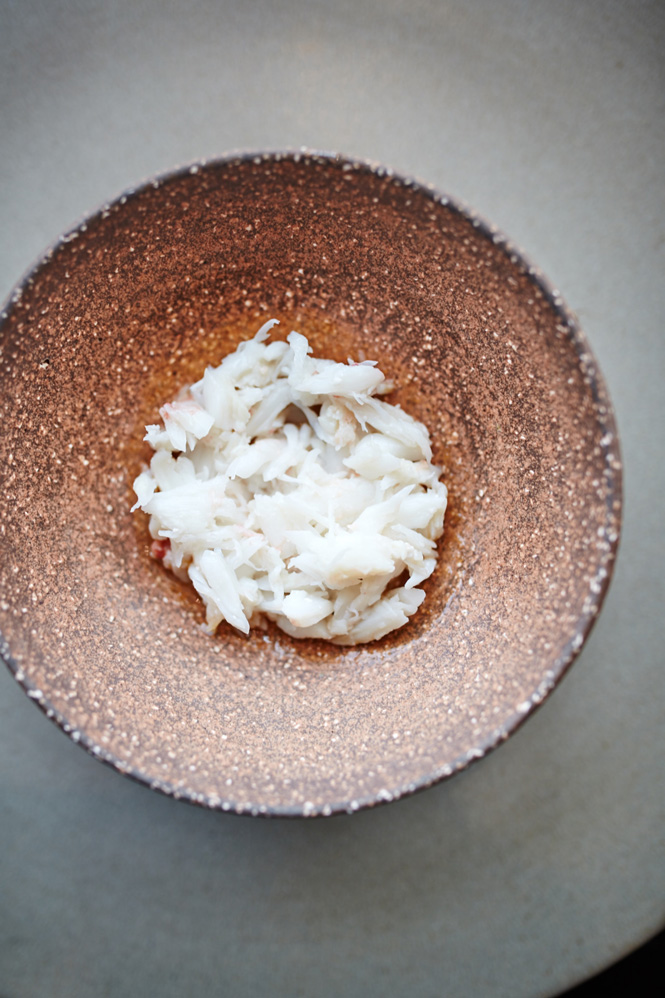 W.A. deep sea snow crab with cured egg yolk
juice match: rose kombucha / spruce wood oil
wine match: 2015 Rizza, Brian, Tamar River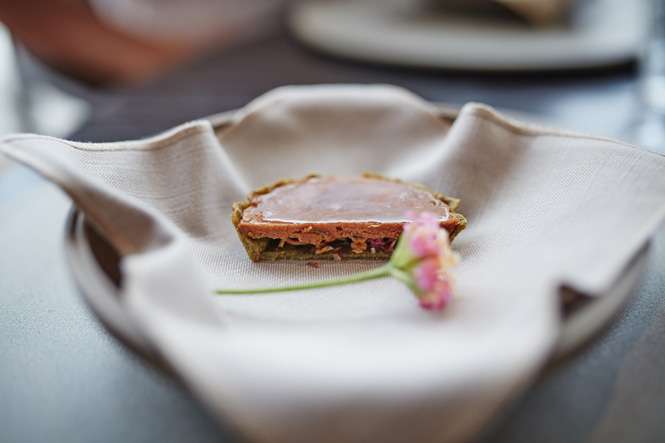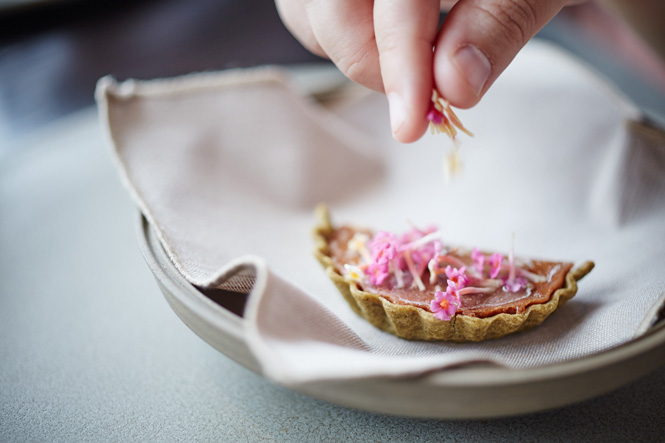 PIE: dried scallops and lantana flowers
juice match: green tomato / lemon myrtle
wine match: 2015 Rizza, Brian, Tamar River
Possibly my second favourite dish of the day, the intense umami from the dried scallop disc on top, with dried seaweed in the pastry. It was a nice interactive touch for us to pick the petals of the lantana flower, and scatter them on top of our tarts. This worked very well with the green tomato and celery juice.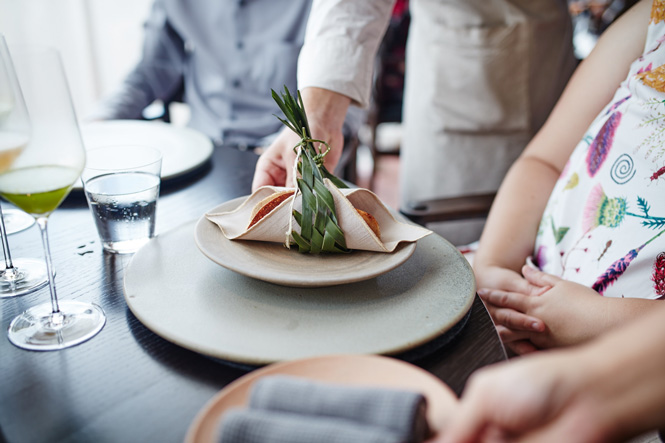 BBQ's milk 'dumpling', Marron and Magpie goose
juice match: green tomato / lemon myrtle
wine match: 2015 Chardonnay, Domaine Lucci, Basket Range
This here was my absolute favourite dish of the day. I think we all must have looked up in shock as we were told that the Western Australian marron was brushed with a bolognese made from magpie goose. Everything was perfectly balanced in this dish, and the crunchy texture of the milk skin worked so well with the lusciously meaty marron.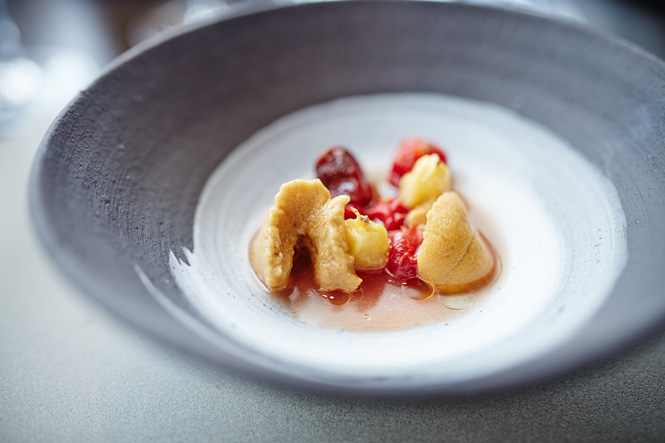 Sea urchin & tomato dried with pepper berries
juice match: smoked pepper / red pepper berry
wine match: 2015 Yettie and the Kokonut, Sercial, Clare Valley
The group didn't think this dish worked as well as it could have. The dried tomatoes were lovely and sweet, but the sea urchin just seemed a bit out of place.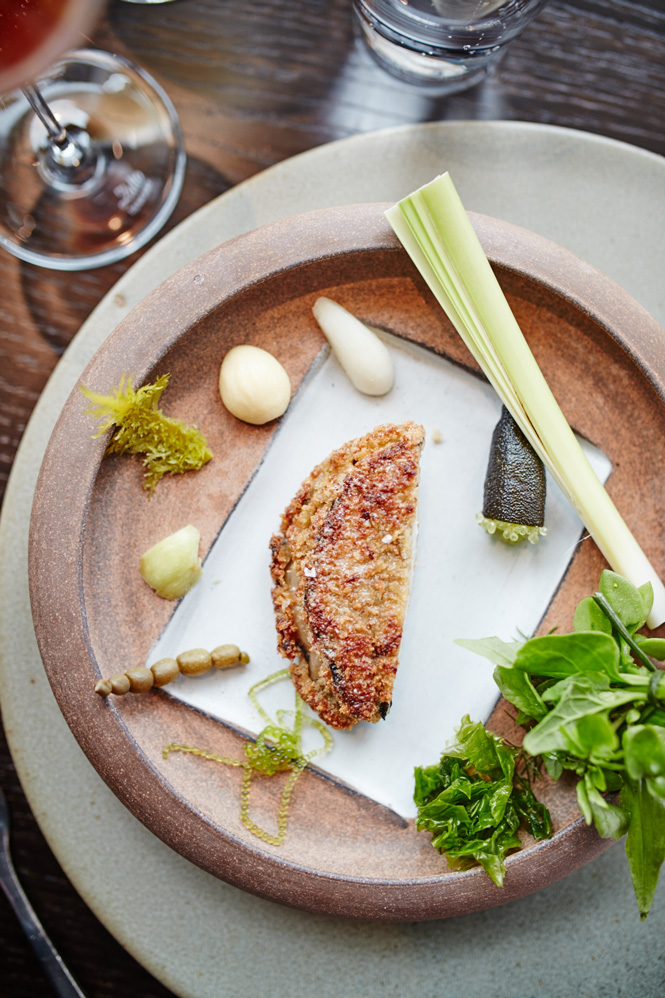 Abalone schnitzel and bush condiments
juice match: smoked pepper / red pepper berry
wine match: 2014 On Skins, Pyramid Valley Vineyards, North Canterbury
This was another stand out, accompanied by another intensely unami mushroom sauce "nomamite" an in house made vegemite. Paired with with smoked red pepper juice, which almost tasted like salsa, this was my favourite dish and juice pairing together.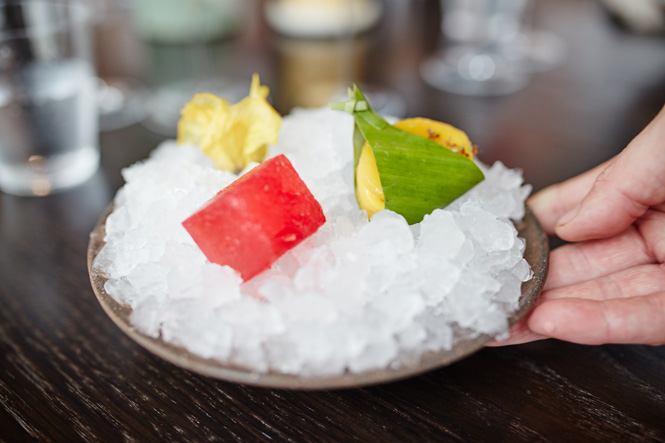 Marinated fresh fruit
juice match: riberry / native lemongrass
wine match: 2013 Moto Shibori, Akishika Shuzo, Osaka
The mango sandwich included a mango sorbet and a paste of green ants sourced from the Northern Territory. They have an almost lime like taste to them. A piece of pineapple soaked in blackcurrant wood, and wrapped in wild hibiscus, and a cube of watermelon soaked in juice of davidson plum. A refreshing way to break away from all the lovely savoury flavours.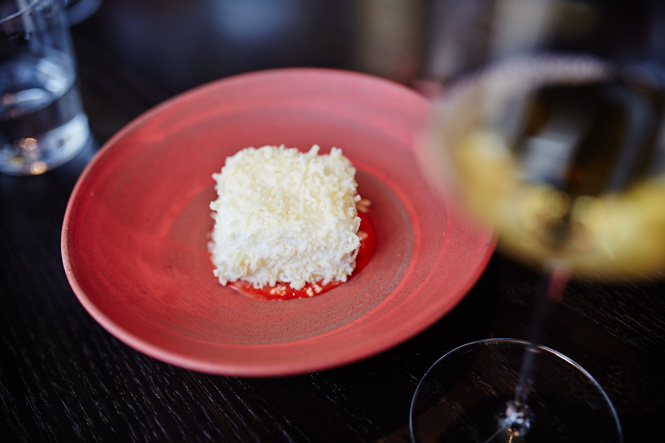 Rum lamington
juice match: riberry / native lemongrass
wine match: 2013 Moto Shibori, Akishika Shuzo, Osaka

An aerated rum cake, I felt the rose sauce underneath was too flowery for my tastebuds. I can't say I thoroughly enjoyed this one. Perhaps I like a traditional lamington too much!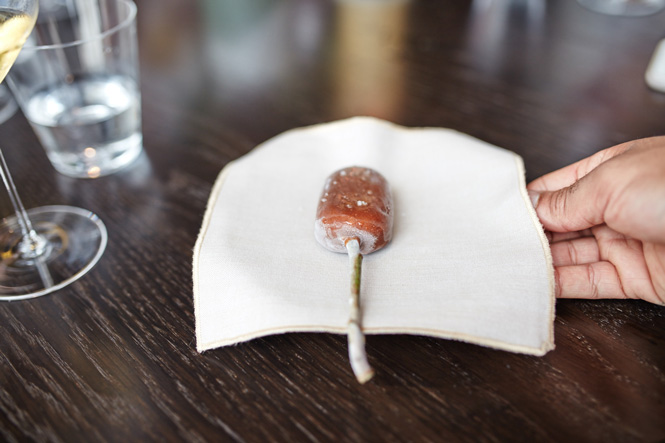 Peanut milk and freekah "Baytime"
juice match: riberry / native lemongrass
wine match: 2013 Moto Shibori, Akishika Shuzo, Osaka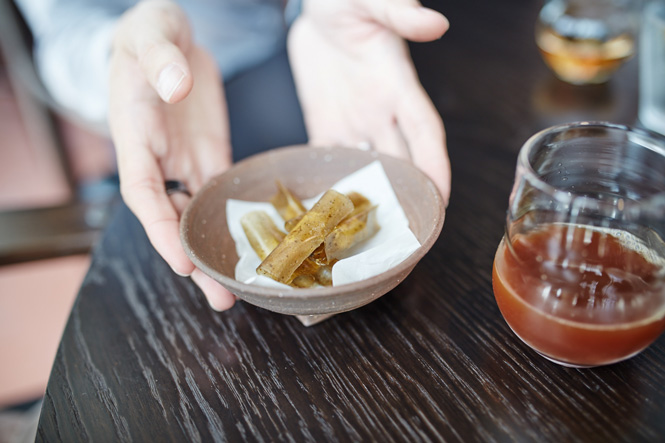 We finished off with Apples and herbs and dessert lime to go with our tea and coffee selections (espresso, hot pour over, cold pour over, hot tea and cold tea). The petite four had a tartness, with the skin almost like a fruit leather.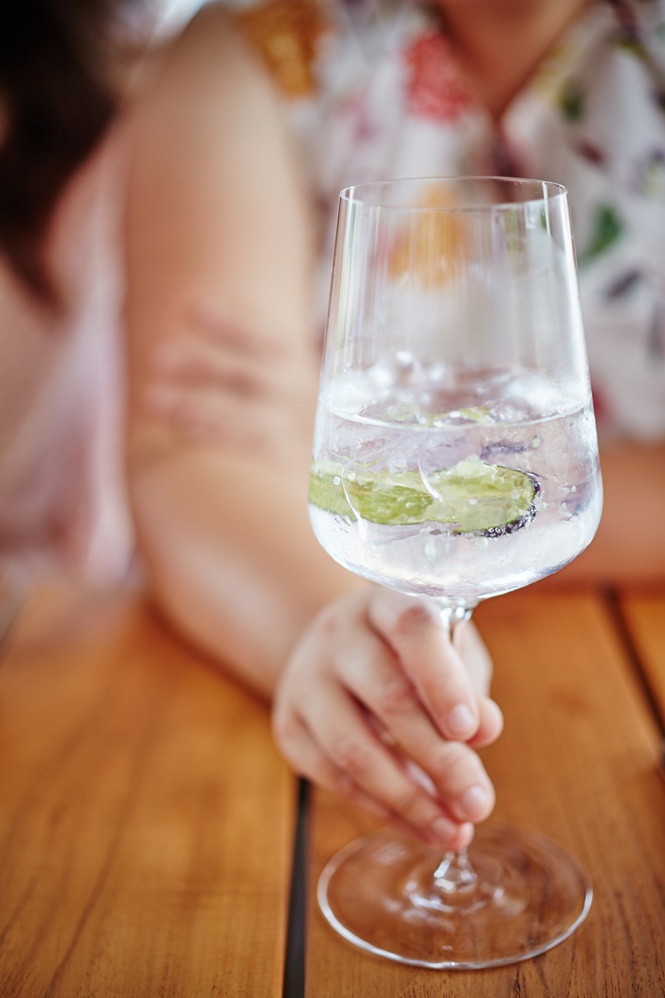 Gin & Tonic with Fingerlime
We were lucky enough to spend some time talk to René before heading outside for a final cocktail. He was generous with his time as we all grabbed a happy snap, and talked to him about the restaurant. A very down to earth, warm guy, it's not hard to see why his extensive staff love to work with him.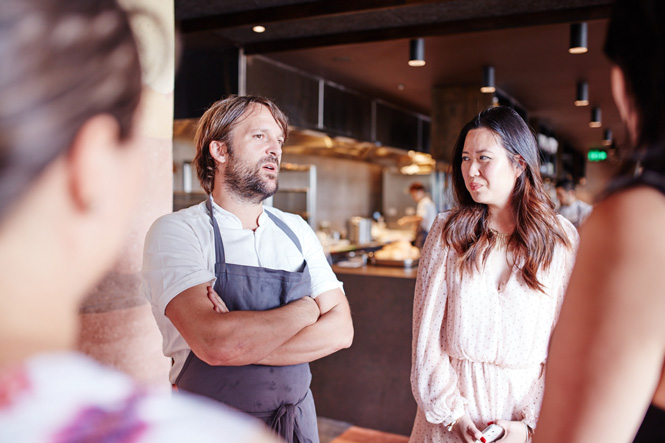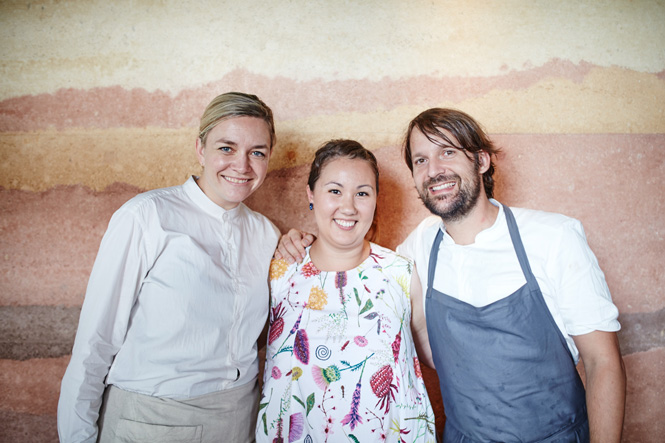 I'd love to thank the incredible team at Noma Australia for making this one day to definitely remember! Our gorgeous, and lovely waitress Tamara, Katherine Bont, and of course René Redzepi! Also big thanks to I-Hua & Aaron for letting us join their party with EK & Mayyan. Not a day I'm going to forget anytime soon 🙂
(Photography by Ewen Bell.)