Matcha Layer Cake with Black Sesame Cream Cheese
After one helluva year, cramming in last minute shoots for clients, and Christmas looming, I had no idea what to make for a show stopping dessert this Christmas with the family. I celebrate twice, Christmas Eve and Christmas Day. Christmas Eve had the bigger crowd, and when I found this gorgeous cake on Pinterest, I knew my Christmas dreams had been answered. I don't know why the green from matcha didn't even cross my mind before seeing it. Amy from Constellation Inspiration has a totally gorgeous blog, and the copious amount of pictures of this cake had me sold in no time.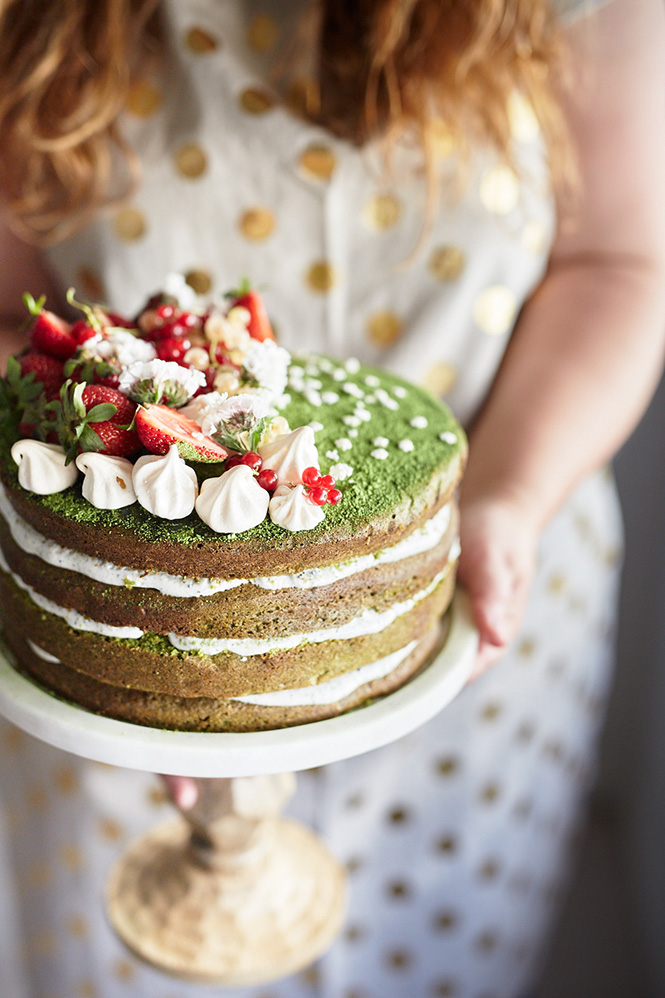 My family are a tough crowd to please, so I was worried the cake would be dry, that they would have preferred a pavlova smothered in cream and fruit instead, and that it would be only dessert and it would be awful. LUCKILY, THEY LOVED IT!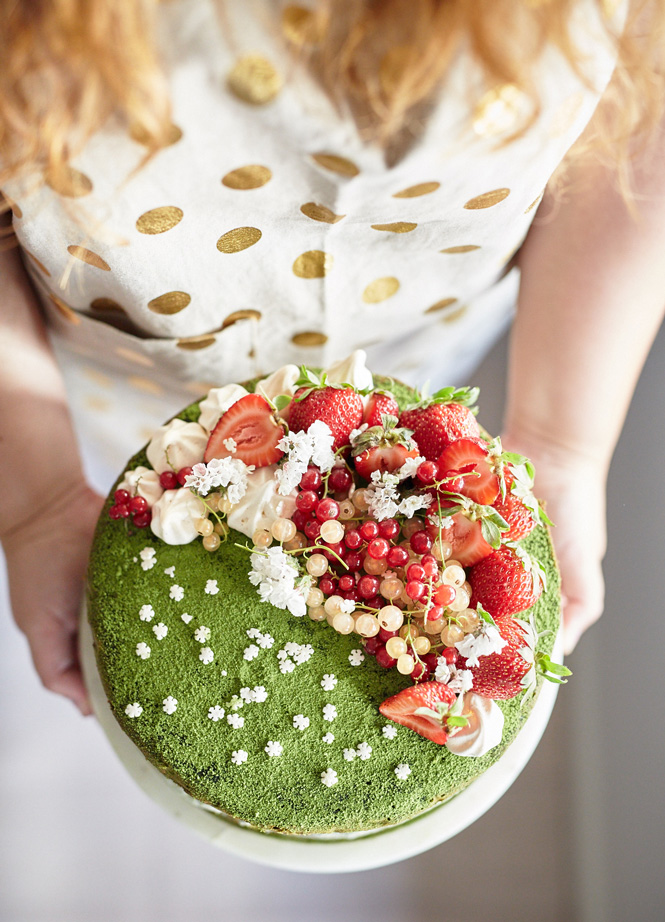 My mum even had two slices OMG, and my aunty loved it so much, she even got on instagram (which she never does) just to remind me how good it was! It was moist and fluffy. The crazy amount of matcha did manage to keep my mum up all night though, but it was worth it 😉 The black sesame frosting is a great compliment to the cake as well. One to definitely make again, and again and again!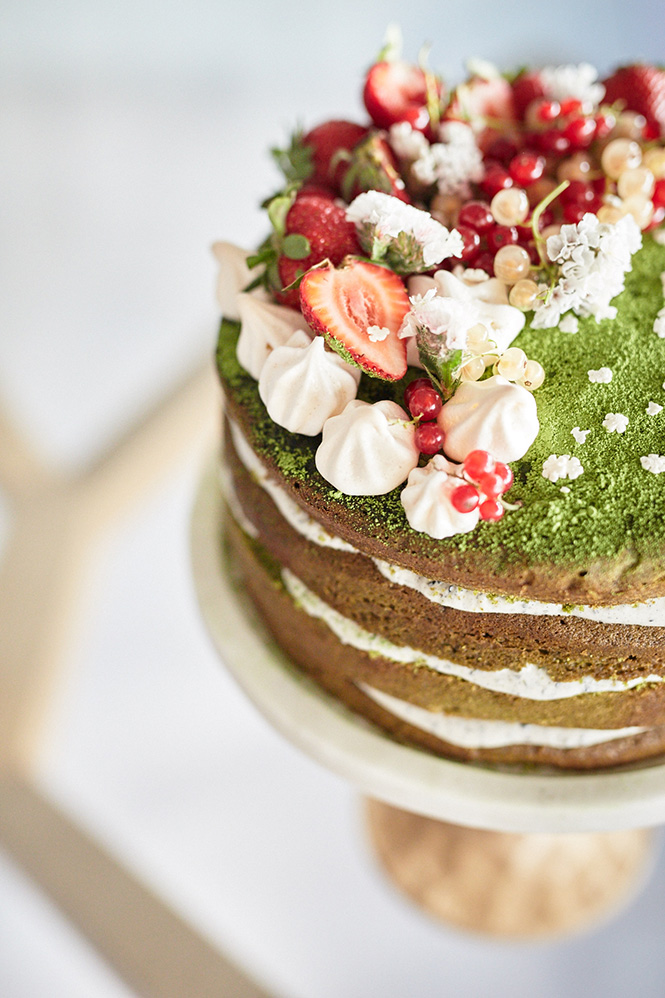 Matcha Layer Cake with Black Sesame Cream Cheese
Print Recipe
Ingredients
Matcha Cake
440 g granulated sugar
450 g butter at room temperature
450 g plain flour
4.5 tsp baking powder
1 tsp of salt
8 eggs
4 heaping tbsp of matcha powder
4 tsp vanilla extract
1 cup milk
Black sesame cream cheese filling
1 1/2 cup whipping cream
250 g cream cheese
225 g white sugar
1/2 cup ground black sesame
Meringue Kisses
2 egg whites
125 g caster sugar
Instructions
The Cake Base
Pre-heat your oven to 180°C. Line two 23cm cake pans with parchment paper.

With an electric mixer, cream together the butter and sugar until it becomes pale yellow in colour. Add the eggs, one at a time, and mix until eggs are well incorporated. Add the vanilla extract.

In a separate bowl, sift matcha powder over the flour - you do not want large clumps of matcha in your cake! Add in the baking powder and salt. Mix well.

Add the bowl of dry ingredients to the bowl of the wet ingredients. Slowly add in the half cup of milk (adjust the amount of milk based on the consistency of the batter). Equally divide the batter between the pans and bake cake for 40 - 45 minutes, checking the doneness of the cake at around 35 minutes. Let the cake cool completely before removing/cutting it.

Once the cakes have completely cooled, cut each equally into half to form four layers in total.

To assemble, place a layer of cake down and smother on a generous portion of the cream cheesing filling. Alternate between the cake layer and cream cheese layers until you have a cake with desired cake and cream cheese layers.

Decorate the cake however you like. I used a combination of matcha meringues, berries and flowers. Before I topped the cake with berries and flowers, I dusted a thin coat of matcha sugar on the top layer of the cake - I thought this made the cake look more presentable. To make the matcha sugar, just sift matcha powder over icing sugar and the amount of matcha depends on what colour you want the matcha sugar to be. You can skip this step if your top layer is a cream cheese layer (versus a naked cake layer).
Black sesame cream cheese
In a bowl, beat whipping cream until stiff peaks form and set aside.

In a separate bowl, combine cream cheese, sugar, and ground black sesame. Beat until smooth, then gently fold in whipped cream with a spatula.

(I found beating with the electric whisk for another couple of minutes necessary as it was too runny).
Meringue Kisses
Preheat the oven to 130C and line a baking sheet with baking paper.

In a glass or metal bowl, whip egg whites until foamy using an electric mixer. Add the sugar one spoon at a time. When the mixture becomes stiff and shiny, stop mixing, and transfer the mixture to a pastry bag. Pipe the meringue out onto the prepared baking sheet. Bake for 1.5 hours, turn off oven, and let meringues sit in the oven overnight if possible. Meringues should be dry to the touch and can be easily removed from baking sheet.